Video converters perform other added tasks other than just converting videos. They edit and trim videos among many other functionalities. You do not have to go up and down looking for an expert to perform these tasks for you. We've sampled out the top five online video converters for you to choose from. In this guide, you will learn more in-depth details on how to change video file type using top online or offline video converters.
Part 1. How to Change Video File Format [5 Best Online Video Converters]
URL: https://www.online-convert.com/
Online Converter provides a platform to its users to change video format easily and faster. The site's online video converter can improve file types from over 50 different forms such as MPGE-2 to MP 4 conversions, 3GP files to MP4, AVI to MP4, MKV to MP 4, FLV to MP 4, among many other different conversions supported by the site. Online converter's video format changer has accommodated translations from tools like Powerpoint to MP4, and it also possesses added features such as subtitle conversions.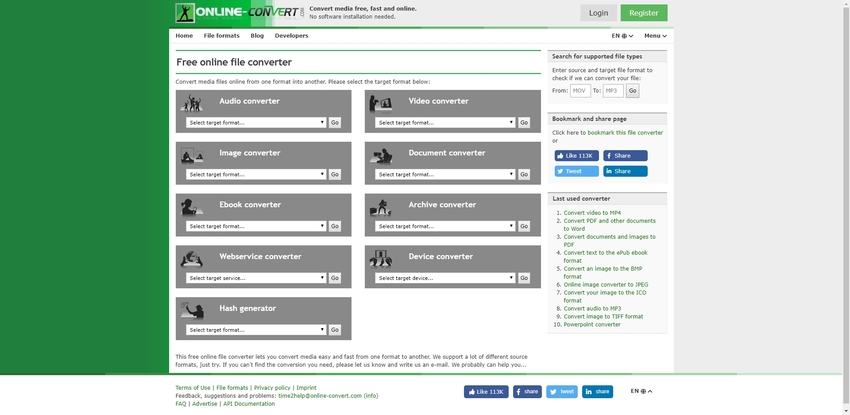 URL: https://www.files-conversion.com/
A developer made File-conversion with vast experience in the field of web development from the late 90s. The developer saw the need for combining all the tools he found useful in debugging, testing, and development to help people struggling with how to change video format. The software provides a free opportunity for users to convert videos to any desired size. The whole procedure is done online; hence, there is no need for downloading and installing the software to get things done.
URL: https://www.media.io/video-converter.html
With over a thousand video and audio formats supported in its input and output, interoperability in that it can convert multiple files at once, and possessing thirty times more speed compared to other providers, Online UniConverter is indeed the ideal tool when you want to change file format online. The software allows you to adjust video extension and form, to formats such as MP4, YouTube, OGV, TS, MXF, SWF, TRP, Facebook, AVI, WMV, M4V, Vimo, DIVX, MOV, 3GP, among many more others.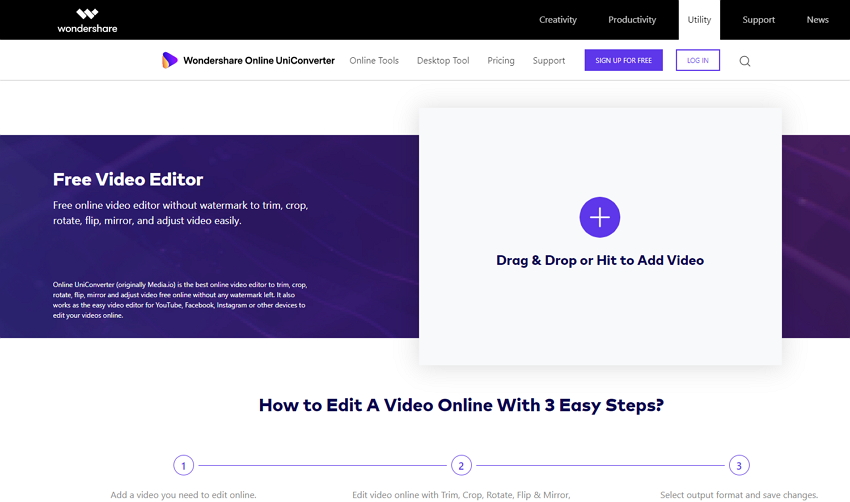 URL: https://convertio.co/video-converter/
Convertio has been able to change video format of files amounting to 2,515 TB as of now, coming fourth in our overall standings. It boasts to offering support to two thousand, and even more, varying file types. Also, the software is compatible with 282 file forms such as audio, videos, documents, to mention a few. The site has gone forth and made a very efficient API that helps to document files appropriately. Also, the application has Optical Character Recognition (OCR), which automatically identifies the file format that has been inputted.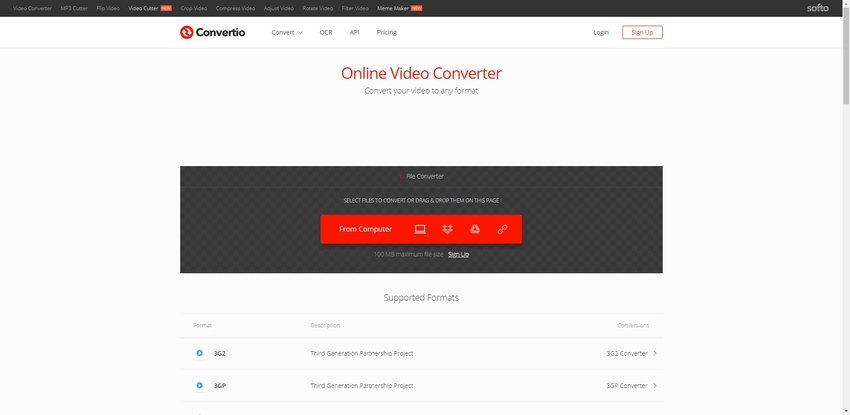 URL: https://www.aconvert.com/video/
AConvert is fully available online for free, and it also possesses outstanding features. Such features maintained by the application include figuring out the file formats by reading signatures presented in binary, and files changing to closely similar formats if the application cannot support them.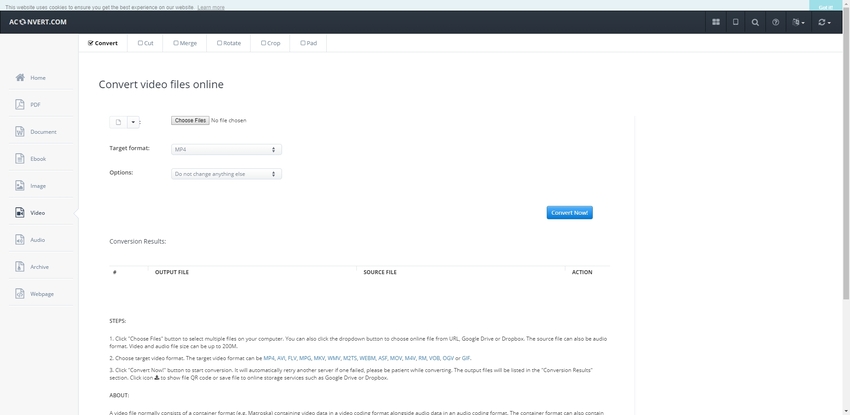 Its main interface has been developed in a user-friendly manner with clearly outlined steps such that the users will not experience difficulties using the website. Also, Aconvert.com has heightened its security to ensure that it is only the users who gain access to their data.
Part 2. Alternative: How to Change File Type to MP4 or Others [Video Converter for Windows/Mac]
Overtime, MP4, and AVI have been the two most commonly used video file formats. But despite its full use, there are still some specific formats users would want to have for their purposes. And that is the genesis of how to change the video file type. The perfect path when it comes to replacing file formats is by using Wondershare UniConverter for Desktop. The software offers top-notch services ranging from support for many file formats to quality conversions.
Wondershare UniConverter
· You are availed with over a thousand different formats to convert a video.
· Compatible with all kinds of devices, Windows/Mac/Android/iPhone.
· Provides for a platform to upload videos from different sources.
· It has got 90X speed compared to ordinary software.
· Users can convert multiple files in batch with it.
Pros:
The software is reliable.
Fast in that the process finishes fast, and you can convert many files at once.
Simple to use.
Step by step show you how to convert video in UniConverter
Step 1. Launch Wondershare UniConverter program in your device.
Step 2. Select the format that you would like the present video to be converted to. There is tab labelled Output Format on the bottom left side of the screen. Click on the down facing arrow after this and you will be availed with a wide list of options to choose from.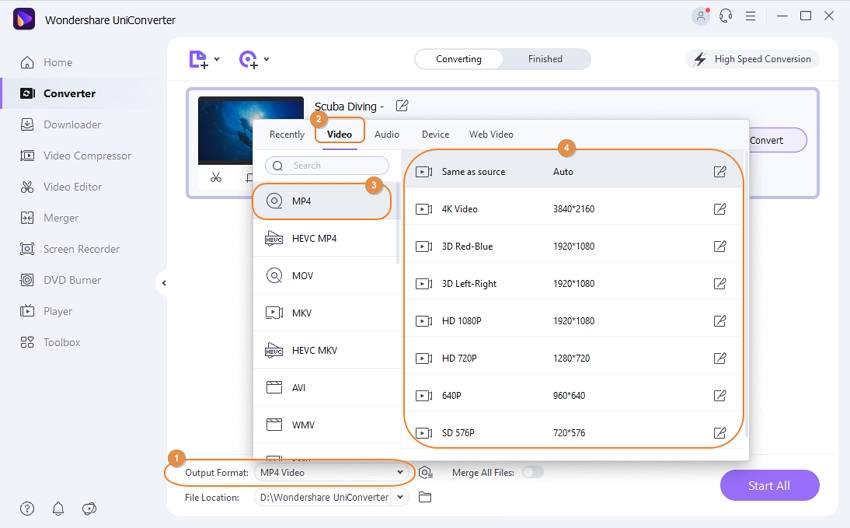 Step 3. Next is to add the video you want converted. Just right click on the center of the screen, on this option "+ Add Files" or Drag here to start conversion.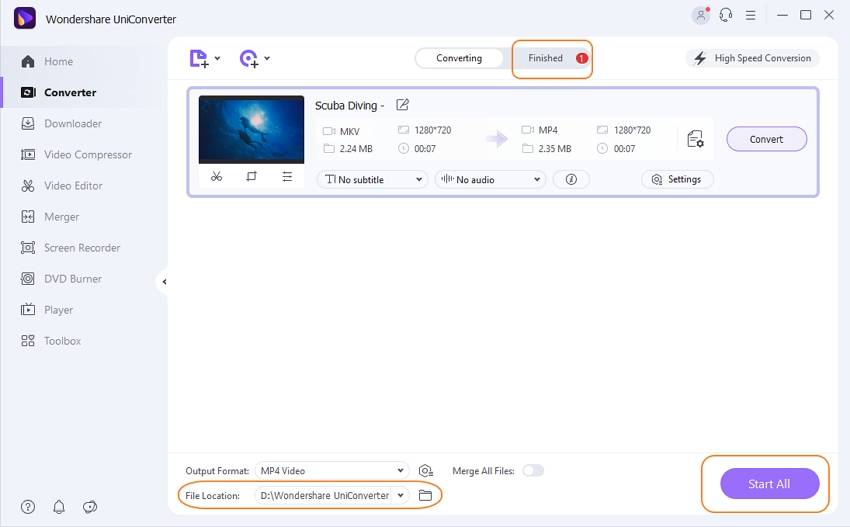 Step 4. Wait as the selected video loads into the software. Normally, the process happens really fast.
Step 5. Click on the icon reading "Start All".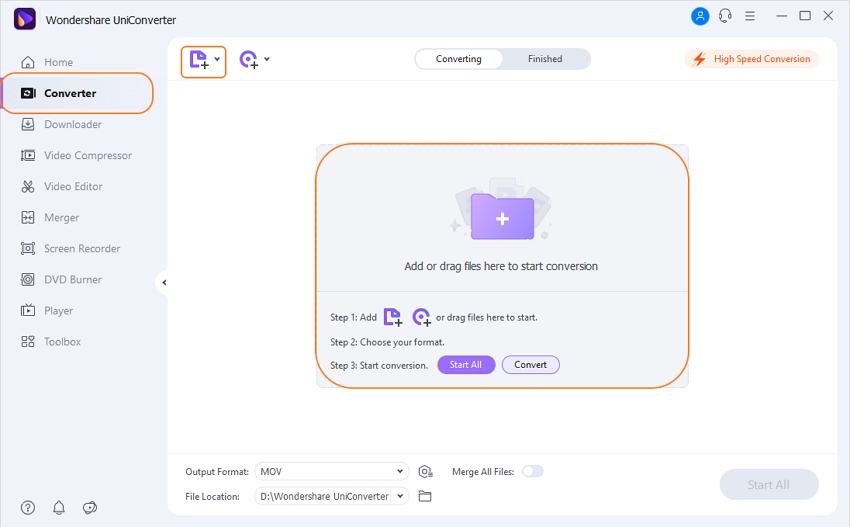 Step 6. After pressing convert, the download process will begin immediately.
A tab reading converted will appear on the top side of the screen with an orange dot. This indicates that the conversion has been successful. Also, a Success icon, in purple, will appear on the screen. Click on "Finished" to access the converted video.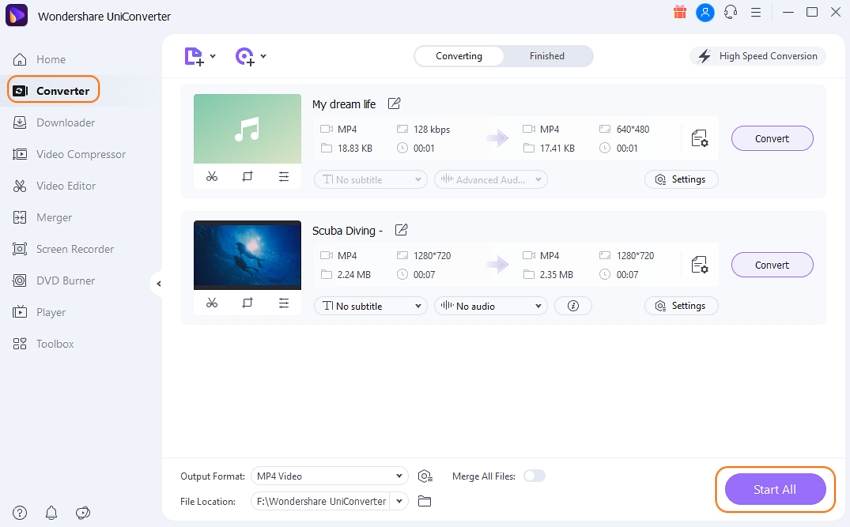 Step 7. Click on the Folder icon with the space size of the converted video to locate converted files in your storage. Wondershare UniConverter typically creates a new folder on your device for the converted videos so that you can easily access them.
Wondershare UniConverter is one of the best file converters software. More than 1000+ file formats could be chosen and convert.
Summary
It wasn't very long ago when users patiently looked at computer screens for long as their videos converted. It's now amazing how with the correct tool in hand, video conversion can happen in a matter of minutes. So, always check to ensure that you get the services you deserve. Yes, free apps are available, but the majority of them have restrictions and hence fail to deliver. Choose the right tool from the above, and you will be successful in your endeavors on how to change the media file type.