To resize images on Mac, there are several online and desktop tools available. You can choose the image resizer Mac program depending on the number of pictures and the other functions required. To help you resize image Mac, we have shortlisted the best and the popular tools as below.
Part 1. Free Online Image Resizer to Bulk Resize Photos on Mac
If you want to bulk resize images for free and in a hassle-free manner, Online UniConverter is the program that we recommend. The tool works seamlessly from your Mac browser without any need for software download or installation. 5 files of 5MB each can be added and processed at a time using the program. The interface is simple where you just need to add the images and select to resize them by pixels or by the percentage. JPG, PNG, BMP, and GIF are the supported formats. Using the program, you can keep the aspect ratio as the original file or choose from Crop, Fit, or Fill function. The resized images can be saved to the Dropbox or local system as required.
[没有发现file]
Steps on how to resize an image on Mac using Online UniConverter
Step 1: Run https://www.media.io/resize-image.html on your Mac browser and hit on the + sign to load the image.
Step 2: You can choose the height and the width of the image or choose to resize by the percentage. Click on the lock sign to maintain or change the aspect ratio as needed.
Step 3: Click on the RESIZE button and the files will be resized and available for download.
Part 2. Top 5 Ways on How to Resize an Image on Mac
There are several other ways to resize photo on Mac. You can check for the features of these programs and choose the ones that meet your requirement. For your reference, we have shortlisted the top 5 tools to resize photo Mac.
Mac system comes with a built-in Preview app that not only helps you to view the images but can also be used for image optimization. Several functions are supported by the app like resizing, conversion to another format, rotating, flipping, and others. While using this method all the images to be resized have to be stored in a single folder. The Preview app allows you to select the width and the height of the image and you can also select if you want the changes by pixels, percent, cm, mm, points, inches, or percent.
Key features:
Freely available built-in app
Simple resizing steps
Option to resize file by pixels, percentage, cm, mm, points, inches, and points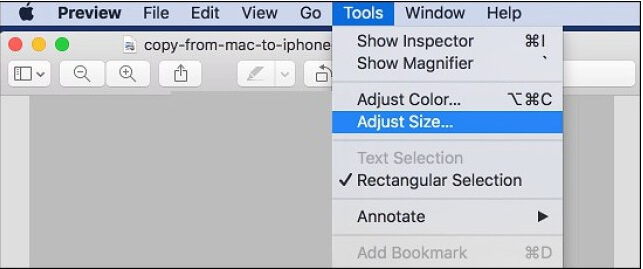 Developed by Adobe Systems, Photoshop is a professional editing tool that comes with a wide range of functions to optimize your images. The Perfect Resize function of the program allows you to resize and enlarge your images by up to 10 times without any quality loss. So if you require enlarging your images for creating a poster, billboard and others, Photoshop is the best tool to use. The tool can be used by professionals as well as amateurs and you can purchase it as a standalone program or as a package.
Key features:
Paid software available for Mac as well as Windows
It allows image enlarging and resizing without any loss of quality.
Comes with a wide range of additional features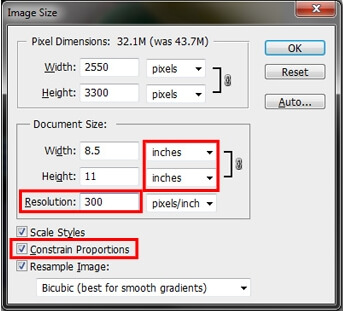 This is free to use online program that allows you to edit a photo, create a collage, and create a design. For editing several features are supported which include resizing, rotate, crop, cutout, enhance, beautify, and others. The images to the program can be added from the computer, Google Drive, social media sites, and Google Photos. Once the image is added, you can resize it by choosing the desired size in terms of height and width. X scale and Y scale percentage can also be selected. You can also choose to lock the aspect ratio.
Key Features:
Free tool working from the browser
Allows adding images from multiple sources
Option to lock the aspect ratio
Batch processing supported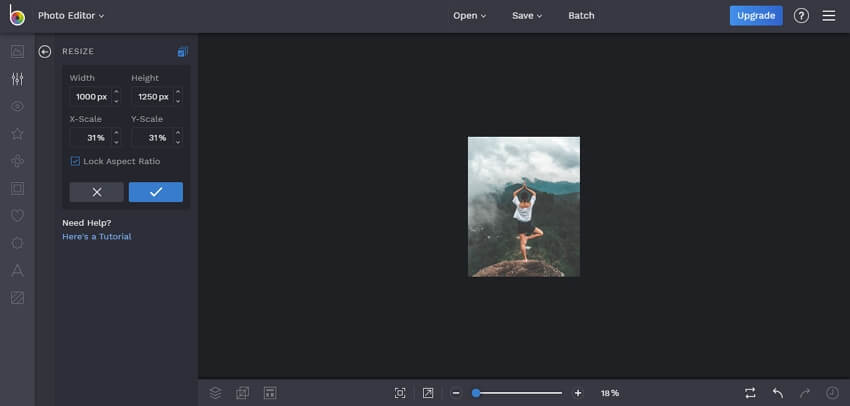 https://apps.apple.com/us/app/batchphoto/id584369637?mt=12
This is a simple to use Mac app that lets you edit your images in several ways including resizing. You can resize the image by choosing the desired size or by the percentage of the original file. Bulk resizing of images is also supported and the preview tab helps you to check the images as to how they will look after resizing. The document size in inches can be changed and you can even change the DPI using the advance functions. The processed images can be saved to the desired folder and in the desired format.
Key Features:
Support over 170 image formats including JPEG, PNG, GIF, TIFF, and others
Hundreds of images can be resized at a time
DPI and document size can be adjusted
Support several other functions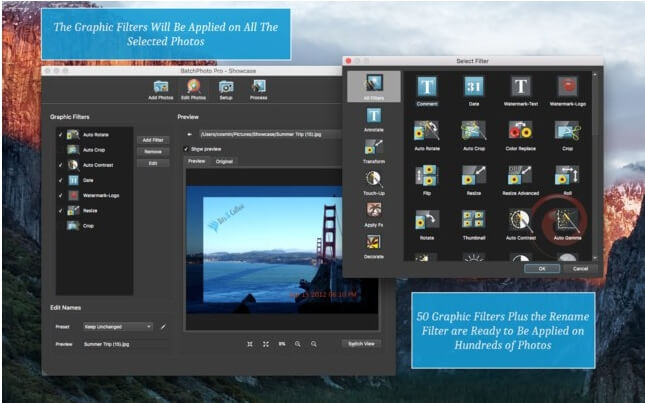 https://apps.apple.com/us/app/resize-sense/id509841385?ls=1&mt=12
This is a paid app for Mac devices that allows batch resizing of images in all popular formats. Using the program, you can resize your images in several different ways like selecting the desired size, longest or shortest edge, maximum file size, setting the width and the height, cropping, and others. If you have multiple batches to be resized with similar dimensions, you can even create a preset of your own. Live final image preview option is available with the app and offers export control as well.
Key Features:
Batch resize images Mac supported
Images can be resized in several ways as per the requirements
Preview available
Additional features like flip, rotate, rename, and others supported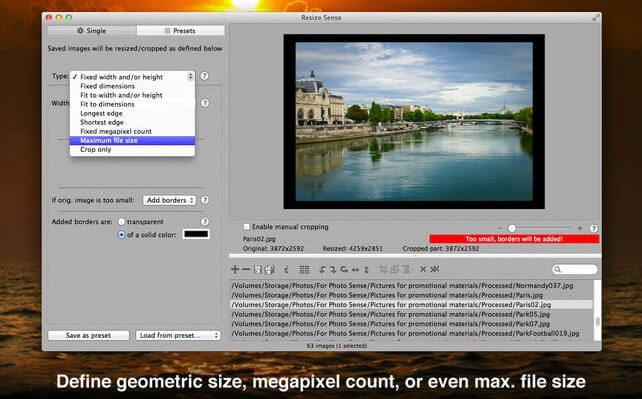 If you are looking for methods on how to resize photos on Mac, the above-listed tools will help you. You can check the functions and the features supported by each of these programs and then select the one best match your requirements.