When you want to share images from your vacation, a business pitch, or campaign with your friends or audience, it helps when the image is of high quality. Pictures or selfies that are too small or blurry may not meet your needs. You might also realize that your picture was taken from a wrong angle with terrible lighting. How can you fix these flaws and get the best quality for your photo? By using an AI portrait enhancer.
AI portrait enhancers can remove facial blemishes and noisy backgrounds, improve the lighting and angle, and even change your outfit if you are looking for a professional shot. These tools are easy to use and do not require the user to have any photo editing skills.
In this guide, you will discover our selection of the 7 best free face enhancers to improve portraits quality.
We have selected:
Top 7 Easy Face Enhancer Apps of 2023
We all aspire to look our best in every selfie and photo we share with the world. Thanks to the incredible advancements in technology, achieving flawless and captivating facial enhancements has never been easier. AI portrait enhancers use neural networks to analyze images and automatically remove blemished, wrinkles, and uneven skin tones, without reducing the original image quality or overly changing the way you look. We will walk you through the best AI face enhancers that can be used online for free to help you produce better quality images.
Media.io is a straight-forward online selfie enhancer that offers a wide range of photo editing tools as well. You can convert low-res images into high-res images by dragging and dropping an image or upload photos directly on the site and the tool will improve the file and provide a download link.
The photo enhancer allows you to remove noise, improve resolution, balance color level, and give your photos a professional look without you mastering any expert skills with complicated apps like photoshop and lightroom. Some tools you can find in the photo enhancer, include: AI Sharpener, AI Upscaler, AI Retoucher, AI Denoiser, AI Artifact Remover, AI Deblurrer, AI Lighter, AI Restorer.

Supported OS
Pros
Uploads are secure
Retouch face from different dimensions with AI
Compatible with any resolution
No watermark
Easy to use
Cons
Require Internet connection
How to Enhance Your Face in Just 1 Click?
You can easily get high resolution images for your needs by using the steps below:
Step 1: Upload the image you want to enhance.
Copy and paste https://www.media.io/photo-enhancer.html into your browser and launch the media.io online tool. Ensure your image is JPG, PNG, WebP, BMP, or among other major supported formats.
Step 2: Click 'Enhance Your Photo Now.
Once you have uploaded your image, click 'Enhance Your Photo Now' and allow the AI tool to auto-detect, analyze, and improve the resolution of your image.
Step 3: Download your improved face images.
If you are happy with the results, use the 'Download' button to save your images without watermark.
This AI solution offers users a limited free option for enhancing pictures. VanceAI uses deep learning to improve the color and details of uploaded photos. Photos enhanced by this tool can be used for photography, ecommerce, social media, and campaigns. The tool provides multiple enhancement options like upscaling, sharpening, and denoising. You can use the tool to compare before and after variations in real time and customize the results in different sections of the web app. The productivity section lets users enhance the quality of their images, the creativity section gives users access to AI tools that let users transform photos and tweak edits, the editing section holds more AI tools for users in need of in-depth customization. While VanceAI is rich in features and tools, it only offers 3 credits for free.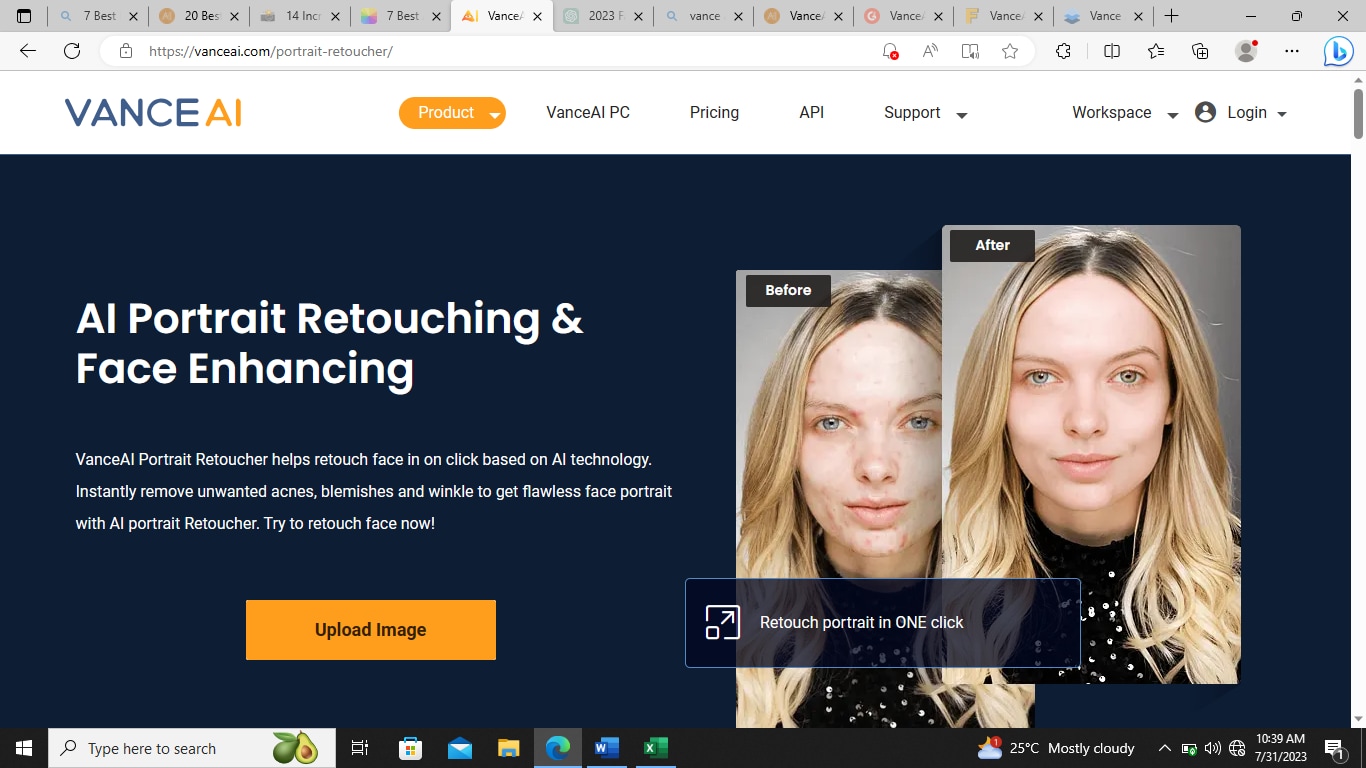 Supported OS
Windows 10 and 11 (64-bit only)
Pros
Uploads are securely stored in cloud
Beginners friendly
Enhances photos automatically
Cons
Requires internet connection
Limited support for other operating systems except Windows 10 and 11
Only 3 free credits
Side Note
VanceAI shares similar tools with Media.io like image sharpener, image upscaler, Photo to Sketch, and photo to cartoon.
Remini is a one-stop photo enhancement web app. The tool even boosts of an AI generative technology that can produce more high-res images for any need. Old photos can be restored to greater quality with this portrait enhancer. When the results are printed or shared online, they look like pictures taken by a professional photographer. Remini photo enhancer is completely free but to generate more pictures using your selfies, you will have to pay a weekly subscription.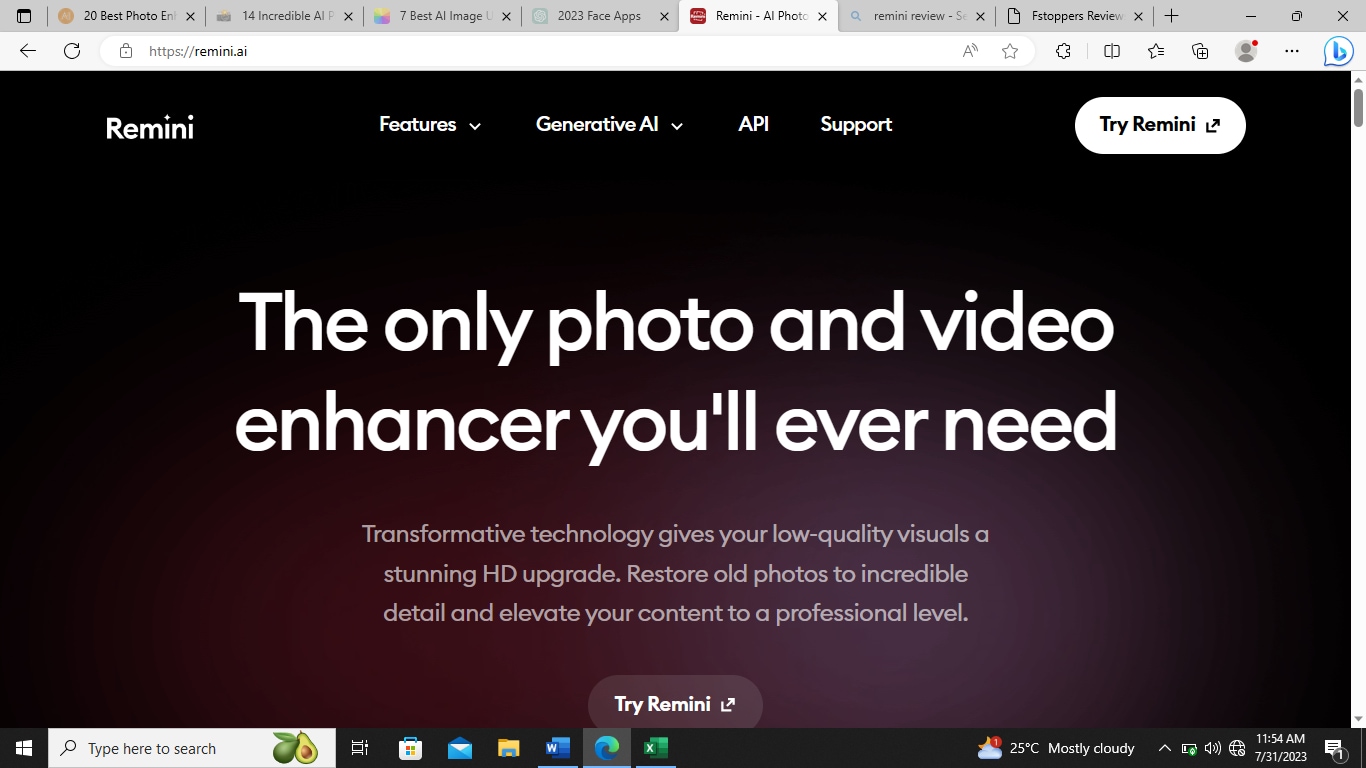 Supported OS
Pros
Photo enhancer is free to use
Can enhance blurry photos
Works fast
Cons
AI needs to be trained
Occasional glitches
Side Note
Remini and Media.io both use AI for improving the quality of photos. They also share similar tools like image sharpener, denoiser, and face enhancer.
Face26 is an AI-powered portrait enhancer for transforming old, blurry images into crisp, high-res images for saving and sharing. This free tool is great for photographers, influencers, and bloggers. Users can scan old prints and with just a few-clicks, sharpen, remove objects, and noisy background. Face26 also provides a built-in color-correction tool to give your photos a professional finish. As an extra, Face26 also serves as a face detection and customer avatar tools for businesses and ad campaigns.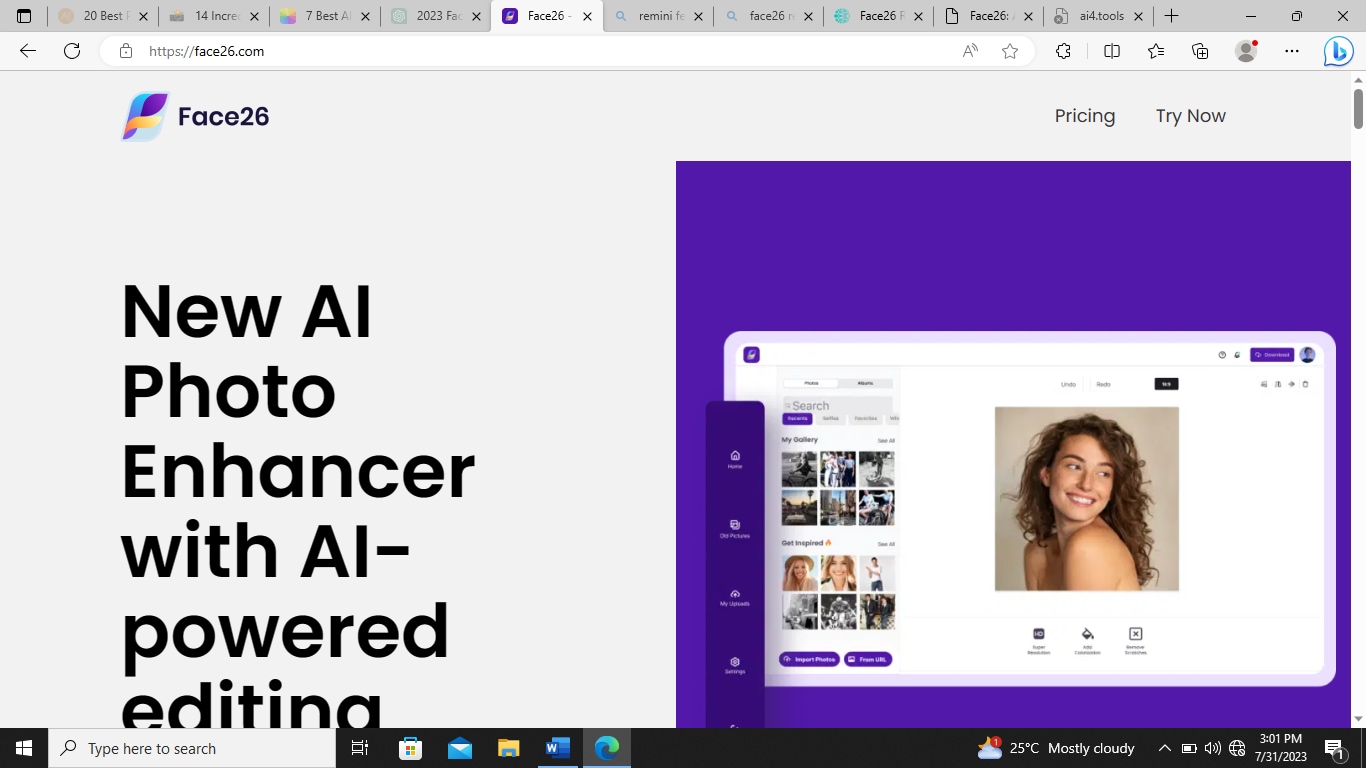 Supported OS
Pros
Saves time
Beginner-friendly
Compatible with android, iOS and windows
Direct download
Cons
Expensive subscription fee
Inactive customer service
Side Note
Face26 and Media.io are both compatible with Windows and Android. They both have free trials with access to a lot for tools for portrait enhancement.
Face Enhancer is a cutting-edge mobile app that revolutionizes the way you enhance your selfies, portraits, and videos. Available on Android, this feature-packed app offers an array of powerful tools to perfect your images, from flawless skin retouching to expressive filters and artistic effects. With its intuitive user interface, even beginners can achieve professional-grade results effortlessly.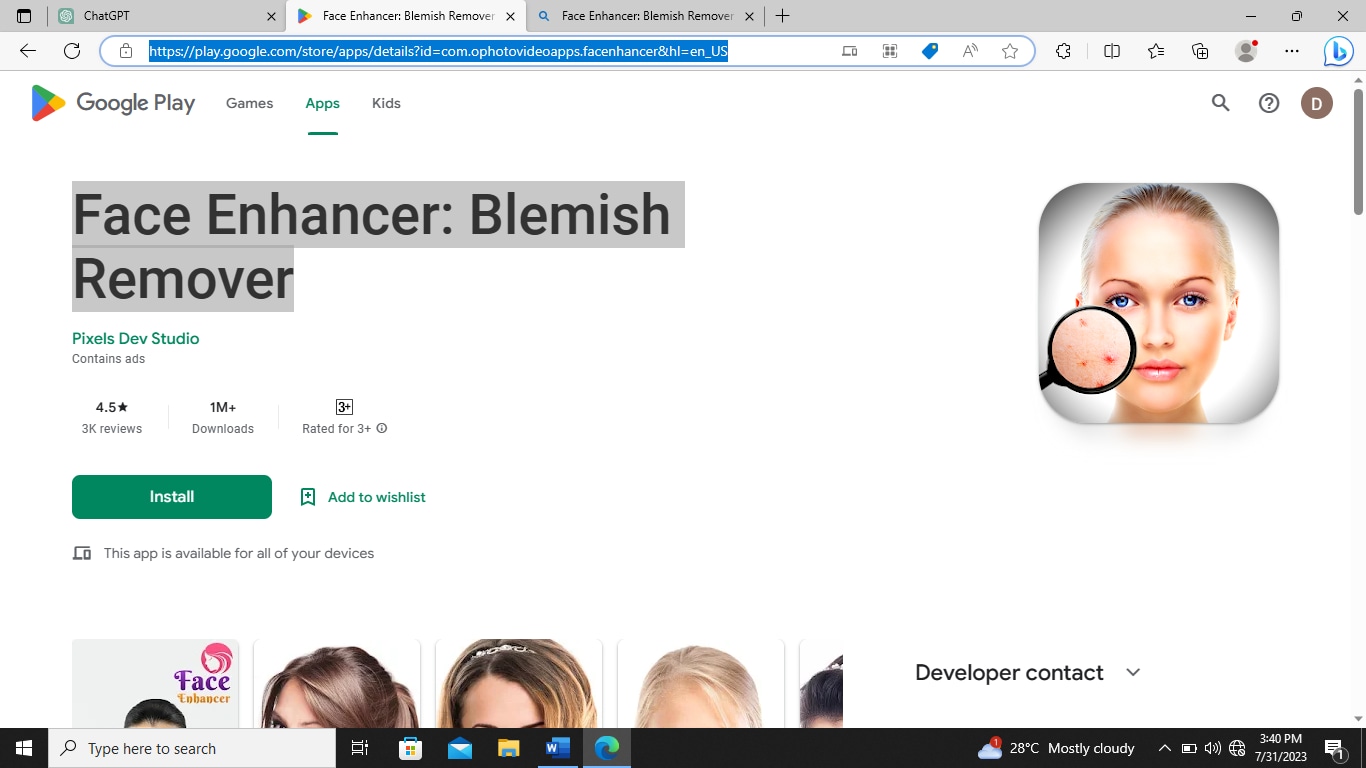 Supported OS
Pros
Saves time
Comprehensive editing tools
User-friendly
Cons
In-app advertisements
Can only be used on Android
Side Note
Face Enhancer: Blemish Remover and Media.io have free trials with access to a lot for tools for portrait enhancement.
AI image Enlarger is a powerful web-based application that takes your images and portraits to the next level. Designed to deliver professional-grade retouching results, this app offers an impressive array of tools and features to transform your images with ease. Whether you want to remove imperfections, enhance colors, or apply creative filters, this tool is readily available.
This tool detects picture information and automatically optimizes facial information, including skin texture, lips, eyes, and hair. Users can adjust tones and lighting to deliver stunning results, enhancing the beauty of your portrait.
You can also retouch your facial features with precision, from softening wrinkles to enhancing eyes and lips while achieving balanced and polished perfection.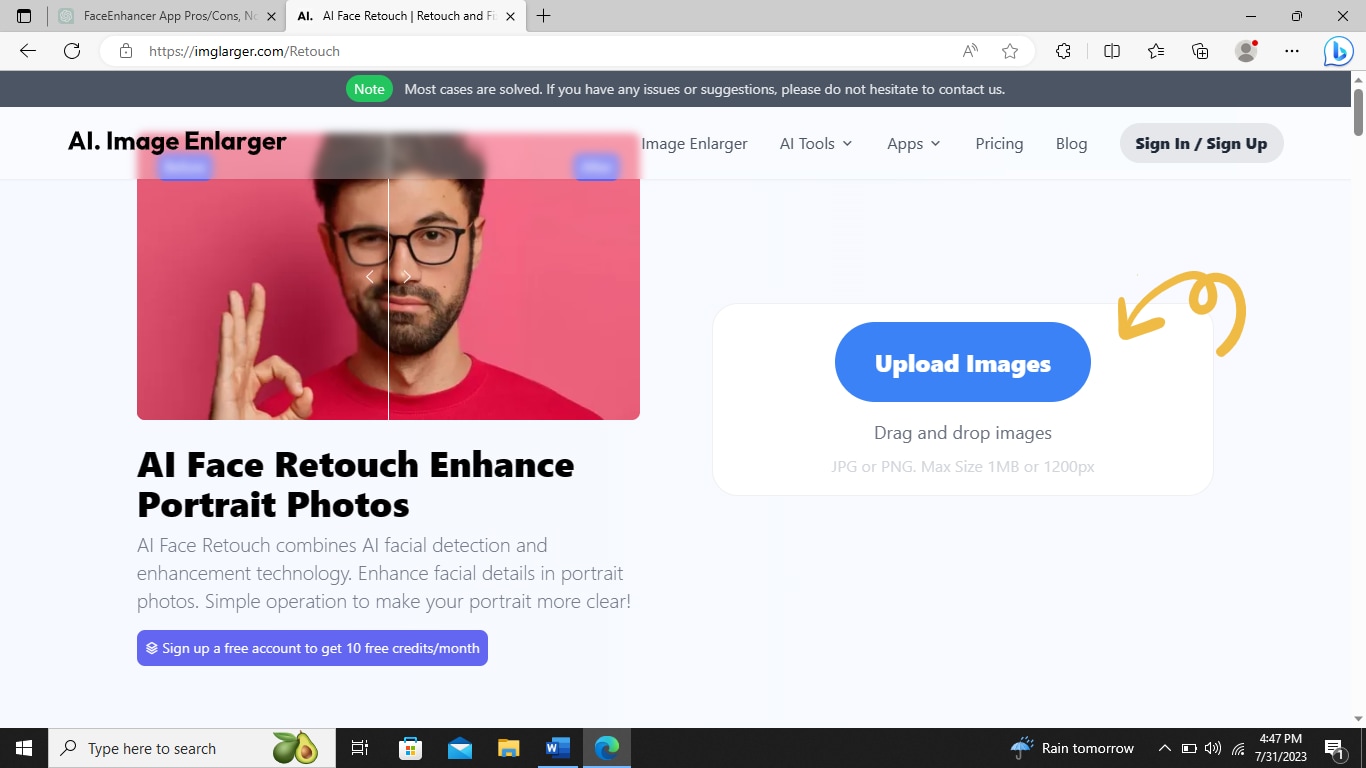 Supported OS
Pros
Saves time
Advanced editing capabilities
Can be used online
High-quality output
Cons
May not capture the emotions of the human
Results may be unrealistic
Side Note
AI Image Enlarger and Media.io can retouch photos and let users remove blemishes, smoothing skin, and enhancing facial features.
Hotpot.ai helps enhance and repair damaged faces with the latest technology. Old portraits contain distorted features like hazy colors, unnatural eyes, blurriness, and scratches. With just a few clicks, this innovative application enhances facial features, smoothens skin, and brings out the best in your subjects. Whether you are a professional photographer or a selfie enthusiast, Enhance Face delivers impressive results without the need for complex editing skills.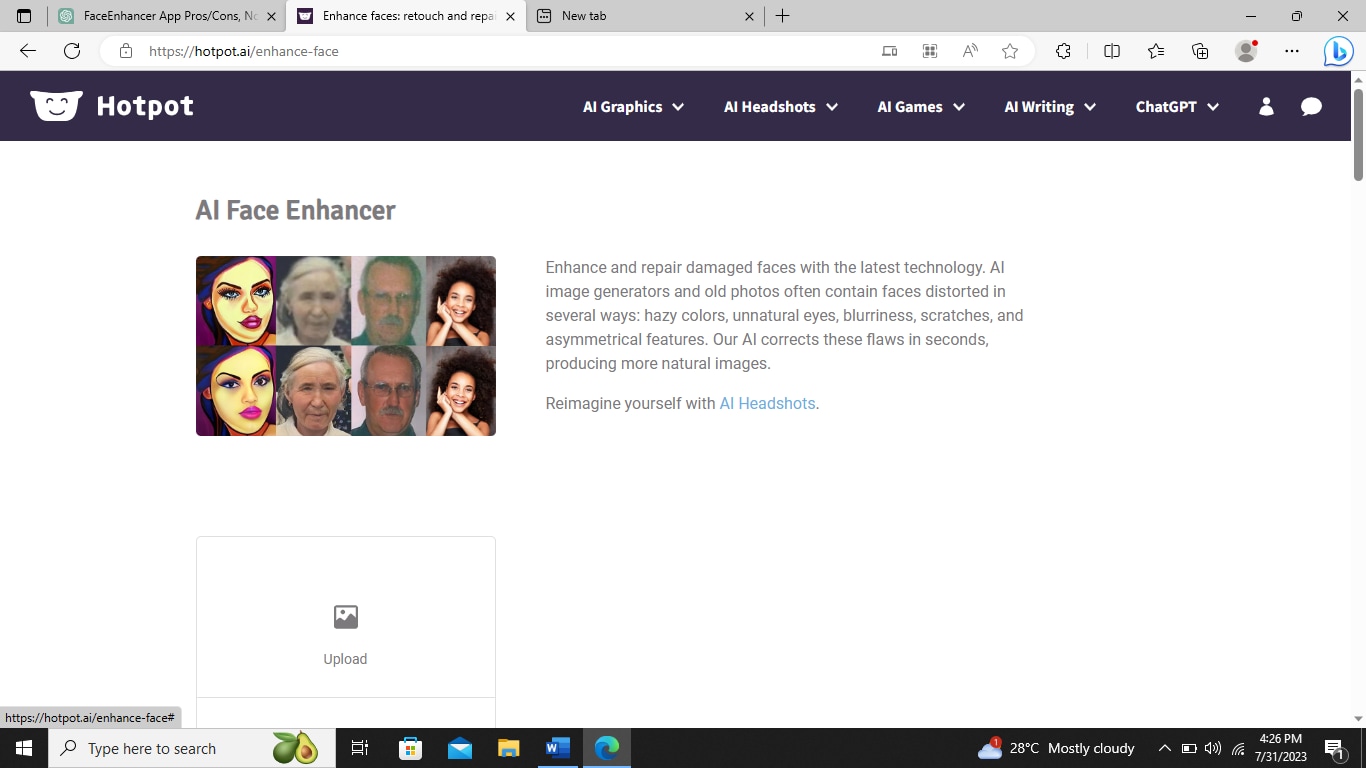 Supported OS
Pros
Stunning portrait effects
Advanced editing capabilities
Fast processing
Cons
May not cover extensive photo editing needs
Side Note
Hotpot.ai and Media.io allow users to remove watermarks, edit portraits, and generate headshots.