Making a video from your favorite images is a thoughtful way to share those special moments with those you care about. It is a great way to share your anniversary or any other event with your friends. Thanks to various picture-to-video converters, you don't need to be a professional to do this task.
Various applications handle a wide range of operating systems and multiple photos. There is no cost to use these programs, and they are jam-packed with useful functions.
Top 10 Images to Video Converters for Windows/Mac/Linux/Chromebook
In this part, we have reviewed the ten best photos to video converters, including the features, pros, and cons.
Supported OS: Online, works on browser
Website: https://www.media.io/slideshow-maker.html
Media.io slideshow maker makes it simple to create a video presentation from various images. You may also organize the photos in the order you choose and set the time of each photo display to your liking and add background music of your choosing.
Birthdays, marriages, anniversaries, family vacations, and other special occasions are made even more special with this handy tool. You can upload images from your device's storage and other sources, such as Dropbox and Google Drive.
What's more, you can set up the aspect ratio to make a photo slideshow video and share it on various sites such as Instagram, YouTube, Facebook, and TikTok.
Find out more details here: converting images to video with music.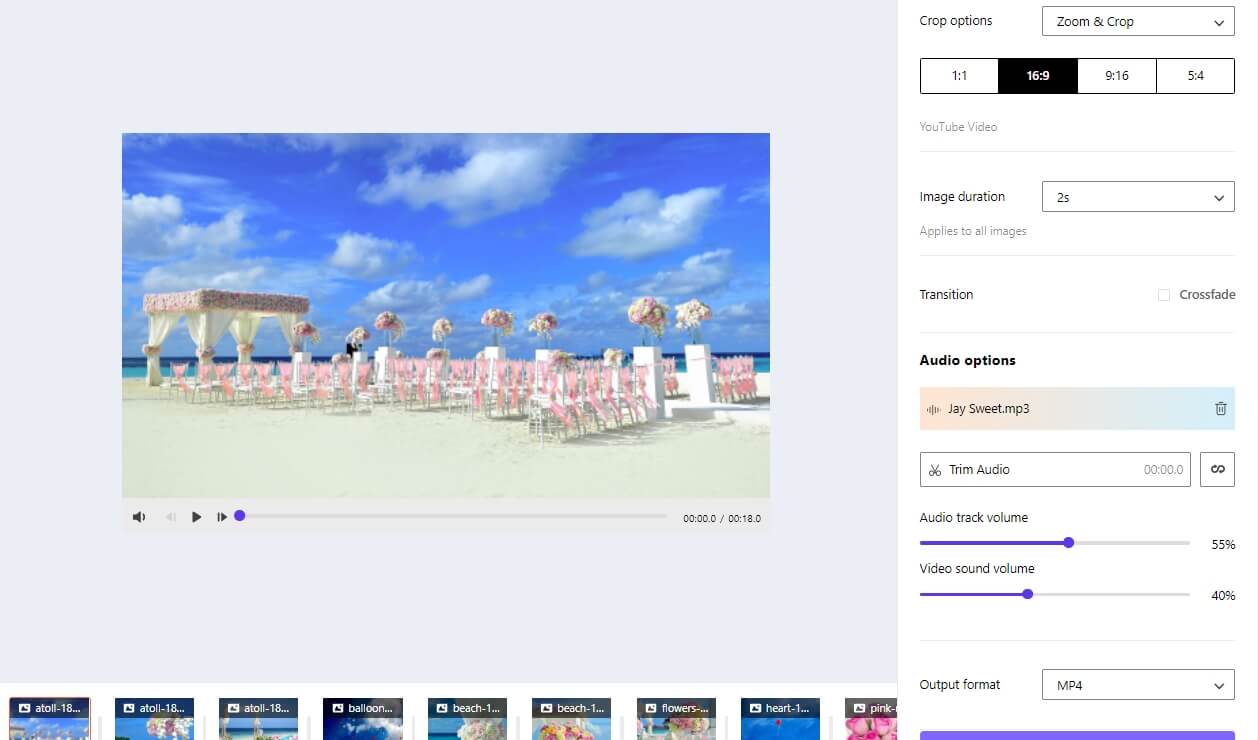 Pros
User-friendly interface with storyboard
Crop images to fit the aspect ratio easily
Export the photo slideshow video in various formats, such as MP4, MOV, MkV and AVI
Add background music to the photo video and transition
Cons
Turning one image to a video is not available now. You need to use the video editor from Media.io to convert one image to a video for free.
Supported OS: Mac, Windows
Wondershare Filmora comes in at number two on our list. It's easy to make a stunning video by converting photos and images with music.
With Filmora, it is possible to import photos straight from your camera or phone gallery, or you may use your transparent PNG images as a logo or watermark. Additionally, you may take an existing video and turn it into a new one by adding images.
Photos and dramatic effects can be seamlessly merged by selecting from your desktop or by choosing from the 500+ templates. A wide range of transitions, overlays, filters, components, and effects may be applied to your movie with the Filmora editor.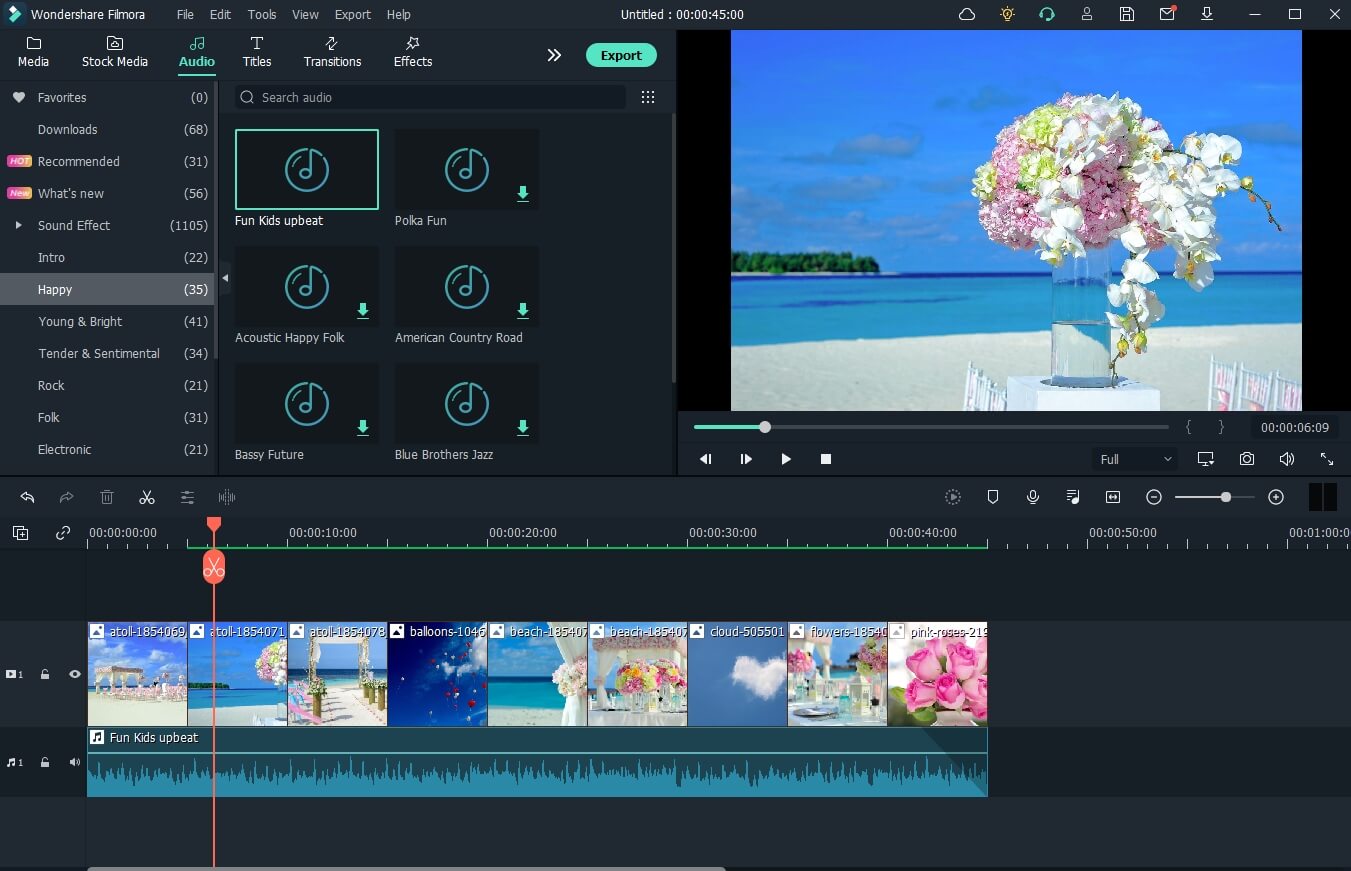 Pros
Best for consumer-level and professional content creators
Wide range of features and effects on offer
Cons
Leaves a watermark on the exported video if you didn't subscribe
3. Kapwing Image to Video
Supported OS: Online, works on browser
Website: https://www.kapwing.com/tools/image-to-video
Kapwing allows you to append multiple images together and create a slideshow video. Moreover, background music can be added to make the video look dynamic or aesthetic. Even with minimal knowledge— Kapwing lets you easily convert images to video.
Pre-extraction editing of videos makes it easy to add a soundtrack and music and even upload audio to the video before it is extracted. With this image-to video converter online, it is simple to customize the length of slideshows after appending images.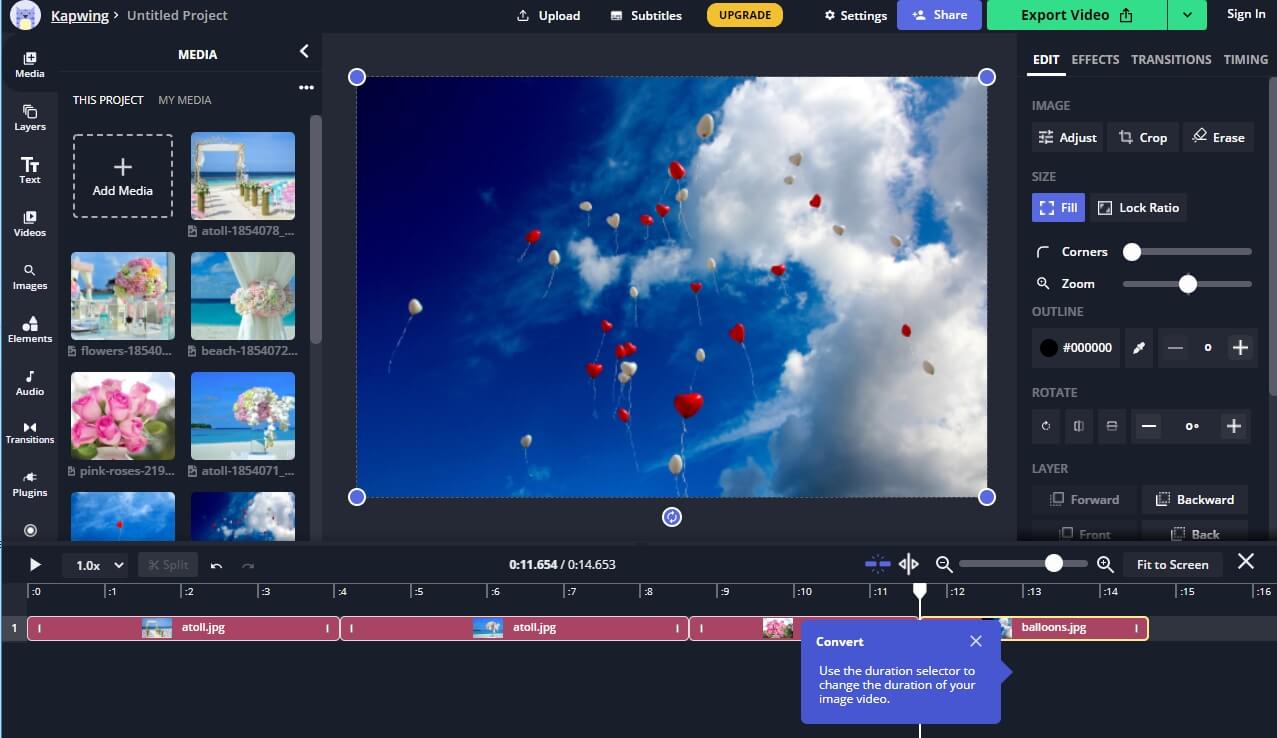 Pros
You can add animations and different transitions
Option to add subtitles to a video
Cons
Even if you signed in to Kapwing, you just get 3 watermark-free exports
4. Adobe Express
Supported OS: Online, works on browser
Website: https://www.adobe.com/express/feature/video/images-to-video
Adobe Express, formerly Adobe Spark, can be used to swiftly create a video from a collection of photos because of its straightforward interface. In addition, you have the option to choose from 1,000+ templates!
Examine the themes and select the most appropriate one, considering how the text would appear, then tumble into the picture, switching format, colors, and so on.
You can add text to videos, change the length of slides, and experiment with various layouts to engage and fascinate your audience. Begin by selecting the timeframes and dragging the photographs one after the other one after the other.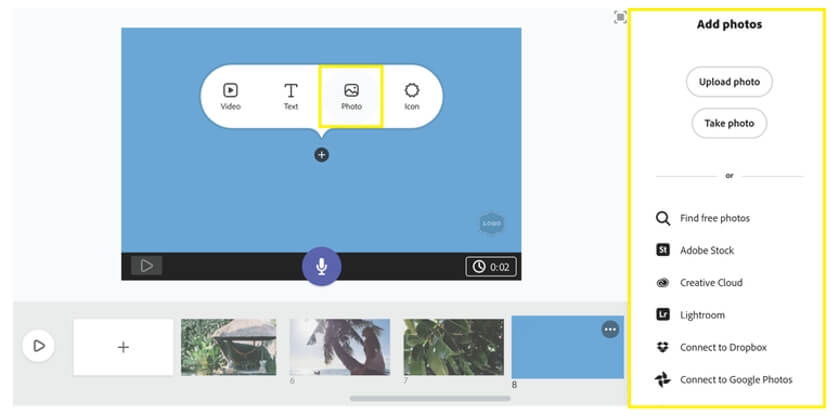 Note: Sometimes I sign in, it says "Access Denied"!
Pros
Excellent customization features
Wide range of templates on offer
Intuitive user-interface
Cons
5. Online Converter
Supported OS: Online, works on browser
Website: https://www.onlineconverter.com/image-to-video
Using this online tool, you can turn one image into a video with music easily. You can upload a photo in any format, including JPG/JPEG, PNG, GIF, TIFF, and RAW digital shots. However, as a default, if you do not pick an audio file to serve as the background music, the output video will be muted.
You may choose an audio file (such as an MP3 audio file) and add it as the background music for the output movie. Set up the duration for the final output video and click Convert to start.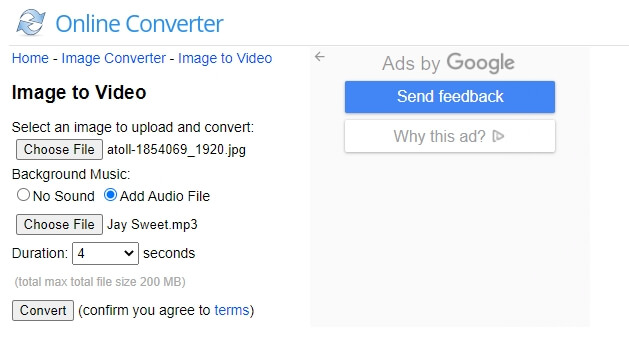 Pros
Convert an image in any format to an mp4 video for free
Options to add background music
Cons
A limited set of features with annoying ads
Upload only one image to make a video
6. Convert2Video
Supported OS: Online, works on browser
Website: https://convert2video.com/
Convert2Video is a free online tool that allows you to upload 30 images at one time to create an mp4 video. All you need to do is add your images and follow the instructions on the screen to add background music and your logo. Set up the logo position and size, and click Create the video now. This images to video converter will start the conversion immediately.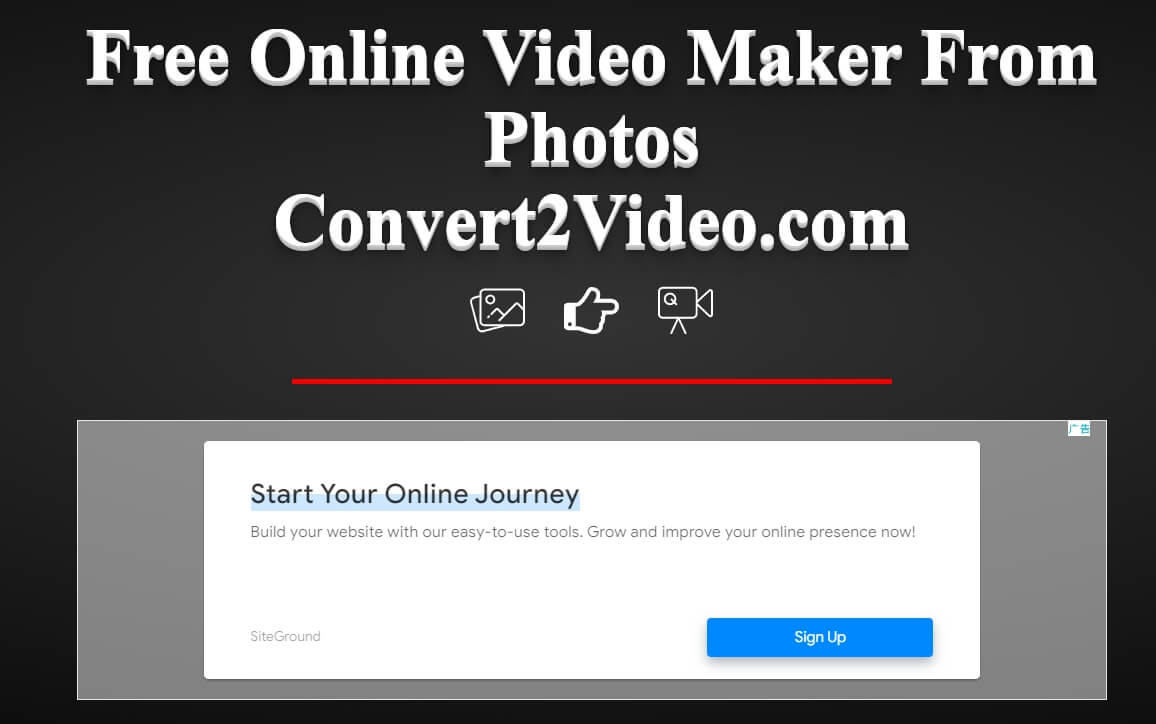 Pros
Provides an on-screen instruction for converting images to mp4 video
Cons
Limited features, and you can't preview the result before downloading
Annoying Ads
Upload 30 images max
7. Clideo Image Sequence to Video
Supported OS: Online, works on browser
Website: https://clideo.com/image-sequence-to-video
Clideo can convert a series of photos into a video the same way that other image-to-video converters can do. In addition, you can upload several images from your local file or through the internet through a social network link or a Dropbox/Google Drive account.
With this images to video maker, you can modify the photos in a sequence to fit them within a frame and alter the aspect ratio to meet the requirement of different social media platforms. In addition, like Media.io slideshow maker, you can use two ways to crop the images to fit the frame, add crossfade transition, or adjust the duration of the photos.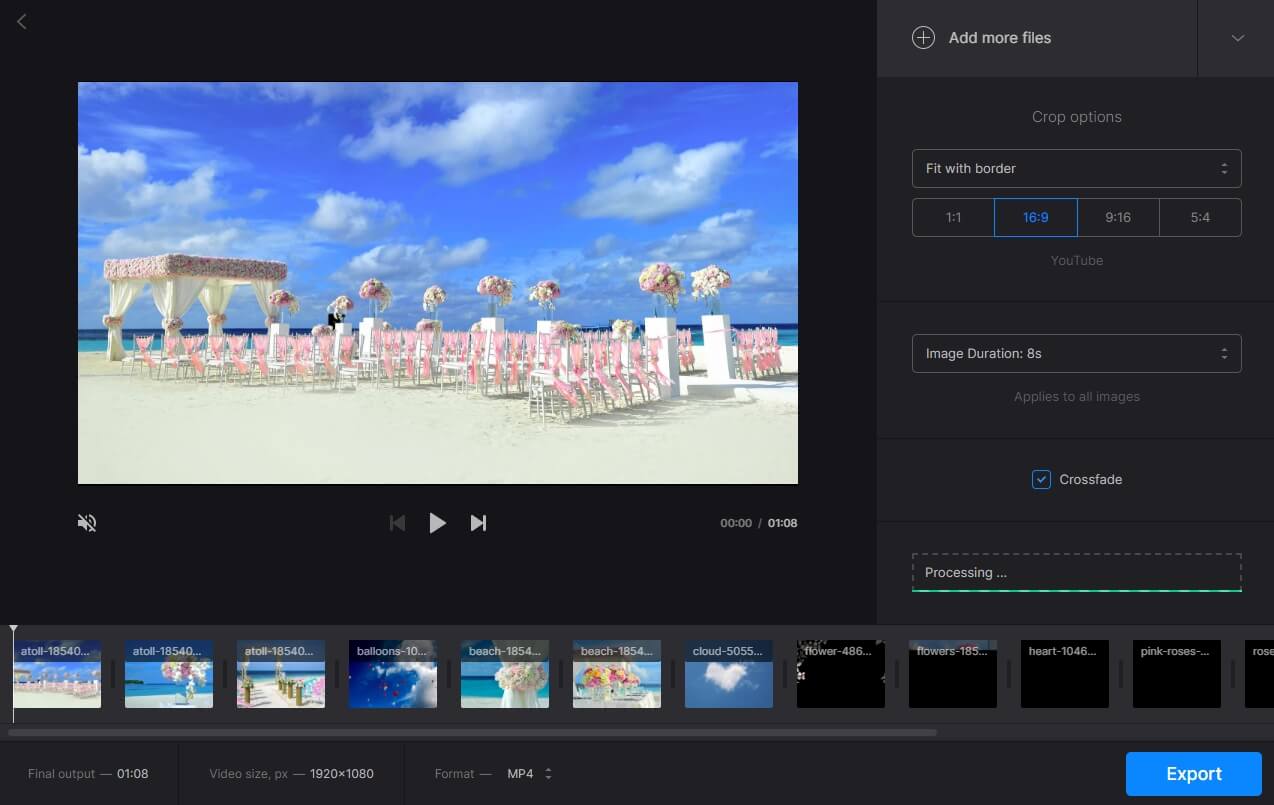 Pros
Full video editor to cut, crop, trim, and zoom the photo video easily
Add background music and transition easily
Cons
Sometimes, this tool is stuck and the preview window is black (not sure if it is caused by a low-speed internet connection)
Watermark on the export video when using a free account
8. InVideo
Supported OS: Online, works on browser
Website: https://invideo.io/make/image-to-videos/
InVideo is a well-known application for converting text or pictures into video, creating graphics, and creating posters, among other things. To captivate an audience, users may effortlessly capture images and convert video files for free on the internet.
Start by selecting the aspect ratio from 16:9, 9:16, and 1:1; pick up the templates based on your needs. You can also start from scratch with a blank canvas. After uploading your images to this video editor, you can edit, crop, and add background music, transitions and effects to the photo slideshow video with InVideo.
Pros
A large number of templates to choose from
Editing features available
Cons
Video processing takes a lot of time!
Login needed before uploading images
Video is watermarked in free account
9. Biteable Images to Video
Supported OS: Online, works on browser
Website:
Biteable images to video maker provides image and video assets in different styles, including animation, family, workplace, food, health & medicine. So even if you don't want to upload your images, you can still create a topic video with the assets. It also provides a music soundtrack library that provides soundtracks for different scenes.
After uploading your images, you can drag them to the storyboard to edit, and add image effects such as zoom in, zoom out, and pan. Then, click the text box to add texts to the image slideshow video or delete it.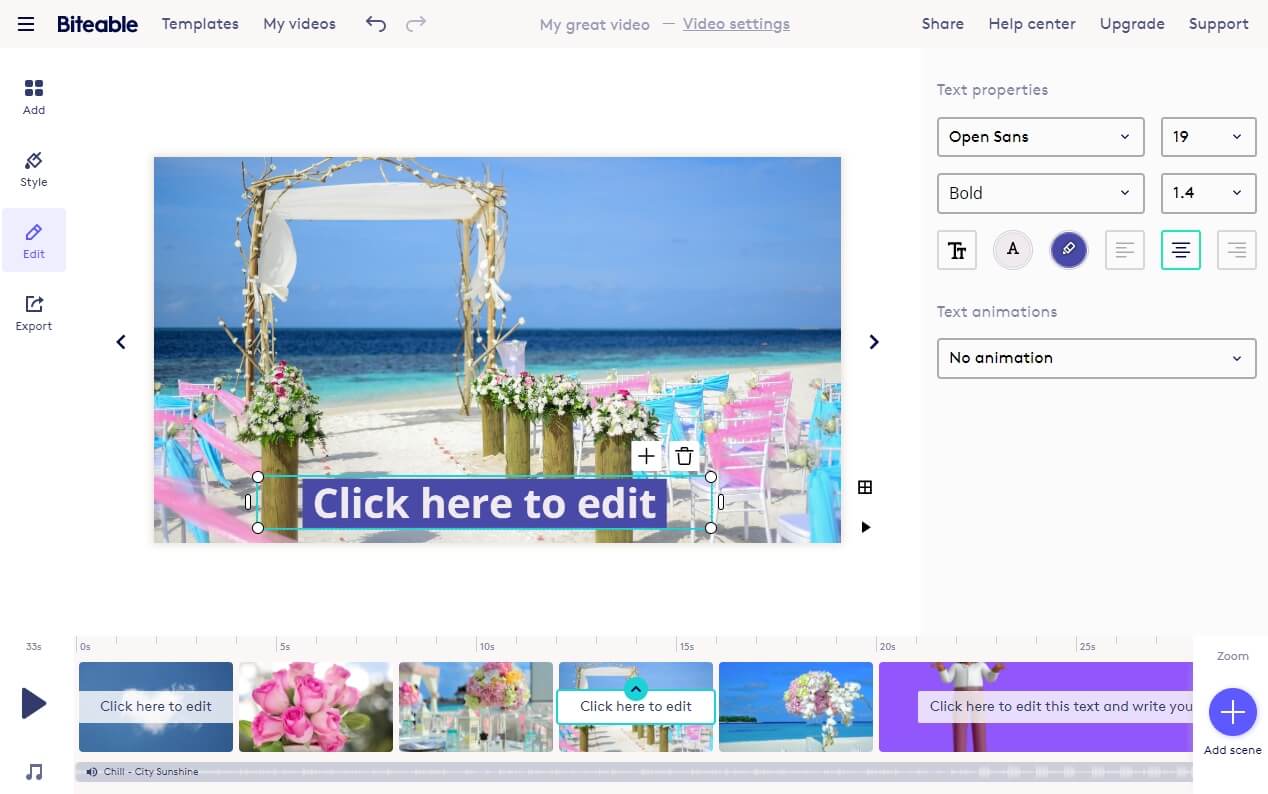 Pros
Share your video easily with links or embed codes
Online available
Cons
Restricted images to work with
Sign up needed before using this tool
Watermark on the free account
10. Fastreel
Supported OS: Online, works on browser
Website: https://www.fastreel.com/image-to-video.html
Fastreel is another online service that allows you to turn photos into a video effortlessly. This photo-to-video converter is user-friendly and simple because users must submit the PNG, JPEG, or GIF images to the programs.
You can upload a series of images that will be converted into a movie in seconds using this tool. After that, you can choose the aspect ratio from 16:9, 1:1, 9:16, 4:3, and 3:4 for different social media platforms. Adding background music or adjusting the frame size is also available on this tool.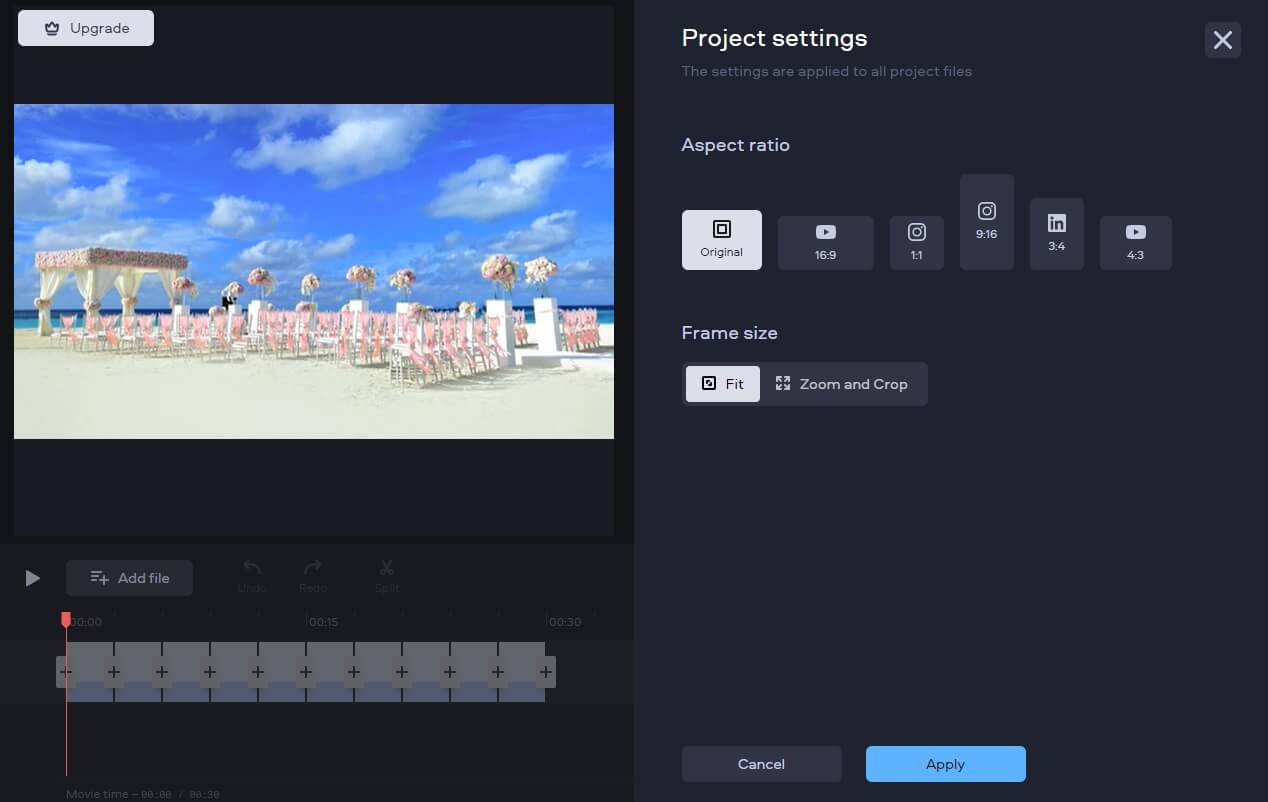 Pros
Extremely ideal for beginners
User-friendly software
Wide support for image formats
Cons
With a free account, you can only export the video at 480P with a watermark
Limited features for video editing
FAQs about converting images to video
1. Will there be a watermark on the created video from images with Media.io?
No, your videos created from images with Media.io photos to video maker leaves no watermark on the exported video. What's more, you can save the photo video in different formats if needed.
2. Can I convert a still image to video with media.io online video editor?
Yes, the Media.io video editor allows you to convert a still image to a video.
1). First, click upload media to upload the image and then place it on the timeline.
2). Next, adjust its duration and edit the image, add titles, transitions, and elements to the picture.
3). Click the Export to save the image as a new video at 1080p for free without a watermark. That's it!
3. Can I add music to the video made from photos?
Yes, you can add music to the video from photos. Both the Media.io online slideshow maker and video editor allow you to add background music to the photo video. You can upload the background music or choose one from the music library in the Media.io video editor.