With the help of an Online Video Editor with No Watermark, you can complete your project without worrying about any hidden limitations such as watermarks or time constraints. There are a plethora of excellent free online editors available.
However, most of them have limitations such as the ability to export only in HD quality, time or size limitations, or the ability to create watermarked films. Sometimes, you will not realize this until you have completed editing your video and discover that you must pay to download it. As a result, we decided to dig beyond that and uncover the Best Free Online Video Editors with No Watermark in 2022 that are free to use and do not require any expert skills to work with.
Part 1: Best Free Online Video Editors with No Watermark
Here, find out the best free online video editor with no watermark that we have shortlisted for you:
Check out Media.io if you're seeking an all-in-one solution that will enable you to manage and modify your media files easily. It is one of the most popular online and offline media converters with many features.
Media.io is a flexible media converter that allows you to convert video files into various formats online without annoying pop-ups or advertisements. Furthermore, Medio.io ensures that your videos are free of watermarks.
This free online video editor allows you to create a video from scratch, record screen and webcam videos, or upload from onsite such as YouTube. It provides some fantastic video templates, covering different industries, such as YouTube, podcast and marketing.
One of the most feature that I like is the Auto-Subtitle generator, which can generate captions and embed them to the video automatically, saving lots of time.  Another thing need to notice is the Text to Speech feature, which allows you to create different voices for free.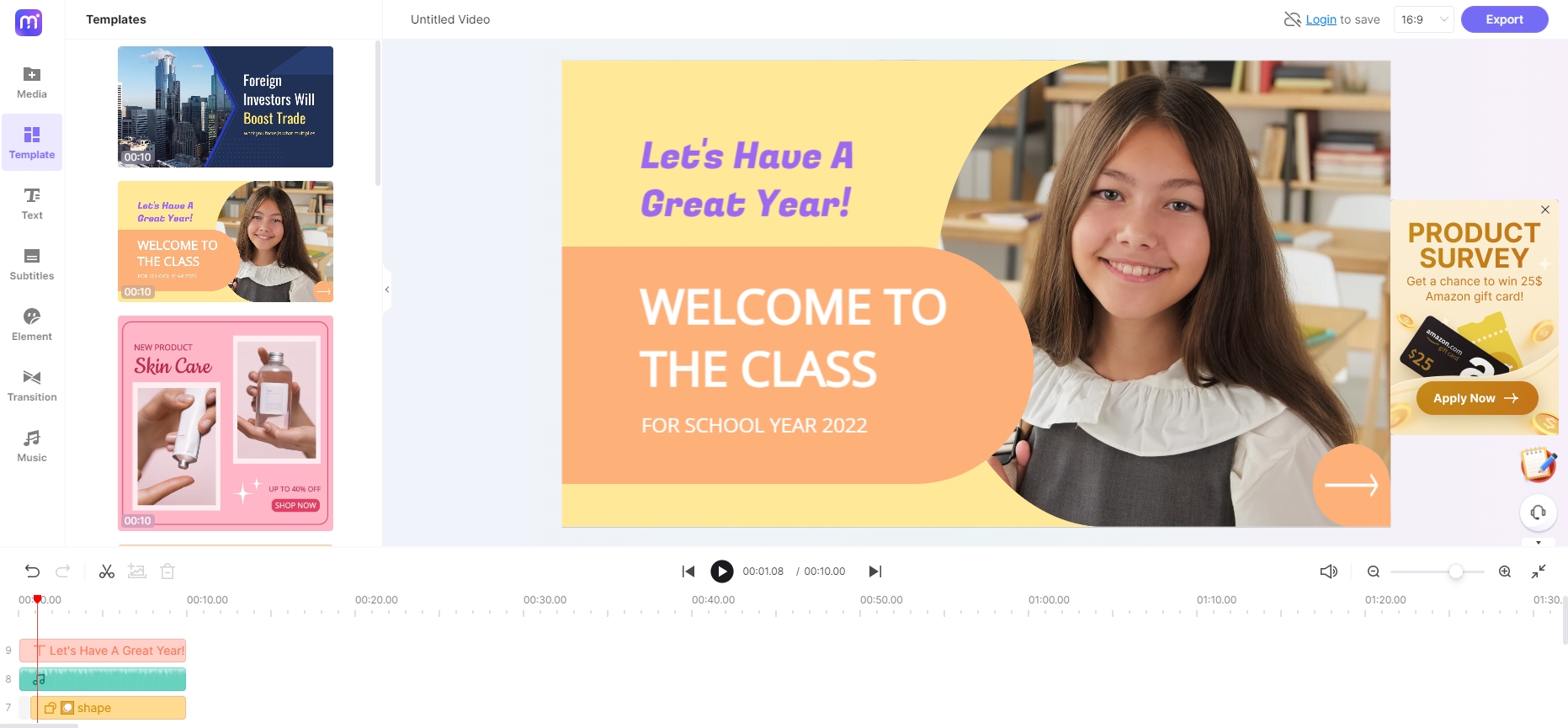 Features
Provide all basic video editing features to create a video
Add subtitles automatically
Generate human-like voices easily
Video templates, texts templates and more are available
Pros
Full HD videos up to 1080p
No time and size limits to a video
Multiple AI tools to improve editing efficiency
Cons
Some advanced editing features are not available, such as green screen compositing and motion tracking.
2. Kapwing
We'd like to introduce Kapwing, another watermark-free video editor. It works flawlessly on your browser, and you have the option of saving your movie to the Cloud. There are two versions available: a free version and a premium one.
If you are new to video editing, the basic editing options included in the free edition should be sufficient for your needs. You can, however, subscribe to a pro account for a monthly fee of $20 if you are more skilled and want to have access to additional premium functionality.
Kapwing offers charming animations and some fascinating effects such as boomerangs and mirrors, which allow you to make exciting films. It has the potential to make your video stand out on social media.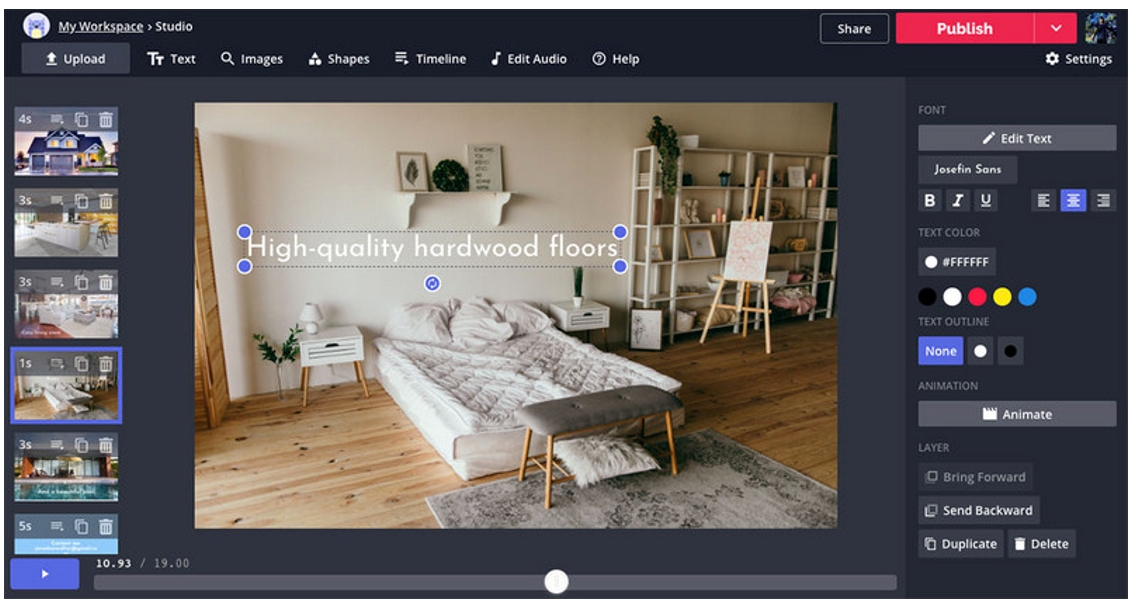 Features
There is no watermark in this free video editor.
Add a watermark to a video, picture, or other media.
Modify the speed of a video
Rotate photos and videos with ease.
Take out the background noise.
Pros
No watermarks
Plenty of emoticons
Free and easy to use
Cons
Limited watermark-free exports
3. Clipchamp
The Clipchamp video editor is the next one on our list. With the program's assistance, you can produce videos for any occasion without having to download or install any software. It is one of the finest online video editors without a watermark available. Also, it is the most powerful online video editor on our list, and it is available for free.
Here's the best part: Everything about it is built around the timeline, which is a more professional editing mode. People with a lot of editing expertise could find it more appealing. Aside from that, most of its features and resources are only available to paid subscribers.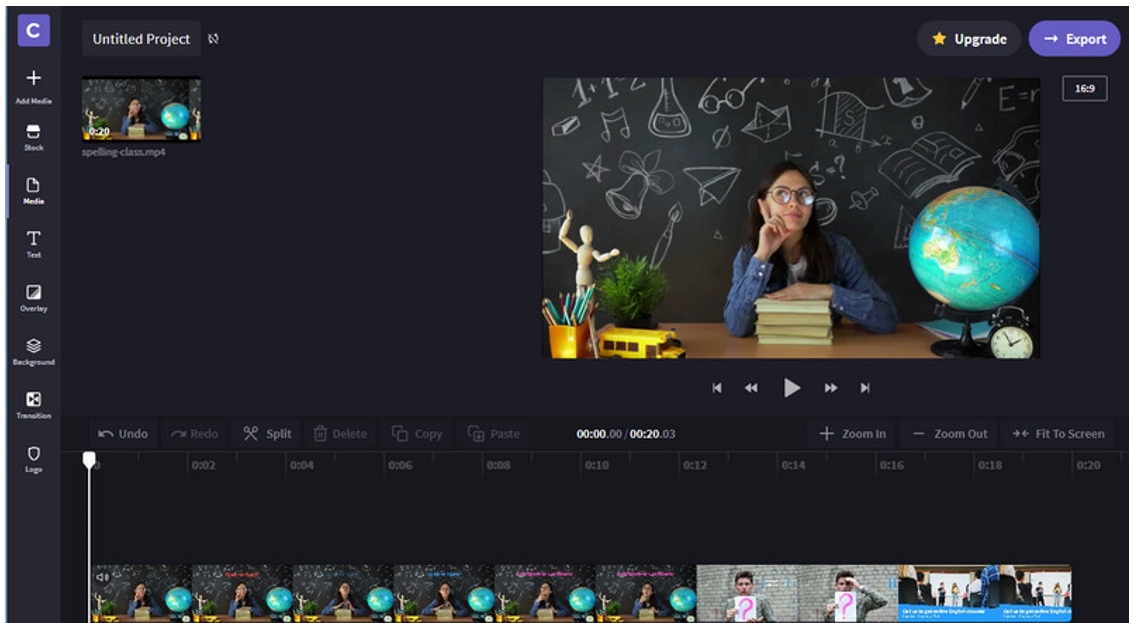 Features
Convert the file format to which you need.
Include branding in your videos.
Text can be added to videos.
Many features such as crop, adjust, rotate, etc.
Pros
Ready-made video templates
Rich video editing softwares
Open resources and features available
Cons
4. Invideo
Open-source, cross-platform video editor with an incredibly smooth and easy UI, Invideo is a must-have for every video enthusiast. The program offers several panels that can be docked and undocked as you find convenient. Also, the software is equipped with media assets, an encoding panel, and a filter panel.
Recent files can also be seen in a thumbnail format, as can playlists with a thumbnail view and recent search history. It allows you to drag and drop files from your file manager into it.
Thanks to FFmpeg, Shotcut can support a wide range of audio and video formats and codecs. Working with Invideo is a breeze; you have access to all the information, tools, and features necessary to produce high-quality items. It allows for native manipulation of media files and provides timelines that handle several formats.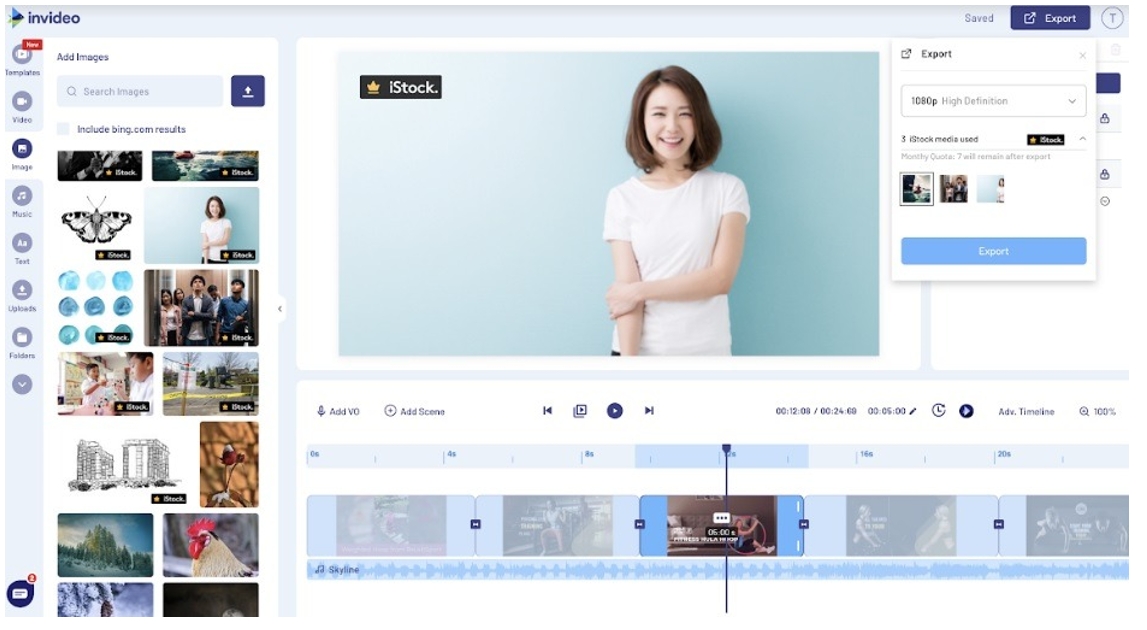 Features
Works with 1080p videos
Audio extraction from videos
Supports the latest video and audio formats
Leaves on watermark on videos
Decent editing templates are available
Pros
Intuitive interface
Works on all three major platforms
Useful UI Features
Cons
No ready-made profiles are available
5. FlexClip
FlexClip is a great free online video editor that enables you to save videos without watermark. Even though it is free to use, FlexClip is equipped with professional features. It has all of the video editing tools you'll need, such as a video trimmer, text editor, voice-over, animations, and a slew of effects for adding ambiance to your film.
Aside from that, FlexClip provides millions of royalty-free media resources to help you improve your films and a variety of templates to help you get started quickly. It satisfies all of your demands, whether you need a YouTube video, a music video, or a promotional video.
Even though FlexClip allows users to produce various films, we suggest this online video editor to anybody looking to make business videos. It is free to use any templates or editing tools, and if you export your work at 480P, no watermark will be placed on your movie. The most affordable subscription package is $5.99 per month.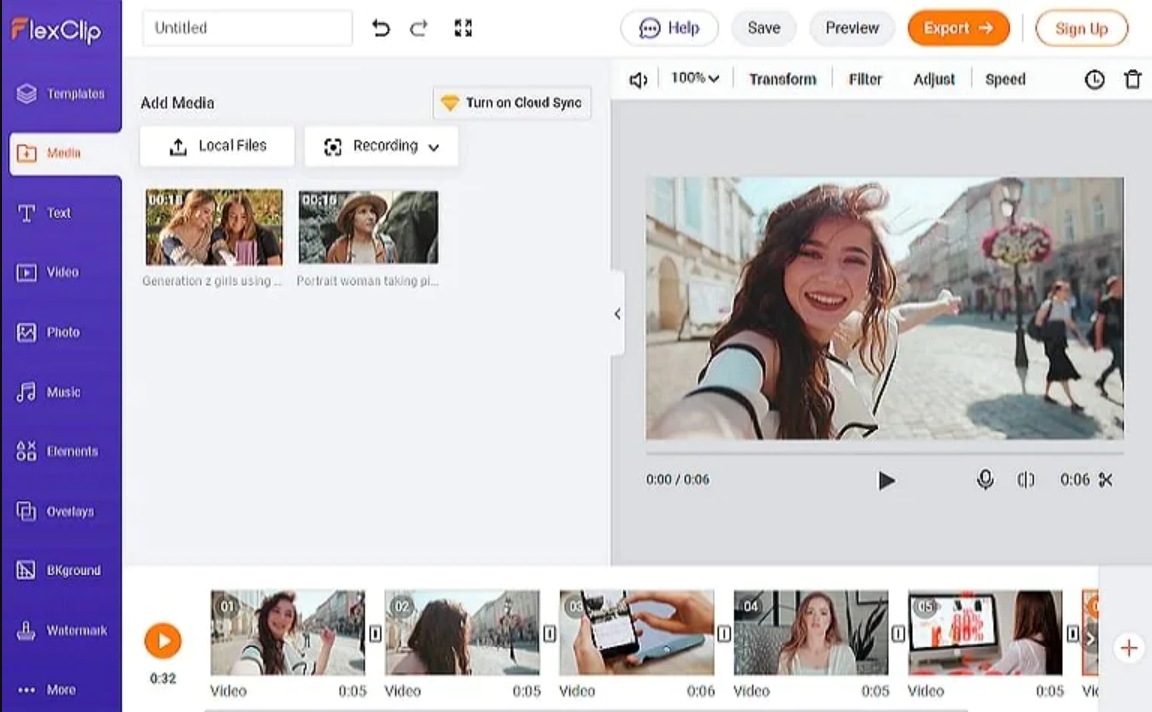 Features
High-Definition resolution support
No Watermarks
Many ready-made templates are available
Video editing features include crop, cut, adjust, rotate, audio editing, compressing, etc.
Pros
No skills needed to use the app
Free to use
Intuitive user display
Cons
Not entirely free (USD 5.99 Subscription per month).
6. Magisto
Many video artists and editors would be dissatisfied with the price structure. However, the collection of pictures and photographs from iStock by Getty Images distinguishes it from the competition. This video editing software is intended to assist organizations in creating, editing, sharing, and providing insights to marketers via video.
Magisto has a sharing option that allows you to post/share films to social media platforms and websites more quickly. It also sums information on shared videos to provide business insights.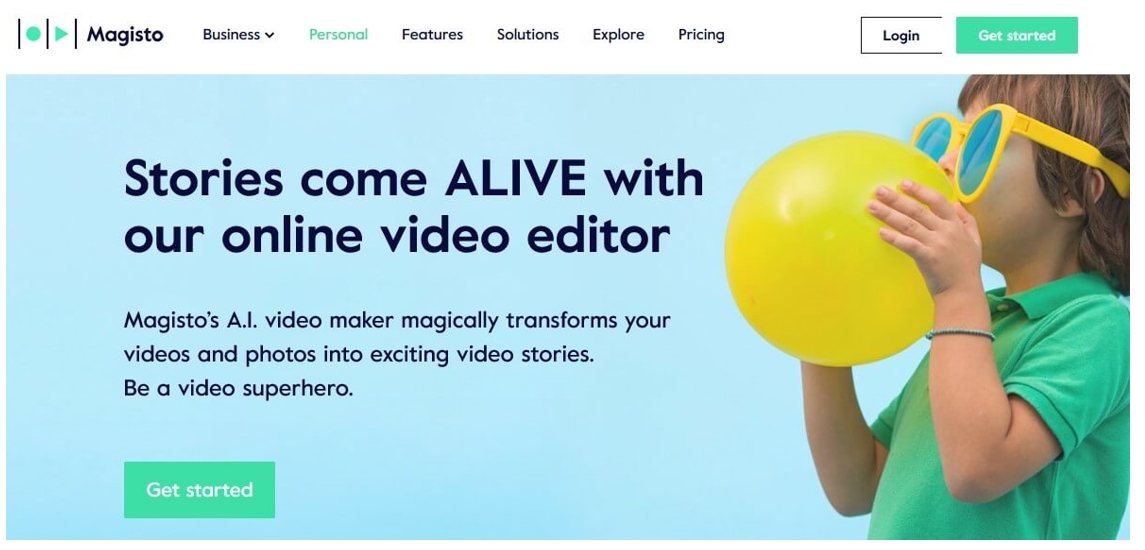 Features
Multiple themes on offer
Adding captions and logos
Unlimited HD movie downloads
Rearrange videos
Unique business styles
Pros
Easy-to-use software
Premium edit styles
No watermark
Cons
Only a handful of essential features
7. Renderforest
Renderforest is a simple online video editor without a watermark that individuals and large organizations use to make and edit films. You can use free as well as premium services to edit and distribute videos without watermarks. Their monthly fees vary from $9.99 to $49.99.
You can upload and edit your videos, or you can browse the editor's collection of over 195,000 videos. These tools will make your videos more appealing: Broadcast Video Editing Toolkit, Animated Titles Pack, and Creative Titles Pack. The typography pack is the ideal tool to utilize to transform the appearance of your film.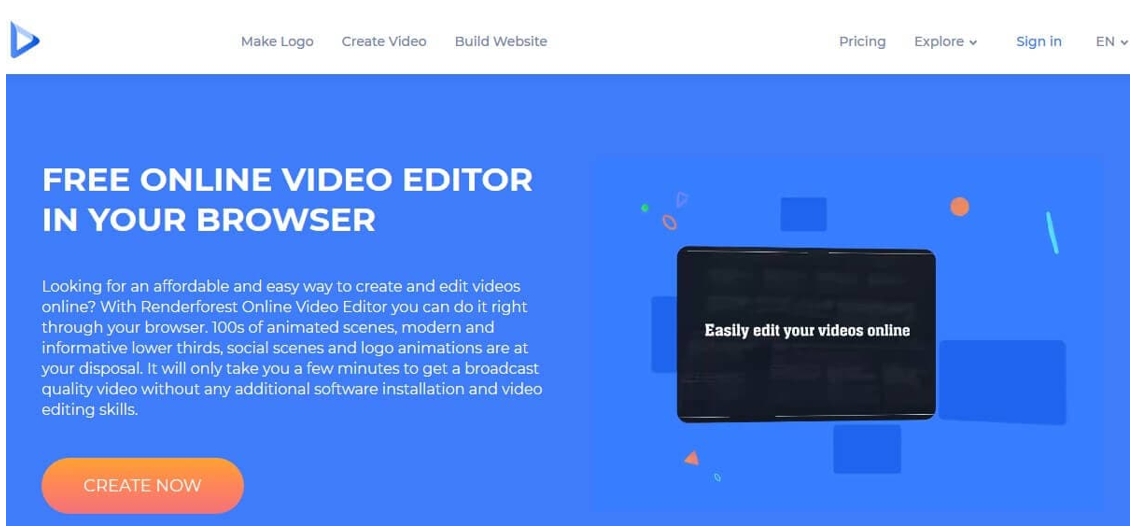 Features
Multiple 195,000+ ready-made videos
It comes with a Broadcast Video Editing
Offers many Animated Titles Pack
Typography feature
All the beginner editing features
Pros
Easy to use
No watermark
Supports HD videos
Cons
8. Adobe Express
Adobe Express is well-known for its products, ranging from PDF-management software to a screen recorder and everything in between. All apps are entirely free and simple to use, even for novice users.
Adobe Express is not an exception to this rule. When it comes to free video editing software for Windows 10 that does not include a watermark and allows you to create clips with effects, filters, and transitions without much work, this should be a top choice.
Features
Designed for PC and mobile devices
Text, rotations, and trimming are examples of essential editing tools.
Integrated recorder
Include transitions and effects.
Allows for immediate posting to social networking sites, including YouTube.
Pros
Video editing at 4K resolution
The app has a library of music, typefaces, stickers, and other items.
Beginners will like the simple user interface.
Cons
The high subscription price for a premium account
9. Canva
Canva is an online graphic design tool with various functions and features that even inexperienced users can utilize. It enables anybody to create captivating designs for both personal and business usage.
It is designed specifically for people who are not graphic designers and cannot afford to spend a lot on professional designs. This platform has everything, whether you're creating a résumé or designing an invitation card. You can also download the premium edition for extra features.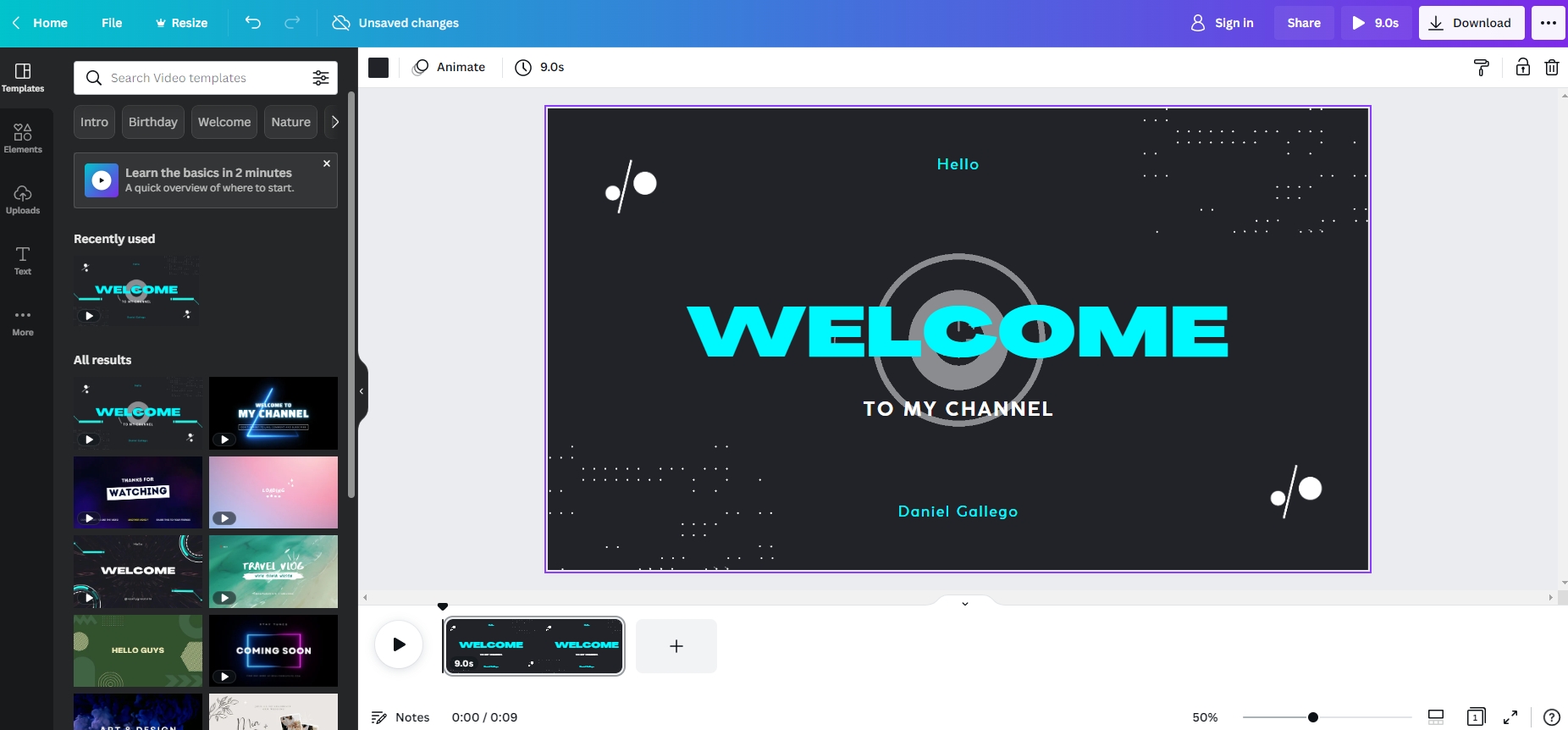 Features
Library of free stock features
Basic cropping and texturing photos
50,000 templates to choose from
Drag and drop feature
Options to create infographics and resumes
Pros
Offers many different types of app integrations
Straightforward to use
Excellent in-built tools
Cons
No video or audio calling
10. Mastershot
Mastershot is a straightforward video editor that covers the essentials well while free of adverts and hidden charges. To use it, you must first register, but after that, you can modify files and export them in full HD definition.
With easy tools, you can cut films and mix snippets in the app. It's simple to add music, pictures, or text to any portion of the movie, and you can adjust the volume, size, colors, and fonts to your liking. Mastershot also allows you to extract and utilize audio from any video. Everything is organized in a user-friendly and straightforward layout. You'll generally receive all of the essential tools found in the finest free video editors.
Mastershot, which operates fully in the browser, claims increased security by processing your films natively. This means that videos remain on your computer in your browser rather than being uploaded somewhere. This also means that changes are made far quicker than when using an app when each update must be submitted to a server before you can view it.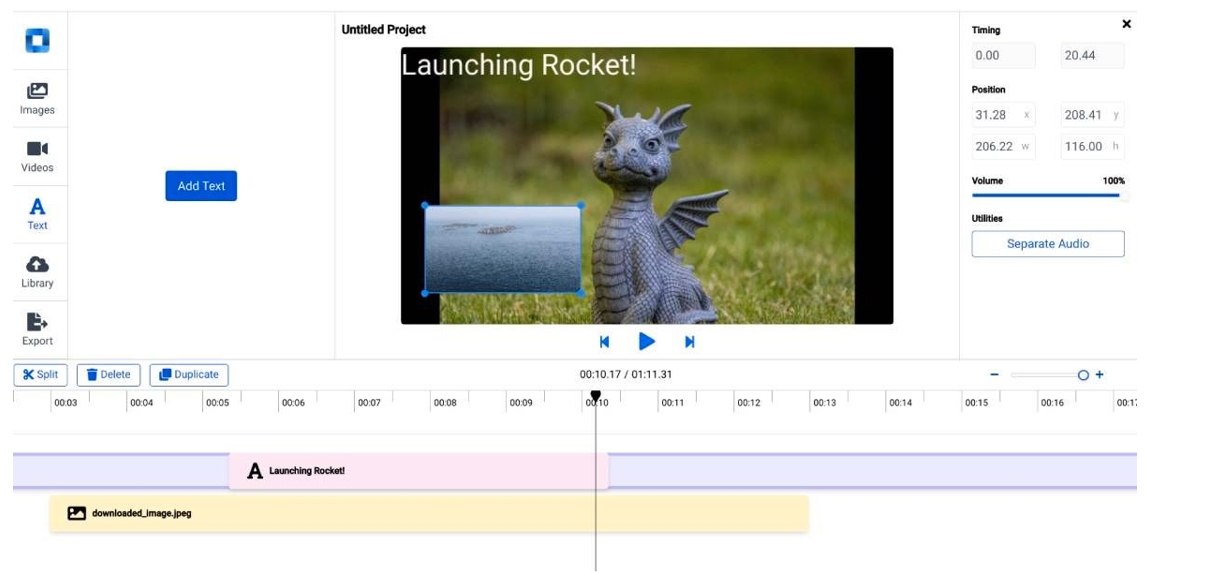 Features
Edit videos in HD
Customization features
Trim videos to perfection
Audio extraction from the video
Adds security by processing natively
Pros
Completely free to use
Easy to use interface
Variety features on offer
Cons
Missing out on a few features
Part 2: How to Choose the Best Free Online Video Editor Without Watermark
The Type of Video You Are Creating
Creating and editing commercial films necessitates using an online video editor with business-themed functionality. You cannot pick an editor who uses watermarks while selling a different product. Tutorial films are often longer than 8 minutes in length, and the voice should be as clear as feasible. Some video editors and plans have a 5-minute video restriction.
Features
The features you utilize improve the appeal and subject of the video. Can you find the phrase "no watermark" anywhere in the features? Moreover, check whether the software is equipped with state-of-the-art transitions, animations, sounds, and text fonts.
Also, the online video editor features decide whether your altered films will display editor labels or watermarks. Using an online video editor with cloud-based storage that includes royalty-free films and templates saves time and simplifies editing operations.
Interface
The interface is quite important. An editor with a hard-to-use interface is not feasible to use by somebody who is beginning his video editing or content creating career. An interface with the basic features on the menu bar will be most likely preferred by majority of the users.
Export options
You must be sure about selecting a free online software with no watermark to have software that should have multiple exporting options. Obviously, you would want to share your final drafts on your social platforms. So, having these exports options is a must.