We all love and enjoy capturing important moments of our life within images. Thus, images have immense importance as they're close to us. Meanwhile, most images are impacted by the noise that ruins quality and engagement. It's possible because of low-res cameras or the wrong image-capturing technique. However, this is not the world's end, as there's a way forward.
This article will discuss the noise in images and their types in brief. You will also find the best tool to get started with denoise an image. So next time, you can ensure that none of your images are of poor quality with noise.
Part 1: What is Noise in Images, and What are Types of Noises?
Noise in images refers to the random illustration of color or brightness that doesn't relate to the picture. So, it's an unwanted artifact that causes visual distortion to ruin your portraits. Thus, your image will have reduced sharpness, clarity, color visualization, and other declining factors. The important thing to know is noise doesn't originate from the original content. There exist several factors behind its emergence.
Some common reasons include high ISO settings, poor lighting, long exposure time, etc. These variations are generally applied during image processing or acquisition. Meanwhile, there exist different types of noises in images. Let's discuss them here to help you understand noises in images in detail:
1. Gaussian Noise
This type of image noise follows the Gaussian distribution. Hence, there exists random variation in color and brightness illustrated in a bell-shaped histogram. The reason behind the emergence of Gaussian noise is electrical interference and components. In general, Gaussian noise affects an image's color channels and intensity. This makes your picture look grainier, and that ruins visual quality.
2. Poisson Noise
Poison noise is also known as shot or photon noise that affects image quality. This type of noise is mostly found in images captured in low-light conditions. The pictures that get affected by poison noise have fluctuations in pixel values. Thus, the image resolution will decline, and your photo will appear grainy. The image analysis tasks can also get disrupted.
3. Speckle Noise
A speckle noise is found in ultrasound or synthetic aperture radar (SAR) images. This type of noise develops a granular or textured pattern phenomenon in visual content. Hence, the photos will look dull, blurry, and have other degradations in visual clarity. Images affected by speckle noise appear darker or bright in an unbalanced way. The details and contrast of images are also reduced.
4. Salt-and-Pepper Noise
Also known as impulse noise, salt-and-pepper noise gets presented in random pixels. The intensity value of pixels fluctuates with high or low resolutions. In general, the pixels appear within white and black dots in images. Thus, you will see grains of salt and pepper visible in the picture. The reason behind this noise is faulty sensors or transmission errors.
Part 2: The Best AI Tool to Remove All Types of Noises from Pictures
It's common to have images with low-res visuals and unnecessary noise. Meanwhile, this should not mean that your essential photos remain of poor quality. By using Media.io - AI Image Enhaner, you can upscale your image quality and resolutions. There exist advanced 6 advanced AI functions in this online denoise picture tool. Hence the images get restored, sharpened, and clearer.
The images can get upscaled to 2X, 4X, and 8X resolutions for an enchanting view. Your portraits can also be enhanced with special face upscaling. With its simple interface, using this tool is easy and convenient.
Key Features of Media.io - AI Image Enhancer
Color correction is a possibility while using Media.io image enhancer. Thus, the colors of your image will get upgraded with improved visuals.
It's possible to colorize black and white photos with realistic colors. This way, you can restore your old photos in a convincing way.
The images are upscaled with lossless quality. Hence, the original image's details, layout, and orientation get retained.
Straightforward Step-by-Step Way to Use Media.io - AI Image Enhancer
Are you looking to use Media.io - AI Image Enhancer, for upscaling your images? Here you'll find easy and simple steps to use this tool:
Step1

Launch Media.io - AI Image Enhancer Tool

Open the Media.io - AI Image Enhancer website on your browser and scroll down a little bit to locate the "Enhance Photos" AI tool. Next, tap on this tool and press the "Upload Images" button to select and upload your image with noise effects.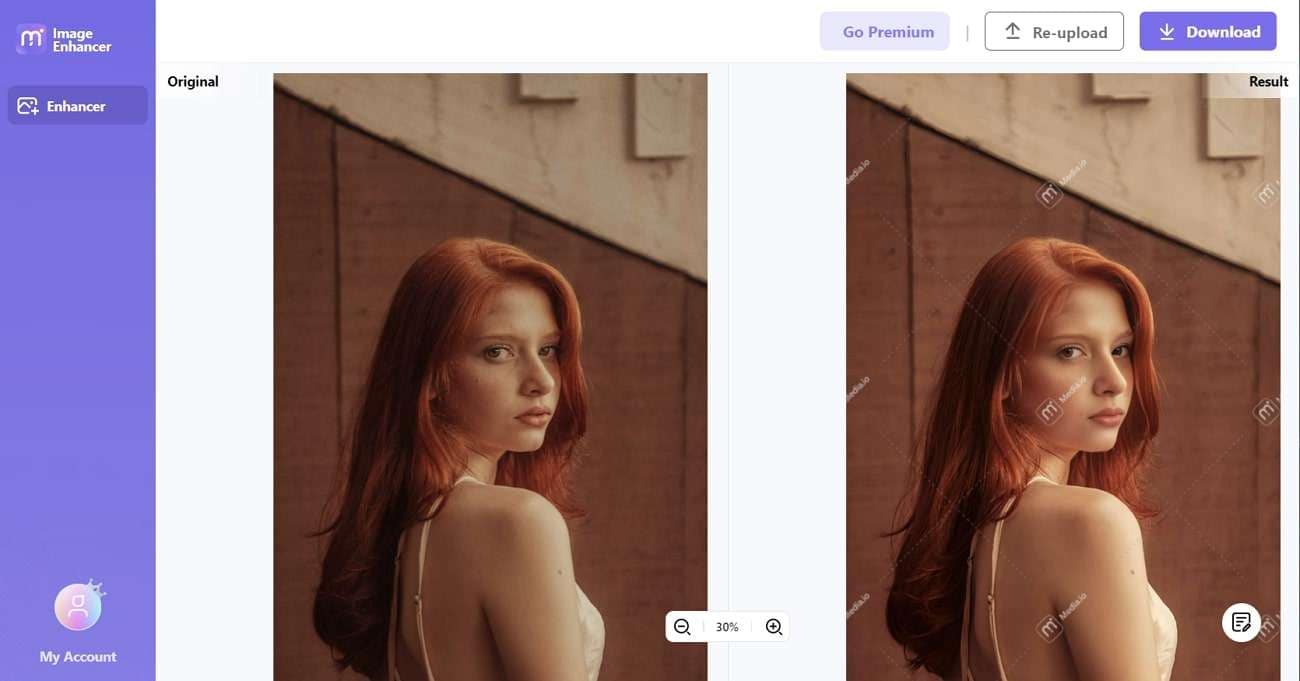 Step2

Preview and Export the Denoised Image

The AI algorithm of this tool will run and remove all types of noises from your uploaded picture within seconds. Next, preview your enhanced image, and if you are satisfied with the results, press the "Download" button.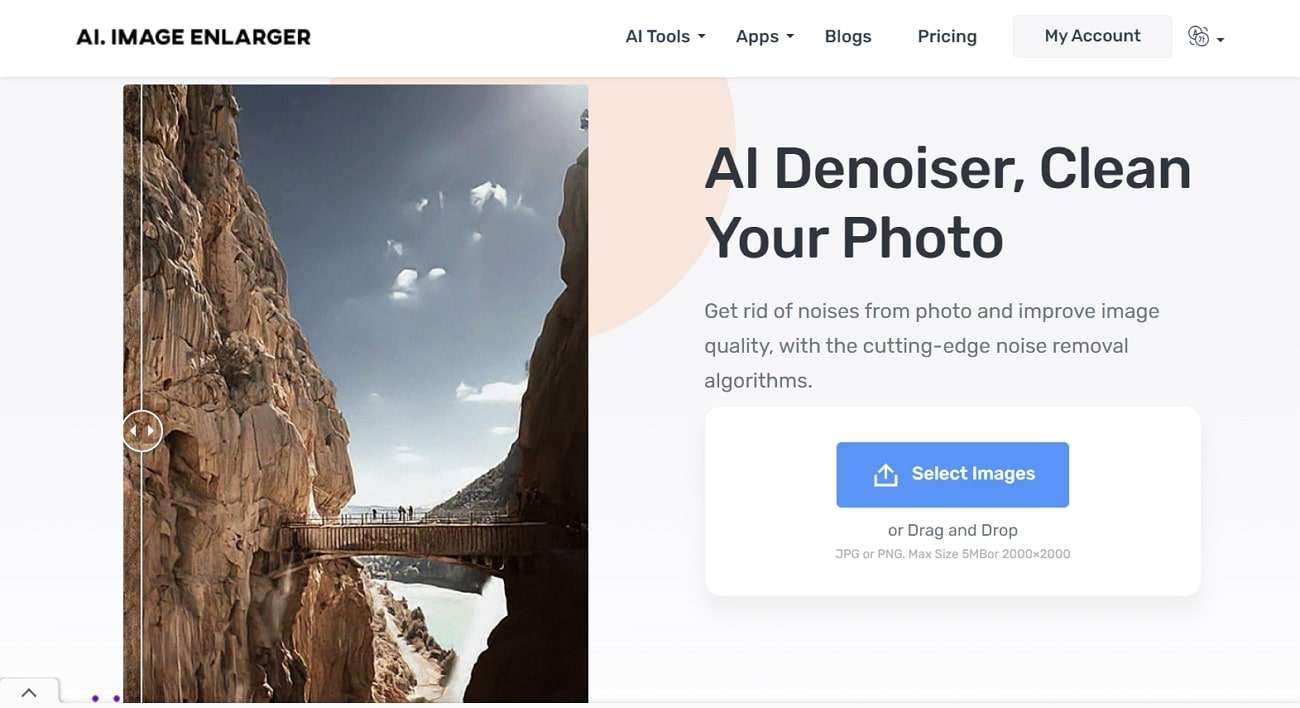 Part 3: Tips to Avoid the Image Noise While Capturing Photographs
Noise in images is a common thing while capturing photographs. Meanwhile, there exist certain tips which can help avoid noise within images. Following are the tips that you can use to improve your photography:
1. Use Low ISO Settings
When your images get captured on high ISO settings, they will have noise distortions. The reason behind such noise is that camera settings are set at high ISO settings. Hence, it's essential to use low ISO settings during your photography. Meanwhile, make sure to know the light conditions before photography. Adjust the camera settings to maintain picture exposure and details.
2. Camera Stabilization
During photography, shaky cameras are a common issue. This is the reason for most images to have noise perception in them. Thus, it's essential to stabilize the camera while you're doing photography. For this purpose, you can use a tripod to stabilize the camera. Hence, the camera shooting becomes more manageable, and you can adjust other image effects.
3. Use Noise Reduction Tools
The internet has an availability of noise reduction tools that you can use for upscaling. These tools have dedicated AI algorithms for analyzing pictures and removing noise. The underlying hindrances like blur, noise, and grain get rectified within the images. You can also use noise settings to determine suitable balance while retaining image details.
4. Good Lighting Environment
Poor lighting conditions are the reason why most images have low-res graphics. Due to this, noise in images becomes a reality that declines the quality of your pictures. Hence, it's essential to have a good lighting environment within your image. After all, this allows for capturing more details, contrast, and better image saturation.
5. Raw Format Shooting
The compressed image file formats, like JPEG, affect image quality. Thus, it's important to use image files in the raw condition. This way, you'll have more control over the noise reduction during the photoshoot. In raw files, more details get retained with better quality, exposure, and saturation. The image quality is not reduced while noise reduction gets applied.
Important Note: You need to implement noise reduction techniques in an organized way. This way, you will get the desired level of detailing and upscaling in your images. Meanwhile, it's essential to reduce image noise in a balanced structure. After all, if you eliminate noise, your image will not look appealing and will become smooth. So, maintaining the right noise balance is crucial and necessary.