Audio to Text
Auto transcribe audio to text online, quickly and accurately. It only takes a few easy clicks.
Audio to Text Converter
Do you want to convert sound to text? For example, you can use the generated transcript as your video's captions or subtitles. Or, you can convert speech to text and follow the inspirational podcasts or meetings word-for-word. Whichever the reason, use Media.io Audio Transcriber to transcibe voice to text with high quality. It boasts an AI-driven text generator for automatically analysing audio, speech or voiceovers before converting to text. Then, you can translate it into other languages or fast edit the extracted texts by changing the playback duration, deleting, copying, pasting, and so on. Optionally, download the audio transcripts in text format (.txt or .srt) for flexibile distribution. Now upload a file and try!
How to Convert Audio to Text?
Step 1. Upload an Audio/Video File.

Launch Media.io Audio to Text Converter on your browser and then press Upload Files Now to load local video/audio files or choose to record your voice with a mic.

Step 2. Transcribe Audio/Video to Text Automatically.

Once you've uploaded your file, our AI transcriber will work its magic, transforming your audio recordings into text with incredible accuracy. And the best part? This entire process usually takes just a few seconds.

Step 3. Edit the Converted Texts and Export.

After extracting texts, you'll see all the transcripts with timestamps on the leftpane. Optionally, you can easily make modifications by searching, editing, deleting, or even using AI summarization. When you're satisfied, simply tap the Export to save the video/audio with text, or download the audio transcript only.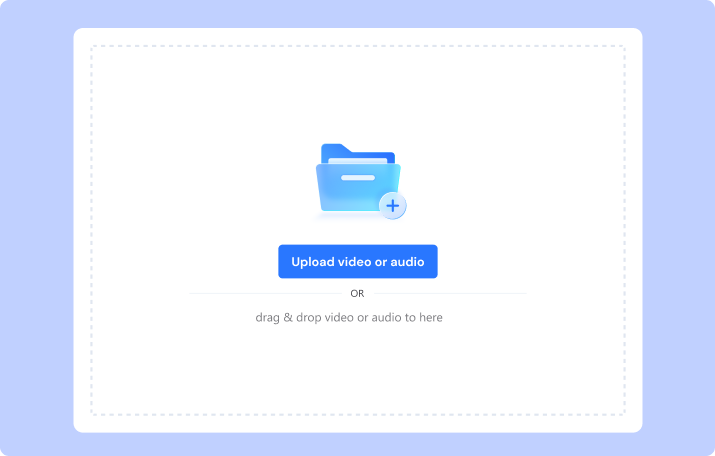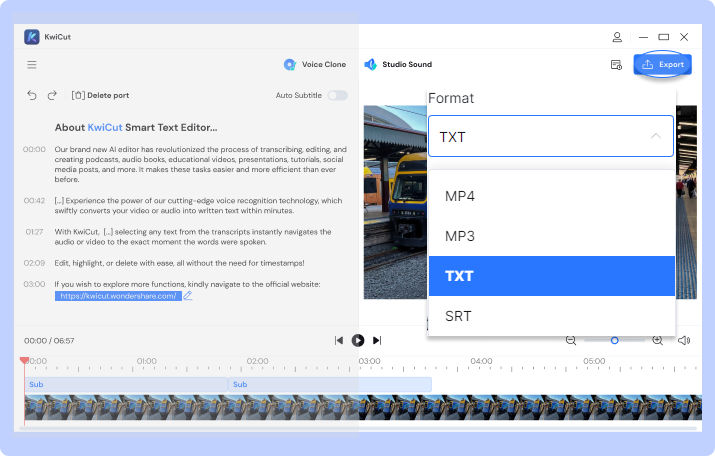 Why is Media.io Online Audio Transcription Tool?
Sound to Text Online
Media.io Speech to Text Converter is a strictly online tool. You don't need to install anything on your tablet or PC to convert audio to text.
Transcribe Multi Languages
It supports up to 90 text languages. This includes transcibing various English accents, Estonian, French, Spanish, Russian, Turkish, Swedish, etc.
Flexible Text Editing Options
After converting voice to text, you can edit the text, like typing, deleting, splitting, and extending playback duration to make it sync better with the video.
Convert Any Audio/Video to Text
The transcription service supports all standard video and audio formats. It's compatible with MP3, WAV, M4A, OGG, OGA, OPUS, FLAC, MP4, MOV, etc.
Safe Audio Transcriber
Media.io Speech to Text Converter uses SSL encryption to secure all conversions on the website. It's 100% secure.
Most Affordable Service
Media.io automatic transcription service is absolutely free to use. Free users get 10 minutes of transcription service. Pay $7.99 and get a whopping 150 hours of speech-to-text conversion session if that's not enough. Don't pay more for hiring a transcription company!
Why You Convert Voice to Text?
Transcribe Podcast to Text
to Boost Accessibility
Podcasts can be very educative and inspirational, but only if you understand what the podcaster says. Even if you know English, some words can be challenging to grasp. For these reasons, you'll need to convert a podcast to your native language. With Media.io Sound to Text Converter, you can convert podcasts to multiple text languages.
Swiftly Locate Highlights
Via Transcribed Text
Sometimes, you may want to locate and highlight a music line or a speech in a video or audio file. In that case, converting your media files to text will suffice. Media.io will help you transcribe a voice recording and highlight the exact texts in the editing timeline. Then, you can find the exact speech or quote and reuse them.
Convert Voice into Text
to Relief Students' Burden
Lecturers will opine that effectively teaching a hall full of students can be a pain. Also, some students, whether online or offline, will better understand texts than voice narrations. So, instead of adding subtitle texts word for word, try to use Media.io to auto-select speech in the video or audio and convert to text. You can then take a back seat as your students enjoy the lesson.
Generate Captions/Subtitles
for Any Video
Convert audio to text to create captions and subtitles for your video. As you may already know, videos come in varying languages, some of which you may not understand. Or, you may want to share a foreign language video with your online following. If so, consider using Media.io to automatically convert video narrations to subtitles and apply them to your video with excellent accuracy.
Ann A
This app is very responsive and accurate. I use it to occasionally create subtitles for short videos I want to share online. Very good!
Iris K
So far, this app hasn't made any noticeable mistakes. All the generated texts sync nicely with the video. BTW, converting audio to text is a big plus for me.
Jacqueline F
This MP4 to text converter for free works perfectly in English with no mistakes to note. There are no ads or watermarks. Just honest service. Keep it up!
David Hyles
I honestly love using this audio to text converter. I love TikToking, so I use it to add text and captions to my videos before sharing them with my base. Very accurate! Save much energy.
Adrian Murphy
I use this app to transcribe long podcasts, and I love it. It makes my podcasting sessions more immersive and enjoyable. Thank you!
Convert Audio to Text Automatically Online
in Minutes.
AI speech recognition is designed to improve your workflows.