Text to Speech (TTS)
Easily convert text to natural-sounding voices online with
Media.io AI voice generator. FREE to use.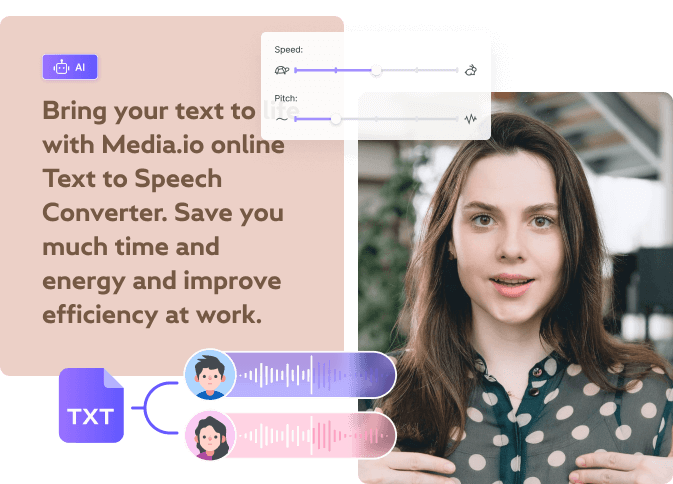 Online Text to Voice Converter
Looking for a working way to convert text to speech without effort? Then you've come to the right place! Media.io is a simple and free website for converting text to searchable and editable MP3 audio. Just paste your text into the text field, and the AI system will scan and turn it into human-like audio. Plus, you can choose between multiple output voices and customize the audio speed and pitch.
Worth a try!
How to Convert Text to Voice with Free TTS?
Step 1. Enter Text to Convert.

Launch Media.io and then open the Text-to-Speech converter. Now enter the text by simply typing or copying and pasting from a text editor like Word or Notepad. Note that you can add up to 1,500 words at a time.

Step 2. Customize Speech Settings.

After adding text, choose the audio language. It supports a host of languages. Now proceed to set the speech style, speed, and pitch. Custom the narration to perfection.

Step 3. Download MP3 or Edit Further.

If the sound generation process is successful, tap Download to export the MP3 audio to your local storage. Alternatively, tap Add to Timeline to edit the audio and use it as a video voiceover. That's it!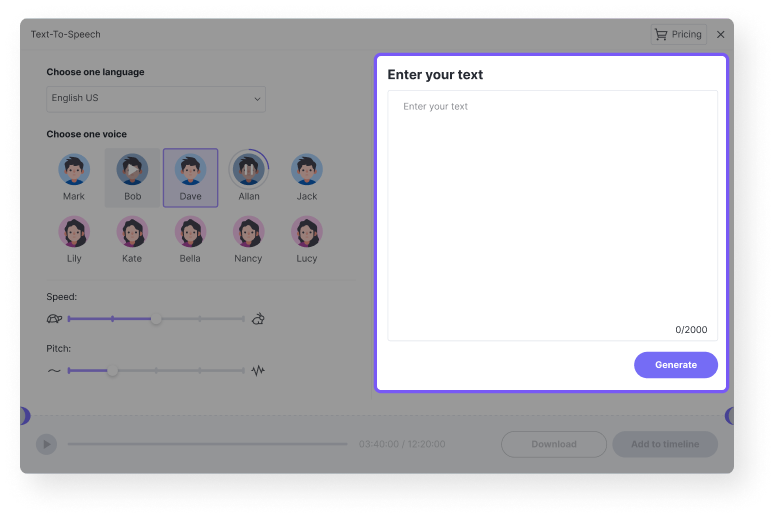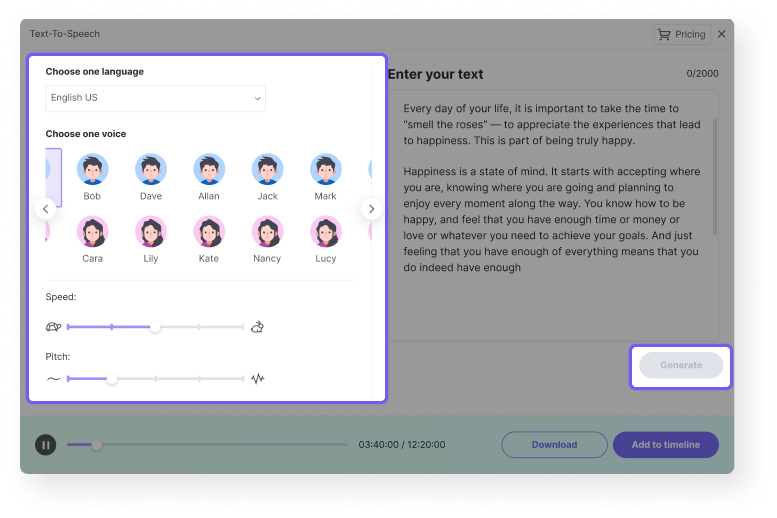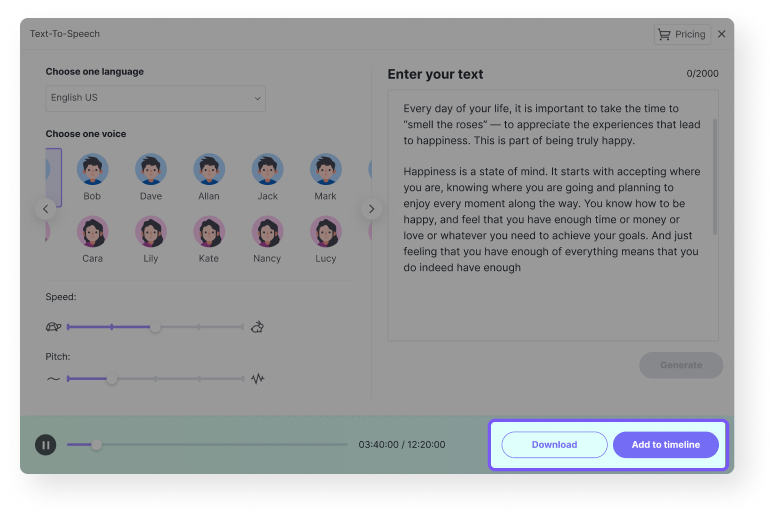 Top Perks of Media.io Text to Speech Converter
Simple & Beginner-friendly
Media.io is the best text to speech converter regarding simplicity and convenience. You don't need any special skills to convert text to speech online.
Media.io Text to Speech Converter is fast, easy, and accurate, thanks to the AI system. Just load your text, and the AI will do all the work.
Super-realistic Voices
To make your audio more compelling and exciting, you need a variety of voices. Media.io allows you to apply multiple talk types for males and females.
Multi-lingual & Accent TTS
Media.io allows to converting text to multiple audio languages. It supports English, French, Spanish, German, Japanese, Korean, Dutch, etc.
Easy Speech Modifications
Besides customizing the output voice, Media.io lets you set the playback speed and pitch. With its editor, You can also split, trim, cut, and customize the volume before applying the audio as a video voiceover.
All-round Video Editor
You can add auto-generated audio to YouTube, Instagram, WhatsApp, Facebook, Snapchat, and Pinterest videos. This video editor also boasts an extensive library of royalty-free music and sound effects to edit and add to your video.
How Can TTS Benefit You?
Enhance Written Content Accessibility
An online text to speech converter allows you to bring to life your written contents. For example, you might want to convert an e-Book, novel, blog article, movie storyline, or song lyrics to audio. In that case, you can convert the text to audio and reach a wider audience by uploading the audio contents online. You know, most people are likely to listen to audio rather than read long speeches.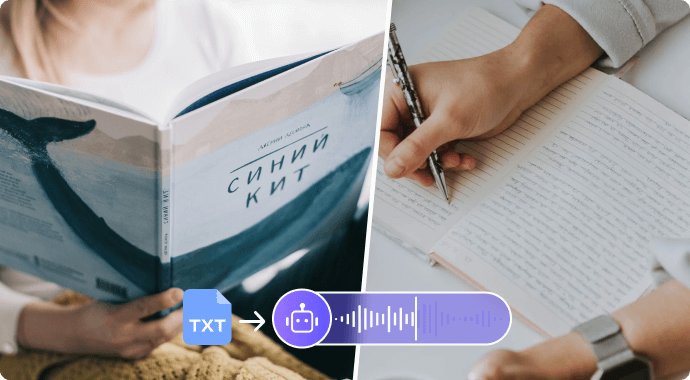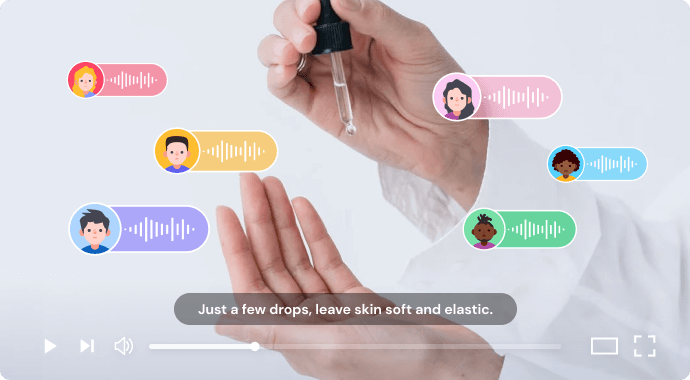 Generate Voiceovers for Any Video
The AI generated narrations can be added to all types of videos, like sales videos, traning videos, webinars, movies and so forth. Media.io let you eaily convert scripts, quotes and lines into editable video voiceovers. That's not all; this software enables you to edit your audio by trimming, splitting, merging, adjusting volume, applying fade effects, and more. In short, it doubles up as an excellent audio editor.
FAQs - Text to Speech
How can I transform text to sound easily?

With Media.io, you can quickly and easily convert text to sound and vice-versa. Just launch the Text-to-Sound converter and paste the text into the field provided. After that, choose the output language, voice, speed, and pitch before creating your new audio file. It's that quick and easy!

How to download text-to-speech audio in MP3?

Media.io lets you download the converted audio to text to your local storage. To do that, tap the Download button and export the audio in MP3 format.

How can I add AI-generated voiceover to my video?

Instead of downloading MP3 audio, you can add it as a video voiceover by clicking the Add to timeline button. While on the timeline, you can edit the audio with many options to fit your video.

What is the best free TTS online?

Media.io is the best text to speech converter. It uses AI technology to accurately and quickly scan and convert text to audio. It supports various languages, including French, Spanish, English, Japanese, Chinese, Hindi, and more. Even better, you can choose the voice type for your audio.
More "Text to Speech" Tools
This character text to speech converter does what I need it to do with fantastic accuracy. It doesn't change the original text, including punctuation marks like commas and full stops. I recommend it!
Derris M
This is the best speech recognition tool if you're unsure about your singing or storytelling voice. It's easy to use and 99% accurate. I love it!
Martin Alvin
Media.io Text to Speech Converter is the most straightforward online app I've ever used. I can quickly convert my short notes to speech and play them whenever I'm relaxed and not in the mood to read anything. Excellent!
Sylvia Scott
I'd give this app maximum rating anytime because it allows me to export my text to a male or female voice. Interesting thing!
Bill Gordon