In the contemporary digital landscape, TikTok has become nothing short of a sensation. It has seamlessly integrated into the lives of countless users who relish in the joy of creating and sharing short, captivating videos that encompass a wide spectrum of emotions and themes, ranging from the uproariously funny to the profoundly heartwarming.
Amidst this vibrant and creative milieu, there emerges a compelling need to capture and immortalize those ephemeral moments in a format that not only preserves their essence but also makes them highly shareable and easily digestible. This is precisely where the art of creating GIFs from TikTok videos takes center stage.
In the following comprehensive guide, we will delve deep into the intricacies of why you might find yourself eager to convert TikTok videos to GIFs. Furthermore, we will provide you with a meticulously crafted, step-by-step tutorial that will empower you to perform this transformation with ease, using the highly versatile and user-friendly Media.io platform as your creative tool of choice.
So, let's embark on this journey, exploring the myriad reasons that make GIF conversion a valuable skill in the age of TikTok, and subsequently, unveil the secrets of crafting these captivating GIFs with finesse.
Part 1: Why Do We Need to Convert TikTok Videos to GIF?
TikTok videos are everywhere. You may have seen them on your social media feeds, your friends' stories, or even on the news. They are short, catchy, and entertaining clips that showcase various talents, trends, and challenges. But sometimes, you may want to turn TikTok into GIF and save it. Why? What are the benefits of converting a TikTok video to a GIF? And how can you do it easily and quickly?
Let's explore some of the reasons below.
Compatibility and Accessibility
GIFs reign supreme when it comes to compatibility and accessibility. They can be effortlessly embedded and viewed on any website, app, or device, without the need for special software or plugins. In contrast, videos may encounter compatibility issues on certain platforms or browsers, and they often require longer loading times or buffering.
Expressive Engagement
GIFs possess a unique ability to convey emotion and capture the essence of a video in just a few seconds, all while retaining the audiovisual appeal. Images, by comparison, often struggle to convey the same level of engagement and message depth as videos or GIFs.
Fun and Creativity
GIFs inject a dose of fun, personality, and creativity into communication across various mediums, be it chat, email, or social media posts. They effortlessly add humor and flair, enhancing the user experience. Plain text, on the other hand, can often come across as mundane or misinterpreted without the context or tone.
Brief Yet Powerful Messages
GIFs excel at telling concise yet compelling stories by extracting the most captivating moments from TikTok videos. They provide an ideal medium for conveying powerful messages that resonate with viewers.
Ease of Sharing
GIFs serve as a universal language that transcends the confines of text and language. They are easily shareable across a multitude of social media platforms, messaging apps, and even through emails. This versatility ensures that your message reaches a broader audience and fosters engagement.
Copyright Considerations
When sharing TikTok videos directly, you may encounter copyright complications. However, by creating GIFs, you potentially sidestep these issues, as GIFs are often regarded as transformative works, offering a new perspective on the original content and mitigating potential copyright concerns.
In essence, converting TikTok videos into GIFs isn't merely a creative endeavor; it's a strategic choice that leverages the unique qualities of GIFs to enhance communication, engagement, and accessibility while mitigating copyright risks. GIFs are the dynamic, expressive, and universally understood language of the digital age.
Part 2: 3 Best Tools to Create a GIF from a TikTok Video
When it comes to convert TikTok to GIF, the internet offers a plethora of tools for this task. However, not all of them are created equal in terms of reliability, user-friendliness, and feature richness. To help you navigate through the options, here are three top-notch tools that we wholeheartedly recommend for this endeavor.
FlexClip emerges as a remarkable online video editor that empowers you to craft stunning videos and GIFs within minutes. Its versatile features encompass the ability to trim, crop, rotate, flip, merge, split, add text, music, transitions, filters, and more to your videos. One of its standout capabilities is the effortless conversion of various video formats into GIFs and even tiktok videos GIF.
Key Features of FlexiClip
FlexClip accommodates a wide array of video formats, including MP4, MOV, M4V, and many more.
It provides access to hundreds of templates designed for different purposes and occasions, streamlining your creative process.
With millions of royalty-free photos, videos, and music at your disposal, you can effortlessly enhance your creations and even GIFs.
FlexClip allows you to preview and export your GIFs in impeccable quality.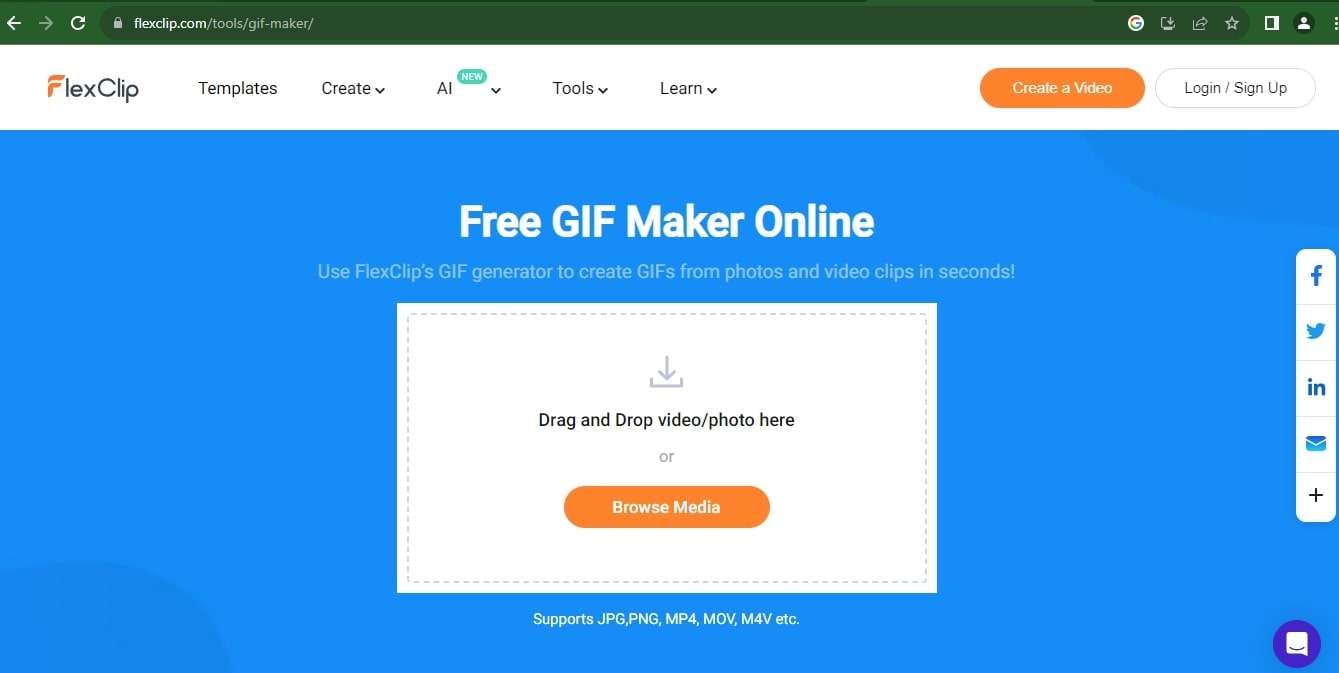 The app emerges as a versatile online media converter, facilitating the seamless conversion of video and audio files into a wide array of formats. This powerful platform also excels when it comes to make GIF from TikTok videos within seconds. Additionally, you can utilize Media.io to download TikTok videos from the web and store them on your device.
Key Features of Media.io
io supports over 1000 video and audio formats, including popular ones like MP4, AVI, MKV, WMV, MP3, WAV, FLV and more.
It offers four distinct modes for video conversion: basic (for simple conversions), advanced (for customization of parameters), batch (for processing multiple files simultaneously), and merge (for combining multiple files into one).
io provides a comprehensive solution, both for downloading and converting TikTok videos into GIFs.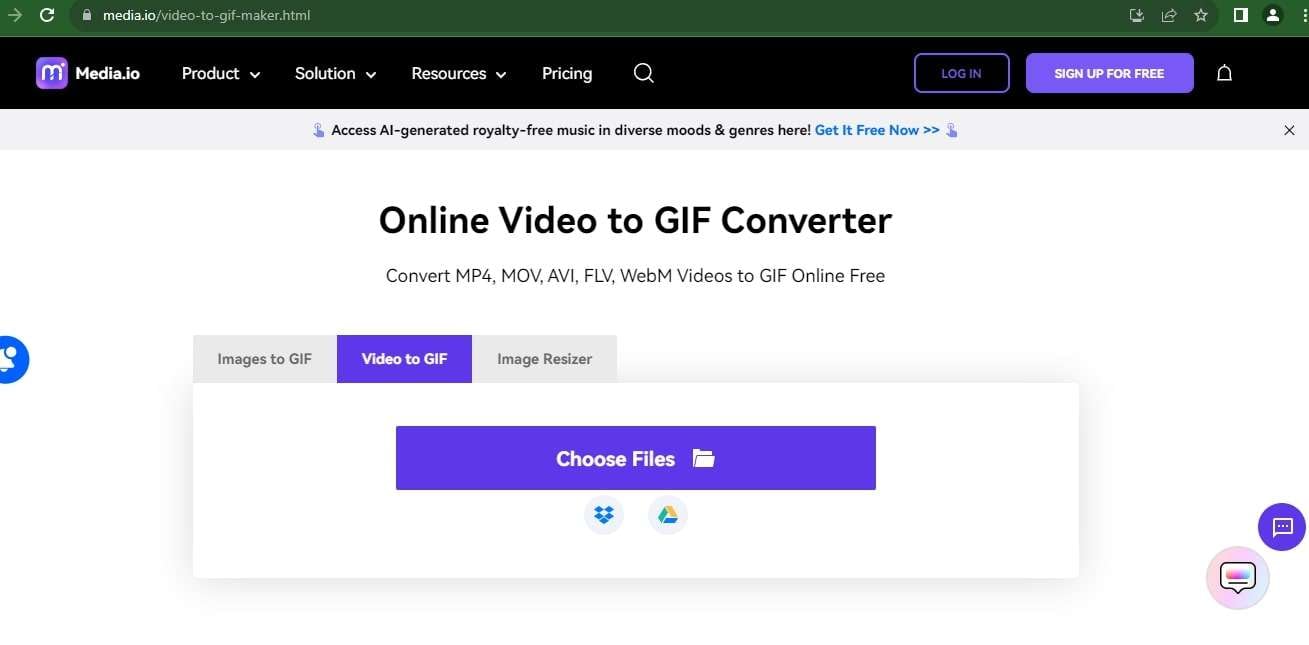 Giphy reigns as one of the largest online platform dedicated to creating and sharing GIFs and stickers. With Giphy, transforming your TikTok videos into GIFs becomes a breeze, requiring just a few clicks. Additionally, Giphy allows you to explore a vast repository of GIFs and stickers across various categories and topics.
Key Features of Giphy
Giphy supports a range of video sources, including YouTube, Vimeo, Instagram, Facebook, Twitter, and more.
It offers a suite of tools for editing and enhancing your GIFs, allowing you to add captions, stickers, filters, effects, and more.
Giphy enables you to share your GIFs directly on your favorite social media platforms or messaging apps, simplifying the process of spreading your creations.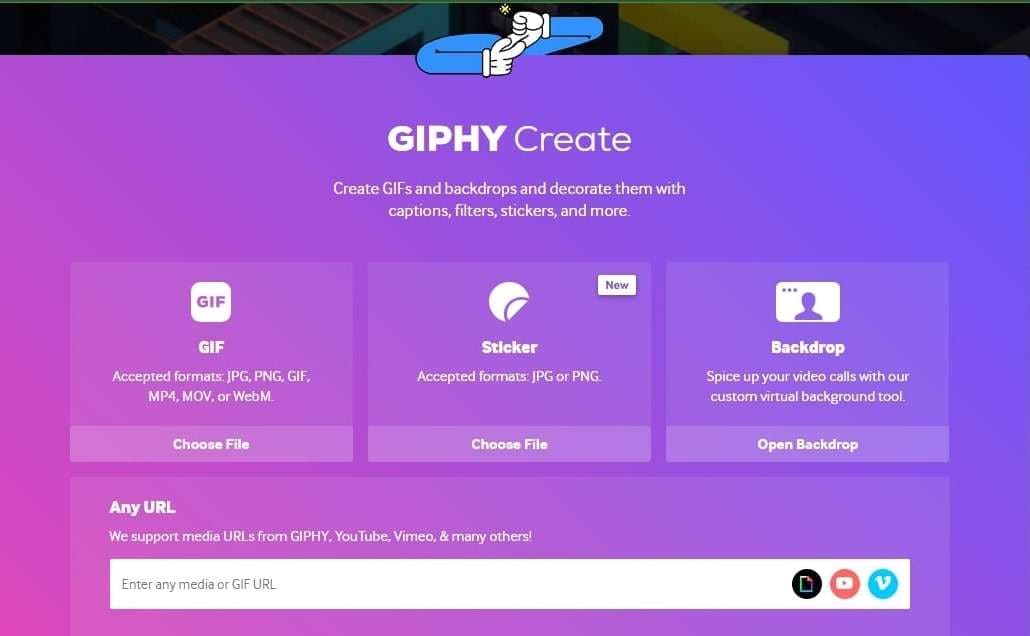 With the aid of these highly recommended TikTok to GIF converters—FlexClip, Media.io, and Giphy—you can effortlessly convert TikTok videos into GIFs, unleashing your creativity and sharing those memorable moments in a more engaging and shareable format. Whether you seek convenience, customization, or an extensive library of resources, these tools have got you covered.
Part 3: Full Steps to Create a GIF from a TikTok Video Using Media.io
As we mentioned earlier, Media.io serves as a versatile and all-encompassing solution for converting videos into GIFs, offering a seamless process from downloading TikTok videos to crafting captivating GIFs.
Let's delve into the full step-by-step procedure to achieve this.
Step 1: TikTok Video Download
Navigate to io and locate the "TikTok Downloader" tab.
In the provided input box, paste the URL of the TikTok video that you wish to transform into a GIF.
Once the URL is in place, click on the "Download" button and patiently wait for a few seconds while the video is swiftly downloaded and saved onto your device.
Step 2: Initiating GIF Creation
Return to io and now, select the "GIF Maker" tab.
Here, you have two options for importing your downloaded TikTok video:

Click on the "Choose File" button to manually select the video file from your device.
Alternatively, you can effortlessly drag and drop the video file directly onto the interface.
Step 3: Customizing Your GIF
This is where you can fine-tune your GIF according to your preferences. You have the freedom to adjust several settings.
Define the specific segment of the video you want to convert into a GIF by setting the
start and end times.
Modify the frame rate, which influences the smoothness and speed of your GIF.
Choose the resolution that suits your needs, balancing between file size and quality.
Opt for the desired quality level of your GIF.
If you wish, you can add an extra layer of creativity by including text, stickers, or filters to your GIF.
As you make these adjustments, you can conveniently preview your GIF on the right side of the screen to ensure it meets your expectations.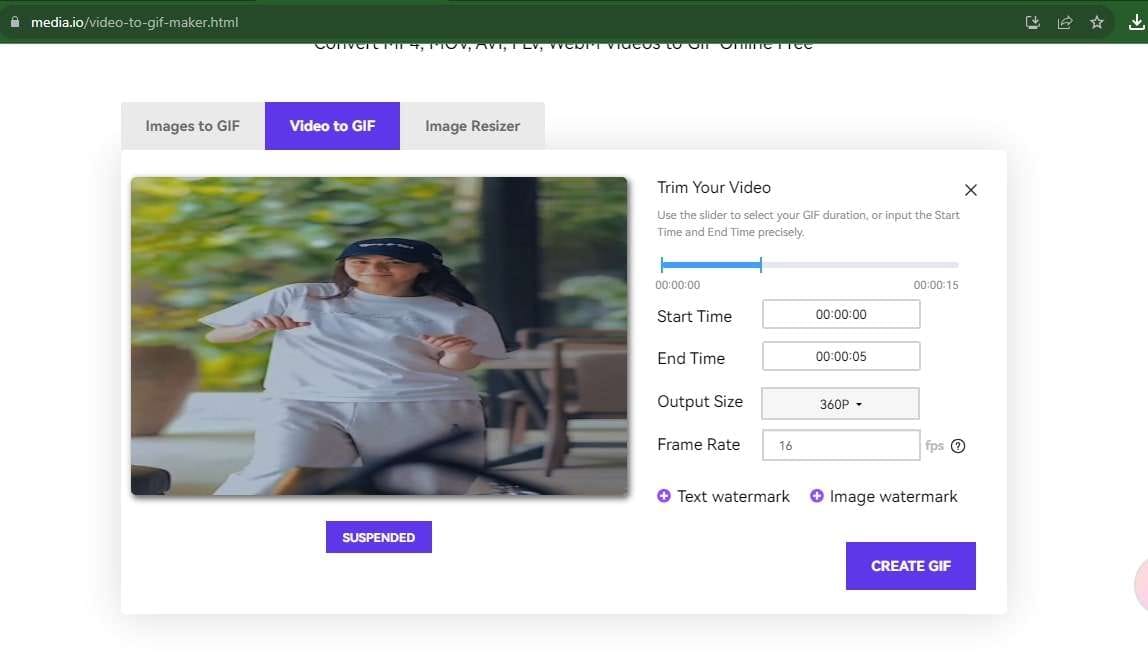 Step 4: Generating Your GIF
Once you're satisfied with your customizations, click on the "Create GIF" button.
Sit back for a few moments while Media.io works its magic, generating your GIF with precision.
Step 5: Download and Share
After the GIF creation process is complete, you'll be presented with the option to download your GIF to your device.
Alternatively, if you intend to share your masterpiece online, you'll receive a link that you can use to showcase your GIF across various platforms and with friends and followers.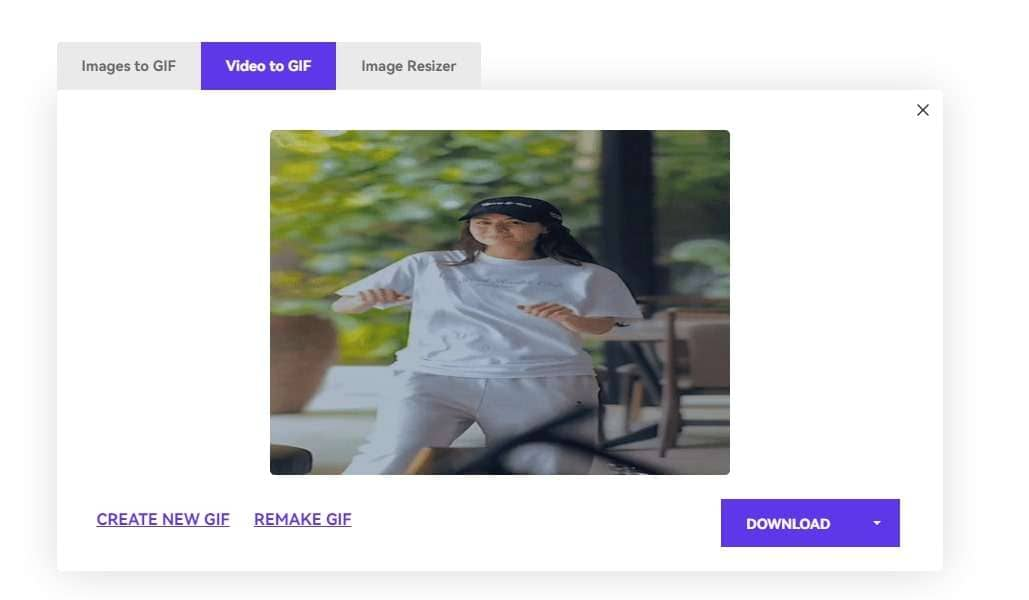 All in all, Media.io streamlines the process of converting TikTok videos into GIFs with remarkable ease and efficiency. By following these step-by-step instructions, you'll unlock the power to transform your favorite TikTok moments into shareable and captivating GIFs, allowing you to relive and share these memorable snippets with the world.
Conclusion
In the dynamic realm of digital content, converting TikTok videos to GIFs emerges not only as a creative endeavor but also as a practical solution to various challenges. Whether you're aiming to craft a side-splitting meme, immortalize a heartwarming scene, or navigate the intricacies of copyright when sharing, GIFs stand as the ideal medium. Thanks to versatile online tools like Media.io, this transformation process is not only accessible but also exceptionally user-friendly, making it possible for anyone to embark on the journey of GIF creation with confidence.
GIFs, with their ability to encapsulate brief yet impactful moments, have evolved into a universal language of expression on the internet. They transcend linguistic barriers, injecting humor, emotion, and nuance into conversations and content sharing. By converting TikTok gems into GIFs, you harness this potent mode of communication, enabling you to convey your thoughts, emotions, and humor in a concise yet compelling manner.
Media.io's all-encompassing solution simplifies this creative endeavor, offering a seamless transition from downloading TikTok videos to crafting captivating GIFs. The step-by-step guide we've provided empowers you to wield the power of GIFs effortlessly, tailoring them to your preferences with ease.
So, without further ado, embrace the world of GIF-making and transform those cherished TikTok moments into shareable treasures that will not only bring joy to your friends and followers but also elevate your online communication game. Unleash your creativity, tell your stories, and share your laughter with GIFs - the universal language of the digital era. Happy GIF-making!