Colorize Black & White Photos in 1 Click
Looking to add a little color to your memories? Let Media.io Colorizer do the job! Enhance your black and white photos with natural-looking colors in just a click. Whether it's an old family photo or a new snapshot, our AI-powered photo colorizer makes it easy for anyone to colorize black and white photos. No special skills are needed - just upload your photo and Media.io will scan and colorize it automatically. Recolor your images today!
How to Auto Colorize Photos Online?
1. Launch Media.io AI Photo Colorizer.

2. Colorize the B&W photos automatically.

After uploading the image to colorize, Media.io AI photo colorizer will scan it and apply natural-looking colors using advanced machine learning algorithms.

3. Download the colorized photo.

Are you satisfied with the colorized photo? If yes, tap Download to save it. It's that easy!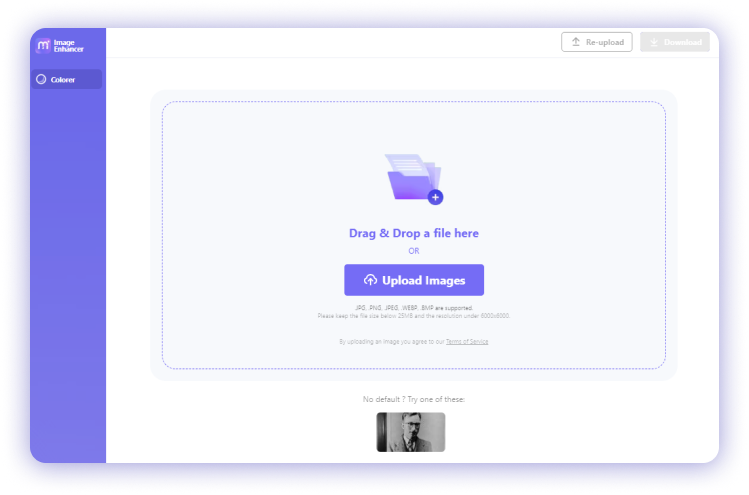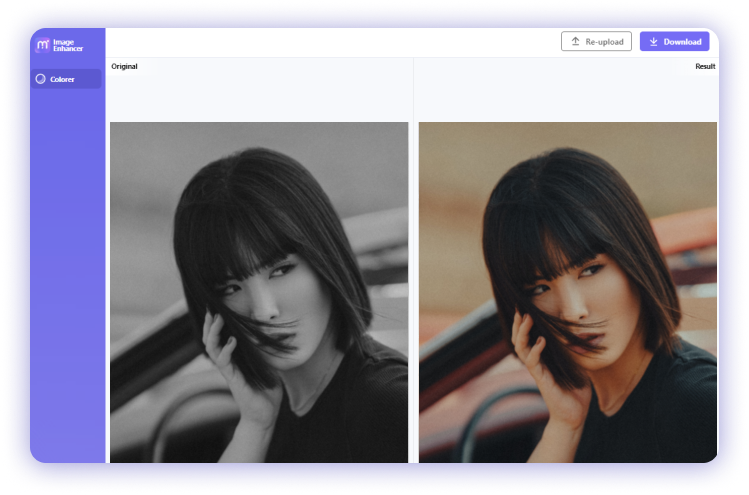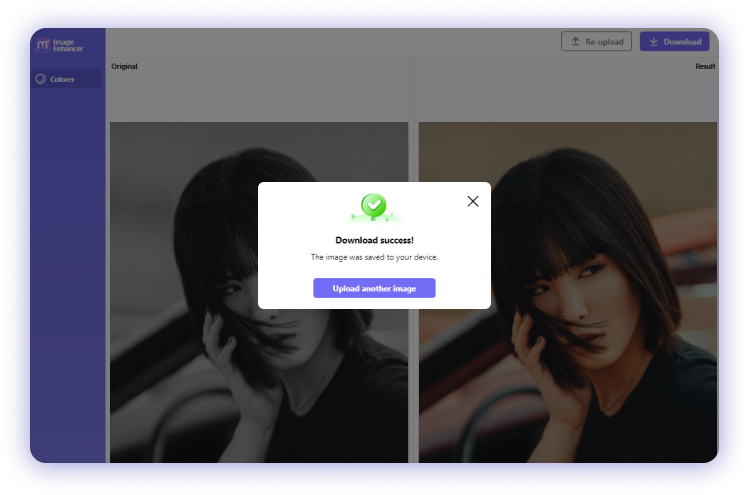 Transform the Black & White Past into a Vibrant World of Color
Recolor Old Family/Friend Photos
We all have those old family or friend photos we wish to bring back to life. This can be a smartphone photo shot in B&W mode or an old family photo taken in the era when colored photos were not that widespread. Media.io AI photo colorizer will help you make these photos look vibrant in seconds.
Colorize Celebrity/Historical Portraits
Sometimes you may need to colorize a photo of an iconic personality like presidents, political figures, singers, movie actors, and more. With Media.io AI photo colorizer, you don't need to scratch all the hair off your head. Just load that B&W photo and colorize it instantly.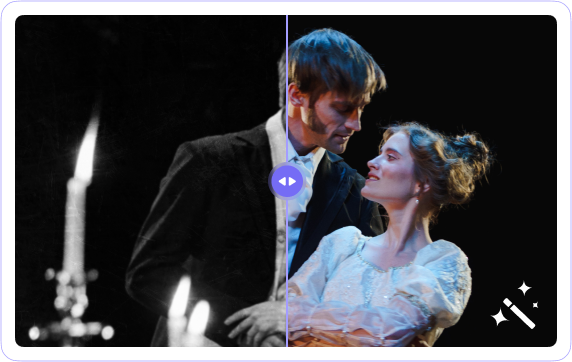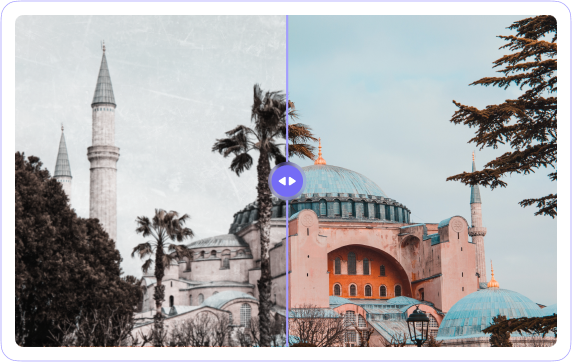 Recreate the Past Landscapes in Color
Most black and white photos are often less attractive to the naked eye. Thankfully, you can remove distractions and add vivid textures to your images using Media.io AI photo colorizer. Colorization will make the picture patterns more visible and flashy.
View More Details Lost in Grayscale Images
Colorization enhances the clarity of images for the human eye, bringing out hidden details in grayscale photographs. With Media.io, you can effortlessly infuse your photos with realistic colors, allowing you to instantly discover any obscured elements with ease.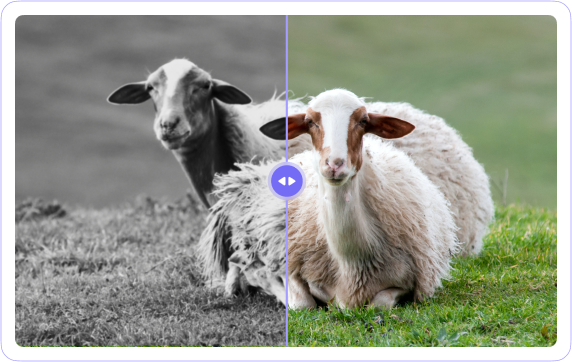 What Makes Media.io Image Colorizer Stand Out?
Ease of Use
Media.io is a free web-based app that doesn't require special knowledge, thanks to the clean and automated UI.
Powered by AI Algorithm
The image colorizer can convert black and white photo to color free using advanced AI algorithms. Upload the image, and the AI system will instantly scan and colourize it.
Colorize Photo Accurately
Media.io can add natural-looking colors to old photos effortlessly. The AI system scans photos quickly and accurately before customizing them with authentic colors.
Wealth of AI Image Tools
Looking to personalize your photos before colorizing? Media.io offers a range of tools to enhance your images, including options to restore, upscale, remove blurriness, increase sharpness, and much more.
Various Photo Formats
The AI photo colorizer supports multiple image formats, including
JPG, PNG, JPEG, BMP, TIFF
, and more. If your image format is unsupported, don't worry because Media.io has a dedicated
image converter
.
Guaranteed Data Safety
We guarantee the safety of your uploaded photos using SSL encryption. This image colorizer also deletes colorized photos automatically hours after the process. Frequently Asked Questions of
Photo Colorizer Online
1. How to Turn Black and White Photos into Color Automatically?

Transforming black and white photos into colored photos is straightforward with Media.io AI photo colorizer. Upload the B&W photo, and the program will colorize it automatically.

2. How to Add Vibrant Colors to Grayscale Images?

Media.io is the perfect tool to help add vibrant colors to grayscale photos. This will help you focus on image details and remove unwanted distractions. Simply upload your grayscale image, apply the colorization feature, and watch as it comes to life with a stunning array of vivid colors.

3. How Do I Recolor an Image without Photoshop?

Adobe PhotoShop is a powerful desktop program for editing images, including recoloring, increasing sharpness, upscaling, and more. But if you want a more straightforward image colourizer, pick Media.io Photo Colorizer.

4. What Are the Best Free Picture Colorizer Apps?

There are several free picture colorizer apps to help add color to your B&W photos. Here are some options:

Media.io Photo Colorizer: If you're not in the mood to install a photo colorization app on your device, then Media.io should be the perfect choice. Powered by AI, this online program enables you to effortlessly upload your black and white photo and have it automatically colorized with stunning results.
HitPaw Photo Enhancer: A fantastic desktop tool designed for restoring old photos and colorizing black and white images. It adds realistic colors to image formats like PNG, JPG, BMP, and WebP.
Google Snapseed: Ideal for both Android and iOS users, Google Snapseed is an AI-powered image colorizer that offers automatic colorization as well as manual adjustment options for filters, vignettes, HDR, and more.
Afterlight: iPhone users can install Afterlight to colorize photos beautifully with filters, frames, and textures. It houses 15+ image adjustment tools.

I recently pumped into this online photo colorizer and I'm impressed so far. I occasionally use it to colorize any black and white photos with amazing outcomes. Plus, there are so much more AI-powered tools hidden in this program. Recommended!
- Sasha Cox
I have an old photo album of my grandma that I always wanted to colorize to return to her youth. I'm happy Media.io helps me with that and many more.
- Sasha Cox
This photo colorizer is all you need with a limited budget and expertise. It's excellent at analyzing and transforming black and white photos into digital colored images.
- Sasha Cox
What Do Our Users Say
about Media.io
Auto Colorization