Online Video Editor with NO Watermark
Use Media.io video editor to make professional videos online for free without watermarks. Easy and effective.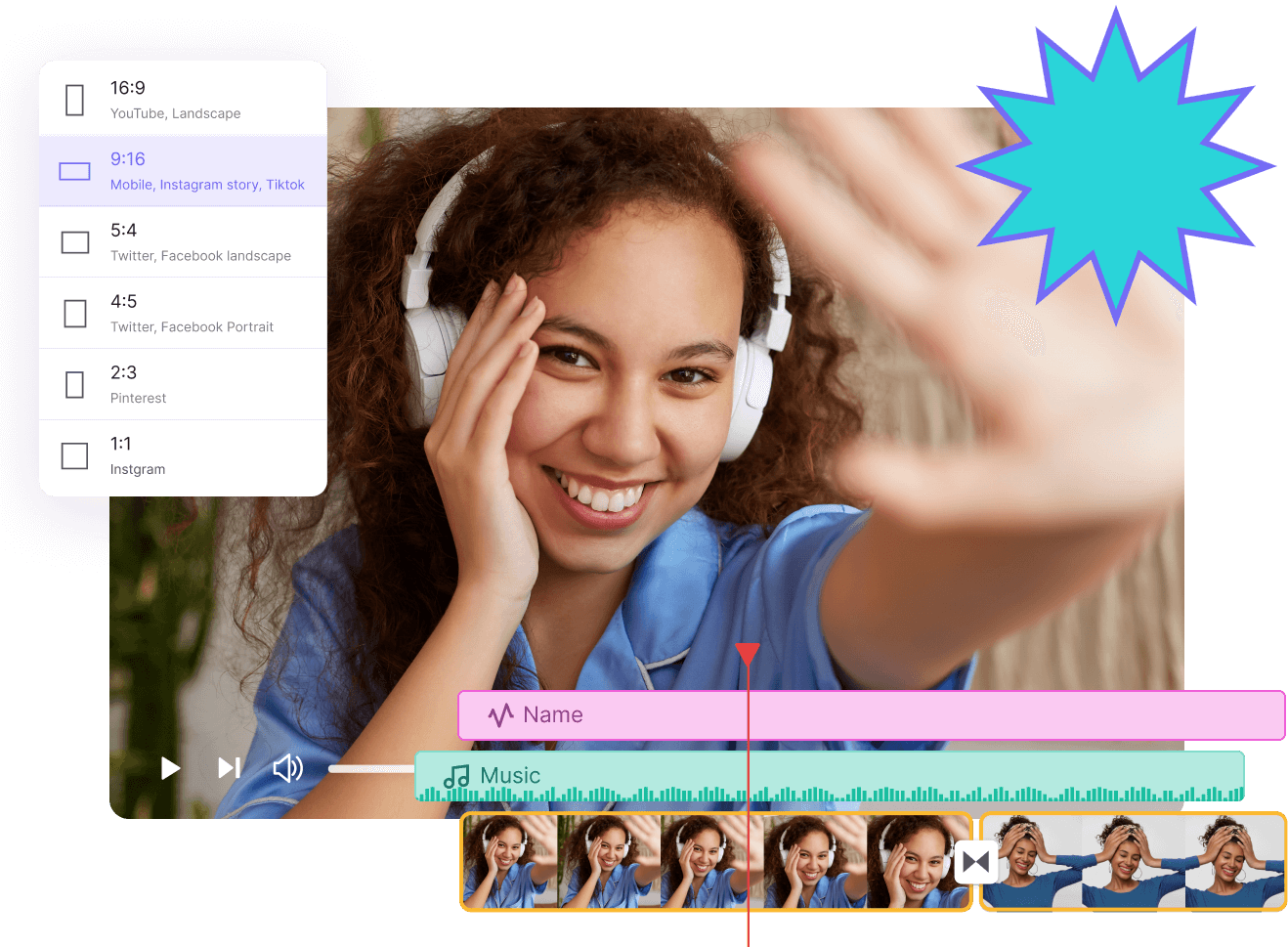 How to Edit a Video Online for Free [No Watermark]
1. Upload Your Video or Other Media Files

Launch Media.io video editor and set up the aspect ratio. By default, the video is a landscape aspect ratio of 16:9. Upload the raw video footage from your storage to the media library on the Media.io video editor by clicking on Upload Media. You can also click the From URL to upload a video via a link or click the Record to record a screen and webcam video.

2. Start Editing the Video

After adding the media files to the timeline, you can emphasize the most important sections of your movie by modifying the clips using the timeline to edit and divide them. Mix video and audio clips to get the complete version of your tale. You may make your video stand out from the crowd by adding elements, effects, texts, music, animations, and any other components that you see necessary.

3. Export Watermark-Free Video

Preview the result and then click the Export button, specify the resolution, and your final video without watermark will be ready in few seconds and you can post it to YouTube, TikTok or other social media channels.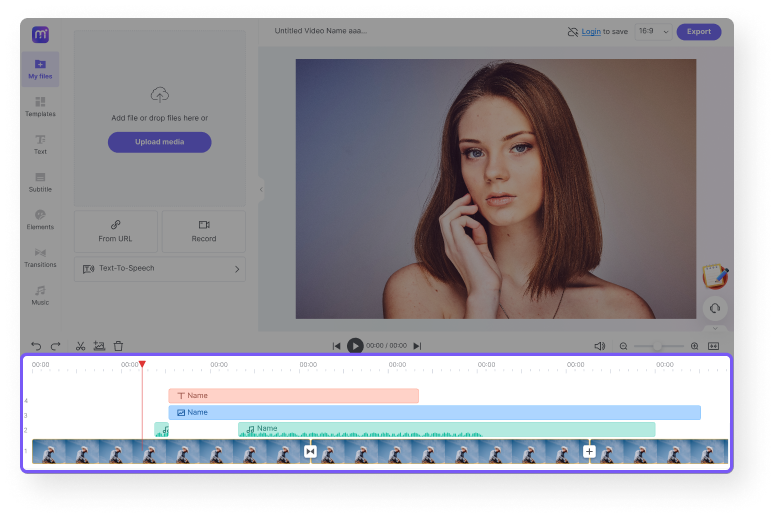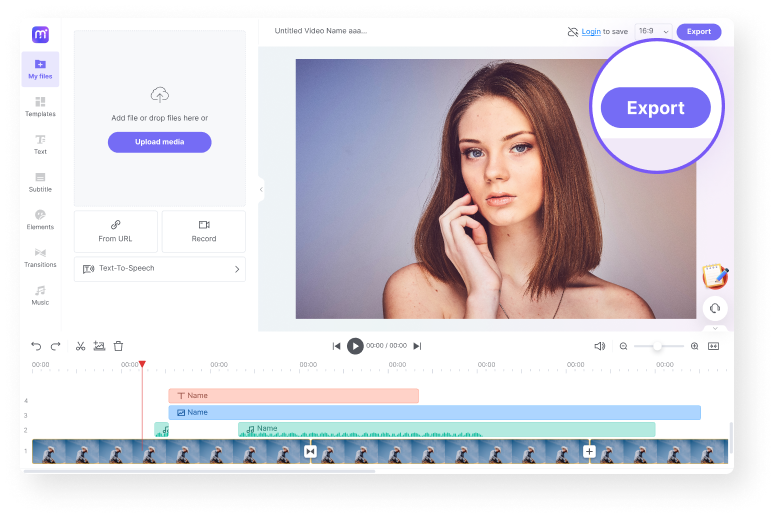 Limited Time Offer From KwiCut - Register For Exclusive Perks
√ Unlimited AI Transcribe, Clone, Overdub, and Voice Enhancement

√ Unlimited GPT-4.0 Accessibility to Create Talking Head Videos

√ Unlimited Cloud Storage and Export Without Watermark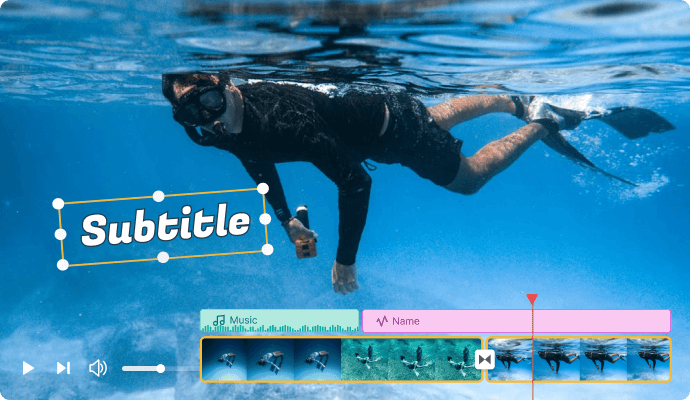 Free Yet Powerful Online Video Editor
You can create videos on your browser with
Media.io free online video editor
, which includes all the capabilities needed to make excellent movies, from
recording
and uploading to editing and sharing.
You can cut, trim, split, and combine video clips using editing tools. Then, resize or crop the video to the correct aspect ratio, and add overlays, texts,
auto-captions
, transitions,
background music tracks
, sound effects and even
enhance the overall clarity
to get it polished.
Handy Video Editing for Anyone
Whether editing videos on Windows, macOS, Chromebook, or Android, iOS mobile phones, you can use the Media.io free video editor with no watermark without concerning transferring the projects. All your projects are saved and synced online.

Whether making a video for fun or distributing it on different social media platforms, you can create a project to fit the requirements of various aspect ratios used by social media networks. This enables optimizing videos for YouTube, Facebook, Instagram, or even a customized aspect ratio.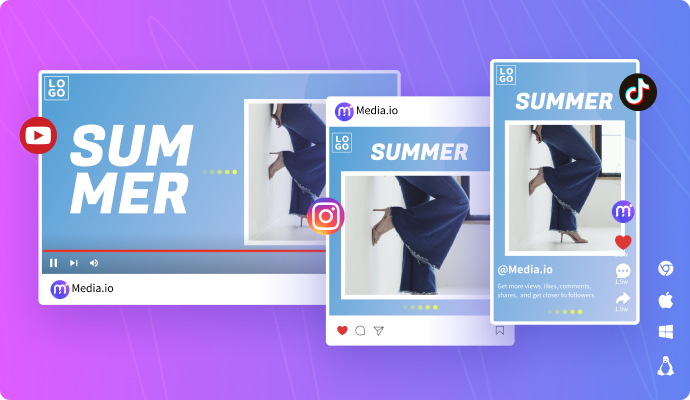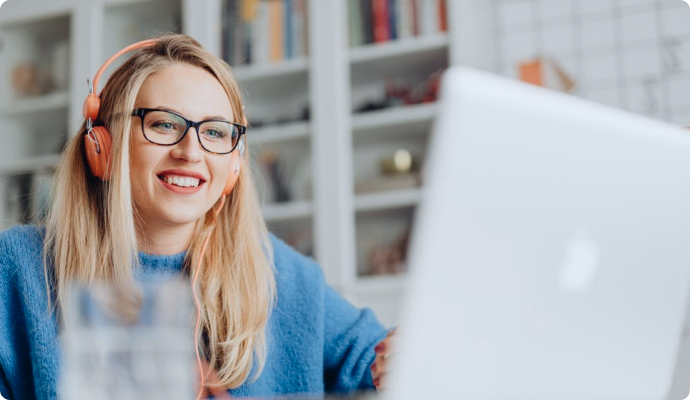 Watermark-Free Video Editor
Media.io is one of the best online video editors with no watermark for businesses that use videos for marketing their goods and services regularly.

It supports all standard file formats for exporting and importing watermarked video and audio files. You can sign up to export watermark-free video in resolutions of 480p, 720p, and 1080p. You can share the edited video directly to various platforms without a watermark.
We're bringing you the best video editor without watermark
Timeline-based Video Editing
Preview all video clips, audio files, effects, texts, and transitions laid out in chronological order. Edits on the timeline will not change the source file. .
Presets for Social Media
Create videos for different social media platforms with the aspect ratio presets, or resize videos with one click for YouTube, TikTok, Facebook, Instagram, Pinterest, and more.
Extensive Free Templates
Explore our collection of professionally-created, completely customizable video templates developed for your sector. Never run out of inspiration.
Webcam and Screen Recording
Using our online video recorder, you can instantly record yourself and your screen along with voiceover in Media.io and edit the recording on the fly.
General Music Library
You can upload your audio or select music tracks and sound effects from the Music library to create a certain atmosphere and tell your tale.
Video Transitions
Create flawless videos by using transitions and fades in between scenes, shifting from one scene to another in a smooth and natural way for a more professional flow.
Split and Merge
Split your video and audio file into multiple parts quickly, removing unnecessary material and combining the sections in any way you want.
Resize and Crop
Different social media platforms have different requirements. Resize, crop and scale your video to meet the specific needs of the platform you like to share.
Trim and Cut
Remove any unneeded segments from your film by trimming or cutting them, then condense the remaining content to the most vital parts.
Mirror and Flip
You can flip and mirror video, including recordings made with a camera, and flip your material horizontally or vertically to fit the screen size or display output you choose.
Overlays and Elements
Add picture overlays, emoticons, stickers, annotations and audio waveforms to your video, resize and position them to make your video stand out.
Texts and Subtitles
Place text anywhere in the movie, add captions or generate subtitles with auto-subtitles for better distribution. Change font, size, and color on your demand.
Get Inspired for You Video Editing
Preview the free video templates and click to customize for your video with Media.io free online video editor without watermark.
YouTube Intro
YouTube Outro
Marketing
Podcasting
Explore more tools from Media.io to boost your creation
FAQs about Free Online Video Editor without Watermark
Is there any online free video editor without a watermark?

Yes, various video editing software options do not leave a watermark on your exported video. For Windows users, use the built-in free Photos software; for Mac, iMovie is the finest free video editing software without watermark for novices; and for those who wish to edit films online, try Media.io browser-based video editor for free without watermark that can be utilized on Windows, Mac, Chromebook, Linux and smartphone devices.

How can I edit a video for free without a watermark?

For those who are using Media.io no watermark video editor to edit a video for free, follow the steps below: Step 1: Go to the Media.io video editor and upload your media files. Step 2: Start editing your video with the different tools available. Step 3: Once done, click on Export to export the edited video.

Does Media.io video have watermarks?

No, Media.io is a web-based tool that allows you to edit, convert, and compress the video without a watermark. Moreover, you can export the video up to 1080p resolution.

Which browser does the Media.io video editor work best in?

Almost all web browsers, including Google Chrome, Microsoft Edge, and others based on Chromium, operate well with Media.io online video editor. Updating your browsers can help you get the most out of the video editing software.
Create Videos Online
Without Watermark
Simplified online video editing solution under your control.