Are you tired of grainy pictures? Grainy pictures can be formed due to underexposed light. You won't see the vivid colors and minute details in such pictures. Moreover, it ruins your image and makes it tedious. If you are a professional photographer, you must know how to remove noise from an image with ease. Therefore, this article will act as a helping guide for you.
In this article, we will teach you different ways of removing grain using Adobe Photoshop. By removing noise in Photoshop, you can reduce the imperfections in your photo. Moreover, we will also underline the best alternative to Photoshop that will let you fix grainy photos automatically.
Part 1: How to Remove the Grain/Noise from the Images Using Photoshop
Every professional photographer must have heard about Adobe Photoshop. This tool is considered a high-end tool for image editing. It has a layer-based user interface that lets you edit pictures in a detailed manner. From color grading to selection tools, it consists of tons of options for image enhancement. You can also utilize the "Healing Brush" tool to get rid of flaws in photos perfectly.
Furthermore, you can utilize Photoshop's "Sky Replacement" feature to replace a suitable sky in your photos. Photoshop can also remove unwanted objects or people from the background of your pictures for more modifications. Regardless, the user interface of this tool can be tricky or confusing for beginners. However, it includes multiple features and options for professional image editing.
Steps to Remove Noise from Images Using Photoshop
Photoshop is an efficient tool for flawless image editing. Among its many features, you can also find various ways to remove noise in the images. To learn how to remove noise in Photoshop, check the below steps:
Step 1: To begin, launch Adobe Photoshop on your desktop. Afterward, open its main interface and upload your desired image on this tool. Once done, create the duplicate layer of your background from the right panel. Click on "OK" to duplicate the layer successfully.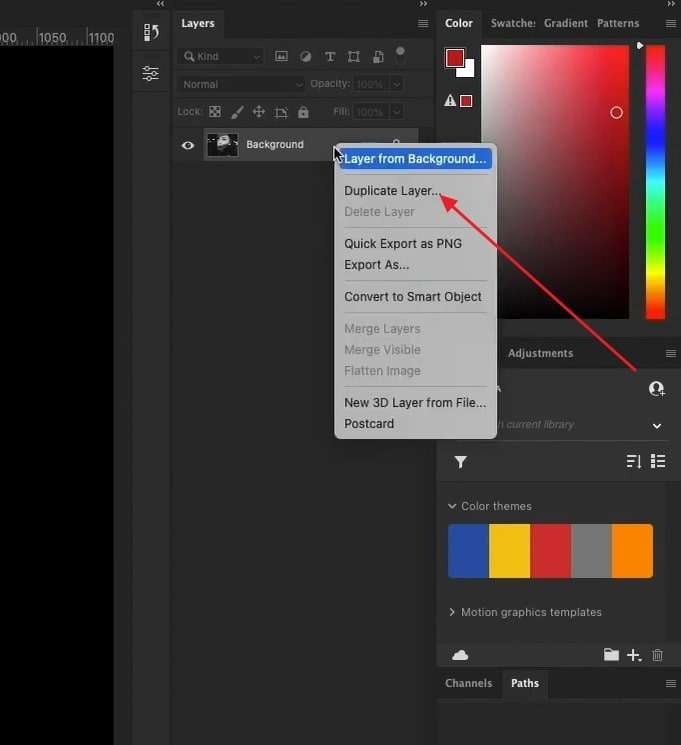 Step 2: Now, head to the "Filter" from the above toolbar and tap on "Noise." From there, select the "Reduce Noise" option. This will instantly pop up a small menu through which you can manually reduce noise from your image.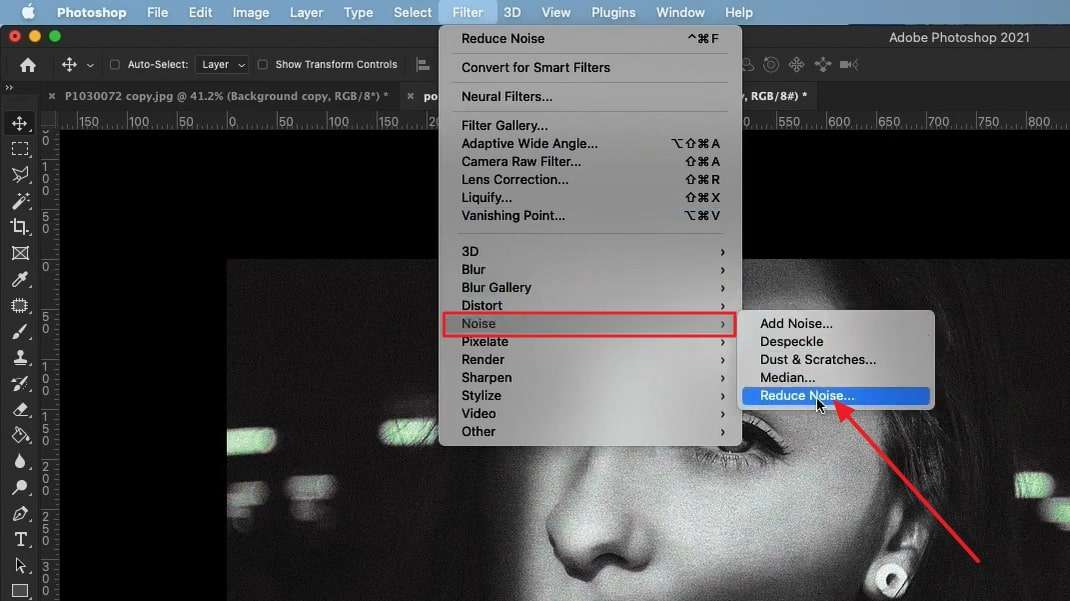 Step 3: From the displayed menu, you can modify "Strength," which controls the overall effect of your image. By changing the "Preserve Details," you can reduce some details from the image for more clarity. The "Reduce Color Noise" option can be used if your photo has a color noise. Once done, adjust the "Sharpness Detail" to create a balanced look of the image. Afterward, tap on the "OK" button to save the changes.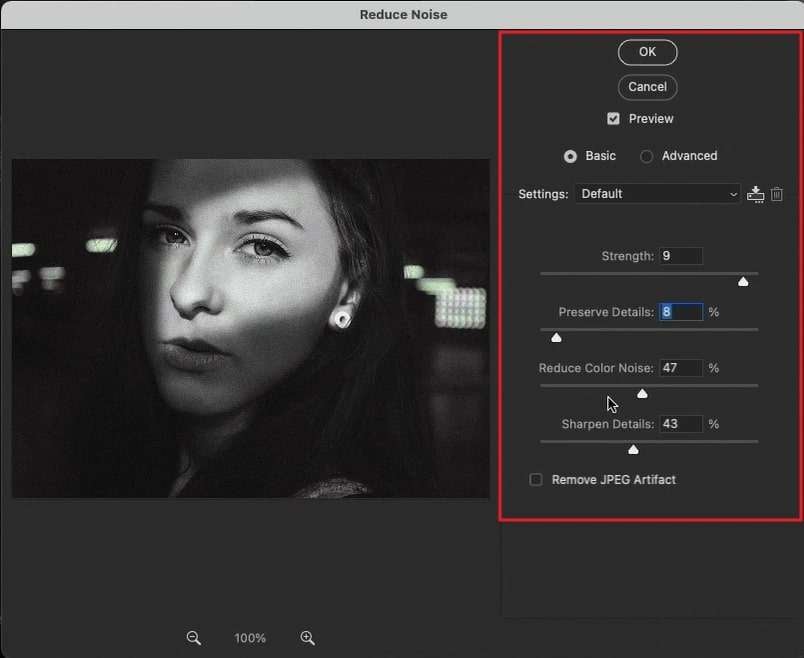 Part 2: The Best Alternative to Remove Grain/Noise from Photos Online
Are you finding denoise image Photoshop difficult? Media.io - AI Image Enhancer is an online tool that can eradicate all your manual efforts. This online tool uses artificial intelligence to automate the process of image enhancement. Whether you have a dull or grainy photo, Media.io – AI Image Enhancer will act as a restoration tool. It supports all famous image file formats like BMP, JPG, and JPEG.
In this tool, you can import your images up to 25MB file size. The process of uploading images is also quite simple. You can drag or drop the desired photo on this tool quickly. You can flawlessly eliminate noise from the uploaded image with a single tap. Moreover, it has a user-friendly interface so beginners can operate it conveniently.
Key Features of Media.io – AI Image Enhancer
If you have an old photo, you can restore it using its restoration feature. Through this option, you can bring life to your old and damaged pictures.
Are you facing a problem with your photo's color? The Colorize Photo option in this tool lets you adjust the colors of your picture efficiently.
Blurry images can also ruin the whole impression of your photo. With its Unblur tool, you can remove blurriness from the picture automatically.
Media.io – AI Image Enhancer also offers the option to upscale the desired images. Without losing the quality of photos, you can increase their size up to 8X easily.
Step-by-Step Guide to Remove Noise Using Media.io – AI Image Enhancer
Follow the straightforward instructions guided below to remove the noise from the pictures using Media.io – AI Image Enhancer:
Step 1: Import your Noised Photo
To start, visit the official website of Media.io - AI Image Enhancer through your web browser and access the "Enhance Photos" option. Now, hit the "Upload Images" button and import the photo from your PC. After uploading, the tool will automatically process your image. During the process, it will denoise your photograph automatically.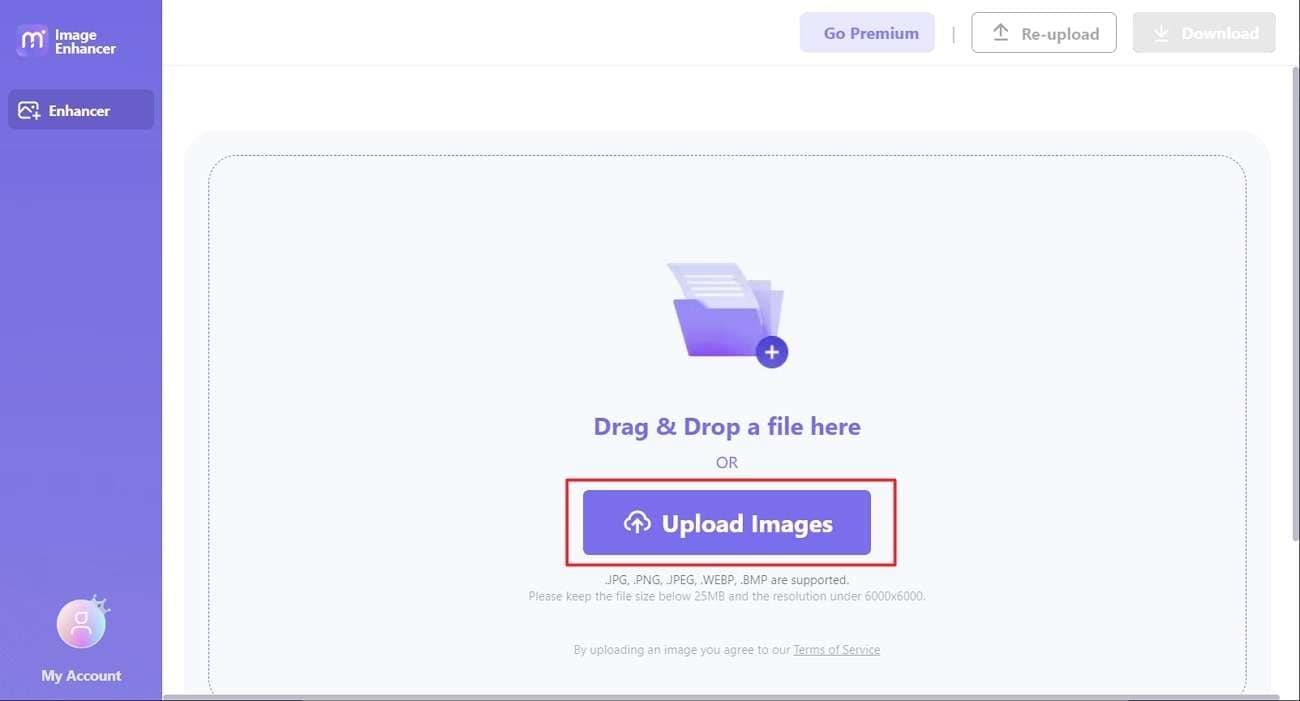 Step 2: Save the Denoised Image
Afterward, you can also upscale your image from the left panel for more enhancement. After reviewing the photo, click the "Download" button to save your picture.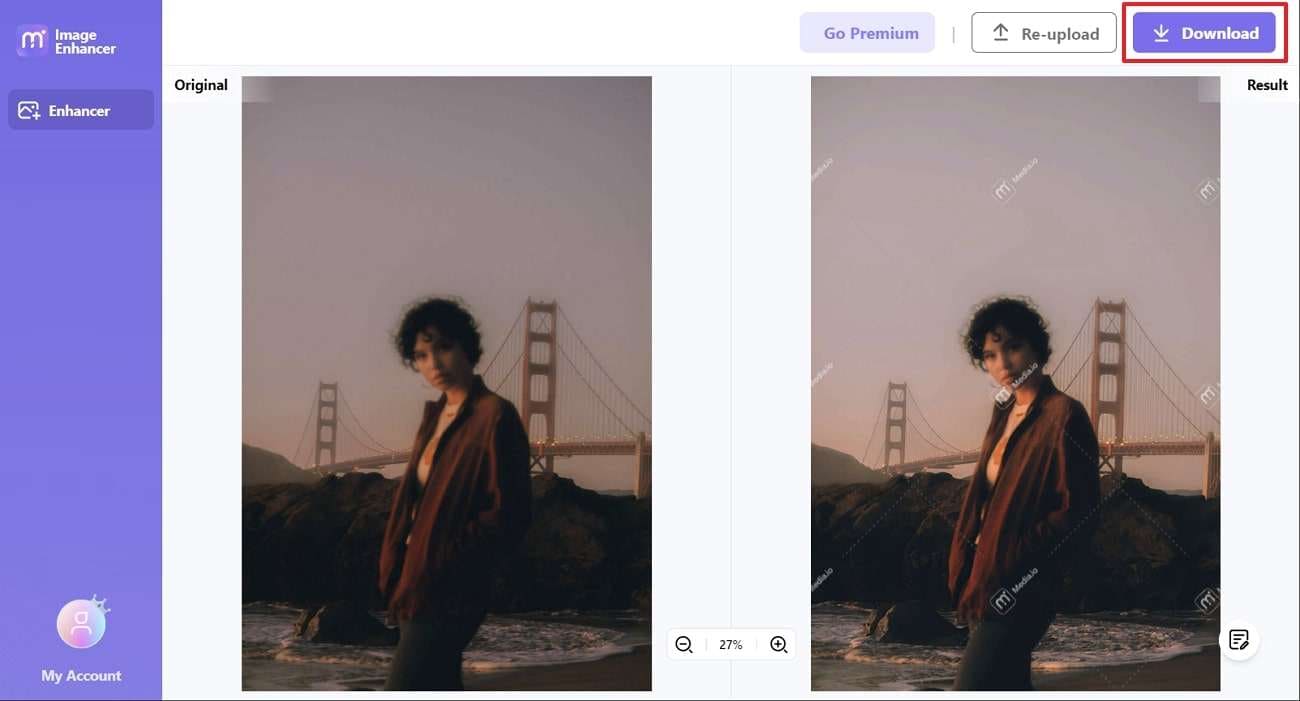 Part 3: What are the Advantages of Using Media.io over Photoshop?
Media.io – AI Image Enhancer has several benefits that can assist you in image editing. Unlike Photoshop, Media.io offers great ease to its users. To check the advantages of Media.io – AI Image Enhancer, proceed to the following part:
1. Convenient
Media.io – AI Image Enhancer is an online tool that can be navigated from any web browser. It does not have compatibility requirements. You can conveniently open this tool from your Android, iOS, Windows, and Mac through the Internet. On the other hand, Adobe Photoshop requires compatibility for its proper functionality.
2. Ease of Use
Media.io – AI Image Enhancer wins over Adobe Photoshop due to its ease of use. In Media.io, AI algorithms are used to automate the editing of photos. On the other hand, you have to adjust the sliders and follow the extensive steps manually in Photoshop. The ease of use in Media.io – AI Image Enhancer can be helpful for beginners and non-professionals.
3. No Learning Curve
To operate Adobe Photoshop, you have to watch its tutorials first. You have to learn and seek knowledge on using Photoshop properly. Conversely, Media.io – AI Image Enhancer does not have any such restriction. With a single tap, you can edit your photo on this tool without watching any tutorial.
4. No Storage Required
Media.io – AI Image Enhancer is an online tool that can be utilized without any installation. You can open its interface on a web browser without pre-requirements. In comparison, Photoshop is a desktop tool that you have to install on your PC or Mac. If your computer is old or out of storage, Photoshop won't work properly. It may hang or show glitches during image editing.