Do you love to watch Disney cartoons, princess Ariel, Aladdin, Princess Jasmine, Moana, and Pinocchio?
If yes, why don't you make a Disney character from your picture or someone else's?
Although it sounds weird, specific software programs allow you to disneyfy yourself in just a few clicks. You can easily see a Disney version of a picture and use it as a profile picture to attract hundreds of likes and comments on social media platforms. These posts will also help you show your creative skills and gain more followers. The Disney cartoonish avatars are ideal if you want to make birthday invitations or make someone smile.
So, keeping that in mind, we have listed the six most popular photo editors to convert your image to a Disney cartoon.
Part I. Reviewing the picture to Disney cartoon converter apps
We have gathered six best editors to help you convert photo to Disney characters in no time. So, go through these brief details before studying them further for an overview.
| | | |
| --- | --- | --- |
| Software name | Compatibility | Pricing |
| Media.io Cartoonizer | Web browser | Free |
| SocialBook | Web browser, iOS and Android | $3.99 billed monthly and $40 billed annually |
| Voilà AI Artist | Android. iOS | Free |
| Photo Cartoon | Windows 8/10/11 | $24.95 billed annually |
| Toonify | Web browser | Free |
| Wondershare AILab | Web browser | Free |
Part II. Top photo to Disney cartoon converters in 2023
Read below to understand more about the top six software programs to be used as Disney cartoon converters.
One of the easiest online editors to be used to convert pictures to Disney cartoon is Media.io Cartoonizer. You only need to launch the web app, upload a picture, and select Disney from the cartoon effects. You can even choose from facial expressions like anger, surprise, sadness, and many more.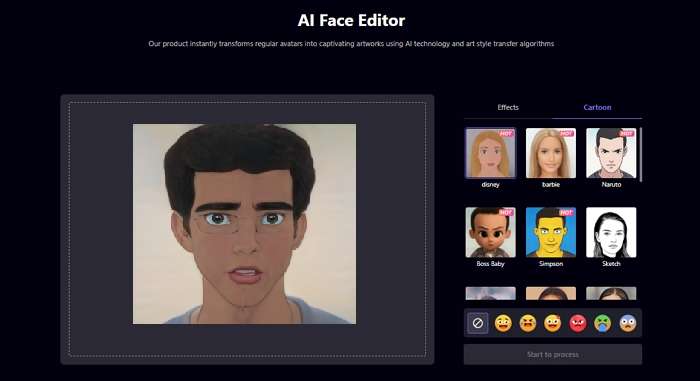 Compatibility: Web browser
Pricing: Free
Features
Perfect facial structure mapping to generate high-quality Disney avatars
Share the picture on social media platforms
Convert your selfie, candid, or DSLR shot to a Disney cartoon easily
Check out more "Photo to Disney Character" Features:
If you want sophisticated software to turn photos into Disney cartoon, SocialBook is the best one. It allows you to generate a 3D Disney avatar of any picture and even edit the same to create a flawless output. Then, save the picture to your device instantly or share the same with others on social media platforms.
Compatibility: Web browser, iOS and Android
Pricing
Monthly pack: $3.99
Annual pack: $40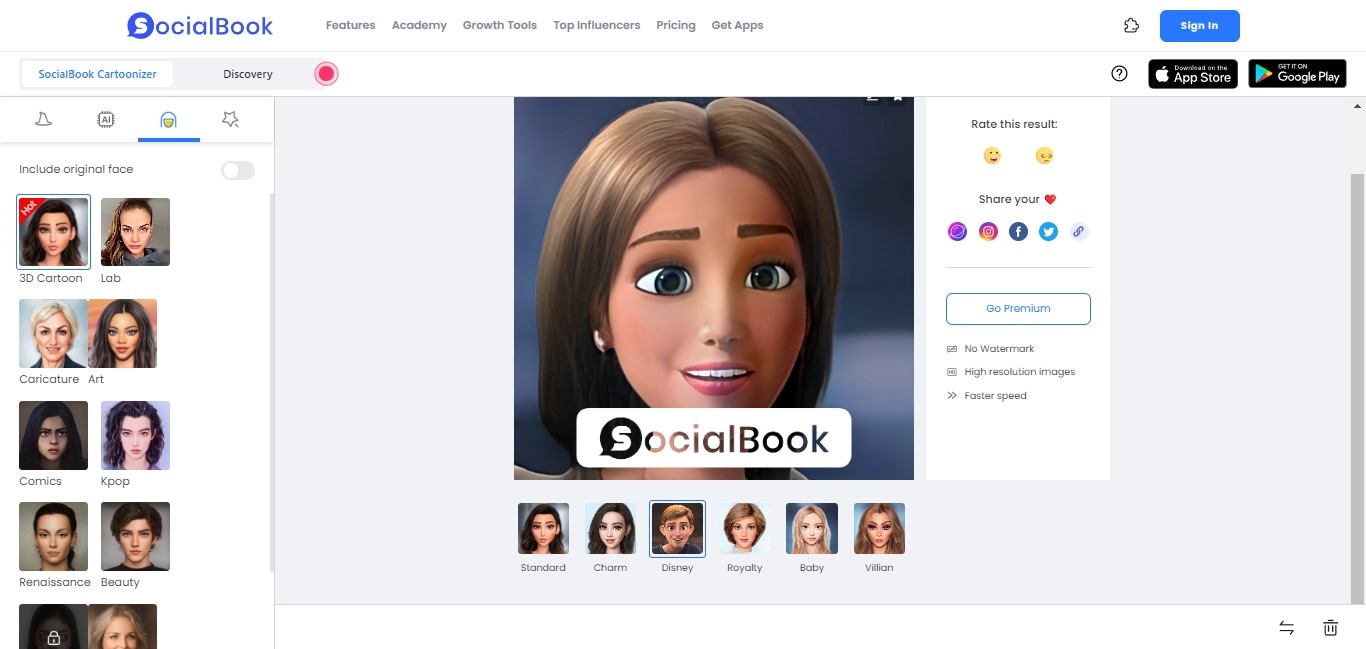 Features
3D Disney image generated with all facial features highlighted
Easy-to-use software program
You can edit brightness, contrast, and even the filter effects
Can generate the Disney effects for pets
Based on artificial intelligence, this Disney cartoon maker lets you easily convert different images into Disney avatars. Since the images will be generated in 3D, you can see each facial feature highlighted properly, bringing a stark contrast to the cartoon. Furthermore, you can create family Disney pictures or that of a royal princess at your convenience.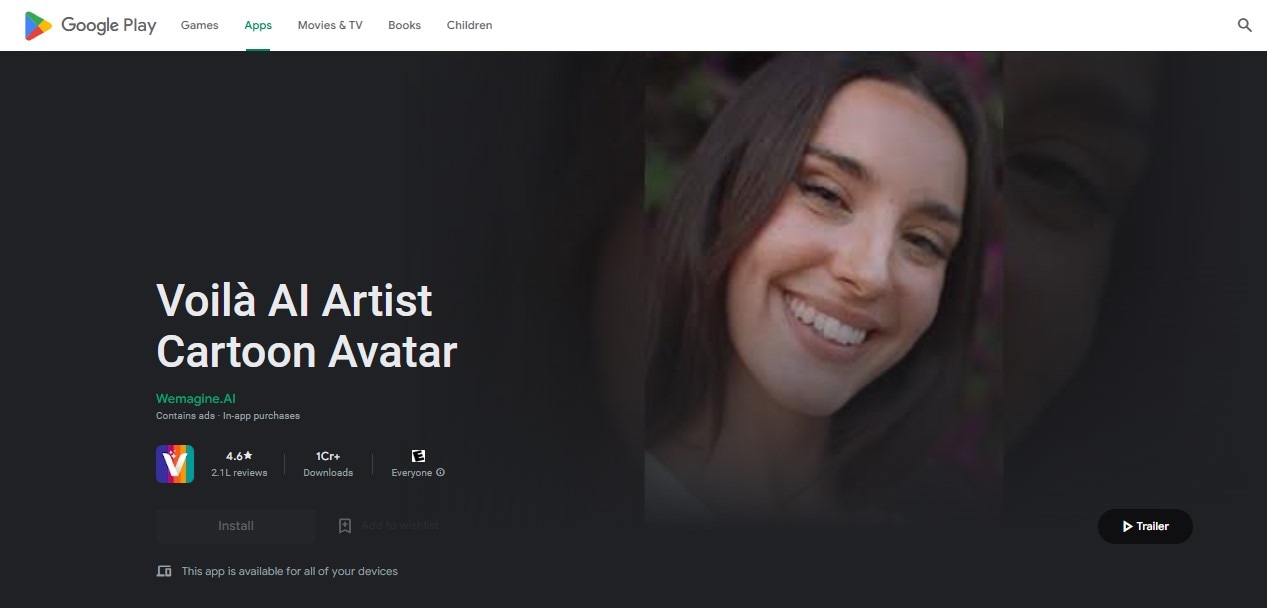 Compatibility: Android, iOS
Pricing: Free
Features
Combines AI's smartness with creativity to generate perfect Disney avatars
3D Disney effect of highlighting different facial features
Perfect for people who want to generate Disney cartoons from live pictures
Allows you to share the images on social media platforms
PhotoCartoon is another fantastic online editor you can use to convert your picture into a Disney avatar. It lets you easily convert any picture, like a selfie, a candid image, or a portrait, into a Disney cartoon, thanks to the AI engine present here. So you won't have to be worried about the overall image quality.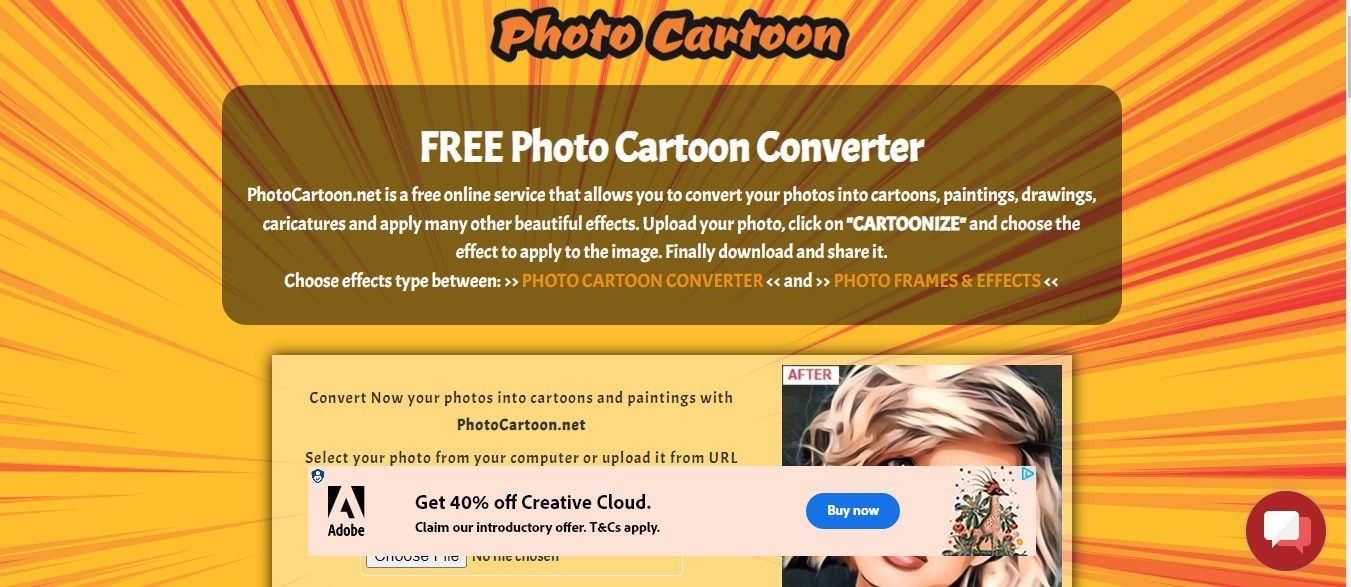 Compatibility: Windows 8/10/11
Pricing: $24.95 for an annual subscription to PhotoCartoon Pro
Features
Multiple customizable filters to make the Disney image perfect
Generates HD cartoons with all the features highlighted
Proper color saturation with excellent sharpness
Lets you save the image to your device
If you are looking forward to converting multiple images into Disney cartoons at affordable pricing plans, Toonify is the best one to go with. Once you upload the license key, you can adjust the image with different controls, like masculinity, glasses, big eyes, age, smile, and more. Therefore, using this software program to convert a normal photo to Disney cartoon sounds more feasible.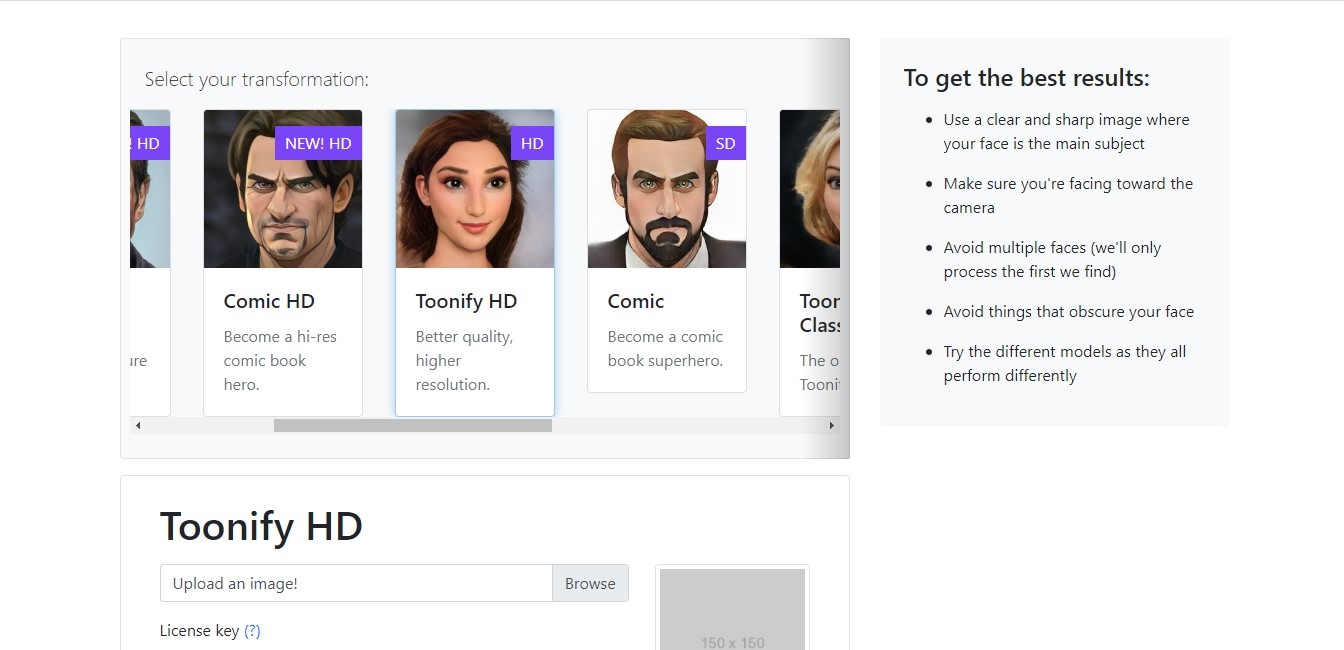 Compatibility: Web browser
Pricing: Free
Features
Sliders available on the editor page to adjust the facial filters
Quick transformation of a regular image into Disney cartoon
AI-powered engine to make Disney avatars look flawless
Converts the background into Disney cartoon also
Wondershare AILab is one of the best software programs to convert a normal facial picture into a 3D Disney avatar. You can select from different facial expression filters to get the desired look on the avatar and save it to the device. It is integrated with an AI engine that ensures a flawless Disney avatar of any image.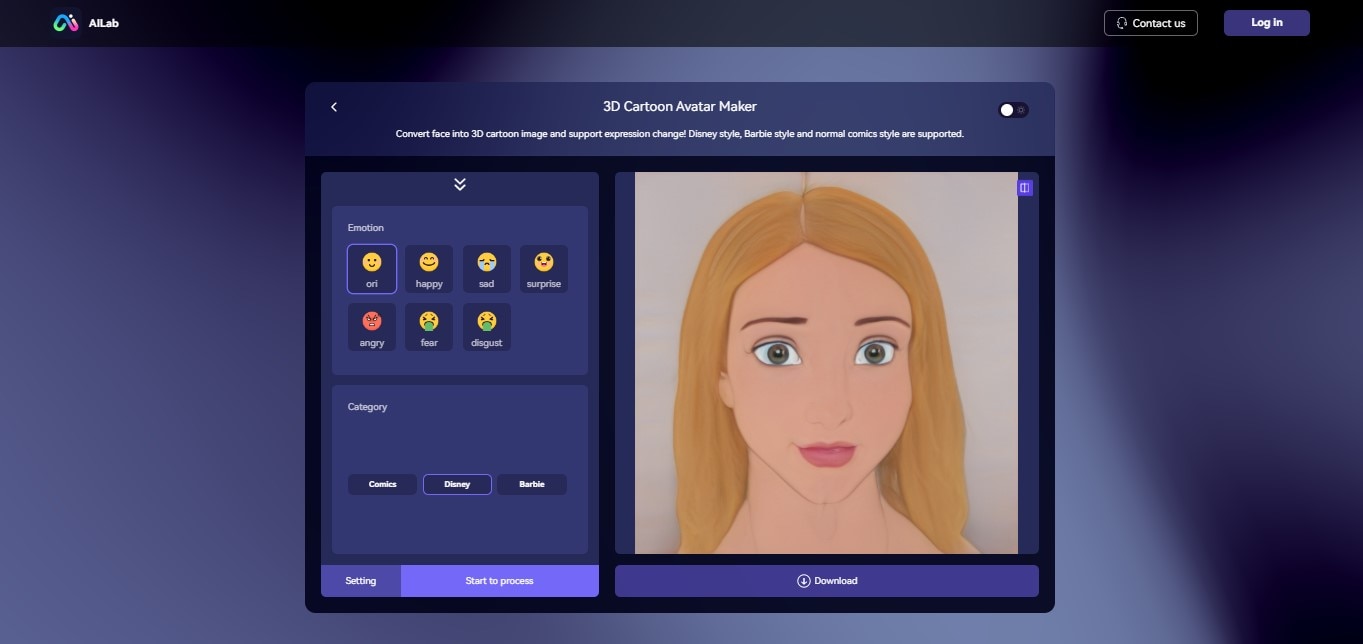 Compatibility: Web browser
Pricing: Free
Features
Allows you to select a sample picture or upload it from the drive
A perfect Disney image with heightened facial features
Comes with different facial expression filters
Can be saved to the device easily
Part III. How to choose the best photo to Disney cartoon converter app?
With so many options, choosing the best software to generate a Disney cartoon yourself won't be easy. Owing to that, we have shared subtle hints to ensure your choice won't go wrong.
First, you must decide where to use the online photo editor to generate the Disney cartoon. If you want to use it on your phone, the software should be compatible with iOS or Android. On the other hand, you can choose a desktop app or web browser software for a laptop or desktop.
Next, you should make a choice based on the software's usability. In other words, your choice should be a platform that is easy to use, suitable for both beginners and experts, and doesn't need intense technical knowledge.
Most software programs to generate Disney cartoons are free. But some of them will have a Pro version for which you must pay a subscription fee. So, check the pricing plans and features available and proceed further.
FAQs about Disney cartoon converter
Can I use the Disney cartoon avatars to surprise someone with photo gift?

You can certainly use the Disney cartoon avatars to make an excellent photo gift for anyone. For instance, you can use the picture on a cake or have it framed as a gift.

Which is the best free software to convert photos to Disney cartoon?

If you want to convert photos to Disney cartoon in the easiest manner, no other software program is as hassle-free as the Wondershare AILab. It has an AI-powered engine that superimposes the Disney effects on the original images and allows you to adjust the filters till you get the desired results.

How to use the Disney Cartoon converter?

You need to upload the image of which you want to create a Disney version and wait for the online photo editor to generate the results. Once you get the Disney avatar, you can apply more filters for a flawless cartoon.