Retouch Photo Online Free
Easily touch up any photos like a Pro online at no cost with the latest AI. Auto beautify faces, smooth out skin, adjust colors, remove blemishes, spots, wrinkles and any other unwanted elements from your pictures. Perfect for anyone of all skill levels!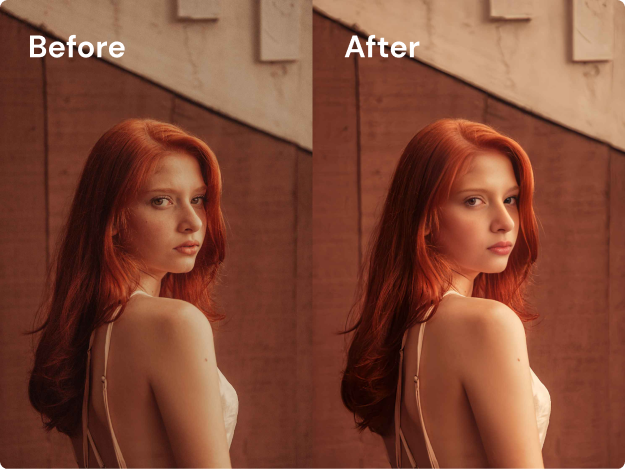 Handy Touch Up Tool
We offer smart photo retouch service available online for iPhone, Android, Windows, Mac or Linux users, meaning you can do any professional photo edits without downloading any heavy software like Adobe Lightroom or Photoshop. Revamp your photos with just a tap here!
AI Retouching & Enhancement
Driven by the constantly evolved AI model, Media.io offers a cost-effective way to analyze and enhance the quality of your portraits, product shots or landscape images, making them look more professional and appealing.
Comprehensive Photo Retoucher
Media.io comes with a wide range of photo-retouching capabilities that make it a breeze to perfect all aspects of your images. From tweaking colors to removing spots, redness, blemishes, stray hairs and other objects, beautify skin or more, we've got your back! Simply upload your raw file and watch the magic happen!
Data Safe & Protect Privacy
There is no need to worry about data security because Media.io will delete your uploaded images after 24 hours of usage. It also uses a secure SSL (HTTPS) to safeguard your data from hackers.
How to Retouch Your Photos Online with AI?
Step 1. Upload Your Photo.

Launch Media.io AI Retoucher on your web browser. Hit the Upload Images to upload the photo you need to touch up. JPG/JPEG, PNG, and BMP images are accepted.

Step 2. Make AI Photo Retouches Online.

Our magic AI will take a few seconds to scan, analyze your photo and produce a retouched version that surpasses the original. You can choose to magnify it for a closer look, revealing intricate details.

Step 3. Download the Retouched Image.

When you are happy with the enhanced image, click Download button to save it or easily share it with the world. It's that simple!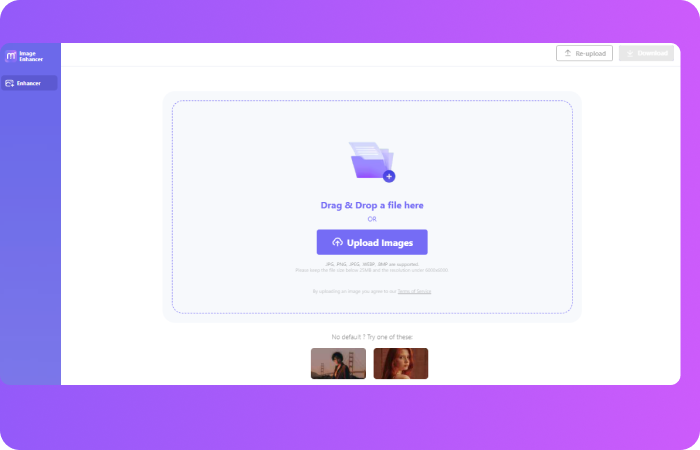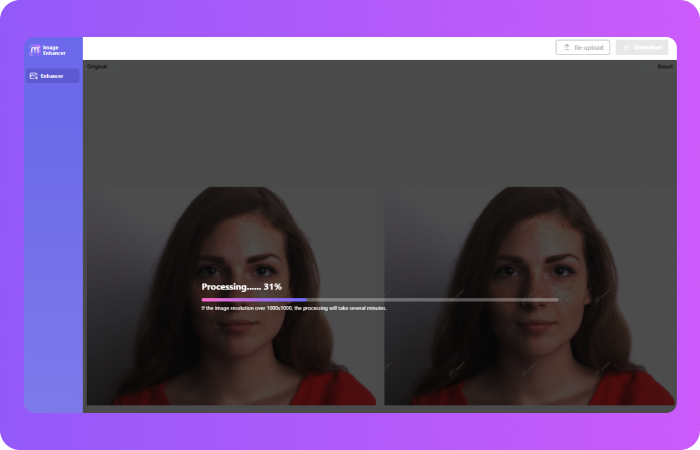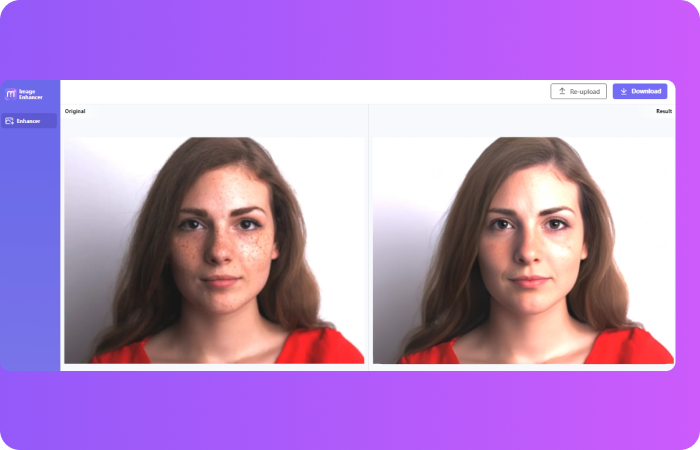 One-Click Face Portrait Retoucher
Looking to transform your RAW images into beautiful portrait photos that captivate viewers on popular rich media platforms like Facebook, Instagram, and Pinterest? Look no further than Media.io AI Retoucher! Whether it's blemishes, fine lines, wrinkles, or low clarity, this photo retouching app effortlessly diminishes these imperfections across all skin tones while maintaining exceptional clarity. Simply upload your selfie photo, and in an instant, receive a flawless face photo that will leave you amazed!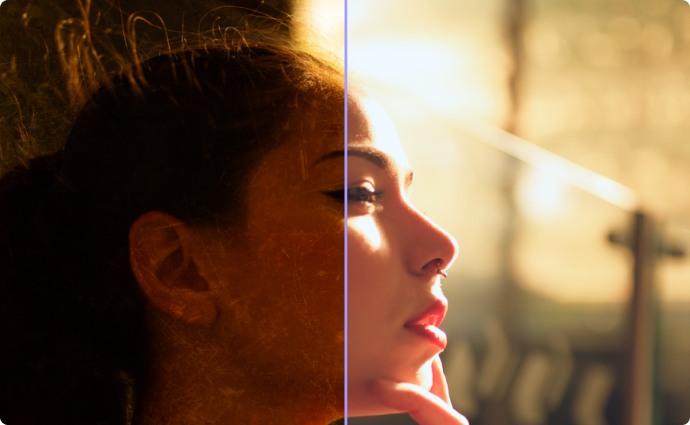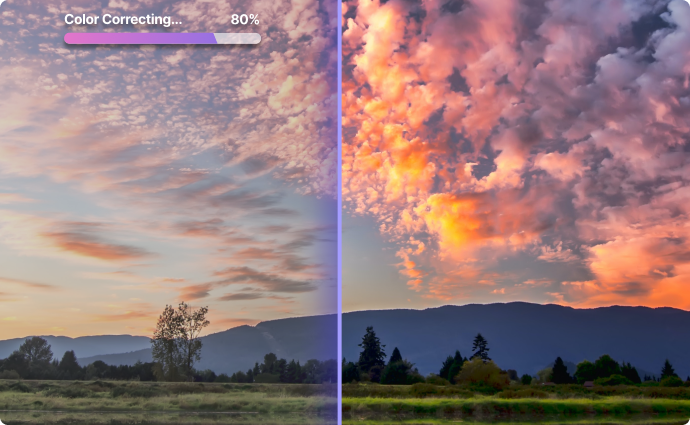 Achieve Appealing Color Adjustment with AI
Make your newly captured shots come to life in just seconds with high-level color, saturation, vibrancy, contrast, sharpness, exposure, and intricate details. Enjoy tonally well-balanced outcomes with our auto color corrector, without the added hassle of manual work. Try it today!
Remove Undesired Objects from Your Photo
Have you ever experienced the frustration of strange photobombs in your precious photos? Background people, text, lines, emojis, street signs, buildings, logos, and more can unexpectedly sneak into your shots, disrupting the perfect moment. But worry no more! with Media.io AI photo retoucher, you now have the power to effortlessly get rid of any distracting objects from your photos, restore their original beauty and ensure a seamless composition!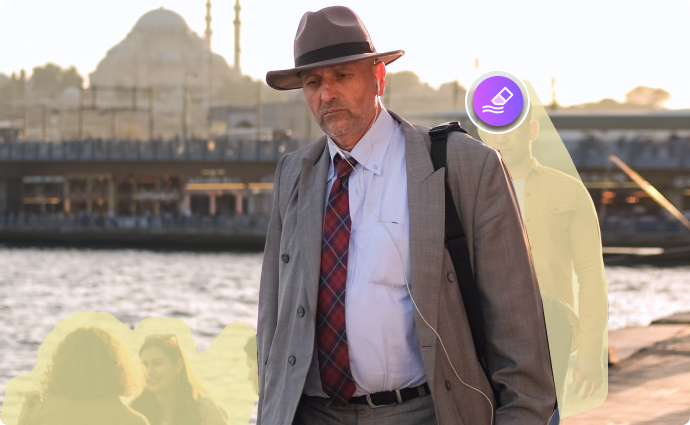 Jannelle White
I was paid for a wedding, so I rented a camera and unknowingly for me the camera was bad and lots of the pictures turned out to be very poor. I was so devastated and my friend introduced me to Media.io. I'm so speechless right now as this tool helped me carry out this task without having to stress me. I'm so happy… thanks so much Media.io
Selma Nilsson
Wow! This tool can retouch my picture automatically and is also very easy to use. This is indeed superb!
Joao Ronaldo
All I can say is thank you Media.io, this platform is indeed powerful as it handled my blurry photo effortlessly.
Oscar K.
An excellent photo editor! It does precisely what I want it to do, especially improving image quality. It saves me a lot of time! Great and Thanks
Wes Stinger
I honestly love the ease of use in this all-in-one program. There are no annoying adverts or hidden charges. Just an honest service. Recommended!
All-in-One Photo Editor to Touch Up Images
On the Go.
More than just an AI photo retoucher!