This article is specifically designed to help users facing lower-quality video issues. Here, you will the find top-class enhanced video to 4K tools for several platforms such as Windows, Mac, and online. In addition to this, we will also discuss the reasons that can lead to this irritating problem. The tools listed here offer uncomplicated procedures which you can use without any worries.
Part 1: What Are the Reasons Behind Low-Quality Videos
Low-quality videos can be very annoying for many users. It is important to be aware of the fact through which this is happening. Here are several reasons that can result in low-quality videos:
Poor Lighting and Resolution
Resolution helps determine the number of pixels to be present in every frame. If the video has few pixels, it will be low quality which will give a blurry and pixelated look. Moreover, you can never capture high-quality videos with poor lighting. So, it is important to have perfect lighting so the video will not be extra dull or bright.
High Compression and Shakiness
If you are capturing a video with shaky hands, it will automatically lead to disoriented footage. Thus, it is important to hold the camera still to capture a high-quality video. Other than this, when you compress the video by using a low-quality tool, it automatically compromises its quality. Make sure you use a reliable tool to compress the size of the video.
The quality of lenses impacts the videos in a noticeable way. If you are using an unclean or poor-quality lens, the chances of having a high-quality video are low. Moreover, choosing the wrong codecs and bitrates can also lead to this issue. You need to ensure that you are using every good aspect to get what you want.
Noises and Color Gradings
It is obvious that you will not be able to see the videos with ease if they have extra bright colors. Moreover, the noises in the videos also give rise to low-quality issues. Other reasons for this may include flickering displays, interlacing, or inaccurate encoding settings.
Part 2: 4 Best Online Tools to Upscale Video to 4K
In this section, you will find the 4 best upscale video to 4K tools. Have a look below to find out more about these online upscaling tools:
Are you facing low-quality issues with your cherished videos? Worry no more because you can get assistance from Media.io – Video Enhancer. This tool can increase the quality of your video to 4K and upscale it to 4X. You will not miss out on any of the details in the videos, as they can also polish the minimalists' details. It can also enhance personal or business-related videos.
The video enhancement and upscaling process is automated, so you don't have to do everything by yourself. Above all, it supports various video formats such as MP4, AVI, and more, so you can use it for several types of videos.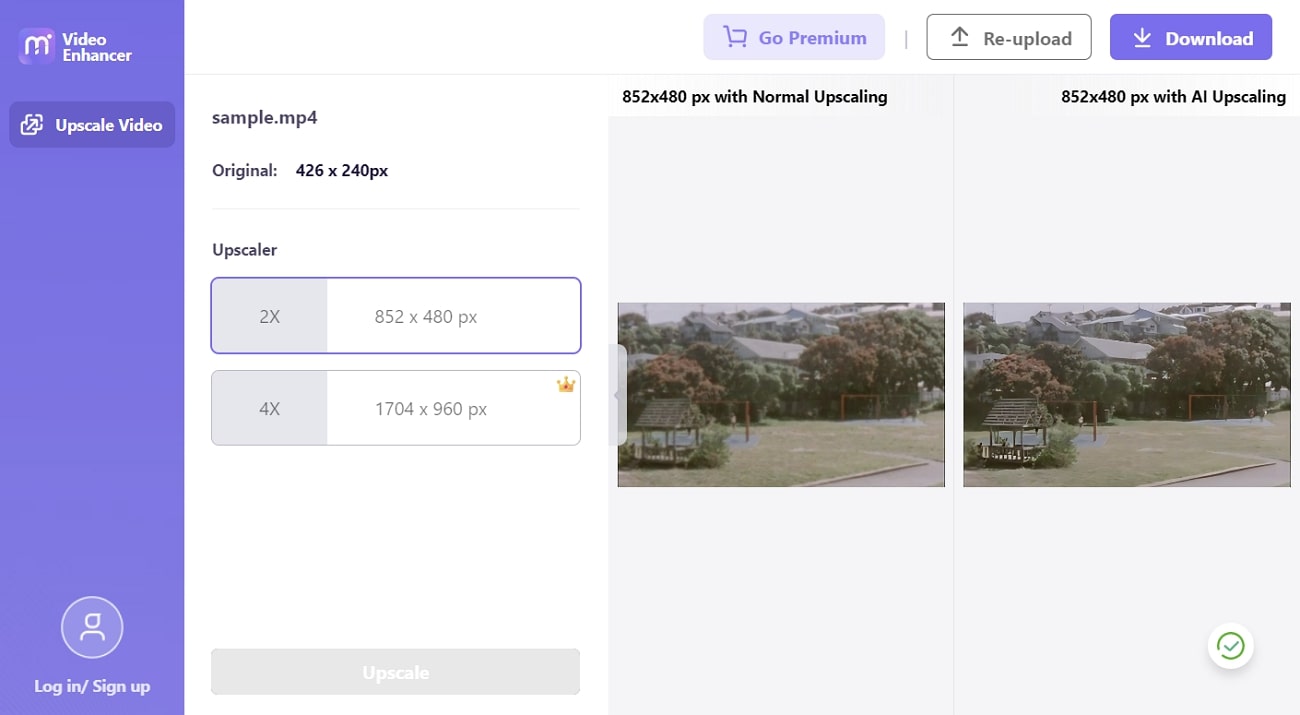 Key Features of Media.io – Video Enhancement
It supports the Preview feature so you can see the results of video enhancement before downloading the video.
Media.io – Video Enhancer also supports the batch enhancement of videos. You just have to upload the videos you want to upscale, and it will process all the videos one by one.
By using the Auto Color feature of Media.io, you can also adjust the overall brightness and color grading metrics of your videos.
Quality Rating of Media.io – Video Enhancer
Whether your videos get blurrier or have low quality because of camera shakiness or poor lightening, this tool can enhance all types of videos. You can even convert the SD quality video into HD quality. Besides this, it lets you work with multiple types of videos, such as clips, films, or vlogs. You can also manage the output quality from the options of 240p, 1080p, and more.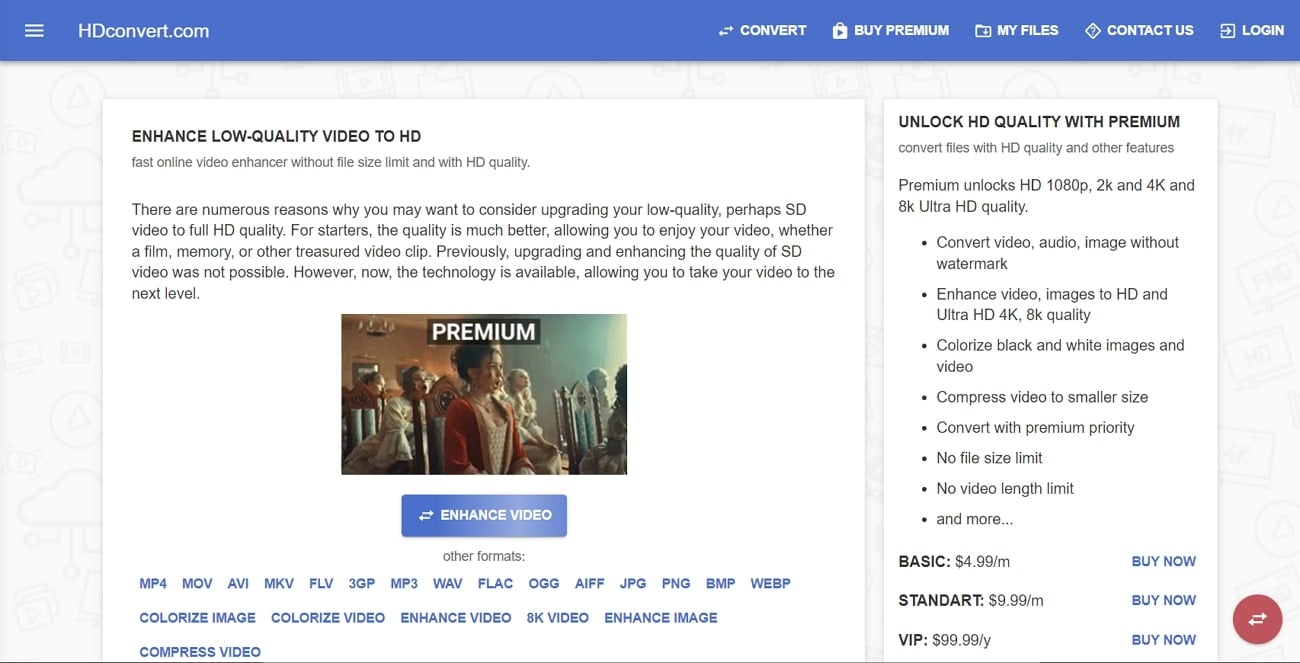 Key Features of HDConverter.com
Without worrying about file size restrictions, you can customize many video metrics with it, such as codec, bitrate, and output quality.
It supports versatile video file formats like MOV, AVI, AIFF, BMP, WEBP, OGG, and more. You can also enhance the quality of images with it.
This tool also lets you colorize videos and compress large videos to make them more shareable in lossless quality.
Quality Rating of HDConverter.com
Cutout.pro also holds its name in the list of top online 4K upscaling software. This tool allows you to work on different videos in different formats, such as MOV, GIF, and more. It also lets you work on 2GB videos, which is a very convenient thing for the users. You can also change the resolution of the videos to 4K quality. Moreover, it increases the frame rates of slow-motion videos.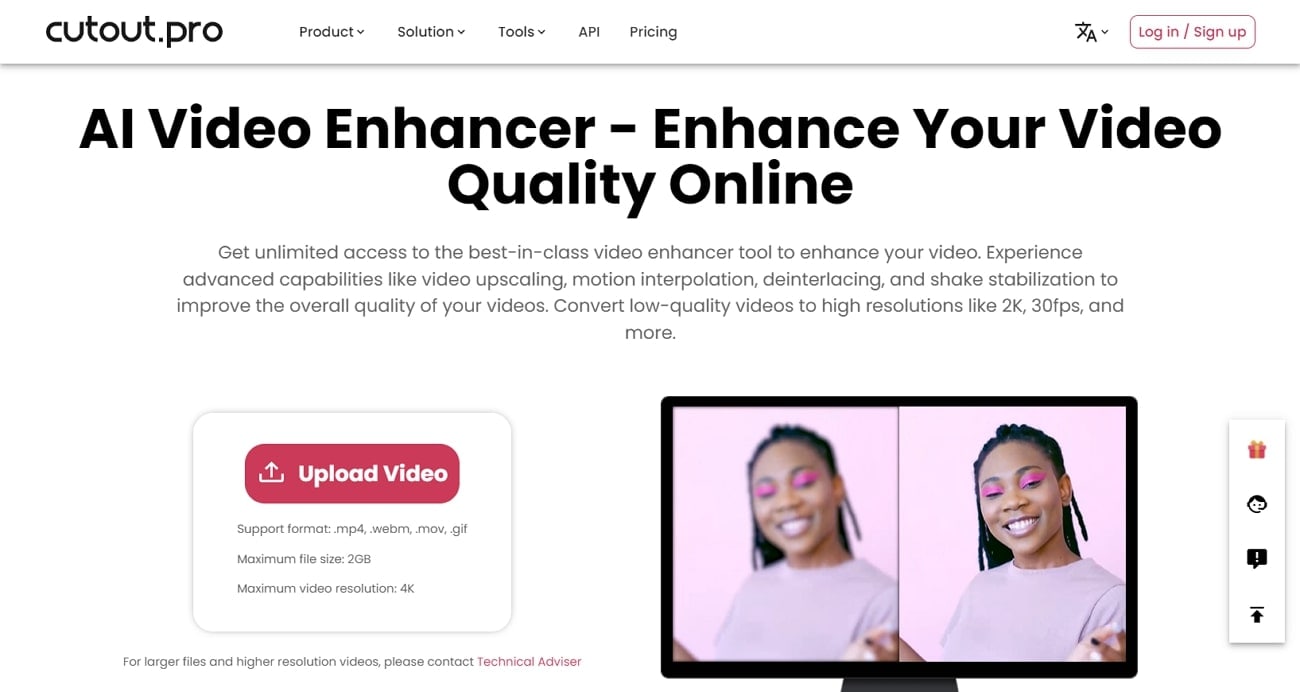 Key Features of Cutout.pro
This tool can also reduce the noise in the videos and improves resolution at 30FPS. It also has the capability to unblur blurry videos.
With its face cutout feature, you can automatically do human face and hair segmentations. It can also help you to cut out the faces of pets in videos.
It also lets you remove the unwanted background from the videos without worrying about picking up colors or green screens.
Quality Rating of Cutout.pro
With this AI-powered platform, you can enhance the quality of your videos in an intuitive way. It not only enhances the videos, but it can also upscale any video for you. Above all, the layouts and other layers of videos never get compromised with this tool, so you can also use it for professional purposes. Moreover, you can also preview the videos before downloading them.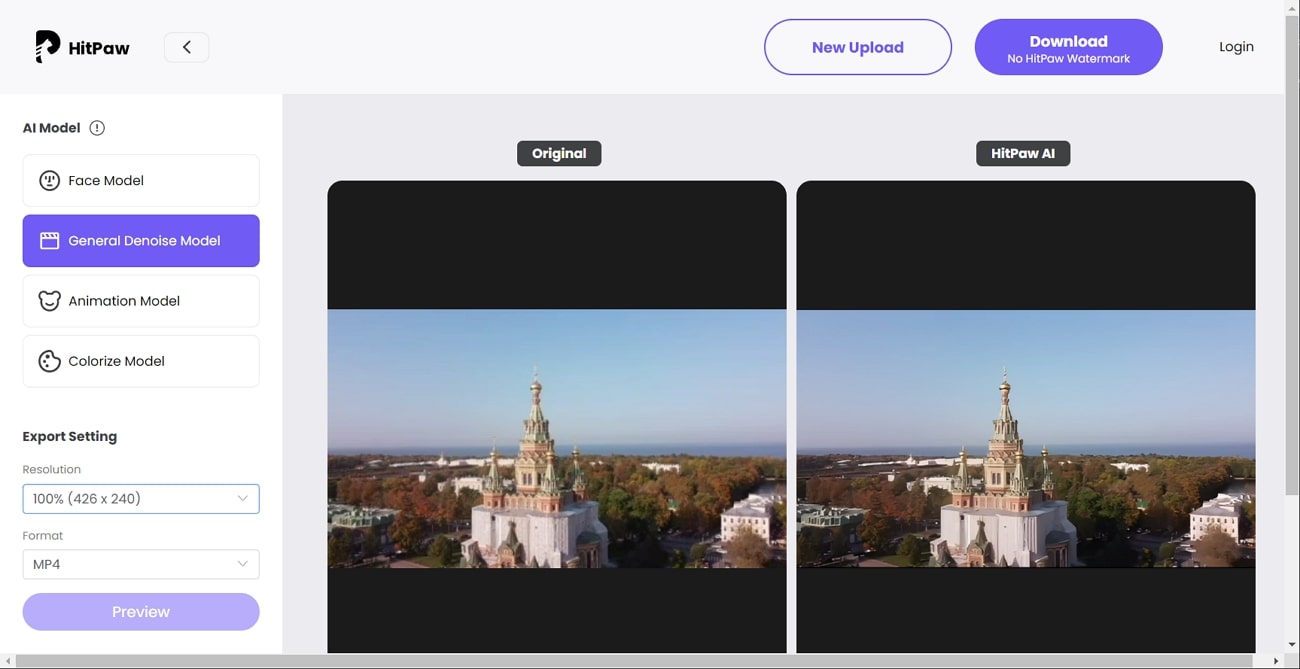 Key Features of HitPaw Online Video Enhancer
The Animation Model of this online tool can convert your simple videos into eye-catching animations in the most efficient ways.
Sometimes, the camera's focus gets disturbed, and faces in videos get blurred. You can use the Face Model of this tool to fix this issue.
With the Colorize Model, you can add vibrant colors to any type of video and make them more modernized.
Quality Rating of HitPaw Online Video Enhancer
Part 3: 4 Powerful 4K Upscaling Software for Windows & Mac
If you are going to enhance the large-sized videos and don't want to use your internet package, you can use the offline upscale 4K tools. In this part, we will introduce some classic yet powerful video enhancement tools for Windows and Mac. Jump below to know them in a detailed manner:
This professional-grade tool can upscale videos to 4K in the most uncomplicated way. It can also reduce the shimmering or flickering artifacts from all types of videos. You can also adjust the frames of the videos to make them more personalized. Moreover, you can also polish the video details to make them sharper and clearer.
Key Features of Topaz AI Video Enhancer
This tool can help you to upscale the video not to 2K or HD but to 4K and 8K quality. You can also work on noise-oriented videos with it.
You can also upscale and enhance the quality of older videos with the AI-powered features of this innovative tool.
The Chronos can make the videos smoother in 60FPS and can also blend the frames. You can also use the Shake Stabilizer to fix shakiness.
Quality Rating of Topaz AI Video Enhancer
This AI 4K upscaling software converts low-resolution videos into HD, 4K, or 8K quality. It can also handle the frames of the videos and enhance their quality. There are highly automated algorithms in it that can also restore old videos. You can also add sharpness and clarity to vintage films. Moreover, it includes a Color Calibration feature that can automatically balance the colors naturally.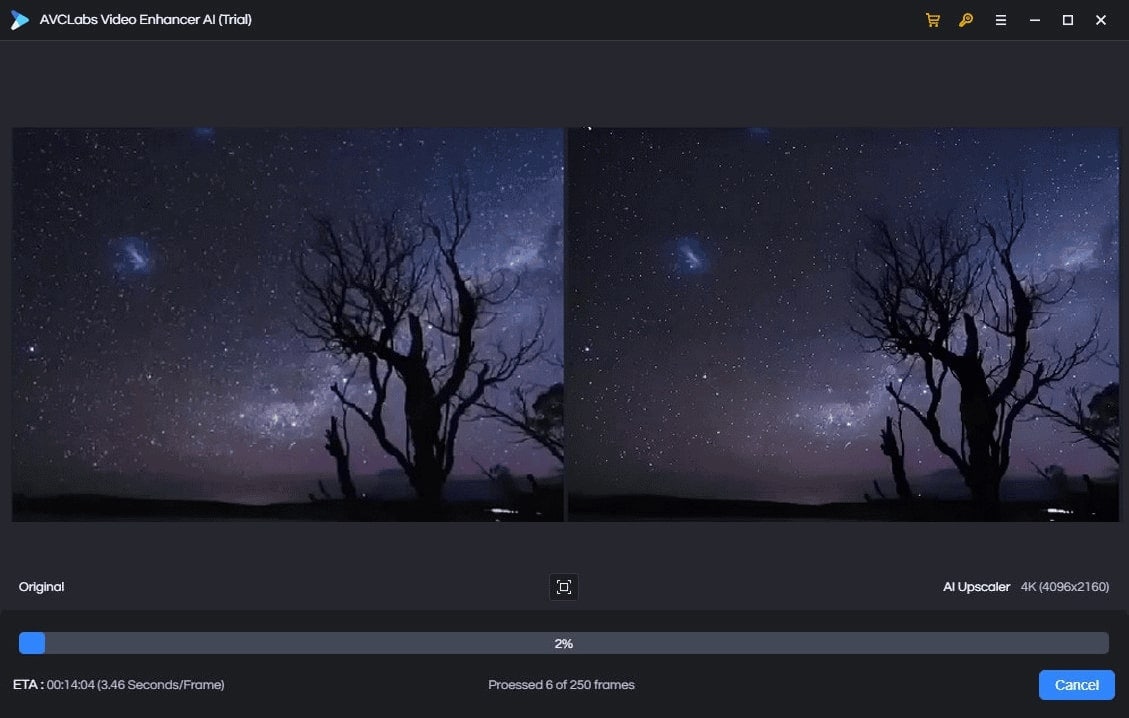 Key Features of AVCLabs Video Enhancer and Upscaler
This tool can increase the resolution of videos to super resolutions. It also has the capability to enhance single and multiple frames.
You can also do Frame Interpolation in slow-motion and animated films. It can also remove grains and noises from the videos.
The AI Video colorizer can also add a splash of vibrant colors in black-and-white videos. You can also fix colors in color-disturbed videos.
Quality Rating of AVCLabs Video Enhancer and Upscaler
DVDFab Video Enhancer AI is also a popular tool among video editors for 4K upscaling AI. During the time of classic videos, the equipment was not so modernized, so the resulting videos were a blur. Yet, you can now fix that issue with this exclusive tool. It also helps remove the artifact from the video and enhance every detail.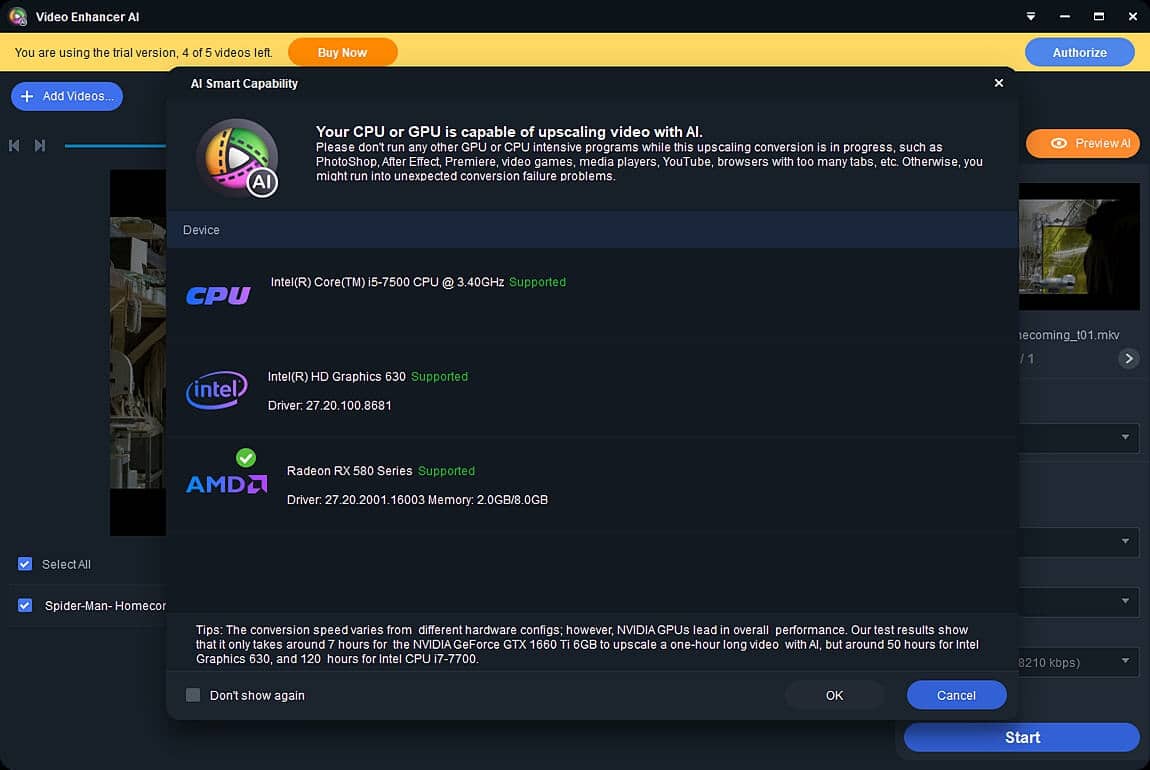 Key Features of DVDFab Video Enhancer AI
You can customize the resolution of your as per your need and even convert the 128x720 video into 3840x2160.
It has capabilities to work on several videos and image formats such as ASF, M2TS, MPEG, RMVB, TS, WMV, and more.
This tool has a well-established user interface and fast processing speed, which can improve your user experience in no time.
Quality Rating of DVDFab Video Enhancer AI
You know that the content of the video can be blurred when played on big screens. Moreover, lots of sharing of videos can also compromise their quality. Thus, it is important to use a reliable video upscaler online. This 4K upscaling software can make your videos more polished and enhance every detail in them without any complicated procedure. VideoProc Converter can help you to upscale multiple videos at once in 4K or HD quality.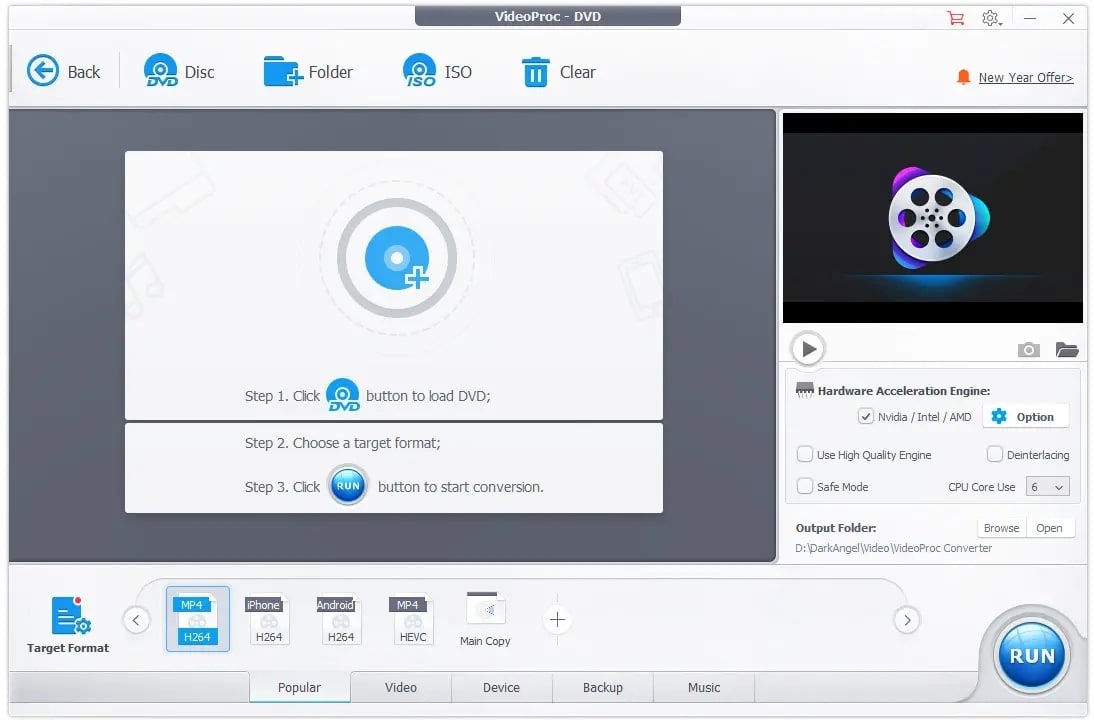 Key Features of VideoProc Converter
With it, you can also convert videos into different formats and can also compress their size. You can accomplish this task With lossless quality.
You can also edit the videos with its innovative, powerful editing features, which can make your video more visually appealing.
It supports videos recorded from several devices such as DJI, GoPro, Sony, Canon, and more. You can also work on videos of multiple formats with it.
Quality Rating of VideoProc Converter