Unblur Image Instantly with AI Image Sharpener
Sharpen an image online and make it stunning in a couple of seconds. Easily turn blurry photos into clear ones without annoying artifacts or halos. 100% automatically and free to try!
Unblur Image on Any Device
Media.io is a free online web-based artificial tool compatible with all devices to deblur images instantly. Remove blur from a photo without Photoshop with a one-click operation.
Turn Blur Pic to Clear Pic
Enhance images from simple color to complex exposure balancing. No more tedious and difficult photo editing tools to unblur images. Also, fix the motion blur caused by a shaky camera.
Based on the AI algorithm, deblur photos and enhance image overal quality to get better effects automatically. Save the time required to make blurry pictures clearer, crisper, brighter, and preciser.
Data Safe & Protect Privacy
There is no need to worry about data security because Media.io will delete your uploaded images after 24 hours of usage. It also uses a secure SSL (HTTPS) to safeguard your data from hackers.
How to Remove Blur from Photos?
If you need to sharpen the image instantly before sharing it with your friends or on social media, you need an online image sharpener to achieve this. It is a free online image-editing web-based tool that utilizes artificial intelligence to detect and remove blurring from your photos in a few seconds. Here is how you can blur image to clear image!
Step 1. Upload Blurry Image.

Launch Media.io on your web browser. Click the Upload Image button to upload your blurry photos or simply drag & drop your images to the area.

Step 2. Start to Sharpen Image Online.

After uploading the photo, Media.io AI technology will sharpen your image automatically. It only takes 5-10 seconds.

Step 3. Download the Result Image.

Click the icon to preview the deblur image, then click Download button to get your clear photo and sharpen the details.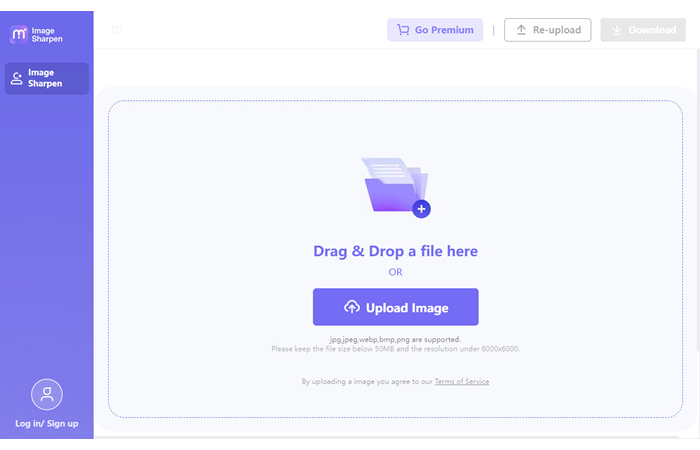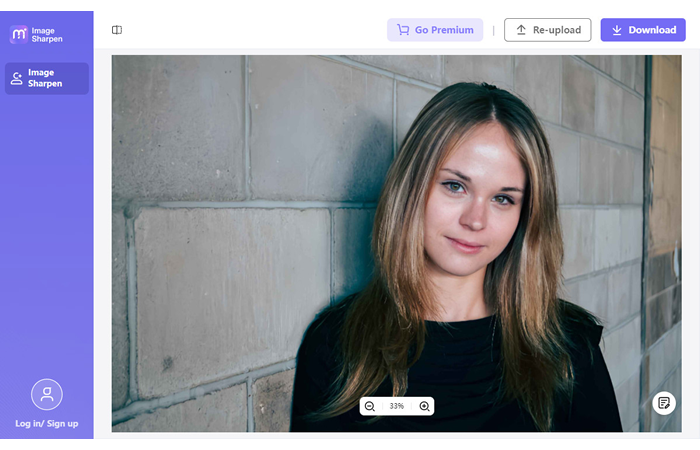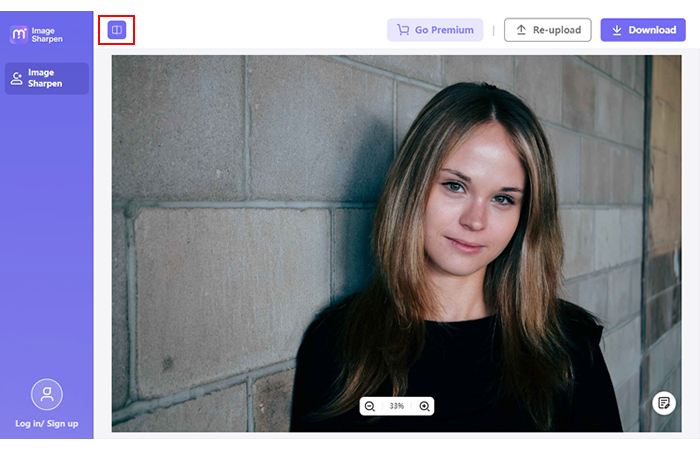 More Useful Tools for Image Editing
Deblur Images Online for Crisp Results.
Using Media.io's sophisticated picture sharpener, you can automatically sharpen a blurry image in seconds to enhance the picture color, edges, and details. The powerful AI blur remover can easily deblur and clear images and present a sharper visual effect, reflecting the detail of the image.
Sharpen Photo Edges and Details Effortlessly
Sharpening blurry images can be as easy as a few clicks once you try Media.io. This tool has a sophisticated picture sharpener that automatically and effortlessly enhances image details, edges, and colors with an AI algorithm. It can remove blur from photos and help you get the best result.
*Tips: Slide the slide bar to adjust the sharpness of the image.
Fix Motion Blur after Taking Sports Photos
It's hard to take a clear picture of a fast-moving object or person, like sports, chasing, car racing, skating, etc. However, Media.io can detect out-of-focus and motion blur in your pictures smartly and make them clear. If you capture a sports motion picture that is blurred, you can unblur the photo to your desired levels of perfection with this blur remover online.
*Tips: Slide the slider to view the result before and after blur.
Use Super Crisp Images to Boost Your Business
Clear and Crisp pictures are vital in many cases, especially when it comes to putting them on your website or eCommerce platforms. With this tool, you can quickly unblur text in a canned food image on Amazon or unblur a picture you want to upload on your website.
FAQs about Image Sharpener.
1. Can you Deblur images?

If in any way you can find yourself into a mess by taking blur photos in an event resulting from bad cameras, do not worry as you can deblur images online very quickly. Media.io has an exclusive feature that deblurs images. Unlike other products, this photo sharpener works to recover the original scene and bring out hidden details by emphasizing changes in pictures.

2. Can you fix a shaky photo?

Yes, you can type Media.io on your browser and clicking on the image sharpener to fix the shaky photos.

3. What is the best way to sharpen an image?

Media.io is the best tool to sharpen your image. Media.io excels at fixing general softness, camera shake, or focus issues. With this AI software, you can unblur images within seconds. It also comes with sharpen module and stabilize module, which makes it possible to fix motion blur and correct pixels of focus blur.

4. How to make a blurry picture clear online for free?

You can easily make a blurry picture clear and crisp online for free. Here are the steps:
Step 1. Open Media.io on your browser and upload the picture you want to unblur.
Step 2. Click "Start to Process" button and wait for Media.io AI technology to deblur your image.
Step 3. When you feel satisfied with the result, Print or digitally, save and share your finished creation.
More Tips and Tricks for Fixing Blurry Photos.
Jannelle White
I was paid for a wedding, so I rented a camera and unknowingly for me the camera was bad and lots of the pictures turned out to be very blurry. I was so devastated and my friend introduced me to Media.io. I'm so speechless right now as this tool helped me carry out this task without having to stress me. I'm so happy… thanks so much Media.io.
Selma Nilsson
Wow! This tool can sharpen my picture automatically and is also very easy to use. This is indeed superb!
Joao Ronaldo
All I can say is thank you Media.io, this platform is indeed powerful as it handled my blurry photo effortlessly.
Oscar K.
An excellent photo editor!. It does precisely what I want it to do, especially improving image quality. It saves me a lot of time! Great and Thanks!
Wes Stinger
I honestly love the ease of use in this all-in-one program. There are no annoying adverts or hidden charges. Just an honest service. Recommended!
All-in-One Online Tools to Edit Photos and Videos
in a Minute.
More than just an image sharpener!