Images have the power to tell stories and evoke emotions. Thus, they're close to all of us because they store content relating to us. Meanwhile, most of our images are the victim of grain distortions. This means that your pictures have variations in color and brightness. As a result, your image will look unattractive with bad visual resolutions.
Thus, it's important to improve your image quality. For this purpose, this article discusses some popular remove grain from photo tools. So you will not have grain in your photos again.
Part 1: How to Remove Grain from Photo Online With Media.io - AI Image Enhancer
Image upscaling becomes simplified with Media.io AI Image Enhancer. This free online tool that removes grain from photos has 6 different AI upscaling models. So, you can upscale images, sharpen portraits, unblur images, restore old photos, and more. The supported image file formats include BMP, JPEG, JPG, and PNG. Meanwhile, you can upload a maximum of 25MB of files.
There isn't any complexity while using Media.io - AI Image Enhancer. With a simple button press, you can upscale images, increase clarity, and enhance resolution.
Key Features of Media.io – AI Image Enhancer
There is a possibility to enlarge pictures by 200%, 400%, and 800% resolution. The image's original layout, details, and quality aren't affected.
Face enhancement for the portraits is also possible by using Media.io. The available cutting-edge AI technology adds clarity and beauty to the image.
The platform is blazing fast and efficient in its image optimization process. So, you don't have to wait long for your image upscaling to get completed.
Straightforward Step-by-Step Instructions to Use Media.io - AI Image Enhancer
Using Media.io - AI Image Enhancer for image upscaling, you can bring wonders to your visual creativity. To use this AI image denoiser, follow the simple and easy steps here:
Step 1

Select the Enhance Photos AI Tool

From your device's browser, open the Media.io - AI Image Enhancer website. Scroll down and select the "Enhance Photos" AI tool from 6 different functions.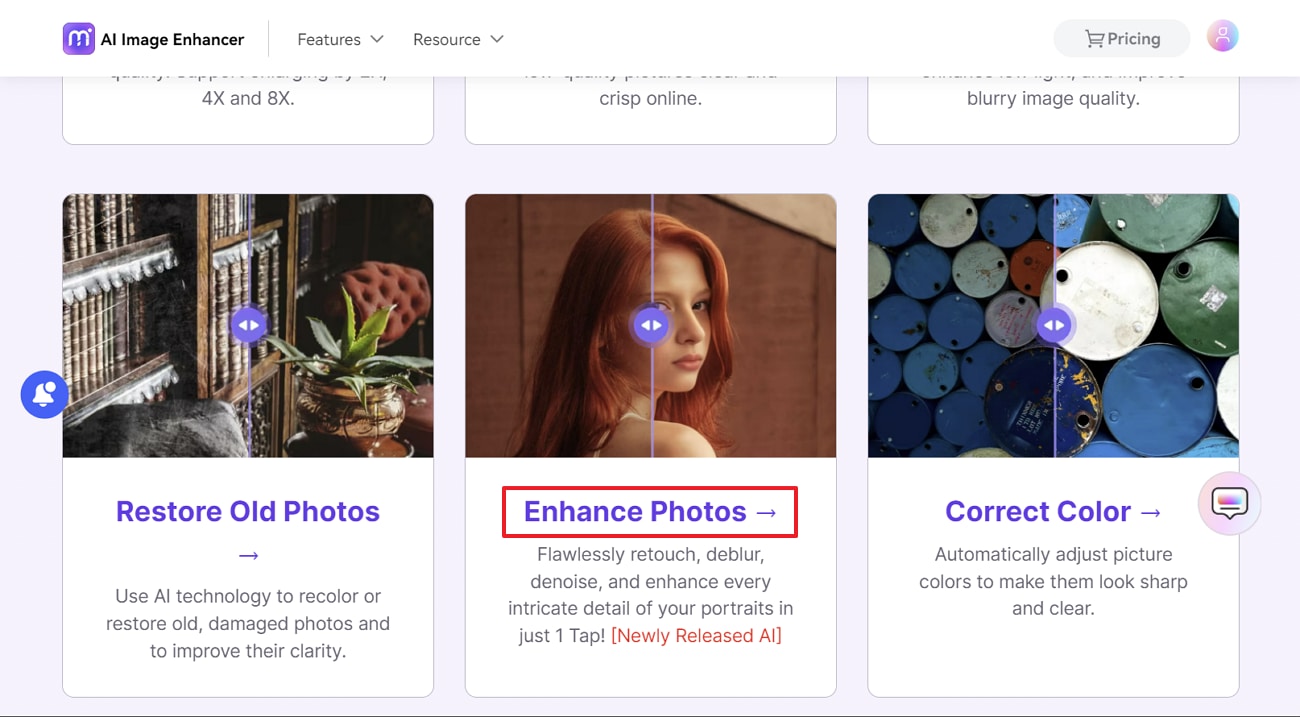 Step 2

Upload the Noised Image

Click the "Upload Images" button and continue to select and upload your desired image. Wait until the image upscaling process gets finished and completed. A display of two screens, "Original" and "Result," will appear in front of you. The original is the photo you uploaded, and the result is the upscaled image.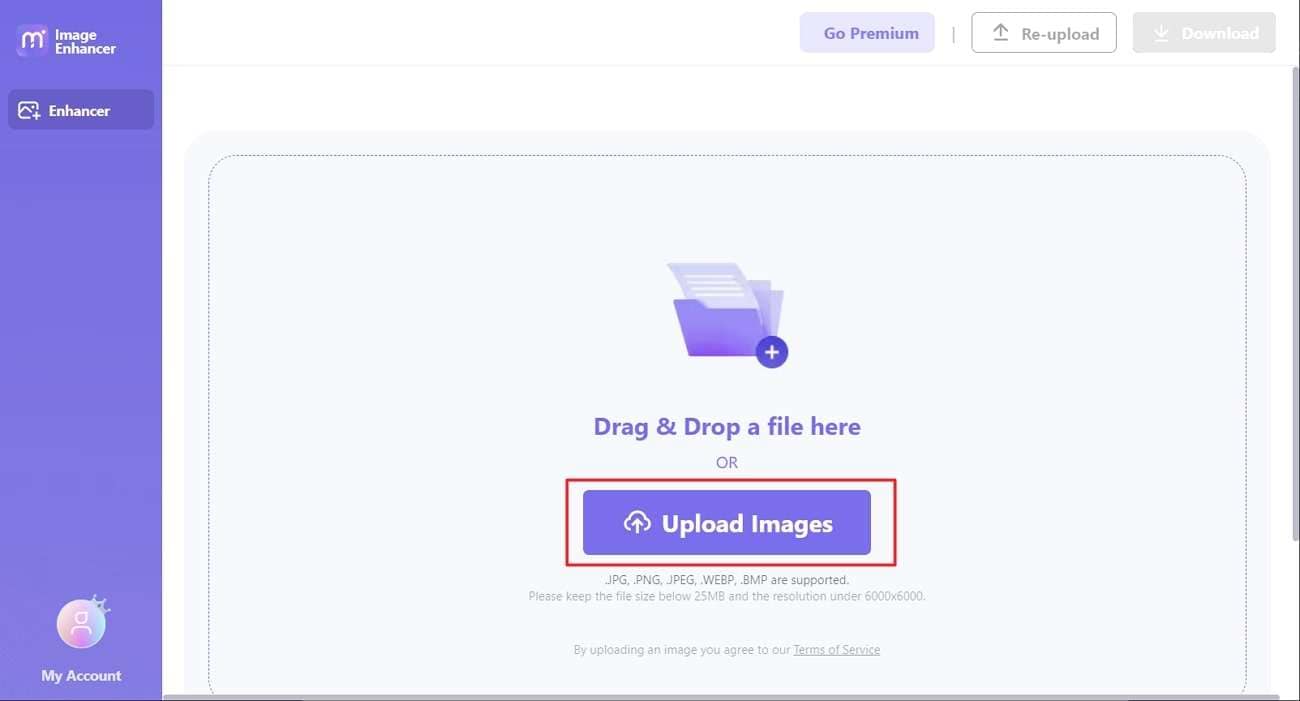 Step 3

Download the Denoised Image on the Device

If satisfied with the results, press the "Download" button from the top-right corner. A settings panel appears with "Image Quality" already existing. Afterward, download the image by pressing the "Download without Watermark" button. You can also upload another image from the prompt displaying "Upload another image".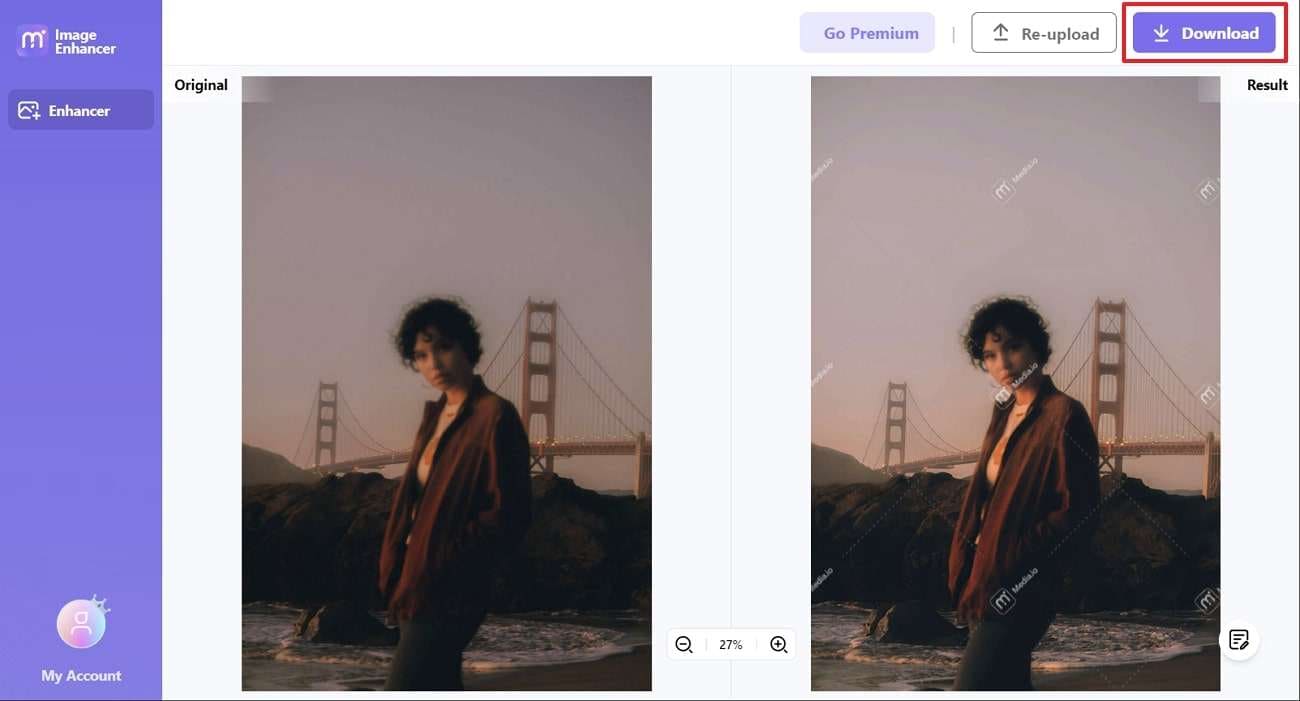 Part 2: How to Reduce Grain in Photos on Android/iOS Devices Using Enhance It - AI Photo Editor
Enhance your all-important pictures and portraits with Enhance it - AI Photo Editor (Android | iOS). This reduce grain in photos mobile app is a complete photo editor. An auto-enhance function exists that converts images from low-res visuals to high-res graphics. With the available motion deblur, fix blurry photos from your gallery for increased sharpness.
You can also denoise a picture by removing grain and noise. The denoising gets executed with lossless quality. Thus, your upscaled image retains its original layout and orientation.
Key Features of Enhance It – AI Photo Editor
Color correction is among the possibilities while using this app. So, the color of your image gets bright with more details, clarity, and saturation.
It's possible to enhance the quality of your photo to 4K resolutions. This makes your portrait stunning and a perfect social media profile picture.
There are more than 50 preset filters that you can apply to pictures. With different color gradients and schemas, enjoy image styling with innovation.
Steps to Use Enhance It - AI Photo Editor for Reducing Image Grain
Do you want to know how to use Enhance It - AI Photo Editor? Find simple and easy steps here that illustrate image grain removal:
Step 1: Download and open Enhance It application on your Android/iOS device. Select and upload photo from the "Camera" or "Gallery" on the home screen. From the bottom toolbar, start image editing from available function icons. This includes "Enhance", "Old pictures", "Settings", "Filters", "Picturize" and "Crop".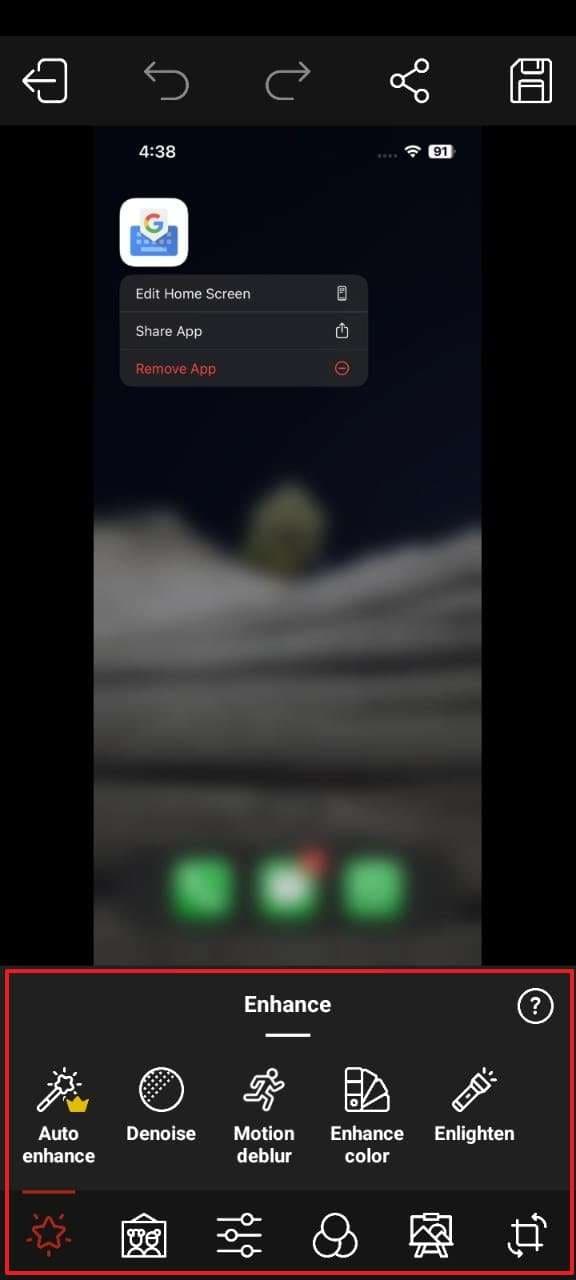 Step 2: By clicking the "Share" icon from the screen's top, share the edited photo on social media. Or continue downloading the image after tapping the "Save" icon from the top-right. Select the image "Format" and "Resolution" and click "Save" again to download the photo.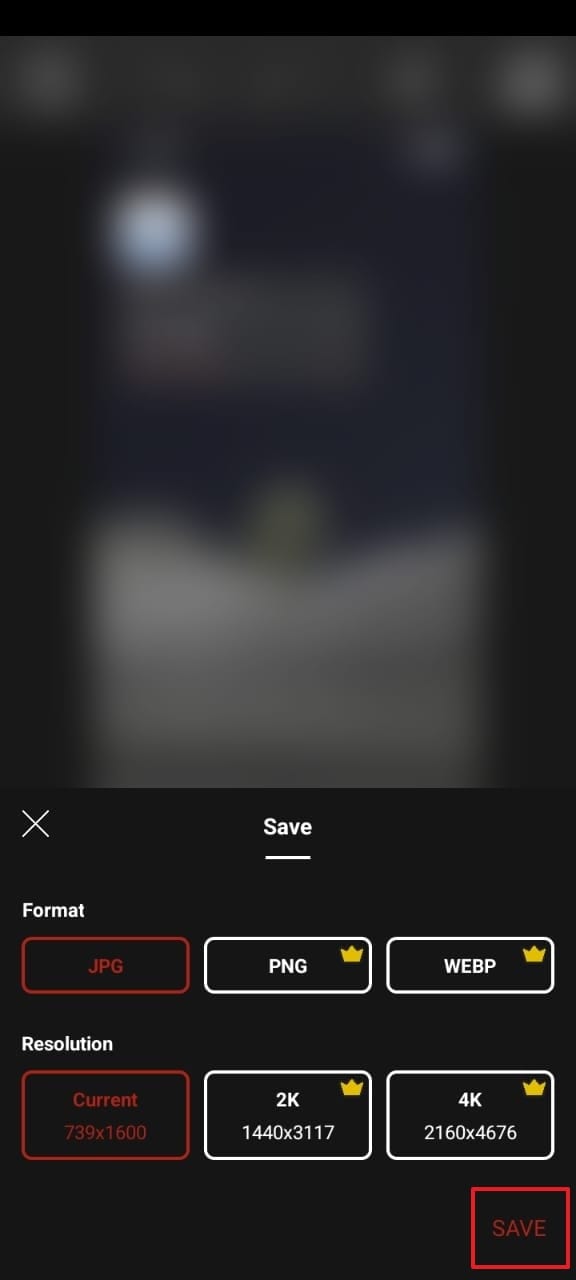 Part 3: How to Remove Grain from Images on Windows/Mac Devices Using Topaz Labs Denoise AI
Eliminate all sorts of noise distortions from important images using Topaz Labs Denoise AI. While using this remove grain from photo online free tool, make your pictures great again. This is because Topaz Denoise AI has intelligent technology to eliminate noise and grain from images. This means there won't be problems with color fluctuations, brightness, or sand particles.
Thus, all images get high-end upscaling that comes with lossless quality. Next time, you don't need to worry while having high ISO camera settings during outdoor photography.
Key Features of Topaz Labs Denoise AI
With the available batch mode, process image upscaling of different files simultaneously. This will save you a lot of time if several images exist in the gallery.
It's possible to customize your denoising process with different parameters. Hence, you can style and upgrade image prospects as needed.
With simple tool navigation, you will not face problems while using Topaz Labs Denoise AI. Thus, even a beginner can operate this tool.
Steps to Use Topaz Labs Denoise AI on Windows/Mac
Are you looking to use Topaz Labs Denoise AI software on Windows/Mac devices? Do you want information on how to proceed further? Here you will find detailed steps:
Step 1: Open Topaz Labs Denoise AI software on your computer, and press the "Browse Images" button for image import. Wait for some time until the image importing process gets completed. You will see "Original" and "Standard" screens once your image is successfully imported. The original depicts your uploaded picture, and the Standard screen illustrates the updated picture.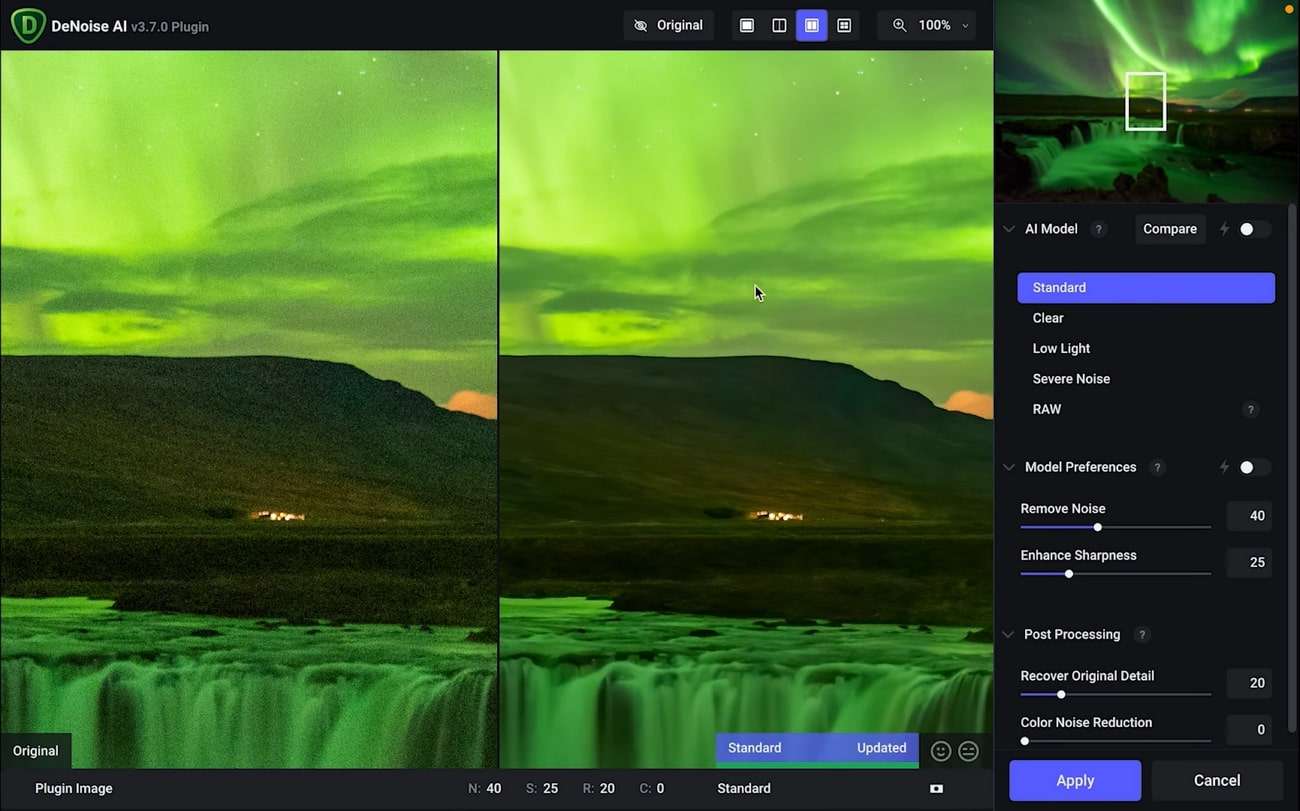 Step 2: Continue to perform adjustments on the image from functions available in the panel on the right side. The functions include "AI Model," "Model Preferences," and "Post Processing". You can further adjust the functions with different parameters.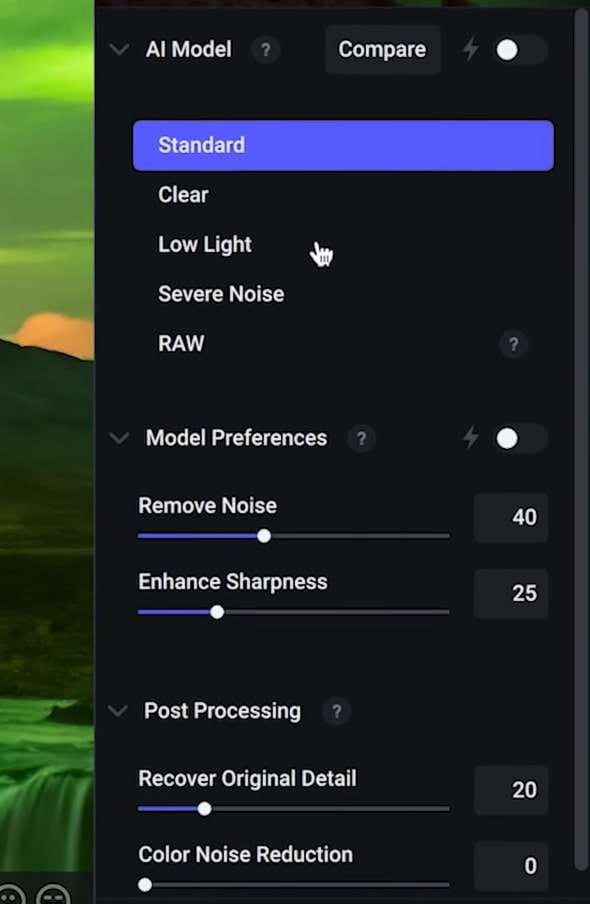 Step 3: Click the "Apply" button from the bottom-right corner to apply denoising changes to the image. Continue to save the image on your device.