There are many compelling reasons to transcribe YouTube to text. For example, you might want to extract music lyrics and create a lyric video. Or, you may want to make subtitles for your YouTube video to understand what's said word-for-word or increase viewer engagement. So, whichever reasons you may have to convert a YouTube video to text, this article discusses 6 helpful solutions. Let's take a look!
In this blog
Top 6 Proven YouTube Video to Text Converters
Part 1. Top 6 Proven YouTube Video to Text Converters
You realize that YouTube has its own inbuilt speech-to-text recognition service, right? It's simply the subtitle feature that lets you convert video audio to subtitle. But although this feature is helpful, it can be inaccurate at times. For this reason, I'll show you the best third-party YouTube transcription services.
Media.io is a free, simple and quick YouTube to text transcriber that supports up to 90 languages. The AI system can read languages like English, Dutch, German, Hindi, Swahili, Arabic, and more, in order to convert YouTube audio or video to text in high accuracy. Plus, you can also edit the extracted texts by copying, duplicating, deleting, extending playback duration, etc. Also, you can download the generated texts in .txt or .srt format.
How to convert YouTube to text using Media.io?
01of 03 Upload YouTube Video by URL.
Launch Media.io Transcribe YouTube Video and then tap Transcribe YouTube Now. Then, click From URL and paste the YouTube video link before clicking Add.
02of 03 Start Auto Transcription.
Add the video to the multitrack timeline and tap Subtitles on the left pane. Next up, choose a subtitle language before clicking Start auto transcription.
03of 03 Edit and Download the Transcripts.
Select the extracted text tracks and edit the text, duration, copy, delete, etc. If satisfied, tap the Download arrow to export the text transcriptions to SRT or TXT files.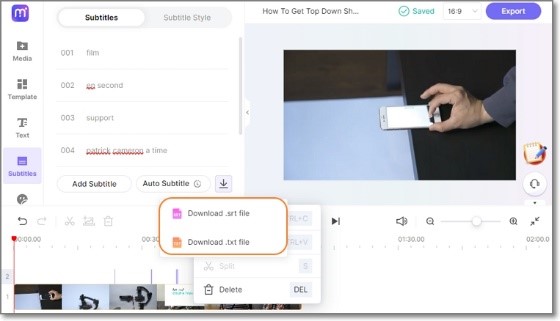 Veed.io is a free YouTube video to text converter that doesn't require special skills. This software uses AI to create super-accurate text transcriptions or add subtitles to a video. It supports over 100 languages, including English, Spanish, French, Hindi, Japanese, Chinese, and more. And after transcribing your file, you can save it as a .txt file.
How does Veed.io work?
Step1Launch Veed.io Transcribe YouTube video and then tap Paste a YouTube Link to upload the YouTube video.
Step2After uploading the video, tap Subtitles on the left menu bar and click Auto Subtitles. Now tap Start to begin transcribing your video and generate texts.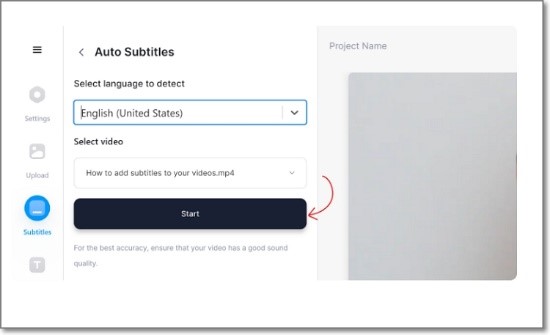 Step3Edit the extracted texts by changing the design, content, size, etc. If satisfied, tap Options, click Download Subtitles, and choose TXT Format.
Typito is another excellent way to convert speech to text on any updated web browser. It's a free service that uses advanced AI technology to quickly and accurately translate any YouTube video to text. Typito recognizes multiple translation languages and allows you to customize the text style and appearance. And as expected, you can download the text to .srt format.
Steps to transcribe a YouTube speech to text with Typito:
Step1Visit Typito and then click Transcribe a video. Then, choose a video aspect ratio and upload a YouTube video from your local storage.
Step2Next, tap Captions on the left pane, click Voice to text, and then tap Auto Generate to add texts to video with Artificial Intelligence.
Step3Typito win scan your video and add subtitle tracks. Now preview your captions and download them in .srt or .txt format.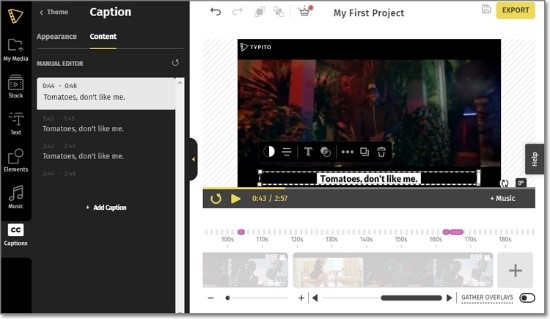 360Converter is one of the most straightforward speech-to-text transcription services for YouTube. It's a free online voice to text transcription service with no time limitations. In other words, you can upload any YouTube video and transcribe it as you wish. In addition, 360Converter supports a host of languages, including English, German, French, Russian, Portuguese, and more.
Let's learn how to use it:
Step1Go to 360Converter YouTube to Text Converter and paste the YouTube video URL on the field provided. Click Continue.
Step2Now choose a transcription language and select whether to transcribe the entire video or a portion.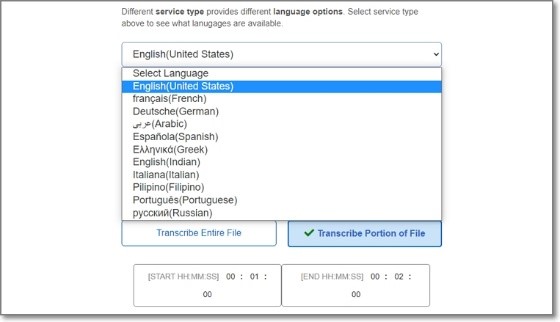 Step3Click Transcribe to begin transcribing the YouTube video to text. This should take a while.
You can also use Happy Scribe to transcribe a YouTube video into multiple languages. Besides the usual universal languages, Happy Scribe also supports unique languages like Polish, Nepali, Swahili, Tamil, Thai, and more. In addition to auto-generating texts, this online tool lets you add local SRT or TXT files to your video. And best of all, you can choose whether you need transcription or subtitling service.
How to transcribe YouTube to text using Happy Scribe?
Step1Tap Upload a new file before choosing Transcription.
Step2On the pop-up window, click Link, paste the YouTube URL, and tap Import. Happy Scribe will begin adding your YouTube video.
Step3Now select the transcription language and choose the transcription mode. In this case, choose "Machine generated".
Step4Press Transcribe to transcribe the YouTube video to text online. After the transcription process, click Open to view your transcribed YouTube video. You can download it in Word, SRT, XML, etc.
If you're still unimpressed, which I doubt, try this online video transcription service. With Inicio, you can process videos in French, Italian, English, Danish, Polish, and other hundreds of languages. The program is dead simple and generates a transcript copy in seconds. But despite being super-accurate, this YouTube to text converter ignores text punctuations. Also, it's ad-supported.
How to convert YouTube to text with Inicio?
Step1Open the program and choose a transcription language.
Step2Then, paste the YouTube video link before clicking the Transcript button.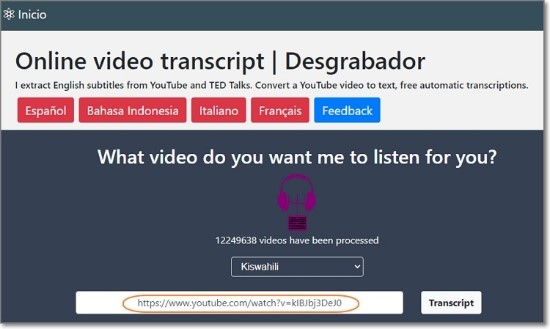 Step3Scroll down the screen where you'll see a copy of the text transcript. You can copy the texts to your clipboard.