In professional photography, headshots are very popular. After all, it involves photographs of yourself, celebrities, politicians, sportsmen, or other entities. In general, the main focus of these photographs is on the face and upper body. These photographs look stunning, but they still need improvement in visual quality.
You will find the list of popular headshot photo editor tools in this article. Using these tools, you can personalize your headshots for your professional career or different social media platforms as needed.
Part 1: How to Select the Headshot Editor for Your Professional Headshots
Headshots are special photographs, and they're considered unique as they involve unique upper-body captures that appear elegant as well as professional. In most cases, headshots need editing for enhancement because captured photographs may lack quality. That's where you need to use a headshot retouching editor. But how to select the right headshot for yourself:
1.Specialization
Search for editors who specialize in headshot editing. This means they must offer functions tailored to headshot enhancement. So, they must have techniques and adjustments to enhance facial features as required. This way, the essence of your headshot image would appear in improved visuals and better graphics.
2.Reviews and Testimonials
Look for reviews or testimonials from previous clients to understand the editor's performance. In this way, you'll know where this headshot editor ranks. If the reviews sound good, the editor will seem more reliable. Thus, you'll clearly understand how good or bad a particular editor is. The decision-making will become simplified.
3.Terms and Conditions
It's important to read the terms and conditions of the chosen headshot editor. This will let you know whether you'll have ownership of your content or not. You will also know crucial information about your usage rights, any added fees, or requirements. Ensure you understand and are comfortable with these terms before selecting an editor.
4.Diverse Artistic Styles
Different headshot editors may have different artistic approaches to editing headshots. Some may focus on natural and subtle enhancement, while others offer dramatic or stylized edits. You need to consider your preferences and which artistic style you like. Thus, determine whether you're getting your preferred headshot styling in the editor or not.
Part 2: Easily Accessible Online Tools to Customize Professional Headshots
For customizing professional headshots, you need a good editor to proceed with. Meanwhile, you'll find several online headshot photo editors on the internet. Thus, choosing the right option becomes a difficult task. No need to worry. Here you will find 2 best online edit headshot tools:
As a photographer, you may need to capture headshots of freelancers, sportsmen, celebrities, and more. Hence, the photo quality of their headshots is not something to comprise. In this situation, using Fotor's AI photo enhancer is ideal. After all, this tool leverages AI algorithms to refine, upscale, and enhance images. Thus, if your headshot contains grain, blur, or noise, it will be treated.
In this way, the quality of the headshot will improve with increased sharpness and exposure. With this, the headshot will start looking great again. Brands can use it for marketing purposes, or individuals can use it as fan icons.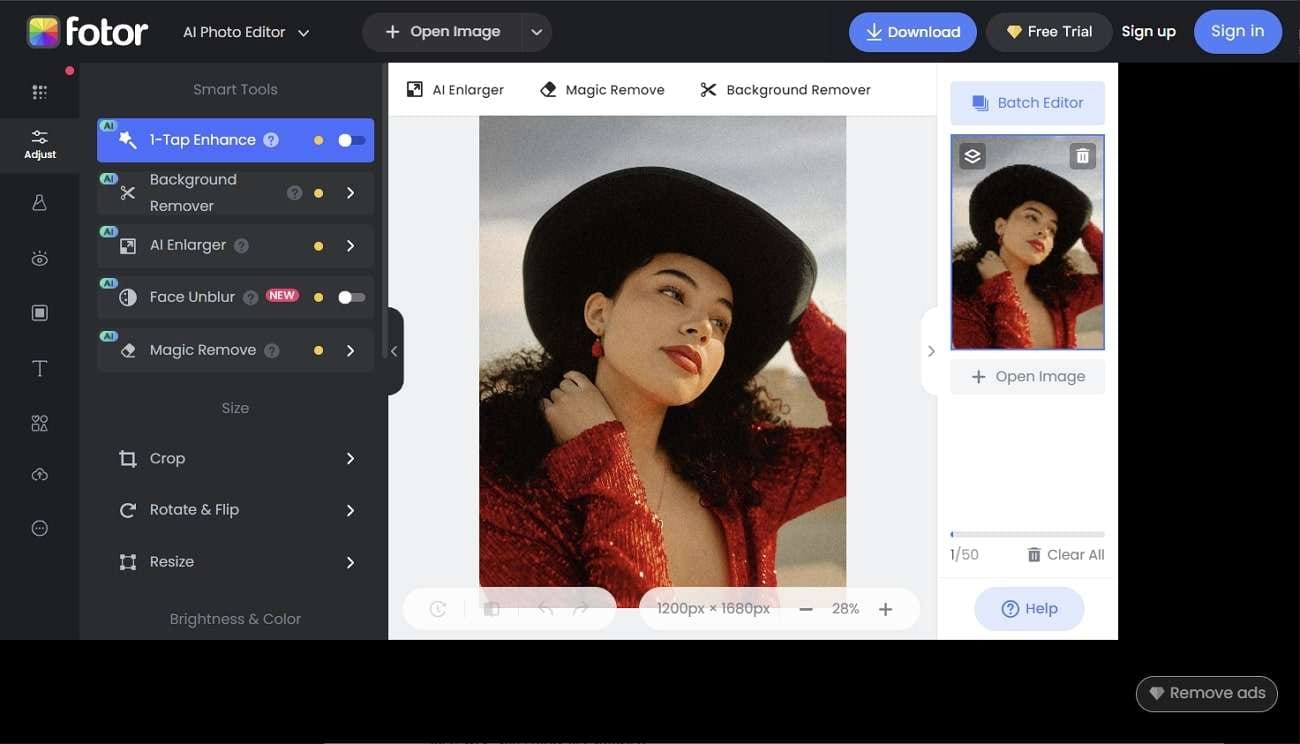 Key Features
You can convert your low-res headshot into a high-res visual with one click. It brings more professionalism into the headshot you're enhancing.
Using Fotor, you can also remove and change the background as needed. The AI technology processes background removal without damaging image quality.
You can also apply beauty effects through AI skin retouching. This helps fix blemishes, wrinkles, acne, spots, and more.
Pricing Plan
| | |
| --- | --- |
| Fotor Pro Monthly | Fotor Pro+ Monthly |
| $8.99 | $19.99 |
BeFunky is an online tool for editing professional headshot photographs. This photo enhancer tool will make your headshots sharper, brighter, and more attractive. It is because BeFunky has AI technology that provides advanced upscaling to your headshots. In the ideal scenario, image exposure gets enhanced, saturation increases, and colors get adjusted.
Even if your headshot has noise, the available Denoise DLX can help overcome this situation. This way, the headshot will appear clear with better lighting conditions.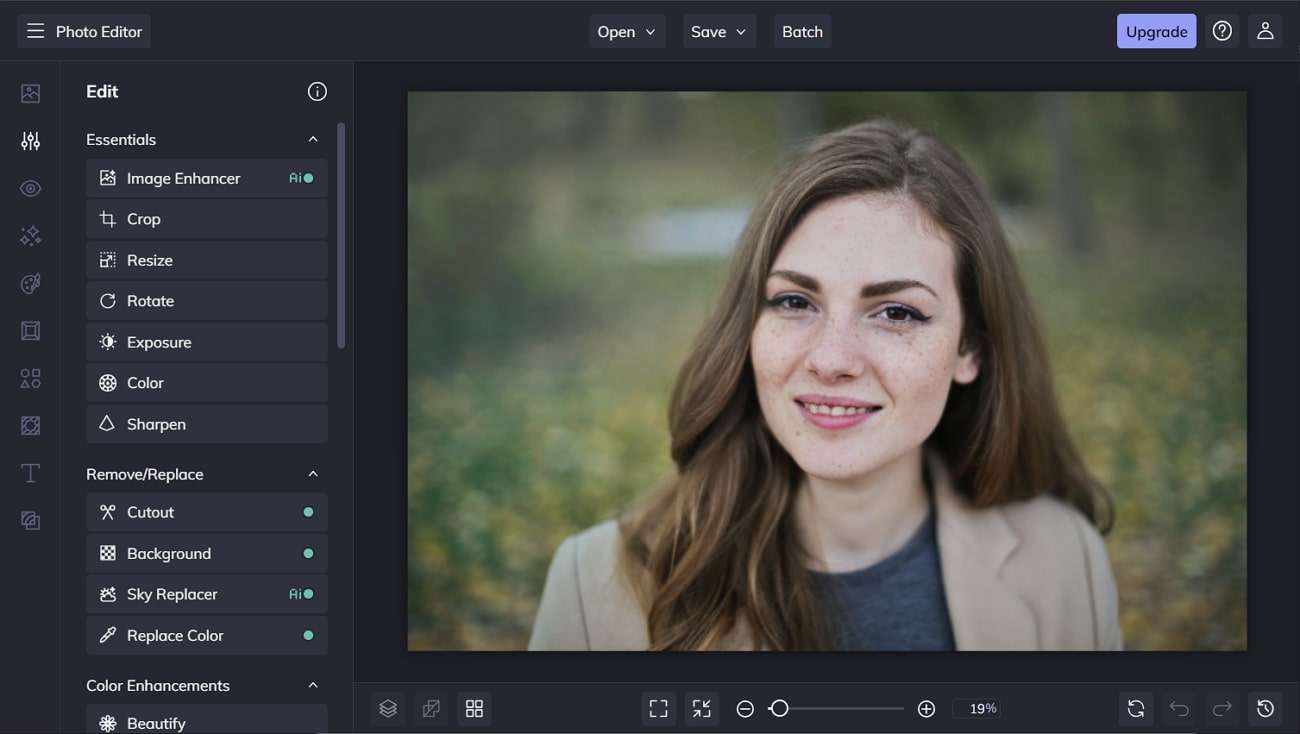 Key Features
Through available HDR DLX, apply a unique HDR effect to your headshot. This gets executed by micro adjustments within the picture to adjust exposure, colors, and sharpness.
There's an option to apply skin retouches to the selected headshot. So, you can experience skin perfection, blemish fixes, wrinkles removal, and more.
It's possible to adjust the mouth and eyes elements as well. This includes lipstick and teeth whitening to brighten the eye, changing colors, and fixing red eyes.
Pricing Plan
| | |
| --- | --- |
| Monthly | Yearly |
| $11.99 | $71.88 |
Part 3: Best Mobile Apps to Edit All Types of Headshots Professionally
Editing a headshot is crucial to extend its visual quality and optimize resolutions. In general, you will find different edit headshot background apps for mobile. Thus, locating the right option becomes a tough ask. For your help, find here 2 powerful yet modern mobile headshot editors:
1.     YouCam Perfect [Android | iOS]
YouCam Perfect is a top beauty camera app with over 100 million downloads. Thus, you can use it as a headshot retouching tool as well. After all, the application comprises editing tools that you use to customize headshot visuals. You can also use the necessary filters and effects to make your headshots stand out.
With YouCam, you can also remove and adjust the background from the headshot. This helps increase picture quality by solving underlying background issues within the headshot.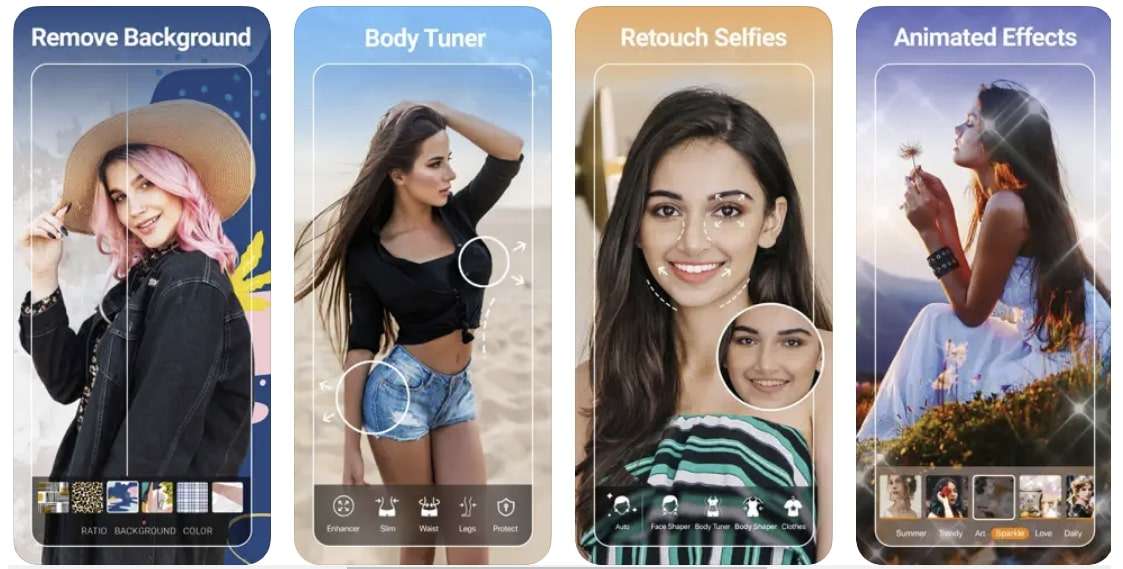 Key Features
With available airbrush color brushes, you can adjust the color schemas of your headshots. It also provides skin retouching within the appropriate color in desired skin tone.
You can create art and illusions within headshots without facing issues of watermarks. This means you'll have full access to your image without worrying about a watermark.
There won't be a display of annoying ads while editing your important headshots. Thus, you can focus more on your headshot enhancement.
Pricing Plan
| | |
| --- | --- |
| Premium Monthly | Best Selfie & Photo Editor |
| $5.99 - $7.99 | $7.99 – $32.99 |
Compatibility
Android: 0 and up
iOS:0 or later
2.     PhotoDirector [Android | iOS]
Make your captured headshots look more enchanting with PhotoDirector AI enhancer. After all, there exist AI-powered effects to style, colorize and upscale your headshot pictures. Hence, you can apply effects like InstaFill, Light Hits, Light Rays, HDR, and more.
The option also includes applying different filters to give new looks to your headshots. Background replacement is also among the possibilities. You can adjust the exposure, contrast, shadows, and saturation to match the skin tone.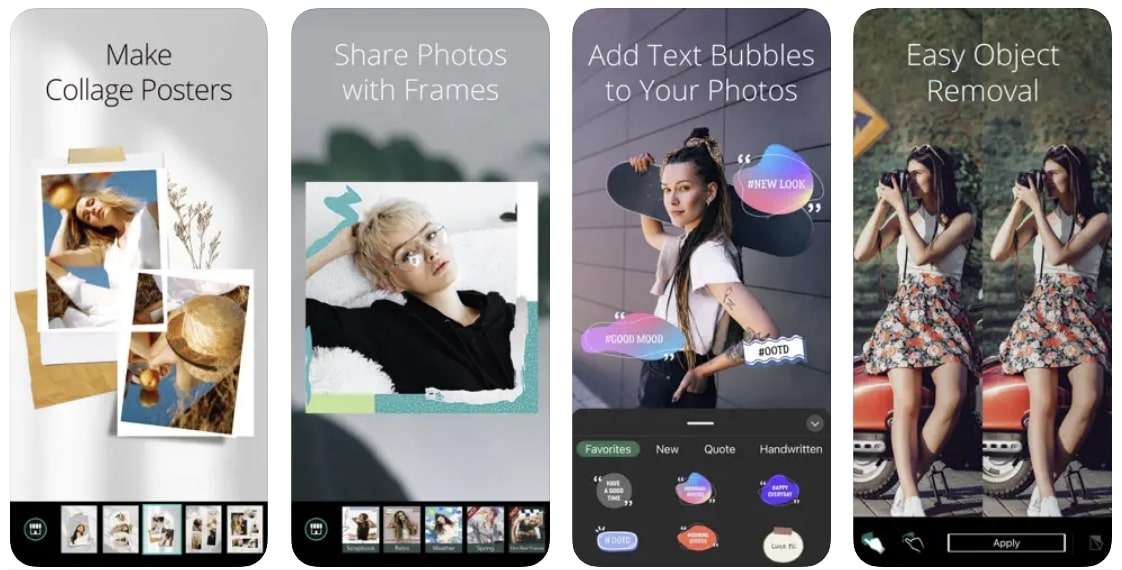 Key Features
There exist specialized red eye removal tools that can overcome red eye problems within headshots. This makes the face in the headshot more attractive and appealing.
The available face shaper facility allows you to shape your face in desired looks. So, it depends on whether you want to provide a subtle or more natural appearance.
With the AI-backed photo retouching function, add retouches to your all-important headshots. This helps remove blemishes, spots, wrinkles, and acne to provide face brightening.
Pricing Plan
| | | | |
| --- | --- | --- | --- |
| Monthly Subscription | Unique Avatars | Quarterly Plan | Crop, Retouch, Edit Pics |
| $2.99 – $5.99 | $1.99 - $4.99 | $6.99 | $24.99 - $29.99 |
Compatibility
Android: 0 and up
iOS: 0 or later
Part 4: Powerful Windows and Mac Software for Editing Headshots with Advanced Features
You must be thinking about how to edit headshots on Windows and Mac. Through headshot retouching software, you can edit all-important headshots. You will find several options on the internet, but the robust and reliable options are the following: 
Recognized as the world's most preferred graphics editing platform, Adobe Photoshop has everything you need. Thus, for adding retouches to your headshot images, Photoshop could be an ideal solution. After all, there exist advanced neural filters that help improve facial looks. In general, these neural filters get powered with AI algorithms to process facial enhancement.
So, you can apply different filters to the headshot personality. It can be the black and white filter, glowing, noisy, or any type of filter. Through filters, you can also adjust skin tone through the skin smoothening effect.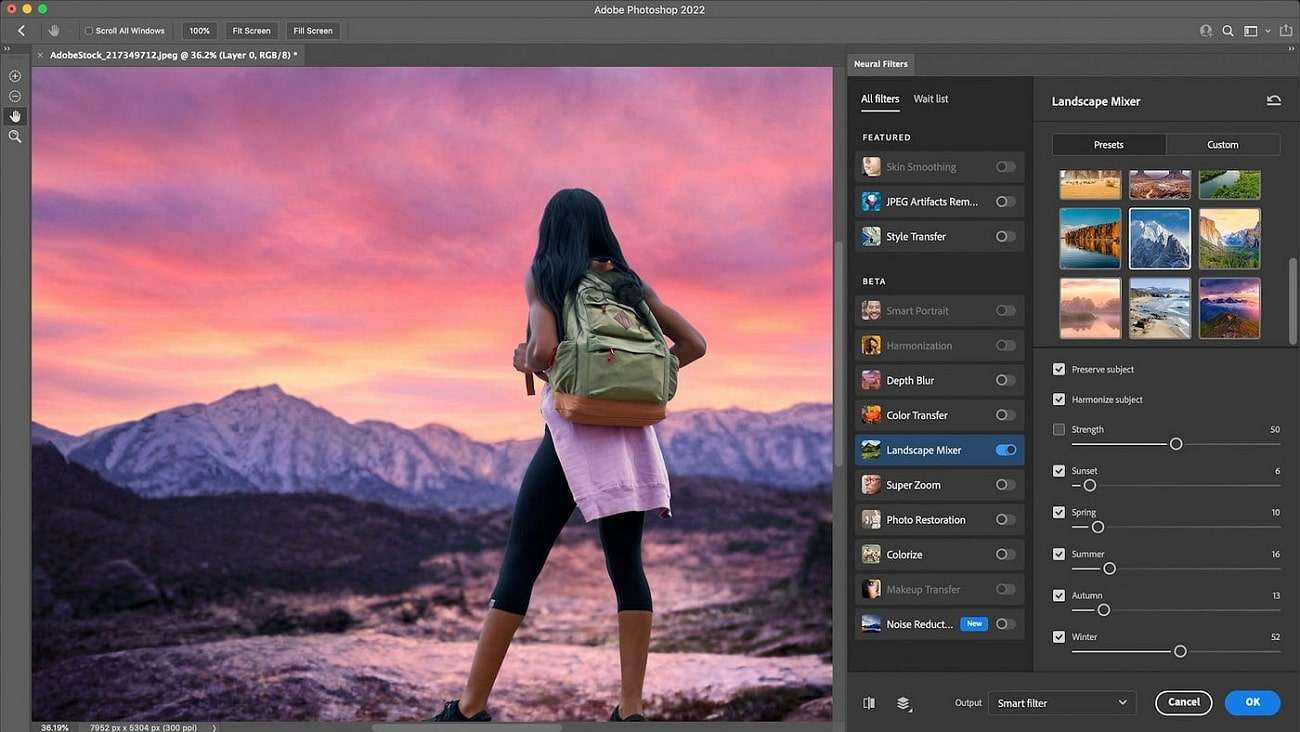 Key Features
There's an option to colorize the headshot photo in desired color tone. You can even colorize black-and-white headshot images.
With the available smart portraits option, it's possible to illustrate headshots in the desired appearance. After all, you can change the subject's facial expressions, age, position, and more.
You can apply unique makeup settings to your headshot faces through makeup transfer. If the headshot has a female, this effect will work even better.
Pricing Plan
| | | |
| --- | --- | --- |
| Photoshop Plan | Photography Plan | All Apps Plan |
| $20.99/month | $19.99/month | $54.99/month |
Compatibility
With Luminar Neo, it's possible to unleash creativity. It is because this software allows you to edit professional headshots simply. Hence you can start bringing your captured headshots to life. You can blur backgrounds, light up dark photos or perform other creative tasks.
In general, Luminar Neo is AI-powered that comes with several editing tools. You can also have complete control over the colors of your headshot. Luminar Neo supports over 1000 cameras, and supported formats include JPEG, PNG, TIFF, and more.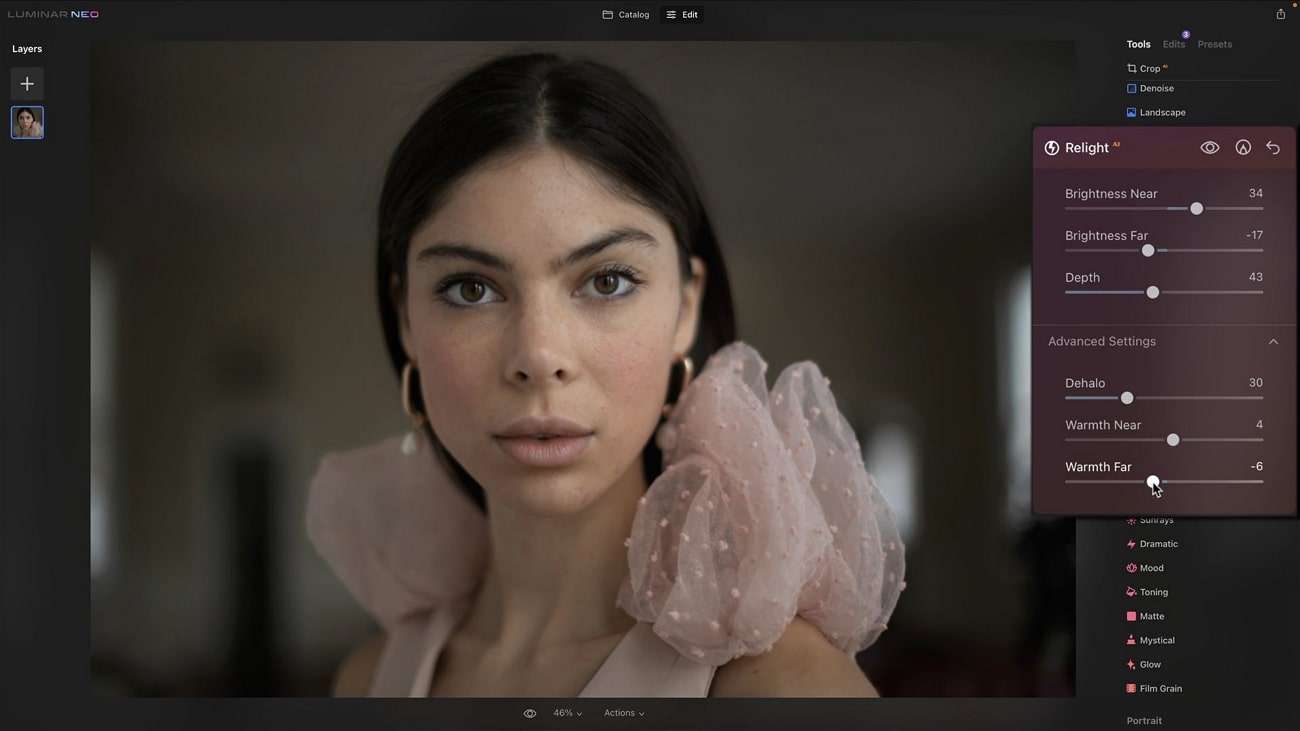 Key Features
Lens correction is also an option on Luminar Neo. Through this, optical distortions within images get rectified, and you can remove the vignette.
With the batch processing function, you can optimize the visual quality of several headshot images at once. This will save valuable time and resources for you if you are a photographer.
Through the dodge & burn, completely control lighting effects within your headshot. Moreover, you can adjust the light within a particular area or an entire headshot image.
Pricing Plan
| | | |
| --- | --- | --- |
| Pro Monthly | Pro Yearly | Ultimate Yearly |
| $14.95 | $119 | $149 |
Compatibility
Bonus Tip: The Best AI Headshot Creator with Powerful and Innovative Algorithms
Headshots have immense importance in the photography world because of the professionalism they bring. You have already discovered the best headshot photo editor tools in this article. But how to create headshots of your photo or desired personality? It's possible with HeadshotPro AI features that produce headshots in 120+ styles per person.
You only have to upload your selfie, and HeadshotPro will transform it into a professional headshot. In fact, every shot receives 3 unique locations with a 4K photo size resolution. Embedded AI technology ensures that image resolutions, colors, and exposure remain optimized. Meanwhile, different plans come with different headshots and styles. Using this AI headshot tool is pretty simple and easy.