Flash or light glares hide vital elements of an image. They also make your pictures dull and blurry. Glare can ruin photos for lots of reasons, but the biggest one is it can be distracting.
It is challenging for photographers and content creators to work with high exposure and glare. For this reason, the best way to remove glare from photos is to do it instantly. Online photo editing applications can help you remove light glare from photos online to improve their appearance naturally. Here are 10 photo editing tools to help you remove glare from photos online.
Overview of 12 Best Online Text Remover Tools in 2023
Glare looks like bright spots on glasses, light streaks, or circles in an image. Find out which tool works best for removing flash glare from photos online.
You can remove unwanted things from videos and photos with AniEraser, a user-friendly object-removal tool. It helps you remove flash glare from photos online with a simple interface, quick website loading time, and a single adjustable healing brush.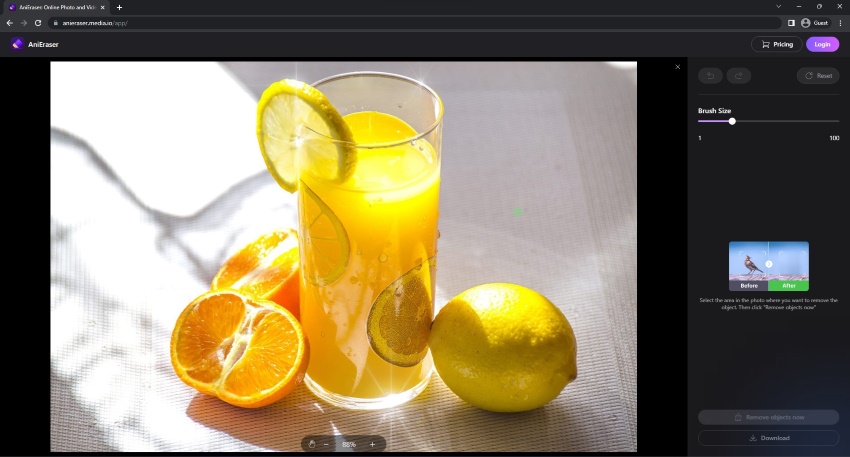 What We Recommend:
Check out what makes AniEraser stand out from other online photo editing tools.
AniEraser is a cross-platform object-remover that allows users to alter a video or photo. It works on desktops (Windows and Mac), smartphones (iOS), and online websites (any browser).
You can easily remove glare from a photo online for free.
Those who have paid will have unlimited access to the desktop version. One membership package gives you access to all three platforms.
It has a seamless and intuitive user interface that works even for beginners in photo editing.
What We Do Not Like:
Here are some drawbacks of AniEraser.
You need to create an account or log in if you have one to download the edited image.
Also, Android users can only use it on the web.
How To Remove Glare From Photo Online With AniEraser?
Follow these steps to remove reflection from photos online.
Step 1
Visit AniEraser's official website on any browser.
Tip: You can buy a monthly or yearly plan to edit in batches. Click Buy Now.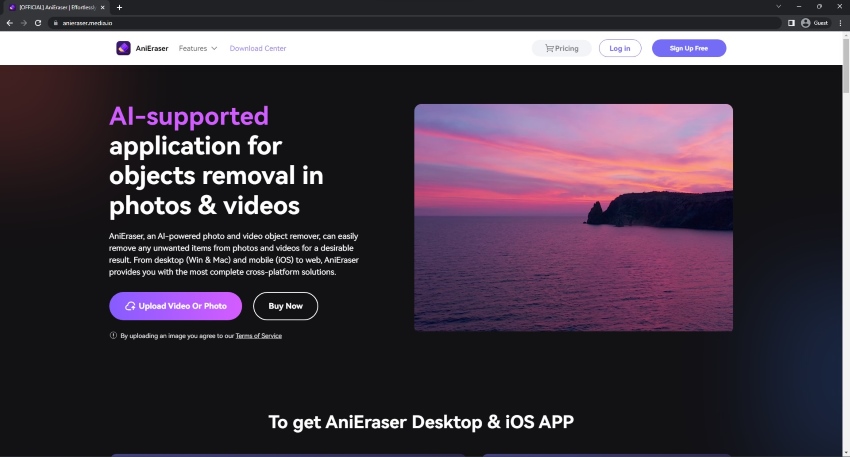 Step 2
Upload the image you want to edit. Click Upload.
Step 3
Highlight the glare or bright areas you want to clean up.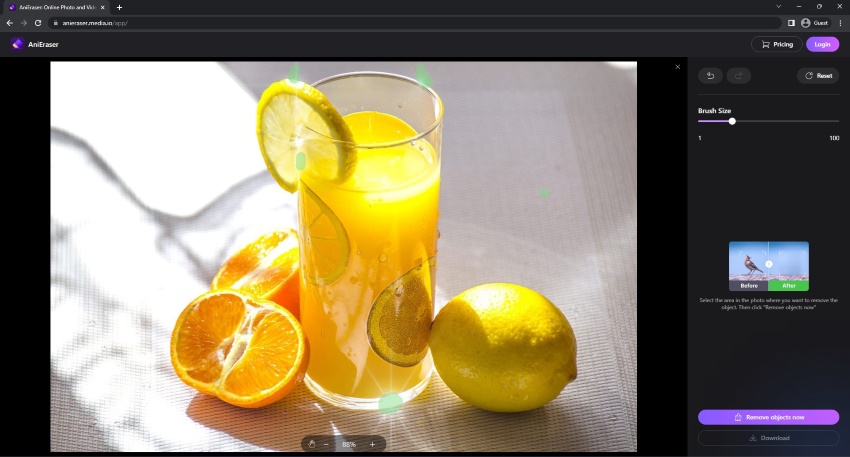 Tip: Drag the Brush Size to adjust its thickness based on your preference.
Step 4
Click Remove objects now. Save your file. Click Download.
Note: An account creation pop-up will appear if you haven't created one yet. Sign up or log in to download your edited image file.
Pixomatic uses pre-made templates and AI tools to edit images instantly. It helps you remove glare from photos online with different options for healing tools such as magic brush, line removal, and spot.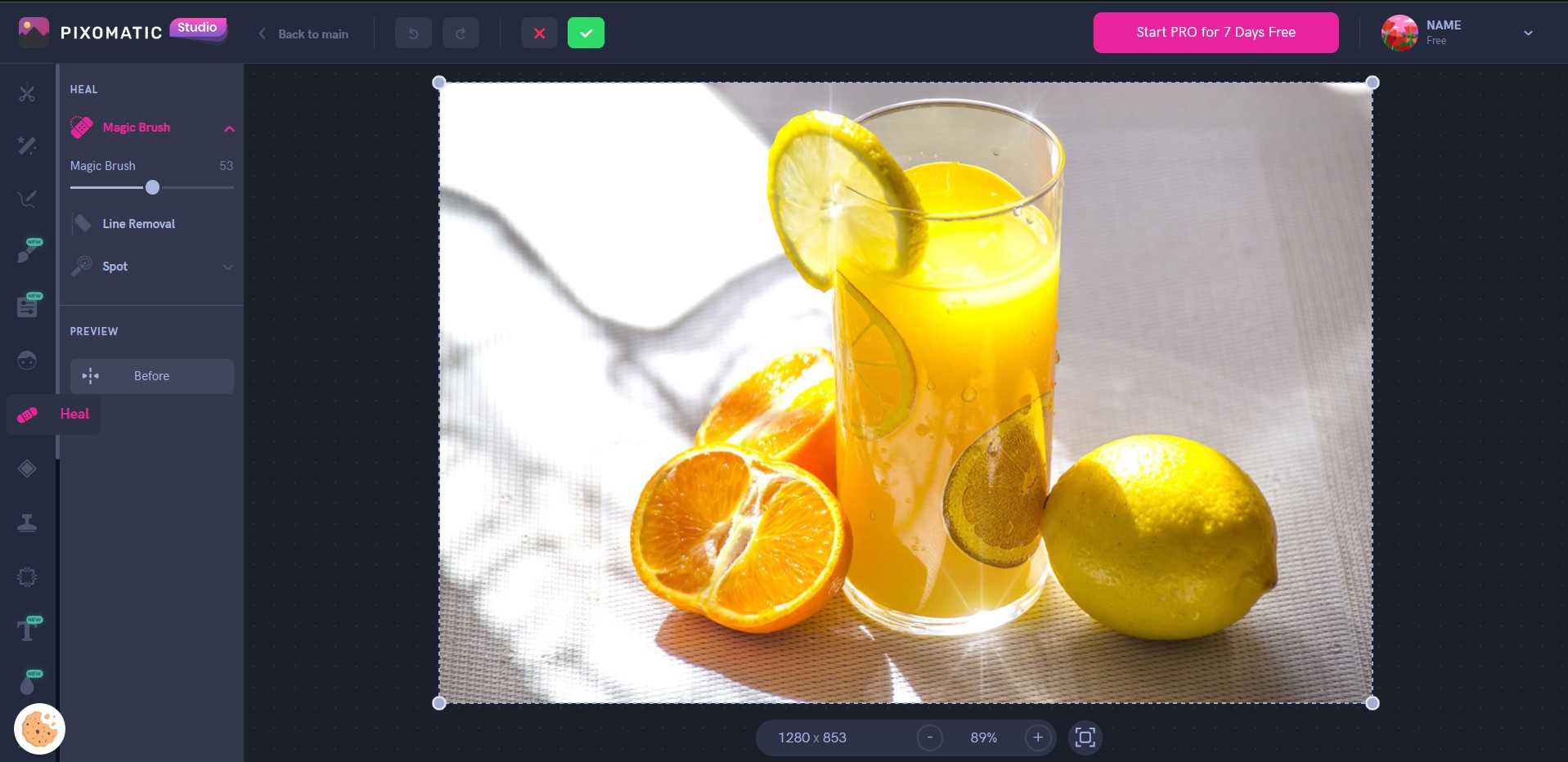 What We Recommend:
The following are the advantages of using Pixomatic.
You can install it on your smartphone (android and iOS) or the online app.
Pixomatic offers free usage of its photo-editing tools to help you remove glare from glasses in a photo online, tutorials, and other features.
After signing up for their premium membership, you can access everything unrestricted for seven days. It has all the features of the free plan plus Unsplash, social media templates, face editing tools, and the option to suggest new features.
This magic AI service simplifies complicated modifications for inexperienced and seasoned content creators.
What We Do Not Like:
These are some of its disadvantages.
Pixomatic has no available desktop software for offline use.
This online application has no batch object removal feature for more efficient photo editing.
You may alter photographs with only a few clicks with Fotor's photo editor. It offers a variety of free online photo editing tools so you can crop, resize, text-annotate, create picture collages and edit photos online.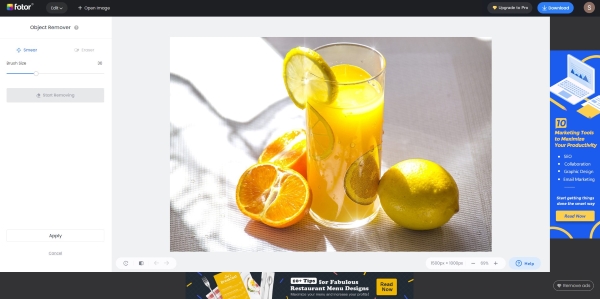 What We Recommend:
Listed below are some things to like about using Fotor.
You can install and download Fotor on Mac, and Windows, as a mobile app or browser to remove flash glare from photos online and more.
The free plan lets you do minimal edit modifications and limited access to design resources.
Premium access gives you an ad-free experience, file management, and other necessary features for your commercial needs. Fotor also offers 30% student discounts by registering and verifying your student level at Student Beans. If you are from an NGO, your organization can use the premium account for free if you can submit your English NGO certificates and apply for one.
Whether you are a newcomer or a seasoned professional, the attractive photo effects and editing options will undoubtedly be able to suit all your editing demands.
What We Do Not Like:
Note the following cons of using Fotor for editing pictures.
It distorts the image, and the result does not look natural if you use it for object removal.
If you use Fotor for free, AI skin retouch places watermarks in your images when edited.
Cutout.Pro is a visual AI application that employs AI to automatically remove the backdrop from images or videos, retouch, and more without using Photoshop or other sophisticated picture editing software.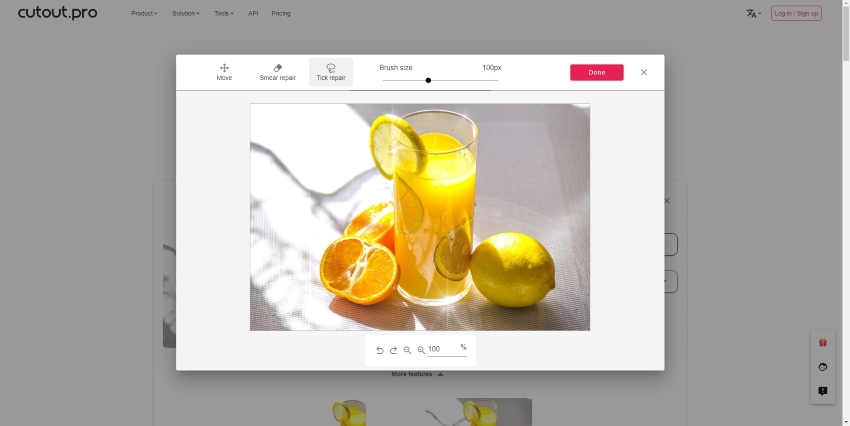 What We Recommend:
Check these benefits of using Cutout.Pro for your photo editing.
You can use it with Google Chrome, Apple Safari, Mozilla Firefox, and more. It is also available on your desktop, iOS, and Android devices.
Free accounts get small-resolution previews up to 0.25 megapixels for most functions. You will receive five free credits as soon as you register as a new member.
The subscription plan offers you extra credit per month.
You may download your modified photographs in HD using your Cutout.Pro credits.
What We Do Not Like:
Cutout.Pro may also have some challenges when used for removing glares.
You can only edit and download images using credits using credits. So once you have used up your free credits, you need to subscribe to use the application.
You only get small resolution preview for your edited images.
With Picsart, anybody can make captivating photos and films in just a few minutes thanks to its easy tools driven by AI, one of the largest open-source content libraries in the world, adjustable templates, and an intuitive user interface.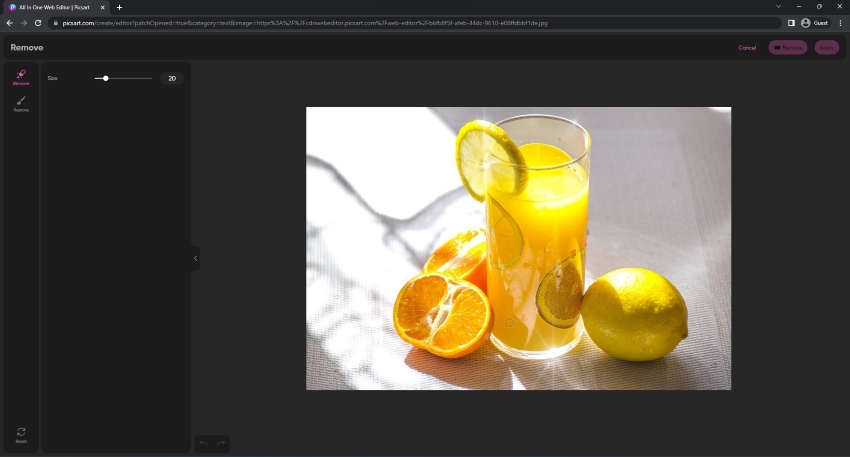 What We Recommend:
Here are some reasons for you to use Picsart.
You can access it on the mobile app, which allows you to remove reflections from photos online, wherever you are.
If you are on a tight budget, use Picsart for free and enhance your pictures using its editing tools.
It offers a trial plan for seven days. Subscribers can enjoy ad-free browsing, an extensive collection of stock images, and more.
From its drag-and-drop feature to ai-powered tools, it fits students and beginner content creators.
What We Do Not Like:
Here is where Picsart might disturb its users:
Using the app without ads requires a subscription.
With only a few fingertip strokes, you can easily create great editing finishes with the help of the airbrush picture editing tool.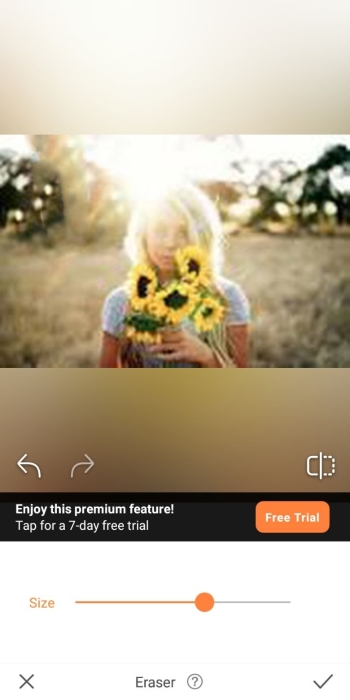 What We Recommend:
Among other reasons to use AirBrush are the following.
It works on iOS (iPhone and iPad), and Android mobile phones.
With a subscription plan, you enjoy an ad-free editing application, use premium features and filters, and use new tools added monthly.
What We Do Not Like:
Here are some challenges of using AirBrush.
You can't remove glare from photos online unless you pay for a subscription to use the Eraser tool.
It is not accessible on web browsers and desktop applications.
PhotoRoom is twice as precise as other programs and makes it simple to maintain the emphasis on the foreground. With only a sweep of your fingertip, it automatically removes light glare from photos online and makes your picture perfect.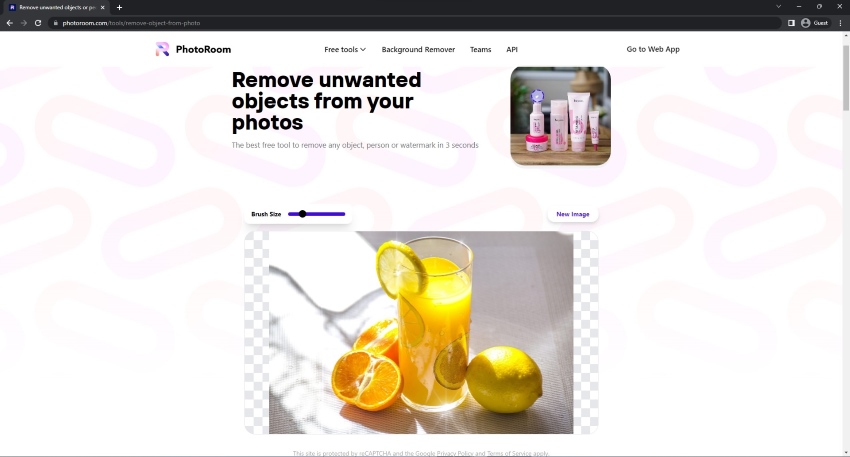 What We Recommend:
These are a few benefits of using PhotoRoom as an online image editing tool.
You can access the application on iPhone and Android mobile phones and the web.
Free tools such as background remover, magic retouch, and more are available.
You can choose to become a PhotoRoom Pro subscriber to have access to more features within the app. It removes the watermark and enables you to make images of superior quality. It also gives access to multiple additional templates and unique backdrops.
What We Do Not Like:
Here is a weakness of the application as an on-the-go photo editing app.
You need to pay for a watermark-free edited version of your image.
Magic Eraser is an online photo editing tool that lets you upload, remove distractions and improve your images for different purposes such as real estate, photography, fashion, and social media in seconds.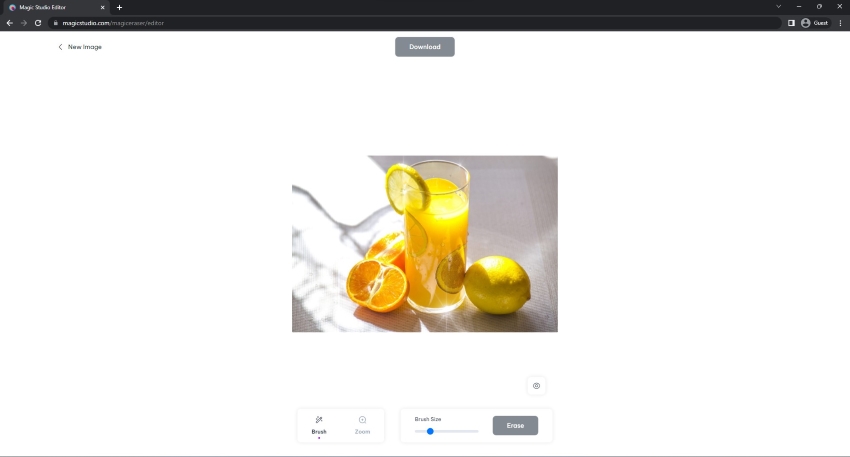 What We Recommend:
See below what makes Magic Eraser a good application.
You can download it on your iPhone or access it on your desktop and mobile browser.
The free plan lets you do unlimited edits for your pictures anytime, anywhere, in seconds.
If you want to remove the Magic Studio logo watermark, subscribe to their Pro plan. In addition to unlimited edits, the paid subscription offers high-resolution editing, full-resolution downloads, and priority support.
You can remove glare from photos online free of charge and instantly with its easy-to-use and clean interface.
What We Do Not Like:
Here are some limitations of this editing tool.
The Magic Eraser application is not yet available for download on android devices.
The free plan offers low-resolution edits, low-resolution downloads, and limited support, all with Magic Studio's watermark.
The all-in-one online Creative Platform from BeFunky provides all the tools you want to edit images, produce graphic designs, and put together photo collages.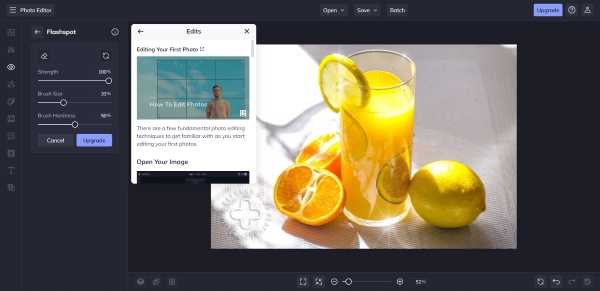 What We Recommend:
Learn below what makes BeFunky a useful online photo editing software.
It only works on your desktop browser and mobile app (iOS and Android). It is also desktop-compatible (Windows and Mac).
Use BeFunky to remove glare from glasses in a photo online using its free plan. It comes with limited access to smart editing tools, an extended font gallery, and more.
For a better experience and access to all features at one price, subscribe to BeFunky Plus. It includes all features available in the free plan, a one-click photo enhancer, overlays, smart image layer editing, and more.
It has in-app tutorials you can follow before you edit your first image.
What We Do Not Like:
Here are some downsides when using BeFunky to tweak images.
You need to sign up on BeFunky to load images and use them for editing.
Photo retouch or touch-up is not available to remove glare from photos online free of use unless you upgrade your free account.
Accurately identifying undesirable things is achievable with the PicWish smart objects removal tool. For instance, you can remove glare from photos online for free anywhere you want.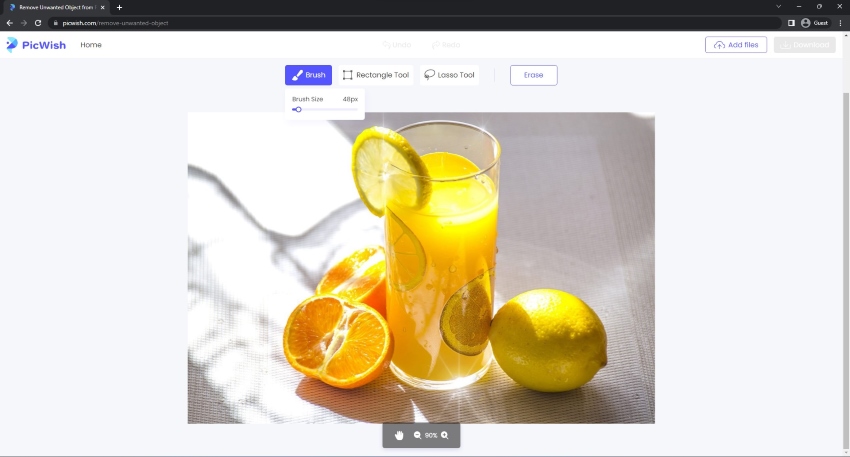 What We Recommend:
Here are what to love about PicWish as an online tool.
It is available for download on your desktop (Windows and Mac), iOS devices, and Android phones. You can also edit images through PicWish online website.
The free version using the browser allows you to use editing tools to remove reflection from photo online and download it without watermarks or the brand logo of the platform.
Paid subscription enables batch photo editing of up to 100 images or more. Note that the Pro membership system between its mobile app and the desktop version is separate.
It has an intuitive user interface solely used to remove reflections from photos online.
What We Do Not Like:
Here is the shortcoming of PicWish.
The pro memberships you buy through mobile apps are not applicable for use on Windows or Mac. It is because the mobile app and PC versions have different functionality.
Comparison Among 10 Online Glare Removers
In this section, check out which online tools can perform well if you need to remove light glare from photos online.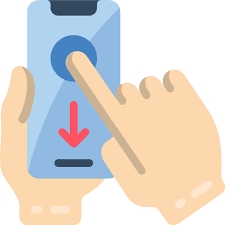 Ease of Use
You can use all these online tools to remove flash glare from photos online. However, what will surely catch your attention for their ease of use are AniEraser, PhotoRoom, Cutout.Pro, and Magic Eraser.
These tools make it easy for content creators to edit a photo. For instance, AniEraser hasn't offer distracting in-app ads for free. These tools have intuitive user interfaces, simple editing tools, and support multiple image formats. Plus, they often have a free plan that lets you access their photo editing features. No matter your level of technical expertise, you can easily remove flash glare from photos online with their easy-to-use interfaces.
Success Rate
AniEraser, Picsart, PhotoRoom, Cutoout.pro, Magic Eraser, and PicWish have the highest success rate of removing glare from glasses in photos, thanks to their AI-powered algorithms that remove glare without distortion.
These tools provide different levels of precision that can help you make subtle adjustments to the image or more dramatic changes depending on your needs. They also have features for previewing changes before finalizing them, ensuring you get your desired result.
Processing Speed
The best online tools with the fastest processing speed are AniEraser, Picsart, PhotoRoom, and Cutout.Pro, Magic Eraser, and Picwish.
All these tools work in seconds, allowing you to remove glare from glasses in a photo online with just a few clicks. With their advanced algorithms, these online tools can remove objects from images with minimal effort.
Image Processing Result
You can get the best image processing results with AniEraser, PhotoRoom, Cutout.Pro, and Picwish.
For instance, AniEraser uses AI to fill the gaps left behind by the removed objects. They can remove reflections from photos online without sacrificing the quality of the image. All three apps allow you to download the edited version without watermarks and in high resolution, giving you the best possible results.