Do you want to learn how to create a DJ voice in 3 different ways? Then, this is the blog that will give you all the information you need. You can create DJ voice and DJ drops using DJ voice generators, isolating vocals with a DJ extractor, and creating acapella yourself. I will show you how each method works.
The blog will provide top efficient DJ voice generator-free tools for online DJ voice making. You will be able to extract DJ voice from videos/audios using an online voice isolator. Finally, I'd share a bonus tip to generate your unique DJ voice creatively.
Part 1. 6 Best Online DJ Voice Makers to Turn Text to Speech [Simple]
The first way you can generate DJ voice online is by using DJ voice generators online. Since many available tools may be confusing to you, here is a list of our six best recommendations:
Media.io is one of the best voice maker online tools that auto generates super-realistic voices from the texts you enter. It empowers you to readily customize the voice gender, pitch and speed. Plus, you can download the audio in MP3 or make more edits with its built-in editor.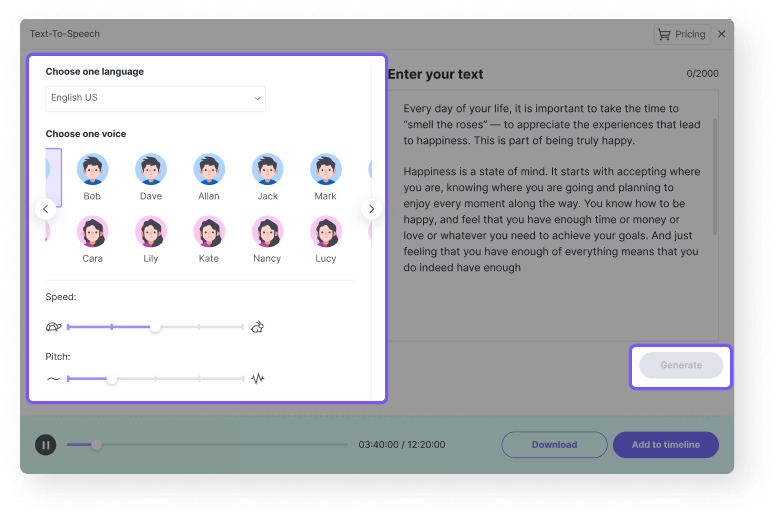 Convert text to distintive human-like voices automatically.
Save the audio files in MP3, WAV, OGG or any other formats.
Voice recorder integrated.
Notevibes is another DJ voice maker online free site that gives you 201 natural-sounding voices to serve as the speech version of your text. You do not have to hire professionals to do DJ voiceovers for you. You do not need prior training to use Notevibes to convert text to speech or use the downloaded voice for your DJ mash-ups.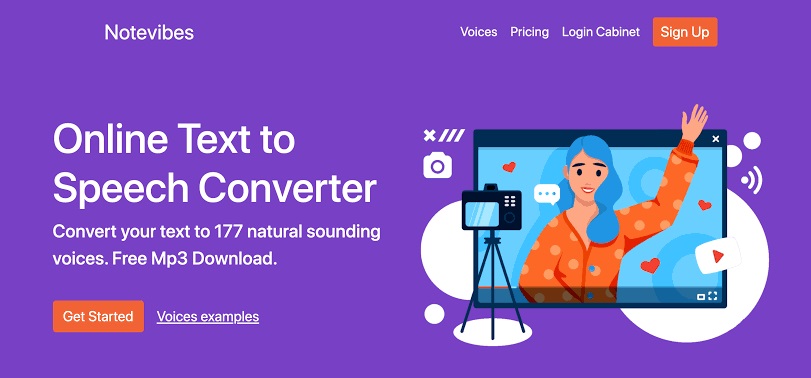 The interface contains the sample voices arranged in order of types of videos such as educational videos, training videos, or sales videos. You can now easily select the voice you want based on the type of video you need the audio for.
You can save the audio file in either WAV or MP3 file format.
There are twenty-six languages in which you can generate speech, one of which is English.
Voice Maker is a DJ voice generator that uses XML tags to turn text to speech and SSML (Speech Synthesis Markup Language) to speech. You can choose the specific voice you want your text to speech to be in; these voices range from male to female to child. These voices are up to six hundred and more in 70 languages worldwide. After the speech has been generated, you can download it in different file formats, including OGG, MP3, and WAV. Then, you can share the downloaded audio on your social media platforms like Facebook, Instagram, YouTube, Vimeo, etc.

It is embedded with AI (Artificial Intelligence) technology that has been designed to generate speech from a text in a professional way.
Audio features on this DJ voice generator include volume adjustment, speed increase or decrease, pitch, and emphasis features.
Voice effects available on this site include happy effect, breathing effect, sad effect, whispers, etc.
Turn text to speech with this online tool for free. The speech voices sound natural and human-like, unlike most text-to-speech tools you find online. Get the speech you want to convert, copy it and paste on the box provided by the site. Then, watch as the tool does what it was designed to do.

You are allowed to convert up to 50,000 characters of words from the text to speech at a time.
There is a list of names representing the voices you choose from; this gives the site a friendly UI (User Interface) that users find appealing.
You can edit the speech speed to slow, medium, fast, or very fast.
Voicebooking DJ voice maker online tool is a free and straightforward text-to-speech utility. It also enables you to emphasize specific words or phrases and lets you put a pause at whichever point you want.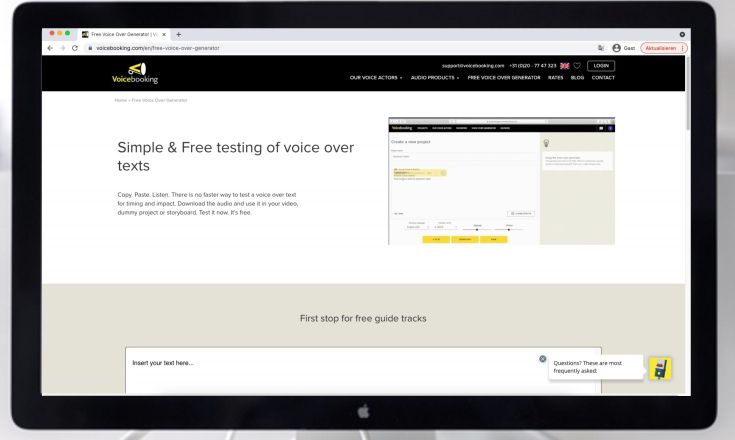 Registration is free even for the upgraded premium version; you are allowed a free trial on the premium version before you will have to pay to access more features.
The voice version of your speech is so original it can be used on your videos, project, or storyboard.
You can use Voicebooking DJ voice generator on any medium with a good web browser.
Visit the FreeTTS website to turn text to speech online and download the audio speech for free. You will find all the world's major languages on this site, including English. The tool's versatility makes it one of the best-loved DJ voice generators globally as it caters to users' needs from different geographical backgrounds. Furthermore, it is a hundred percent free and safe for use as files are automatically deleted twenty-four hours after uploading them on the site.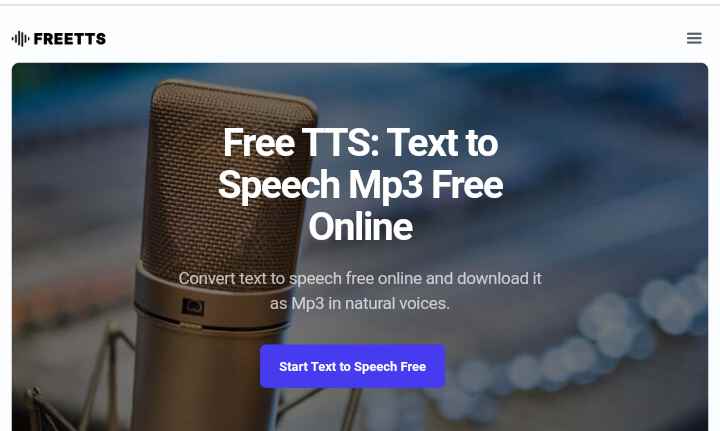 It allows for file sharing to YouTube, Facebook, Vimeo, and other social media platforms.
The steps for turning text to speech are pretty self-explanatory and straightforward on FreeTTS.
You can edit the voice and language; add SSML codes before converting the text to speech.
Part 2. Extract Attractive DJ Voice via Online Voice Isolator [Direct]
Do you have an attractive DJ voice you want to extract online for your personal use? Finally, there is a way to do that: all you need is an efficient DJ extractor, and we have just the tool for you! Media.io Online Vocal Remover is an AI-based toolbox that extracts the DJ voice from any video or audio you upload on the site. This method of generating DJ voice online is easy, fast, and saves you time from downloading and installing the app. Furthermore, it quickly isolates the DJ voice from any video or audio you find online.
The key features of Online Vocal Remover include the following:
It has professional and reliable AI technology, a tool you can rely on for your DJ voice isolation.
It produces an incredible audio quality even after separating the voice from the instruments of a song.
It supports video formats that include MP4, MKV, and MOV while supporting audio file formats including MP3, OGG, WAV, and M4A, etc.
After you have isolated the DJ voice you want from an audio or video, you can edit the track, add effects, combine audios, and convert video to audio and vice versa.
Here are the simple steps to use an Online Vocal Remover DJ extractor for the best results:
Step 1: Upload the video or audio containing the DJ voice sound.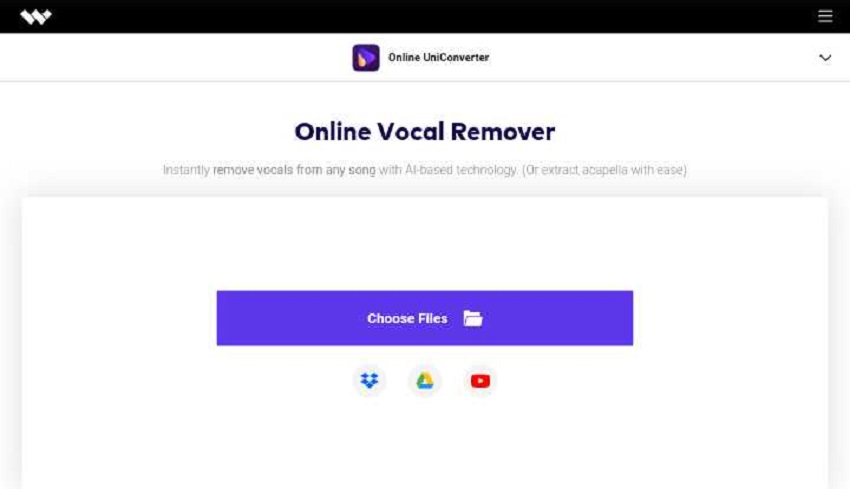 Step 2: Extract DJ voice automatically with the AI-embedded technology; this only takes a few seconds to process.
Step 3: Preview the DJ acapella and Karaoke versions before downloading the extracted voice to your device.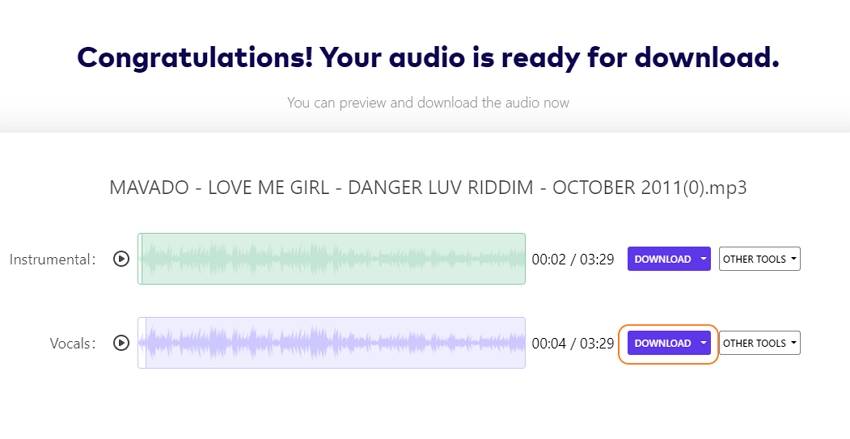 Part 3. Learn and Generate Unique DJ Voice by Yourself [Challenging yet Creative]
The third method of getting a DJ voice online is learning how to make DJ acapella yourself. It may seem challenging, but it is a very creative way to make an original DJ voice online and create DJ drops. Interestingly enough, there are some excellent musicians like Beatmasters from whom you can master the skill of creating DJ acapellas that are unique to you and your brand. You will learn to use plain vocals and FX effects to create a beautiful DJ voice for your DJ mixes and song covers.
Conclusion
This article has shown you 3 different ways you can make a DJ voice online and turn text into speech. You can select which tool is best to convert text to speech from the list of the 5 best DJ voice maker online tools. You can also use the professional AI-based Media.io Online Vocal Remover to extract the DJ voice from any sound you like online. Finally, if you want a creative challenge, learn to use your voice to make DJ drops from professional artists. Good luck!