Imagine a scenario where you find a video online, and you love the music that goes with it. But there is a problem: you need only the audio from the video. In such a scenario, you will love being able to use the audio without the whole video package, right? Imagine the audio mixing and editing you can do with the music from the video. The question now is, how can you use the music from the video?
Well, this blog is the perfect solution to your dilemma.
After some deep researches and tests, we give you our best seven online music extractors. These tools will help you get audio from video online. In addition, we will show you how to extract music from a video using these online extractors.
Part 1. Top 7 online music extractors to help get music from a video [Free!]
Let's begin with FileConverto Music Extractor. This tool effortlessly extracts the audio from any video you upload in formats like MOV, MP4, MKV, AVI, etc. Moreover, the output comes out in MP3 audio format, making it easy for you to play the audio on any platform and browser.
To use FileConverto, do the following:
Click "Browse" to select the video file and add it to the platform.
Click "Submit Now" and wait for the tool to get the audio from the video.
Download and save the output audio file.

The next video editor you can use is the Online UniConverter free music extractor. This tool does not add a watermark to your processed file, and although it is a free tool, it does not bother you with ads. On this site, you can upload videos in formats like AVI, MOV, WAV, MKV, and any other format compatible with iPhone and Android devices. It also works in various popular browsers such as Safari, Google Chrome, Firefox, etc. With Online UniConverter, you are assured of high-quality files that can be easily downloaded or saved on Dropbox after conversion.
If you want to know how to extract music from a video in an instant with this tool, then you need to follow the steps below:
Step 1: Add or upload the video file you want to edit and ensure you specify the file format. Also, note that the default output audio format is MP3.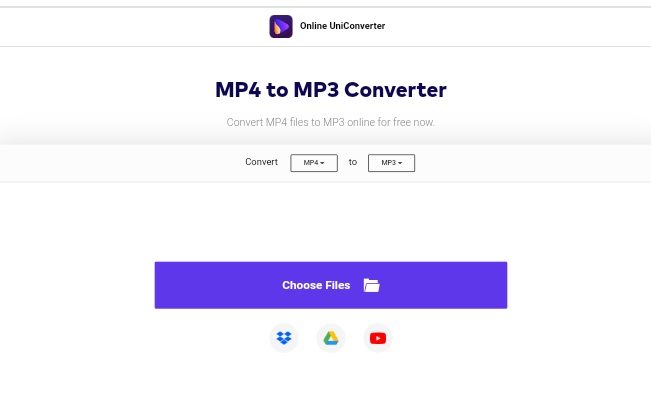 Step 2: Select "Convert" and wait for the file to be processed completely.
Step 3:Click "Download". You can also click the downward-facing arrow beside the Download button to save the file to Dropbox.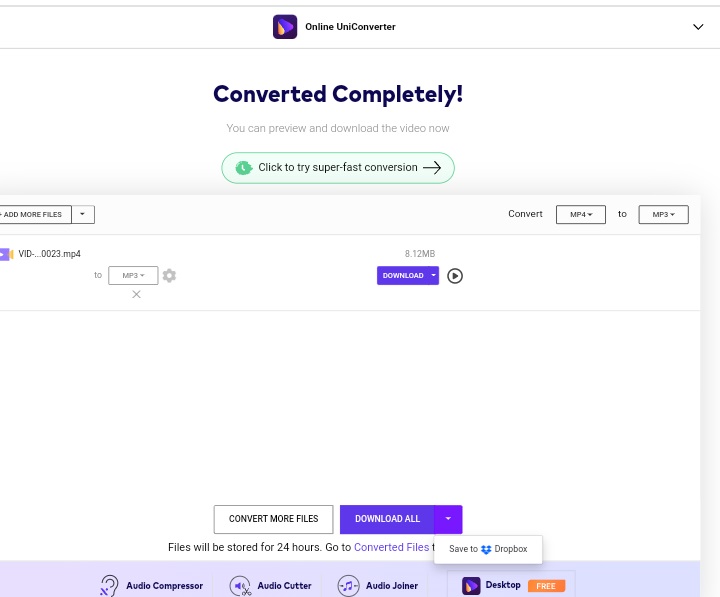 Bonus Tip: If you want to extract only the music track or karaoke version of a video or audio file, use the Online Vocal Remover feature of UniConverter. This toolbox separates the acapella version from the karaoke/instrumental version of a song, giving you the option to download only the music track.
BeeCut is an online video and audio editor with a simple interface through which you can get audio from video. You can extract the audio from a specific aspect of the video by dragging the time slider to where you want the extraction to start and where it should end. You can also type in the starting time and ending time. Upload video formats like MOV, MP4, MPEG, AVI, etc. These files are converted to MP3 audio files that you can download. There is no limit to the files you can upload on BeeCut. It is highly efficient and ensures your privacy is protected by deleting your online data after you have processed the file.
Follow the steps below to extract music from video using BeeCut online editor:
Drag and drop the video at the center of the page where the "+."
Edit the track by adjusting the slider to where it should start and where it should end.
After customizing the video file, click "Start extracting" and save the result.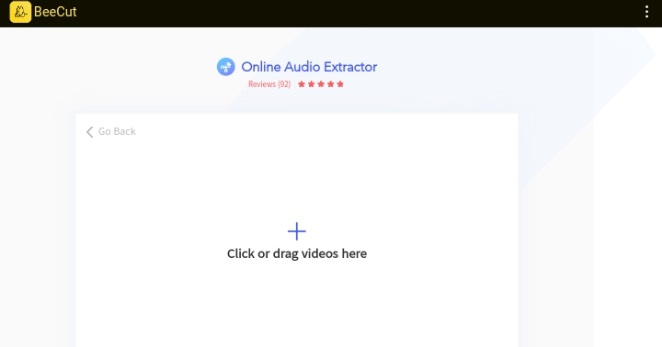 Audio Extractor is an online tool that extracts music from videos in a professional manner. That is not all. This tool also performs other editing functions like video trimming, flipping, speed change, adding subtitles, joining different audio files, voice recording, and so on. That makes it an all-in-one video and audio editor that you will find useful even after getting the audio from a video.
The steps below will show how to extract music from a video with Audio Extractor Online:
Select "Open Video". This will upload the video you want to extract on this Audio Extractor.
Choose the format you want the audio file to come out in; the supported formats include MP3, OGG, M4A, FLAC, iPhone ringtone format, and so on.
Click "Extract audio" and wait for the audio to be extracted from your uploaded video file.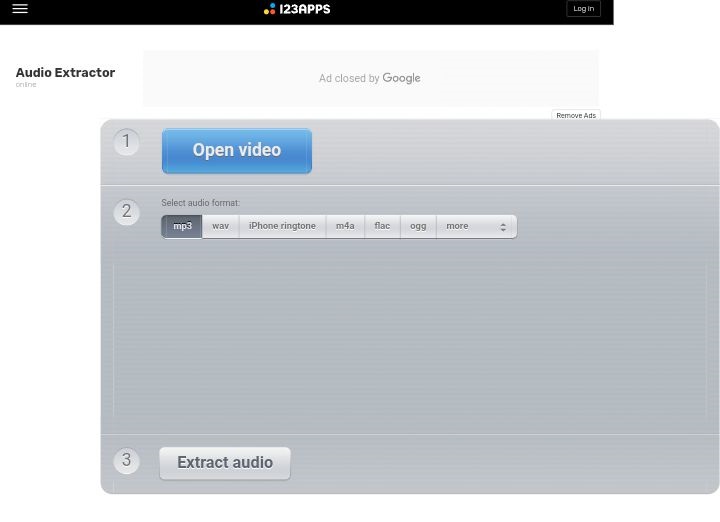 Audio Extractor Tool is similar to the tool mentioned above to extract specific audio portions of video files. However, this Audio Tool has been equipped with an innovative and efficient editing technology for the professional removal of audio from your video files online and for free. It works super fast, and it is not difficult to use.
In the three simple steps outlined below, you can easily use Audio Tools to extract music from a video:
Upload the video file from local storage, Dropbox, video URL, or Google Drive. Ensure that the file is not above 500M.
Tap the "Extract Audio" button and let the Audio extractor do its work.
Save the extracted audio by selecting "Download Audio."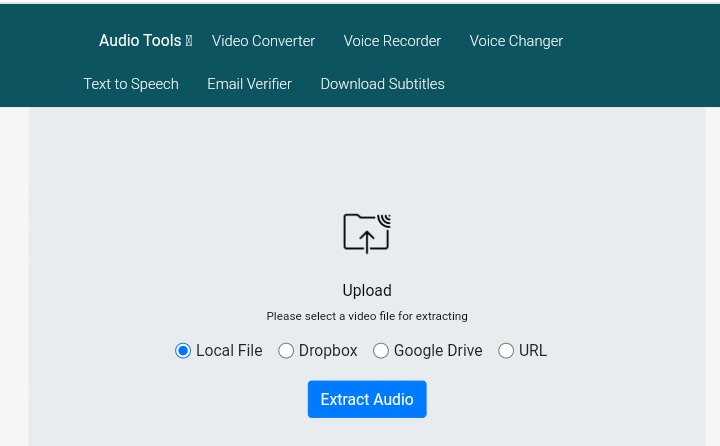 Audio Remover is a unique background music extractor that gets audio from video without re-encoding the file. And it does this online for free! It works well with any good internet browser on Mac and Windows computer systems. It supports media files in formats such as AVI, MOV, MP4, and WMV. AudioRemover automatically erases your online data to protect your online history.
Mute the audio of any video as shown below:
Browse your local storage for the video from which you want to extract audio.
Allow Audio Remover to get audio from the video in a few seconds after clicking "Upload Video".
Choose to download the extracted audio back to your file storage.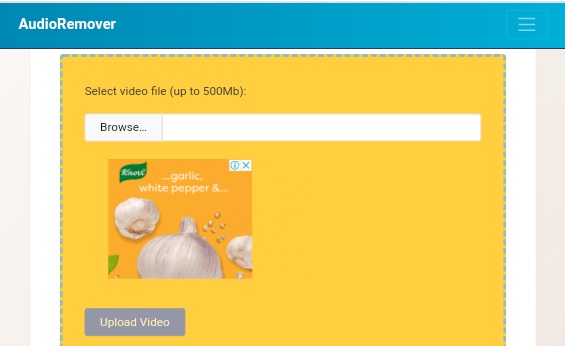 HitPaw is a fantastic simple free tool you can use to get audio from videoonline without stress. It is not limited to editing features in addition to extracting audio from videos. Although it is a free tool, you will not find your processed files with watermarks. It works on any device with a great web browser. Interestingly enough, the features on HitPaw are constantly updated to handle previous bugs and make users more excited about the toolbox.
Extract music from video with HitPaw by following the guideline below:
Drag and drop the video file in the box labeled "Choose File".
Choose the audio format you want the output in.
Process and download the extracted audio.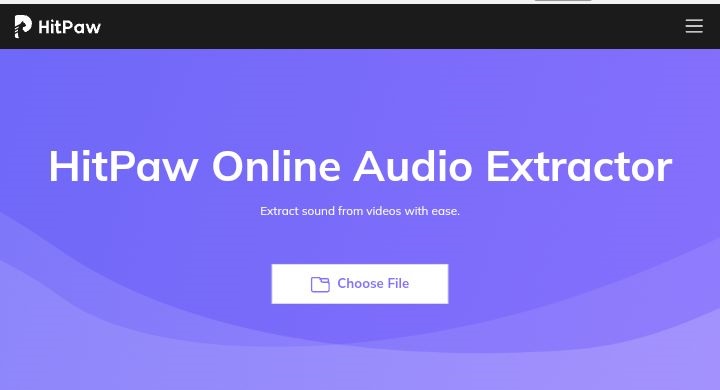 Part 2. Detailed comparison of 7 best music extractors from video
| Name | Simplicity | Efficiency | Interface | Supported Formats | Extra Features |
| --- | --- | --- | --- | --- | --- |
| File Convertor | Mid | Fast and effective. | Filled with disrupting ads. | Audio: MP3 only Video: MOV, MP4, MKV, etc. | Allows for sharing on other platforms. |
| Online UniConverter | High | Very efficient and professional. | Friendly and simple. | 1000+ formats supported: Video: AVI, MOV, WAV, MKV, etc. Audio: MP3, WAV, M4A, etc. | Allows customization and batch extracting music files from videos. |
| Beecut | High | Fast and effective. | Clean | Video: MOV, MP4, MPEG, AVI, etc. Audio: MP3 | Allows for file customization when editing features. |
| Audio Extractor Online | High | Fast and effective. | Interface is filled with ads for free users. | MP3, OGG, M4A, FLAC, iPhone ringtone format, MP2, AMR audio formats. | Other audio and video editing tools. |
| Audio Tools | Mid | Fast and effective. | Simple | MP3, OGG, M4A, FLAC audio formats. | It allows for the extraction of audio from specific aspects of the video. |
| Audio Remover | High | Fast and effective. | Simple and friendly. | AVI, MOV, MP4, and WMV. | MP3 volume adjustment. |
| HitPaw | High | Fast and effective. | Simple | The interface can be made more attractive. | Video Conversion and editing. |
Part 3. FAQs regarding music extractor
Q1: Is there good software to rip music from a video?
A1: Yes, there is good software with which you can rip music from videos if you like to use the music part without necessarily needing the video part. Out of the much available software, we recommend professional software like Wondershare UniConverter to effectively rip music from video on your PC and mobile devices. In addition, a tool like Audio Extractor mentioned in the article can rip the audio from specific parts of the video if that is what you want.
Q2: How do I extract audio from a video on Android?
A2: Visit Google Playstore and download a video to MP3 converter that has been rated well. You will find that there are many tools designed for this purpose for Android mobile devices. Optionally, you can utilize UniConverter's web-based Vocal Remover, having a good rating as well.
Q3: How do I easily extract audio from YouTube videos?
A3: Again, several online tools can be used to extract the audio from any YouTube video. Suppose you use Online UniConverter Vocal Remover (https://www.media.io/vocal-remover.html), follow these quick steps: copy the YouTube video URL, paste it on the site and allow UniConverter to extract the audio; then download the result and use it for other audio/video mixing purposes.
Conclusion
Now that you have been given the best music extractors, you can easily remove the music from any video. With a good web browser, you can use any music extractors mentioned in this blog to take audio out from video files. Choose the tool that appeals to you (based on the comparison table and features), follow the guidelines, and you will know how to extract background music from videos online.