Question: "How do I remove music from a video soundtrack without removing the other sounds?"
The response to this question is not as direct as you would think. If you have a stereo video with just two split tracks, it will be easy to remove the music from the video. However, if the video is mixed with two stereo tracks and dialog, it will be more complicated to remove music from the video and leave other sounds.
Again, sounds that are easy to remove can be taken out with free noise removal tools. In addition, you can easily remove background music from a video if the volume is low, simple, or low. On the contrary, high tempo, busy, and noisy background music will be harder to eliminate without removing other sounds. Therefore, for such hard-to-remove sounds, you should consider the sound clarity, nature of the music, bit rate and quality, phase cancellation, and pitch.
This article will cover 2 situations: how to remove music from a video without removing other sounds and how to take music out of a video, including other sounds. You will be able to do these with the tools we shall review in the following sections.
Part 1. Online way to remove music from video with/without sounds
The easiest way you can remove music from the video is with an online tool like Media.io. It is a media file editor that helps you separate music from a video and create the acapella version of the media file. It is a free tool that lets you edit the video or audio file to create a whole new version of the uploaded file. You can mute the voice of a video, record new voice, trim and join different audio/video, add subtitles, add effects, etc.
With Media.io, you can easily take out music from video without voice and with voice. Both processes will be explained below:
How to Remove Music from Video by Muting Video (Without Voice)?
The first method we shall be discussing is how to remove music from video without voice. With this Media.io feature, you can mute videos for free without worrying about watermarks on the output file and the original quality of your media file, as this is preserved even after file processing. Also, the process initiates automatically after you upload the video file; it takes a few seconds to mute the music from the video. In addition, it supports all the major video file formats you can think of, such as MOV, MP4, MKV, WMV, AVI, etc. If you are struggling with using this tool, contact customer service and all your issues will be addressed professionally and fast.
Head on to Media.io Online Video Muter to access this fantastic feature and remove music from the video by muting the video with the steps below:
Step 1: Click the Choose Files button to open the online video editor, where upload your videos that you want to remove music or other audio sources.
Step 2: Select the target video clip, click on the Sound icon shown on the top corner of the preview screen and turn down the music volume to zero.
Step 3: Export the muted video directly to your local device storage. You can also save it to Google Drive or Dropbox.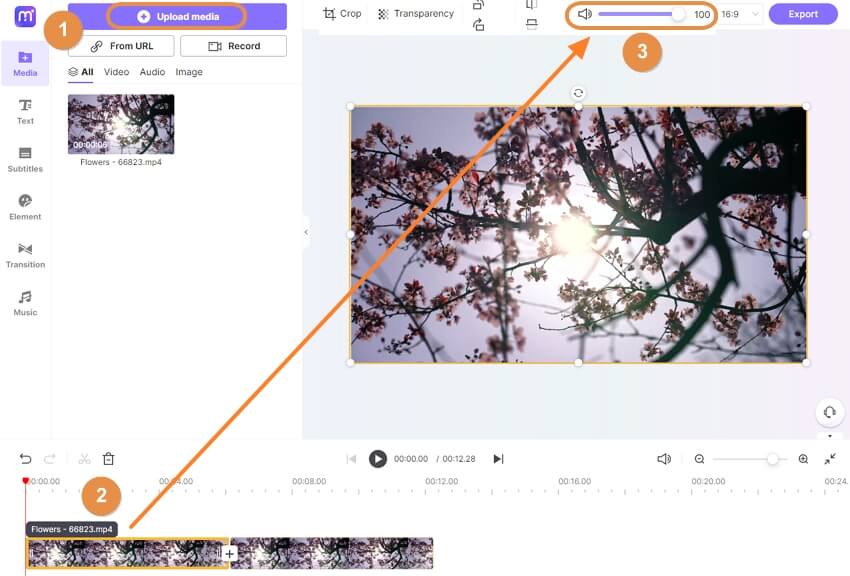 How to Remove Background Music from Video But Keep Voice?
This method involves the removal of background music from video with voice using the Audio Splitter feature of Media.io. This method is also free for the immediate online removal of unwanted music from your video while leaving the vocals on their own. Media.io Vocal Remover tool uses the AI-based technology embedded in it to extract audio or video instrumentals and separate them from the acapella version. It is ultra-fast yet straightforward to use. It produces an incredible audio quality, maintaining the initial quality of your video file. In addition, it supports video file formats like MP4, MKV, and MOV.
The steps below will guide you to remove background music from videos for free with Media.io Vocal Remover:
Step 1: Upload the video file using the "Choose Files" button located on the home page.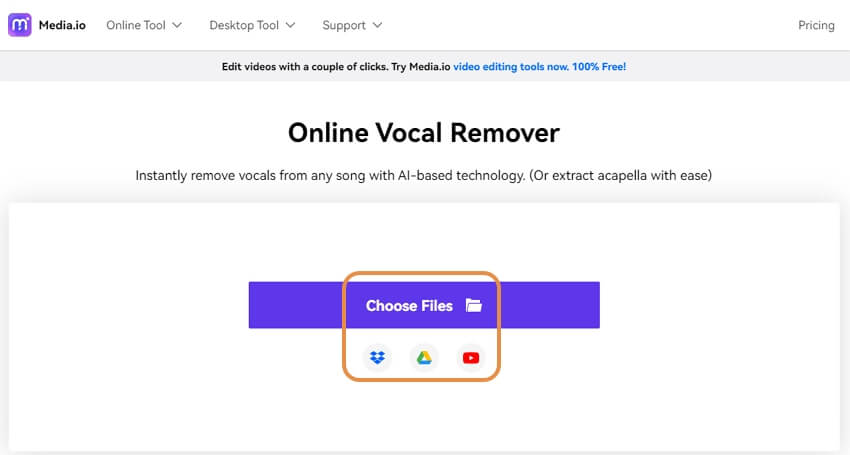 Step 2: The embedded Artificial Intelligence automatically separates the vocals from the music.
Step 3: Download the processed voice track without background music to your device storage.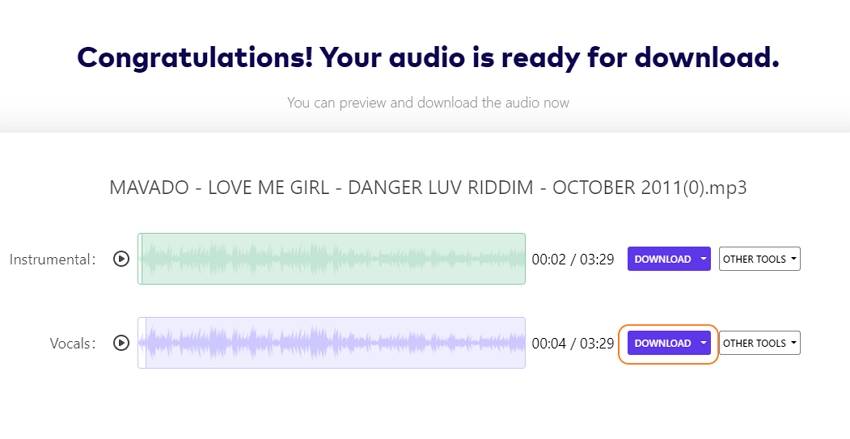 Step 4: Apply Media.io online video editor to combine the original video and voice track into one clip. So that's how you remove music from video while keeping voice. It's that simple!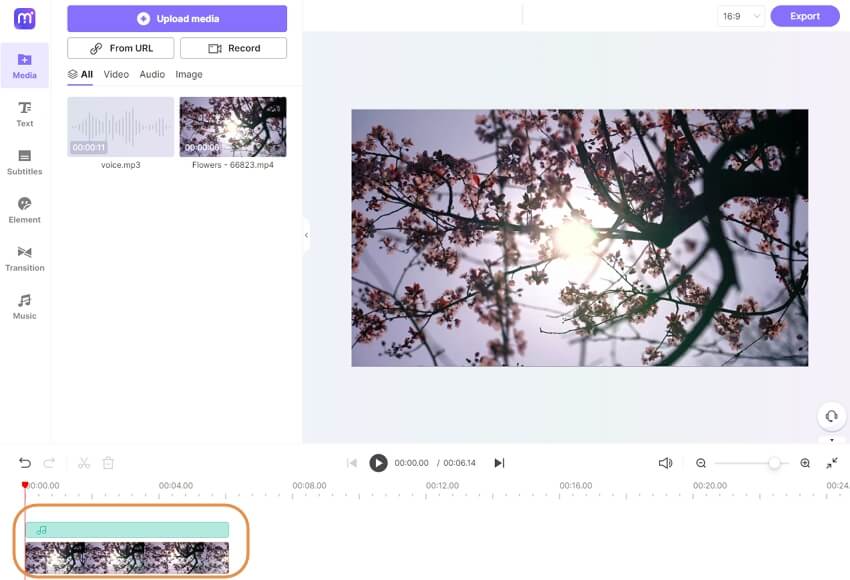 (Do you want to learn more about the AI-related music editing tools? Don't worry, AI Music of Media.io will solve your problems. Come and generate your first AI music here!)
Part 2. Other 4 recommended tools to remove music from a video
<1>. Taking out the whole audio from the video:
The first tool you can use to mute the audio from your video like Media.io is Veed. It is an online tool with which you can mute videos in a couple of clicks. You can also mute some parts of the video instead of the whole video for free. You don't have to pay to download and install any software with Veed available on your default browser.
Once you take out music from the video , you are at liberty to add any audio, sound effects, and so on to the video. The simple steps to use Veed include:
Uploading the video on the website.
Clicking the mute option.
Exporting the video as an MP4 file.
You can also share the muted video on any of your social media platforms.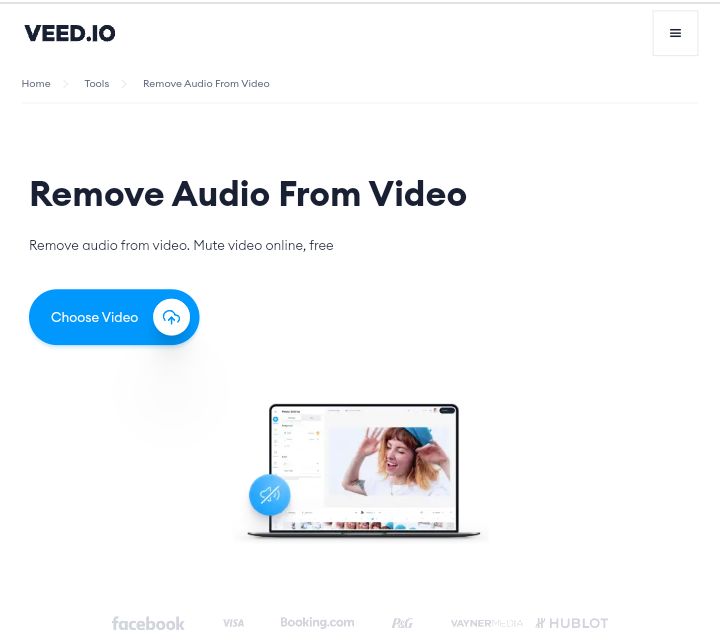 Another recommended tool you can use to take out the whole audio from a video is MP4Compress. With MP4Compress, you can mute any MP4 video online. It works effectively to mute videos of up to 500MB without you having to pay anything for the service. You can take out music from video by muting, then upload and share to your socials in one click. Visit the website on any browser of your choice and upload your video on the home page to take out the whole audio. This website has been encrypted to protect your online traffic and data from exposure to hackers or those who want to track your online activities. If you feel like the file is too heavy, you can compress it with MP4Compress after muting.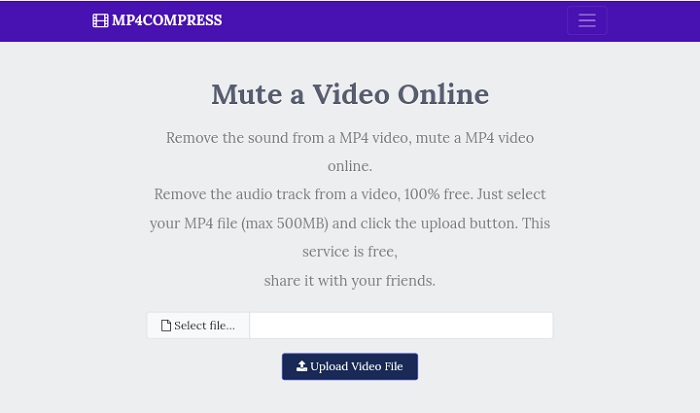 <2>. Remove only music track from video:
This is popular audio editing software compatible with Linux systems, Windows PC, and Mac OS X. With Audacity, you can remove background music from videos and create the acapella version for other purposes. To use Audacity, ensure that you have both the original video file and the instrumental version of the song. Follow the steps to remove background music from a video in Audacity while the voice is still there. Once you have removed the background music from your video with Audacity, you can save it for future use.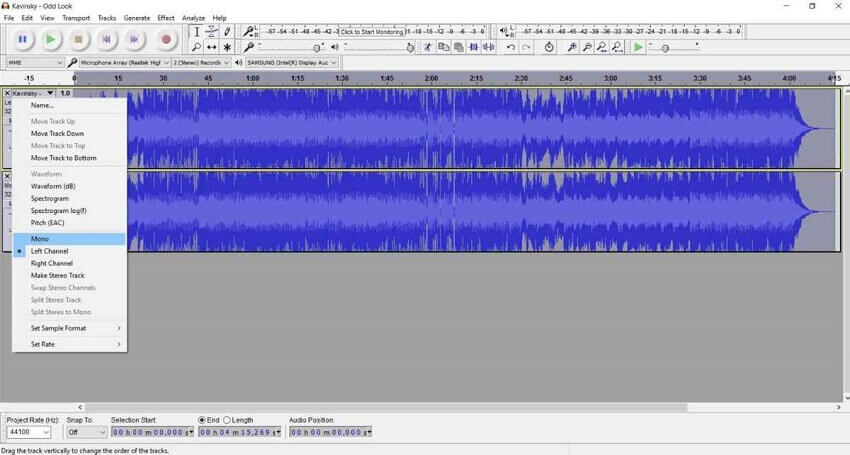 From the name of this tool, you can see it is an online editor with a Deezer source. Spleeter is a state-of-the-art separation library that splits songs into two stems, four stems, or five stems, depending on what you want. A two-stem separation means that the uploaded media file is separated into the voice and music accompaniment or instruments only. Four-stem and five-stem separations extract not just the voice from a song but individual instruments such as the bass guitar, drums, piano, etc. Spleeter by Deezer is an ultra-fast tool with which you can efficiently separate music from video online and with software.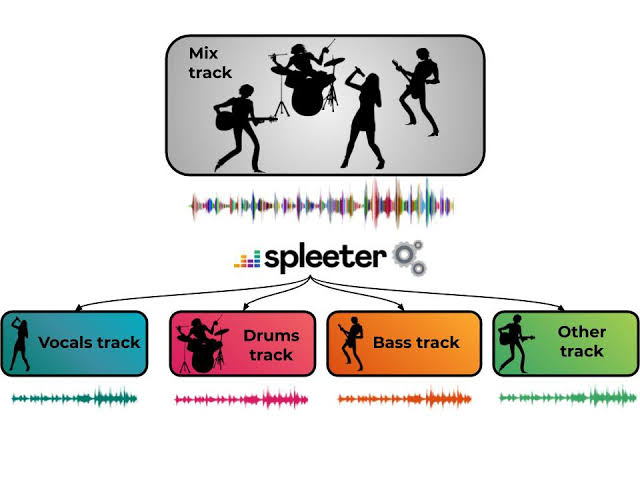 Part 3. FAQs about music editing
Q1: How can I generate music with AI?
A1: You can use the AI Music tool of Media.io to generate music as you wish. Here, you can select the music attributes that you desire: just pick the mood, style and duration you prefer within a few clicks and watch AI work its magic to create exceptional tunes tailored for you.
Q2: How do I remove background noise from video on iPhone?
A2: Select the video you want to edit and ensure it highlights the yellow boundary to show it has been selected. Find the gear icon at the bottom left end of the clip. A list will drop down; click "Audio Adjustments". You will see a volume slider on the new window; drag it to reduce the background noise and close the window. Now you can play your video without background noise.
Q3: Is there an app to remove music from a video?
A3: Yes, there are apps to remove music from videos both online and with software. A perfect tool you can use to remove background music from the video is the Media.io video mute tool. It is an effective professional video editor with a fantastic toolbox for muting whole audio from video and extracting the music from videos.
Q4: How do you make acapella?
A4: Making an acapella music or video can be done with the right editing tool, both online and with software. However, if you want the fastest results, using an online acapella maker is the best way to go. We recommend a vocal remover like Media.io to effectively and quickly extract the acapella version of your music. Upload your media file to Media.io to separate the vocals from the instrumentals within seconds. Now you can download the acapella/vocals version and leave the karaoke/instrumentals version.
Conclusion
In conclusion, you can easily remove music from video with or without voice, and it does not have to be complicated. This blog has shown you how to use the five best methods to take out music from video with or without voice. All you have to do is try any of the methods discussed above, and you can enjoy using your videos for different purposes without the background music.