You may know why you need to convert YouTube videos to Karaoke, but if you don't know, here is why. There are many available songs with lyrics only on YouTube. However, most of them are inaccessible because the owners of the songs have copyrighted or licensed them. Thus, to access some of your favorite songs on YouTube, the intelligent thing to do is to convert YouTube video or audio to Karaoke.
In this article, you will learn how to make Karaoke songs from YouTube. It will be made possibly by the top-rated YouTube to Karaoke Converters online, which we will suggest for your use. This way, you don't have to be restricted by YouTube licensing and copyrights.
Part 1. How to get YouTube Karaoke without effort?
Suppose that you have found a piece of Karaoke-version music on YouTube, then you can save it directly to your device. An effective tool like the Wondershare UniConverter Downloader feature makes it easy to get YouTube Karaoke songs with lyrics/vocals or without vocals.
If needed, use the below steps to obtain Karaoke of YouTube videos:
Step 1: Download the UniConverter desktop version on your computer and select "Downloader" from the menu on the left panel.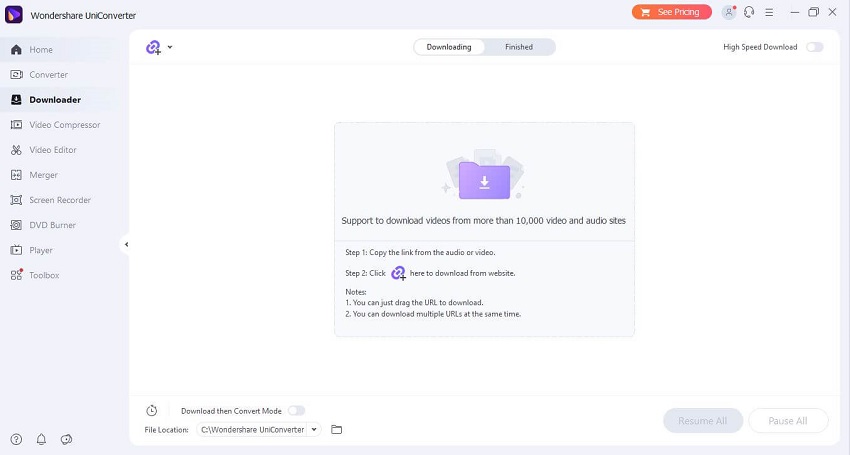 Step 2: Copy the YouTube video URL and paste it at the center of the "Downloader" window where the downward-facing arrow is located. Click "Download" to begin processing.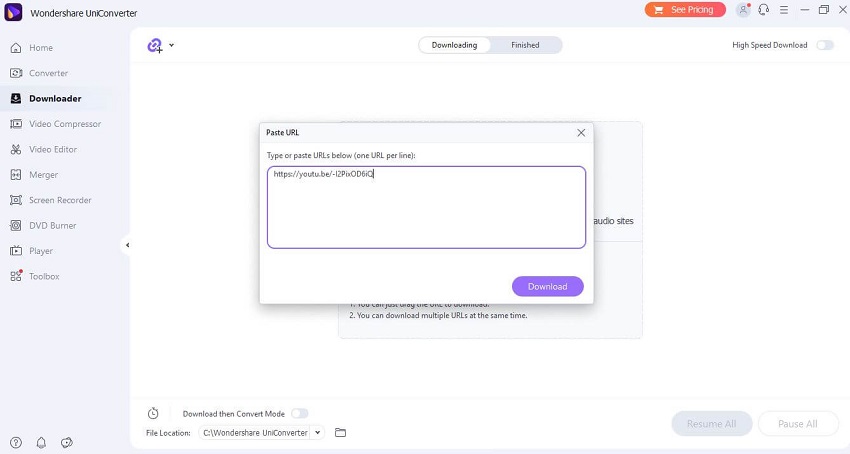 Step 3: You will see a notification analyzing the link to download the YouTube Karaoke song directly from the YouTube app. Once this is done, you can save it on your system storage.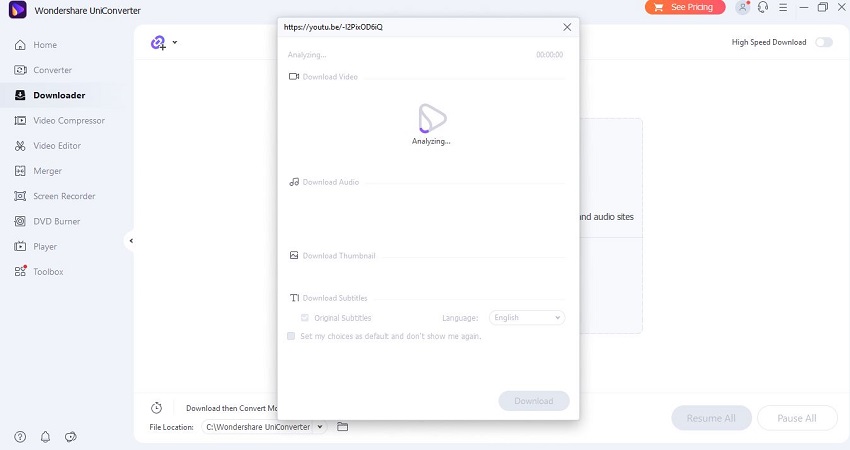 However, this method has a limitation: you may not find some songs you like to download. Again, you may discover that the song you want has the vocals or voices of others as part of the music, which you may not necessarily want in your audio file.
Part 2. 3 Best YouTube to karaoke converters to help you out
Going from the above section, it is clear that you need to remove the vocals from any YouTube song you downloaded. That applies basically to that music with the vocals or voices of others you may not want. That is why you need ways to remove those unwanted vocals and convert YouTube to Karaoke version without the vocals interrupting. In addition, it will make it easier to mix songs as you like, create your song cover, or use the instrumentals as background music to your videos.
Below are 3 top-rated methods of creating YouTube video Karaoke using our best-recommended video Karaoke makers online:
UniConverter Online Vocal Remover is a handy tool that can instantly convert YouTube videos to Karaoke in one click. This tool has been embedded with Artificial Intelligence Technology for the effective and professional separation of voice from songs.
That is not all! It gives you a free trial to convert ten YouTube video files of up to 100MB each without asking you to register or subscribe.
Other impressive features of this YouTube to Karaoke Converter Online free tool are outlined below:
It maintains a high quality of the audio and video files processed. That means that even after extracting the Karaoke from the YouTube video, its original quality is not compromised.
It is a handy tool because it converts YouTube to Karaoke in just one click and a few seconds. You will not waste time using this online converter.
It is easy to use Media.io Online Vocal Remover because it has been designed with a simple UI (User Interface) such that even beginners will not struggle to use it.
Media.io Online Vocal Remover supports YouTube files formats such as M4A, MKV, WAV, MP3, MP4, etc.
It also comes with other editing features like video to audio conversion and vice versa, files trimming and cutting, and song combination.
Here are the steps on how to use this karaoke converter online for free:
Step 1: Upload the YouTube video file to Media.io Online Vocal Remover. Click "Choose Files" on the homepage or paste the YouTube video URL directly from the app.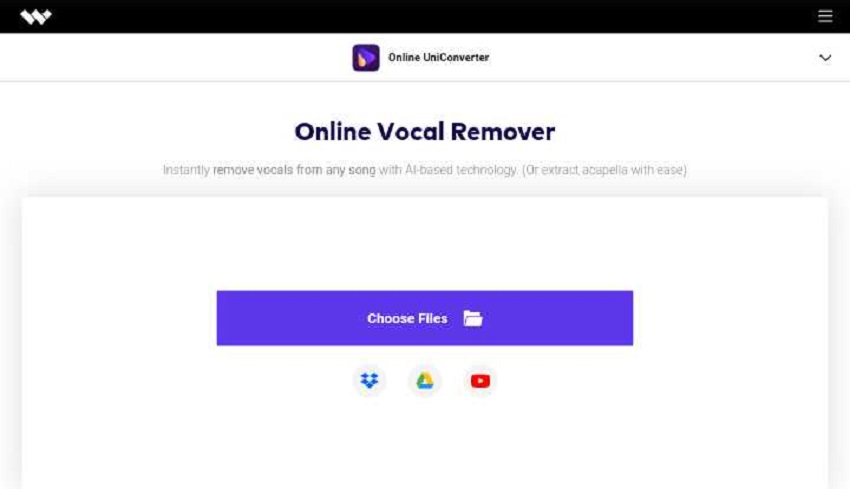 Step 2: Wait for our AI tech to process the video and extract the vocals from the instrumentals.
Step 3: Preview the processed files and download either the video Karaoke online or the acapella version/vocals.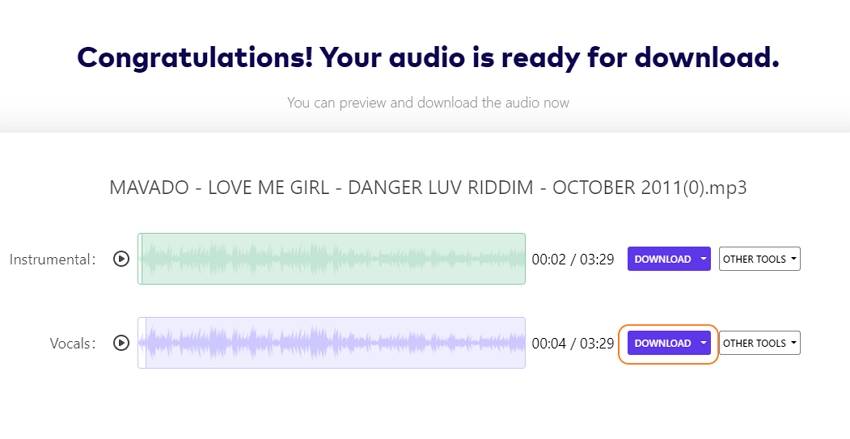 Edit your audio is one of the best Karaoke converters you can use for your YouTube video conversion. It does not matter the MP3 or YouTube video you upload, and this tool will convert it to a Karaoke version for your personal use. It makes use of a Spleeter library to turn YouTube to Karaoke in a short time. On the site, you will also find the latest generated Karaoke versions of a song to give you a preview of what this tool can do before you start using it.
It is fast, easy, and free for vocal removal, the creation of instrumental versions of songs, and the delivery of high-quality sounds.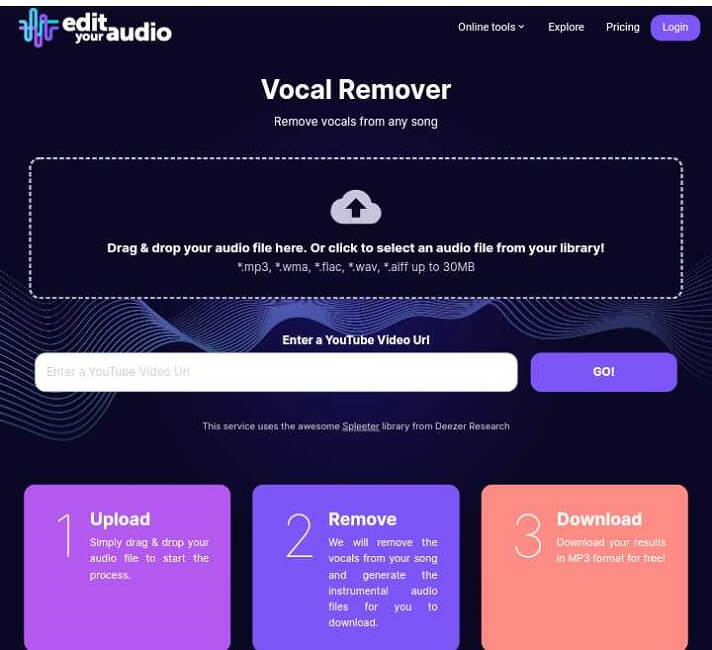 Use these steps to use this YouTube to Karaoke converter free tool:
Step 1: Upload the audio file on the page or copy and paste the YouTube video URL in the box indicating you do so.
Step 2: Wait for the Karaoke converter to extract the vocals from the file you upload and add lyrics to the file.
Step 3: Use the processed file for your Karaoke sessions and song covers.
SongPeel is a YouTube video to Karaoke Converter that makes it easy to "Do-it-yourself" when converting YouTube songs to Karaoke online. You do not need a tutorial to use this tool, even if you are a beginner in the video editing game. SongPeel uses the Out of Phase Stereo (OOPS) method to convert songs to Karaoke. This method involves stereo channel inversion and canceling it out with another to efficiently remove the vocals from the music. Hence, it is ideal for stereo songs that have lyrics that have been perfectly centered.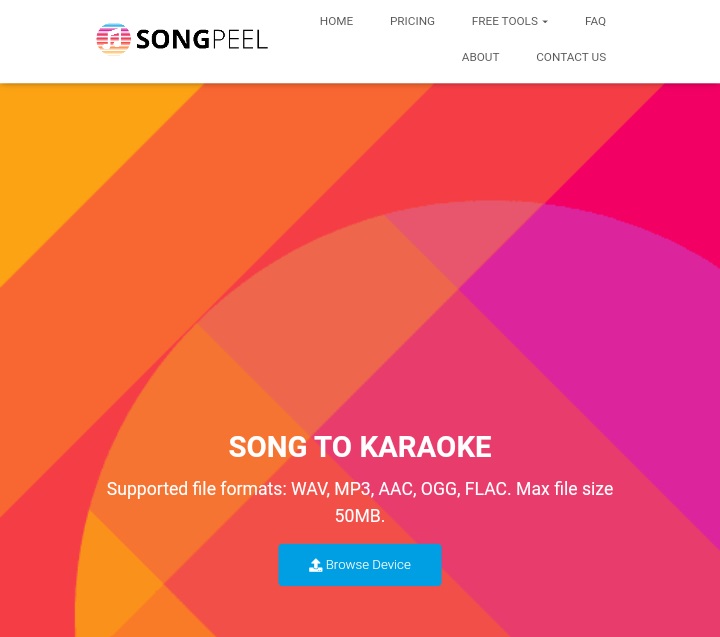 Step 1: Click "Browse Device" to upload the YouTube video file from your local storage device.
Step 2: Wait for the file to be processed, and the YouTube converted to Karaoke online. It takes one or two minutes to be complete.
Step 3: Download the processed file to your device storage for use as meditation music, karaoke songs, sleep music, etc.
Quick Comparison of the 3 YouTube to karaoke converters
| Name | Price | Supported Formats | Max File Size | Extra Features |
| --- | --- | --- | --- | --- |
| Media.io Online Vocal Remover | $2.99/month (Unlimited songs) | MP3, OGG, WAV, M4A for audio. MOV, MP4, MKV for videos. | 100MB | • It is free of ads that usually interrupt smooth video conversion on free websites. • Audio track combination, audio to video conversion, song trimming, and video to audio conversion features - all these are available on the tool. |
| Edit your Audio Karaoke Maker | $11.31/month | MP3, FLAC, WMA, AIFF, WAV. | 30MB | • It generates lyrics that sync with the song you upload after detecting its ID3 tag. • It gives the original audio of a song while syncing the lyrics for a sing-a-long. |
| SongPeel Karaoke Converter | • Single song: $4.99 • Multi songs: $19.99 for five songs. • Multi song plus: $29.99 for ten songs. | OGG, WAV, AAC, MP3, FLAC. | 50MB | • It has an AI-based technology that can remove the vocals from any complicated music. • You can also get both the Karaoke and acapella versions of songs perfectly separated and ready for download. |
From the maximum file size, price, and features in the comparison table above, it is clear that the Media.io online tool stands out and should be considered first when you're choosing the best Karaoke converter for your YouTube videos.
Part 3. [Bonus] How to add Karaoke to YouTube?
Now that you have been shown how to convert YouTube videos to Karaoke format, it will create a balance if you know how to mix Karaoke with YouTube videos for sharing. In addition to Online Vocal Remover, UniConverter also developed an online Audio Mixer tool to merge Karaoke with YouTube video in a single click. You can utilize it when needed.
Conclusion
A lot of information has been passed in this blog, so at this point, you should be a pro at using YouTube to Karaoke Converters. The three best Karaoke converters in this blog are easy to navigate online; hence you should not have the challenge of using them to convert your favorite YouTube videos to Karaoke. More so, you can add a Karaoke to video for sharing on YouTube channel and get more viewers to see your Karaoke audio mixing talent.