As a well-known American animated comedy, The Simpsons is memorable for its humor and satire, and the yellow Simpson characters have also become popular worldwide. If you are a fan of Simpson characters and want to generate a similar one, take advantage of this article on recommended Simpson character generators!
Part 1. What is "The Simpsons" and why is it so popular?
American animated sitcom "The Simpsons" was created by Matt Groening. Since its December 17, 1989, premiere, the program has gone on to air more than 700 episodes, making it one of the longest-running American sitcoms. The Simpson family, which consists of Homer, Marge, Bart, Lisa, and Maggie, as well as their neighbors and other citizens of the fictional town of Springfield, are all followed throughout the course of the show.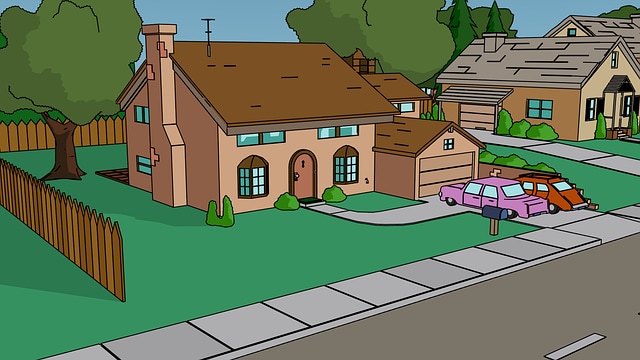 One reason for the show's popularity is its humor, which often features satirical and witty commentary on various aspects of American culture, such as politics, society, and popular media. The show's creators are also well-known for their ridiculous and occasionally controversial humor, which has led to the show's status as a cultural touchstone.
Behind the humor, it also pays tribute to countless movies and events, with a very wide range of elements included. For example, issues related to sexual orientation, race, alcoholism, violence, nuclear radiation, bribery, religious beliefs, etc.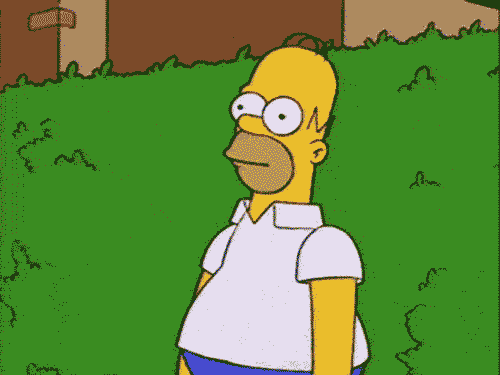 Additionally, the show's characters are beloved by many viewers. From the bumbling but lovable Homer to the precocious and intelligent Lisa, the characters are often relatable and endearing. The show's creators have also developed a wide range of recurring characters, including a host of Springfield residents and various celebrity guest stars, which has helped to create a rich and varied world in the show's stories to take place in. Overall, "The Simpsons" has become a cultural icon, beloved by viewers around the world for its humor, characters, and ability to satirize and comment on various aspects of modern society.
Part 2. How to generate your own Simpson character free?
With the explosive popularity of the Simpsons series, the yellow Simpson character in the animation has also become a sought-after new style. If you want to generate your own style picture, try the following free Simpsons characters creators.
2.1. Two free online Simpson character generators
First of all, the most highly recommended option is online products. Because there are no operational restrictions and you do not require software downloads, their ease of use and user experience will be better. Unfortunately, free online products are rare; the following two are free Simpson character generators that can be used.
Wondershare AILab Free Simpson Character Generator is powered by advanced AI technology, which ensures that your final character looks just like it was hand-drawn by an expert Simpson artist. So, whether you're a show fan or just want to add a unique twist to your social media profile picture, this tool is perfect for anyone looking to explore their creative side and have some fun.
With five different mood options - sad, happy, surprise, fear, and disgust - you can choose the perfect expression to match your Simpson Character. Select your preferred mood, and the generator will automatically adjust your character's facial expression.
PhotoCartoon.net is a free online service that allows you to convert your photos into Simpsons-style cartoons. There are two different Simpson styles here, and you can apply the Simpson style only to the face or the entire image. In addition, there are some custom parameters on the right that you can adjust, such as brightness, contrast, saturation, or hue. You can also add some text to your final image to add more fun.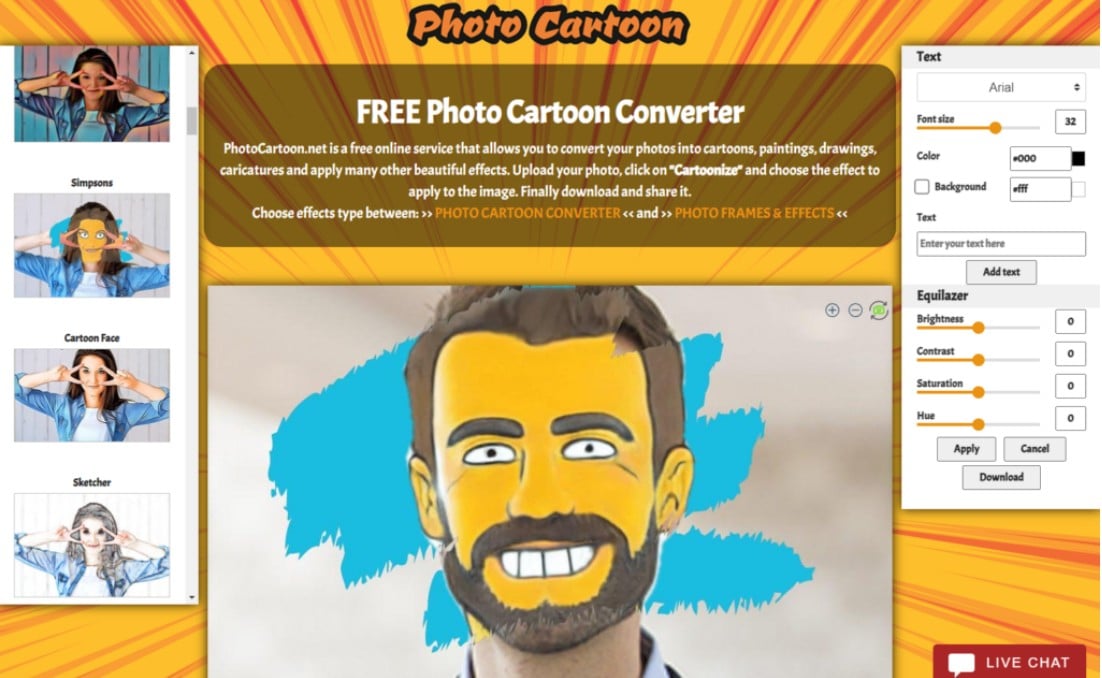 2.2. Two Simpson character generators on mobile
Next are two mobile Simpson character generators that are free. The mobile platform would also be a good choice if you mainly want to use these types of photos on social media.
If you're a fan of Simpsons and Futurama, check out the app that lets you make custom avatars in their style for your family and friends. It's one of the top avatar and sticker makers in the AppStore and Google Play, allowing you to create hundreds of characters with various emojis. Plus, you can share them as stickers on WhatsApp and Telegram.
Compared to the previously mentioned online product that converts your images into Simpson-style, this mobile app completely breaks that limitation. You can choose the character, facial features, hair, and other accessories freely. Furthermore, although it may not perfectly match the image you provide, you can add the crucial elements to create your own exclusive Simpson character.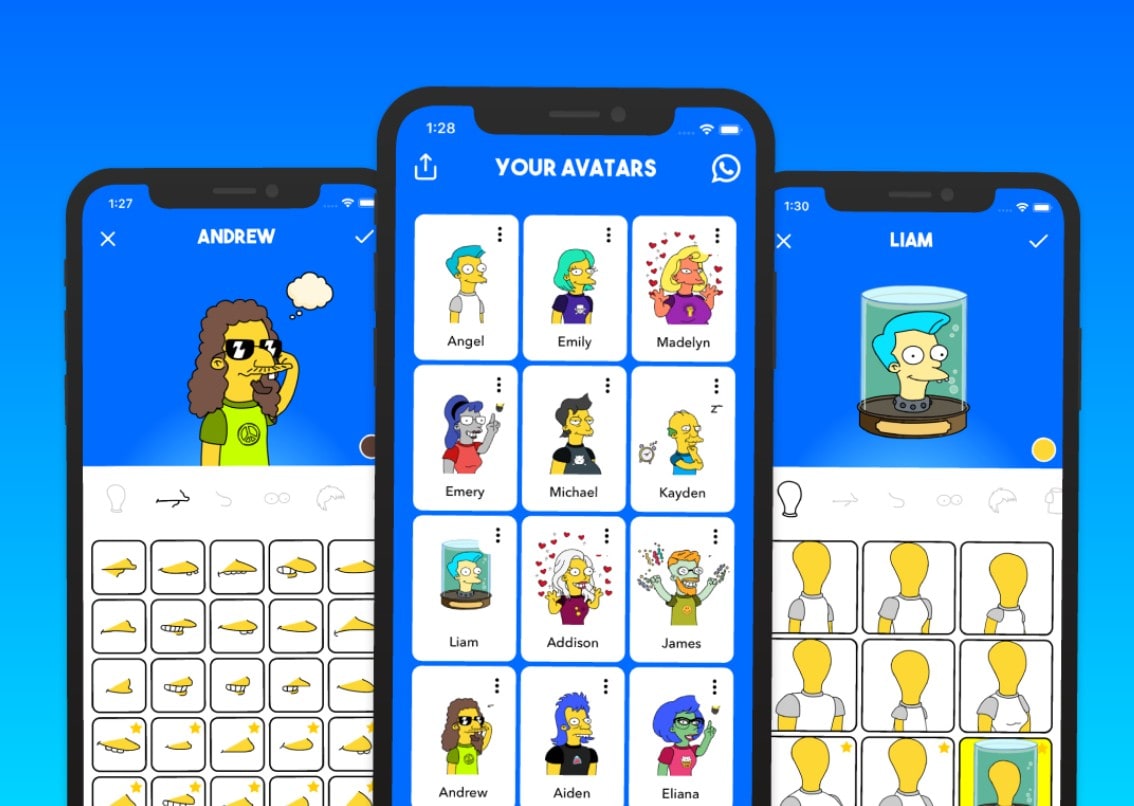 ToonMe is a photo cartoon maker that is only available on Android devices. It offers various cartoonization effects, and the overall operation and principles are the same as the online products mentioned above. However, it is not completely free, as it includes some built-in purchase options. Therefore, you can choose whether to make a purchase based on the desired image processing effect.

2.3. Four paid online Simpson character generator services
A few free Simpson generators are available on the market now, and most of them have relatively simple functions. Therefore, if you like the Simpson style and want to make a picture in that style for yourself or others, you can try choosing a paid online service. These websites satisfy the basic character modeling and also allow you to customize and add more elements or characters. The final image effect will also be better.
Overall, these online services can help you customize a half-body or full-body picture style. If customization is not supported, you can only choose from the backgrounds or elements provided within the service. If you want to directly print the final artwork on clothing or a mug, you might want to try iToonify, as they provide this service directly. If your photo has many characters and you want to preserve the original features of the photo, be sure to try Yellow Simpsons. Not only are they more affordable, but they also offer more options for customizing services.