The trend of AI-generating art has been growing exponentially in recent times. As a result, how we create art and designs is changing as more people are embracing AI art generators to enhance their images or create new AI art.
Indeed, various industries are benefitting from AI technology. For instance, AI generates realistic paintings from abstract art. In addition, the efficiency and speed with which AI algorithms work is to be applauded. More so, AI algorithms are innovative in creating unique versions of any image you upload on an AI art generator.
This blog aims to put you on the best AI art generators you can find online. So, check out the features of each AI art maker to select the best fit for your needs.
01. Top 11 AI Artwork Generators [+ Free]
Nightcafé is a famous AI art generator. It provides users various preset effects to create magical art like paintings, the solar system and universe, anime, etc. It supports all major systems like mobile devices, laptops, or tablets. It is an AI photo-to-art generator, as well as an AI text art generator. It works with the Stable Diffusion model, CLIP-Guided Diffusion, VOGAN+CLIP, and DALL-E 2, in addition to Neural Style transfer image generation models.
Pricing starts from $9.99/month for 100/credits per month (AI Hobbyist) to $79.90/month for 1500 credits per month (AI Professional).
Features:
It allows free AI painting creation and gives you daily free credits to increase your limits.
There are daily AI art challenges that test users' prompting skills, and people get to vote on these challenges.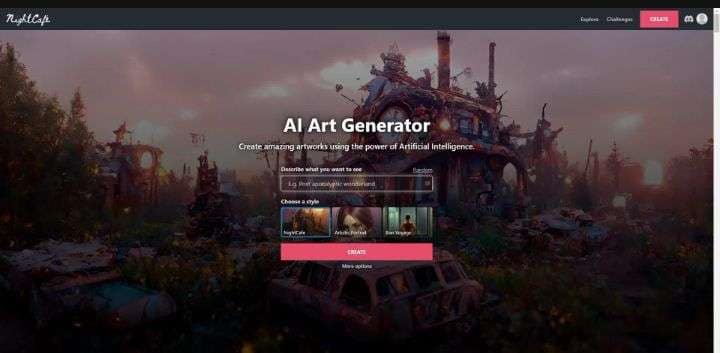 Pros:
It creates AI image art in a few seconds.
It allows free use without sign-up.
Cons:
You must pay some fees to have an AI-generated art image printed for you, separate from the monthly paid version.
You require text prompt crafting skills to use it
Another highly recommended AI art maker is Midjourney for text-to-image art creation online. It uses the Discord bot command to generate artistic AI images from text rapidly. For your first 25 images, Midjourney allows you free usage. After that, however, you need to upgrade to the paid plan, which costs $10/month for 200 images (basic plan) and $30/month (unlimited use).
Features:
The AI-generated images are thought-provoking and eerie or apocalyptic.
It uses third-party servers and runs without lag.
Pros:
It generates high-quality AI images from text prompts.
It is a high-speed tool.
Cons:
The free AI art generation is limited.
To get a resolution higher than its initial 256px, you must spend more points generating your AI image.
DALL.E 2 is one of the AI art from text generators that are free online. It is the improved version of DALL.E manufactured by OpenAI using the end-to-end image generative AI model. It provides 15 free credits (equating to 15 images) every month, after which you have to pay for tokens, the pricing of which begins from $15.
Features:
It supports enhanced image modification using its paintbrush feature.
It allows multiple iterations of a single image.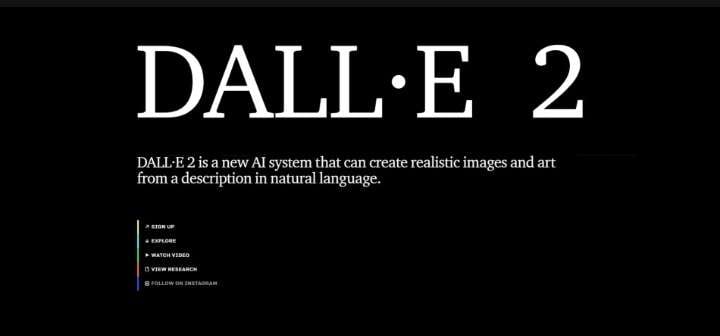 Pros:
You do not need technical skills to use the tool effectively.
It helps design products, new business ideas and create illustrations.
Cons:
You can only enjoy the free trial upon invitation through a waiting list.
More features can only be accessed via the paid version.
Bing is a Microsoft text-to-image AI generator that works online for all systems. It uses the DALL-E model to generate AI images from your text prompts quickly. You can access the site via a browser or your Bing Chat's creative mode. It is a free AI art generator, although you need to pay for boosts. Microsoft gives you 25 boosts which are renewed weekly.
Features:
It uses an advanced DALL-E version to produce high-quality images.
It has free but limited access to users on any good browser.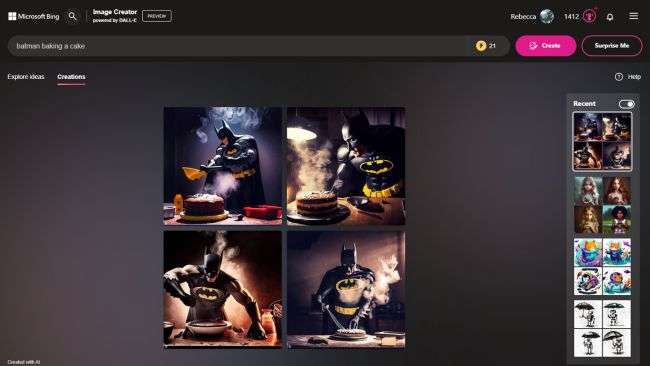 Pros:
You can chat and create artwork on the same platform when you use Bing Chat.
It works at a fast speed.
Cons:
You need a Microsoft account to log on to Bing.
Once your boosts are exhausted, AI image generation takes longer.
The Media.io image-to-sketch generator is a must-have tool for making stunning portrait artwork. Upload an image on the website and let the AI-powered technology turn the original image into a pencil artwork.
Pricing starts from $3.95 monthly (basic) to $6.66 monthly (Pro) if you wish to increase your speed and limits. However, you can use it completely free.
Features:
It provides a variety of sketch effects and styles you can choose from, like postmodern graphic novels, classic pen art, graffiti, etc.
It is a free AI art generator on all browsers online.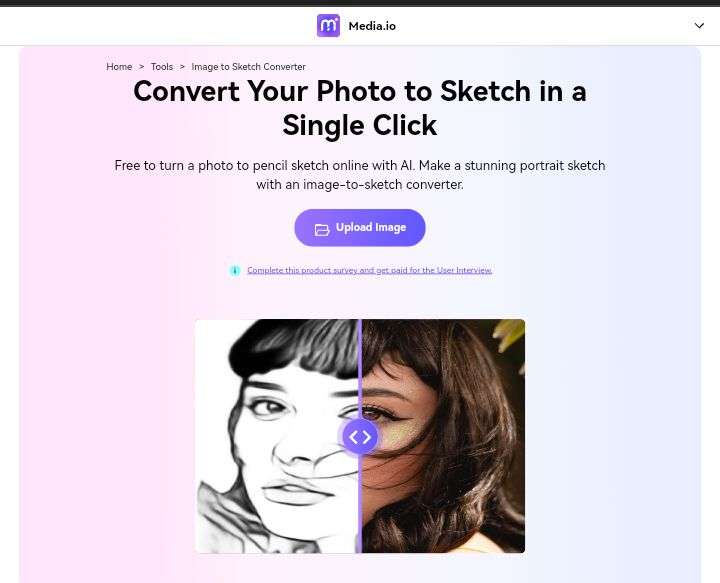 Pros:
It deletes your online data traffic after 24 hours.
It lets you post your art sketches on social media for more visibility.
Cons:
Processing speed can only be increased to 10x faster if you get the paid version.
Features on the sketch can be improved.
Neural Love is a free online AI art generator. It helps users generate AI art images from text and photos in seconds. It uses the NL 0.3 generating machine model to create AI painting art that is encrypted and accessible to only the user.
Pricing starts from $30/month for 300 credits up to $57 for a one-time payment of 300 credits (no subscription).
Features:
It contains different preset styles you can work with, including Fantasy, Nature, Painting, etc.
It allows you to upload over twenty images for free

Pros:
It allows for the commercial use of AI-generated images.
You can access and edit over one hundred preset prompts.
Cons:
The maximum number of free credits you get is 5.
You can only download the square-size output.
Another amazing text-to-image art generator you can count on is the Getimg.ai free AI Art Generator. Bring all your ideas to life by typing in a text prompt in the field provided by this magical tool. It uses over 20 AI machine models ranging from Stable Diffusion to Realistic Vision, RPG, etc.
It offers 100 free credits every month. However, to access more than that, you need a payment plan starting from $12 a month (Basic) to $99 a month (Pro).
Features:
It allows you to generate up to ten images at once.
Using the Image Mixer feature, you can mix or generate AI images.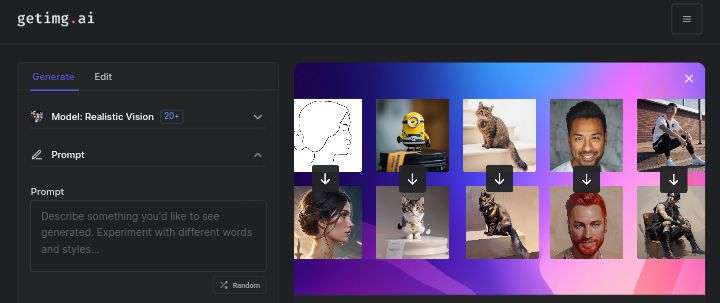 Pros:
It allows you to fill in missing parts of an image or remove unwanted parts.
It is super-fast.
Cons:
Sign-up is required before accessing the free AI art generator.
Support is not prioritized for free users.
This AI image art maker is one of the best for iOS and Android users to create AI images using natural-language text prompts. It uses VQGAN and CLIP machine models to make AI art look like the originally uploaded images.
Pricing starts at $9.99/month, in addition to the paid business API, a beta version.
Features:
It has many predesigned styles, including realistic themes, dream waves, gloom, etc.
It allows you to preview your work.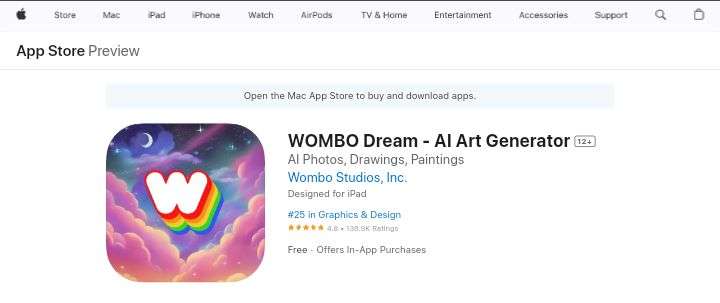 Pros:
The preset prompts and art styles make creating easy for first-time users.
Its prompt history helps you continue from where you stopped in your previous session.
Cons:
It contains in-app purchases.
You need a paid version for unlimited AI art generation access.
Hotpot AI Art Generator is a text-to-image generator that uses powerful AI technology like VQGAN+CLIP, Stability.ai, ERSGAN, StarGAN, Neural Style, etc., to make a masterpiece artwork. It is a free AI art generator you can access online. However, the best way to enjoy this tool is to get the premium version which costs from $10 per month (1000 credits) to $350 per month (35,000 credits).
Features:
It allows for customization of the image's aspect ratio and the number of images to upload.
It has an extensive AI art gallery.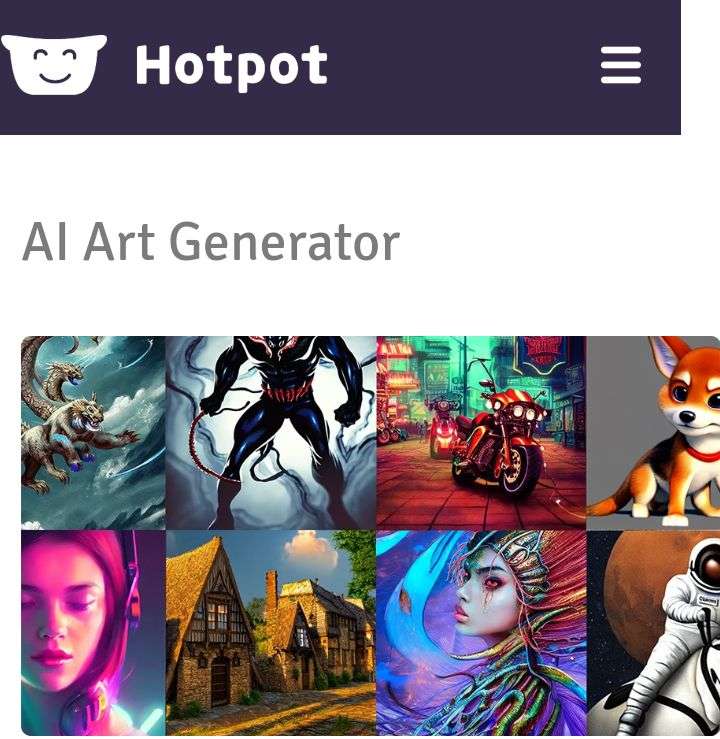 Pros:
It gives ideas and recent AI art creations for inspiration.
It supports AI art generation from your photos.
Cons:
The only way to enjoy faster image generation speed, no ads, and commercial use is by getting the premium version.
Customization is limited.
Starry AI is one of the text's best free AI art generators. It is also a fantastic image-to-image AI art creator, allowing you to upload your photo as a base for your artwork.
It works online and has free apps for mobile devices. It uses Altair (VQGAN-CLIP) and Orion (CLIP-Guided Diffusion) to generate image art from texts and photos.
Pricing starts at $15.99 to increase your limits once the five free daily images are exhausted.
Features:
It contains over a thousand style effects, aspect ratios, and canvas.
It allows five free AI artwork generation daily.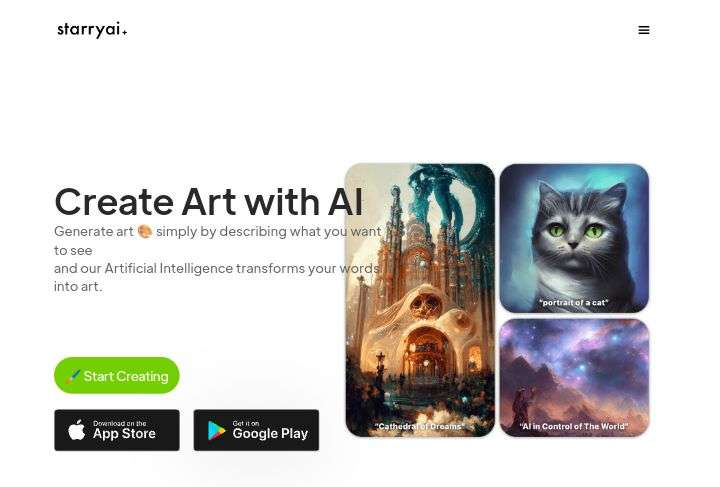 Pros:
It supports customization of the final image output.
You can generate AI images without watermarks for free.
Cons:
You need higher paid credits for higher image resolution.
It only gives you five credits for 25 images.
PicSo is an online AI art generator with free Android and iOS apps. It is a famous text-to-image art maker that uses neural transfer and deep learning AI model techniques to produce stunning images from text prompts. You can generate AI images for free, but your features are greatly limited hence the need for a pro version. The pro version costs $9.99/month or $49.99/year.
Features:
It offers a range of art styles like Octane Render, Virtual Girl, Epic, etc.
It allows you to add effects, filters, and other modifications in the premium version.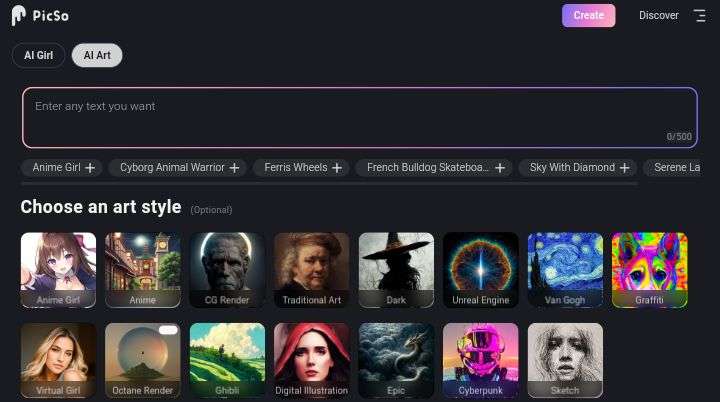 Pros:
Various styles are available, like surrealism, impressionism, cubism, etc.
It has a simple interface.
Cons:
You are only allowed one free upload at a time.
It contains in-app purchases to erase ads.
02. Which is the best AI art generator?
The AI art generators we recommended in this article are considered some of the best online. However, before you decide which AI art generator to use, consider factors like:
The speed of image conversion.
Accuracy of the final output compared to your text description or original photo.
The quality of the final result.
Watermark on the free version.
03. [Bonus] How to level up the AI-generated art image?
To level up generated art images, you can do the following:
Enter effective text prompts using SEO keywords and natural language.
Your prompt should contain at least three to seven words presented clearly.
Enhance the art images quality to 4K: Here is how to do this using Media.io Photo Enhancer:
Step 1: Log on to Media.io Photo Enhancer and upload the AI image you wish to edit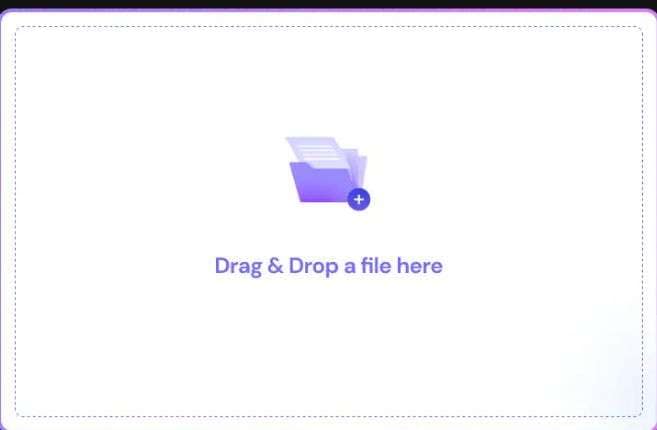 Step 2: The tool automatically works on the image, improving the outlook without changing its original form.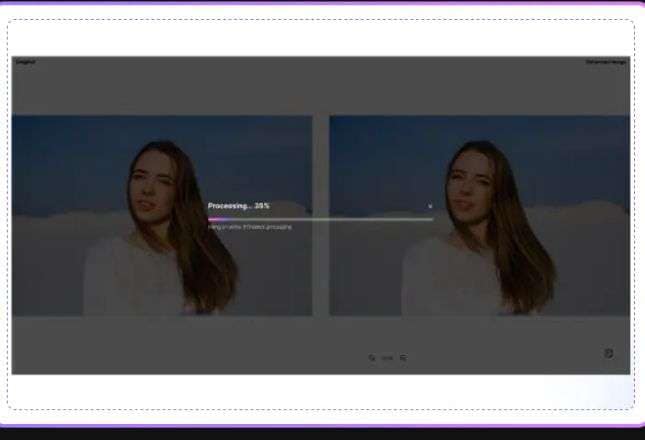 Step3: Preview and download the final result with no watermark.