When you shoot a video in landscape mode (horizontal), you may want to change it to portrait (vertical) and vice versa. That is where the need for video rotation comes in. But, again, suppose your video was shot so that you can't view it properly, whether horizontal or vertical. In that case, you will need a video rotator app to adjust it or rotate the video online.
It is essential to point out that online video rotators have a lot of advantages that will make you choose them instead of using an app. For instance, with the online tools, you do not need to download or install software, you can access the sites on any device, and with a good browser thus, it is the quickest and easiest way to rotate videos.
This blog will show you some recommended tools that you can use to rotate videos online without watermarking. These tools are free, yet they give excellent results, so you have to try them.
Part 1. Top 8 Online Video Rotators without Watermark [Shouldn't Miss]
The tools we have compiled on this list help you rotate videos online with no watermark remaining on the final video output. Moreover, these online tools are free! It is important to state these as some online free tools add watermark to any video you edit on them. The good news here is these tools do not do that.
Media.io Video Rotator is the first online tool we recommend for rotating videos without watermark for free. This tool lets you rotate videos clockwise and anti-clockwise to get the video mode you want. It works well on Firefox, Chrome, Safari, or other internet browsers. You do not have to download software to use this tool.
It lets you change the view of videos to landscape or portrait in 90 or 180 degrees.
There are no licenses or extra money you need to pay for the use of its complete toolbox.
It supports many output formats like FLV, MP4, 3GP, AVI, WMV, and MKV.
You can change video resolution after rotating. The resolutions supported on this online video rotator appinclude 1080p, 720p, 480p, 360p, and 240p.
To rotate video online with no watermark on this tool, follow the quick guide below:
Step 1: Click the "Choose Files" button located at the center of the home page.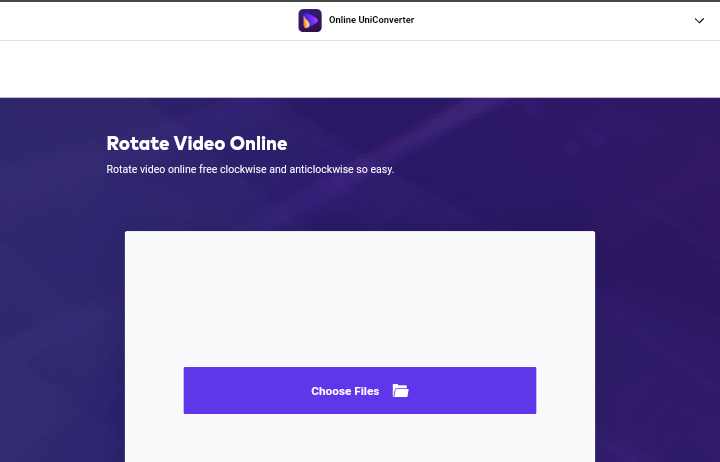 Step 2: Choose to rotate the video clockwise or anti-clockwise until it is positioned the way you want. Also, choose the video output format from the list of formats provided and the video resolution; then click the "Start" button.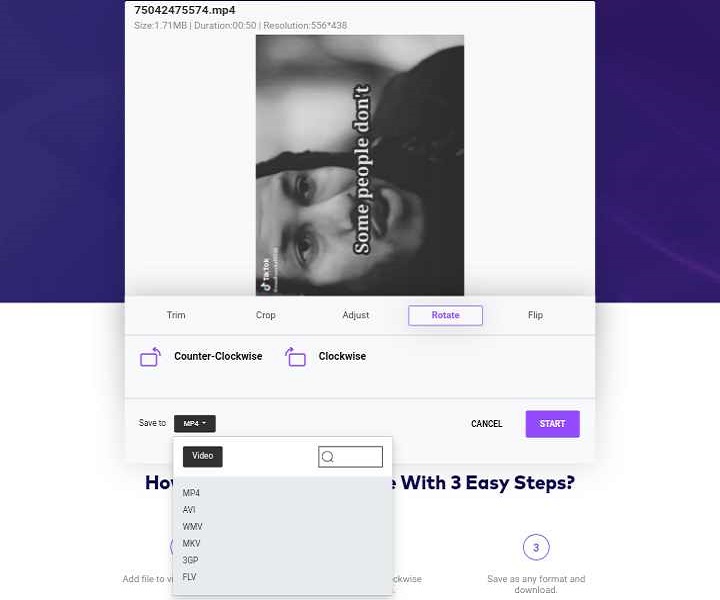 Step 3: Tap "Save" to download the edited video to your device storage.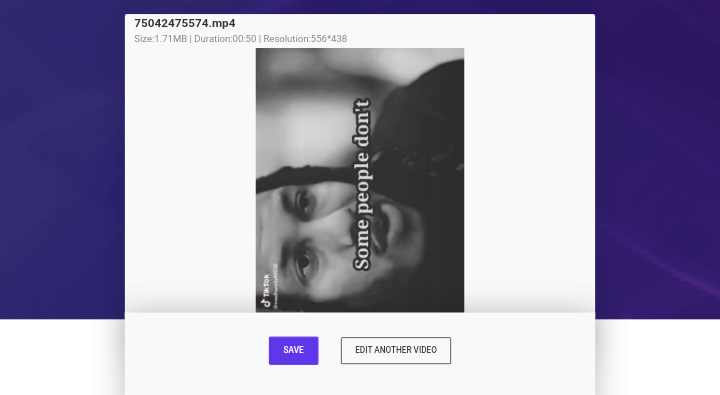 Clideo lets you quickly rotate videos on Android, rotate videos on iPhone, and online, all for free. Moreover, it does not impose a watermark on the video you rotate when you finally download it. It is a fast tool as video rotation can be done within seconds. Clideo is an entirely web-based tool. Therefore, there is no need to download software to use it. Moreover, you can upload video files 500MB maximum on this free online editor.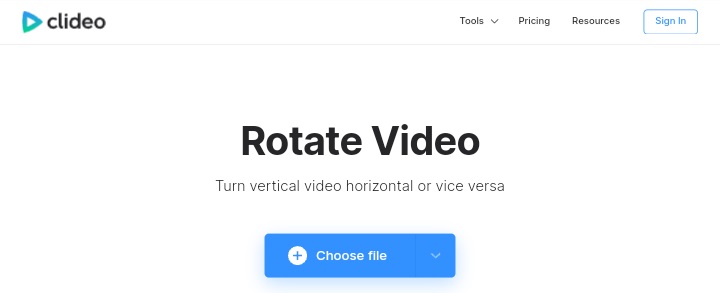 It supports uploading popular file formats, including WMV, AVI, MP4, MOV, etc.
Your online data is highly secured as files are deleted from the Clideo servers to prevent others from gaining access to them.
You can use an additional conversion feature to change video file formats before processing the rotation.
RotateMyVideo is an online video rotator app that helps you change the placement of your video if you accidentally shot it sideways or upside down. You can pick the video you want from your device storage, rotate the video in a few seconds, and save the result. The output video does not come with a watermark; thus, RotateMyVideo.Net is a top recommended tool to flip videos online without a watermark.
It is a free online service that anyone can freely use.
You can choose the aspect ratio and let it automatically rotate to that setting.
You are allowed to share the video directly on social media platforms like YouTube and Facebook.
Video2Edit is a powerful tool for online video rotation without a watermark. It helps you flip videos online without a watermark, rotate to the right or left, or mirror the videos vertically and horizontally. It is web-based and easy to navigate, although it is a powerful tool.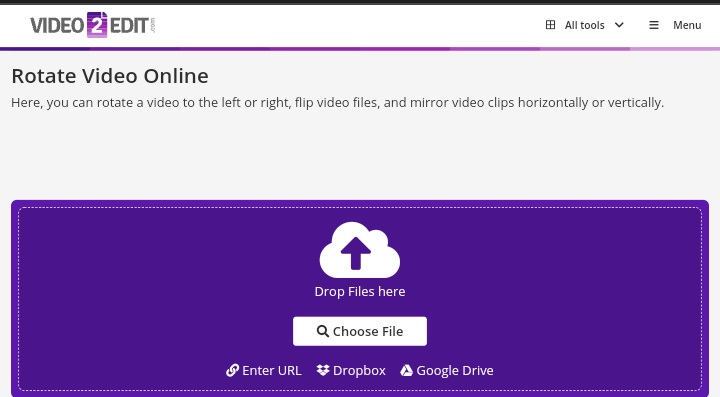 It supports uploading videos from Google Drive, Dropbox, or via the video URL copy and paste.
There are diverse video format options to choose from when converting the video before you process; these formats include WebM, FLV, 3G2, WMV, OGV, AVI, MP4, and so much more.
You can flip videos or rotate clockwise or anti-clockwise using the preset degree ratios. That means that this tool gives you several video rotation options.
Another recommended online editor you can use to rotate videos online without a watermark is Ezgif. Ezgif has a variety of functions in its toolbox, including video rotation, cropping, resize, cutting and merge, and so much more. For example, the video rotation feature lets you upload video files of 100MB maximum for free, then rotate the video without a watermark. Thus, if you shoot a video using the wrong orientation, you can rotate it vertically or horizontally to adjust it.

It supports video formats like 33GP, AVI, MP4, WebM, MPEG, FLV, etc.
You can copy and paste the video URL you want to rotate on Ezgif.
There are preset degree ratios you can choose from to rotate videos either clockwise or anti-clockwise automatically; these include 90 degrees, 180, and 270 degrees.
Invideo is an exciting online video rotator app that gives you access to the various elements on your video so that you can rotate them individually to align the way you want. It is a free online video rotator without a watermark. You can upload MP4 and GIF videos on this tool and videos in OGG, WebM, and MOV formats. Once you sign up for the website, you can launch an editing canvas and upload videos to be rotated on it.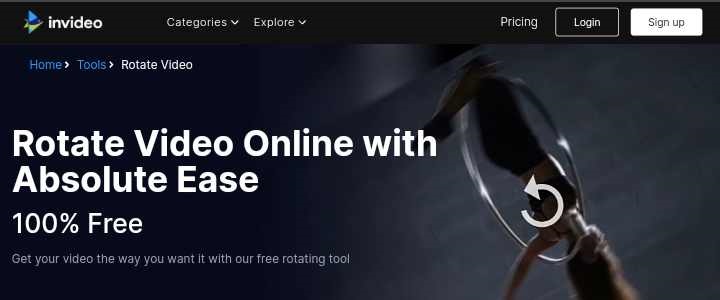 It is a hundred percent free; you are not required to pay for extra features or licenses.
It maintains the original high quality of video files uploaded on the site.
It allows you to rotate the different clips added to your editing canvas separately.
You can flip videos horizontally or vertically, rotate videos online in clockwise or counter-clockwise motions using the efficient Resizegram. It is an online tool we recommend for you to rotate videos online without a watermark. Furthermore, it is a free tool that quickly processes videos on any good browser across all platforms. Therefore, if you are using Mac OS, Windows, Android, or iPhone devices, Resizegram has got you. Plus, you don't need to register to use it!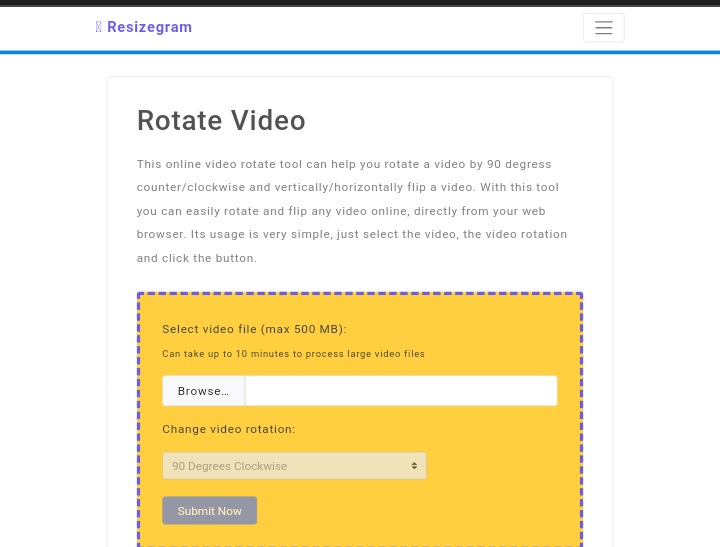 It supports the uploading of 500MB max video file size. Note that for large video files, the process can take more minutes.
Video rotation can be done by 90 degrees or 180 degrees clockwise or counterclockwise.
It provides online security as all processed files are deleted from the tool's servers a few hours after processing.
The final tool we recommend to rotate videos online without the watermark is the Apowersoft Free Online Video Rotator, which helps you rotate videos in seconds. It is the ideal tool to rotate videos to a resolution fit for Snapchat, IGTV, YouTube, etc. In addition, being an online service, it does not require software download or installation before you can use it.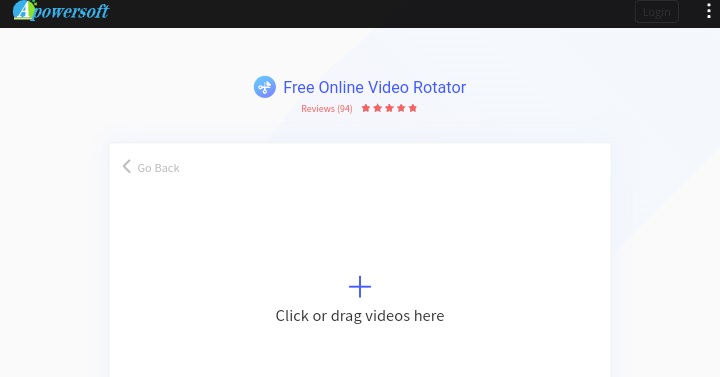 Beginners find the tools simple as the interface contains guidelines for uploading and rotating videos.
It is entirely free!
It is safe and secure as your uploaded data gets deleted from the servers twenty-four hours after you have processed the video.
Part 2. How to Quickly Rotate a Video Online for Free over 1GB [No Watermark]
The above online video rotator apps are excellent choices for efficient video rotation without watermarks. However, these online tools are more suited for small-sized videos, as you have noticed from their maximum file size limits mentioned above. That is why you need offline desktop software like Media.io's UniConverter.
Media.io UniConverter software for desktop is a professional app that helps you edit large-sized video files without an internet connection. It is free and easy to use even though it is a professional tool. It supports batch rotation of videos and is compatible with Windows and Mac Operating Systems. Once you download and install the software on your computer system, you can always quickly edit videos on it. In addition, it is 90x faster than the online version, even with large files.
Follow these steps to rotate videos on Windows 10 and Mac with the Media.io's UniConverter software:
Step 1: Import the video file you want to rotate on the installed software.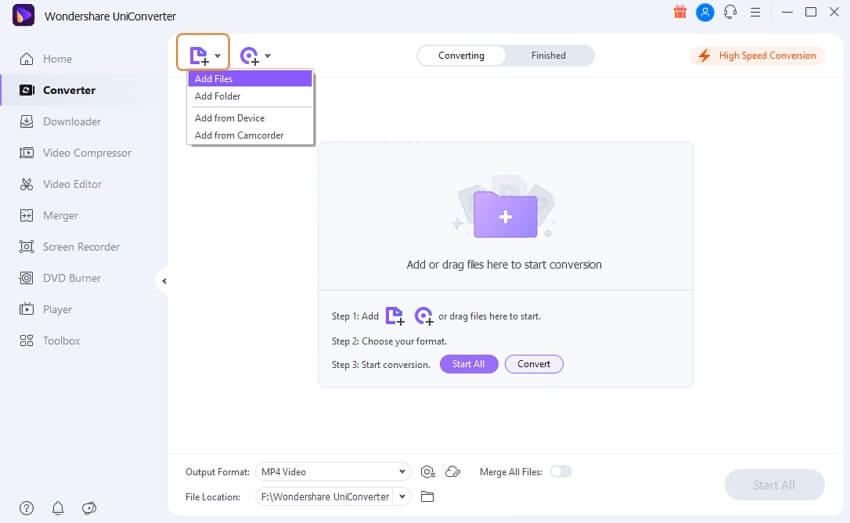 Step 2: Choose the "Crop" button and choose the one that best suits your preference from the four rotating options. These options include 90 degrees clockwise rotation, 90 degrees anti-clockwise, horizontal, and vertical rotations. Select "OK".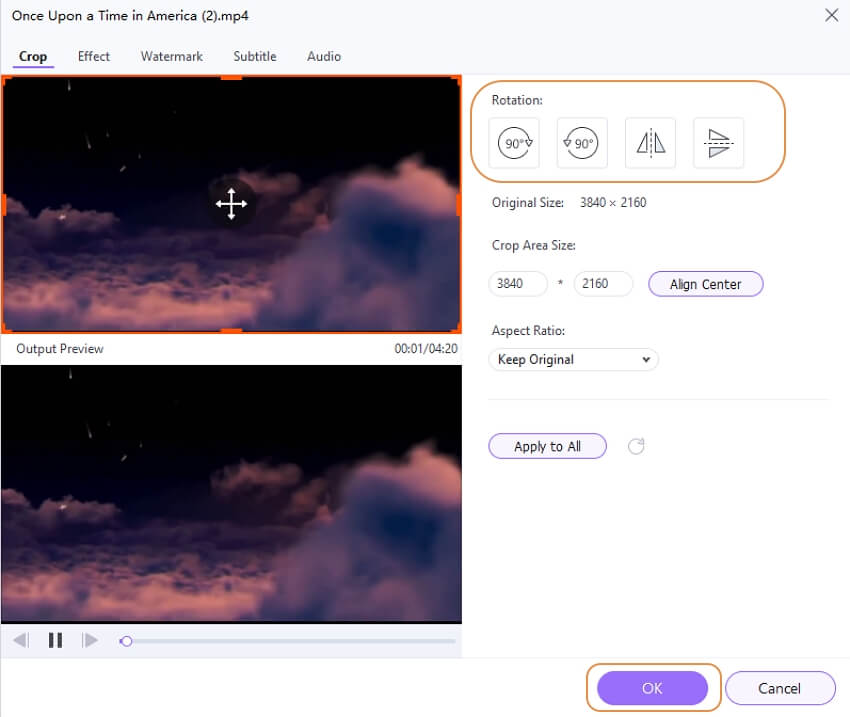 Step 3: Choose the video resolution under "Setting".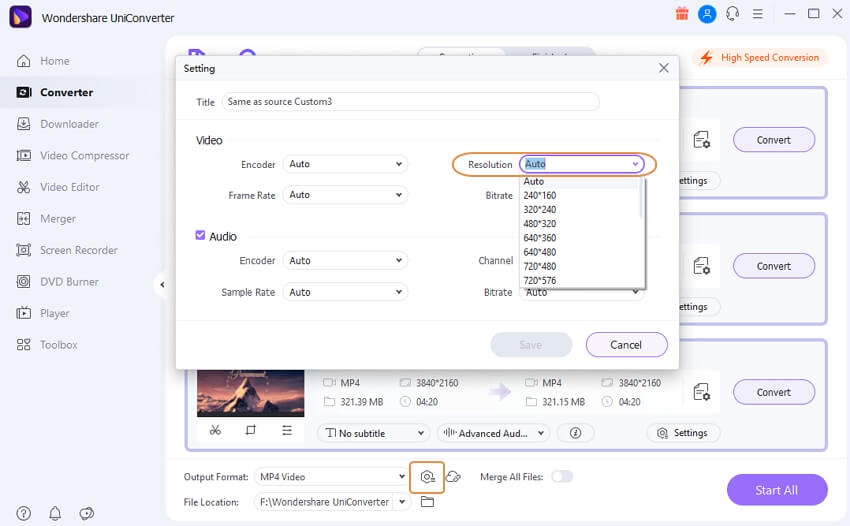 Step 4: Click "Start All" to rotate the video and apply the edits. Ensure the video is saved to a specific location using the icon beside "File Location".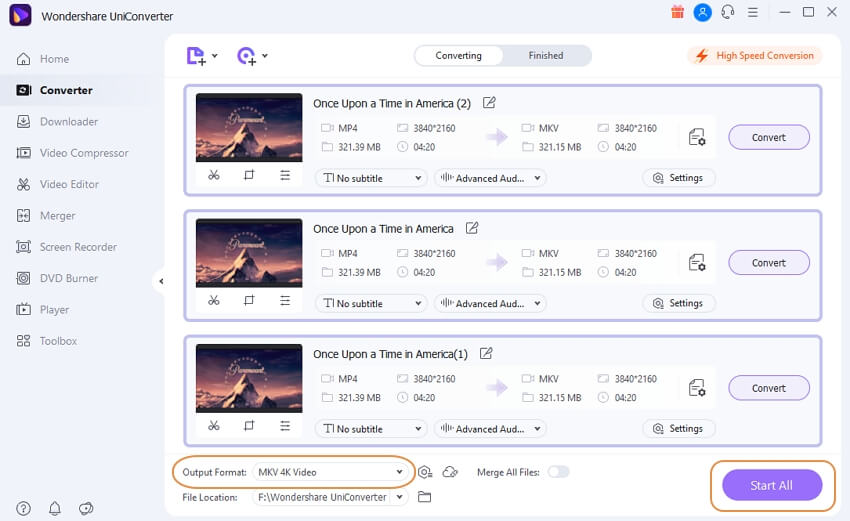 Conclusion
There are many editing tools users can access online for video rotation. Unfortunately, most of these tools come with a watermark on the final videos, which is not palatable for many users. That is why it is essential to get a video rotator app that does not include a watermark on the final video output. This blog has brought the best tools you can use to rotate videos online for free and without watermark. In addition, you can use Media.io's desktop video rotator app for larger file size processing.