Videos can be too large for uploading to sites or sharing with friends and viewers. That is why you need to reduce the video size you want to upload. Unfortunately, many compressor tools leave a noticeable watermark on videos after compression. Thus, finding a free video compressor without a watermark may be difficult. Fortunately, also, you can remove watermarks from such videos using the Media.io watermark remover online tool.
This blog will show you the best ways to compress videos online without a watermark. The top recommended video compressors online can be done online with no watermark.
Part 1. The Easiest Online Video Compressor without Watermark - Media.io
The first online video compressor without a watermark we recommend to you is the Media.io Video Compressor to reduce video file size quickly. It is a fast and reliable professional way to compress video for free with no watermark. It lets you compress videos of different file formats such as MP4, WebM, AVI, MKV, 3GP, WMV, etc., on different web browsers. These video files can be customized to a specific output format, resolution, and size for easy sharing and uploading. You can share the compressed video files via Email, WhatsApp, Facebook, YouTube, Instagram, etc.
The main features of Media.io Video Compressor include the following:
It compresses videos with no Watermark left on the final video output.
It produces high-quality videos even after compression. Thus, the video quality is not lost after you have used this online compressor.
It allows you to batch-process videos of large sizes into smaller sizes.
It supports big video files sizes of up to 500MB for free compression. However, if you wish to upgrade the file limit from 500MB, you should get the paid premium version of this online tool.
This tool can be used on different platforms without downloading or installing software; such platforms include Mac OS, Windows PC, iOS, Linux, and Android mobile devices.
If you wish to use Media.io Video Compressor to compress video online for free without watermark, follow the steps below:
Step 1: Go to the Media.io Video Compressor website and select "Choose Files" to upload the video you want to compress from your device storage, Dropbox, or Drive.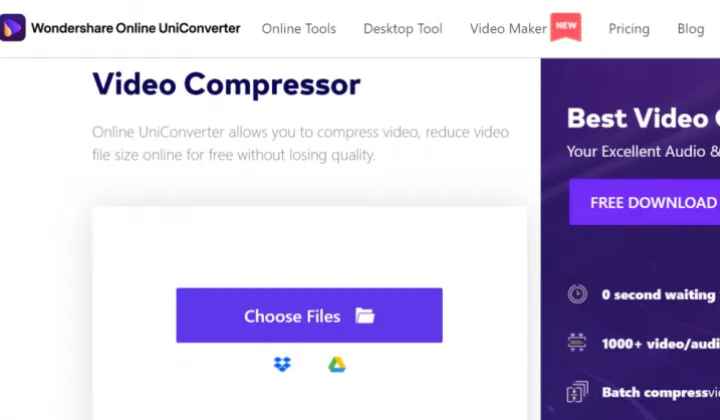 Step 2: Choose the video from 240p to 1080p and choose the compression level you want for the video measured by percentage reduction. Now click "Compress."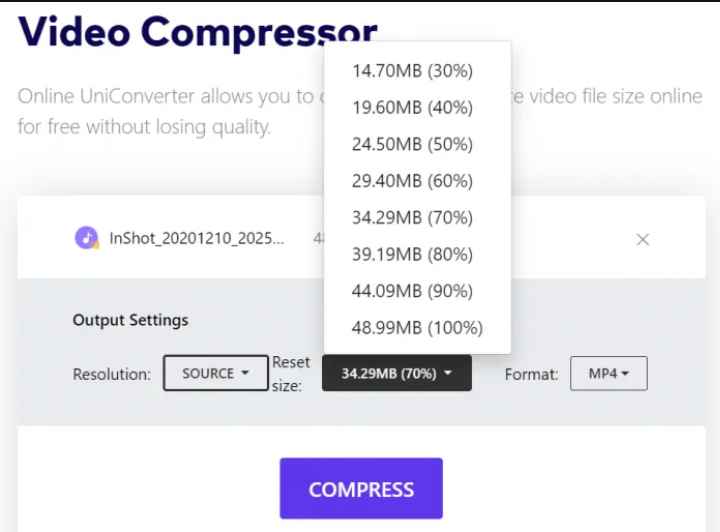 Step 3: Once the video is compressed, you can click "Download" to save it to Dropbox or your Google Drive.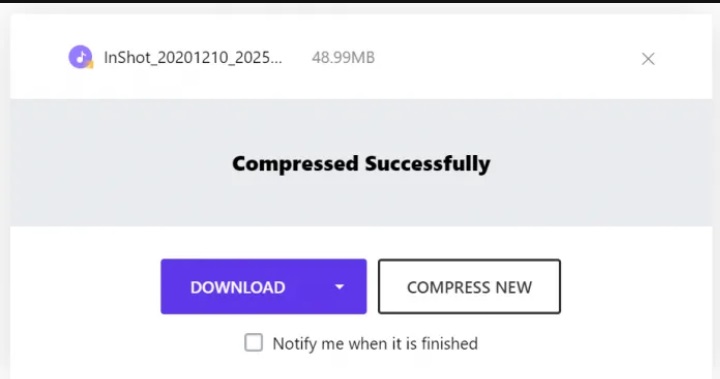 Tips: Here are some extra file compression tools you may need, as provided by Media.io:
Audio Compressor: Upload large audio files on this tool to reduce the size and make it easy for you to speedily work with the file and share it amongst friends and viewers.
Image Compressor: You can resize images online and for free to suit your preferences and maintain the original quality of the photos. It works with GIF, JPG, BMP, and PNG image formats.
Part 2. Other 9 Free Video Compressors to make your Video Smaller with NO Watermark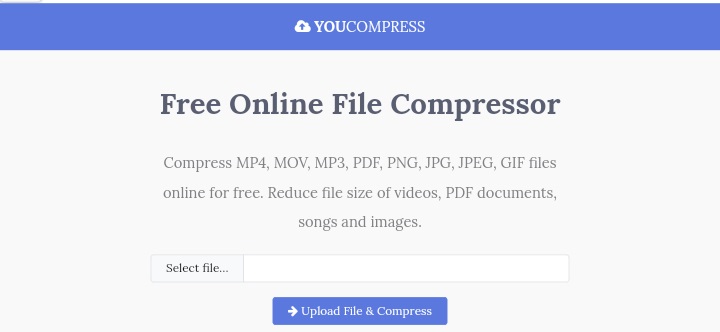 YouCompress is a free video compressor online without a watermark that you can rely on for quick results. On this site, you can upload video files of different formats such as MOV, MP4, including other files like JPG, PNG, JPEG, GIF, image files, or even MP3 audio file format. It is indeed an all-in-one online compressor ideal for your large video files to be reduced without stress. Furthermore, you can compress as many files as possible without fear of file size limitations.
You can access this tool on any suitable web browser and device, then compress files in one click. That means that you need to upload a file to use this tool, and it compresses automatically. Next, download the compressed video file to your device, and that is it.
A significant downside to this online compressor is that many interrupting ads pop up on the site when navigating or processing videos. Another issue is that it has a limited number of supported file formats, and a significant file format like MOV is not supported on this tool.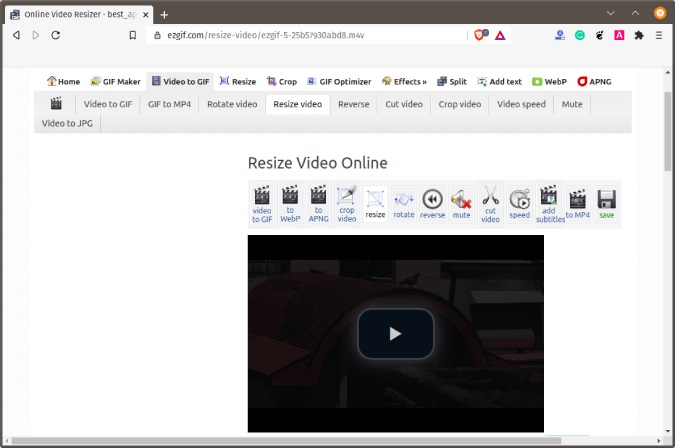 Ezgif is an online video compressor that comes with no watermark. It allows you to optimize compressed videos through quality maintenance, output format, file resolution, and file size. You can reduce the video file size even down to half of the original file size. In addition, it contains extra editing features such as video trim, crop, speed adjustment, and resize functions.
To use Ezgif free video compressor without a watermark, choose a file from your device or copy-paste a video link to the site. Then, use the "Video Resize" segment to reduce the video size to a preferred size and download the final output.
The downside of Ezgif is that it has a maximum file size of 100MB. Fortunately, you can overcome this issue with free online tools by using our recommended Video Converter Desktop software which lets you upload huge file sizes offline and compress them to small sizes.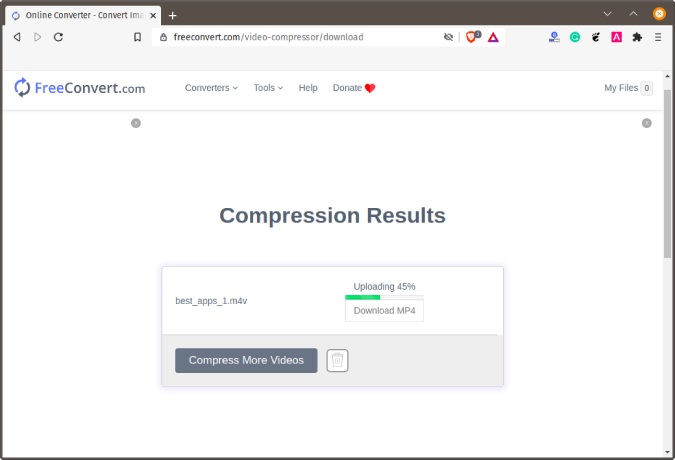 Another exciting video compressor tool is FreeConvert Online Video Compressor. This tool allows you to decide the type of video compression you want to do before you do it. This video compression can be based on quality, size, or bitrate. You can also choose the output format of the video after compressing the file size.
Select the "Choose Files" button to add video files up to 1GB. You can also add files from Google Drive, Dropbox or copy and paste the video URL in addition to uploading videos from your device. Once this is done, you get to choose the compression type, process the compression, and save the result to your device.
The downside of the FreeConvert online tool is that its user interface is filled with interrupting ads that slow down the conversion speed.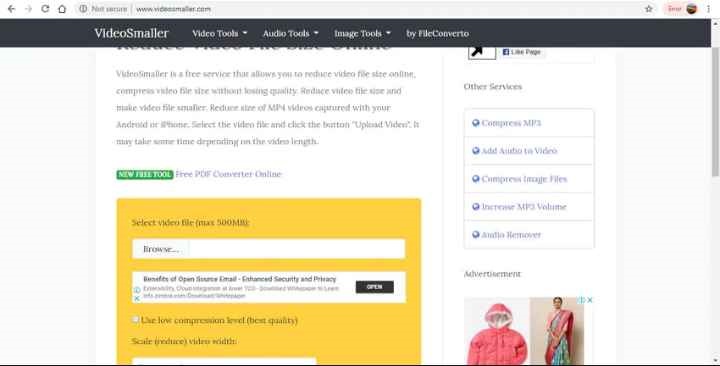 Another way to compress video online for free without a watermark is with VideoSmaller online tool. This tool works with all the popular video file formats and produces high-quality videos. You can compress videos that are 500MB in size or less. You can also choose the same video width as the original video or use one of the other scaling options to readjust the video. To use this tool, click on "Browse" to search your device storage for the video you want to compress and save the compressed video after processing.
The downside of this tool is that there are limited options to adjust the parameters of the video file. More so, you cannot upload video files that are more than 500MB in size. However, with an app like Video Converter Desktop, you can upload files over 500MB, considering an option.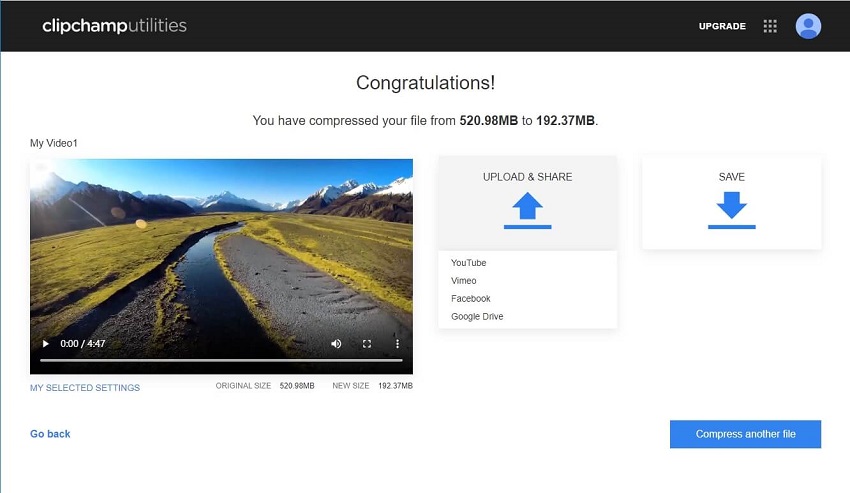 ClipChamp Video Compressor without the watermark is a free tool that works on all internet browsers on all platforms and devices. It is simple to use for quick video compression. There are four output profile formats available on ClipChamp with preset settings you can choose from, including Mobile, Animation, Web, and Windows. You can compress files without losing quality on this tool. There is also a trimming option to cut out unwanted video parts before downloading them to your social media or device storage.
To use ClipChamp, drag and drop the video file you want to compress on the site. Next, choose the compression settings and video resolution, then compress it and save it to your devices.
The downside to this tool is that you need to log in to use the tool for video compression.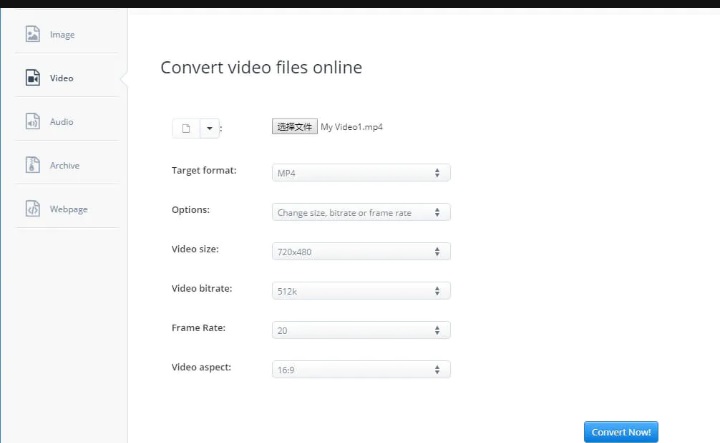 AConvert is a straightforward online compressor that you can use to compress videos, PDF files, and Word documents for free. The video output formats available on this tool include MP4, MOV, or AVI. In addition, there are several preset resolutions to choose from, including bitrates.
Follow these steps to compress videos for free with no watermark using the AConvert online video compressor: upload the video using a URL from Dropbox, Google Drive, choose the video settings, click "Convert Now!" and save the video from the "Conversion Results" section.
Unfortunately, you cannot compress videos more than 200MB with the AConvert online video compressor without a watermark. More so, batch compression of videos is not supported on AConvert.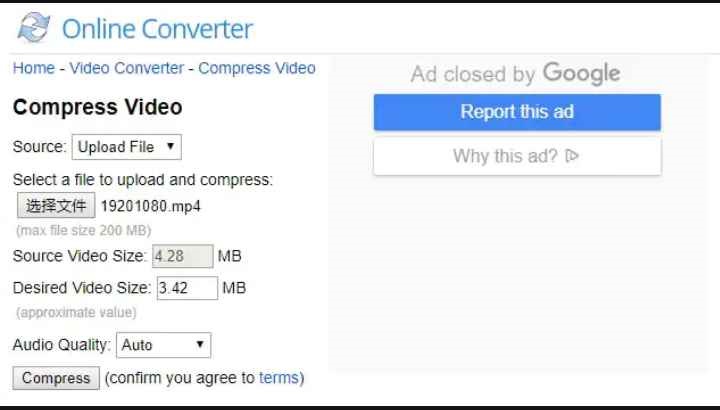 Online Converter is a free online video compressor with no watermark that works with file formats like AVI, MOV, FLV, MP4, 3GP, etc. Using this tool saves space on your device, making video file sharing and editing more manageable than with a large video file. In addition, with Online Converter, there are other editing options such as video rotation, cutting, merging, video stabilization, speed adjustment, etc.
Select a video file, click the "Compress" button, and produce the compressed video for saving.
The downside to using AConvert is the file size limit of 200MB for free conversion. Also, it does not support the compression of encrypted video files, and it does not let you choose the output format of the video as the output format is set as MP4.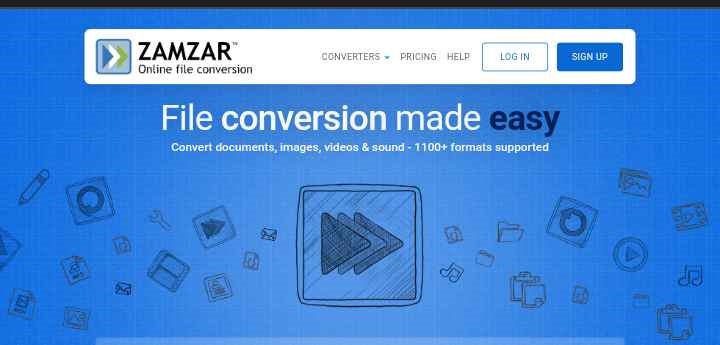 Zamzar is an online file conversion and compression tool that compresses videos, images, audio, and other documents for free. It lets you compress files of different MP4, AVI, and MOV formats. It is convenient to use online without software downloading.
To use Zamzar, click "Add Files" to upload the video file from your device storage or drag and drop the file. Next, select the format to "Convert to," and finally, choose "Convert Now". After compressing the video, you can edit or use it on YouTube, Smartphones, Vimeo, and other platforms.
Zamzar has one of the smallest maximum file sizes of 50MB; hence, you can only use this tool to compress videos that are not too large. You need to pay a subscription that starts from $9 a month to increase the file size.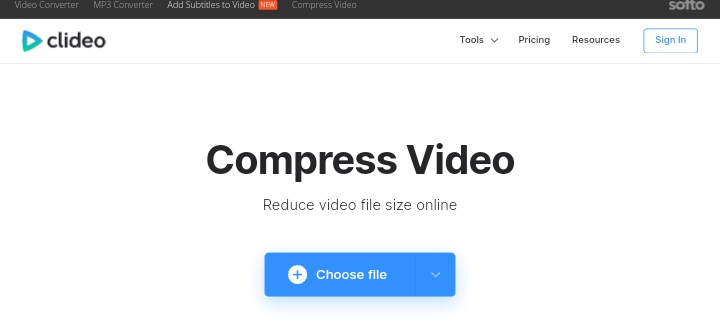 The last online video compressor without a watermark we recommend is Clideo Video Compressor. It helps you reduce large video files quickly and preserves the file quality as much as possible. It has a simple user interface that can be navigated even without previous training. When you upload the video you wish to compress on Clideo, choose the compressor button, then download the final output video to your device storage. After compressing the video file, you can preview the result before saving it to your device. With Clideo, the maximum file size you can upload is 500MB.
In addition, Clideo online video compression tool does not let you choose the output format as the process is automatic. Also, to compress video without watermark using Clideo, you need to pay for the premium version for $6.00 per month.
Part 3. FAQs of Compressing Video Online without Watermark
1. How do I compress a WhatsApp video without a watermark?
Media.io Video Compressor is an excellent tool to use in compressing WhatsApp videos. The steps below will guide you:
Upload the video file to the site.
Reduce the video size after customizing the file size, output format, and bitrate.
Download the compressed video without a watermark.
2. How do you remove a watermark from your compressed video effortlessly?
Some Windows and Mac system users may use famous video compressor software that would effectively compress huge video files but add watermarks to these compressed videos. You can use our highly recommended Media.io Watermark Remover to remove these watermarks if you are in this category. Follow the steps below:
Add the video file you want to edit.
Select the area containing the watermark, highlight it, and click "Remove Watermark".
Save the final result.
3. How do I compress a video file over 1GB?
Most online free compressors do not let you compress videos over 1GB. Hence, using software like Media.io desktop watermark remover is recommended for effective results.
Here is how to use this software:
Add the large video file you want to compress on your computer.
Reduce the video file size and do any further edits you want to do.
Save the video on your PC.
Conclusion
Video compression in 2022 has been made easy with the guidelines in this blog. The video compressors we have recommended will help you freely compress videos online without a watermark. Use the review on these tools to choose which ones suit you best in any situation.