Several times, the need arises when you wish just to have the acapella from a song and remove the instruments and the music part. The task sounds daunting and time-consuming, and it can be so if you do not have access to the right tools. Though there are several audio-based softwares and plugins available, most of them have a steep learning curve or are complicated. So, if you are looking for a simple yet workable solution to extract acapella from a song, we recommend online tools as the best option. Check out the list of the top tools in the category from the following parts of the topic.
Part 1: One-click to make a song acapella using Online UniConverter
When it comes to convenience, quality, and quick process, Online UniConverter Vocal Remover is the best option. This online tool does not have any hassled software download or installation process and works straight from your browser. Using AI technology, the tool can extract acapella or the music as needed for any song with just a click.
Online UniConverter has a long list of functions under its umbrella, and this newcomer further adds to the utility list.
Key features of the tool:
Free to use online tool.
Files can be added from the local system, Dropbox, Google Drive, and YouTube.
All popular music formats supported like MP3, M4A, WAV, OGG, and others. Also, support video formats like MP4, MOV, MKV.
Files up to 100MB can be added.
Preview of the extracted file before downloading.
Support other additional features like audio cutter, joiner, converter, and more.
Isolated high-quality vocals and lyrics.
One-click process based on AI.
Steps on how to get an acapella from a song using Online UniConverter Vocal Remover:
Step 1. On your browser window and launch the acapella tool.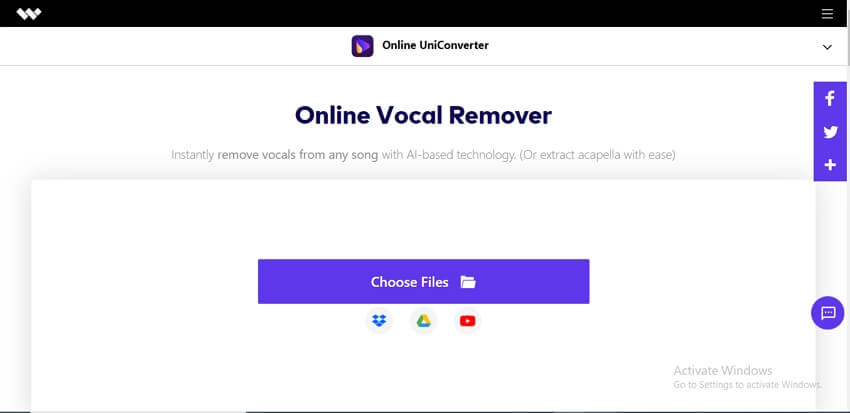 Step 2. Click on Choose Files button to browse and import the local music file. Alternatively, add the file from the cloud storage and YouTube via URL.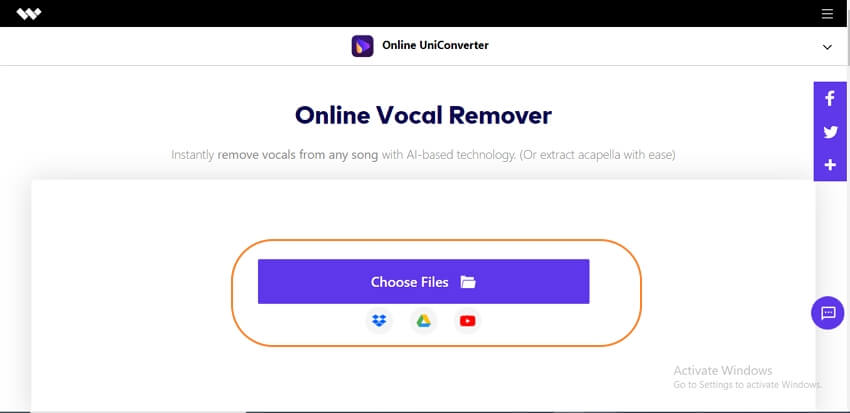 Step 3. As the file is added and uploaded, the acapella creator will automatically start processing the file. The Instrumental and the Vocals will be separated and downloaded to your computer or saved to the cloud storage.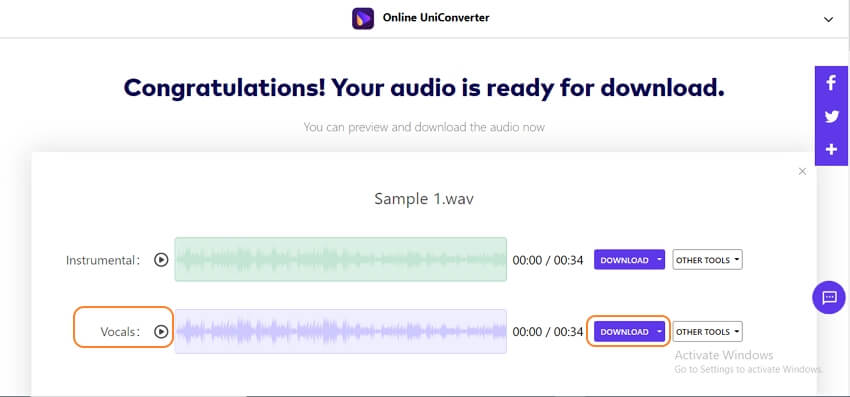 Note: At the Other Tools tab, you can use the Audio Cutter and Audio Joiner function if needed.
Online UniConverter Vocal Remover is a simple and quick program to extract acapella from a song.
Part 2: Other 5 fast ways to get acapella/vocal from a song [FREE]
If you need to check out a few more options to get the vocals from a song for free, the below programs can be considered.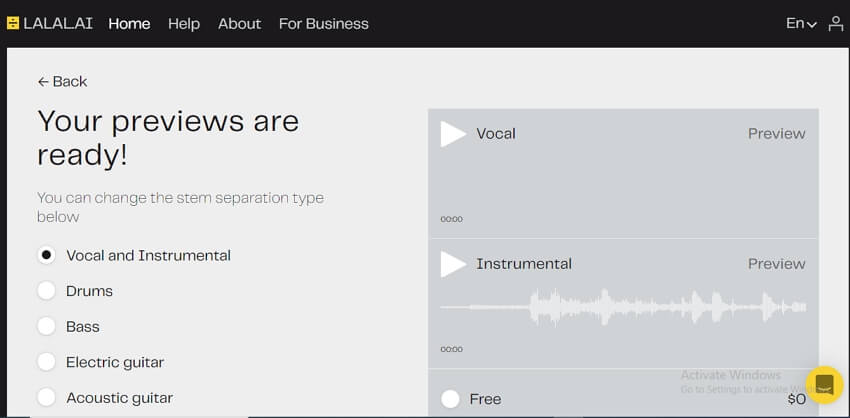 Based on AI-powered technology, this online tool can extract the acapella, accompaniments, and instruments from a song. The free version allows uploading files of up to 10 minutes and 50MB in size, and the supported formats are MP3, OGG, and WAV. For larger files and expanded format support, you can upgrade to the paid version.
Devices Available: Windows and Mac
Steps on how to turn song into acapella:
Step 1. Launch the tool on your system browser and click on Select File to add the song.
Step 2. As the file is uploaded, the process to separate vocals and instruments will start. You can even choose to separate the instruments from the supported list if needed.
Step 3. The separated vocal file will preview and saved to the local system.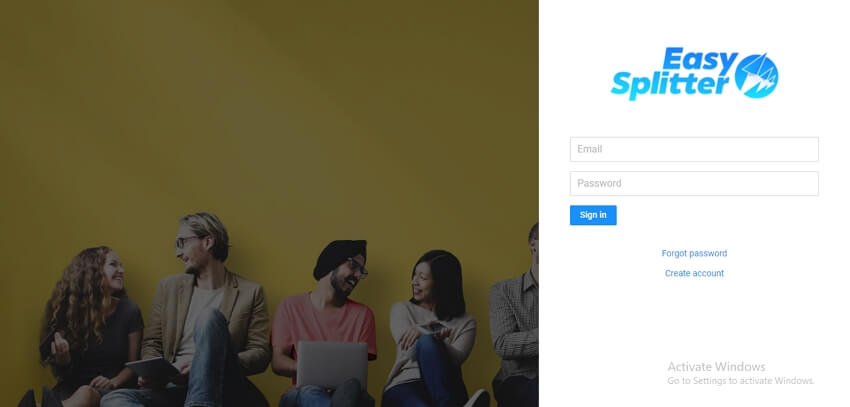 To extract the vocal, instrumental, bass, and drums, this is a good tool. Apt for the singers, DJs, music arrangers, and other music lovers, the tool is available to be used through a web browser and on mobile phones through an app. Up to 5 songs can be processed for free with it, after which you need to purchase a plan as per your requirements.
Devices Available: Windows, Mac, and mobile phones through the app
Steps to how to extract acapella from song online:
Step 1. Run the online acapella maker and click on Start Splitting to create a free account.
Step 2. Once the account is created, add the music file from your system.
Step 3. The tool will start working and isolate the acapella that can be then downloaded to your local system.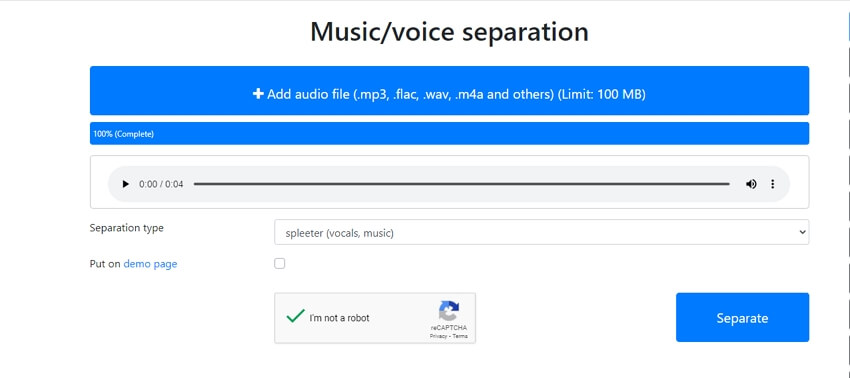 This online music and voice separation tool will let you extract acapella in a simple, quick manner. You can add MP3, FLAC, WAV, and other common formats of up to 100MB to the tool for processing.
Devices Available: Windows and Mac
Steps to make a song acapella:
Step 1. Run MVSEP and click on +Add audio file to add the song file from your system.
Step 2. After adding and uploading the file, choose the separation type (spleeter – vocals and music).
Step 3. Click on the Separate button, and the tool will start processing to extract the vocals. Once the process is complete, you can download the acapella to your local system.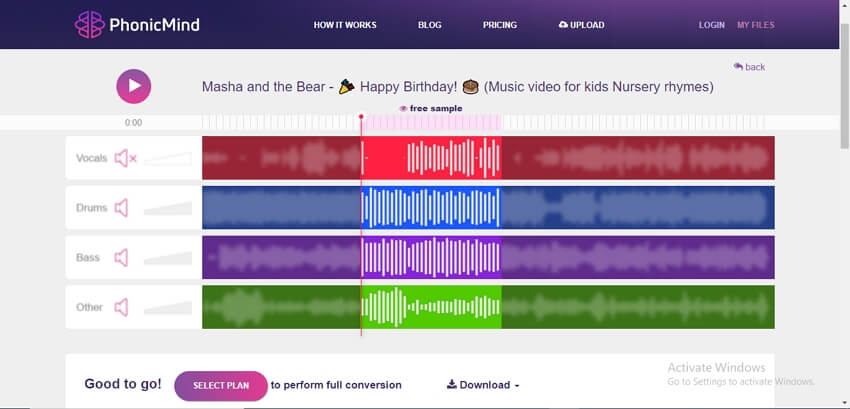 Supporting mp3, aac, wma, flac, wav, and aiff formats, this online tool adds music files up to 100MB and extracts the acapella and instruments using AI.
Devices Available: Windows and Mac
Steps to create acapella from a song:
Step 1. Run the online PhonicMind and click on LET'S GO!.
Step 2. Next, browse or add the music file or simply drag it to the interface.
Step 3. The added file is processed, and the interface will show the extracted vocals, drums, bass, and other parts. You can check and download the desired part to your local system by clicking on the Download button.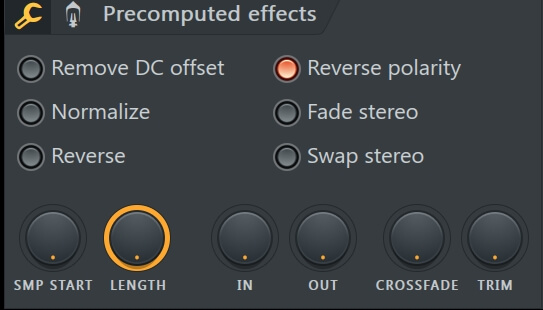 Using this tool, you can extract the vocals and instruments from a song or a music file. For first-time users, the tool can look complicated to work with and requires an understanding of the process and working.
Devices Available: Windows and Mac
Steps to rip acapella from a song:
Step 1. Open the tool on your system, then find the song file that you wish to process.
Step 2. Next, you need to line up the beat and the instrumental in the playlist.
Step 3. You now need to reverse the polarity, which can be either the original track or the instrumental.
Part 3: Pro tip to get free acapellas without acapella isolator
If you are in the music industry, you must be well aware of the importance of high-quality acapella's that can create remixes and mashups. Though you can use acapella isolator tools to extract vocals from a song, another simple way is to get the free acapella's online.
There are several popular sites where you can find royalty-free files, studio-quality vocals, and also stems of complete songs for your remixes and mashups.
These widely used sites are MS project sound, acapellas4u, voclr, remix packs, looperman, and others. Some of these websites have free download options, while to get full access further, you can opt for the paid premium subscription.
Summary
Using any one of the above-listed tools, you can convert a song to acapella online easily. These vocal files work as the best base to play with your creativity and create interesting remixes and mashups. There are even a few sites where you can look out for your choice of readymade acapella files.