An instrumental song has only the instruments without any singing or vocals. This kind of music is used for different use. For a music producer or composer, the files work as the base for creating a song, while for a vlogger, they work as the background score. The soothing and soft instrumentals are also used as a way of relaxation by general people. Instrumental music is also used for commercial and business uses.
So, whatever your requirements are, it is important to get the desired instrumental song or music file. Though there are several instrumental music download websites, we have shortlisted the top ones in the following parts.
Part 1: 12 Curated places to get best instrumentals [Free Download]
We have curated the list of the 12 top websites to get the best instrumentals for free download.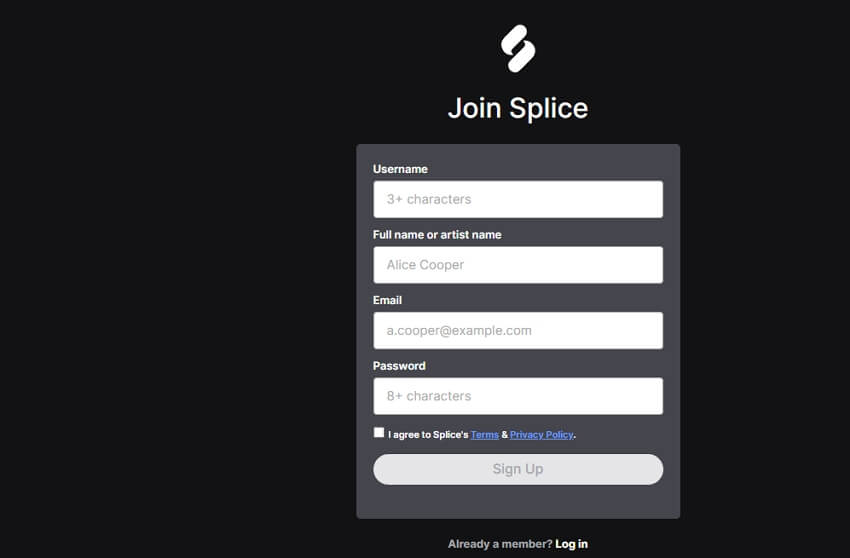 This is one of the most widely used websites to get a good collection of royalty-free instrumentals. You can check out the music files by the top labels, sound designers, and the artists on the website. The site has a huge collection of exclusive music that you will not get at any other site. You can search for the loop grooves, presets, ambient sound effects, and other music of your choice. In addition to the free download, you can subscribe to the paid version based on credits and get access to the complete library.
Key features:
This instrumental music-free downloadsite has a huge collection of 100% royalty-free music files.
Simple and user-friendly interface.
AI-powered search function with support to multiple searching options.
The latest Artist Packs feature has a playlist designed by popular artists.
Option to back up the project file in the cloud storage.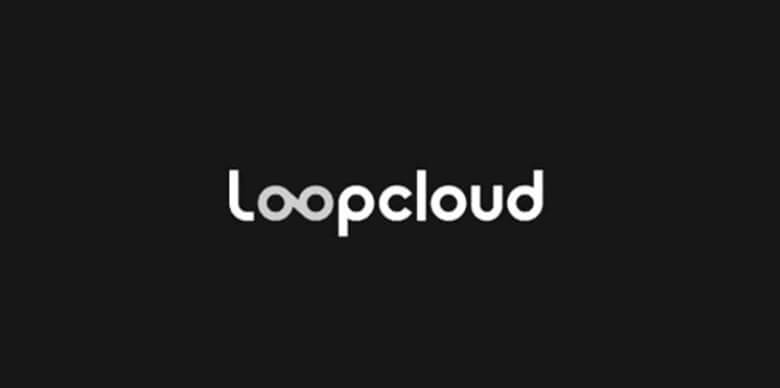 This site has one of the biggest libraries with diverse collections in an array of genres. The site features AI-powered sound matching that, along with audio search filters like genre, instrument, key, and others, will let you get sound files as needed. Whether you are looking for cinematic, hip-hop, dub, funk, house, techno, or any other style, you will get the music of your choice at Loopcloud. The collection of the site can be accessed through the system as well as apps. There is a decent collection of free quota that can be downloaded, and for more, you can subscribe to the paid version.
Key features:
Huge collection of royalty-free music in an array of genres and styles.
Sort and find your desired music file using AI-powered sound matching and filters.
Multiple samples can be played together.
VST Bridge plugin works with DAW and facilitates playing samples before purchasing them.
Offers a 30-days free trial.
Stores the sample collection on the cloud and thus saves the disk space.
Comes with cloud-connected plug-ins that can convert the samples into instruments that can be played.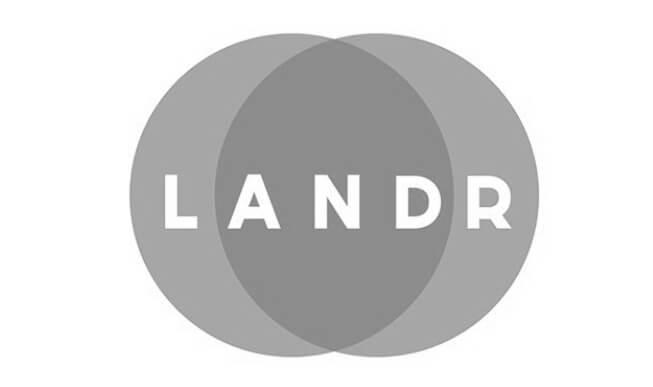 With a user-friendly interface, this site has a huge collection of high-quality music. Collection in wide variety by popular artists can be checked at the site for download. In addition to music download, Landr is also a great platform for budding artists to submit their samples and then sell them as well.
Key features:
Huge collection of music in diverse variety like pop-funk, techno, and others.
AI mastering has a collection of over 10 million tracks.
Distribution is easy and artist-friendly with availability on Apple, Spotify, and other popular services.
Paid pro plugins available.
This is one of the top-rated sites to get access to the huge collection of loops and samples from popular producers and designers. The site also comes with several user-friendly tools to enhance your creative flair. Using the 15-day free trial, you can check out the features and subscribe to a suitable plan.
Key Features:
Comes loaded with a library of more than 100,000 sounds.
The sounds and music files can be accessed from different DAW as well as multiple systems.
It comes with diverse filters like creator, genre, and others to search for the right and desired music file.
15 days free trial and then upgrade to different tier plans.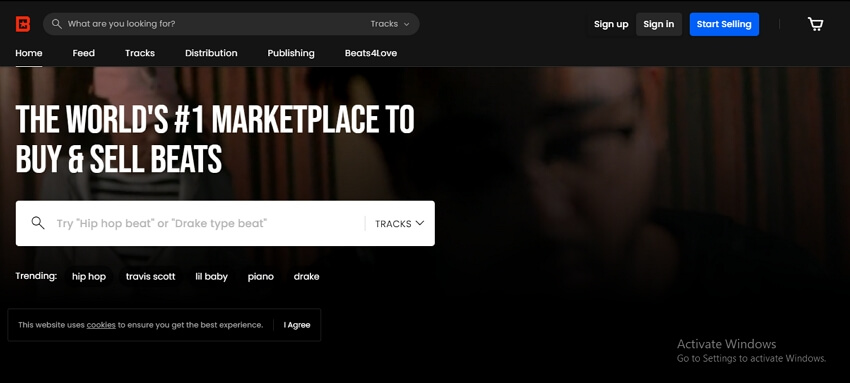 If you are looking for buy or sell beats, this is one of the best sites to consider, with the collection of over 1.5 million royalty-free samples. You can select your choice of music by filtering it through genre, trending, country, pop, and other categories.
Key features:
More than 1.5 million samples of royalty-free music.
Filter the samples on the basis of rock, pop, reggae, country, and other categories.
Option to buy or sell the beats.
User-friendly interface with multiple navigation options.
Available as an app to be downloaded on Android and Apple devices.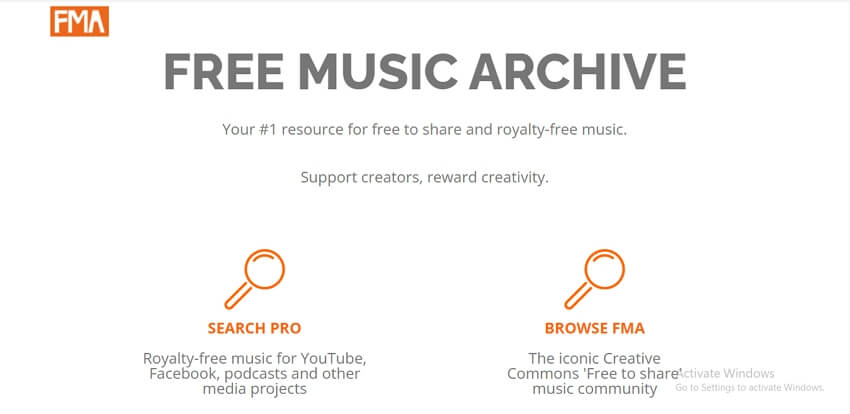 The site has a collection of open-licensed music in an array of categories and types. You can also check out the Creative Commons licensing files related to the live recordings, music files, and tracks in the public domain.
Key features:
Wide range of open-licensed music files.
CC-licensed live recordings, music tracks, and other content.
Search through a variety of files like classical, jazz, soul, instrumental, and others.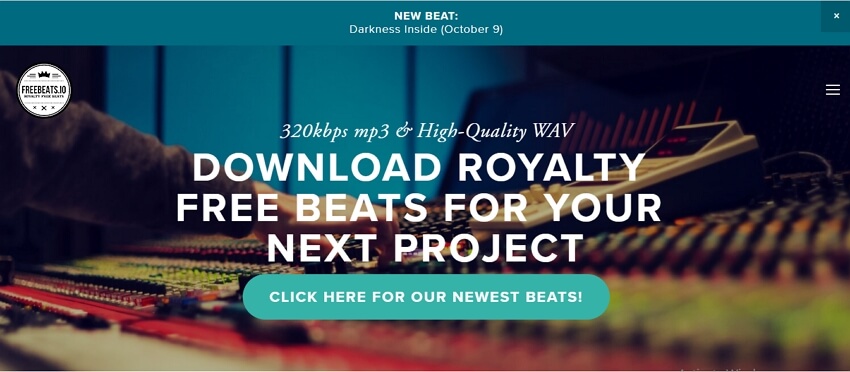 Apt for the music enthusiasts and creators, this site comes with various beats and instrumentals that can be accessed and downloaded for free. The site allows downloading files without tags, and they are royalty-free.
Key features:
Huge collections of royalty-free beats and music files.
Beats are encoded using 320kbps and in WAV and MP3 format for compatibility with all types of devices.
Huge range of beats, including hip-hop, chill, pop, R&B, rap, and more.
Download beats to the system as well as DAW.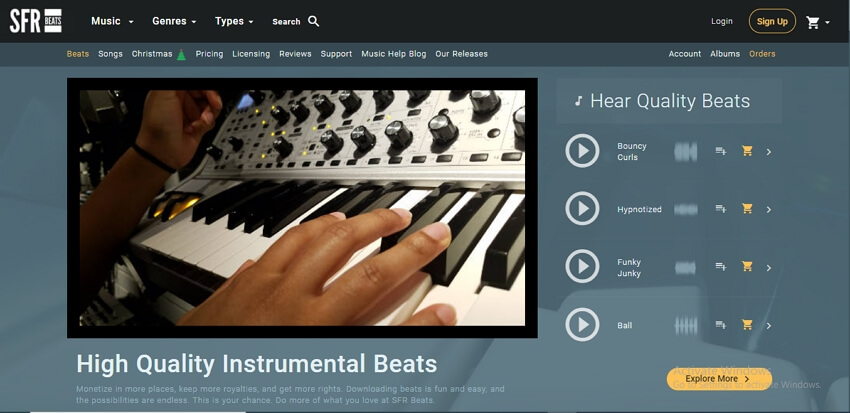 If you are looking for interesting beats and instrumentals, this is a good site to consider as it has a good collection in key formats. The music creators can also publish and sell their work at the site.
Key features:
Huge collection of beats in an array of categories.
Multiple searching and filtering options.
Option to preview the instrumental file.
Files available in MP3 and 24-bit WAV format.
No limits to sales or distribution.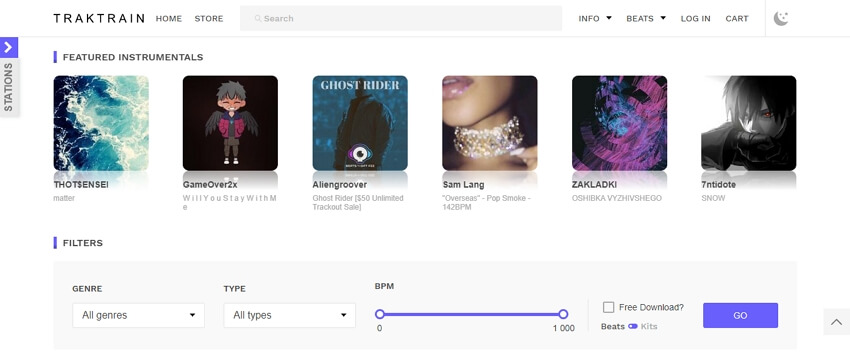 With instrumentals from more than 40,000 producers, this site is just apt to get the music for your next remix or creative track. Since the site invite-only option for the producers, you can rest assured of high-quality music files.
Key features:
Huge collection of music from over 40,000 producers.
The catalog is upgraded regularly with the latest and trending music in a different genre.
Multiple options to lease the tracks.
Tracks available in MP3 and high-quality WAV files.
Professional level mixing services are also available at a price.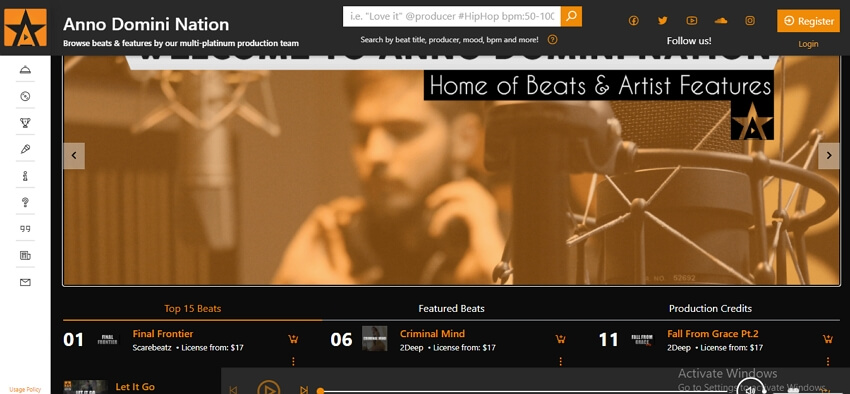 If you are looking for popular beats and artist features, this is the site to check. You can browse for your choice of beats using multiple filters and categories. Besides getting access to the music, several other interesting functions are also supported.
Key features:
Wide collection of beats in different genres and categories.
Option to search for the beat producer, mood, title, bpm, and other options.
Option to monetize your music.
Comes with artist development and other interesting programs.
This is another widely used site to get access to beats and music from popular artists. The interface of the site is simple and user-friendly without much clutter that lets you browse through your choice of music in no time.
Key features:
Simple and clean interface.
Wide collection of beats in an array of genres.
Music from popular artists is available for download.
Get high-quality 320 KBps MP3 and WAV files that can be downloaded on your system and used for commercial purposes.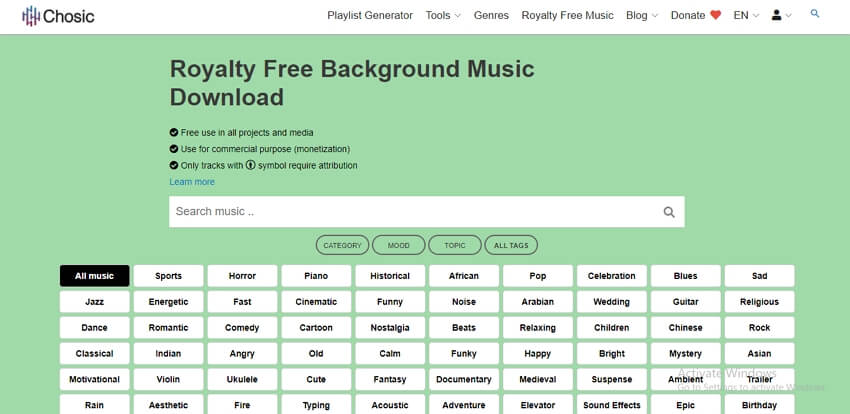 This is a popular site to get royalty-free music that can be used for free in all types of projects or commercial use. The search bar at the site lets you look for your choice of music based on category, mood, tags, and topics.
Key features:
A huge collection of royalty-free music is available for free download.
Search desired music using different filters.
Beats can be used for creative as well as commercial purposes.
Comes in 2 types of music libraries - public domain and Creative Commons (CC-BY).
Simple and quick navigation.
Part 2: How to create instrumental from any song with ease
Several times, you may not find your choice of beats and music on one of the above listed or similar sites. In such situations, the best solution is to extract or isolate the instrumental. Additionally, if you find the beats and music of a particular song very interesting, you can remove its beats and create instrumentals from a song.
In the above and similar other situations, you would need a specialized tool, and here we recommend Online UniConverter Vocal Remover as the best choice. This browser-based tool is simple and quick to use, and its AI technology will help you separate the vocals and the instrumentals in no time.
Key features of online instrumental maker
Free to use online tool to get vocals and instrumentals from a song.
The song can be added from the local system, YouTube, or Cloud storage (free sign-up needed for cloud storage).
AI-based technology isolates the vocals and instruments in just a single step.
Isolated files can be downloaded to the local system, Dropbox, or Google Drive.
Option to preview the files.
Also, support additional features of audio cutter and audio joiner.
How to create your own instrumentals online for free?
Step 1. On your browser window, run Online UniConverter Vocal Remover and click on Choose Files button to add the song.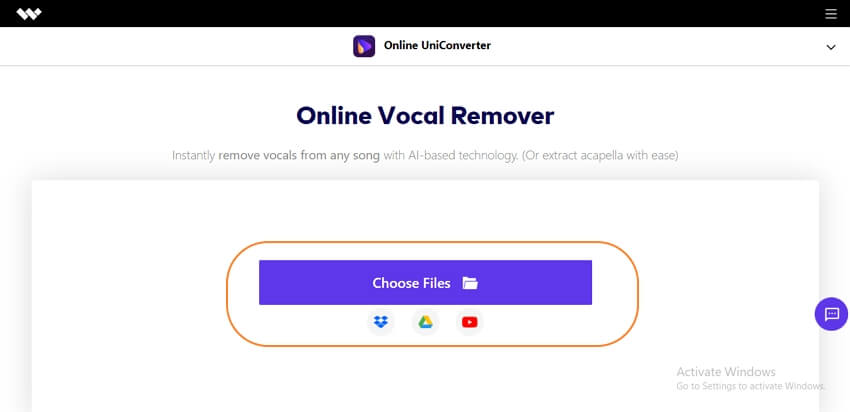 Step 2. As the song is added and uploaded, the AI algorithm of the tool will start processing the audio file.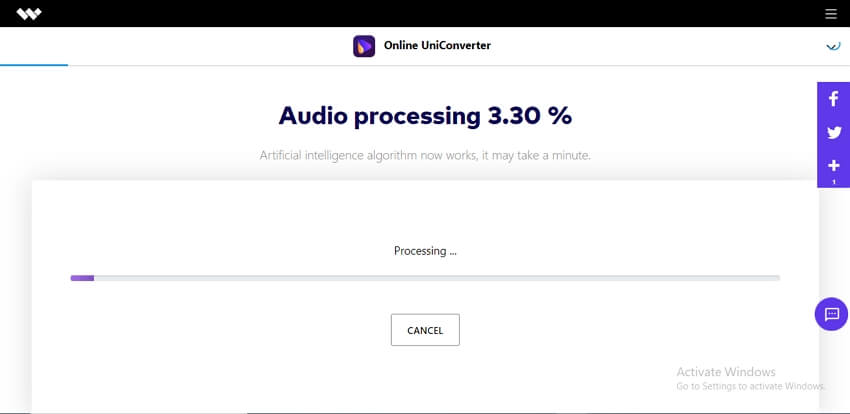 Step 3. The Instrumentals and the Vocals will be separately visible on the interface. You can preview and download the tracks to your system by clicking on the Download button.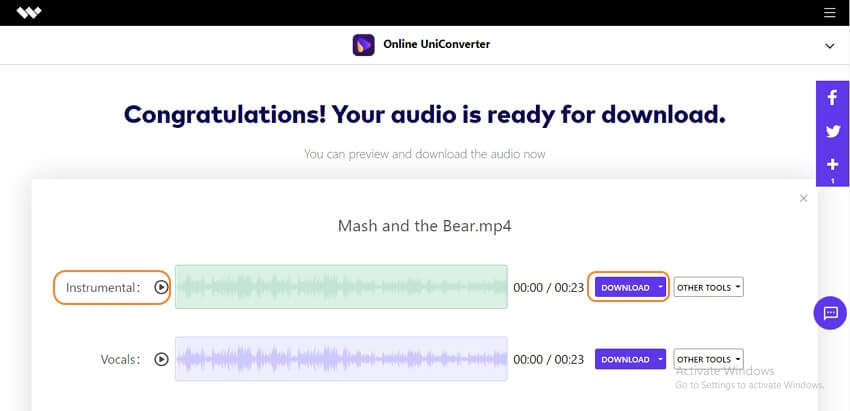 Bonus tip: Best Tool to create AI music
Sometime you might want to have a piece of music generated totally according to your preferences. Whether it's the mood conveyed, the style, or the duration of the music, you can definitely have full control over this music. AI Music of Media.io is specifically designed for this purpose! After setting the music as the way you like, you can then set it as your phone ringtone!
Conclusion
So, all queries about finding an instrumental song or the best places to download instrumental songs have been shared on this post. Pick your choice of instrumentals and background music from one of the above-listed sites or create one from a song using Online UniConverter Vocal Remover and use it for personal, creative, or professional use.