Music lovers love to know that there is a website to remove vocals from YouTube directly. The simple answer is yes; you can extract voice from a Youtube video with an excellent online vocal remover from YouTube videos.
This blog will give you the best online vocal removers from YouTube. In addition, this article will show you how to remove vocals from a song online from YouTube. Hence, you get to enjoy the karaoke version of songs you find on YouTube without the vocals.
Part 1. Why do you need to remove/delete vocals from YouTube?
Below are some possible reasons, I guess:
It gives you the karaoke version of songs for your entertainment or song covers at weddings, online, at karaoke bars, etc.
You may have lost an original song file that needs recreation.
You need to remove vocals from YouTube songs/videos to mix the instrumentals to create a whole new version of the song.
You may need the voice from YouTube to combine with a different music background or another video.
People enjoy the instrumentals of YouTube music only during meditation sessions, study, or sleep.
Of course, more... haven't been covered here.
Part 2. Quick navigation for 8 best YouTube vocal removers
Outline below is our proven list of the top 8 best YouTube voice removers you can find online:
Media.io Free Online Vocal Remover
Online Audio Converter
Mazmazika Vocal Remover
Vocal Remover Pro
Musicara
Remove Vocals tool
Demixor
Edit your Audio Vocal Remover
Part 3. Details on the top 8 online vocal removers from YouTube [Can't Miss]
Media.io Online Vocal Remover is a vocal remover that works with AI-based technology to extract vocals from YouTube videos for any purpose you may have. In addition, this tool removes the lyrics and instrumentals from music tracks. It works well on any internet browser you use with an excellent network connection. It means that you do not have to download the software as it works on any device you can surf the net with.
Pros:
With the accessible version of Media.io free vocal remover, you can extract ten files of up to 100MB at a time.
It supports major audio file formats, including MP3, MP4, MKV, M4A, WAV, etc.
The simple steps below will show you an example of how to remove background music from YouTube videos online using Media.io Online Vocal Remover:
Step 1: Click "Choose Files" to add your audio file on the Media.io Online home page. You can as well copy the YouTube video URL and paste it here.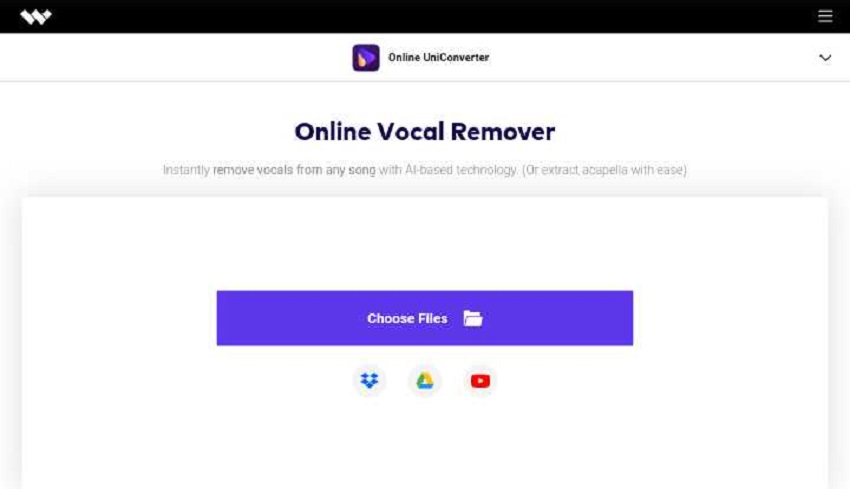 Step 2: Media.io vocal remover Automatically separates the instruments from the vocals/lyrics.
Step 3: Choose to download the extracted vocals to your Google Drive, Dropbox, or your device's local storage.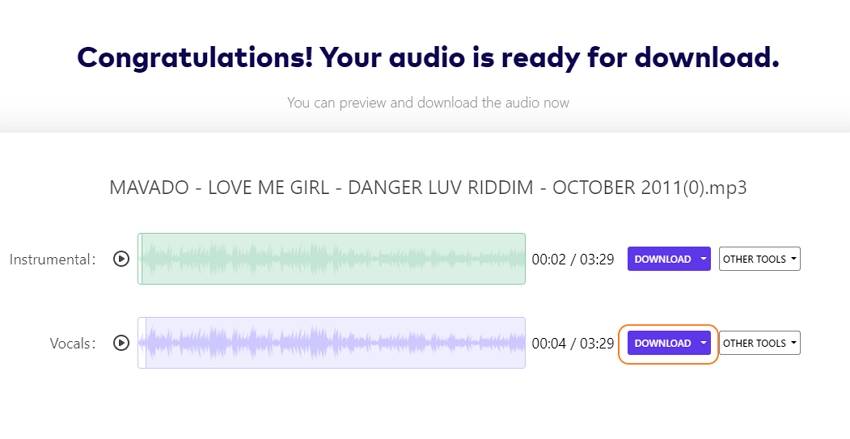 Online Converter is a tool that converts audio files to MP3 and other popular formats such as MP2, FLAC, WAV, M4A, OGG, M4R (for iPhone ringtones), and AMR. It works well on all mobile devices but most especially on iPhones. To upload files on this site, you can upload from your device storage, from Dropbox, Google Drive, or by pasting the copied URL of the YouTube video.
Pros:
Although it is a free tool, it guarantees the protection of users' online data; it deletes files some hours after processing.
You can upload 100MB files or less.
Cons:
First-time users may find this website complicated to navigate through effectively; this defeats the purpose of instant voice removal online.
The website is filled with ads that interfere with the smooth navigation of the site.
Mazmazika is the first stem maker globally that works using AI (Artificial Intelligence) technology. It separates videos like the ones you get on YouTube into different sections called "Stems." You can choose how many stems you want your song to be divided into; for instance, after you upload the URL of a YouTube sound on Mazmazika, you can choose to extract the vocals from the accompaniment/instrumentals. That is a 2-stem sound separation. Sharing the song into more stems will give you vocals, drums, bass guitar, piano, etc.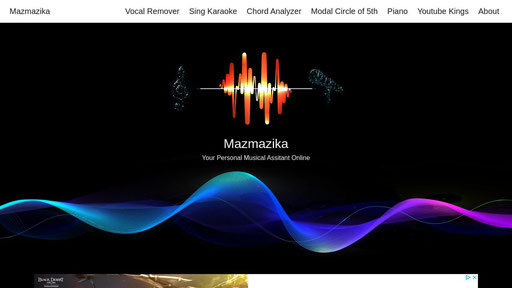 Pros:
It has an influential AI-based tech that understands music and professionally separates vocals from other instruments in music.
It allows you to download MP3 format files and paste links to YouTube songs you want to extract.
Cons:
It takes minutes to extract voice from YouTube video, which can be slow compared to other YouTube vocal removers that process sounds in seconds or a minute max.
It only supports MP3 audio file format, and you cannot upload a file size of more than 60MB on Mazmazika as a free user.
If you are looking for an instant way of removing vocals from a YouTube video without having to download software to your device, the online version of Vocal Remover Pro is ideal for you. It is free-to-use, and in little time, you can extract the voice from YouTube videos. It allows you to upload audio files of a maximum size of 100MB or 9-minute long at most.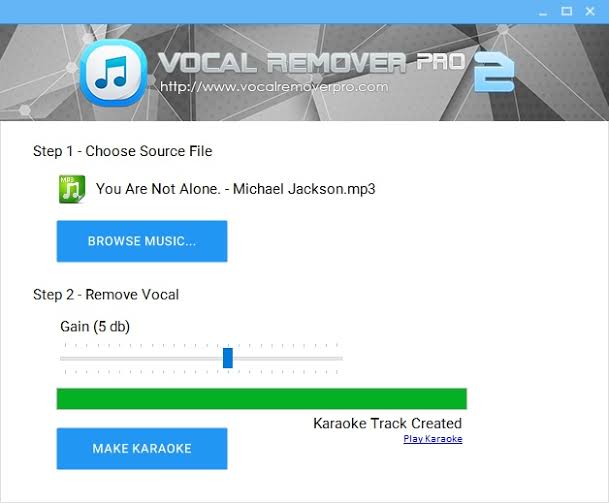 Pros:
It supports audio conversion with file formats like AC3, OGG, MP3, AAC, M4A, etc.
You have two options to upload files on the website: one is by directly going to your device storage to choose files, and the other is by pasting the URL of the YouTube video you want to extract.
Cons:
The online version of this tool does not have a fantastic output quality, unlike the app version that users download.
The result is sometimes inaccurate and sounds weird.
Musicara is another recommended vocal remover online for YouTube. you should try. Musicara divides songs into two stems, i.e., vocals and instruments. It also can divide songs into four or five stems that comprise lyrics, bass, piano, guitar, drums. You can upload files by entering the YouTube URL of the video you want to extract vocals from.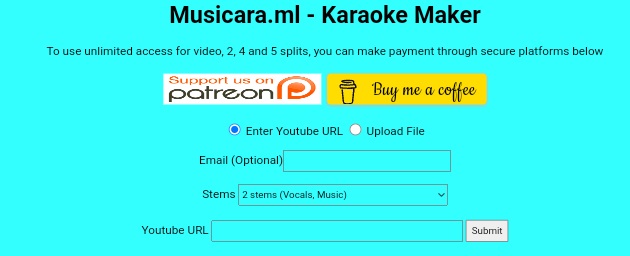 Pros:
You can preview the extracted vocals and karaoke music to ensure it is what you want before downloading it to your device.
As an online tool, Musicara is compatible with all major browsers and devices.
Cons:
You must make a payment to divide YouTube songs into as many as four or five stems of unlimited sizes. The free version cannot take audio files of more than 100MB.
The Acapella Extractor tool of this vocal remover enables you to remove the vocals of two songs daily for free. It is an AI-based tool that uses the open-source library called spleeter. The songs you can upload for extraction must not be more than ten minutes each, with a file size of 80MB at most. The point of this limitation is to ensure that the servers are not saturated and, therefore, rendered slow and ineffective.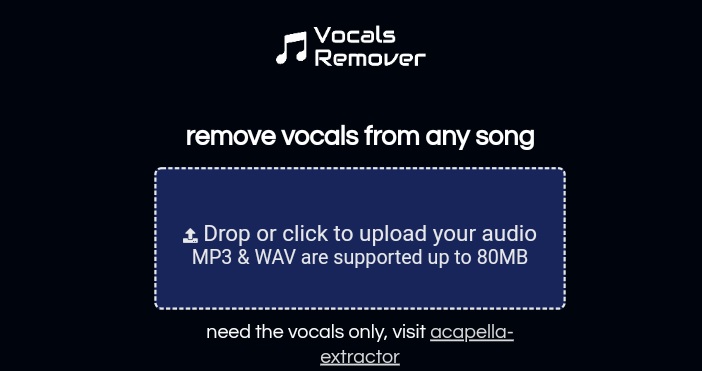 Pros:
Access this free online YouTube voice remover without downloading an app.
It works well on mobile devices and computer systems with a good internet connection and access to a browser.
Cons:
It does not have a field for pasting the URL of the YouTube video you want to use; you can only upload the saved file from your computer storage.
It supports only MP3 and WAV audio file formats, which is not as encompassing as other tools on this list like UniConverter.
Remove the voice from YouTube songs using Demixor, either by uploading the file from your system storage or copying and pasting the YouTube video URL on the field provided by Demixor. It is another AI-powered track separator and vocal remover. It also allows you to download uncompressed versions of the songs to preserve original file quality.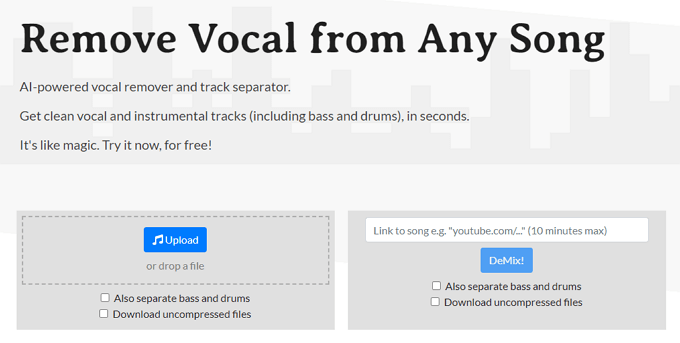 Pros:
It supports file formats like PCM, AIF, M4A, MP3, FLACC, and WAV.
The output is high-quality as you get clean vocals from any song you upload on the website for extraction.
Cons:
You get to keep the downloaded acapella version for three months at most for the free version. You can only keep the audio file for up to two years when you get the purchased version of the vocal remover.
Files of more than 50MB cannot be uploaded on Demixor, which is relatively low a limit compared to other vocal removers on this list.
Extract vocals from YouTube videos for audio mixing and video productions with Edit your Audio Vocal Remover. It is a fast and easy tool that works on any online browser with a good internet connection. The result is usually high quality, one of the best on this list of best YouTube vocal removers online.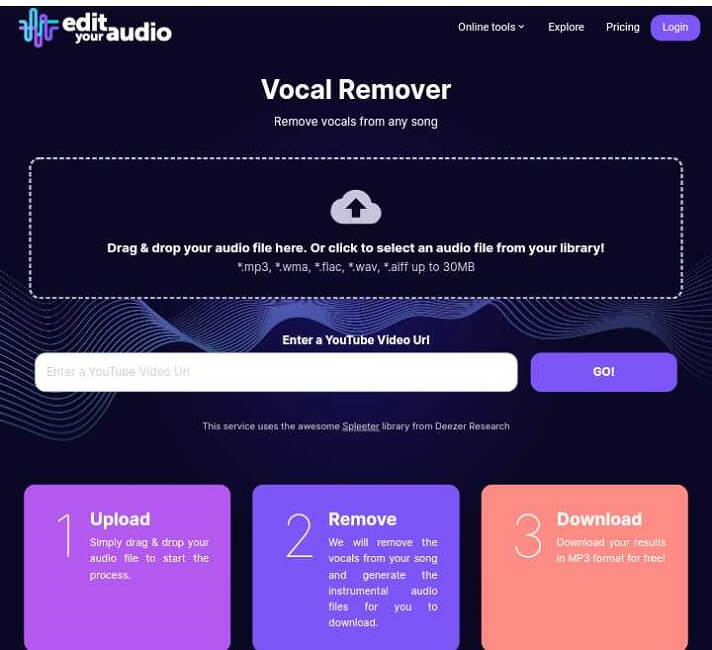 Pros:
It supports file formats like WMA, WAV, MP3, FLAC, and AIFF.
You can upload the URL of YouTube videos on the field provided by the tool for free removal of lyrics from YouTube videos.
Cons:
It has the lowest file size limit of all the top free online vocal removers for YouTube here. It does not allow you to upload YouTube files that are more than 30MB in size for free.
The site is filled with ads and cookies that interrupt vocal removal.
Conclusion
Have you tried any of these vocal removers online from YouTube? Then, you should give them a try to effectively extract vocals from YouTube videos for free. Of all these tools, you will find that Media.io is quite the free and powerful tool you can rely on to extract voice from any YouTube video of your choice.