People have different reasons for extracting specific audio from videos. For example, you may like the audio attached to a particular video, hence why you would want to use only the audio as a ringtone. Other reasons include using the audio to create another video project or simply for your music collection in a more portable MP3 format. Whatever your reason for extracting audio from videos online, you can do that with editing software and simple guidelines.
In the end, you can extract audio from video for Mac users. You will also be introduced to the best Karaoke software for Mac to edit songs on Mac easily.
Part 1. How to Easily Extract Audio from Video on Mac [2 Methods]
You can easily extract audio from video on Mac using two methods that have been proven effective:
QuickTime Player [Common Way]: Most people know that QuickTime is a media player, but they do not know it is a video and an audio editor. With QuickTime Player, you can record audio, screen, and video, then extract audio and edit. Thus, QuickTime Player is a vocal remover you can use to extract audio from video on macOS. It is easy to extract audio from video with QuickTime, as you will see in the steps below:
Go to QuickTime Player on Mac and click "File".
Click "Export As" > "Audio Only".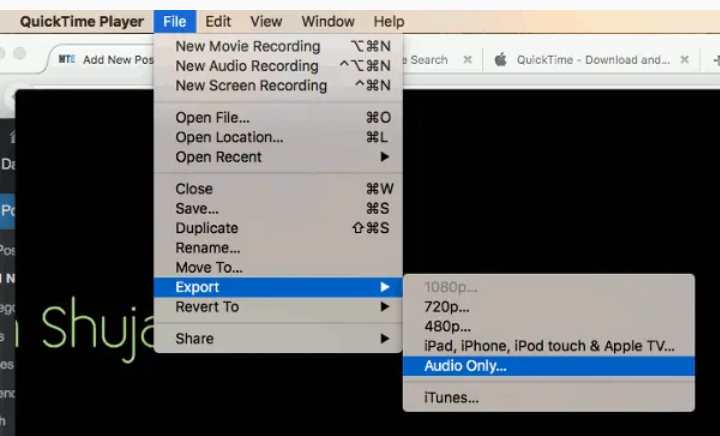 Give your file the name you want, then select the location to save the file.
Finally, select "Save".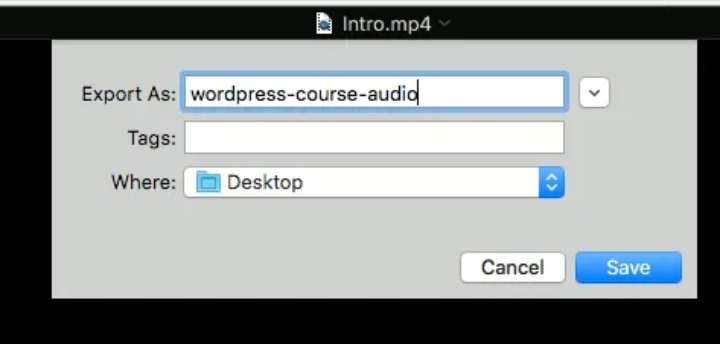 Extra Tips: Extract audio from video for iPhone/iPad
If you are an iPhone or iPad user, you can also use an alternative app to extract audio from video and edit the audio for personal uses. This tool is called the Export Audio app. It works well on MP4 or QuickTime videos. You can also choose your preferred audio file format, decide the extraction time, attach an artist name and artwork to the audio file. Some of the formats supported by this tool include MP3, MP4, WAV, CAF, AIFF, etc.
To use Export Audio on your iPhone/iPad, launch the app, add the video file to the app, and set the extraction time. Next, edit the audio metadata and audio file format, then save the final work after previewing.
Easiest Solution: Online UniConverter
Online UniConverter is a video and audio editor, converter, compressor, which can be used on all major platforms and systems like Mac, Windows PC, iOS devices, Android, etc. It works online on any device with a good internet browser. That means that with Online UniConverter, you can extract audio from video on macOS. Unlike other free online tools, it is a free tool because it does not have to interrupt ads on the site.
This audio extractor and vocal remover work with different file formats, including AVI, MKV, MOV, WAV, etc. It also supports formats that are compatible with iPhone and Android. Online UniConverter provides you with high-quality audio files, which means that the initial quality of files is maintained. It is easy-to-use; it protects your online presence by deleting files that have been uploaded on the site after conversion. It is a vocal remover for Mac you can use within seconds in simple steps.
Here is how to extract audio from video on Mac with Online UniConverter:
Step 1: Upload the Video File on Online UniConverter.
When you visit the Online Video Converter, click "Choose Files" and upload the file you want to extract audio from. You can upload files up to 100MB in size for free!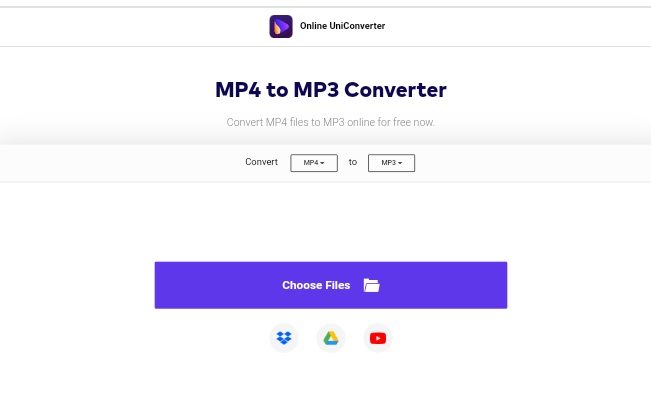 Step 2: Click "Convert all files to" and choose the audio format you want the output to come in. Afterward, click "Convert".
Step 3: When the audio gets extracted, select "Download" and choose to save the karaoke version of the uploaded media file.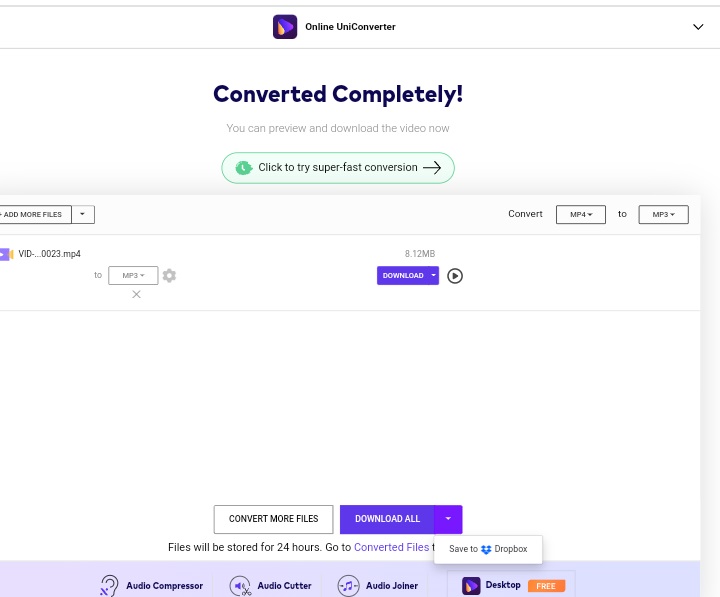 Part 2. How to Edit Songs/Vocals on Mac?
1. How do you cut music on Mac?
You can cut music on Mac using Garageband on Mac or our suggested best alternative to Garageband. Let's consider the 2 methods.
>> GarageBand on Mac: Garageband is software designed specifically for full music editing on Mac hence why it is built-in the device. It contains instruments, presets for voice and guitar, percussionists, and drummers. This intuitive tool is easy to use in creating and editing audio files on Mac. Garageband serves as a digital workstation for audio files and the best music mix you can find. It is free to use on iOS devices like MacOS.
If you have been wondering how to cut music on Mac without stress, Garageband is the app for you to use. Download Garageband on the App Store or "Applications" on your Mac to get the best of this amazing tool.
>> Best Alternative: The best alternative to Garageband in cutting sounds from videos is the Online Audio Cutter. It is an online free tool that makes cutting music from video fast and straightforward. Use this tool online with any good web browser like Firefox, Google Chrome, Safari, etc. Upload the Mp3 file on Online Audio Cutter and cut the part of the music you want, then download and save the file. Online Audio Cutter easily cuts and joins your desired music to another file you upload.
2. How do you make Karaoke on Mac?
This section brings you our 2 topmost karaoke softwares on Mac: the KaraokeTube app and its best online alternative. They are explained below:
>> KaraokeTube - best Karaoke software for Mac
To know how to get the Karaoke version of a song or video, KaraokeTube is the app for you. It contains 12,000 free karaoke songs derived from popular songs and music artists. Regularly, KaraokeTube is updated with the latest Karaoke songs available on the internet. In addition, it has a friendly user interface which makes it easy for beginners to enjoy using the tool.
You get the ultimate music experience when you use KaraokeTube to get instrumental versions of songs on your Mac. You can add some of these songs to your Favorites folder. Songs from here are also in HD, giving them an amazing quality.
>> Best Alternative - Online Karaoke Maker(Easier)
Online karaoke maker is the best alternative to KaraokeTube for making Karaoke song versions on Mac. It is a professional vocal remover for Mac, yet it is a simple-to-use tool. It supports audio file formats such as FLAC, M4A, WMA, MP3, etc. It is a free, completely online tool that gives your editing the ultra-speed you need. It extracts the vocals from songs, leaving you with the Karaoke version for download. It helps save time, and it is ideal when you don't have space to download software for audio editing.
On the Online Karaoke tool for Mac, you will learn how to edit songs on Macbook as there are additional features on the toolbox such as trimming, looping volume, or changing it. After saving your edited audio file to your device, be rest assured your online data traffic is protected as the files you uploaded are deleted twenty-four hours afterward. So give Online karaoke maker a try, and you will get the result you desire.
3. How do you merge MP3 on Mac?
If you want to merge MP3 on Mac devices, you need a proven efficient, professional tool. Online Audio Joiner is a toolbox of Online UniConverter that effortlessly combines MP3 to form a new audio file. Add the audio files on the home page of this tool and arrange them in the order of how they should play. You can also edit the merged audios, preview them, and save them. There is no limit to the number and size of files you can merge and download on this audio merger tool. It supports audio file formats like WAV, WMA, M4R, MP3, FLAC, M4A, etc. Editing your audio file will not affect the original file quality on Audio Joiner, so you don't have to worry about the quality.
Conclusion
In a nutshell, you can now use our recommended Karaoke software for Mac to easily extract audio from video on Mac. We have also shown you how to edit songs on your Macbook after the music extraction.
From all that has been discussed here, you can see that Online UniConverter is an all-in-one tool for cutting and joining audio, as a video to audio converter, a vocal remover, a karaoke maker. It is also lightweight since you do not have to download software to access this audio extractor.