Movies come with unique soundtracks that people would want to have in their music libraries. An example is the 2009 movie "Extract", which has some impressive soundtracks that people would love to download. However, when it comes to getting your favorite soundtracks from a movie like "Extract", you do not have to purchase them because such soundtracks have copyright. Instead, there are some available tools that you will find convenient, and with them, you can conveniently extract audio from a movie.
This article will reveal how to use these online tools to extract movie clips in a few steps. You can easily remove background from movies with tools like Online UniConverter and VLC Media Player. The guidelines are simple to follow, so keep reading.
Part 1. How to Easily Extract 9 Impressive Songs that Appeared in Movie "Extract"? [FREE]
The movie "Extract" is about a man called Joel who owns an extract factory. We see how Joel struggles with different challenges on personal and work fronts in this movie. Such issues include a wife who is possibly unfaithful and his co-workers and employees taking advantage of him.
The soundtracks of this movie contribute to the reasons why people love it. That is why we bring you a list of the top nine soundtracks used in "Extract" that you may want to remove and save for your personal use:
"Hookie Boogie" by John Lee Hooker.
"Wundercrotchen" by Klaus Harmony.
"(I Got The) Same Old Blues" by Lynyrd Skynyrd.
"Who Were You Thinkin' Of" by Texas Tornados.
"She's All I Got" by Johnny Paycheck.
"I Thank You" by ZZ Top.
"The Lunatic Fringe" by Yggdrasil.
"Wrapped" by Bruce Robison.
"Rainy Day Woman" by Waylon Jennings.
Now that you have the music you would want to extract from the movie, how do you remove them? A simple tool you can use is the Online UniConverter Video Converter. Online UniConverter Video Converter is a tool that lets you conveniently extract movie clips using high speed and a few clicks. This tool is free for basic file conversion, and it supports the conversion of files in formats like MP4, MOV, MPG, ASF, RM, and so much more. Convert video to audio using Online UniConverter, and you can enjoy your favorite song tracks from Extract.
Access Online UniConverter Video Converter using your default browser and follow these steps to extract audio from the movie "Extract" with the tool:
Step 1: Upload the movie file and specify the format the soundtrack should come out in. Upload the file by clicking Choose Files on the home page.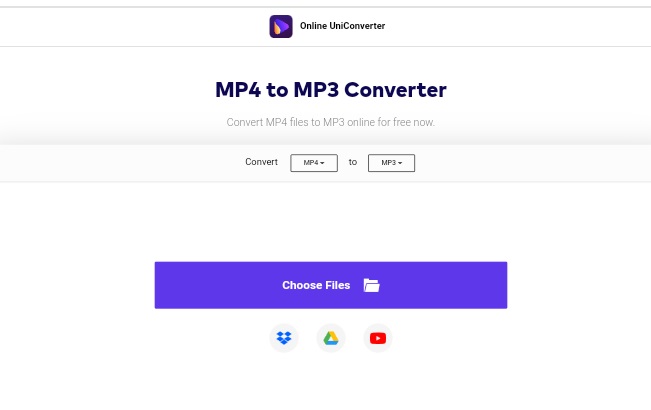 Step 2: Choose the Convert button and wait as your file gets converted in a matter of seconds.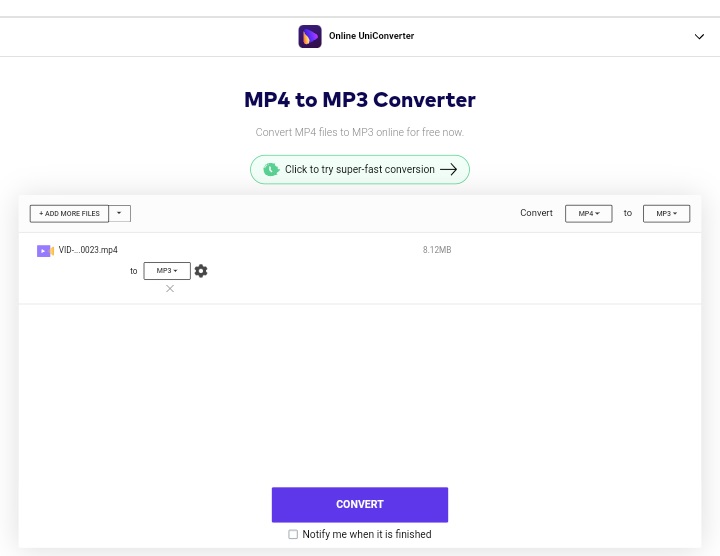 Step 3: Now, you will get the audio files without the movie, and you can save them by clicking Download to either your device storage or Dropbox.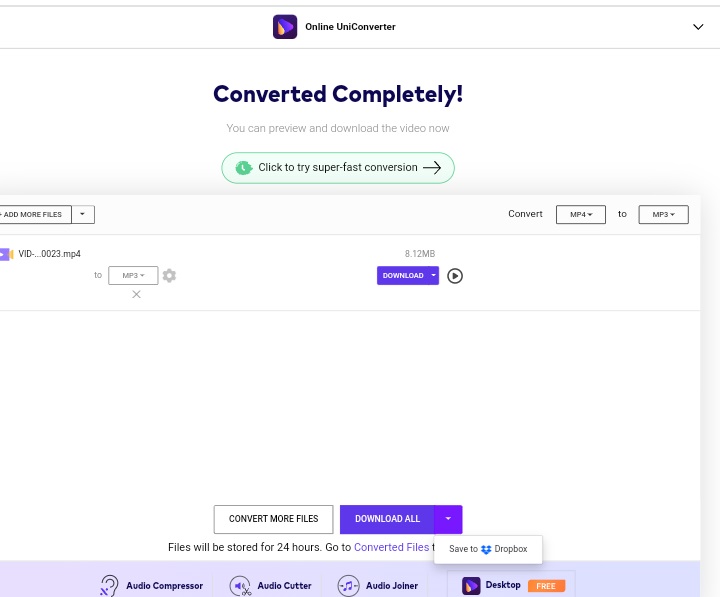 Alternative to Online UniConverter Video Converter: VLC Media Player
VLC Media Player is not just used to play movies and music; it is effective in other functions like extracting audio from videos. Therefore, it is a good recommended video editor that can serve as an alternative to Online UniConverter when removing movie clips. Most people do not know this, but the open-source VLC Media Player has a feature for extracting audio from video, which you will find helpful in this case.
Follow the steps below to convert movie to background music:
On your computer system or mobile device, open VLC and click "Media".
You will see the "Convert/Save" button; click it.
A File Selection box will pop out; click "Add", then choose the MP4 video you want to convert.
Again, click "Convert/Save".
A Profile box will drop down; click "Audio – MP3" from the options.
Go to the destination box and click "Browse", then choose the storage location to save the converted file.
Rename the file or remove the extension ".mp4" before clicking "Start".
The audio will be extracted from the video and saved to your chosen device storage location accordingly.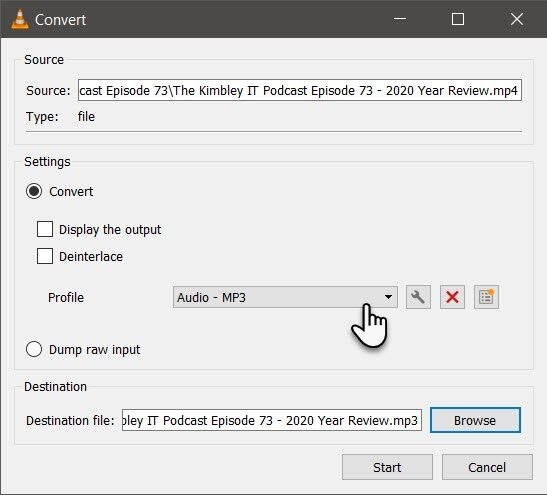 Part 2. How to Readily Extract Background Music & Dialogue from Movie
There are movie soundtracks that combine both music and dialogue in the background. These soundtracks have dialogue incorporated as a part of the whole background music or into specific sections of the soundtracks. Moves like Natural Born Killers, Lost Highway, Pulp Fiction all have these kinds of soundtrack/dialogue mix of their background music. It means that movie soundtracks are a combination of both dialogue and background music. The methods above only show you how to extract audio from a movie by converting the whole video to audio. However, you may want to remove one part of the soundtrack, the music or dialogue.
We will show you how to extract dialogue from movies using our recommended Online UniConverter Vocal Remover to take things further. Online Vocal Remover is a free online tool with which you can instantly remove the vocals or dialogue in any music of your choice. Moreover, you get to extract the acapella and karaoke versions of songs up to 100MB minimum. So, if you are looking to take advantage of the AI (Artificial Intelligence) technology of the Vocal Remover, it will prove helpful in a speedy, professional way. Do not worry about the files formats as this tool supports video formats such as MP3, MKV, MOV, and it supports audio formats such as WAV, M4A, OGG, and MP3.
If you want to extract music or dialogue clips from movie with Online UniConverter Vocal Remover, the steps below will be of immense help to you:
Step 1: Upload the movie clip you want to extract dialogue from. You can either click "Choose Files" to upload the movie file from your local storage or copy the video link, paste it on the home page.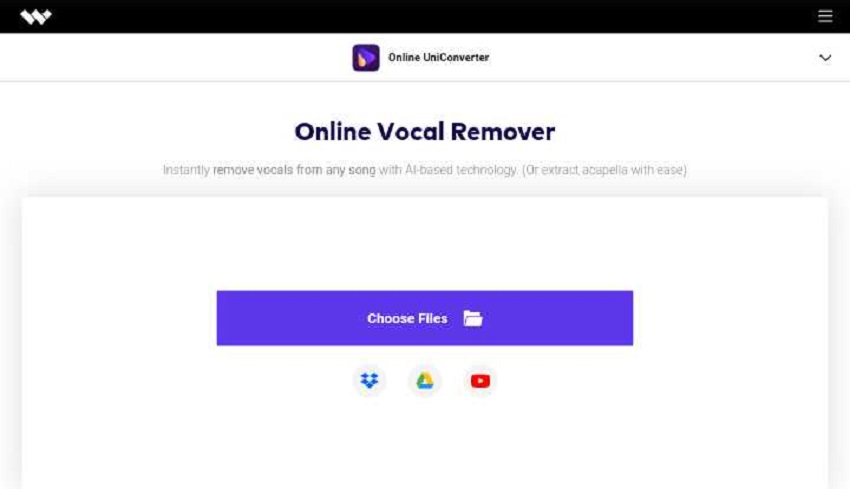 Step 2: The tool's AI technology already knows its job to extract the video's audio using ultra speeds automatically.
Step 3: Download the vocals track from the outline of karaoke and acapella versions of the movie you uploaded in step (1) above.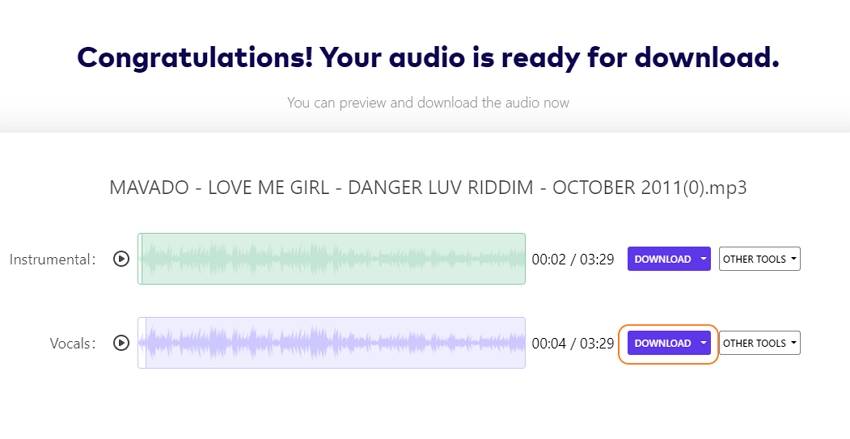 Conclusion
Soundtracks form part of movies, and a film with a great soundtrack is one to watch out for. People find themselves searching for these soundtracks on copyright-free sites. Now, you do not have to worry about getting your favorite songs from movies as Online UniConverter is within reach. Follow the steps in the blog to use this tool to extract audio from video. Also, with a tool like Online UniConverter Vocal Remover, you do not have to download software to extract the dialogue from any movie of your choice.