Whether you want to create a karaoke track or BGM sounds from your favorite music video, a video vocal remover is a must-have. This type of tool is powered by artificial intelligence, so it mainly has automated procedures. Moreover, it also gives you complete control over editing the audio file.
Yet, if you don't know which vocal removers will be best, this article is for you. Here, we will discuss vocal remover video tools. Above all, you will also learn to use this tool without complications. If you don't get confused, we recommend the most reliable vocal remover to eliminate misinterpretations.
Part 1: How to Remove Vocals Directly from Video?
Do you have a lovely music video of your favorite song but want to listen to its music only? Undoubtedly, good instrumental music casts a mesmerizing impression on the person's mind. If you wish to make your music track, you need to remove vocals from the video.
The best way to do this is to use the tools of this domain. For your ease, both online and offline video voice remover will be discussed in this section. The vocal removers listed below will help you a lot regarding this scenario:
Media.io is one of the most known and secure tools to extract voice from video. It is a perfect tool for separating all vocals from a video file. The music, after removing vocals, is always of high quality so that you can use it in several ways. Whether you are an audio editor, singer, or music producer, this top-notch tool can help you.
There is no doubt that Media.io video voice remover is an online tool, but it has strict and end-to-end encrypted data policies. It never shares your data with unauthorized sites and third-party apps. Furthermore, it is AI embedded, so you will not have to do much work. Media.io - Vocal Remover will give you good results in an automated manner.
Step-by-Step Guide to Remove Vocals from Video with Media.io - Vocal Remover
The steps listed below will help you to remove music from the video but keep your voice online:
Step 1

Launch Media.io - Vocal Remover and Add File

Start by opening your browser and searching for Media.io - Vocal Remover to open its official site. After this, click the "Get Started Now" button and select "Upload." Hereafter, import the video of your choice.
Step 2

Remove Vocals From the Video and Export It

Wait a few seconds, and once Media.io processes the video, go to the "Vocal" or "Music" section. From here, click on the "Play" icon to check the results and press the "Download" icon to export it to your system if you are satisfied with the results.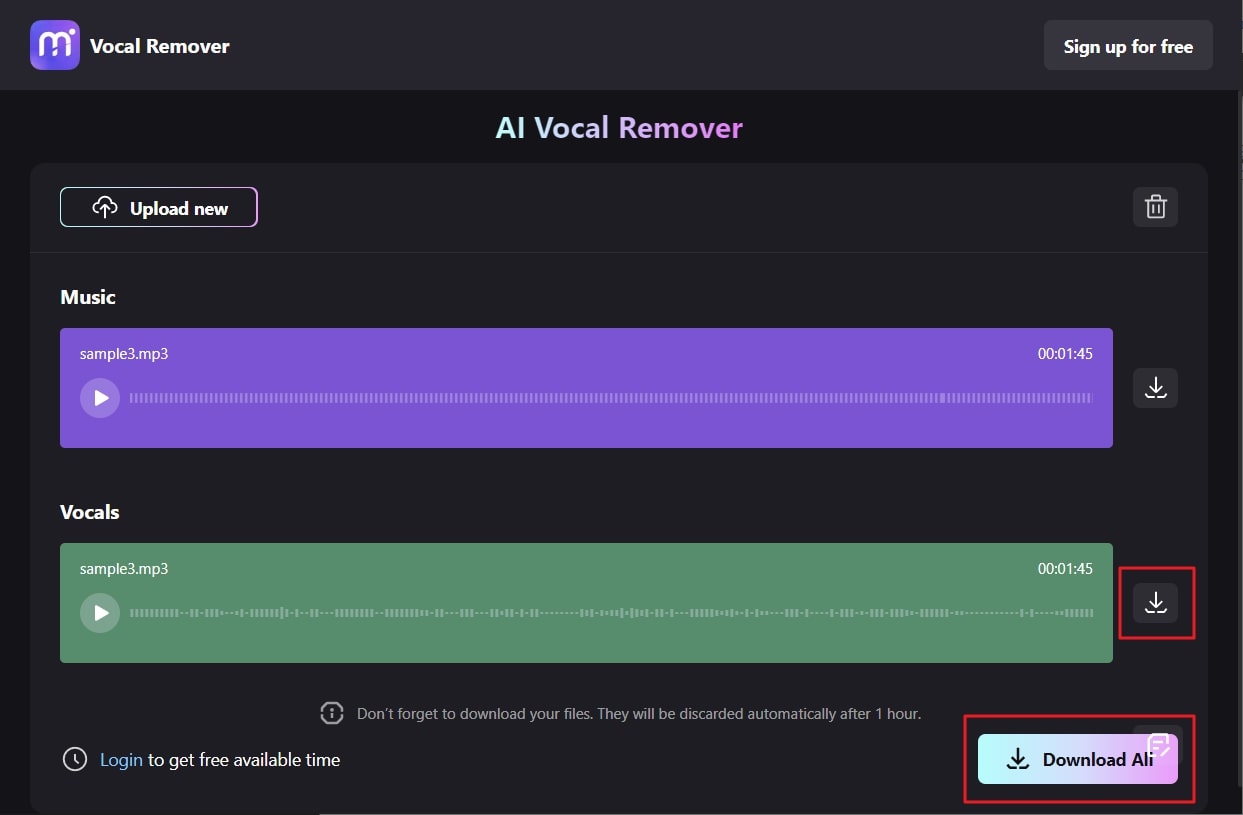 From a highly intuitive interface to lightning-fast processing speed, this tool never ceases to amaze users with its higher functionality. With Wondershare UniConverter, you can remove music from the video but professionally keep the voice. Moreover, it creates a perfect and high-quality music track for karaoke lovers. You can also create personalized music files for reading, studying, and meditating with it.
It is also very convenient for music students as they can focus on every pitch and beat if they remove vocals from the video. Above all, the vocal remover of this tool is free, and you don't have to watch irritating ads. UniConverter also supports diversified file formats such as MP4, MKV, WAV, and more for ease of users. You will also not face any limitations regarding file size.
Step-by-Step Guide to Remove Vocals from the Video with Wondershare UniConverter
You can extract voice from the video in the easiest way with the help of the instructions listed underneath:
Step 1
Install and launch the Wondershare UniConverter video toolbox on your device. After this, locate "Vocal Remover" in the "AI Lab" section and double-click on it. Next, import the video from which you wish to remove the vocals and wait for a few seconds.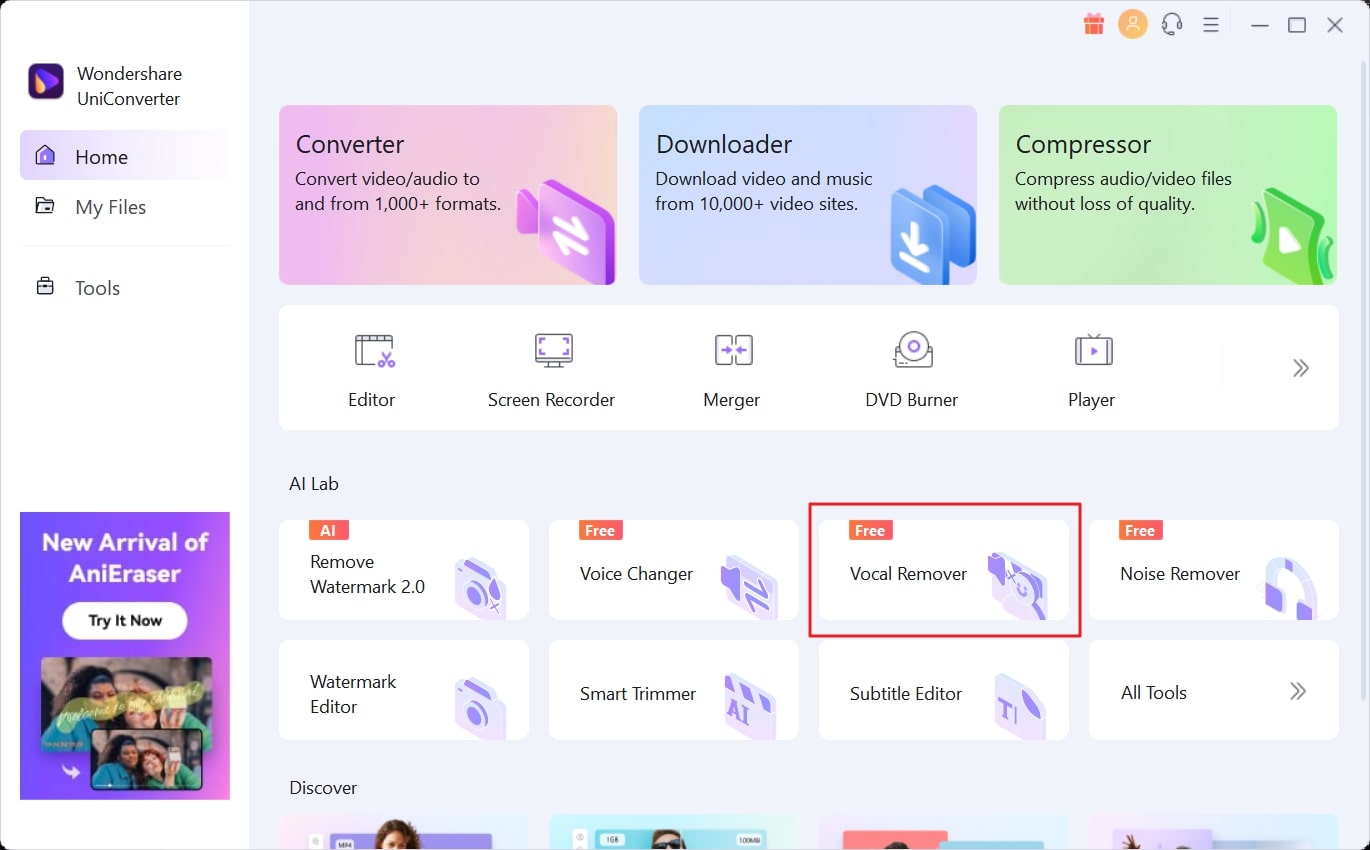 Step 2
As the AI algorithms of UniConverter process the video, go to "Vocals" and tap the "Play" icon to check the results. Hereafter, go to the "File Location" drop-down menu and choose the folder of your choice. Following this, hit the "Export" button to save the vocals or music files separately.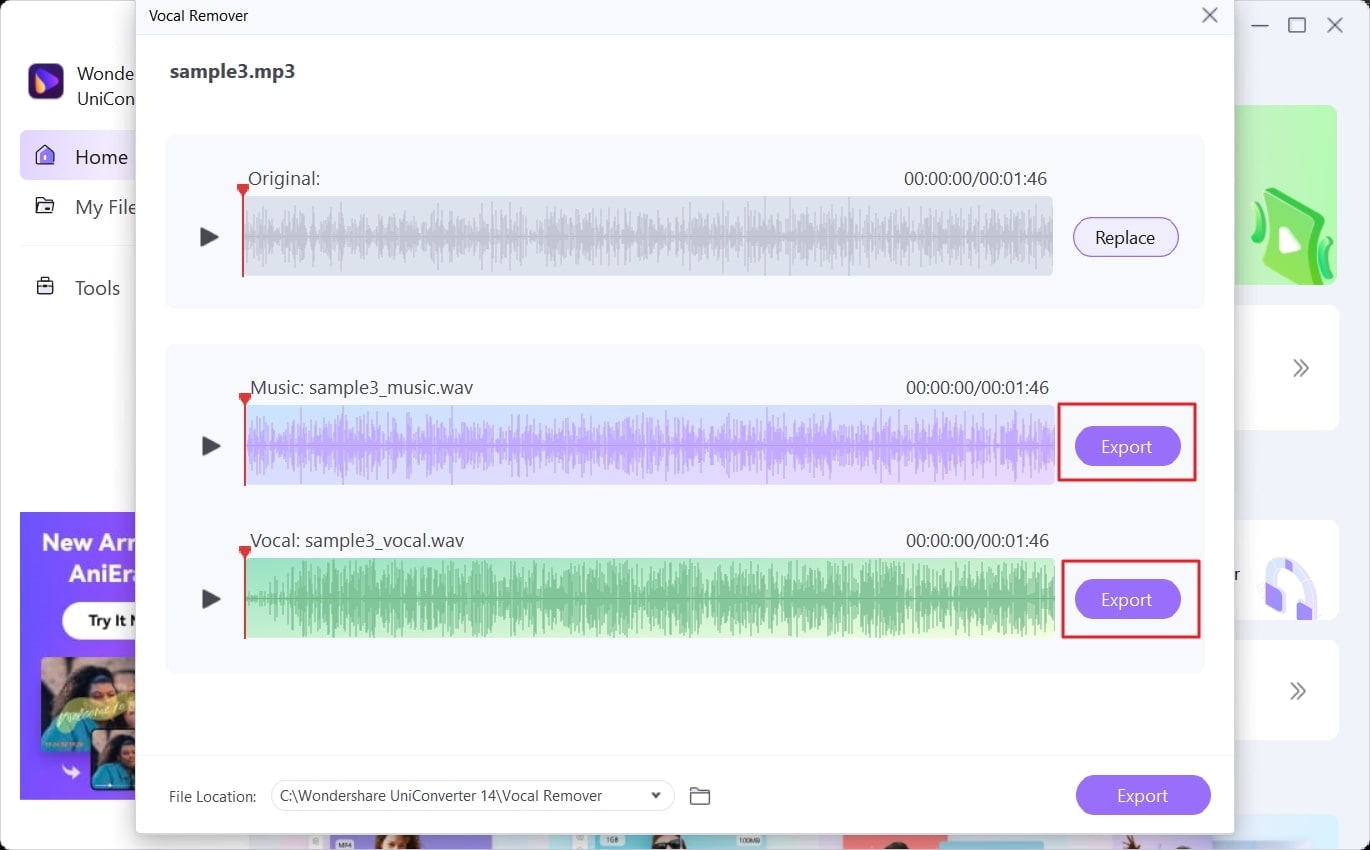 Part 2: Extract Voice from Video and Remove Vocals
In this world of digitalization, technology makes all the work easier and more accessible. Like this, you can also extract voice from video and audio in several ways. It enhances your workflow efficiency and makes it more seamless.
Deriving music after removing vocals in high quality with soothing frequencies is also a part of giving attention. The tools listed here can make this procedure more convenient for you. You can find about these tools to remove vocal video and audio underneath:
Step 1

Extract Audio from the Video

In this method, you will learn how to extract voice from video. The tool discussed here will optimize your performance to a professional level:

YouTube to MP3 is the famous platform through which you can download YouTube videos in MP3 format. It offers the most efficient and effective ways to remove the graphical elements from the video but keep the voice online. Moreover, it is a web-based app you can use on any device without restrictions.

The process of extracting audio from a video song is also very simplified. Follow the process enlisted here to extract the voice from the video:
Step 1
To begin, open "YTMP3" on your browser. In the next tab, launch "YouTube" on your device and search for the video you want to work on. After this, play the video and copy its "URL" by the browser address bar.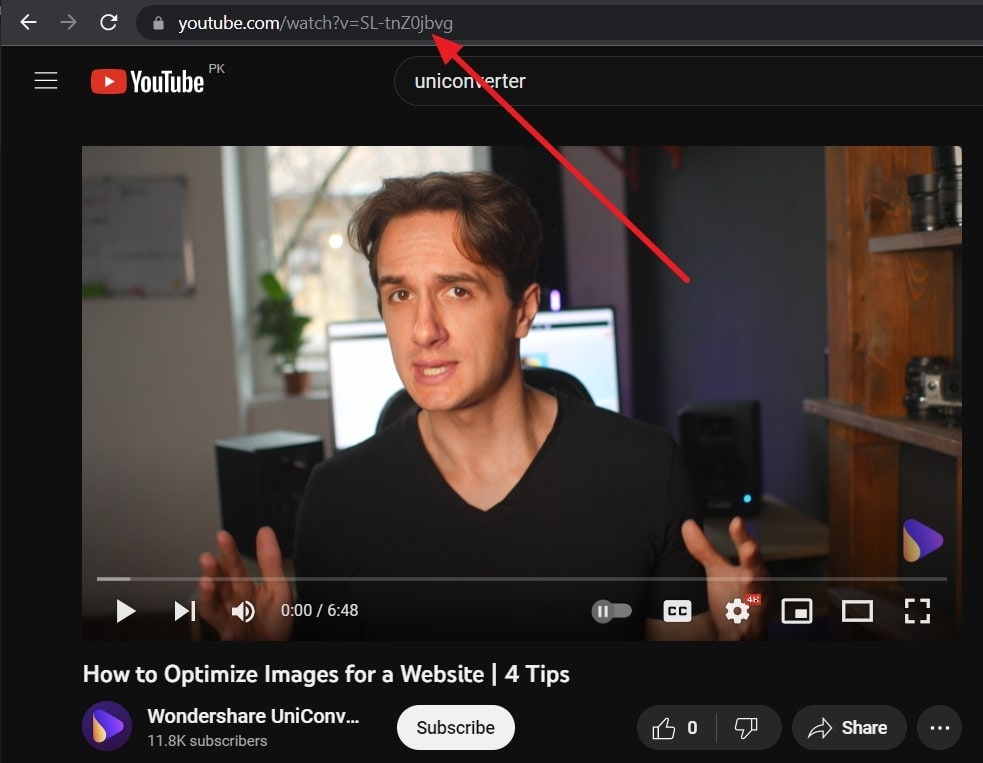 Step 2
Once the URL is copied, paste it to the "YTMP3" and select the type of output format. After this, tap on the "Convert" button, and after some time, you will see the "Download" button. Simply click on it to download the video to the device.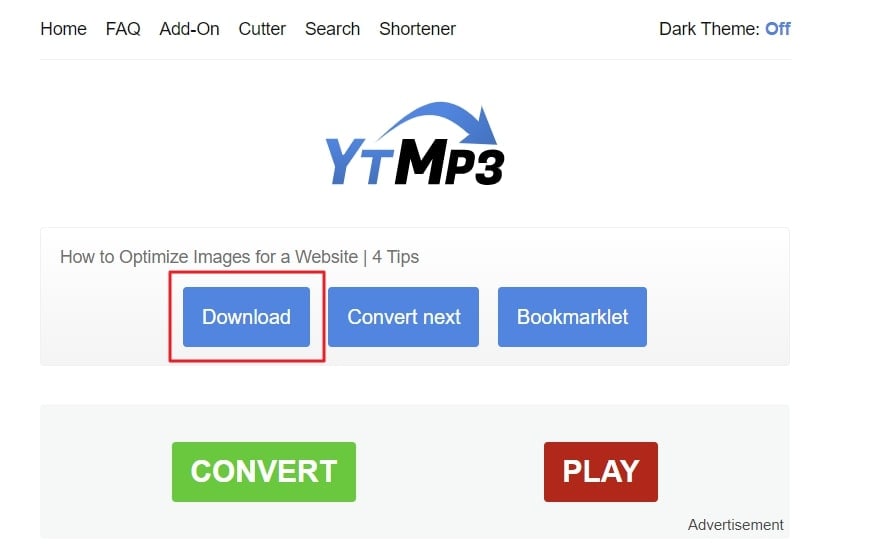 Step 2

Remove Vocal from the Extracted Audio

Now that you have saved the video in audio format on your device, the next step is removing the vocals. The tools discussed below will help you regarding this problem:

1. Vocals Remover - Remove Vocals Online

With this tech-savvy tool, you can extract voice from videos in an efficient way. This tool can support up to 80MB files which is a very assistive thing for the users. Besides this, it can help you create engaging karaoke tracks from any song. One of the best things about this tool is that it removes vocals from audio and music extracted from videos.

If you are new to this field, you can also explore the example section to learn more about isolating instrumentals. Feel free to follow the instructions listed here to get the work done without any confusion:
Step 1
Launch the browser on your device and access the Vocals Removers website. Once the site is opened, click "Drop or click to upload your audio" and import the extracted audio file.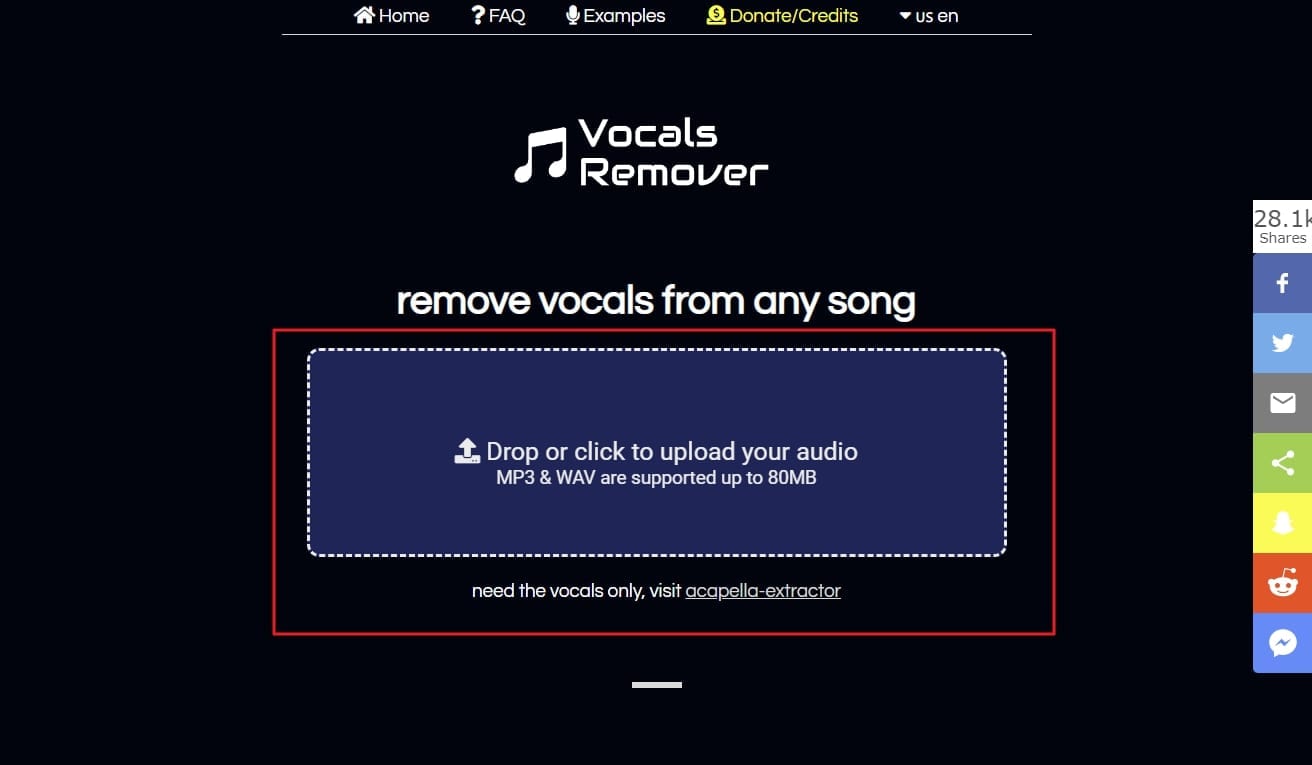 Step 2
As you add the audio files, processing will take a few seconds. Once on the new screen, click the "Download the Instrumental" button.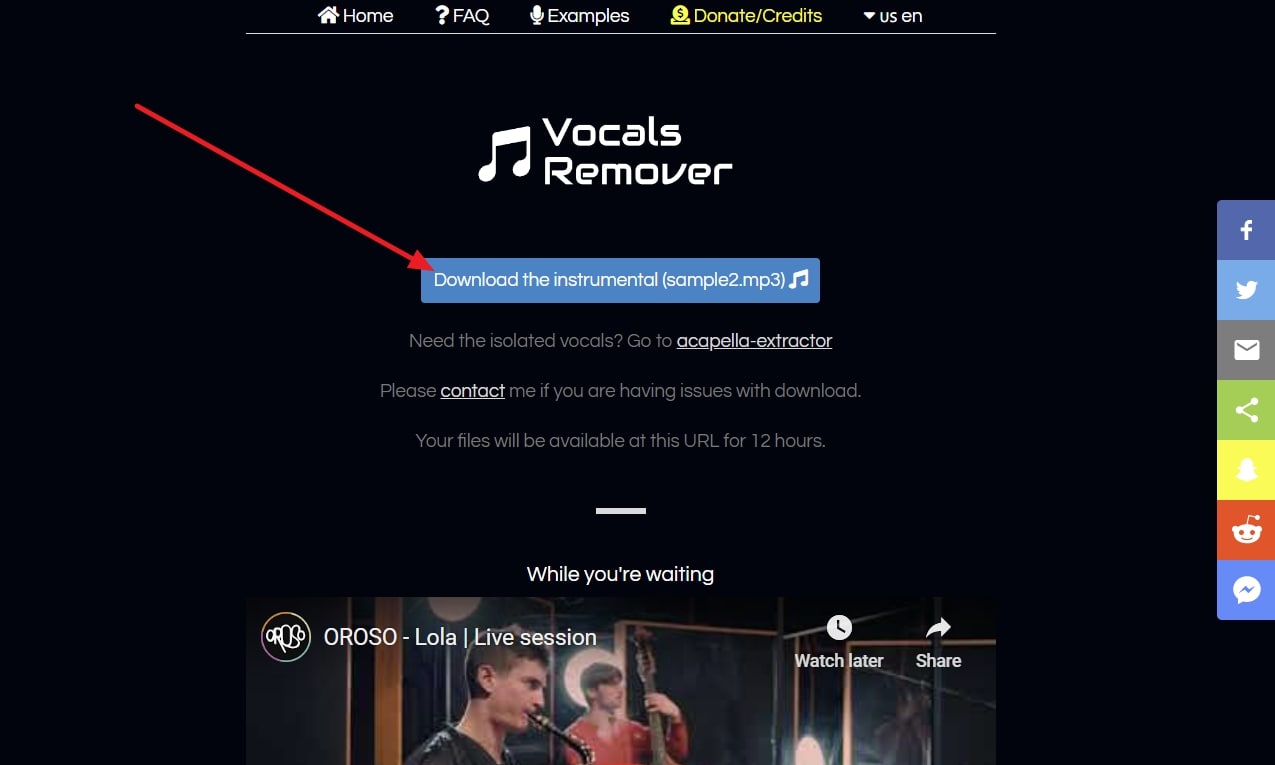 2. Audacity - Remove Vocals Offline
Do you want to remove vocals from video and audio in premium quality? Worry no more because Audacity has got you covered in this scenario. It is a free and open-source platform that you can use on several major operating systems. Moreover, you can also work on multiple tracks at once with it. Audacity also helps in recording audio with a microphone, and you can export it in diversified formats.
It also supports 16-bit to 32-bit sound quality, which is a very assisting factor for users. You can also use its plot spectrum to check frequencies in detail. Editing audio by copying, cutting, and pasting is also straightforward with Audacity. The procedure for removing unwanted vocals from video and audio files is listed below. You can use it to get the work done in the easiest way:
Step 1
Primarily, download Audacity on your device and launch it. Click on the "File" tab from the main interface and then select "Import." Following this, locate the file of your choice and import it. After this, select the track, tap on the "Effects" tab, and choose "Special."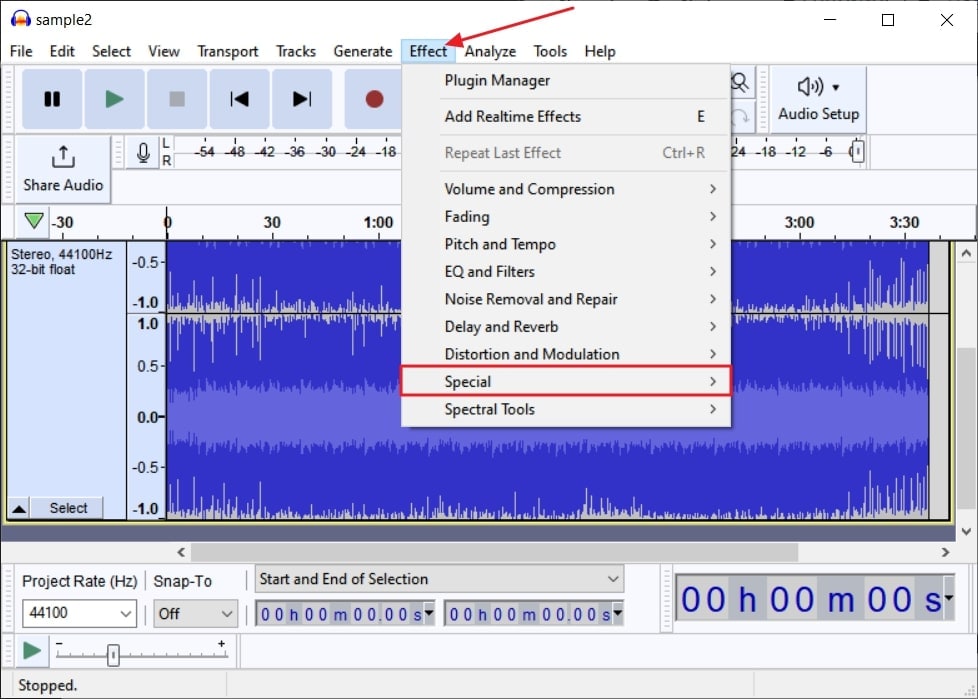 Step 2
Select the "Voice Reduction and Isolation" option from the listed options. Once the window appears on your screen, click the "Action" drop-down menu and choose "Remove Vocals." Next, customize the settings for your selected preset and press the "Apply" button to initiate the process.