People prefer downloading the Karaoke version of songs online because of several reasons. Some like the instrumental vibe of Karaoke music to meditate, study, do some yoga and sleep. Karaoke songs are also helpful for Karaoke song covers at bars, restaurants, house parties, and wedding events. It might be a good idea to make a music video with favorite songs, photos and videos.
However, getting free Karaoke songs online requires one to get a Karaoke website online, and that can be a challenge if one does not know where the good sites are. That is why this blog will give you the best free Karaoke sites you can use for your Karaoke HD version.
Part 1: Top 7 sites to get free Karaoke songs with lyrics
Here are our top seven free Karaoke sites to give you the best Karaoke versions of your favorite songs online:
The first site to consider is Karafun, a tool with up to 44 000 free Karaoke HD versions of songs you can explore. A music catalog is available on the website to show you which karaoke songs you can get by using the utility. Although it can be easily accessed online, you should note that Karafun has apps for various devices and systems. These include Android, iOS devices, macOS, Windows PC, Web Player, and Fire Stick TV.
Even when there is no internet at your Karaoke party in the woods, you can enjoy its offline sync feature.

Pros:
It has a great music collection of over 40,000.
The Karaoke songs you download on Karafun have fantastic sound quality.
It is a user-friendly website.
Cons:
You can only fully enjoy the tool after you have paid for an upgraded version.
Network glitches affect its smooth operation; this prevents users from enjoying a hitch-free Karaoke download process.
Enjoy some Karaoke songs with friends using this best Karaoke online tool with lyrics. Contending is a useful Karaoke tool that has virtually every song you may be searching for online. In addition, it has a search field you can type in the music of your choice and get a Karaoke version with or without lyrics. Interestingly enough, it is the first free Karaoke online tool that YouTube powered in 2010.
It is compatible with Smart TV, Windows PC, iPhone, Mac, iPad, Android, etc. No software download or registration is required to use Cantanding. You do not have to go out to have fun as you can access any song with Karaoke lyrics on this site and have an excellent time singing alone or with close family and friends.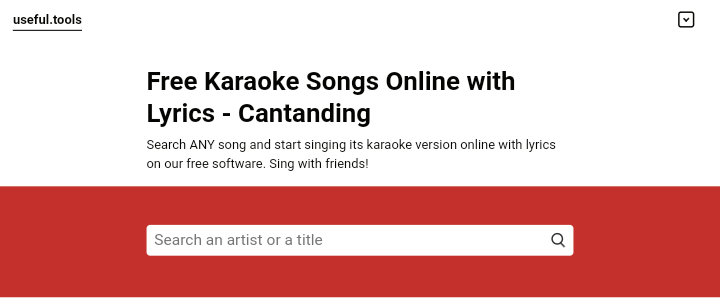 Pros:
The interface lets you know what the site is about, preventing any form of confusion about what to expect.
The site has a wide range of songs with lyrics from all over the world.
Cons:
It needs more interactive features as it only allows for song search and sing-alongs.
The ads can be distracting and unappealing.
Singa is a fantastic way to sing Karaoke versions of songs online. Instantly, you can access tens of thousands of online Karaoke songs with lyrics. These songs range from the classics to the latest hit songs. Singa is available on all the major platforms ranging from the web to Android and Apple TVs. It has a great catalog of songs for any occasion. Furthermore, it is constantly updated with the latest legally licensed songs to keep users interested in using the platform. Therefore, if you need a Karaoke online system for your Karaoke bar or restaurant, Singa is the place for you.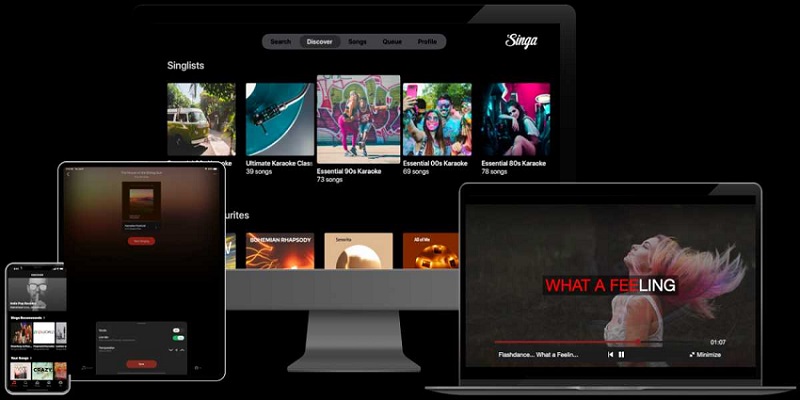 Pros:
The audio quality is high on Singa Karaoke online.
It is easy to navigate and simple to use for your Karaoke sessions.
Cons:
Some users have complained about the lyric overlay and photos on the screen, which make it unappealing.
The Singa Pro app version has more features than the online site, which is good for their business but can discourage users who want something fast and free online.
Karaoke version online free tool is a top source for your MP3 instrumental music. You can enjoy drum Karaoke, Karaoke bass, and other attainment instruments on this site. With as little as $2.99, you get to customize your songs by mixing the instrumentals of different tracks, removing or adding the lead, then downloading it in MP3 format. Not all Karaoke online sites let you do this.
The songs on this website are organized according to popularity, artists, latest hits, styles, and genres. That makes it easy to know where to go to get the Karaoke song you want.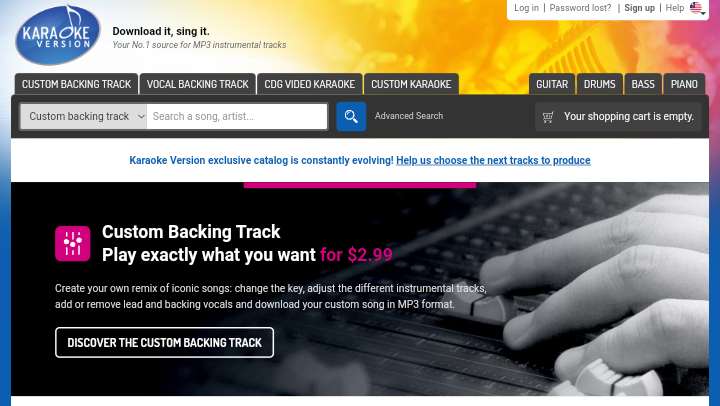 Pros:
The music catalog is constantly evolving as users can be a part of the process; users can choose the songs they want as Karaoke on the website.
Songs are arranged in an orderly manner which makes finding the music you want pretty quick.
Cons:
The best way to enjoy more features on the site is to make the $2.99 payment which some users find higher than other Karaoke online tools.
It does not allow for many file formats as its primary downloading format is MP3.
Sing2Music is not just an online Karaoke site; it is a platform that is ideal for musicians and singers to thrive in achieving their musical dreams. The service offered here includes the performance of acoustic music versions without needing some professional skills. Thus, with Sing2Music, you can cut down on the time and stress of music production by simply using the already-made Karaoke version of songs provided for you in high quality.
Although you do not need professional skills to use Sing2Music, it gives the best Karaoke versions of songs.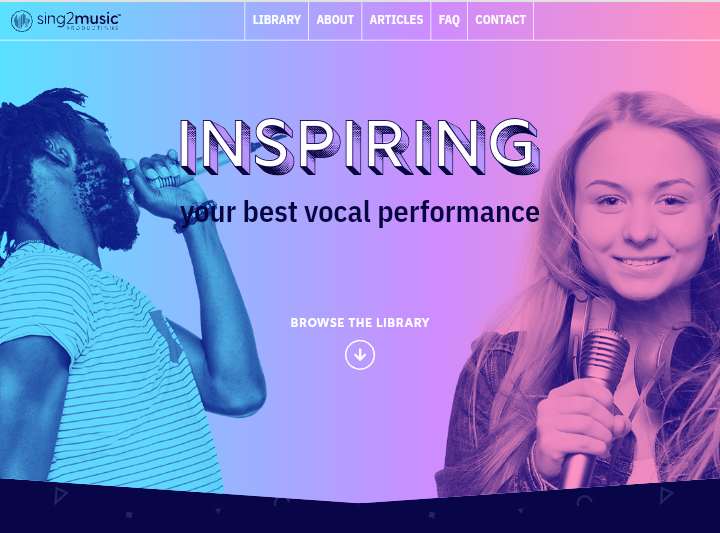 Pros:
It enables you to improve your music production through the extra features.
It can be used by beginners and amateurs.
Cons:
It has ads on the site which interrupt navigating on the website.
It is a free tool, so you may not enjoy new features unless you pay for the premium version.
Smule is a company that deals with designing music-making tools and apps for iOS, Android, and PC devices. The Smule Karaoke tool has fast become popular since its inception in 2012. That is because of the interactive interface that lets you record your Karaoke with lyrics or share it as a live performance. It also allows you to adjust the music tunings even while you sing, giving you an output of a professional musician. Furthermore, it offers you the opportunity to be discovered worldwide as you can do song covers with the instrumentals of songs and then share them on all social media platforms.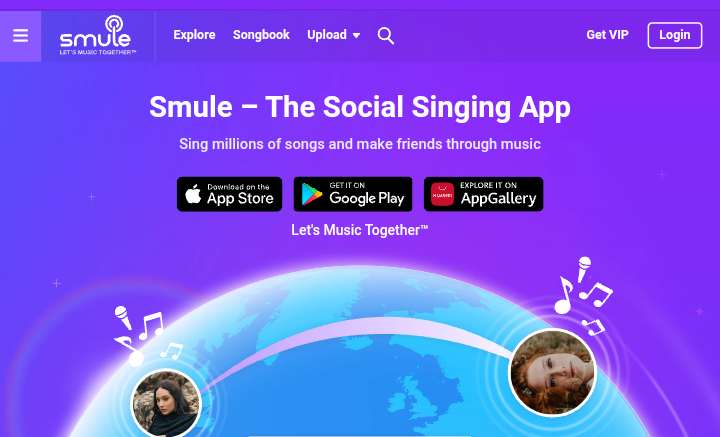 Pros:
It is a flexible Karaoke maker as it allows you to pitch-correct and modulates the ambiance even as you sing. It also lets you duet with others and advance your singing levels.
Smule is the ideal Karaoke maker online for amateurs to show the world their raw talents through Karaoke versions of songs.
Cons:
There is a higher price tag to unlock the premium features, which doesn't encourage free Karaoke sites.
The free version is filled with many distracting ads.
Sing Karaoke songs and record them for future use with RedKaraoke online, a tool with one of the largest collections of songs from all over the world. You can begin using it for free with ten songs, compliments of Redkaraoke every month. Then with the VIP membership registration, you can get up to 45 000 songs and more from the world over.
Record yourself as you sing Karaoke songs for free and share the results with RedKaraoke's one million members. Who knows? That might be your chance at discovery.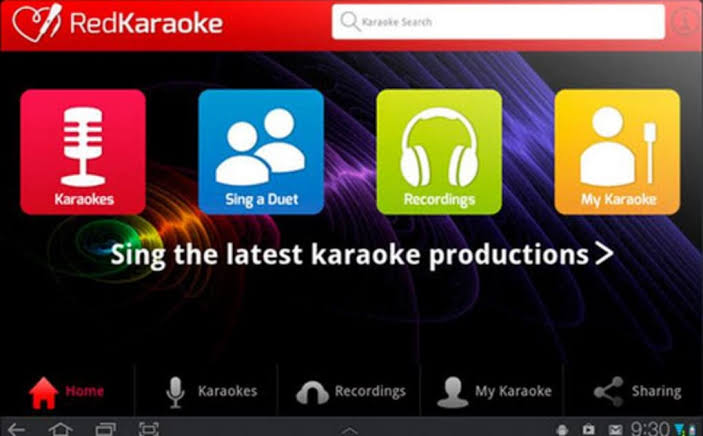 Pros:
You can customize the Karaoke maker to suit your preferences by enlarging the lyrics, reducing them, adjusting the song's key, adding real-time effects, and creating a list of your favorite online Karaoke songs with lyrics.
It ranks among the best most accessible Karaoke makers online.
Cons:
Some users experience a sudden crash in the app version of RedKaraoke.
The lyrics take a while to load.
Part 2: How to make Karaoke songs with lyrics [quite simple!]
It is vital to point out that most free Karaoke sites online have limitations that can frustrate the smooth Karaoke music session you had hoped for. For example, they come with ads interruptions between songs, inconsistent audio quality, inability to enjoy complete tool's features, etc.
Alternatively, you can DIY (Do It Yourself) Karaoke WAV files from songs using a good vocal remover. An example of a tool we recommend for this purpose is Media.io AI Vocal Remover.
It is a tool that removes the vocals from any song of your choice, leaving you with the Karaoke HD. It is a professional online vocal remover that you can trust to give you those beautiful instrumentals on which you can create your Karaoke versions of songs the way you want.
Here are some main features:
It uses AI-based technology to separate vocals from songs, leaving you with quality
It gives you music output in Karaoke WAV fileor other popular formats.
It is easy to work with, so even beginners will enjoy the tool.
This magic Karaoke makertakes approximately 15 seconds to extract the acapella and Karaoke versions of songs; this makes it one of the fastest Karaoke tools online.
It is entirely free to use, even for bulk file conversion.
Below is how to convert songs to Karaoke using AI Vocal Remover:
1. Go to the AI Vocal Remover
2. Click "Choose Files" to add the audio file you want to convert.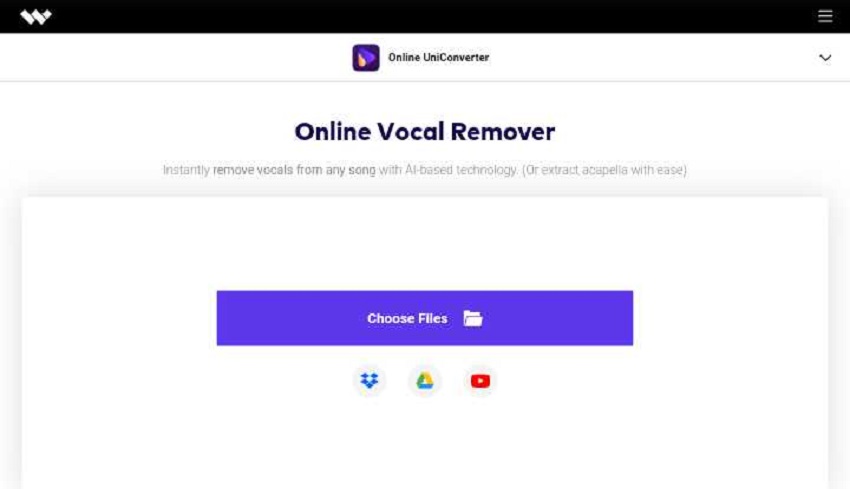 3. Wait for a few seconds for an automatic separation of your audio track, performed by our great AI technology.
4. Choose "Instrumental" track to get your Karaoke version.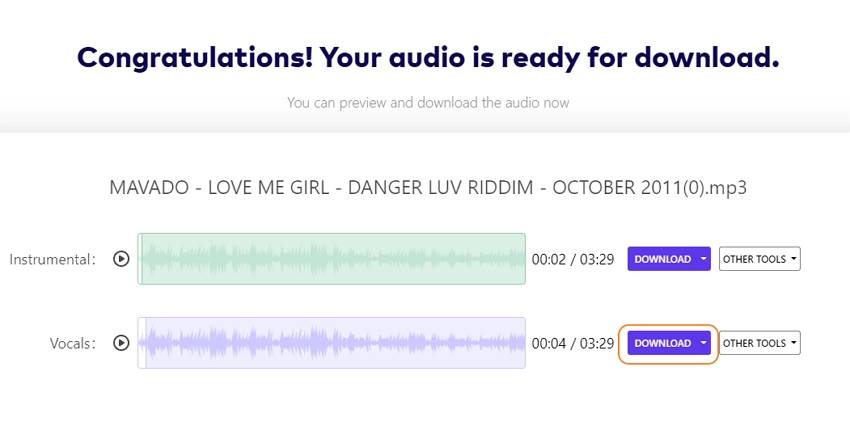 Conclusion
There are many Karaoke online tools that you can enjoy making music with your family and friends or even alone in your home. This article has provided you with the seven best free Karaoke websites to give you the best high-quality HD Karaoke. However, if you want to create Karaoke music yourself, Media.io AI Vocal Remover is the magic Karaoke maker you need.