Adobe Audition is the most known software for editing audio files. With Adobe Audition to remove vocals, you can create mesmerizing BGMs and instrumental music sounds. This software is very popular among podcasters, musicians, and audio editors. Whether you want to extract music from an audio file for creating TikTok or add music to a vlog, it can help you with all.
In this article, we will guide you about the usage of Adobe Audition and how you can remove vocals with it. Besides this, you will also get an implementable bonus tip. With this tip, you can remove vocals from songs at a faster speed without following any complicated procedure.
Part 1: A Brief Overview of Adobe Audition and its Feature
Adobe Audition is a professional workstation for audio editors and musicians. Adobe Audition vocal remover allows you to remove any vocals from media content of any format. You can do this with full customization. It can also accelerate your production workflow and make it more seamless. There is a comprehensive audio toolset in it which make your work more convenient.
Moreover, it offers strong audio restoration, noise reduction, along with sound removal. There are also many visualization tools in it. The interface of this tool is also very well structured, inspiring many users.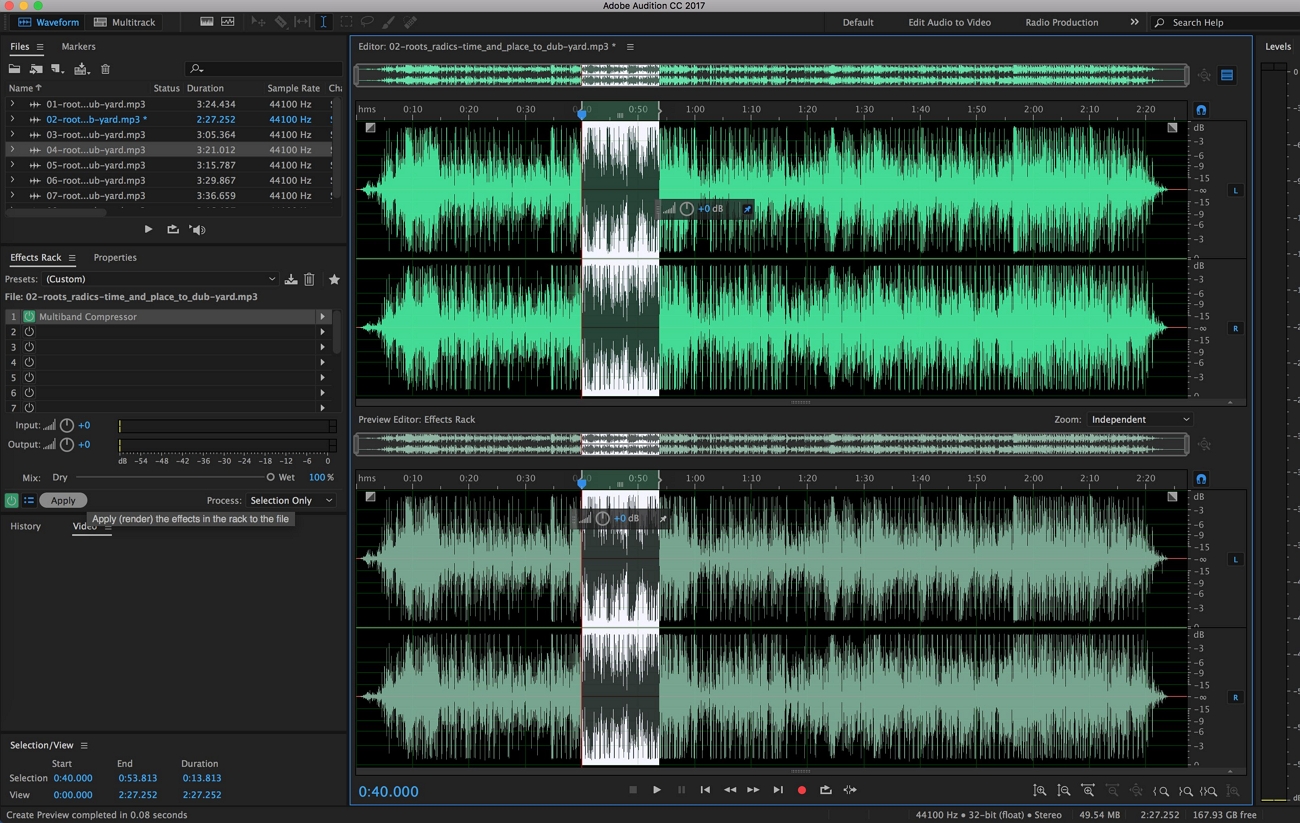 Key Features of Adobe Audition
You can record music with Adobe Audition and edit it in multiple ways. It also gives you the option to apply distinctive audio effects to audio clips.
This vocal remover software can also help you generate text from audio through its Text-to-Speech Generator.
Adobe Audition also allows you to repair and restore the sounds along with the spectral frequencies and panels.
Part 2: How to Remove Vocals Using Adobe Audition Vocal Remover?
Working with Adobe Audition is not an easy task. The chances of getting confused with vocal remover Adobe Audition are also high. Still, Adobe Audition is a powerful audio editing software that offers dozens of tools for the ease of users.
It can handle multiple types of formats and have excellent plugins. You can also save the edited file in various formats with it. In short, it is known to be a reputable tool for removing vocals from audio.
Step-by-Step Guide to Remove Vocals with Adobe Audition
Feel free to follow the instructions listed below to remove vocals from the audio file with Adobe Audition:
Step 1
Open Adobe Audition and import the audio file. After this, click on the "Effects" tab and select "Stereo Imagery," and tap on "Central Channel Extractor."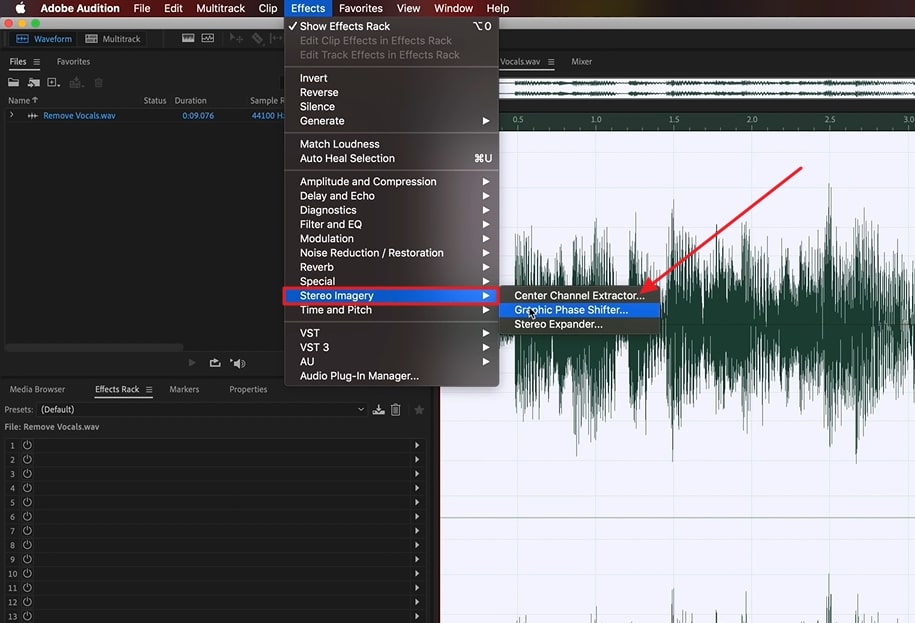 Step 2
From the pop-up window, go to the "Preset" drop-down menu and select "Vocal Remove." Afterward, adjust the preset settings with the help of its sliders.
Step 3
From the "Frequency Range" area, you also have to customize the "Start" and "End" bass lines according to the audio you have added to the tool. After this, click the "Apply" button to apply the settings.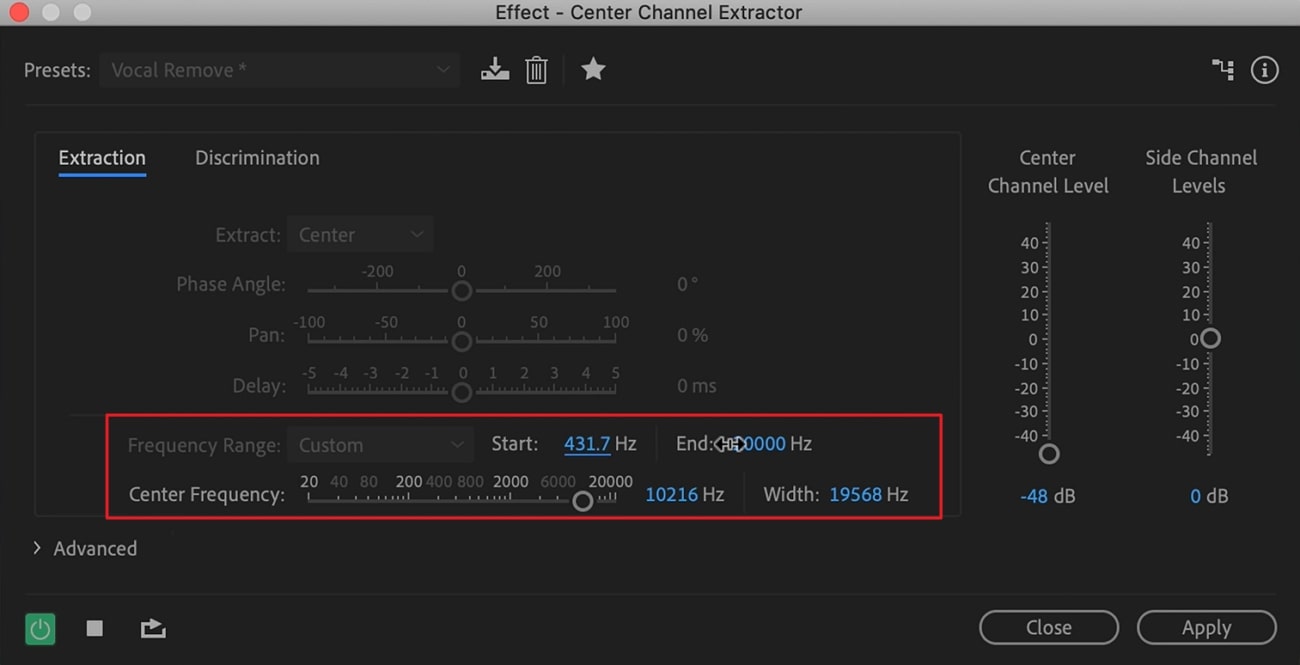 Bonus Tip: The Best AI Vocal Remover to Separate Vocals and Music from Audio and Videos
Do you want to remove vocals from an audio file in the easiest way. as you can see above, Audition vocal remover is not a very straightforward thing. You can easily get distracted and confused. Thus, you need to work with the most straightforward tool that can implement your creativity to music in such a reliable manner. A tool that fits this scenario is Medai.io - Vocal Remover.
With this AI-powered tool, you can remove vocals instantly without compromising the quality of the music. Whether you will create a karaoke video or vlogger music, this exclusive tool can help you with all. The speed of Media.io - Vocal Remover is ultra-fast, so it can be said that it's a one-step process to accomplish the task.
Step-by-Step Guide to Remove Vocals with Media.io - Vocal Remover
Media.io - Vocal Remover comprehends incredible audio output quality. You can follow the instructions below to get the work done without any problem:
Step 1

Launch Media.io - Vocal Remover and Add Music File

Access the vocal remover tool of Media.io from your Chrome or any optimized browser to use the tool at a good speed. Once you are on the official site, click "Get Started Now." Afterward, click on the "Upload" button and add the music file of your choice.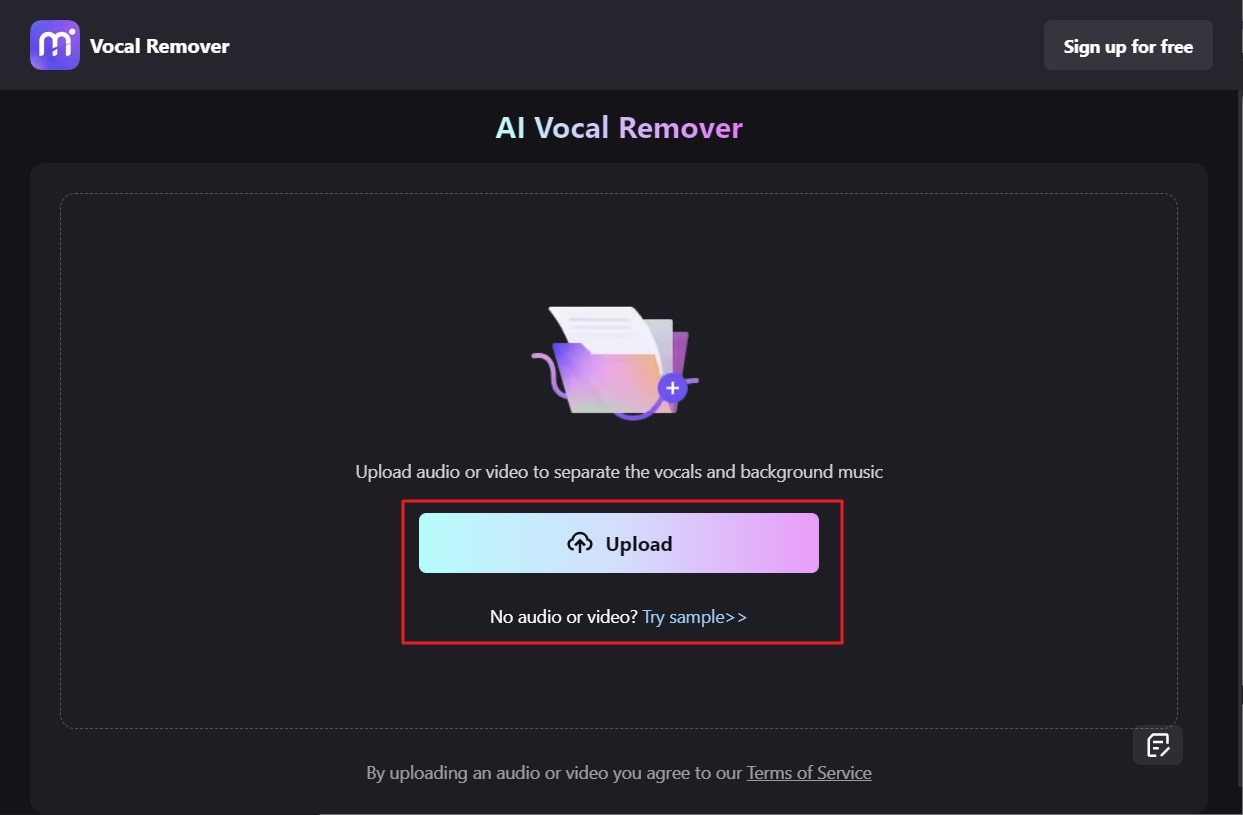 Step 2

Remove Vocals and Export the Music File

Hereafter, go to the "Vocal" section and click on the "Download" icon present right to it. By this, the music without vocals will be saved on your device. If you want the music file separately along with the vocals file, tap on the "Download All" button.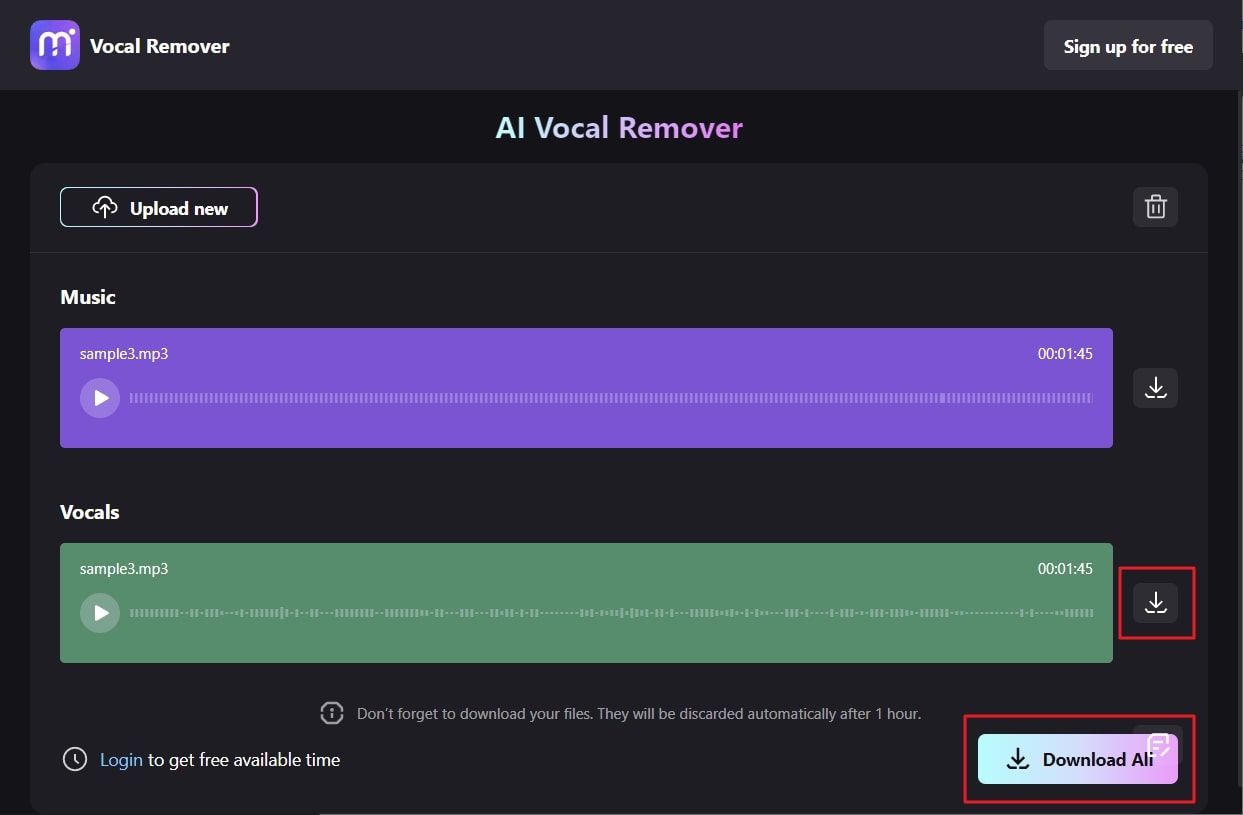 Conclusion
As this discussion demonstrates, Adobe Audition Isolate Vocals is an excellent tool for removing unwanted and irritating vocals from audio files. You can do this to make engaging BGMs and instrumental sounds. It is also very convenient for audio editors. However, the process of this task can be pretty complicated for beginners.
If you want to remove vocals more easily than Adobe Audition Vocal Remover, consider using Media.io - Vocal Remover. This feature-rich tool can make your work easier and more reliable. Moreover, it always derives satisfactory outcomes. You can also follow the steps listed above to get the job done.