When looking for an online vocal remover, there are multiple factors to consider. First, the software must be intuitive and straightforward to use even with the greenest of hands. Second, an excellent vocal remover should support most audio formats and, if possible, video formats. Third and most importantly, the program should offer additional features to trim, convert, merge, adjust volume, compress, and more. So, if you're struggling to find software that ticks all these boxes, keep reading to know your options.
Part 1: Best online vocal remover recommended – Online UniConverter
Online UniConverter is undoubtedly the most convenient online video editor around. This program is free to use and boasts a simple user interface that requires minimal knowledge to navigate. That said, Online UniConverter Vocal Remover can extract vocals from almost all audio and video formats. It supports MP3, MA, FLAC, OGG, MP4, MOV, VOB, and others. Just add your media file to the program, and it will automatically separate vocals from instrumentals. After extracting vocals, this all-in-one program can trim, convert, merge, compress, and perform other audio editing tasks.
Key features of Online UniConverter Vocal Remover:
AI-powered vocal remover for extracting instrumentals/vocals automatically.
It supports all video/audio formats, including MP3, M4A, AAC, OGG, MP4, MOV, etc.
Edit the extracted audio by converting, trimming, compressing, and more.
Multiple intuitive video editing tools for trimming, cropping, flipping, compressing, etc.
Free 1GB cloud storage.
How to easily remove vocals from audio with Online UniConverter?
Step 1. Launch the Vocal Remover tool.
Run Wondershare Online UniConverter on your computer or mobile browser and then choose the Vocal Remover function under Online Tools. The program will launch instantly.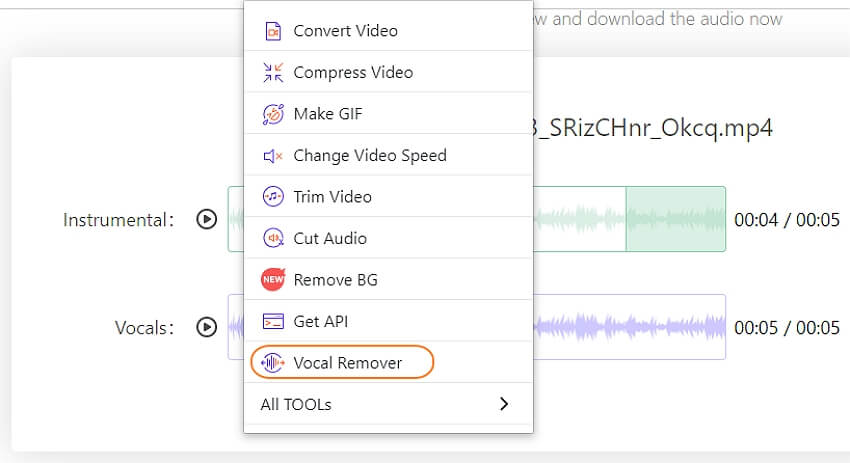 Step 2. Upload your audio or video file.
Now click Choose Files to open your local storage and upload an audio or video file. Or, simply drag-n-drop your file on the Vocal Remover window. Either way, Online UniConverter Vocal Remover will begin to separate vocals from instrumentals.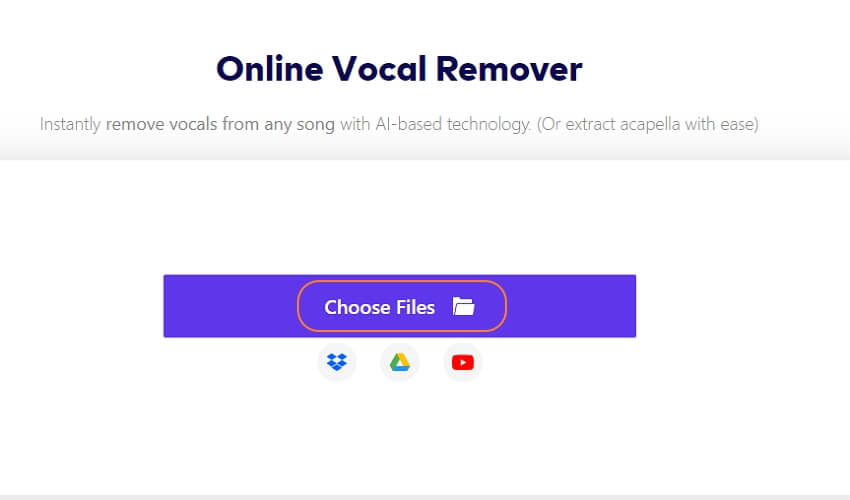 Step 3. Save the instrumental audio track.
You'll see two audio tracks after a successful upload process, karaoke version and vocals-only audio track. In that case, tap Download beside the track labeled Instrumental. Of course, you can also download the vocal file. Enjoy yourself!

Part 2: 3 best vocal remover softwares for computer
URL: https://www.wavosaur.com/download.php

Wavosaur is a popular software on the internet to remove the vocals from audio. It also has some advantages on its side. We are going to point out the Pros: and Cons: below to make it easily readable.

Features:

It's a sound editor, audio editor software.

It processes and records sound.

It has all the Features: like cut, copy, paste, etc.

It can produce music loops.

It also analyzes the audio.

It also has a feature to convert the audio in a whole bunch.

It can export mp3 files.

This software can slow down and speed up the audio.

It can also cut a song and put other parts of the song together.

Pros:

The first advantage is it's free of cost.

It can be used as a general audio editor too.

It doesn't need any sound engineer to operate it; everyone can use it for its simple Features:.

Has a variant sound format other than mp3

With the help of program coding, this software automatically detects the vocal pitches and scrub them off from the audio file.

Cons:

It depends on how the sample is free and clear of compression; on that particular note, extra care is needed.

URL - https://www.audacityteam.org/

Another free to use vocal remover software. It's the best software to use in a situation where the sound of the instrument overlaps the lyrics. Let's find out the good and bad side of this software.

Features:

It has a feature of manually recording (What you hear).

It has the ability to record from live audio through a microphone.

It can import and combine audio files.

It can export audio files into any file.

It supports 16 bits,24 bits, and 32 bits.

It supports unlimited record, edit, cut, and also redo and undo in any steps.

Plug-in managers manage the installation and removal of audio files from the menu.

All the tracks and selected files can be manipulated using the keyboard shortcuts.

It has a mode called spectrogram, which is used for visualizing and selection of frequencies.

The inbuilt effects of this software can be modified in a text editing software.

Pros:

Available for anyone as it's free to use.

It's an all in one music editor.

Best software to manage the tricky situation.

Sufficiently resolve the instrument pitches before removing vocals.

Cons:

Nothing to report

Download Link

URL - https://www.nch.com.au/wavepad/index.html

This vocal remover online is not free software; even some versions can cost up to 69$. But with that much cost, you can get more than enough services from this. It's the best allrounder audio editor in the present day. But every software has some good and bad features. Let's enlighten the facts.
Features:
Has Features: like cut, editing, copy, paste, delete, insert, auto-trim, etc.
It has an audio equalizer, echo, reverse, normalize, amplify, etc with plug-in compatibility.
'Batch processing' allows the user to apply different effects and can convert a thousand files into a single function.
It also has a feature to cut a song and make it a ringtone for mobiles.
Pros:
It has a lite version that is free to use.
Even the lite version has all the Features: to edit the audio.
Apart from the expensive side, it's a whole pack of more than a vocal remover.
It has exclusive Features: that allow the user to modify audio files.
This software also removes the vocals through the mollification( to mute the volume of the audio) process.
Perfect use for a party or home system.
Cons:
The original version is on an expensive side.
A little bit more difficult than the mentioned two others.
Summary
These are the best online vocal remover apps for iPhone, Mac, Windows, and Android. Although the 3 mentioned vocal remover softwares are among the best audio editor, you can't use it on Android and iPhone. What's worse, the user interface is not beginner-friendly. So, use Online UniConverter Vocal Remover to enjoy equally good results, albeit on a much simpler platform.