With the rising popularity of online content generation, you need stunning artwork. For this purpose, you opt for digital artwork tools available in the market. Meanwhile, this helps you design beautiful portraits, thumbnails, and mosaics. In all this scenario, there exists the problem of the platform's logo on exported content. This is where you need a logo remover for images.
In this article, you'll learn about AniEraser, an important remove logo online tool. You'll also find its daily-life use cases, major functions, and ways to use it.
Part 1. In Which Daily Life Occasions AniEraser Can Help You? 
AniEraser is an industry-leading logo remover for enhancing video quality. Thus, you can use this platform on several occasions in your daily life. Let's find how AniEraser can help within daily use cases: 
1. Remove Watermarks 
By using AniEraser, you can remove all unwanted items from your images. This also includes watermarks of all types, including text, pattern, shape, or pictures. Meanwhile, removing watermarks can help you upload your content on the internet.
In general, there won't be restrictions once you remove the watermark. Thus, it's ideal to be productive through visual content without watermarks. As a result, you can start sharing photos on social media and digital platforms. 
2. Remove Objects
There is an option to remove unwanted objects from your images. Thus, if you've pictures with unnecessary things, use AniEraser. After all, this tool provides dedicated solutions to bring life into your image. So, you're given the opportunity to remove people, animals, or any object. This way, your image would become tailored to your actions and styles. From now on, take pictures of your outdoor picnics with confidence. 
3. Remove Texts 
Using AniEraser, you're given the facility to remove texts from your photos. Thus, remove all the text overlays present in your visual content. As a result, your photo will become a template you can use for other purposes. For example, you are creating memes, short funny clips, or GIFs. Moreover, you can use processed content to upload on social media platforms. 
4. Retouch Photos 
You have to upload your selfie portrait on the internet to share with friends. But your photo could get ruined due to your facial hindrances. After all, acne, wrinkles, spots, darkened skin, or pimples might exist. In this case, AniEraser can provide AI retouching to your photos. With this, your face will start looking fresh, bright, and clean again. It's like you applied digital makeup.
5. Repair Old Photos 
Old photos are close to all of us because they have memories. The worst part is that the majority of these photos have noise and grain. Hence, there exist scratches that eliminate engagement from your old photographs. With AniEraser, all these annoying stains get removed instantly. This can make your old photos new again. Thus, you can start sharing your memories in your friend's circle to remember the past.
Part 2. Why the Desktop Version of AniEraser is Recommended
There exist several image logo removers on the internet, but AniEraser is the best option. This desktop software has innovative AI technology that analyzes and removes unwanted objects. You just have to mark the target area using a brush tool, and logo removal will begin. Meanwhile, it's possible to adjust the brush size to target small or wider areas. You can also perform redo, undo, or reset functions.
Moreover, there is an option to preview your logo removal in advance. In fact, you can also crop your image by resizing the layouts. Several aspect ratios are provided by which you can set screen height and width. In contrast, AniEraser isn't only limited to photos. You can also use it for removing logos within the videos. In addition, there isn't any limit on the length and size of videos.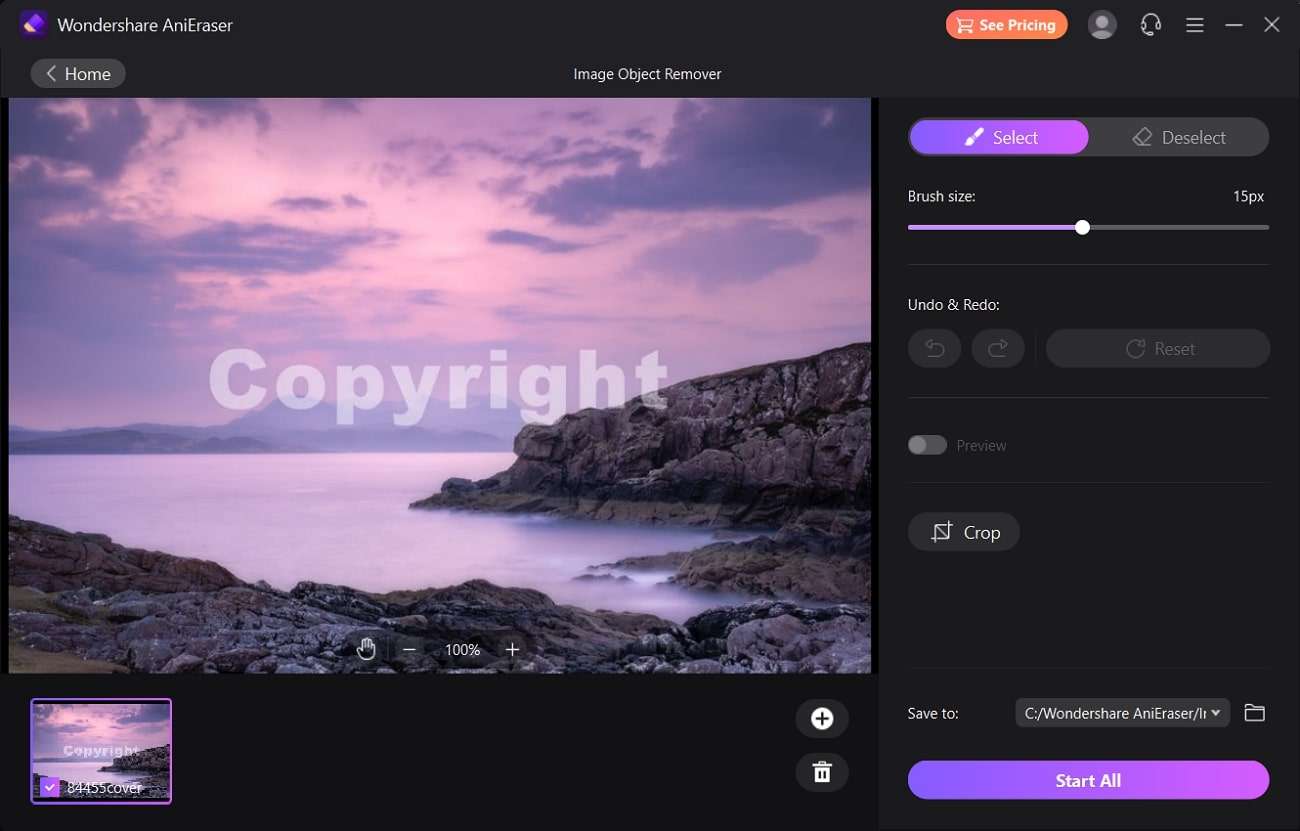 Prominent Advantages of AniEraser Desktop Version
Using AniEraser is very simple and easy because there exists a simple interface. Despite that, many other advantages exist. Let's discuss these prominent advantages of AniEraser:
1. Support More Formats
This image logo remover platform supports different image formats. Thus, you can upload images of any format for the logo removal process. This increases the possibility of utilizing different images with more use cases. The case is similar for the videos as well.
2. Support Bulk Delete Logos
AniEraser comes with batch-processing support. Hence, there's an option to delete logos from 5 images or videos simultaneously. This will save you valuable time and resources. After all, you don't need to remove logos individually from each visual item.
3. Stable and Blazing-Fast Performance
There won't be network disconnections or disruptions during the logo removal process. This way, you will experience a stable performance that comes with zero lags. Meanwhile, the process execution is fast, efficient, and reliable.
4. Support Large Size Files
There isn't any size limit on the desktop version of AniEraser. So, you can upload files within any file size without problems. Hence, use this image logo remover to remove objects or perform cropping. Moreover, the platform doesn't get stuck or close abruptly when you upload large files. 
Part 3. How to Remove the Logo With the AI Technology of AniEraser
Are you looking to remove the logo from the picture using the AniEraser desktop version? But you don't know how to process your images with this tool? Follow these simple steps here: 
Step1

Upload the Image File

Install and open the latest version of AniEraser software on your Windows PC or MacBook. Click the "Image Object Remover" button and import the required image from which you want to remove the logo. Afterward, wait until the uploading process gets completed.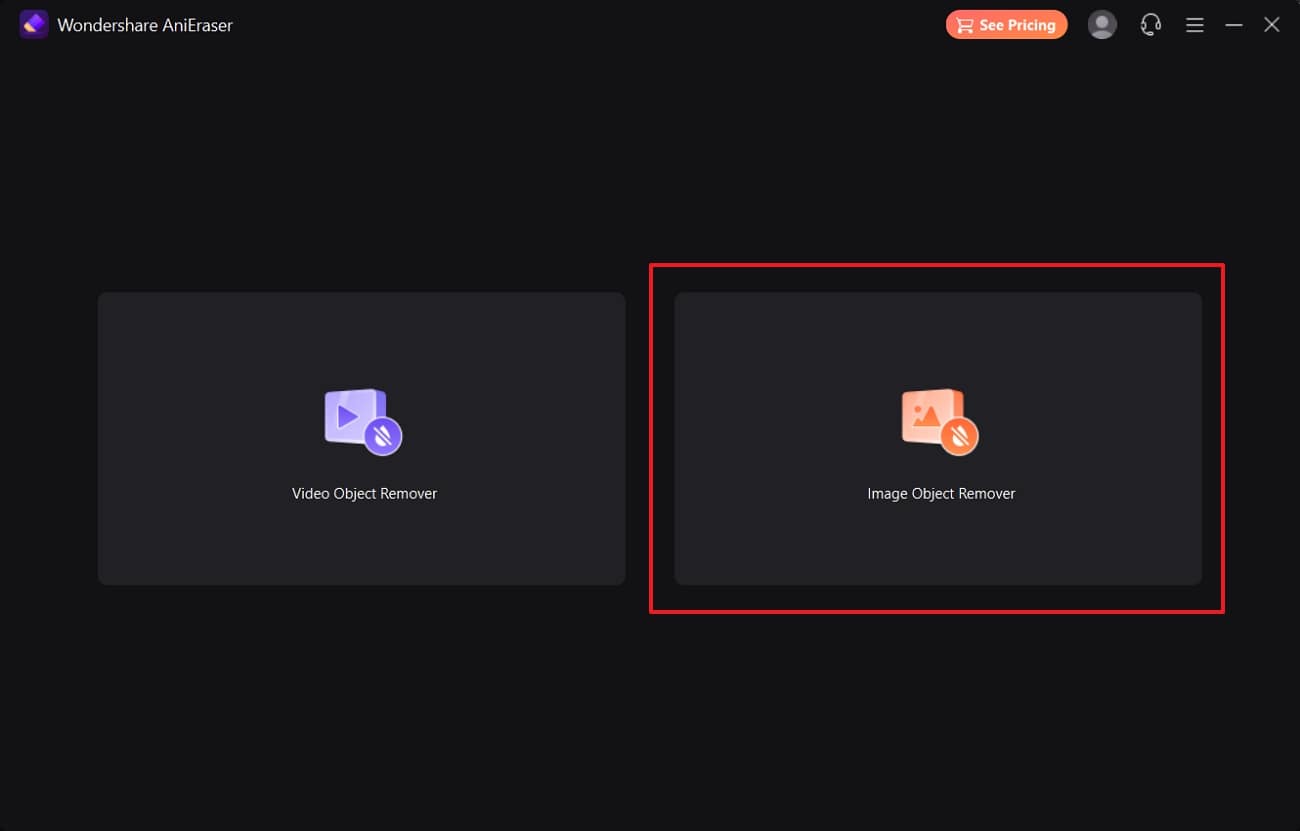 Step2

Highlight the Logo in the Image

From the panel on the right side, choose "Select" and adjust the "Brush Size" through the slider. Afterward, brush the area on your image where you need logo removal. To erase applied brushing, choose "Deselect" and apply the eraser effect on the image. There is also an option for "Reset", "Crop", and "Undo & Redo".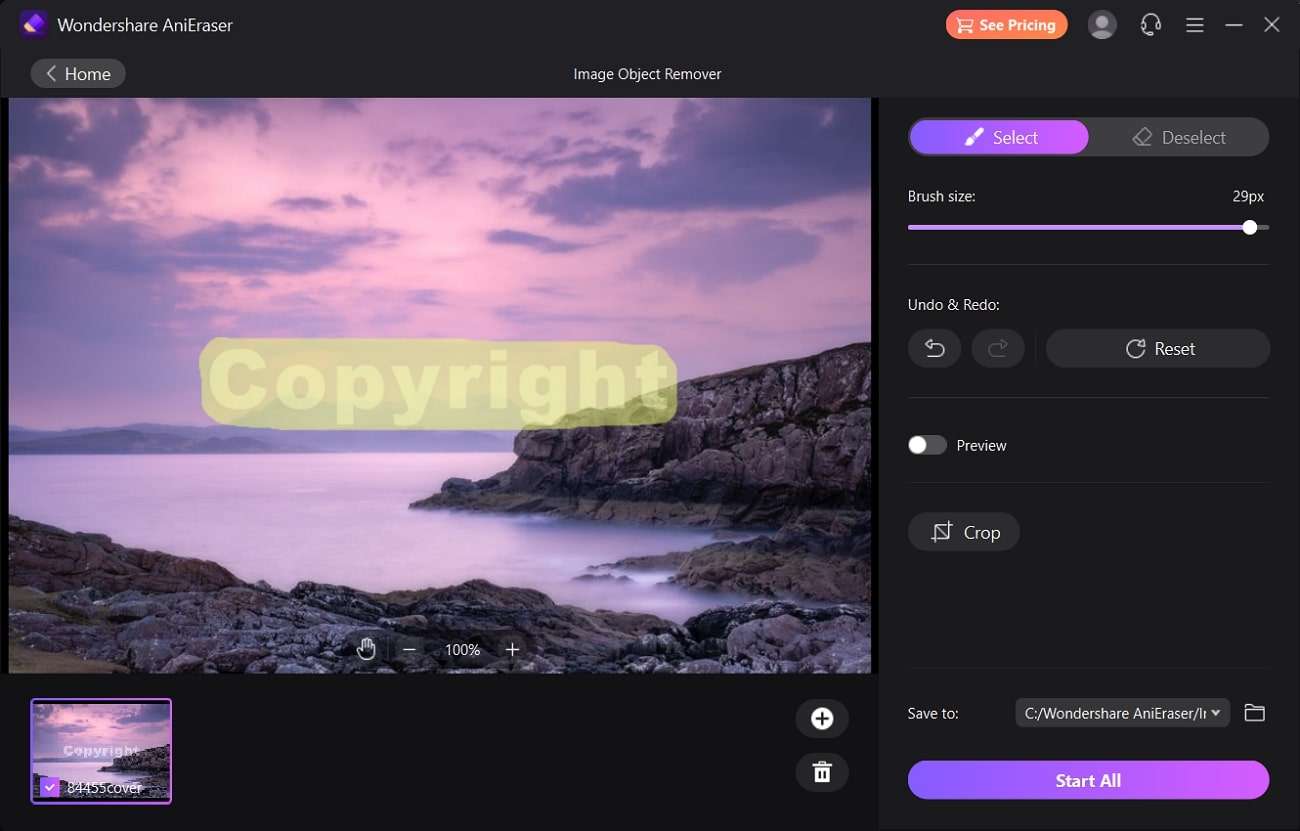 Step3

Preview and Export the Picture

Turn on the "Preview" option to view your image with logo removal in advance. If satisfied, choose the file location from "Save to". Continue to press "Start All" to begin logo removal and get the file saved on the device.