Any memory and information are easily digested when in the form of photos. However, several elements like cats or rubbish can lead to the inappropriate background of photos. Whether you are sharing your picture or a marketing one, a good background is a crucial factor in any photo. For this reason, the need to remove the object from the photo arises.
Thus, many object removal tools are present on the web which you can use to get rid of unimportant things. Yet getting confused while using the good one among them is possible. This article will discuss the top 9 tools that can remove unwanted objects from photos.
Part 1: How to Remove Objects from Photos?
If you want to create studio-quality photos, from pixels to backgrounds, everything should be perfect. The pixels can be good with a reliable camera. However, if you somehow capture an undesired object in the photo, you need a tool to solve this issue. The top 9 tools that can remove unwanted objects from any image are listed below for ease.
With its availability in 160+ countries, AniEraser is one of the best tools for removing objects from the background. From an intuitive user interface to fast processing speed, you can accomplish all the tasks easily with it. Moreover, it never compromises the quality of an image, even after removing any object from it.
As AniEraser is an easy-to-use tool, so you don't have to master any editing skills to get your work done. Not only images, but this tool can also help in removing objects from videos. Thus, you can now save time and effort and accomplish photo tasks with premium quality.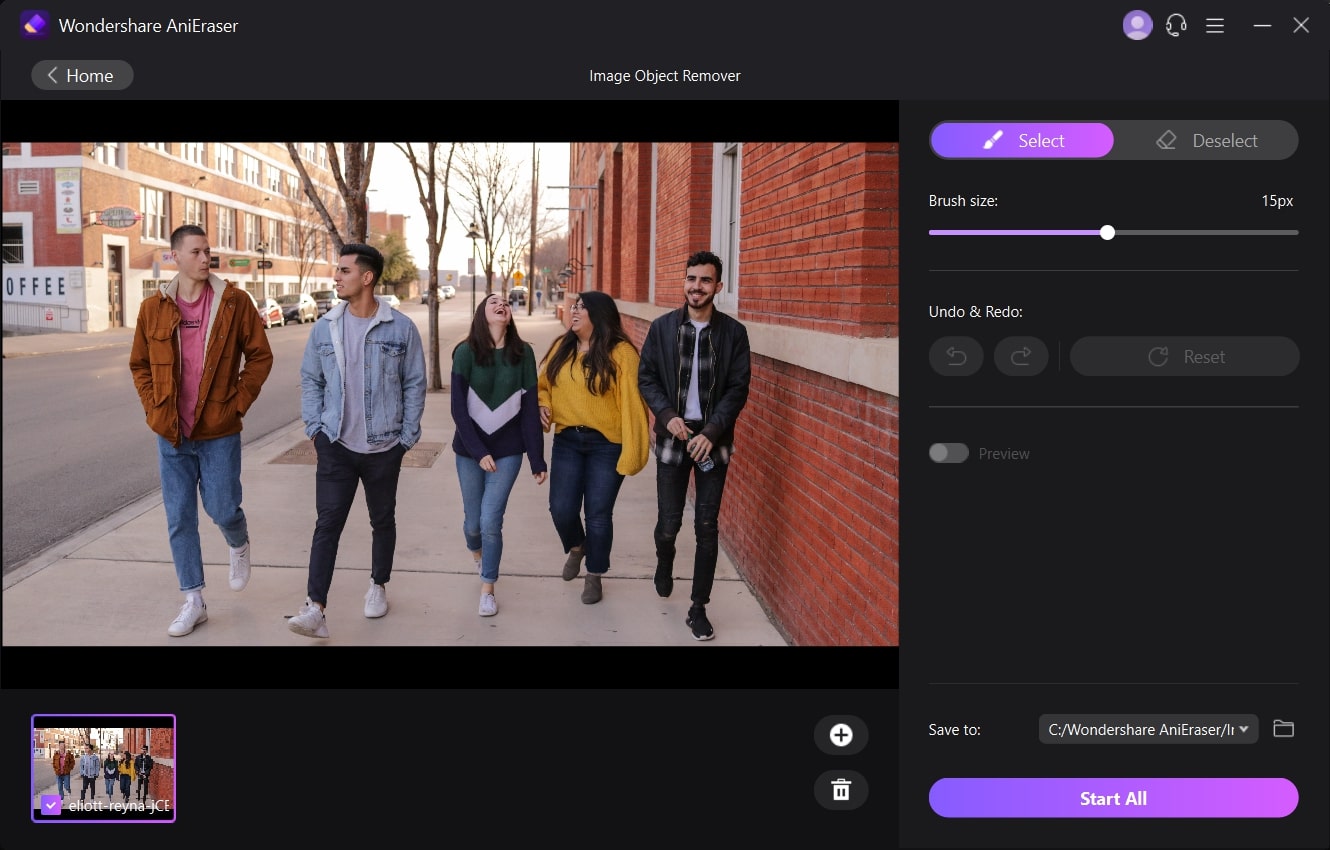 Available
Windows, Mac, iPhone, iPad, Web
Efficacious Key Features of AniEraser
When you purchase one license of AniEraser, you can use it on all platforms like Windows, Mac, and more without buying another one.
You can make precise modifications in the removal size by adjusting the size and opacity of the brush. It also allows you to cover large and smaller areas in a customized manner.
By using this object removal, you can remove more than one item in any image with ease. Moreover, eliminating multiple items will not affect the quality of the picture.
How to Remove Objects from Videos with AniEraser Online
Now that you know all about the higher functionality of AniEraser, you must be looking for ways to use it. Worry no more because the below-listed steps will help you a lot:
Step 1

Open AniEraser on Your Device

To get started, open the browser on your device and launch the AniEraser online tool. Click "Upload Video or Photo" in the main interface and select the "Upload" button from the next screen.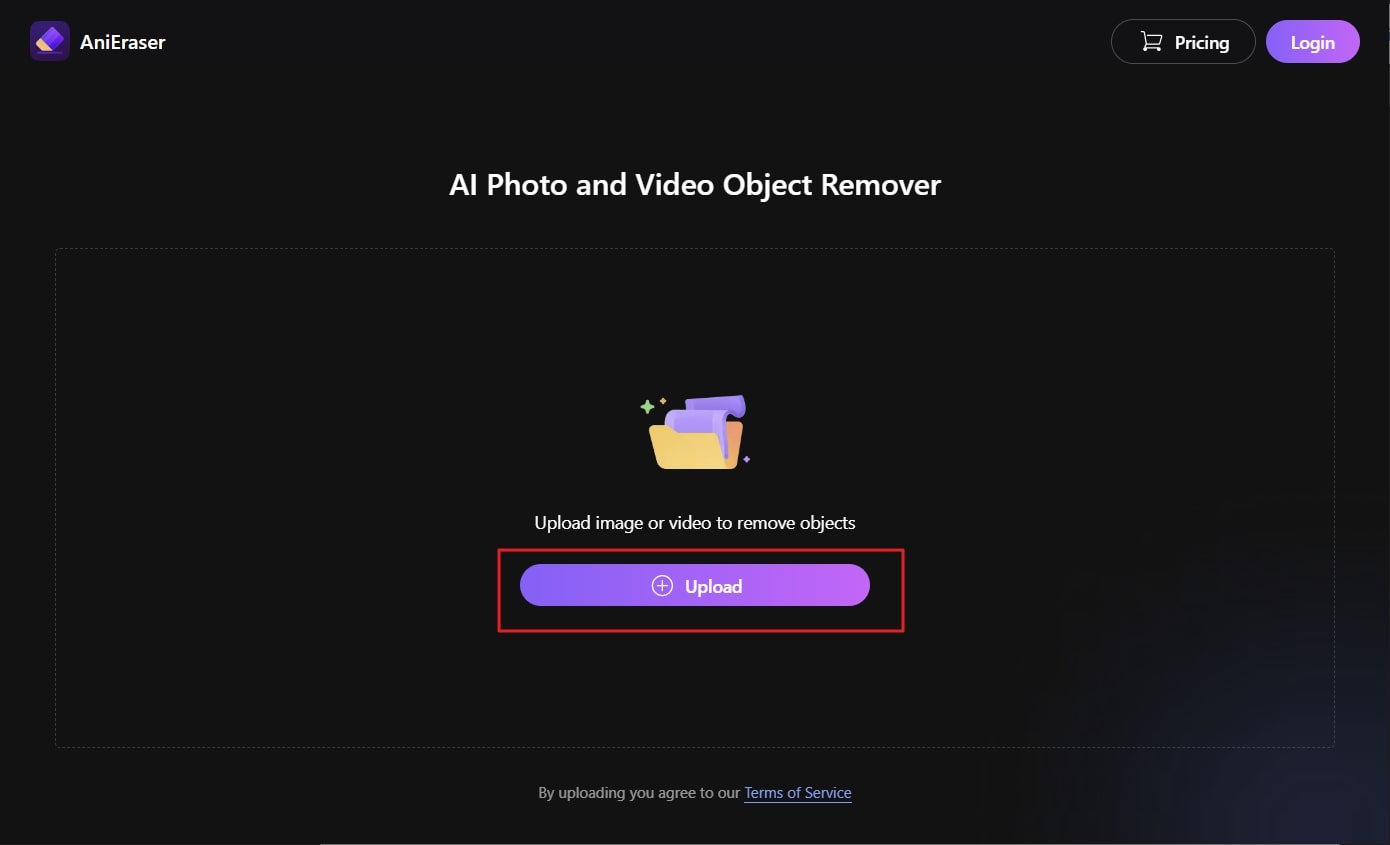 Step 2

Remove Unwanted Objects From Photos

Following this, manage "Brush Size" to highlight objects for removal and click on the "Remove objects now" button from the bottom right of the screen.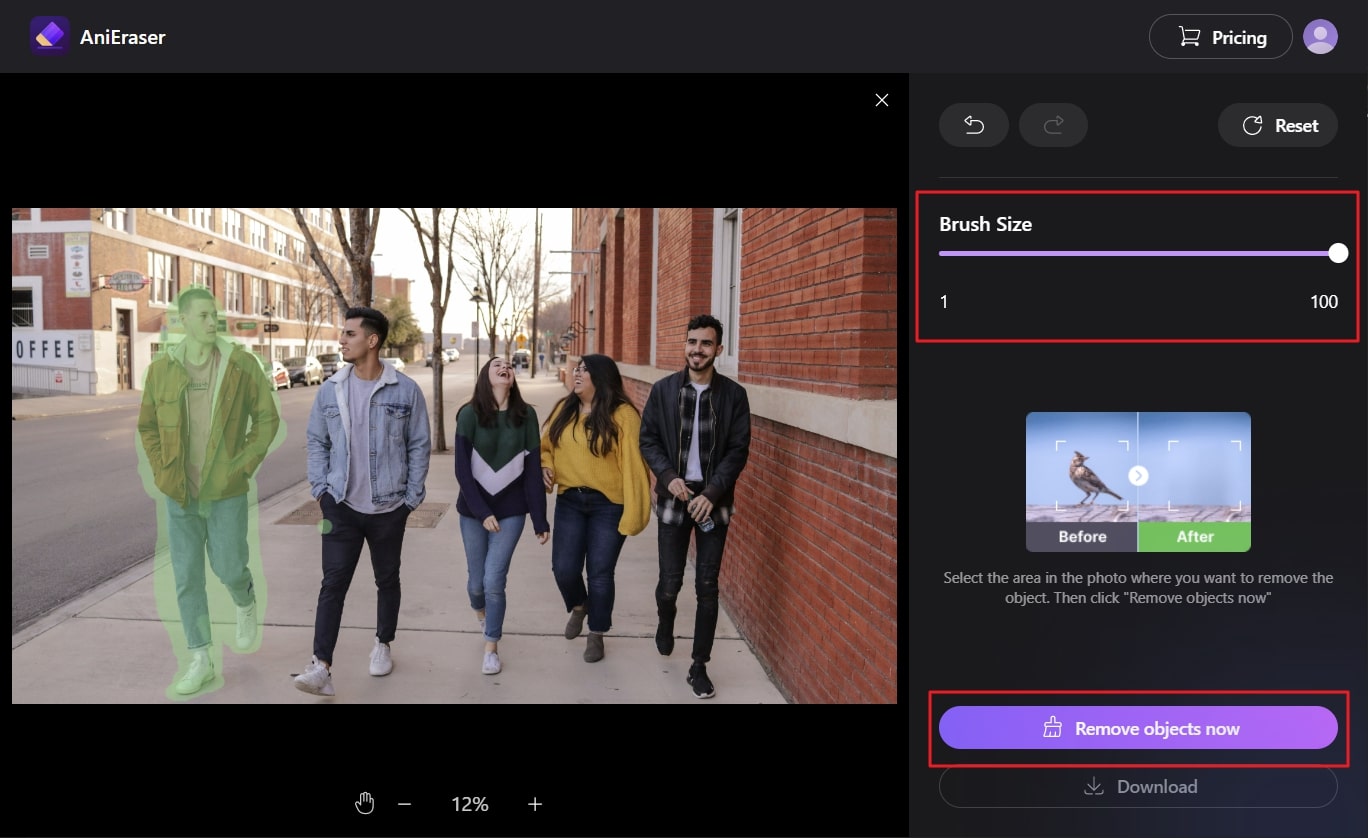 Step 3

Download the Photo Without Unwanted Objects

Wait a few seconds for the completion of the process, and afterward, click on the "Download" button. By this, the photo without any unrequired object will be saved on your device.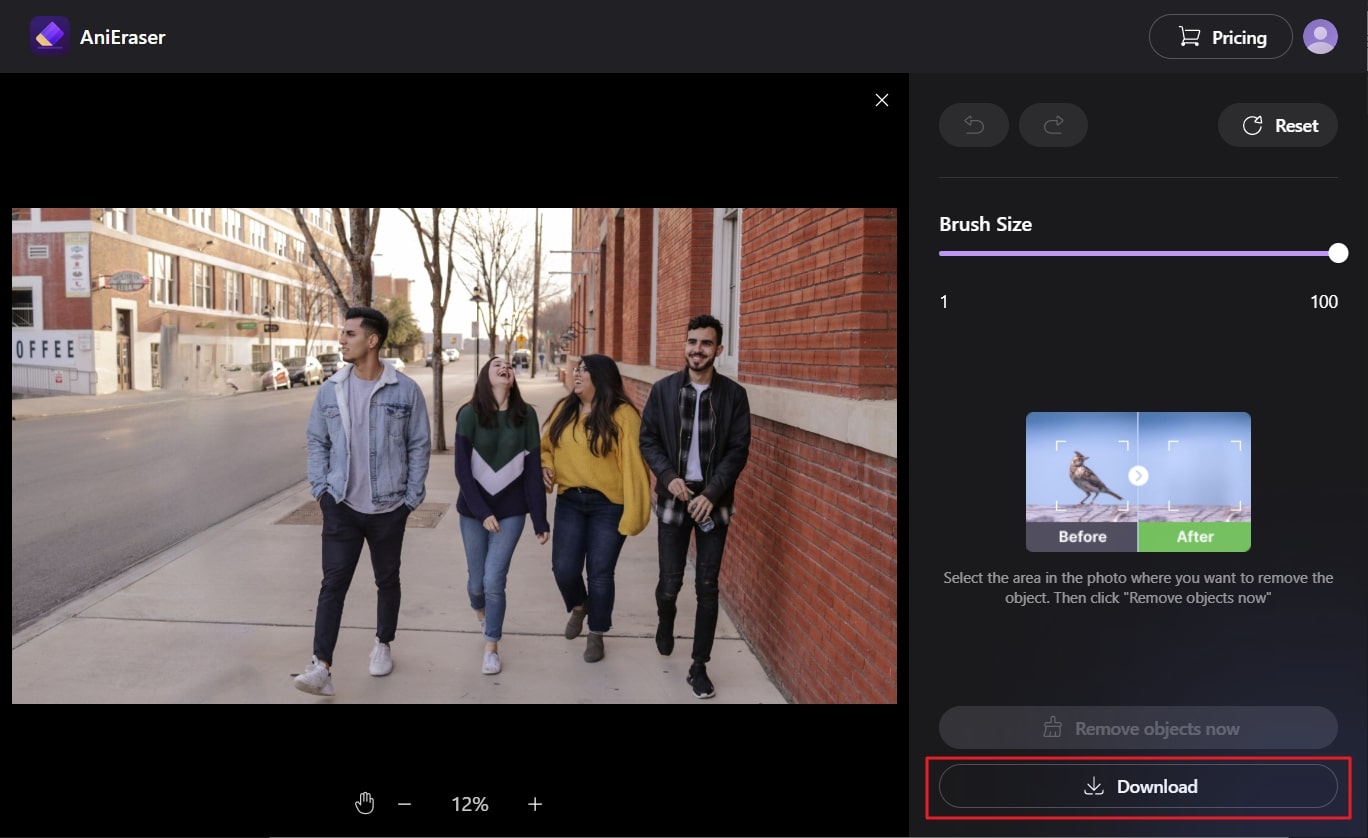 This tool has the capability to leverage the productivity of a photo by removing something from the photo. A bad background having unwanted objects can impact the picture badly. However, to tackle this issue, you can use Cutout.Pro to streamline workflow and remove objects from photos. Not only objects but also helps remove unwanted persons, scratches, blemishes, and other things from an image.
Moreover, you can also use the background diffuser tool to edit the background of a photo with text. It also helps add high-quality and premium colors to an image to enhance its attractiveness.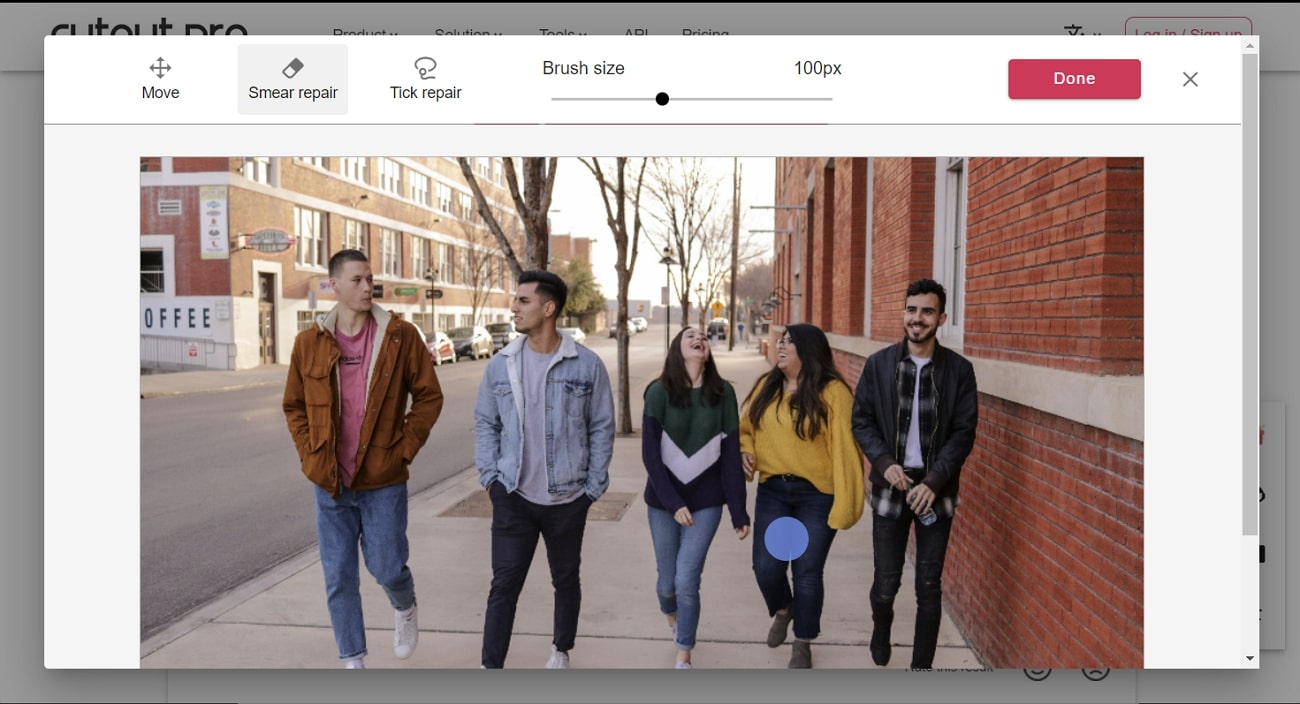 Available
Online, Desktop, Android, iOS
Elemental Key Features of Cutout.Pro
With this tool, you can create professional photos, including passports, visas, and more, in the appropriate size.
It also supports the feature of Background Blur. Thus, you can focus on yourself while blurring the whole background without any issues.
By using Cutout.Pro, you can also create and record videos with a webcam. It also allows you to remove the background of webcam recordings.
What We Like in Cutout.Pro
It has a magical feature of Photo Animer by which you can turn your simple photos into moving ones.
Using the AI Video Enhancer of this tool, you can enhance the quality of videos in 4K and increase the resolution of unblur videos.
What We Don't Like in Cutout.Pro
There is no bad thing about Cutout.Pro; however, slow processing speed can concern some users.
This award-winning tool has all the features you need to remove the object from the image. It is a perfect photo editor for professional use. This photo editor can handle everything from a steady pan to the instant opening of large images. Moreover, you can also edit raw photos with end-to-end 32-bit experience in it. Affinity Photo also allows you to create your custom brushes to streamline your workflow efficiency.
All the brushes in it are so smooth to use that you can feel a realistic painting experience with it. Above all, you can also adjust the opacity and size of built-in brushes in this tool. There are unlimited filters and layers in it, which can give a breathtaking look to your photos.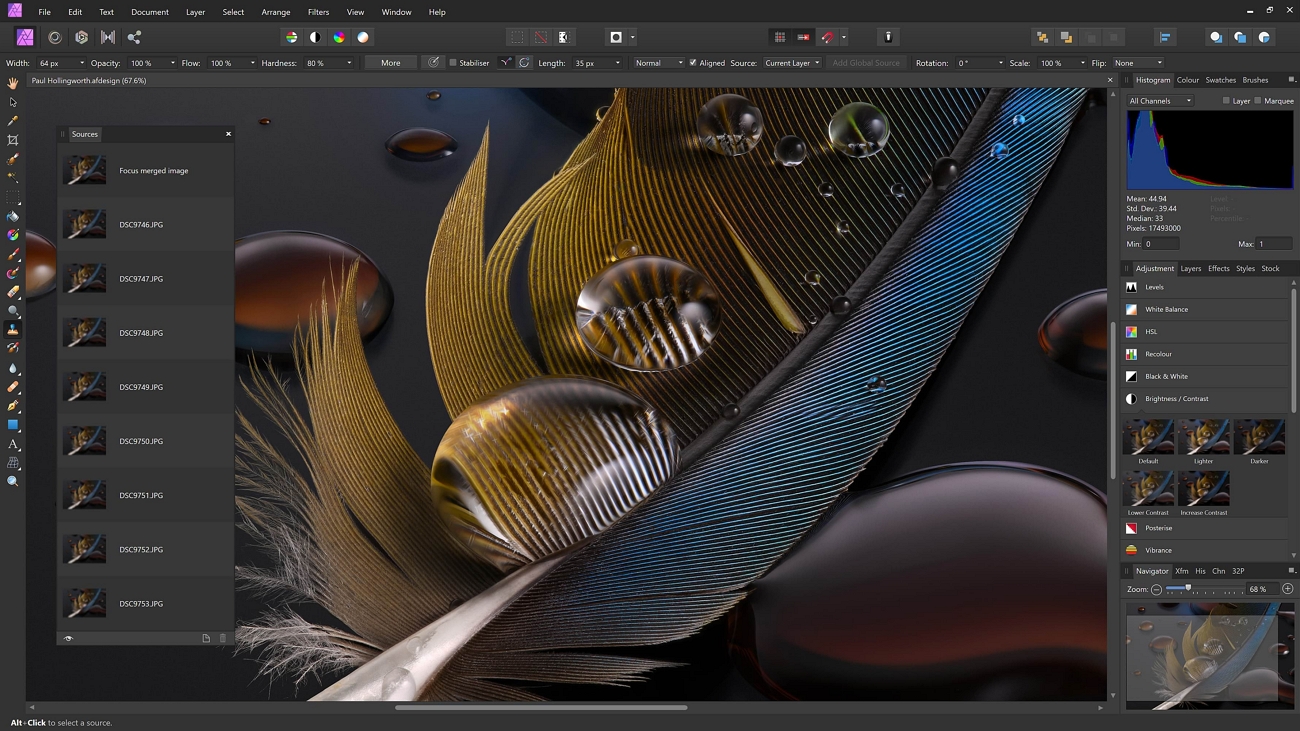 Available
Prevalent Key Features of Affinity Photo
There is a built-in library of uncountable assets that you can use to get your work done in a limited time.
You can also apply nondestructive wraps to images so they can match the layer and surface of templates in high resolution.
It also supports the focus merge feature, allowing you to merge images with a greater depth field.
What We Like in Affinity Photo
You can use the live masks of this tool to manage the luminosity, frequency, and colors of an image.
It allows you to retouch images with dodge, patch, and blemish to enhance its aesthetic side.
What We Don't Like in Affinity Photo
It is quite an expensive tool which can be a tough thing for many of you.
If you wish to erase an object from photos in seconds, this software has the capability to do this. Flawless cutout with drag and drop in any image is the specialty of this tool. It removes objects so smoothly in pictures that they lead to desirable results and customer satisfaction.
Whether you want to remove unwanted objects from an e-commerce photo or a personal one, this tool can help you with everything. It is helpful in creating perfect virtual outlets for your business to improve business growth.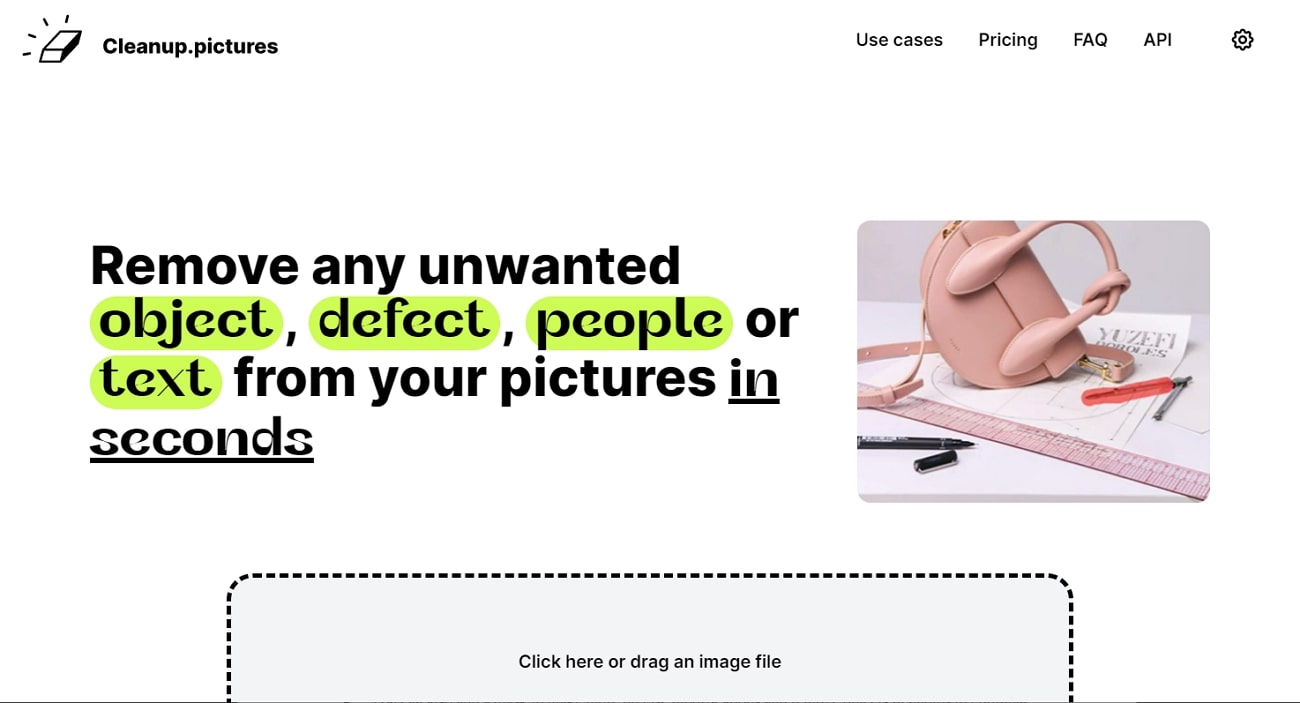 Available
Integral Key Features of Cleanup.pictures
Not only objects but this tool also helps in removing undesired logos, watermarks, and text from any images for your ease.
It has a very fast processing speed, which can remove all the distracting objects in images in a blink of an eye.
You can also add a mask to make more precise modifications and remove objects in photos to eliminate mistakes.
What We Like in Cleanup.pictures
With this tool, you can remove the whole background of a photo and download it with white or transparent background.
The interface of Cleanup. The picture is very tidy, so you will not face any difficulty while implementing modifications.
What We Don't Like in Cleanup.pictures
You cannot remove unwanted objects in images with high-quality refiners until you buy its premium version.
This tool has very advanced algorithms which can add life to raw images. Moreover, you can also remove objects from the background of photos by using this tool. It also allows you to shoot directly from several devices like iPad. The photos modified with it have the capacity to make collaborations and engage more viewers.
Moreover, when you capture an image by using Capture One Pro, then it just ends with capturing. It also allows you to make next-capture adjustments to make images more captivating.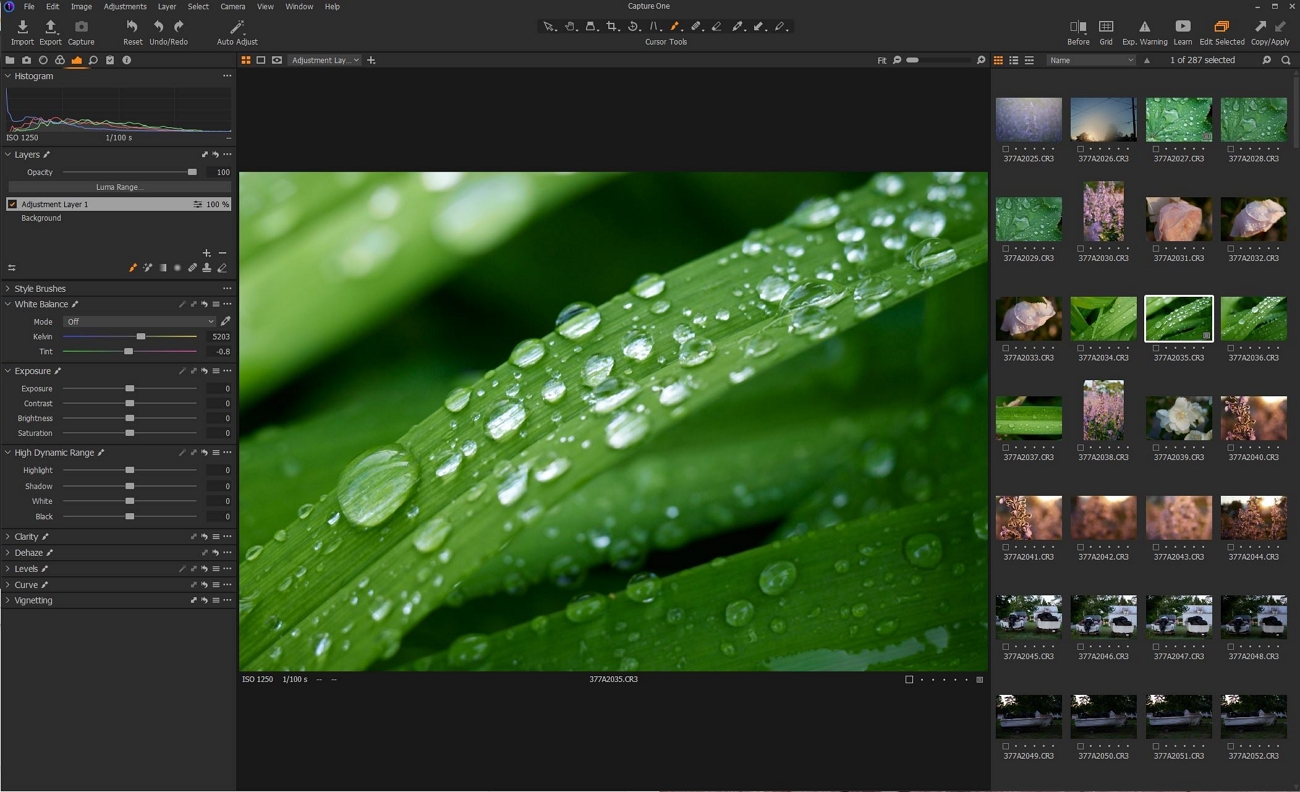 Available
Convenient Key Features of Capture One Pro
With this tool, you can create endless styles for any image with different types of photo genres and more.
It also supports the feature of remote collaboration. Thus, you can remove unwanted objects from photos and share them with your team to get feedback in a limited time.
When you share photos with this tool, it gives you full control over the review process and private access to your images.
What We like in Capture One Pro
It comprises true-to-life colors and profiles with 600 camera models and lenses. Thus, you will have a wide range of editing options with it.
The interface of this tool is so aesthetically pleasing that you will not get bored while using this tool.
What We Don't Like in Capture One Pro
It does not support Android devices, so you cannot work on your photos with this tool if you are an Android user.
Befunky is a creative platform that can help you implement your creativity on photos without worrying about anything. In addition, you can remove the object from pictures with this tool. This tool can assist you with everything from creating graphical designs to making artistic photo collages. It can also help your business as it has the ability to empower graphic designing templates for its user.
The powerful AI technology of Befunky helps remove precise objects from the background for better images. You can also replace the whole background with a solid color or make it transparent with it.
Available
Universal Key Features of Befunky
With Befunky, you can retouch your portraits and selfies for smooth skin and remove blemishes and spots.
Not only one, but you can edit multiple photos simultaneously with this tool. It also helps in cropping and resizing many photos at once.
To give a unique look to images, you can turn raw images into cartoons, sketches, and more artistic styles.
What We Don't Like in Befunky
Downloading templates of collages and designs can take up a lot of space on your device.
GIMP stands for GNU Image Manipulation Program. Removing something from a photo to get better results is one of the specialties of this tool. You can use this tool on several platforms like Linux, Mac, Windows, and more. Above all, it has all the tools which are needed to get rid of undesired objects in photos.
It also has some 3rd party plugins which are very helpful in boosting productivity and performance. Moreover, this software can be used for both personal and commercial use.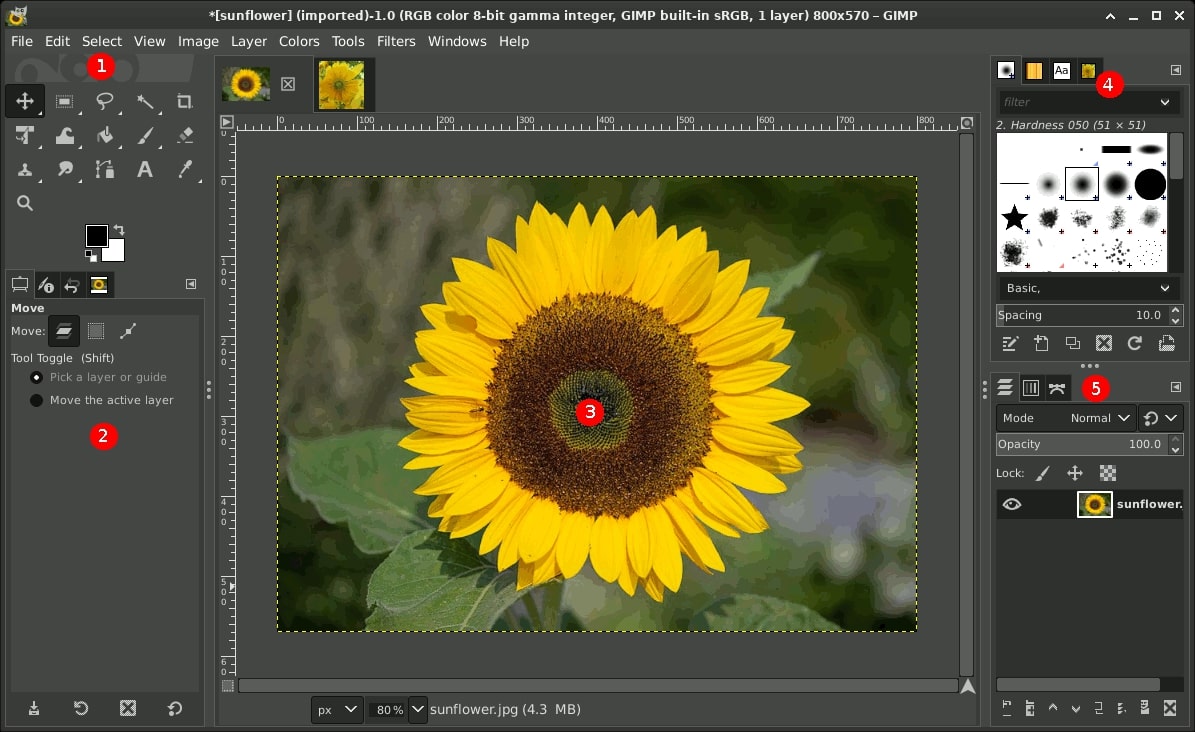 Available
Persuasive Key Features of GIMP
With GIMP, you can manage tasks like image composition, retouching, and more.
There is a special section of tutorials on its website. You can watch these tutorials to from making yourself an expert.
It supports a wide array of image formats; thus, you can edit images and convert them into other formats for better use.
What We Like in GIMP
Using GIMP, you can work on multiple images simultaneously and compose high-quality vector images.
As this tool is compatible with many major platforms so you will not face restrictions while using it.
What We Don't Like in GIMP
The interface of this tool is quite outdated. It can affect the user experience and productivity.
This tool is the perfect choice for those who want to power their brand with logos and designs. There is a wide array of astonishing logos, banners, and thumbnails which you can use to make images more perfect. As for deleting objects in photos, it can also help you with it. Moreover, PicMonkey also has a stock library, so you can also use images of stock rather than using your photos.
It also helps in creating business cards and stashing their fonts and colors of them. In short, it is a one-stop solution for virtually branding your business.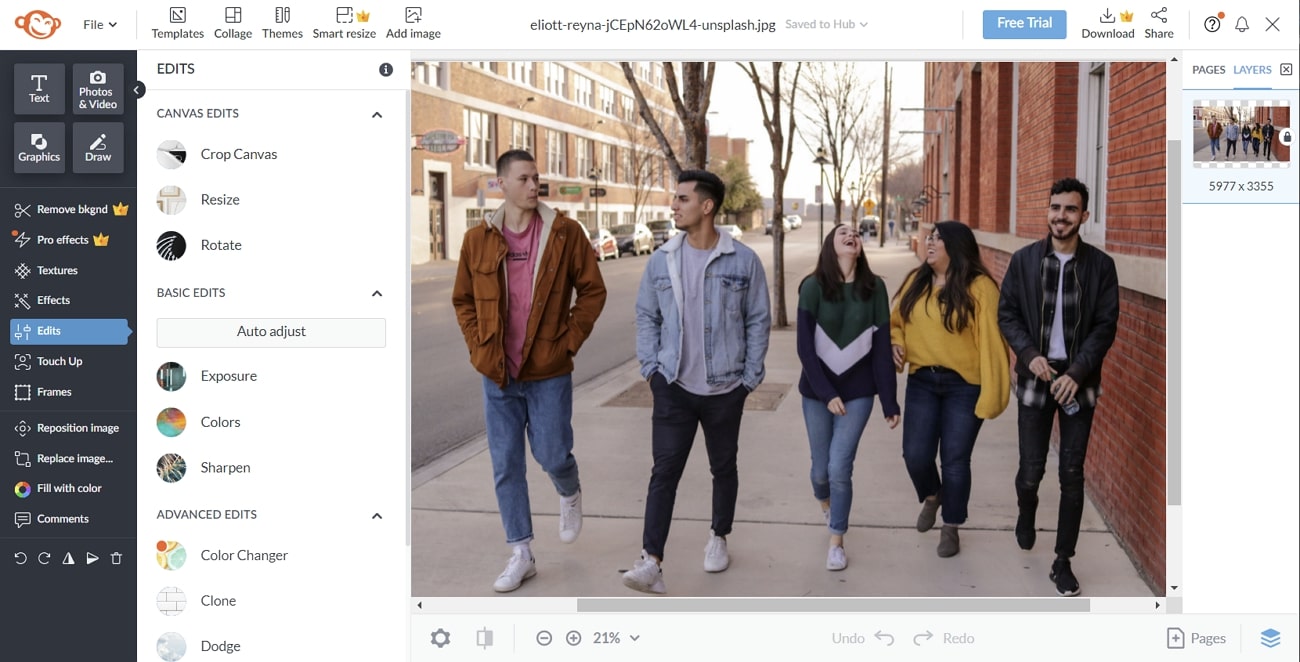 Available
Extraordinary Key Features of PicMonkey
With this tool, you can create high-quality posts, cover images, and cards to engage more customers on Facebook, Instagram, and other social media platforms.
It supports versatile photo editing tools which can help in touching up and changing the color of photos.
You can choose from uncountable effects and give raw images a sketchier and posterized look.
What We Like in PicMonkey
If you are a business person, it can also help you create captivating business presentations for better results.
It has categorized every template into specific portions, so you will not face difficulty while using it.
What We Don't Like in PicMonkey
Many useful features are limited to the premium version, so you cannot use them unless you buy them.
Just by dragging a photo loaded with unwanted objects, you can remove them professionally with this tool. With it, you can delete the object in pictures and bring the users' focus to the product only. From fashion images to e-commerce, this tool can enhance the productivity of all types of images.
Magic Eraser also helps in building amazing applications with high-quality image-adding APIs. It can assist you in removing logos, performing edits, and downloading images of high quality.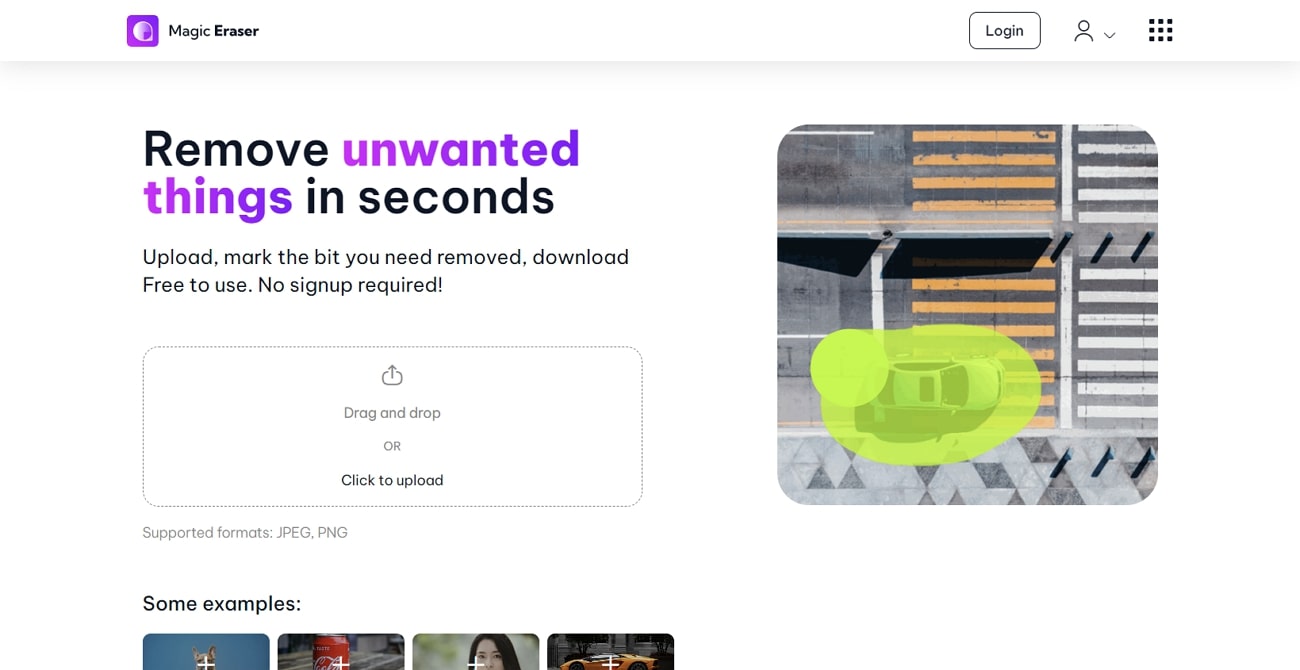 Available
Popular Key Features of Magic Eraser
It doesn't have any ads on its tools, which can be a plus point for free users.
You can also make illustrative and imaginative images with it that describe what you have in your mind.
Creating stunning profile pictures with 10 images in diversified styles is also a very fun thing in it.
What We Like in Magic Eraser
This tool's interface is delightful, so you can use it for a long time without getting distracted.
The processing speed of Magic Eraser is ultra-fast, so you don't have to wait a whole day just to remove objects.
What We Don't Like in Magic Eraser
This tool only supports JPG and PNG image formats which can become a major restriction for many users.