WhatsApp is a popular instant messaging app that took the world by storm last 2009. It has more than 2 billion users worldwide, and it's not slowing down anytime soon. You'll find loads of emojis in WhatsApp as it allows you to insert them into your images to express your uniqueness.
However, emojis in photos can be annoying at times. As such, here are two quick and easy methods to remove emojis from pictures. You'll learn how to remove emojis from a WhatsApp picture in-app or use a third-party alternative by reading below. Read further to learn more.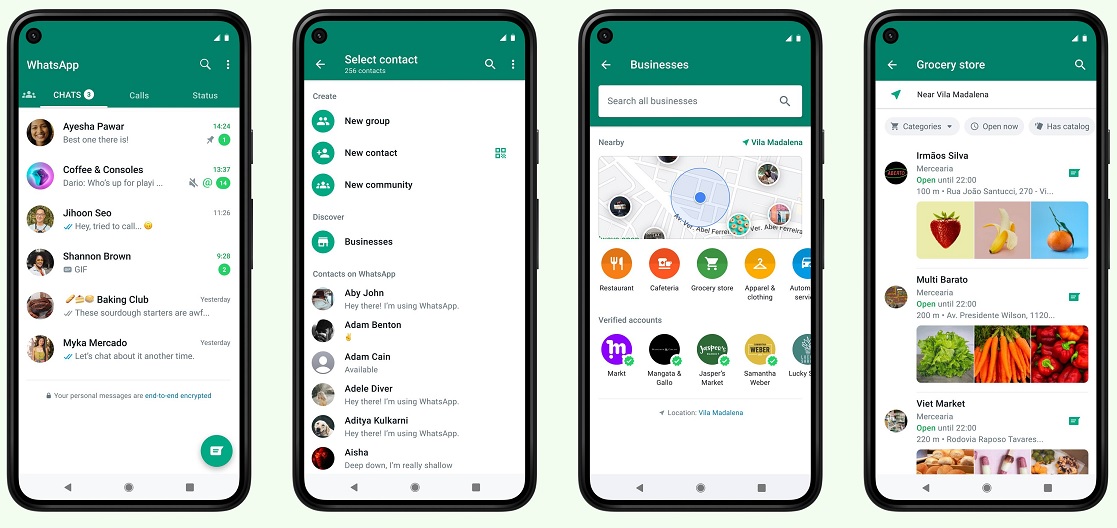 Methods for Removing Emojis From WhatsApp Pictures
To remove emojis from pictures on WhatsApp, here are two different ways you can do. If the emoji is placed on the edges, you can easily crop it within WhatsApp. Otherwise, using an emoji removal from photos app such as AniEraser is your best bet. Below are the two methods explained.
Method 1 - Cropping the Photo To Remove the Emoji
Here are the steps to remove emojis on Photos within WhatsApp.
Step 1

Launch WhatsApp on your mobile device

Tap the Camera icon and choose the picture with an emoji.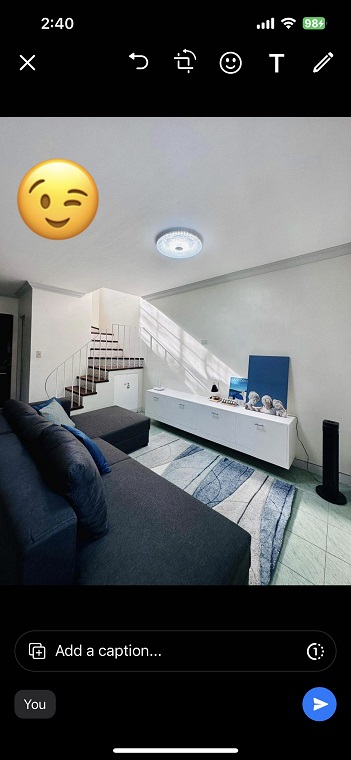 Step 2A

Using the Crop tool on WhatsApp Mobile

You can use Crop to remove emojis from photos within WhatsApp if it's placed on the edges. Simply drag the handles in or out to your desired size.
Step 2B

Using the Blur Tool on WhatsApp Web

If you're on WhatsApp Web, log in to your WhatsApp account by scanning the QR. Next, go to the chatbox and send the image with an emoji you want to remove.
Step 3

Click the

Blur

tool and move it to the part with an emoji

To resize the box, drag any handles in or out to make it smaller or larger. Click Done when the emoji is sufficiently blurred on the picture.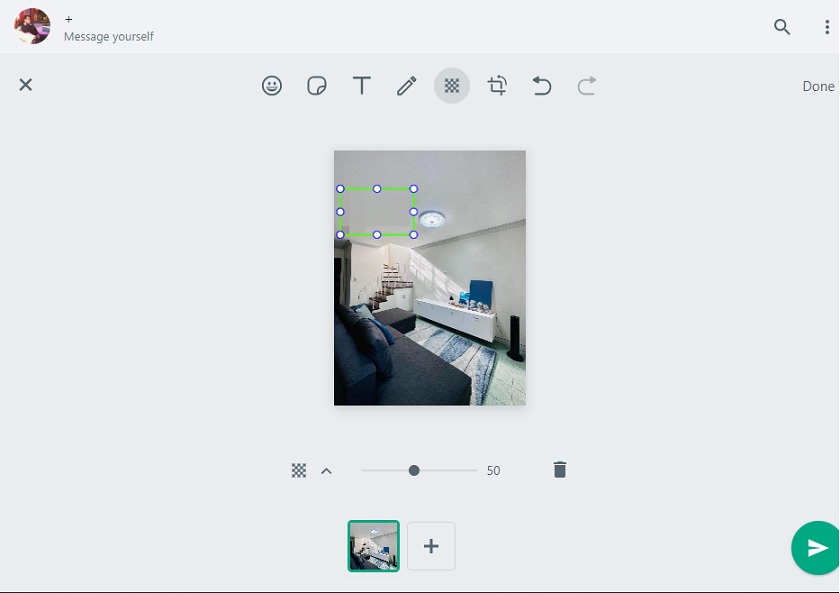 Method 2 - Using an Emoji Remover App
Removing emojis from pictures using remover apps is a convenient and low-cost method for people who want to optimize their images. This section contains two applications for iPhone and Android separately.
Wondershare AniEraser (on iPhone)
If the method above is complex for you, then you can use a dedicated picture emoji remover to do the job. AniEraser is a powerful AI-supported application that works on desktop, mobile, and online to remove emojis from photos in seconds. The app is an all-in-one solution for object removal in photos and videos, giving you a desirable result every single time.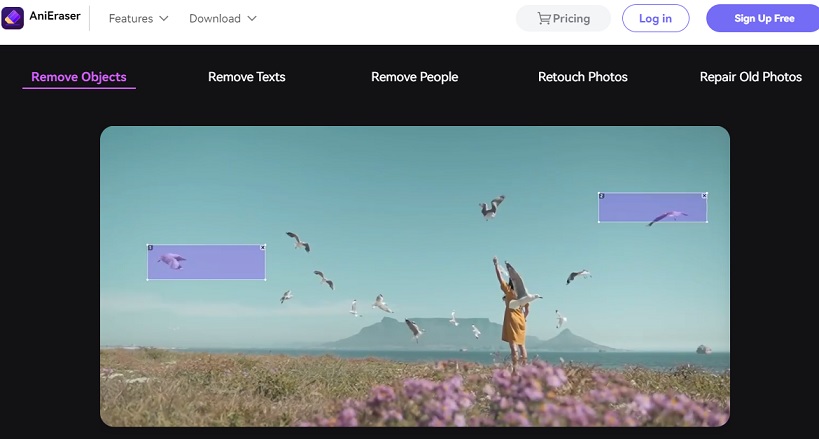 Key Features of AniEraser
Here are AniEraser's key features to help you remove emojis, logos, and any unwanted objects from pictures and more.
AniEraser is compatible with desktop, mobile, and online. You can even remove emojis from photos in batches with no size or quantity restrictions. Subscribing for the paid plans immediately gives you access to all three platforms to edit your pictures anytime, anywhere.
AniEraser is entirely supported by AI, allowing you to remove anything from photos and videos in seconds. Its intelligent AI gives you a powerful picture emoji remover without another tool.
Its Object Removal feature provides fast and accurate results in seconds while preserving the quality and detail of your photos.
Live Chat and 24/7 Support
AniEraser provides users with knowledgeable representatives available 24/7 through instant live chat or email support. The app also has a 30-day money-back guarantee, making it a worry-free purchase for users learning how to remove emojis from pictures.
How To Remove Emojis From Pictures Using AniEraser
If you don't know how to remove emojis from WhatsApp pictures, here are the steps using AniEraser.
Step 1
Download and install AniEraser - Object Removal. Launch the app and choose Image Object Remover. Select the picture with an emoji.
Step 2
Choose Restore and use the sliders to adjust the brush size. Next, tap on the area with an emoji to remove it. Tap Next to finish the process and to have a preview of your edited photo or video.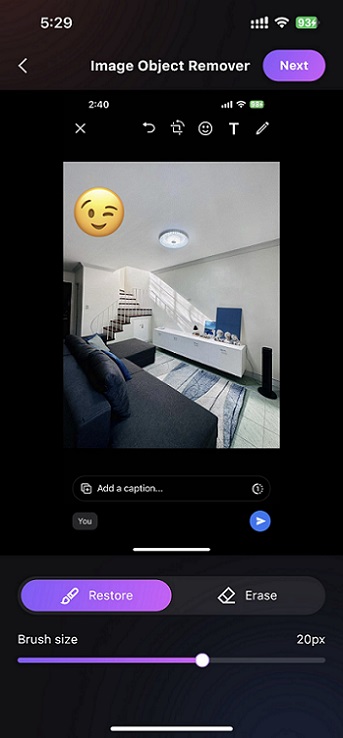 Step 3
Save your photo with the emoji now removed once done.
Note
While the steps indicated above are made with AniEraser on iPhone, the same process also works on AniEraser for Desktop and online.
If you're on Android, Retouch Remove Objects Editor is a highly recommended emoji remover from photos application that you can download right now. This app helps you remove unwanted objects such as logos, emojis, text, and other objects to retouch your photos.
Moreover, it also has built-in retouch tools to enhance your profile photos without needing another app. It's an all-in-one solution for Android users to make quality photos in seconds.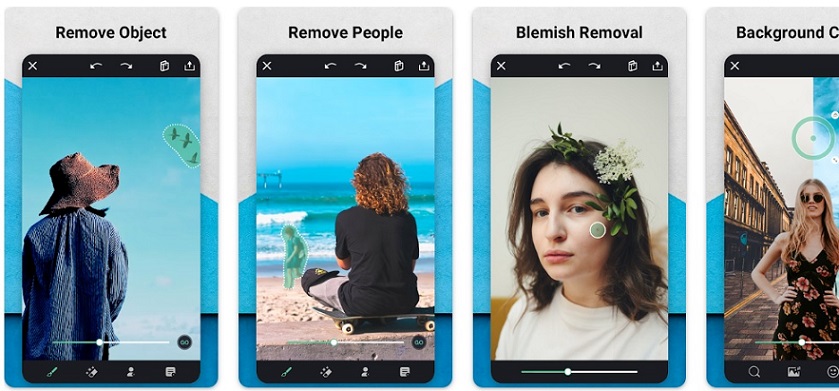 Key Features
Here are the key features of Retouch Remove Objects Editor you can immediately take advantage of.
Retouch Remove Objects Editor allows you to remove unwanted objects like emojis on your photos using the tip of your finger. You can even remove unwanted people or stickers, logos, and more.
Replace, Paste, or Clone Pictures
You can automatically cut out images with the app's AI auto-selection tool and pasting on another image or background. If you want to copy photos, you can cut out the parts you want and paste them on any backgrounds from your gallery. Meanwhile, you can also clone copies of people in photos to create a unique clone effect as you wish.
You can fix facial blemishes quickly with face blemish remover, crop photos to any size, or apply beautiful effects and filters to polish your images.
Here are the steps to start removing emojis from pictures using Retouch Remove Objects Editor.
Step 1
Download and install Retouch Remove Objects Editor on Google Play. Next, launch the app on your mobile device and upload the picture with an emoji you wish to remove.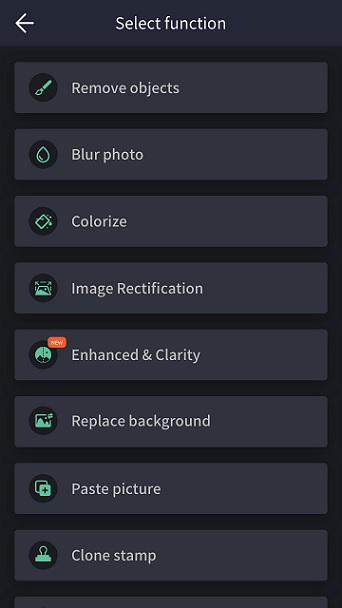 Step 2
Choose the remove object tool and click on the emoji.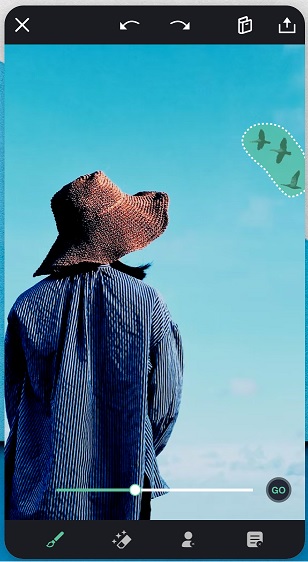 Step 3
Save the photo afterward once the emoji has been removed from your photo.
FAQs
Here are some common FAQs you should know when removing emojis from pictures.
1. How Do I Remove Multiple Emojis From a Single Photo?
Removing emojis on the edges of a picture in WhatsApp is easy, and you can easily crop. However, if multiple emojis are plastered on a photo, you will need a dedicated program such as AniEraser. AniEraser's Remove Objects tool can easily remove various emojis from a single image in seconds, so you can edit more photos in less time.
2. How Do I Remove an Emoji From a Specific Area of the Photo?
Emojis get automatically hardcoded when it's placed in a photo and saved. You cannot easily remove them if placed in a particular area. Fortunately, dedicated solutions such as AniEraser can remove emojis from photos easily, thanks to its AI-supported features. Moreover, the app provides fast, accurate, and traceless results in seconds without reducing the quality of your photos.
3. Does Removing an Emoji Reduce the Quality of the Photo?
If you're cropping photos to hide emojis or using blurring tools to hide them, the method may sometimes reduce the quality of your photos. This is why it's recommended to use programs such as AniEraser or Retouch Remove Objects Editor to do the job. What's more, they edit your photos in literal seconds, so you don't have to retouch your photos if it has emojis in them manually.