There are many ways to erase texts from images without leaving any traces. If you're good at editing photos and have money to spend, programs like Adobe Photoshop and Wondershare Filmora should be handy. But if you want something quick and instant without sacrificing functionality, you can get an online text remover from image. So, in this article, we want to list up to 12 helpful solutions to remove text from image for free.
Part 1. Overview of 12 Best Online Text Remover Tools in 2023
AniEraser is a powerful and effective online text remover from an image that also comes with dedicated desktop apps. With this program, you can remove unwanted texts from pictures and videos without paying anything. It's an excitingly simple-to-use program as you only need to upload your photo, brush the text, and wait for the AI (artificial intelligence) to do the dirty work. However, you'll need to upgrade to the paid version to increase the number of photos and file limits you can edit monthly. You can pay $39.99/month or $59.99/year.
How to remove texts from photos with AniEraser:
Step 1
Open the AniEraser online program using any updated web browser on your Mac/Win computer.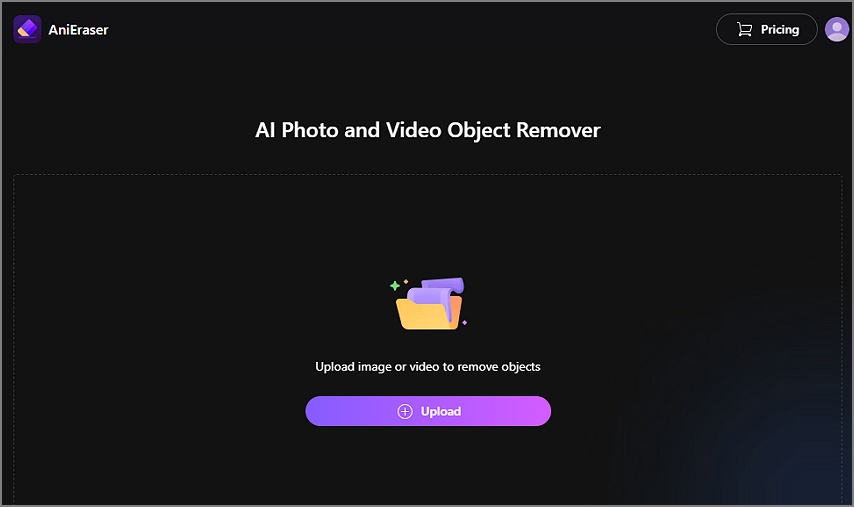 Step 2
Tap Upload to browse and upload your image file from Finder or File Explorer, depending on your operating system. Now brush the text you want to remove.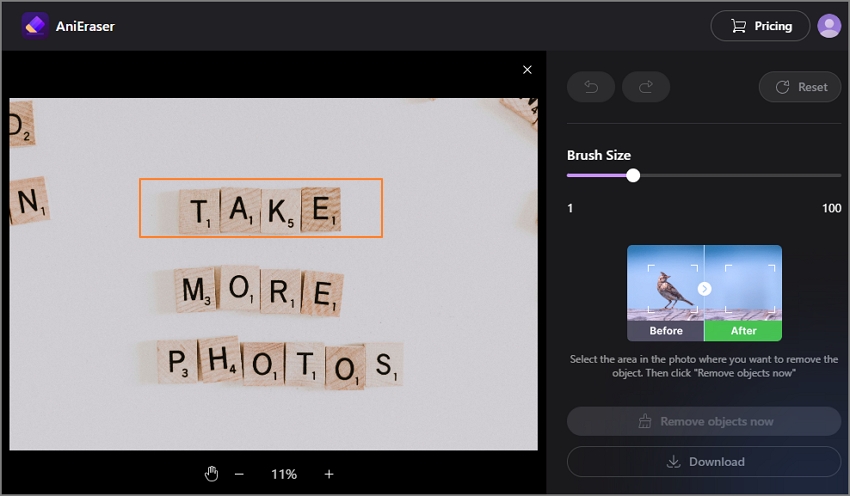 Step 3
Finally, tap the Remove Now button. AniEraser will delete unwanted texts without leaving behind any traces.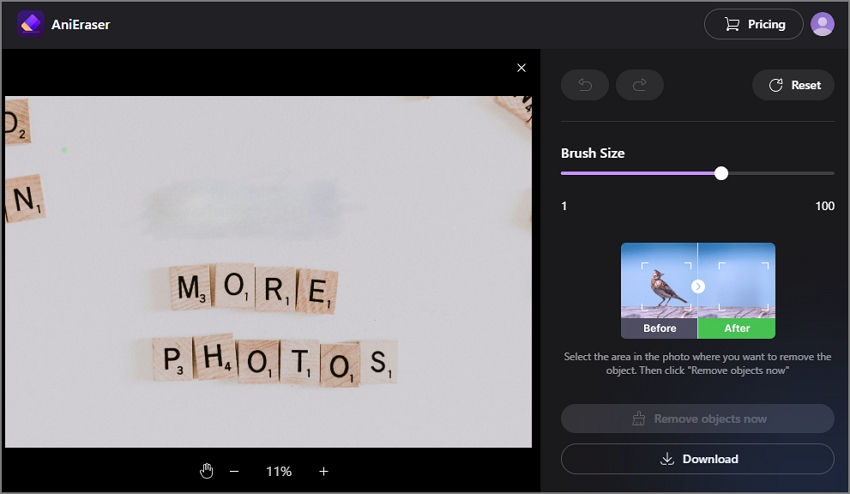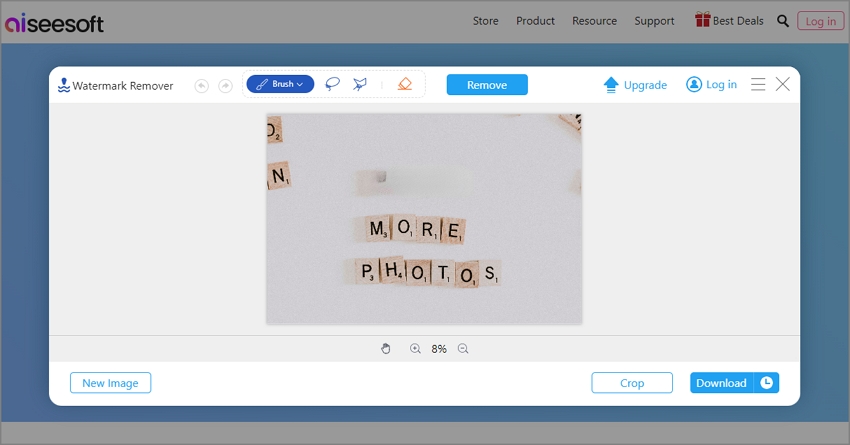 Aiseesoft Watermark Remover is an online software designed to remove text from image online for free. This software uses advanced AI algorithms to detect and remove watermarks without damaging the original image or video. It supports various file formats, including popular image formats like JPG, PNG, and BMP, as well as standard video formats like MP4, MOV, and AVI. Users can remove any unwanted element from photos, including date/time stamps, logos, and subtitles. It is a valuable tool for editing or enhancing photos and videos without the distraction of watermarks or other unwanted elements.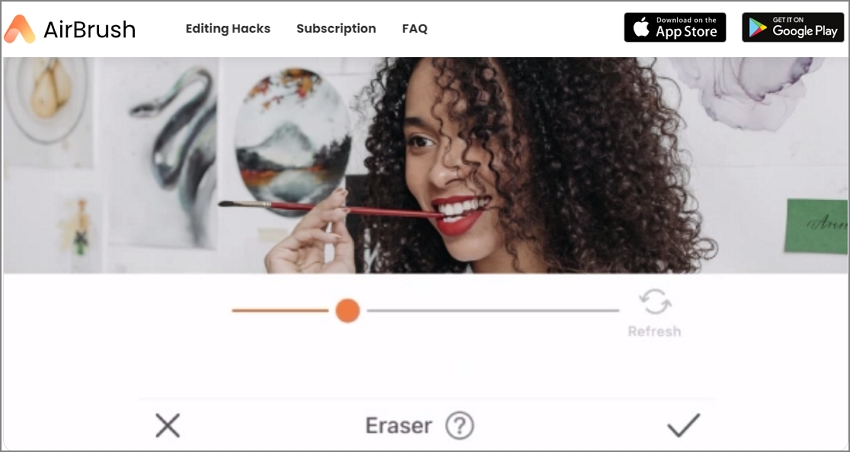 AirBrush is an app-based online text remover from photos for iOS and Android devices. This text remover typically uses artificial intelligence (AI) and machine learning (ML) algorithms to analyze the image and identify the areas needing removal. It then replaces the empty spaces with surrounding colors, blending them seamlessly to create a natural-looking result. AirBrush can be particularly useful for removing watermarks, logos, or other text overlays. It can also remove unwanted elements, like blemishes, dust, scratches, etc.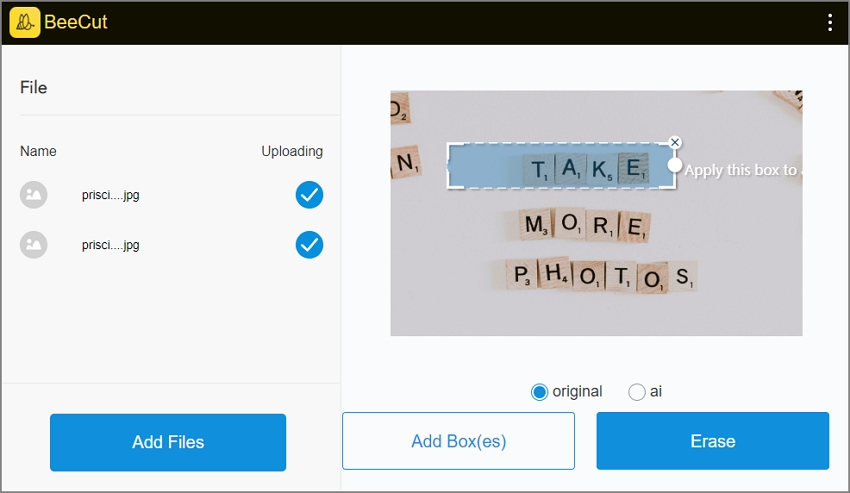 Another reliable tool to remove text from image for free is BeeCut Online Watermark Remover. This web-based tool allows users to remove watermarks from videos and pictures online using AI to detect and remove watermarks without affecting the original quality. To remove a watermark using BeeCut, upload the image with the watermark, select the watermarked area, and let the tool do the rest. The tool will automatically detect and replace the watermark with surrounding colors, resulting in a clean, watermark-free video. That's it!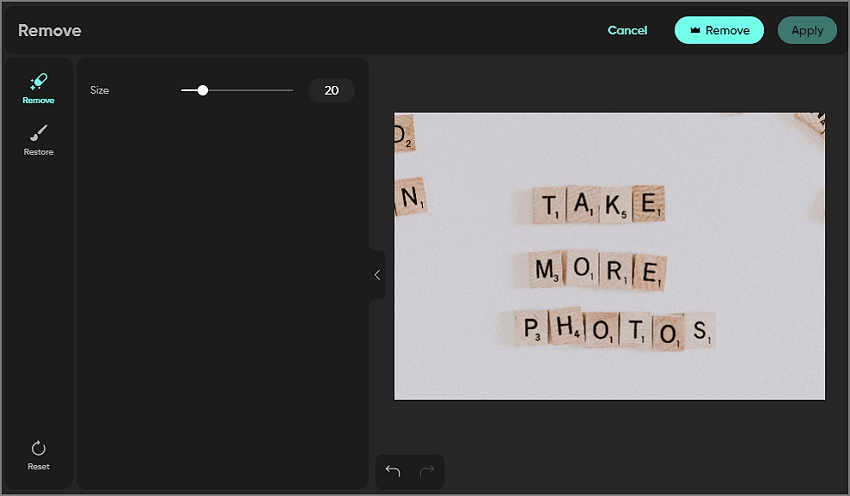 If BeeCut doesn't cut it for you, try Picsart instead. It's a powerful online tool that removes almost any object from photos. As expected, this AI-powered program is perfect for all skill levels, as you only need to brush the object before clicking "Erase" to erase it without leaving any trace. And the best part is; users can continue retouching pictures using the intuitive Photo Editor. In short, Picsart is perfect for removing any clutters from photos.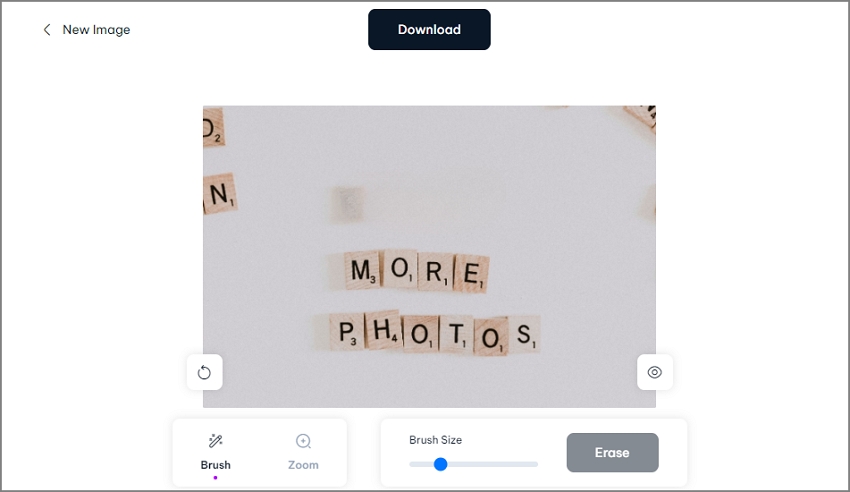 Sixth on this list is Magic Eraser, which has one of the most intuitive workspaces on this list. With Magic Eraser, you can remove unwanted texts and objects from PNG and JPG photos. Like most other object erasers on this tool, Magic Eraser users only need to brush the unwanted object to select it and leave the heavy lifting to the program's AI. In fact, users don't even need to create a Magic Eraser account to erase texts and objects.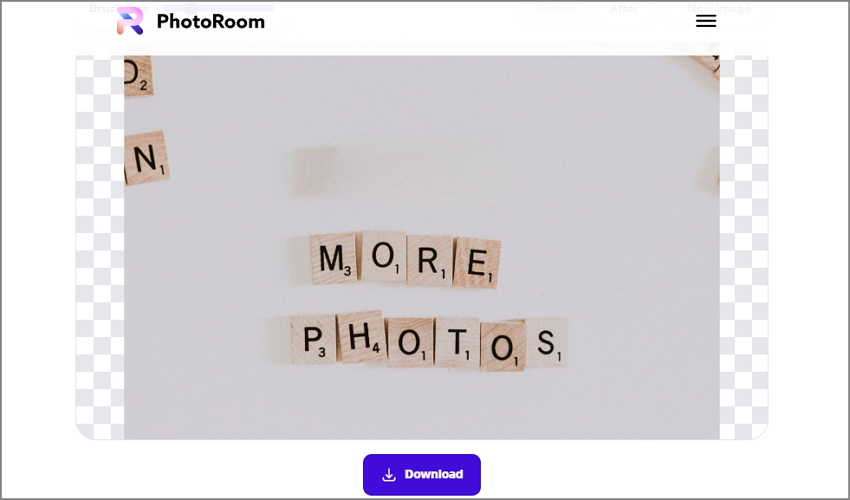 Photoroom is an AI-powered mobile online tool for anyone who needs to quickly and easily create high-quality images for social media, e-commerce, or other purposes. Here, users can easily remove texts and objects photos. The app also allows users to erase a photo's background and replace it with their preferred image. It uses advanced AI and ML technologies to detect the unwanted subject in the picture and separate it from the scene, allowing users to create professional-looking photos without complex photo editing skills.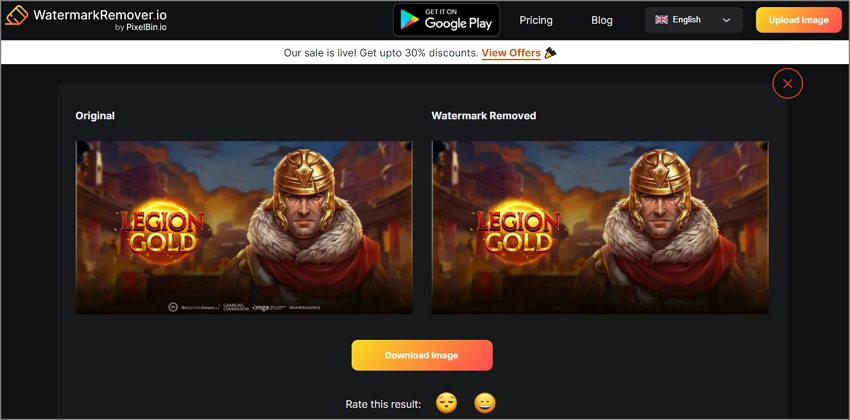 WatermarkRemover.io is a web-based tool to erase text from images online for free. It uses AI to auto-detect and remove text watermarks from the image without blurring the original photo. It's as simple as uploading the image on the website, selecting the watermarked area, and asking the tool to do the dirty work. WatermarkRemover.io automatically detects and replaces the texts before blending the empty spaces with surrounding pixels, giving users high-quality outputs. But note that the website may have limitations on the number of photos that can be processed or the file size.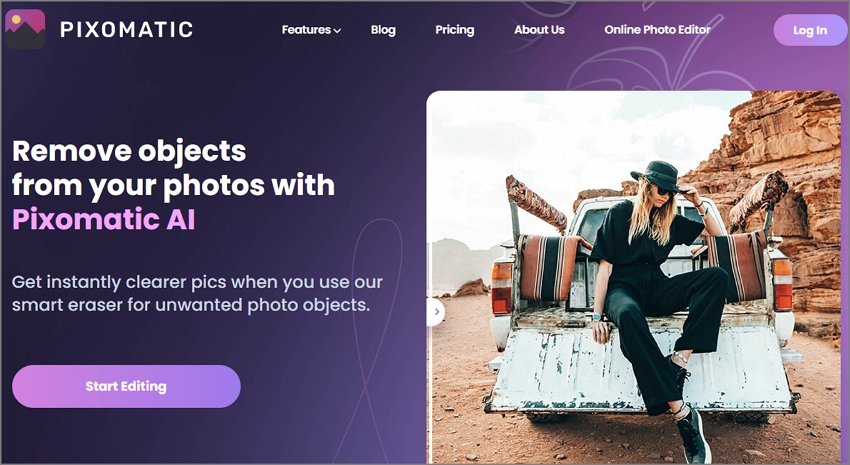 Pixomatic Object Remover is a web-based photo editor that allows users to remove unwanted objects from their photos. It uses AI technology to detect the object/text and erase it. To erase texts using Pixomatic Object Remover, select the text to remove and tap the "Erase" button. The app will automatically detect the texts and replace them with surrounding pixels. But unfortunately, Pixomatic doesn't offer a free account, with subscriptions starting at $7.99/month with a 7-day free trial period.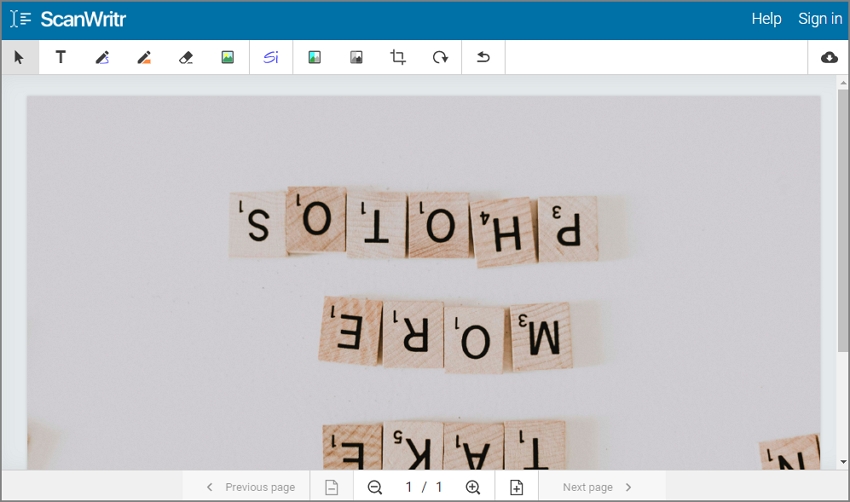 ScanWritr provides users with a range of image editing tools and features, including the ability to remove text from photo. It's easy to use as users only need to upload their photo, open the "eraser" function, and select the text to remove. ScanWritralso provides tools for adjusting the image/document formatting and layout to ensure that it looks professional and well-organized. But on the flip side, users must purchase a premium license to remove texts and objects from photos and documents.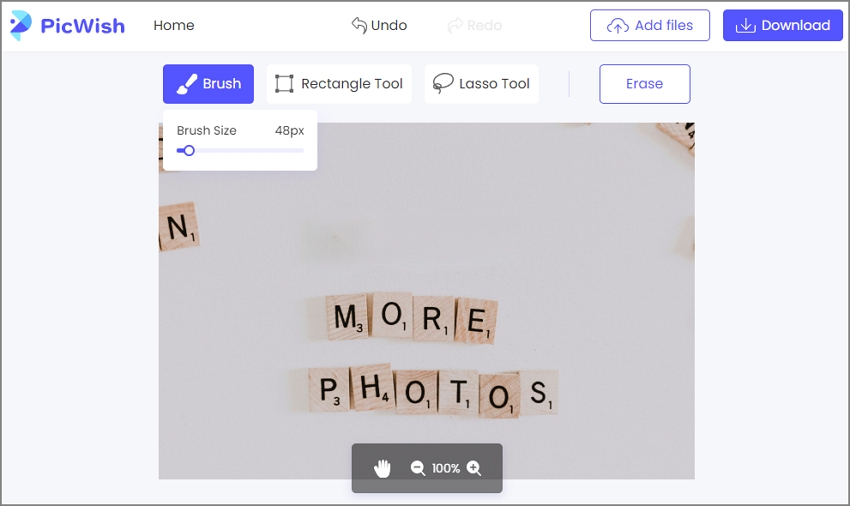 PicWish Object Remover is an online program for erasing unwanted objects and people from photos. It's an AI-powered program, meaning users don't need to do much to create natural-looking images. Upload the photo on PicWish, then brush to select the text, object, or person you want to remove before clicking the "Erase" button. The app will automatically detect the text and erase it without compromising the originality of your photo. Note that the desktop app supports batch processing.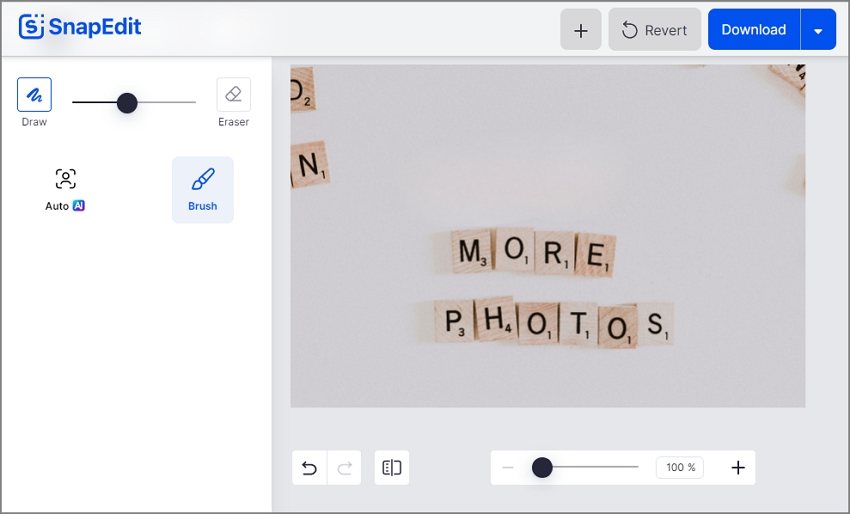 Lastly, use SnapEdit to remove people, objects, and texts from photos online. It's an AI-powered text remover, meaning you should go ahead and use it even with minimal photo-editing skills. With SnapEdit, users only need to use the red brush to select the unwanted text or photo before clicking "Erase." The AI feature will automatically select the object and remove it in seconds. Then, the space will blend with the photo's background.
Part 2. Comparison Between the 12 Online Text Erasers from Photos
| | | | | |
| --- | --- | --- | --- | --- |
| Online Text Eraser | Ease of Use | Success Rate | Processing Speed | Image Processing Result |
| AniErases | Straightforward and intuitive layout, requiring zero editing skills | 100% | Fast | High quality |
| Aiseesoft | Simple to use, thanks to the powerful AI capabilities | Fails to process at times | Slow | High quality |
| AirBrush | Not best for beginners. Requires a learning curve | 100% | Fast | High quality |
| BeeCut | It should have come with a brush function instead of a square lasso tool which is hard to customize | 100% | Medium | High quality |
| Picsart | Simple to use as users only need to brush the text and remove | 100% | Fast | Low |
| Magic Eraser | Beginner-friendly and uncluttered user interface | 100% | Medium | High quality |
| PhotoRoom | Simple as it automatically erases unwanted texts after brushing | 100% | Fast | High quality |
| WatermarkRemover.io | Automatically recognizes and removes watermarks. This can be disappointing if you want to remove specific texts | 100% | Fast | High quality |
| Pixomatic | Simple to use, thanks to the brush function. However, there's no free option | 100% | Fast | High quality |
| ScanWritr | Easy to select the eraser and remove chosen texts. However, there's no free account | 100% | Fast | High quality |
| PicWish | Easy to select texts using the brush function and erase them | 100% | Medium | High quality |
| SnapEdit | A beginner-friendly text remover with an intuitive brush function | 100% | Fast | Medium quality |
This is our honest and unbiased assessment of the best online tools to erase text from images. So, study the table carefully and choose what suits your needs. Remember, AniEraser ticks all the boxes of a reliable text remover from images. Please give it a go!