Artificial intelligence has revolutionized sectors by providing companies with digital solutions for their services. The music production industry has seen these benefits as well, as was noticed with the use of AI in music composition software tools over the years.
Before, users could use AI-enabled apps to enhance, create, and adjust notes and frequencies for composition. Later, developers also incorporated AI techniques like deep learning and machine learning practices for users to get personalized song recommendations in apps easily.
Artificial intelligence vocal remover tools have also been available for optimizing music editing processes in recent years. For example, AI-based tools can analyze songs and remove vocals with a single tap. If you're curious about how that, in particular, works, you are at the right place.
Part 1. How AI Vocal Remover Works
With modern software types with vocal remover AI functions, users can expect quick sound analysis and voice removal processes. Before, technicians needed to utilize dedicated editor software to detect and delete voice from videos individually.
Now, the AI vocal removers come with specialized audio engines powered by deep learning technology. The algorithm here listens to the audio consistently, at a rate of 20 minutes of content in seconds, approximately.
Then, the AI-centric audio source separator in the audio engine handle stem separation to part different instrumental and vocal sound effects cohesively. Following that, the AI extracts vocals and removes them, all within some seconds-minutes.
Benefits and Drawbacks of AI Vocal Remover Technology
The process mentioned before is conventionally available in different AI voice remover software types, and the steps and features can slightly differ for each. However, some merits and demerits are common regardless of which remover tool you use.
Pros:
The AI voice removers have automated algorithms that instantly process music files and detach vocals.
Cost-effective and latest AI technology is used.
Quick detection of vocals from instrumentals for suitable extraction.
Cons:
Quality loss of the music file can happen in some instances.
Advanced technological software that provides this function sometimes require cost upgrade for processing bigger files.
Part 2. Benefits of AI Vocal Remover
Overall, there are specific advantages to using a digital AI Vocal Remover tool. Here are the notable benefits for music producers, video editors, and other professionals with this solution.
Allows for easier remixing and sampling of music tracks- Music composers can handle editing processes like sampling and audio maxing. They can use these tools to erase the singers' voices from tracks. Then, they can remix the available instrumentals in a new arrangement with the available lyrics.
Enables better analysis of instrumental tracks for music education and analysis- People can use these software types to detect and separate the instrumentals in certain tracks and highlight them. It is useful in music training institutions where musicians can explain variations of music theory. For example, they break down a song fully and play each section individually.
Adjust vlog video background score- Many video creators can use these online tools to remove vocals via AI. Then, they keep the sound in the video and insert a voiceover or music on top for cleaner sound editing. For example, people creating music edits on TV show characters can cut our dialogue from clips, merge them, lay over another song on top, or add a voiceover.
Part 3. Best 5 AI Vocal Remover
For this process, you should choose the right type of tool for AI vocal isolation. The following are some of the best online tools available with this function, with details on their available features.
Media.io Vocal Remover is an innovative and easy-to-use online tool designed to help music enthusiasts remove vocals from their favorite tracks. With just a few clicks, the tool analyzes the audio track and extracts the vocal components, leaving only the instrumental parts behind.
It is perfect for karaoke enthusiasts, DJs, and musicians looking to remix tracks. By removing the vocals, you can create new remixes, mashups, or instrumentals that are unique and original.
Key Features:
Simple to use across different platforms, devices, etc.
No loss of sound quality after use.
Add video and audio files of 2GB size maximum for instant noise removal.
Instant analysis and detection of different noise types, like hissing, clicking, noise, etc.
Phonic Mind is another high-quality online tool to try out for proper audio extraction and vocal removal processes. The online tool is simple for most users and can detect various types of songs for instant vocal removal processes.
You can use it to create karaoke songs or practice it for enhanced sound-mixing functions.
Key Features:
Add file sizes of around 100 MB for vocal removal.
Supports a wide range of audio formats.
Integrated apps and web players are available.
Unlimited support for full conversions.
One of the best AI vocal remover tools available is the Lalai.ai software. It is accessible online in free and paid versions and assures high-grade vocal separation.
Users can easily enter their files into the tool and activate it for a quick stem extraction process. The tool can easily analyze and remove sound elements with zero quality loss.
Key Features:
Choose by specific separation type, like only vocals.
Add 20 files for batch processing.
Choose intensity levels between normal, mild, and aggressive.
Add files of 50 MB with the free version and more with the paid plans.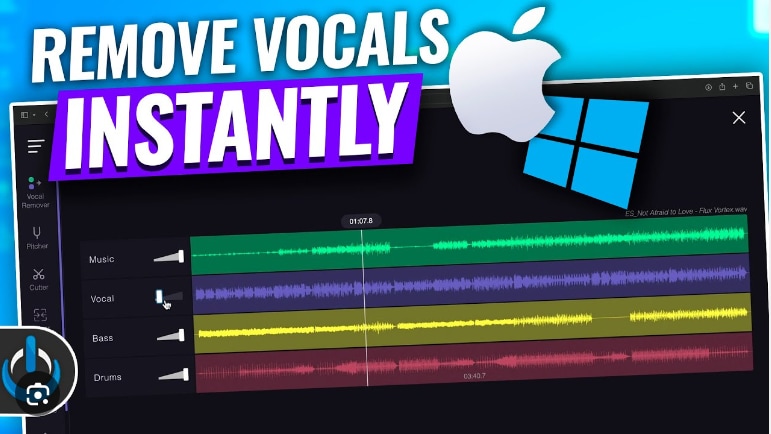 Splitter.ai is a user-friendly option to consider regarding vocal or instrumental removal from songs. The online tool is simple and includes a high-processing stem separator in the algorithms.
It can detect different sound elements, like voices and instruments, and remove whatever you choose.
Key Features:
A high-grade stem separation feature is available.
Strong vocal and instrumental sound extraction ability.
Split songs from YouTube videos.
Remove reverb easily.
Music producers and regular users can utilize the AI Vocal Remover app on different platforms and browsers for quick vocal extraction.
The tool has a high-quality sound detection and analysis system that easily differentiates music and vocals. Then, it accurately removes vocals as needed.
Key Features:
Strong deep-learning functionality is available for improving vocal analysis quality with each use.
Fast processing speed for analysis and extraction.
Relatively precise instrumental or voice separator.
Cost-free online functions.
Frequently Asked Questions
Which is the best AI vocal removal tool to try?
Different tools are available to remove vocals from songs or even instruments but keep the vocals. The best tool options for accuracy and usability include Noise Reducer- Media.io and Splitter.ai. Of course, preferences can differ for many users, so try out different options before settling on one.
What are some ways one can use AI vocal removers?
Music composers and other users can try out the AI vocal removal tools to extract vocal parts from music, like lyrics from songs. Then, they use it to create remixes, prepare ringtones, edit videos, prepare karaoke songs, etc.