Stable Diffusion image generation is becoming popular among digital art creators, designers, content creators, and the general public who are into AI image creation. Its workflow is simple: it uses text prompts to generate images. With Stable Diffusion, all you need to do is type in a description of any scene you imagine or any image of your choice and let this AI-based tech generate an image you love. It functions as other popular models of AI generation tools. You can access the Stable Diffusion website on your local computer or through services discussed in this blog.
Therefore, this blog is a guideline to 7 of the best ways to create AI images using the Stable Diffusion AI art generator.
Part 1. Is Stable Diffusion the Best Model to Create Images?
Many people currently use Stable Diffusion as a great alternative model for AI image art generation, and this is because its AI technology has many advantages over regular AI art generators like DALLE-2, Midjourney, etc.
For starters, Stable Diffusion supports different operating systems like Windows PC and Mac OS. It is an online tool you can use on any good web browser without downloading any app or signing up for the software.
Another advantage of the Stable Diffusion online generator is its easy start, especially for beginners to AI image art generation. You can generate high-quality images in a few steps without any prior tech skills.
Also, this tool contains one thousand model variants you can select from in generating your AI images. These model variants are modern deep-learning techniques that make Stable Diffusion an advanced text-to-image tool.
In addition, Stable Diffusion supports image-to-image AI generation, an advantage over a tool like Midjourney.
Part 2. Use Stable Diffusion AI to Generate Stunning Images Online
To show you how to easily generate amazing-looking images with the Stable Diffusion free online generator, we have carefully selected seven methods you can rely on for effective results.
The first way to create AI images is with a Stable Diffusion free online tool. This text-to-image tool is a latent diffusion model that produces realistic images using your descriptive text prompts. It has an intuitive user interface that beginners will find easy to navigate. With this GPU-enabled tool, you are assured of fast results and high-quality AI image output. Stable Diffusion Online does not collect or store your personal information or inputted and uploaded data. More so, unlike most free online AI generators, there is no limit on the size of your text prompts.
How to create stunning images using Stable Diffusion online App?
Step 1. Visit the website and type in your text prompt. Choose your image guidance scale, which is an advanced setting that decides the intensity or importance attached to aspects of your text prompt. You can also type in the quality of the image you want. Click "Generate."

Step 2. Wait for five to ten seconds as the Stable Diffusion online tool generates your AI image art.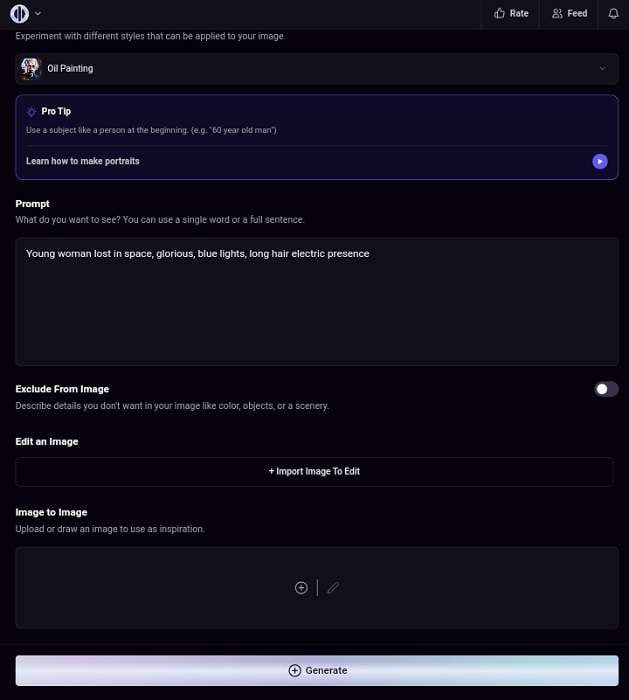 Step 3. Stable Diffusion will produce four versions of your text prompt. Right-click (or long press on your smartphone) the desired result and download it to your device. You can also share with the community, but you must sign up to Stable Diffusion Online to do this, naturally.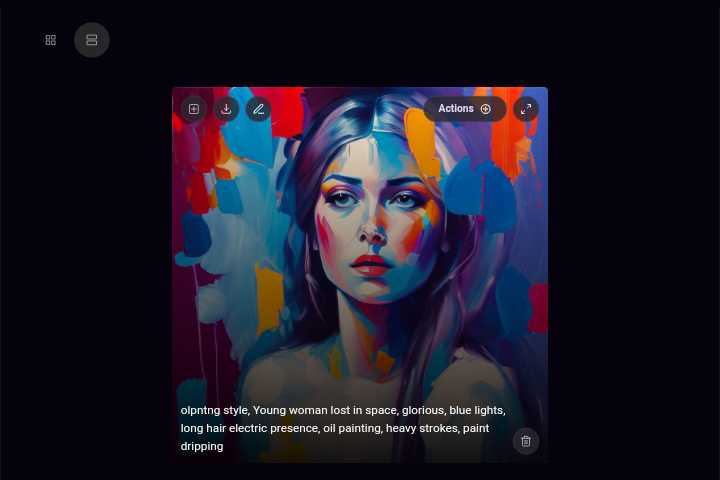 Dream Studio is a web-based text-to-image Stable Diffusion app and an image-to-image AI generator model. It lets you upload as many as ten free images daily for AI image art generation. In addition, it allows you to adjust the aspect ratio of your AI-generated image to suit the platform settings you wish to upload the final image. You can also generate up to ten different style versions of a single prompt simultaneously.
How to use the Stable Diffusion generation on Dream Studio?
Step 1. Sign-up for Dream Studio online and visit the website.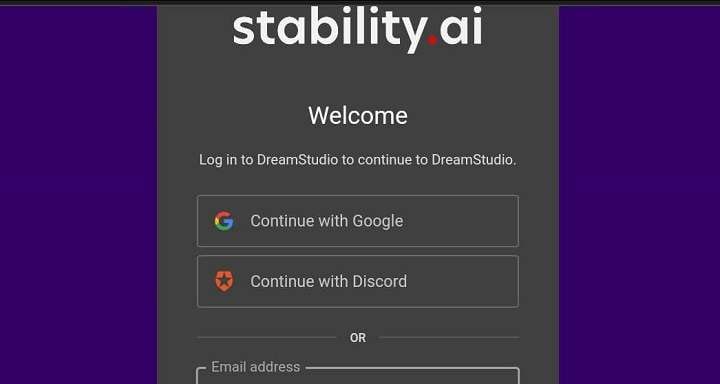 Step 2. Input a text prompt or upload an image. Choose any image style, from Anime to Comic book. Photographic, 3D model, etc. Dream Model has a library of different AI art styles you can pick from.
Click "Dream" and wait five seconds for the tool to generate your AI images.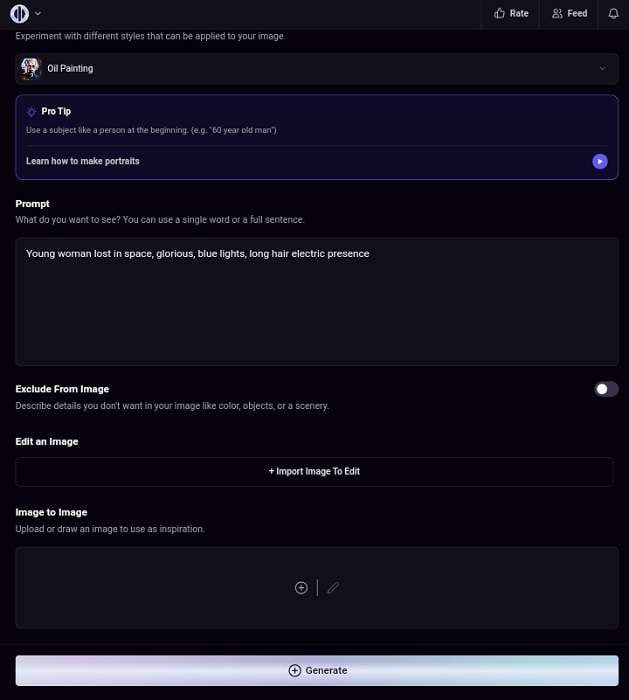 Step 3. Save your result using the download icon at the top left of your page.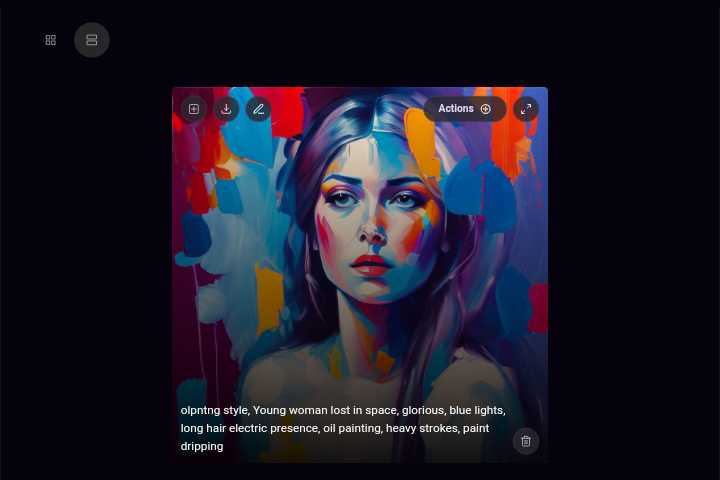 AI Art Maker has been designed by hotpot.ai as a Stable Diffusion image generation method for users online. It is a fast tool that helps you express your creative thoughts through text prompts to produce gorgeous AI-generated images. You can also access a vast library of hotpot art styles such as 3D General 3, 3D Portrait, different Anime versions, Architecture, Comic Book styles, Fantasy, graffiti, and more! You can customize your AI art style too on this Stable Diffusion model. To enjoy more benefits of this tool, you need to pay for the premium version.
How to access the Stable Diffusion generation on Hotpot.ai?
Step 1. Generate a text prompt in the box labeled "What should AI draw?" Choose the style you want from the hotpot.ai library. Click "Create" and wait a few seconds for the Stable Diffusion generator to work magic.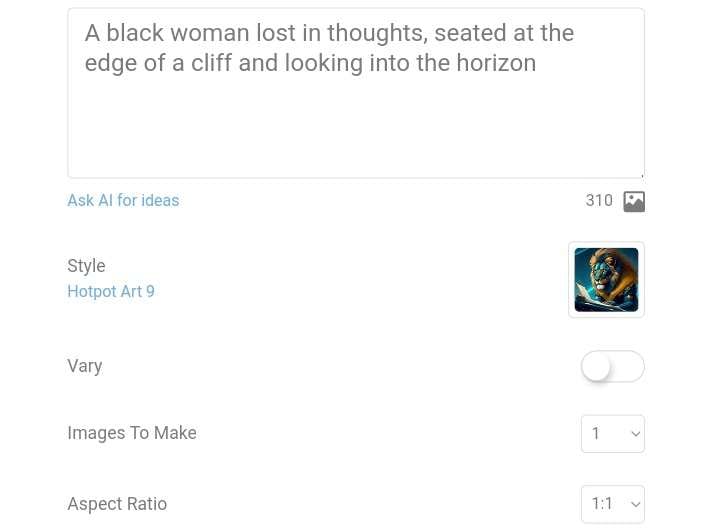 Step 2. Download, edit, or share the final output.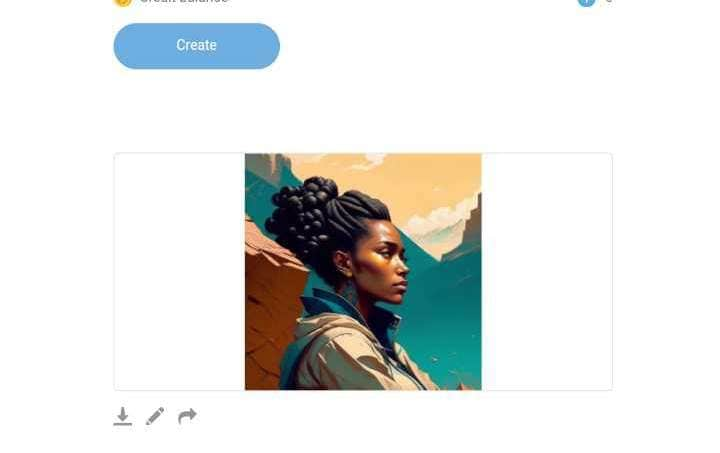 Hugging Face uses the latest Stable Diffusion 2.1 deep learning model designed by StabilityAI for easy text-to-image AI art generation. It allows both text prompts and negative text prompts, i.e., you tell Stable Diffusion what you do not want to see in your AI-generated image. It also has the "Guidance Scale" advanced feature.
Follow the steps below in using Stable Diffusion via Hugging Face:
Step 1. Visit Hugging Face and type in your negative text prompts if necessary. Select the image quality and adjust the guidance scale to your preference.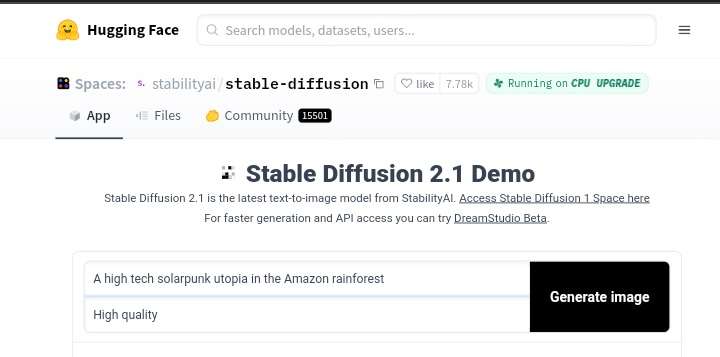 Step 2. Click "Generate" and wait for this AI tool to generate your image in five to ten seconds.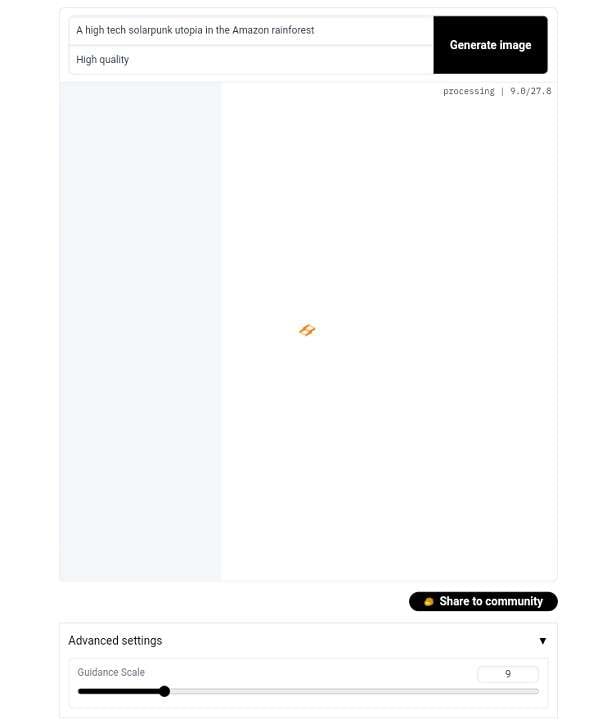 Step 3. Download your result by long-pressing any versions that appeal to you or right-clicking on your computer. You can also share on the Hugging Face community. Note that you need to sign up to be able to share.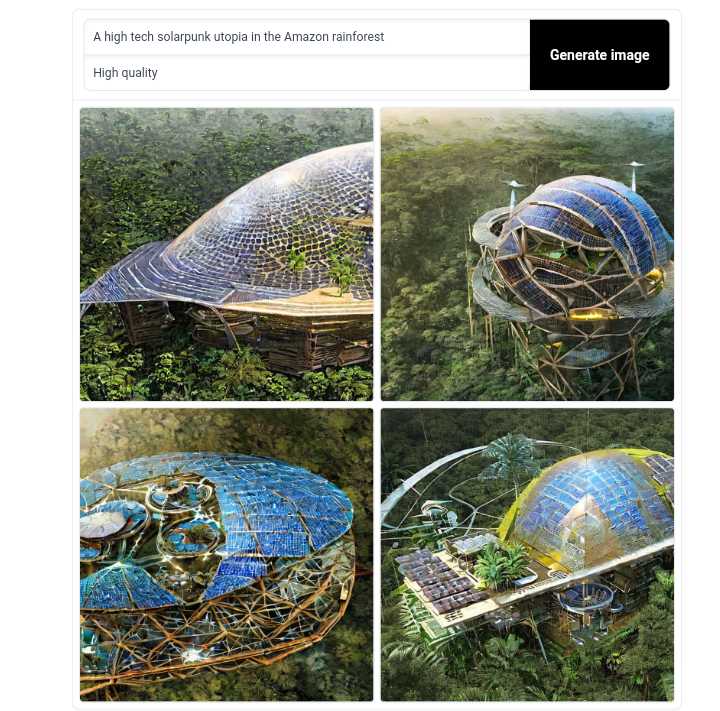 You can generate as many versions of your text prompt as you wish.
Another artistic way of creating AI images with Stable Diffusion is with Mage.Space online tool. It supports text-to-image AI art generation and Image-to-image generation models. It uses Stable Diffusion v1.5 for the free version, which is ideal for AI art, NSFW, and Inpainting. However, you can explore more styles by signing up for Mage Space and upgrading to the pro version for more hyperrealistic results. The different aspect ratios include 1:1 (square), 16:9 (cinema), 9:16 (phone), 3:2 (landscape), and 2:3 (tablet).
Follow the steps below in using Stable Diffusion via Mage.Space:
Step 1. Visit Mage Space Stable Diffusion online and type in your text prompt or upload an image from your gallery. Click the right arrow to generate the image.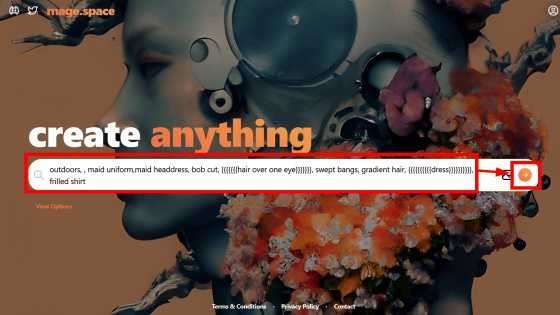 Step 2. Preview the output to see if you like it. If unsatisfied with the result, click the "Enhance" button to improve the image output.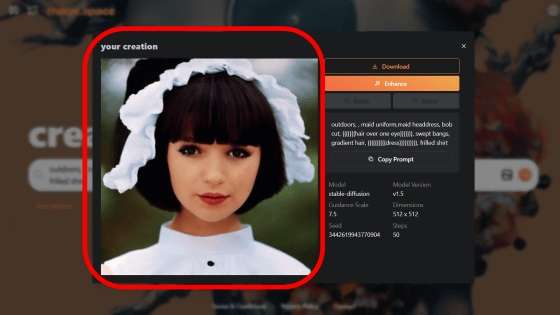 Step 3. Save your AI-generated image using the "Download" option.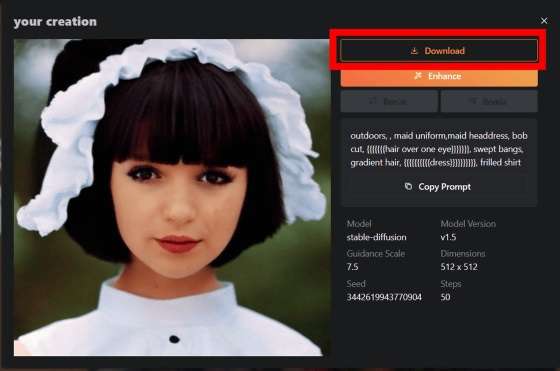 Play with words and create magical AI-generated photos using Playground AI Stable Diffusion free online generator. It combines Stable Diffusion and DALL-E2 machine models to provide stunning results. This tool contains AI art styles such as Playtoon, Oil Painting, Polaroid, Fashion Magazine, Pop Art, and Dark Comic. You need to sign in with Playground AI to be able to generate AI photos for free.
Follow the steps below in using Stable Diffusion via Playground AI:
Step 1. Input a text description of the image you want to create or upload an image to Playground.ai.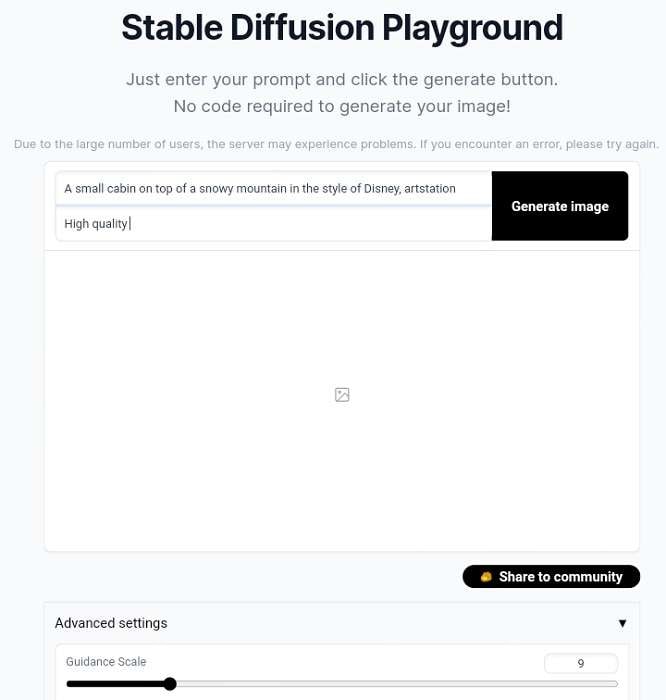 Step 2. Click "Generate" for three to five seconds.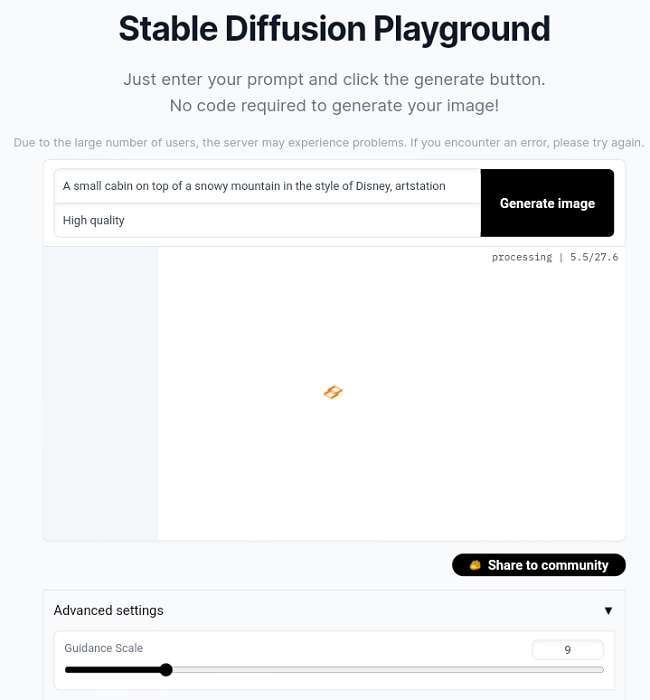 Step 3. Preview your AI-generated image on Playground Stable Diffusion and download or share if you are satisfied with the final output.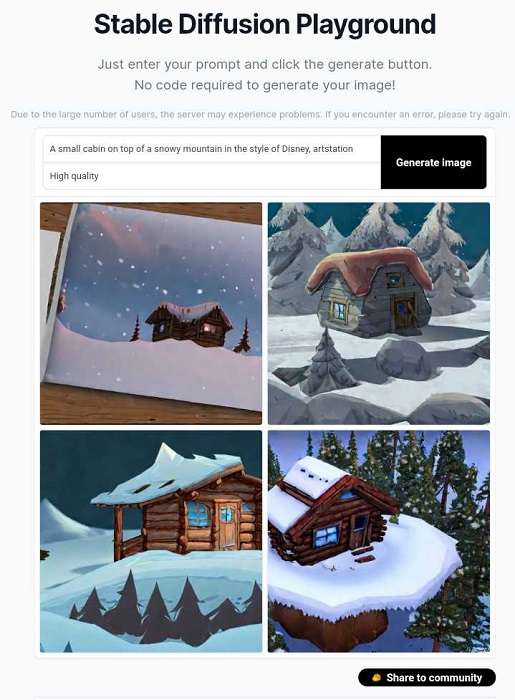 Replicate is the last Stable Diffusion method we recommend for fast AI image generation. It uses a latent diffusion model for text-to-image AI photo generation. It only produces 512x512 and 768x768 image sizes, so you should note that. With the Replicate Stable Diffusion AI generator, you can choose the number of image outputs based on your text prompt and the guidance scale. This tool is available for free online for all users and systems.
How to readily use Stable Diffusion via Replicate:
Step 1. Under the "Input" section, type in your descriptive text prompt and negative text prompt (if any).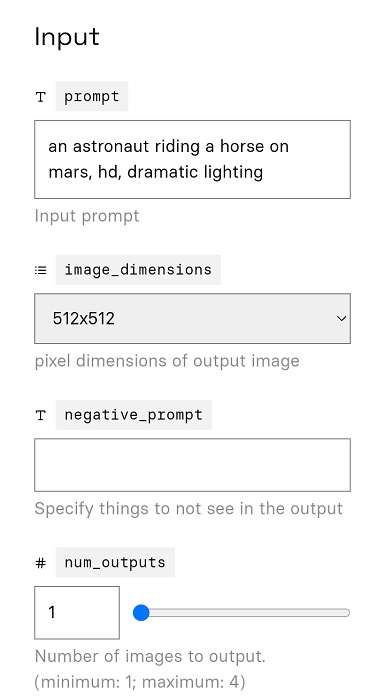 Step 2. Adjust your settings and click "Submit." Wait a few seconds for your AI-generated picture.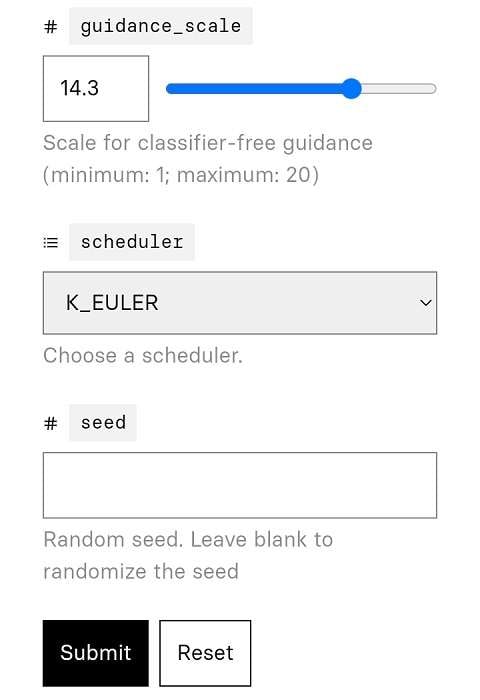 Step 3. Preview the image under "Output" and download or share the result on all your social media pages.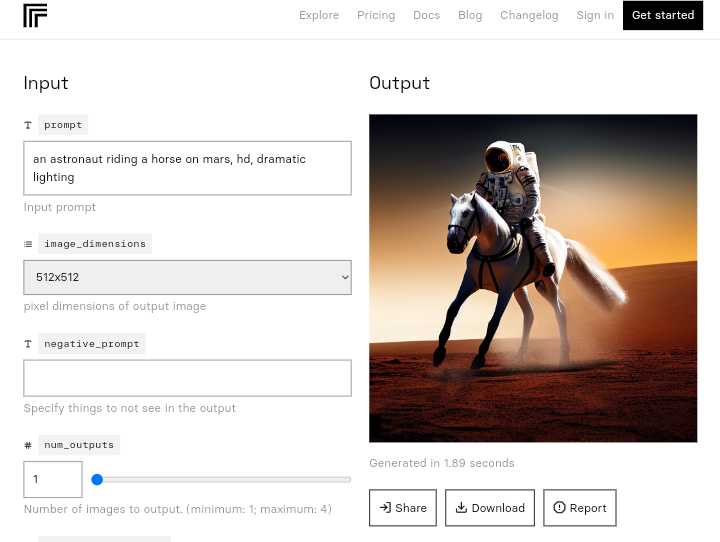 Part 3. Stable Diffusion AI Art Generation FAQs
1. How can I create AI art images through Stable Diffusion?
You can easily create AI art images with Stable Diffusion using the abovementioned methods. Also, you can download and install the Stable Diffusion AI art generator app instead of accessing it online. Start by downloading and installing Python 3.10.6 on your PC; install GitHub, where you will find the Stable Diffusion software file. Now you can use it to generate AI images with Stable Diffusion.
2. How do I improve the AI-generated images from Stable Diffusion?
You can improve the image resolution of AI-generated images from Stable Diffusion using Media.io AI Enhancer. Several times, AI images designed with Stable Diffusion may require an upgrade in size and quality. That is where Media.io AI image Enhancer comes into play. In addition, this tool lets you fine-tune any photo, giving it a more appealing final outlook.
3. Can I generate AI art online without Stable Diffusion?
It is possible to generate AI art online without Stable Diffusion. You can use many alternative easy AI art creators, like Media.io AI Avatar Generator. Other tools include Nightcafé, Midjourney, DALL.E.2, GetImg.ai, Dream by Wombo, etc.