Stable diffusion helps users design the perfect digital art through deep-learning text prompts. However, these images generated using stable diffusion are limited in several ways. First, the default image size of this tool is only 512x512 pixels, which is too small to use for certain platforms and formats. For instance, most social media pages require a minimum of 1080x1080 pixels for viewing images. As a result, you cannot digitally print or edit such photos or even make presentations on big screens. Additionally, increasing the image size to fit some platforms will automatically reduce the picture quality, become blurred, and lack clear sharpness.
Don't be scared; there is good news! This blog offers you the best options for upscaling stable diffusion images. In addition, Stable Diffusion has released a new AI Stable Diffusion Upscaler API solution that we will introduce to you.
Part 1. Can I Upscale Images with Stable Diffusion?
It is hard to upscale images with Stable Diffusion as the software's default photo size is 512x512. Increasing images from this size is practically impossible without it grossly affecting the image quality or resolution. That makes images from the tool have low resolution when they are upscaled. It takes a deep-learning machine model with AI techniques to enhance the image quality to high resolution, maintain its composition, and increase the size. The next section is all about how to achieve this feat.
Part 2. 5 Best Methods to Upscale Images from Stable Diffusion
This section will show the five best ways to upscale images from stable diffusion. These AI stable diffusion upscalers use models that have been deeply trained with large data to upgrade your small-sized, low-res photos effectively.
The Media.io AI Upscaler is the first upscale stable diffusion tool we share with you. It is a free online AI-powered enhancing tool that helps you sharpen, restore missing parts, and improve the clarity of images from stable diffusion. With Media.io AI stable diffusion, you can be certain of improving the resolution of any blurry picture from stable diffusion. It supports different image formats like PNG, JPEG, BMP, and JPG.
It supports image upscaling by 2x, 4x, and 8x without losing its original quality. As a result, you can efficiently reduce photo noise, improve blurry photos, and enhance their low light in a few seconds on Media.io. In addition, the tool can help you automatically make pictures look clearer and sharper by simply adjusting the colors. For example, in the steps outlined below, you can add color to old and black-and-white photos with this AI image enhancer.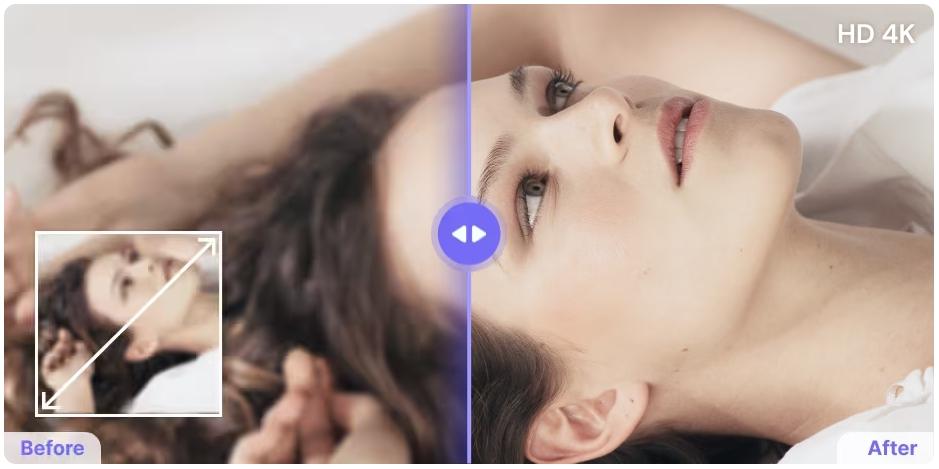 Follow the simple guide to enhance your photos quality with stable diffusion best upscaler online:
Import the stable diffusion photo you wish to enhance and upscale on Media.io AI Image Upscaler.
Choose the type of image enhancement and quality you want and proceed to process.
Preview your upscaled image and download the result in high resolution.
2. Real-ESRGAN
The R-ESRGAN AI upscaler is an enhanced version of the ESRGAN (Enhanced Super-Resolution Generative Adversarial Networks) upscaling network. It specializes in restoring low-resolution realistic images from stable diffusion. In addition, it works on distorted camera angles and generates smooth photos using practical algorithms and AI technology.

Get fast and sharp results with Real-ESRGAN by doing the following on your device:
Upload a source image you wish to upscale to a Real-ESRGAN AI Upscaler.
Choose to resize to twice the image size or four times the size. Ensure you choose "R-ESRGAN 4x+" as your AI upscaling method. Then, go ahead to generate the resized image.
Your final image will appear in the output window. Save the image to your device to use on your social platforms and pages.
Notice: This stable diffusion image upscaler is one of the fastest in generating enhanced images from your original small-sized or blurry photos. However, unlike the easy-to-use Media.io AI Upscaler, this tool can be complex for beginners.
3. Stable Diffusion 4x Upscaler
Stability.AI has newly designed a Stable Diffusion 4x upscaler that will blow the minds of digital artists, designers, and artists. This means you can upscale a stable diffusion image to four times its original size without losing substantial or noticeable quality. Furthermore, this tool is manufactured as an API to improve image sharpness and detail while increasing its size by four times.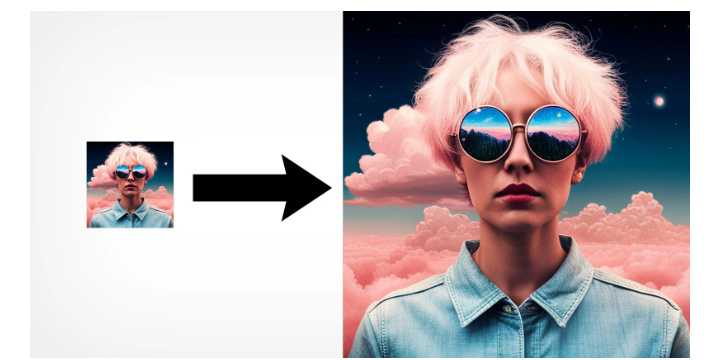 Now you can upload your small-sized photos on Stable Diffusion Upscaler and generate an image 4x its original size with a richer and more detailed texture. Follow the steps outlined below to do this:
Open the Stable Diffusion 4x Upscaler and upload your small-sized photo.
Since this tool upscales images to 4x their original size, that is the default rescaling size. However, you can choose a lower size if you wish. It takes 20 to 40 seconds for your image to be successfully enhanced, providing a richer texture and detailed result.
After the process, preview your image and click "Save" to download the final image to your device.
Notice: The stable diffusion 4X upscaling AI model uses a predefined diffusion schedule to enhance image enhancement by adding noise to low-res photos. However, this tool seems more complex for beginners to use. The Media.io Upscaler, for instance, is quite user-friendly and simple for users to navigate. Also, the company is still determining if this stable diffusion 4x upscaler will work with actual pictures.
4. TinyWow
TinyWow is a free, stable diffusion image upscaler you will enjoy using for free. This tool allows you to upscale images from stable diffusion for free without email sign-up. With TinyWow, you can increase your stable diffusion image resolution without losing its quality. In addition, it lets you upload images from mobile devices like iPhone and Android and your PC once you access the site.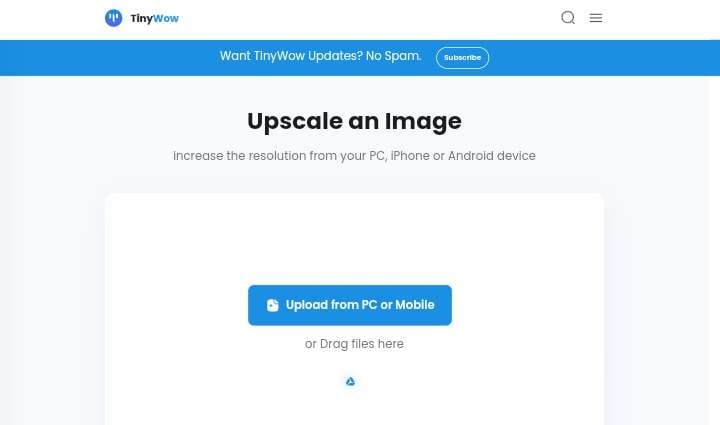 Do you know that in three simple steps, you can easily upscale photos from stable diffusion on TinyWow? Use the guideline below to achieve this:
Upload an image designed on stable diffusion onto the TinyWow website.
Upscale your image to either "2x" or "4x" its original size.
Download the final upscaled high-quality image using the "Download" button or by scanning its "QR" code on your smartphone.
Notice: TinyWow is a free tool, so, unsurprisingly, the site is filled with interrupting ads, unlike Media.io AI Upscaler. To remove these ads and captcha, you need to pay a monthly subscription of $5.99 a month. But, interestingly, it is a very secure website as it deletes all uploaded data from its servers an hour after you are done upscaling the images. This prevents hackers from having access to your private information.
5. Img2Img
Img2Img stable diffusion upscaler is another method of enhancing your photos, increasing their size without compromising the original composition and color. You can easily convert even the simplest-looking old photos into gorgeous masterpieces. It is cutting-edge technology that you can leverage. It lets you change the aspect ratio of photos and upscale to the size that will fit whatever platform your image will be used on.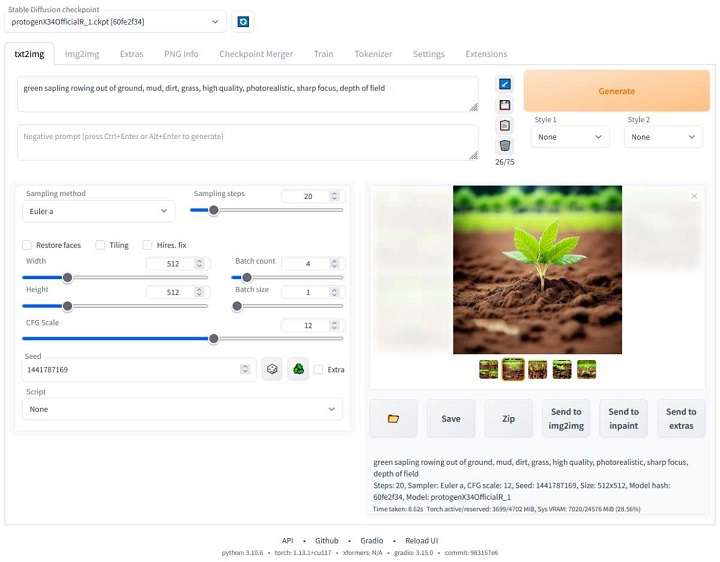 Img2Img stable diffusion image upscaling has been made attainable as discussed in the steps below; follow carefully, and you are on your way to clearer and larger images:
Upload a stable diffusion photo (512x512 pixel) on an AI upscaler with Img2Img model. You will need to install the software and upscaler extension before using it.
Set the new image size to 4x or more, if you wish, and choose the half-tile offset to adjust any tile grid in your image.
Your image is now upscaled, and you can save it for later use.
Notice: It requires downloading and installing apps to perform Img2Img upscaling, which takes time and resources. However, with a tool like Media.io, all you need is a browser and a good internet connection, and you can upscale your stable diffusion photos in seconds on the website. Moreso, beginners may find Img2Img hard to navigate as the commands are complex from the upload and installation stage.
The tools discussed above are AI upscalers that use machine learning models to understand low-resolution images from stable diffusion and enhance them to size and quality you can use on your online platforms. You can try all the stable diffusion AI upscalers here to choose what best suits your purpose.
Part 3. Extend your knowledge: Why AI Upscaling the Future
AI upscaling has become necessary due to the need for high-quality images on modern platforms, as previous low-res images still need to be improved to meet the needs of today's big screens. AI technology is needed to handle the demands of this ever-evolving modern world. Some major benefits of AI upscaling include the following:
Maintaining the sharpness and fine details of images.
Increasing photo resolution without sacrificing or compromising their initial quality.
Enhancing the general appearance of low-resolution pictures.
Indeed, AI upscaling is revolutionizing image upscaling from its traditional methods to a more modern method. It can help you achieve high-quality photos if you are a graphic designer, a professional or amateur photographer, or simply a content creator looking to up your game. With AI upscaling of stable diffusion images, you improve the visual appeal of your photos and page and make them fit for large screens.