The popularity of AI-generated faces has greatly improved as you can not tell the difference between random fake AI-generated faces and real human faces online. Furthermore, these natural-looking faces have versatility as they can be used for various purposes discussed in this blog post.
This blog will show you 3 efficient ways to generate a person that does not exist AI image. These methods involve using random face generators for male and female virtual characters. You can produce realistic random faces for social media, websites, or virtual meetings.
Part 1. What Can You Benefit from Random Faces/Portraits?
The use of AI random faces has grown recently because individuals, companies, and industries have realized that these AI images are beneficial in several ways. First, they save cost and energy by producing high-quality designs without using expensive tech experts or equipment. Nowadays, even people without graphic design skills can handle AI image generation in simple steps. They also save time that would have been spent using traditional graphic design and photography methods, as images can be generated within a shorter time frame.
Below are some other advantages of using AI random faces/portraits:
For digital marketers: With an AI face of a non-existent person, you can present products, web designs, etc., to prospective clients and markets. Graphic designers can create prototypes of products before choosing the best and pushing it out there while conserving resources simultaneously.
For social media: AI-generated faces can be used as profile pictures for social media pages like Instagram, Facebook, TikTok, Snapchat, WhatsApp, etc.
For video games: Gamers find it more comfortable and fun to play games online with fake AI faces of people that don't exist since, most times, these games are played with strangers. Platforms like Discord, twitch, steam, etc., are ideal for gamers to choose virtual characters in the form of AI-generated faces. It assures you of privacy so you can interact with people globally.
For individuals: You can use these AI fake faces for personal purposes like virtual meetings, content creation, videos, tutorials, and more!
Part 2. How to Generate Unreal Person Faces Using AI [3 Best Ways]
The workflow for generating a person that does not exist using AI is simple. All you need is to access any of the online tools mentioned below. These tools use AI machine learning models to recreate realistic random human faces. Then, you generate these AI images using descriptive text prompts or uploaded images. Within seconds, you will see your desired AI image output.
Now, for individual processes, follow the guidelines below:
Just as the name implies, "This person does not exist" is an AI random face generator that helps you make realistic faces of people that do not exist. This tool is so efficient that you may think the faces are of people who exist in real life, as the results look like normal human photographs. Features like skin tone, eye shape, color, hair color, etc., look natural on this site. It uses cutting-edge algorithms to generate new and unique faces each time to visit the site or refresh the page.
How to use it?
Follow the easy steps below to generate an AI face of a person that does not exist using this random face generator:
Step 1: Visit the random face generator online using any good internet browser on your PC, Mac, or smartphone.

Step 2: Choose the gender, age, and ethnicity of the fake human face you wish to generate.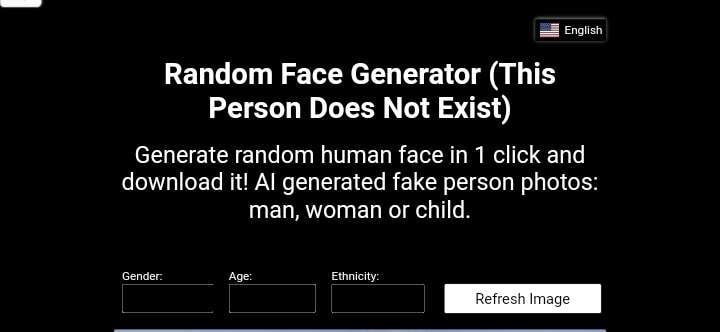 Step 3: Select "Refresh Image," and a new random face will be generated in one click within 15 seconds. Note that you can refresh as many times as you want, and a new face will appear each time.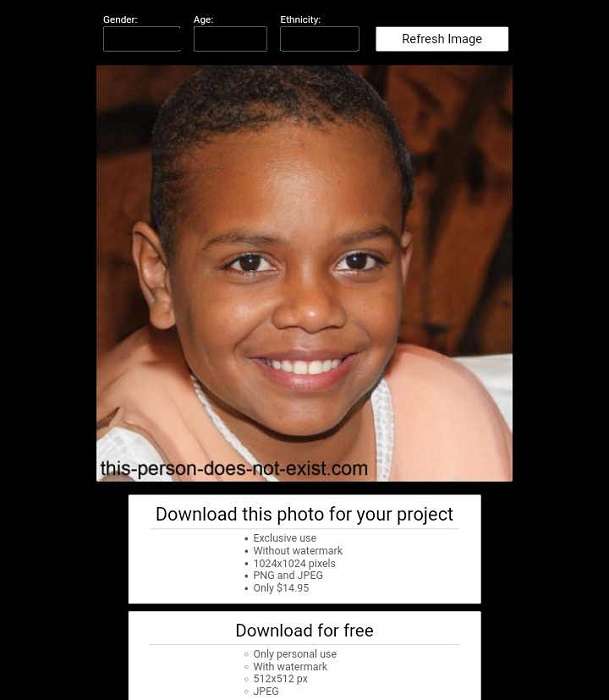 Likes:
It supports the generation of fake AI faces of men, women, and children across all ages and races.
Whenever you refresh the page, a new unique face is generated.
It uses GAN technology for deep learning of natural faces, producing compelling results.
Dislikes:
The free version comes with interrupting ads.
The downloaded non-existent image carries a watermark. You must pay a subscription fee of $14.95 to download without a watermark or in 1024x1024 pixels.
It does not support editing and image customization.
Media.io AI Avatar Generator is one of the most powerful AI random face generators that uses machine learning algorithms to generate faces of persons that do not exist realistically. It portrays natural-looking facial expressions like happiness, fear, sadness, surprise, anger, etc. In addition, you can create a virtual AI avatar version of yourself or portraits of others and use them for your social media presence or virtual meetings and presentations, chatbots, gaming, and so on.
This tool is freely accessible on all browsers and platforms, so you need not worry about being unable to log on to the website to create amazing faces that do not exist. You can also edit your non-existent images and customize them to your taste using the editing features provided by Media.io.
How to create this person does not exist online?
The three-step guide below is all you need to use Media.io Random Face Generator efficiently:
Step 1: Visit the website and choose Generate AI Avatar Now, then click the "Upload" button to add an image of yourself or another person.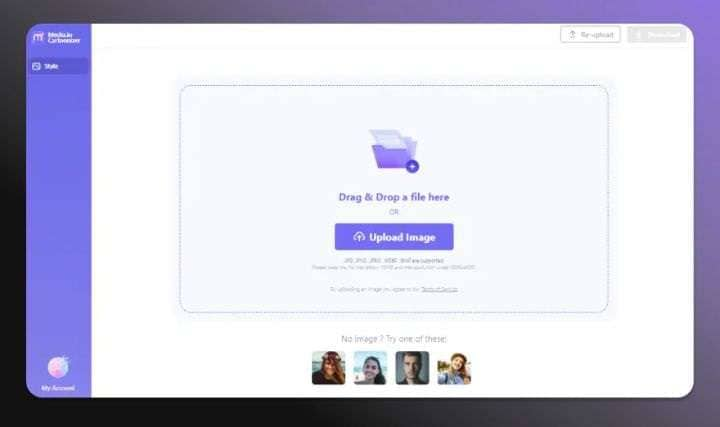 Step 2: Scroll to the left panel of the interface; you will see the editing features provided by the tool. Customize your AI image using the styles and facial expressions of your choice. Then, click Apply and wait a few seconds for this tool to perform its magic.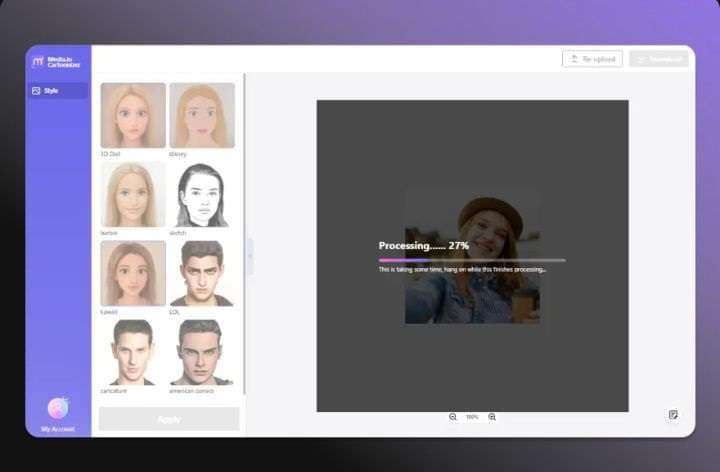 Step 3: Now you can preview the final work, and if you are okay with the result, select Download and your AI-generated avatar will be saved to your device.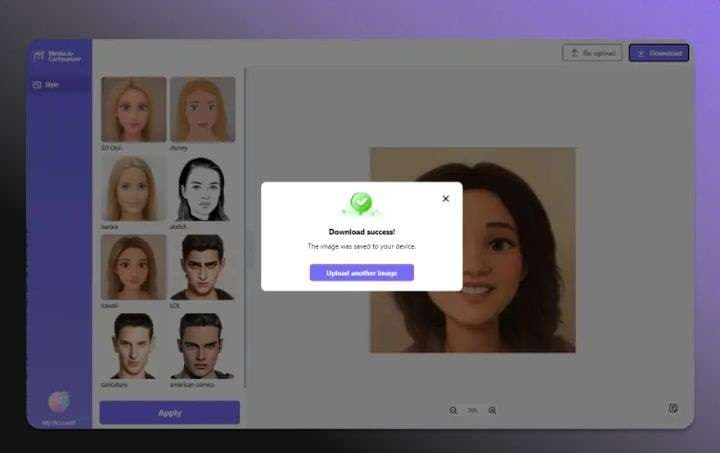 Likes:
It does not require software downloads or installments to use the tool.
No need to sign-up as Media.io is accessible for free online.
It does not come with ads, so users can have seamless website navigation without interruptions.
Dislikes:
Its prompting feature should improve to enable users to create any fake face from scratch without necessarily uploading an image.
Unrealperson.com is a website that uses the power of AI technology to generate faces of persons that do not exist in real life but look a hundred person real. It replicates features of real-life humans, animals, and chemical molecules in 3D, all in a natural way that is quite convincing to anyone that sees the results. This tool has been trained to learn billions of human faces such that each time a new image is generated using it, it is a unique face that does not exist anywhere else, even if it looks familiar.
How does it work?
Follow the steps below to generate faces of people that do not exist using Unrealperson.com:
Step 1: Use any good internet browser to visit the website on your mobile phone or computer.

Step 2: Select the category of the subject you want to generate: People, Cat, Horse, Art, and Beach. Click "Generate" and wait a few seconds.
Please note that a new face is generated each time you open this site. Therefore, you can now generate different faces to suit your preference and category.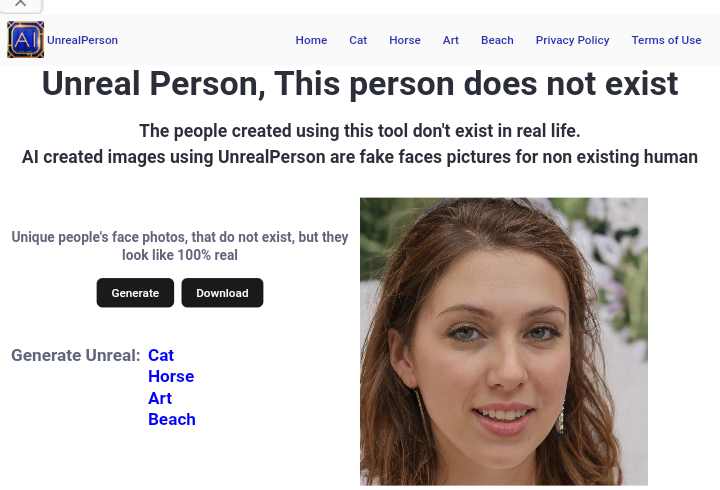 Step 3: Choose the "Download" button and save the AI-generated face to your local storage.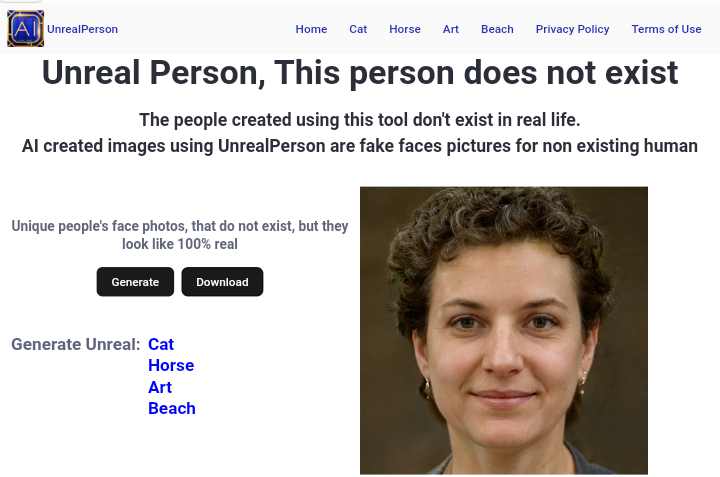 Likes:
It is a free random face generator that anyone can access online.
The AI-generated faces look very realistic and natural.
It can also generate other realistic-looking objects that do not exist, like cats, horses, and beaches, not just human faces.
Dislikes:
The site is filled with interrupting ads, typical of most free online editors.
Customization of your fake face is not supported; a new face is automatically generated each time you refresh the page, and you can only download or keep generating till you find what you like.
The user interface can be improved to become more intuitive for users.
Part 3. "This Person Does Not Exist" – Is it True?
Some debate has been ongoing concerning the images generated by these random face generators, whether or not they are truly non-existent or simply AI versions of real human faces. However, as realistic and natural as these images look, they are fake AI faces generated by powerful AI algorithms that have conducted deep learning of the real human facial structure and expressions. So, real human faces inspire these fake AI-generated faces, but these people do not exist.
Indeed, AI tech plays a great role in various industries. The AIGC technology is a technique that creates content such as fake human faces using machine learning models, algorithms, and rules. Shortly, this tech will be vital in marketing new products and services to consumers, whereby companies will test-run brand ads using AI-generated persons to gauge how the market responds to the new product before deciding to put it out there. The manufacturers of this brand are looking to leverage this method of consumer-product relations to have a competitive advantage in the market scene.