AI Selfie Generator
Create captivating AI-generated selfies that reflect your unique personality in just a few clicks. Numerous styles will leave most
people in awe. Online & Fast to use.
By uploading an image you agree to our Terms of Services.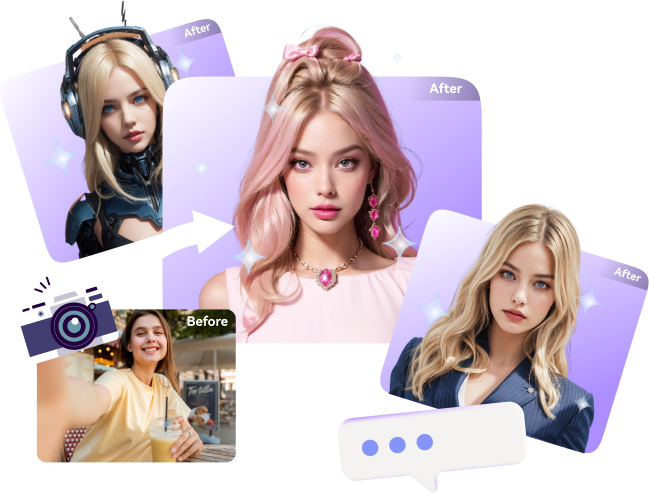 Discover New You's with AI Selfie Magic.
The emergence of smartphones and tablets means new photography methods and pictures. Today, selfies are among the most popular photos, especially among teens and youths. It's simply a photo of yourself taken using your phone's front camera. The perfect selfie can be used as your profile picture, ID photo, t-shirt/hood prints, and more.
But we all know how challenging it is to take the perfect photo. Thankfully, you can use our AI selfie generator to create the ideal selfies for any online use. Pixpic AI Portrait Generator is a simple tool that allows you to generate selfies in many styles, including casual, formal, educational, profile, picture, and more. You only need to upload at least five selfie photos of yourself, and the AI will do all the dirty work. Generate an AI selfie now!
How to Generate AI Selfies from Your Images?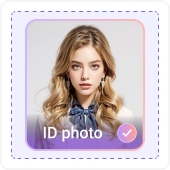 Choose a Pre-set Style.
Launch Pixpic AI Portrait Generator on your device browser, then choose a style from the available options. For example, you can create a "realistic – casual" selfie photo.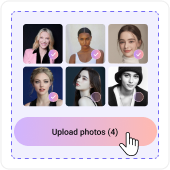 Upload Your Selfie Photos.
Next, take at least five selfie photos of different styles and upload them on the free AI selfie generator. This program supports JPG, PNG, BMP, and WebP formats.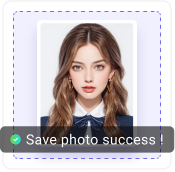 Wait for Your AI Generated Selfie.
After loading up and submitting your photos, Pixpic will take a few minutes to generate your selfies. This can sometimes take up to a few hours. That's it!
Standout Features of Our AI Selfie Generator
User-friendly interface
Pixpic AI Selfie Generator is a beginner-friendly tool that doesn't require much knowledge to use. It's a convenient online program that runs on any mobile device or desktop.
Top-notch AI Algorithm
Pixpic uses an advanced AI system to generate smashing portraits. Just upload your camera selfies, and the AI will analyze them before producing the best selfies for any use.
Numerous AI Selfie Looks
Looking to create AI selfies of any gender and looks? Pixpic AI Selfie Generator allows you to create headshots for ID photos, graduation, casual, profile pictures, outdoor, and other scenarios.
High-quality Output
Don't worry about the output, even if you upload selfie photos from entirely different scenes. Pixpic AI Selfie Generator will analyze the images and create a new selfie while maintaining your originality.
Face Data Protected
Pixpic ensures that all your uploaded selfies are safe from unwanted hands. The program uses advanced SSL encryption to protect users, and all generated photos are deleted a few hours after download.
Your Photos, Endless Looks, Versatile Applications
Social Media PFP for Entertainment
Digital Avatar for Online Gaming
Professional Selfie Portraits for Business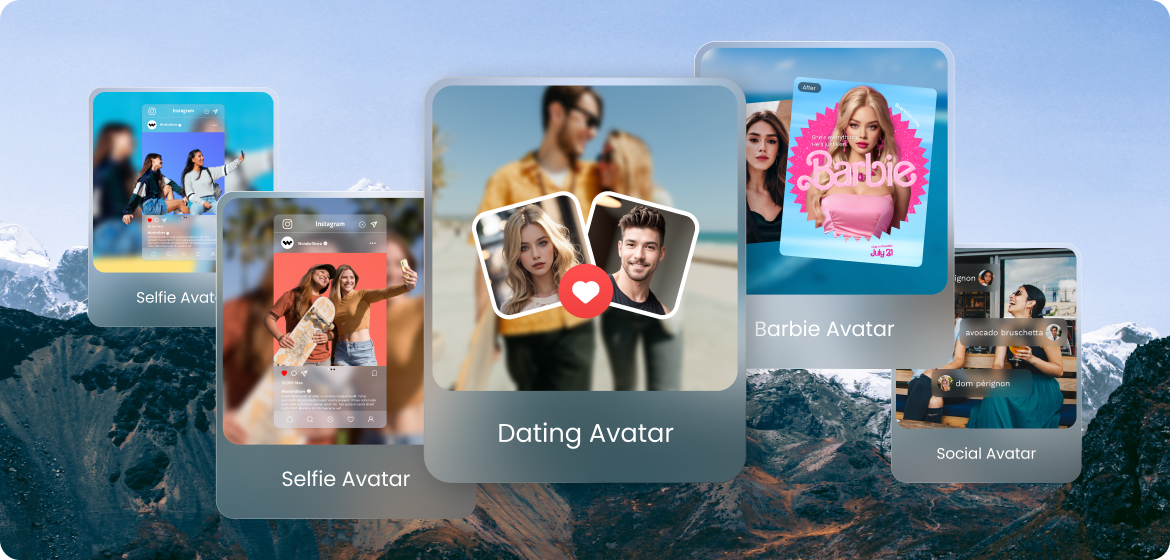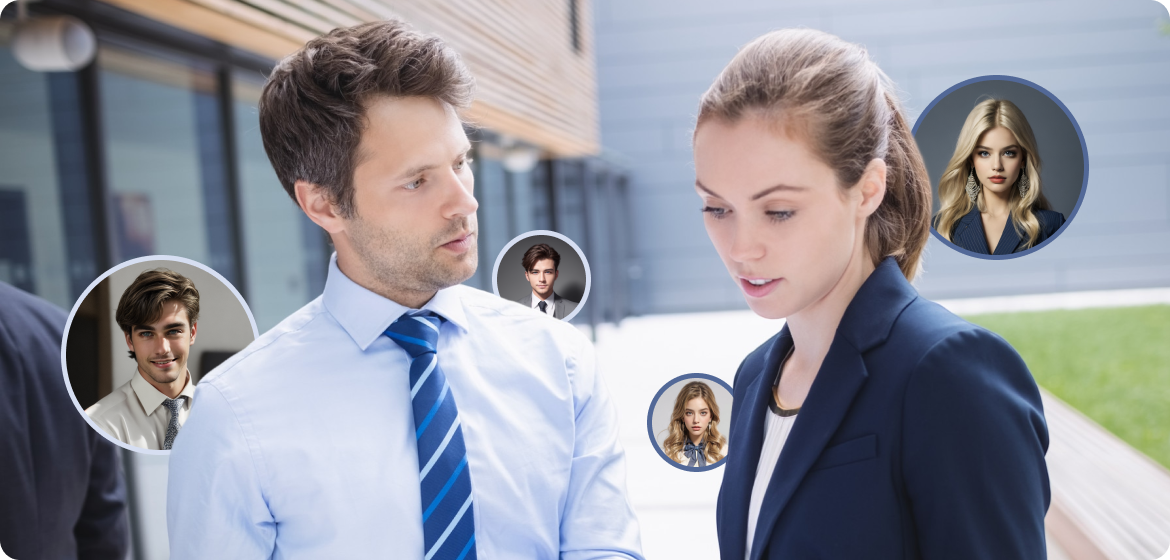 The profile picture you use on your social media account can tell much about your personality. For example, you may need an educational photo if you're a student or scholar. With Pixpic PFP Maker, you can generate the perfect profile picture for any use. You can even look like a real-life astronaut or princess with this selfie AI generator.
Are you a gaming enthusiast on Discord, Twitch, and Steam? You may want to mask your identity and create an online brand. This AI selfie generator can help you achieve that by merging multiple selfie photos to create a unique picture. Remember, you can even download your friends' avatars and use them to create your own special AI portrait photo.
Pixpic AI Headshot Generator has you covered regardless of your profession. For example, if you're a student, you can select the "Graduation" headshot or the "Profile Picture" option for social media apps like Twitter and LinkedIn. In short, this AI image generator selfie will help you create the most professional photos to boost your business or online profile. FAQs About
AI Selfies/Avatar Creation
How can I generate AI selfie avatars in minutes?

Pixpic AI Selfie Generator is the perfect tool for creating smashing selfies within minutes. After uploading your selfies, the program will take less than 25 minutes to generate selfies. However, this could be hours, depending on the selfies you want to generate. So don't panic if you've not seen a download email!

What are the best free AI art generator for selfies?

Besides Pixpic AI selfie creator, you can use tens of other AI-backed programs to create top-quality selfies. Below are some alternatives:
• Photo to Cartoon: This program from Fotor is the perfect tool to cartoonize your photos. With it, you can apply cartoon filters to get creative or funny selfies for any use.
• SelfietoAnime: Sometimes you may want to convert your photos into an anime selfie for use on social media or gaming platforms. This tool allows you to transform your selfies into anime-style characters quickly.
• Cartoonize: This unique program can transform any image, including selfies, into a work of art. In other words, Cartoonize can turn any photo into a cartoon character or drawing in seconds.
• Painting Converter: Here is another tool from Fotor to add art and style to your photos. Fotor's Painting Converter can transform your selfies into cartoons, watercolors, oil paintings, sketches, and other paintings in seconds.

How can I transform my photos into stunning selfies with AI?

Pixpic is the perfect AI art selfie generator for any use. It's an online tool that uses AI to deeply scan and analyze your selfies to create nice-looking AI selfies. This AI selfie creator works on Android, iPhone, iPad, Windows, Chrome, and Mac.

What AI selfie generator is everyone using?

You'll probably find hundreds of AI selfie generators if you search online. This means choosing the perfect tools to transform your selfies into AI images could be challenging. For this reason, we recommend Pixpic AI Selfie Generator, an online tool that can turn any selfie into a vibrant AI photo in seconds.
More AI Products from Pixpic