In today's social media age, YouTube, Facebook, Instagram, and TikTok, are some of the most significant videos and images apps. As a matter of fact, TikTok became the most popular in 2021, dethroning Google for the number one spot. Every platform wants you to know where a video comes from, especially a popular one. That's why they add watermarks to their videos, labelling the origin. But say you wanted to remove logo to reshare the content elsewhere while keeping your content legal for use. In that case, you'll need to read this article to learn how to remove watermark from video.
Part 1. 5 Best Video Watermark Removers Online for Free [Tested!]
Here's a look at a few websites that will take you through the steps of how to remove a watermark. We'll give a brief overview of each one and guide you on using their watermark remover tools.
Media.io Online Watermark Remover
The first website on the list is the Media.io Online Watermark Remover. This site has a suite of options available for converting, compressing, editing videos, audios, and images. Plus, it's handy to keep in mind should you need to remove logo.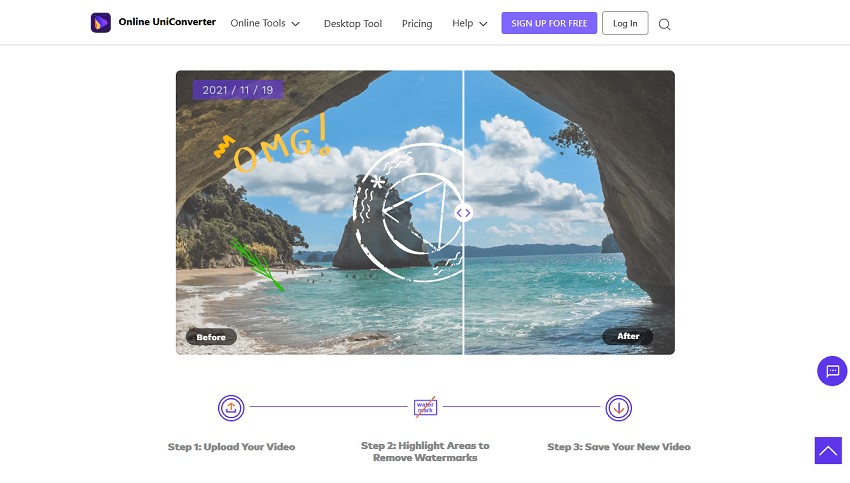 This tool is considered the best watermark remover mainly because of its vast support of different video formats, meaning you won't have any compatibility issues. Consequently, you'll also be able to choose the video output format you prefer. That all makes for a simple user experience, as there is no need for expert knowledge to use their tools efficiently. Another great feature Media.io supports is batch processing, which allows for a quicker workflow on your end. It's also cross-platform due to being browser-based so that you can use it with any operating system available. What's more, you can find all this and more on their website for free. That kind of value is tough to beat, indeed.
Now, here's a step-by-step guide on how to use video watermark remover online.
Step1: Start by clicking on 'Choose Files'. Browse your computer for the right image and upload it.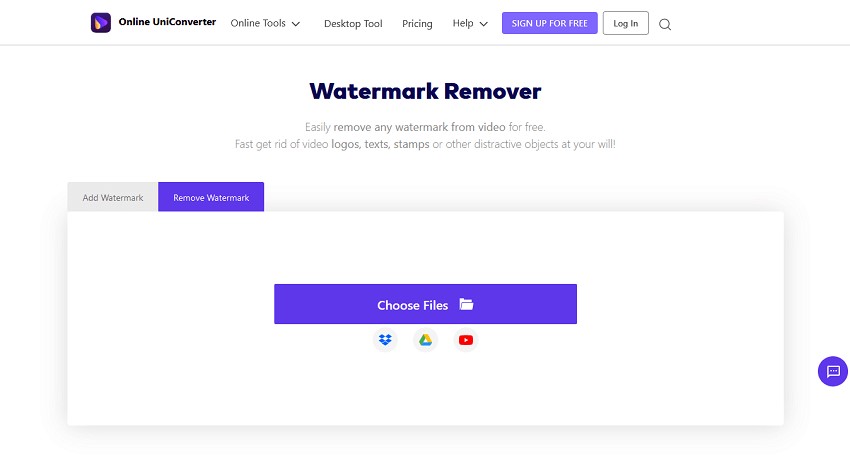 Step 2: Once your video is uploaded, you will see the option to 'Add Area' in the top-right. Click it to proceed.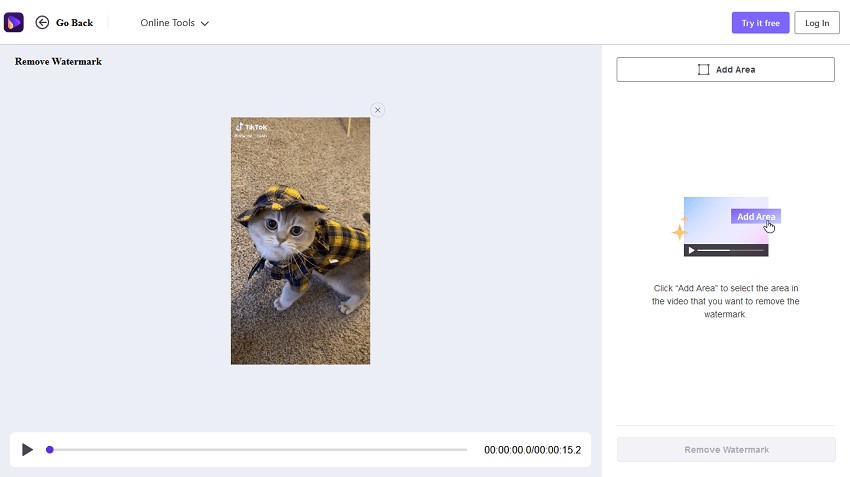 Step 3: A purple overlay will appear on your video; you can move and resize it to cover the area where the watermark is. You can even choose the exact time stamps the watermark appears for. If there happens to be more than one, or it moves around, you can add another field.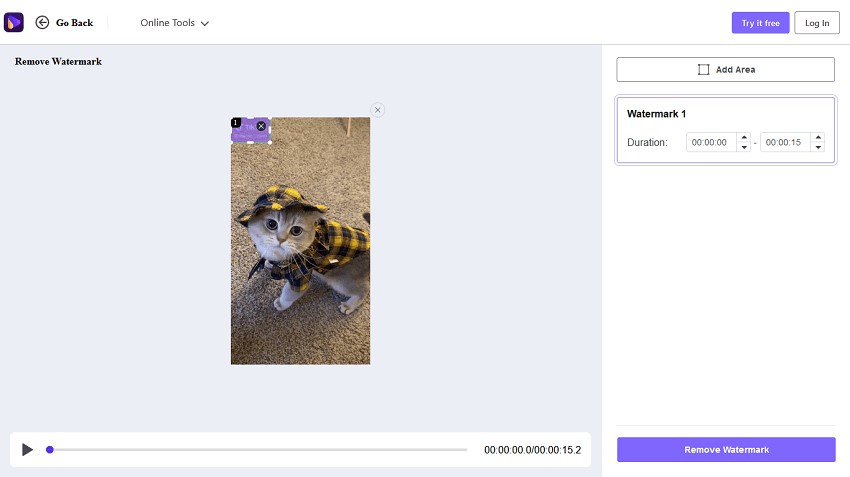 Step 4: Finally, click on 'Remove Watermark', wait for the file to be processed, and download it. In three quick and straightforward steps, you can, for instance, remove TikTok watermarks.
The second online watermark remover tool is Hitpaw, which is good, though not as solid as the previous one. However, if all you need is a video watermark remover online, that'll get the job done.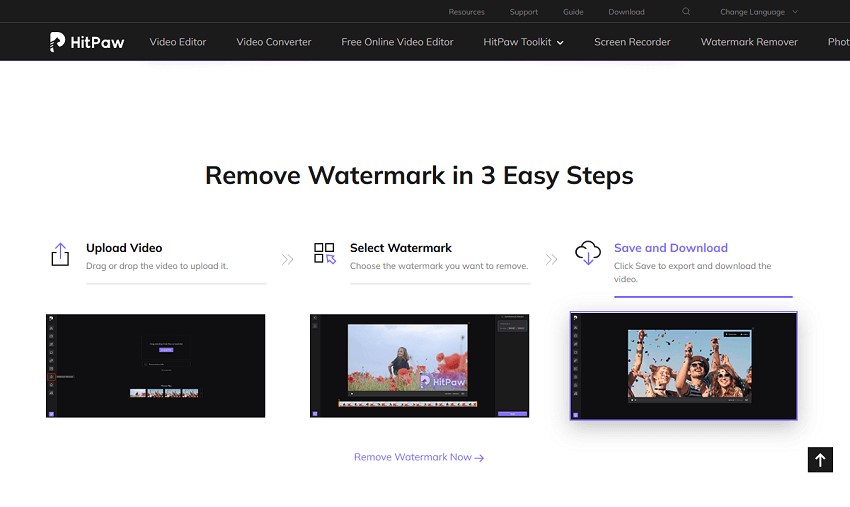 Though it is less feature complete, Hitpaw still has excellent features. This online video remover also features a video editor to add music, merge video clips.
Some of its main advantages are that it's free, it runs no disruptive ads, and you can run it on any modern, popular device.
As for the downsides well, it supports a smaller range of video formats, and the free version has fewer features than the paid one does.
Apowersoft is a website that offers different solutions on how to erase watermarks for use with multimedia. It offers a video editor, a video converter, and a file compressor, to name a few. Plus, there are also remove logo applications for your phone. In short, they have plenty of tools readily available for use.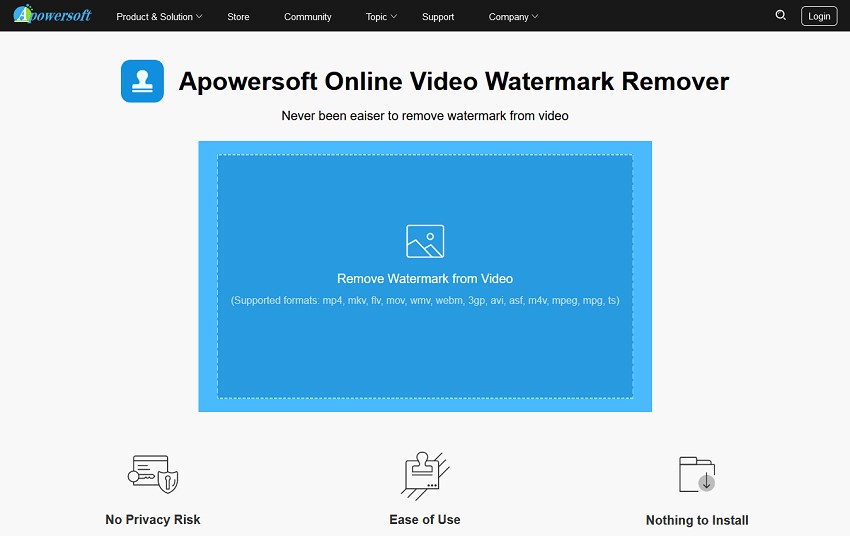 Apowersoft has a video editor to do much more than remove YouTube video watermarks. For starters, it allows you to create the kind of content you need, be it educational or just for entertainment. Besides, their online tool is straightforward to use, accessible, and doesn't run disruptive ads.
Its main downside is that it takes longer for videos to be processed, and its free online video remover version is less feature-rich than the paid version.
Watermark Remover does what you'd expect, and it's a website solely for removing watermarks from photographs or videos. If you're wondering how to take off watermarks from any multimedia product, this site will fit your needs perfectly.
Its primary key features are logos, hardcoded subtitles, and watermark remover tool, and that it supports the significant and popular video formats in use today.
As for the pros, it's never worth overlooking when a service is free, as is the case here. Plus, you can remove TikTok watermarks and YouTube video watermarks or any other simultaneously.
As for its downsides, you can't do much else beyond removing watermarks. It is one of the more straightforward websites, but it does its job just fine.
Video Watermark Remover Online
You won't be surprised to know that this Video Watermark Remover Online website does one thing only, just like the previous one. It is a watermark remover tool for videos, and there are no photograph remover options here.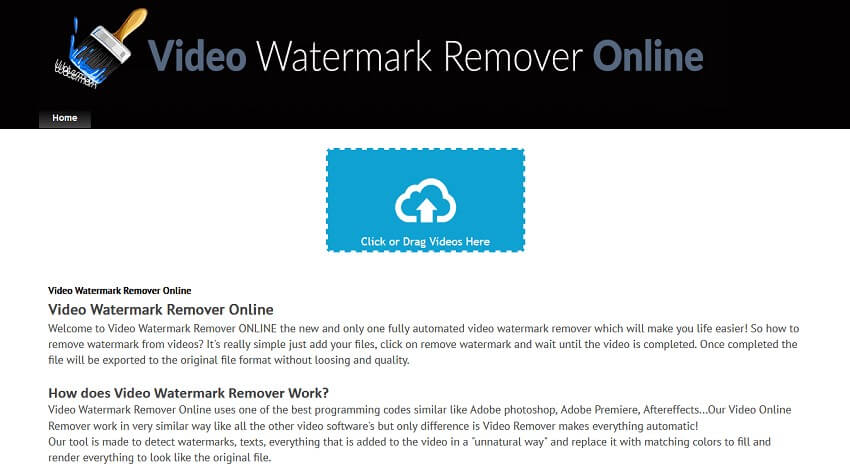 The tool is free to use, which is always a plus. It supports the major video formats currently in use, and in a few short, easy steps, you'll have it done.
The downside to this online video remover is that its free version is the most limited one, and you can't change the output format, and you can only edit 5 videos a month. However, while paid versions offer better encoding speed and higher caps per month on videos, they are pretty costly.
In conclusion, from the five websites on offer on the how to remove watermarks topic, Media.io could be the most impressive. It offers the broadest range of supported video formats and no limits on how many videos you can edit per month. The processing speed varies from tool to tool, but Media.io is one of the best free versions. Plus, their remove logo website is the most polished and pleasant to navigate.
Part 2. FAQs Regarding Online Watermark Removers
1. How to remove watermark from video without paying?
It doesn't matter which of the previously mentioned online remover tools for free you choose; the process is simple and similar:
Step 1: Upload your video.
Step 2: Select the area where the watermark and relevant time stamps.
Step 3: Process the video and download it.
2. How do I remove a logo from a video?
Use Media.io Online Watermark Remover and follow these 3 steps to remove any logo:
Step 1: Select the corresponding video you want to edit.
Step 2: Click 'Add Area' and move the box to where the logo is, resize if necessary.
Step 3: Click 'Remove Watermark' and download the processed file.
3. How to remove TikTok watermark effortlessly?
Open Media.io Online Watermark Remover and follow these 3 steps:
Step 1: Upload your video.
Step 2: Indicate the logo and how long it's on-screen.
Step 3: Encode and download the new video.
Top tips: you might be interested in this blog concerning other alternatives to remove TikTok watermarks such as SnapTik, TikMate, or FlexChip.
4. What are the best online watermark removers for video?
The 5 best tools to help you and teach you how to erase watermarks from videos are:
Media.io
Hitpaw
Apowersoft
Watermark Remover
Video Watermark Remover Online
You can find and use them on Windows, Mac, Linux, iOS, and Android.
5. What are the 3 common ways to remove watermark from video?
There are 3 common ways of removing a watermark by hand.
The easiest way is Cropping the video, so it doesn't appear at all. Blurring it out altogether is another common choice. Or you can Replace it with another watermark.
The Bottom Line
We have analyzed the 5 most popular free online watermark remover tools throughout this article, highlighting their features and comparative pros and cons. In addition, we've provided 3-step quick guides to take off watermarks when using the online tool from Media.io or other similar tools. So, now you know how to remove watermark from videos or images online and for free.