Why do people need or use logos? First of all, a logo combines pictures or images with some text. It represents a company's brand, its name, and what the business represents. It creates a long-lasting impact in people's minds so that whenever or wherever they see the logo, they know it is associated with that particular company or business.
Most free video editors have their logos watermarked on any video a person edits with the tool. You may have a video you have edited on a free app, but you need the watermark logo removed to use the video for your legal purposes freely. Or you may have a watermark logo on a YouTube video you want to download and use.
The purpose of this blog is to show you how to remove a video logo online for legal use. There are several ways, but we bring you 6 free ways to remove the logo from the video you want to use.
Part 1. How to Remove Logo from Video Online Free [3 Fast Ways]
Media.io Watermark Remover is easily the best logo remover online you can use to quickly remove the watermark logo from a video online. It is widely used for effective results, and there are thousands of positive reviews on the tool. Media.io Watermark Remover is efficient because it has a friendly and straightforward user interface that beginners can navigate without stress. Therefore, you can take out the watermark logo from any video online in just three steps. It is compatible with Windows PC, macOS, Linux, iOS devices, and Android Smartphones.
The main features of this online watermark logo remover include the following:
It can help you erase watermark logos from videos in batches, saving you the time you would have spent removing the logos from individual videos one at a time.
It is versatile in removing unwanted objects or logos from videos online.
It produces high-quality video output, preserving the initial quality of any video you upload.
It works across all devices and platforms since it is a web-based tool.
It is free of ads, in-app purchases, and it does not require you to sign up to the platform. That ensures that your privacy is protected.
Below are the steps on how to remove the video logo online with Media.io Watermark Remover:
1. First, select "Choose Files"to add the video you want to edit by locally uploading it from your device or copying and pasting the video URL on the site. For instance, if you want to remove the watermark logo from a YouTube video, the copy-paste option will come in handy.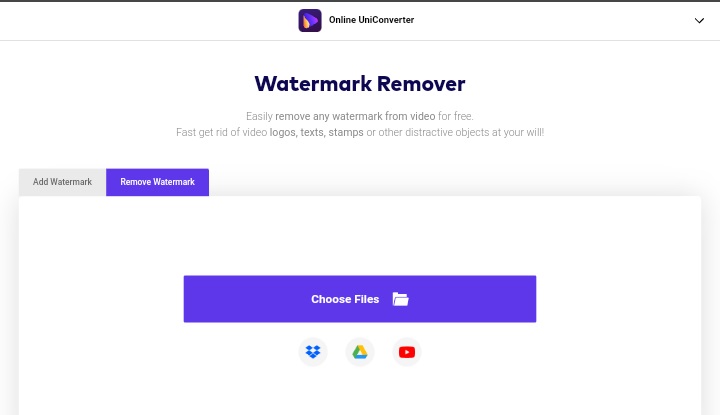 2. Please choose the area(s) you want to remove the watermark logo(s) and highlight them. Then, enable the lasso tool for removing the watermark using the "Add Area".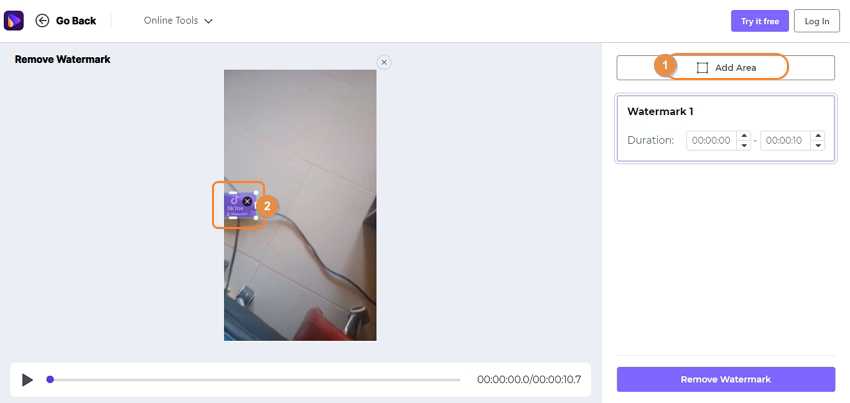 3. Select "Remove Watermark"and after you have removed the watermark logo, click "Download" to save your video to your device without a watermark.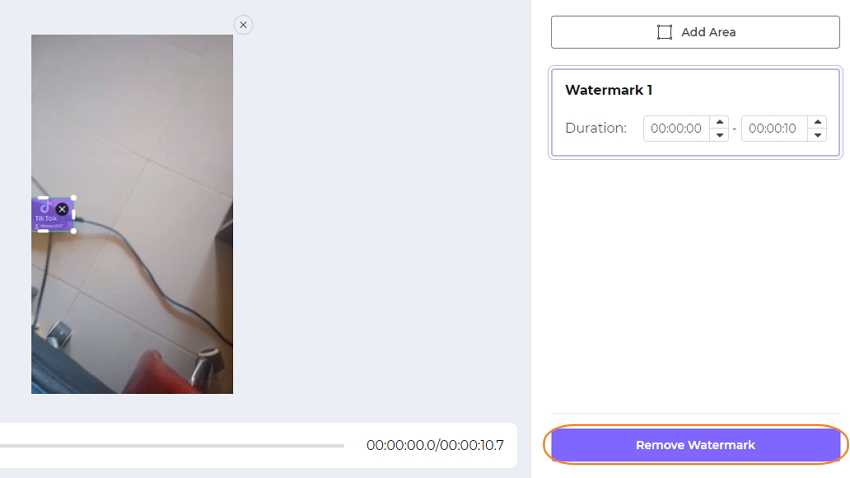 The second online tool you can use for removing watermark logos on videos is the Online Video Cutter editor. This tool allows you to erase or crop out watermark logos from up to 4GB of videos, all for free. Thus, you can frame the areas you desire from your video. In addition to removing logos from videos on this editor, you can erase images, dates, or other watermarks you do not want on a video. So, get rid of that watermark logo from that Instagram video of your choice with Online Video Cutter!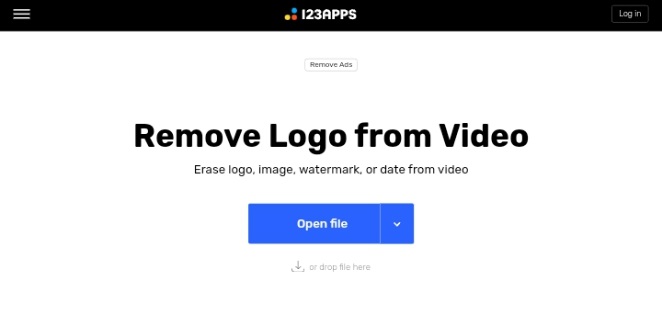 Pros:
It supports virtually every video file format you can find online.
It is easy for you to select the output file format and quality of your choice.
Your online security is guaranteed as uploaded files are automatically deleted from the Online Video Cutter servers after a few hours.
Cons:
The user interface is not friendly and attractive to first-time users; thus, it could do with face uplift.
It comes with ads that you cannot shake without paying for the tool's premium version.
Apowersoft is one of the best video logo remover software you can find online. However, if you want fast results without any software installation requirement, the online version of this app will do just fine. Apowersoft Online Watermark Remover makes it easy for users to remove watermark logos from both videos and photos online on any device. It is efficient for both individual and multiple watermarks removal from videos. In addition, it maintains the high quality of videos after you have removed the watermark logo.

Pros:
It allows for batch removal of watermark logos from videos online.
It lets you select specific video parts to remove the watermark logo.
It has a simple and intuitive user interface, making it easy for beginners to be attracted to the tool and use it without hassle.
Cons:
You can only batch remove logos from two videos at a time.
It only lets you remove the video logo online for 50MB or more petite videos.
Having seen the review of our first three video erasers to remove the logo online, you can now choose the tool that best suits your preferences.
Part 2. How to Remove Any Watermark from Video [3 Common Ways]
You should note that the 3 online methods discussed in the section above are suitable for removing logos from videos and other watermarks such as stamps, text, time, etc. In addition to these tools, there are other traditional ways to remove the watermark logo from videos. This section will show you another 3 ways to make your videos watermark logo-free.
There are so many full-fledged video logo remover softwares like Adobe Premiere, Final Cut Pro, Kinemaster, and of course Wondershare UniConverter Watermark Remover software. With these free logo removers, you can remove logos from videos using an editing toolbox such as cropping, blurring, and covering. These are the 3 methods to be discussed here.
We will be using Wondershare UniConverter to show you how you can easily remove watermark logos from videos via cropping, blurring, and covering. Access this best logo remover app and follow the guidelines below to continue.
Option 1: Cropping
Before we begin, note that the cropping method is a good option for removing watermark logos located at the corners of videos. When these videos are cropped, significant aspects of the videos will not be lost. To use this method on the Wondershare UniConverter software, do the following:
Launch the app and go to "Video Editor". You will find this button on the left panel of the app's home page.
Select the "Crop" option from the new window and add the video you want to edit.
Crop out the watermark logo from the imported video. While you do this, watch the result on the "Output Preview" window to ensure your results are acceptable. Once you are done, select "OK".
Save the video without the watermark logo.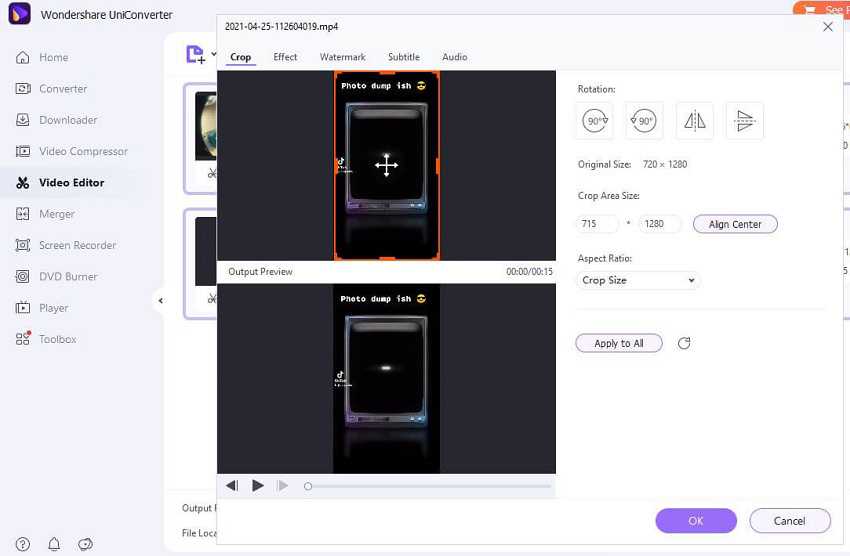 Option 2: Blurring
For this option, the ideal scenario is when you need to remove a watermark logo from a video while still protecting the copyright of the original video. Thus, it will give the impression that the logo is not completely visible.
To blur logo in video online, follow these steps:
Go to the Toolbox section on the left panel of Wondershare's UniConverter interface. Choose the "Watermark Editor" button.
Add the video you want to edit or drag it and drop it on the middlebox.
Click "Select Area" and highlight the watermark logo, then click "Remove Watermark."
The watermark logo will be removed from the video and automatically saved on a folder in your computer system with the location path clearly shown.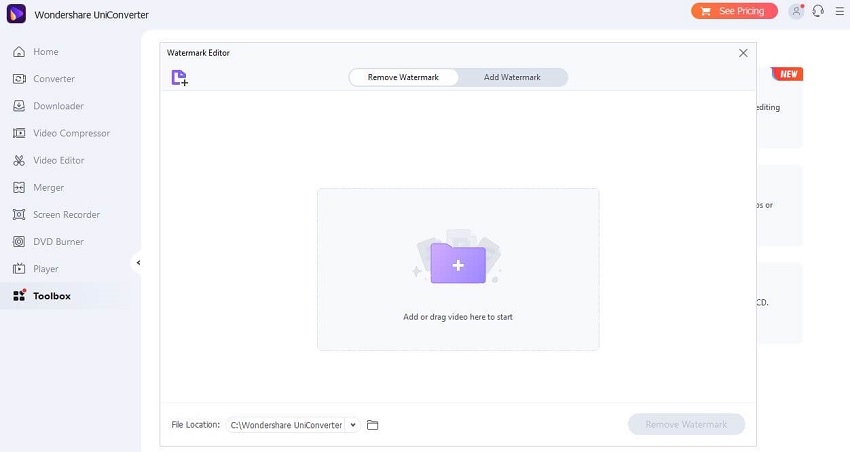 Option 3: Covering
If you want to use this option, you need an alternative logo or image, or text to replace the watermark logo. Therefore, you will be using one image to cover another. Here is how to remove the watermark logo from a video on Wondershare UniConverter Watermark Remover by covering:
Go to the "Watermark Editor" option of the "Toolbox" menu.
Choose to "Add Watermark" this time around and upload the video you want to edit on the window.
Select "Add Image" and choose an image of your choice from your gallery roll. For example, this image could be your brand logo. Place the image directly on the existing watermark logo till it is fully covered. Alternatively, you can add text over the watermark logo instead. There are different font styles available for your use.
Click "Add Watermark" and let the software automatically generate a new video for you with the covered watermark logo. The final result, as usual, will be saved to a precise location on your device.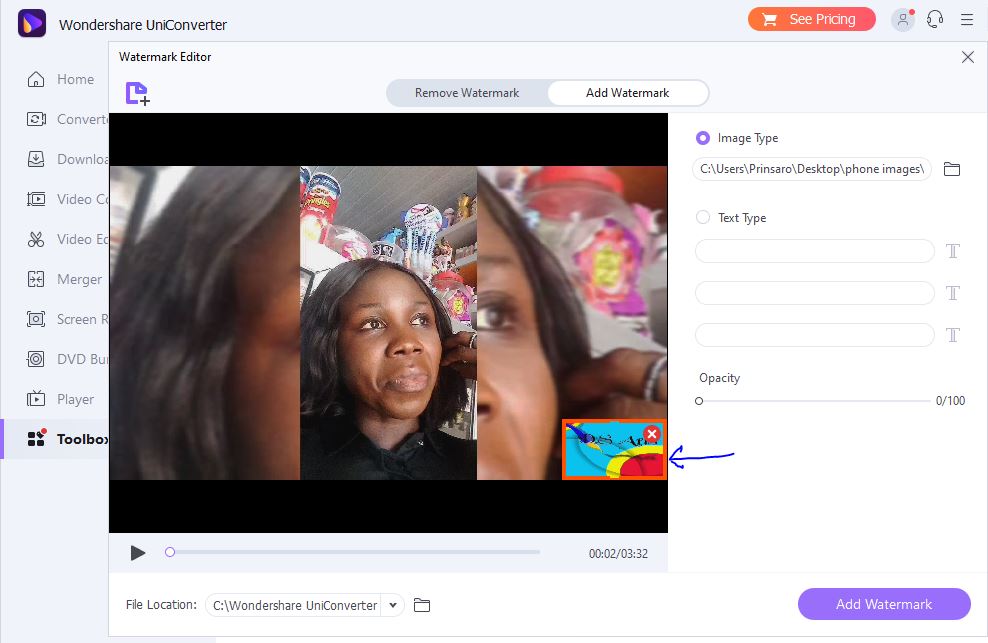 Part 3. FAQs of Logo Remover
1. How do I remove the watermark from a video on Android?
To remove a watermark from a video on Android, you need a watermark logo remover compatible with Android devices. However, you can save yourself the stress of searching for such an app by using an online tool instead. We recommend Media.io Watermark Remover for all browsers and devices/platforms. With this tool, you can easily remove the video logo online with a reasonable default browser on your Android; you do not have to download or install any software!
2. Can we remove watermark from an image?
Yes, you can remove the watermark from images. The best way to do this is by using free logo removers or, more preferably, online tools for fast results. Some of the most recommended free online watermark removers for images include Apowersoft, Photoshop, PixCut, Inpaint, PhotoLab, and so on. These tools will give you the result you want so, give them a try.
Conclusion
You can easily remove watermark logos, texts, images, and other types of watermarks from videos online. All you need are reliable, easy logo removers, and we have provided some of the best for you in this blog. With the simple guidelines, you can remove watermark logos from videos online just like the professionals do.