A common question TikTok users ask is, "Can I remove the TikTok watermark?" This question is common because most TikTokers, save their videos from TikTok and repost it on other social media platforms, so having the watermark poses an issue. Therefore, TikTokers like you- seek ways to remove TikTok watermark online. That is why this blog will share with you five fast and efficient ways you can remove watermark from TikTok videos using online tools and apps on your Android or iPhone.
In addition, these methods of removing watermarks from TikTok will be explained with detailed steps. That will enable you to use any of the methods without challenge.
Part 1: How to remove watermark from TikTok online via Snaptik
The first method is how to remove the TikTok watermark online using an online tool called Snaptik. This online watermark remover downloads TikTok videos without the watermark in the final output. It works fast, and it is easy to use on all your devices. You are not required to download any app or install any software on your mobile phone or computer to use Snaptik.
Once you have the link to your TikTok video, paste it in the field provided on the Snaptik home page. In one click, your video will be downloaded in the best quality you can get.
You should note that Snaptik has an app you can download for your mobile device, but you can use it on your default browser.
Here is a step-by-step tutorial to remove watermark from TikTok videos online with Snaptik:
Step 1: Launch the TikTok app on your mobile phone or default internet browser.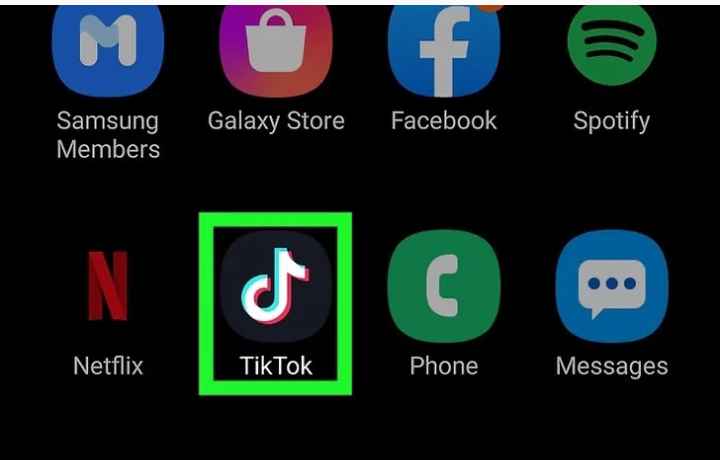 Step 2: Select the video you wish to download.
Step 3: Go to the bottom right and select the "Share" arrow button; you may also see other apps you typically share videos to, such as WhatsApp or Instagram.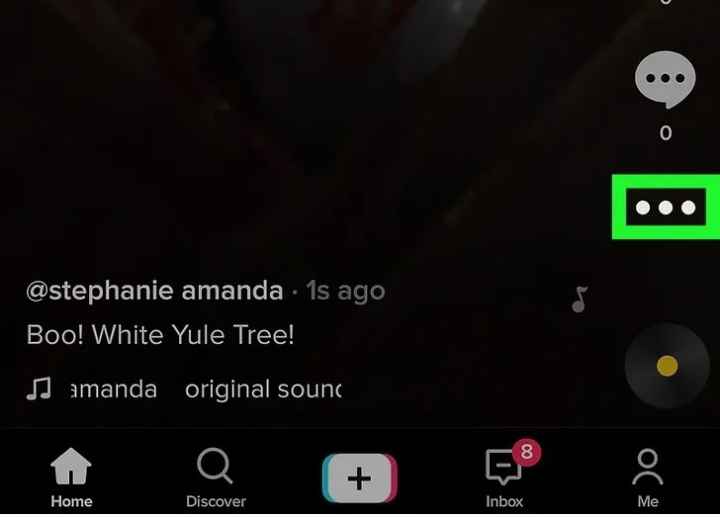 Step 4: Tap on the "Copy Link" option to copy the video link to your device clipboard.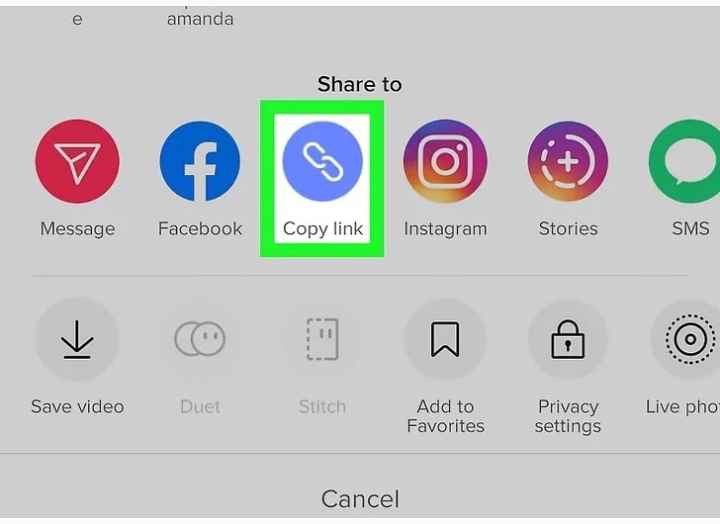 Step 5: Use any of your browsers to launch the SnapTik website. Remember, this is a guide to remove the TikTok watermark online, so there is no need to download the app.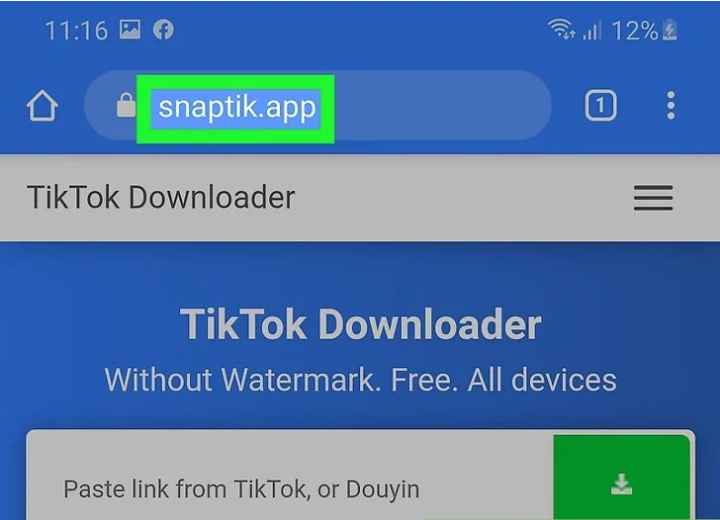 Step 6: Paste the TikTok video link you had initially copied in the box where it indicates you should paste the TikTok link.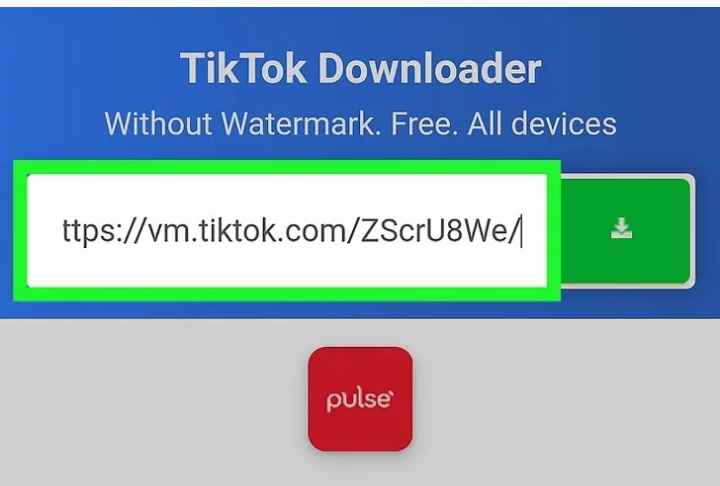 Step 7: Wait for Snaptik to remove the watermark from your TikTok video. Then, choose to "Download" the video to save to your device storage.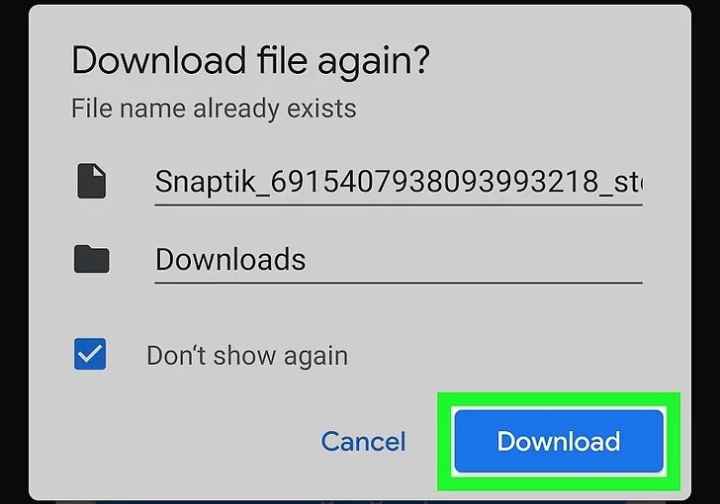 Part 2. Best Snaptik alternative to removing TikTok watermark online - Recommended!
Although removing TikTok watermarks on Snaptik is a cakewalk, this method has a severe limitation. For example, you can't remove TikTok watermarks from local videos shared with you by a friend. It's because of this that I recommend Online UniConverter Watermark Remover instead of Snaptik. With this online program, you can remove watermarks from TikTok videos in high quality. In addition to TikTok clips, you can also upload any watermarked video, including MP4, MOV, MTS, 3GP, MPEG, and many others. And yes, it comes with basic editing functions for trimming, cropping, compressing, and more.
Here is how to remove TikTok watermark online with Online Watermark Remover:
Step 1: Upload your TikTok video.
Open Online UniConverter Watermark Remover on your mobile or computer browser and click Choose Files to upload a local TikTok video.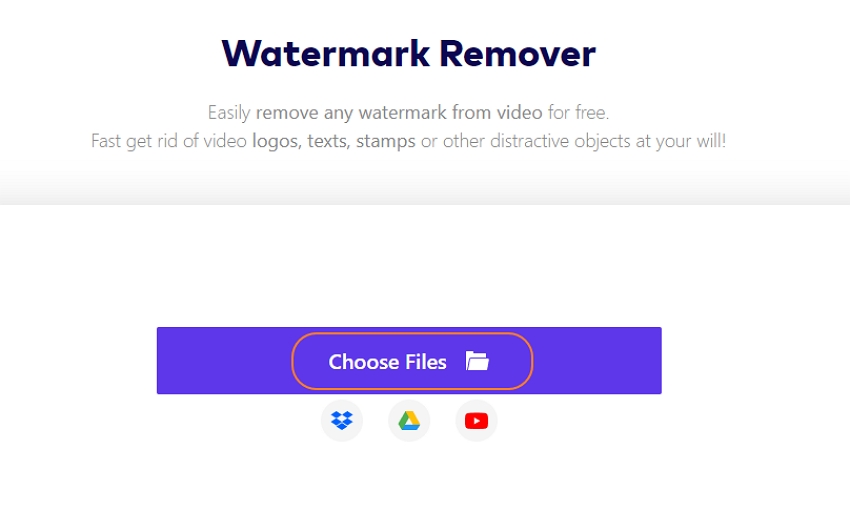 Step 2: Select the watermarked area and erase it.
After the video has been uploaded successfully on the Watermark Remover tool, click Add Area to launch the lasso tool on the preview screen. Now resize and crop it to cover the watermarked area. Remember, you can remove multiple watermarks at once.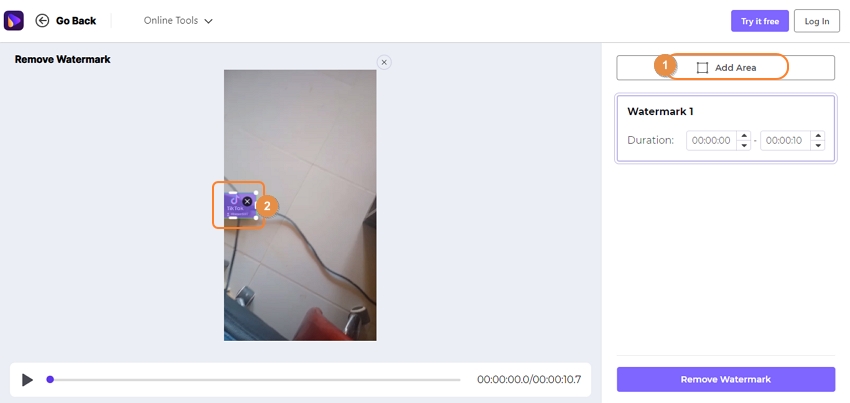 Step 3: Remove the TikTok watermark.
Finally, click Remove Watermark to start erasing the TikTok watermark online with UniConverter Watermark Remover. Now download the video or edit it further on the program.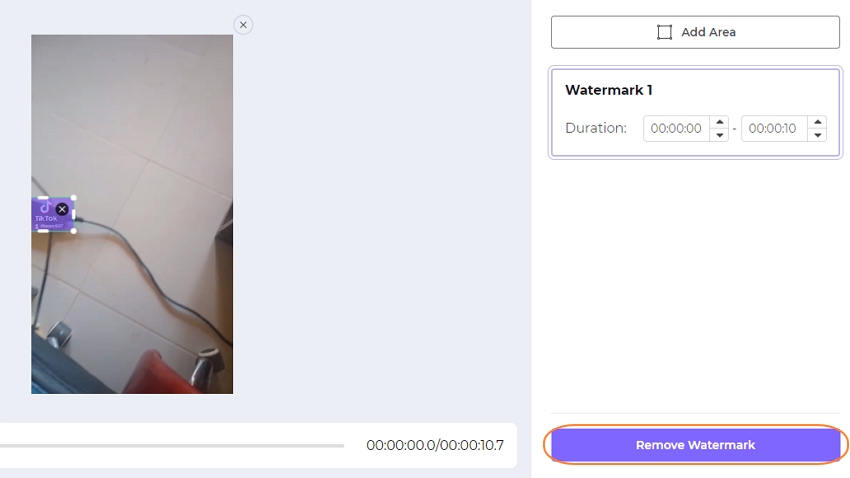 Part 3: How to remove watermark from TikTok on smartphone via useful Apps
For iPhone users:
Video Eraser - Remove Logo: The Video Eraser app is designed to remove TikTok watermarks on iPhone and other iOS devices. It also removes unwanted icons and logos from your videos, giving you a watermark-free video output. Video Eraser can be downloaded from the app store for free, and it has in-app purchases to upgrade to a premium version or get other tools. Presently, the app supports video file formats such as MP4, 3GP, MOV, and M4V; the app developer (Junjie Ruan) has promised to add more file formats with later upgrades.
Follow the steps below to know how to remove the TikTok watermark on iPhone:
Step 1: Import the TikTok video to the Video Eraser app, directly shared from TikTok or local device storage.
Step 2: Select the part of the video that has the watermark you wish to remove.
Step 3: Tap the Start option to erase the watermark from your TikTok video.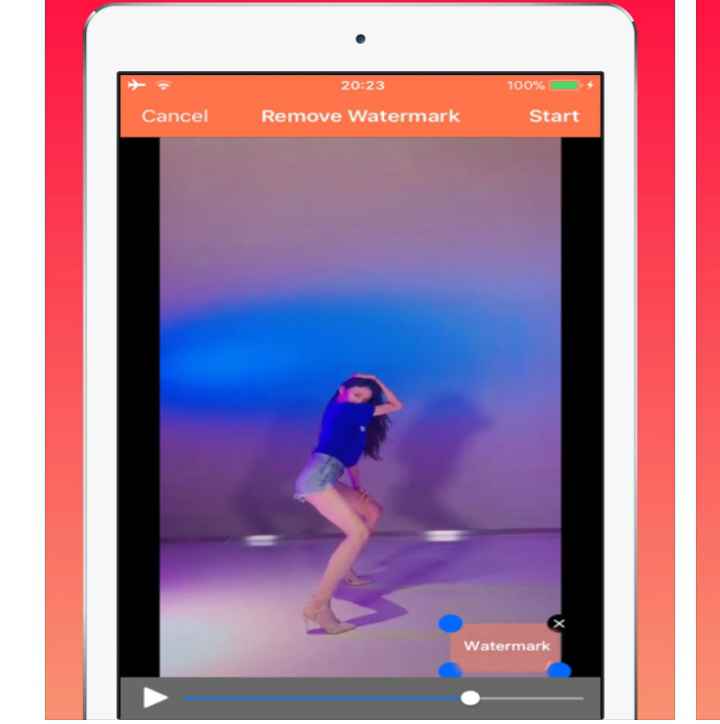 Now you can download the video and use it without a watermark.
Alternative Way
Using Shortcuts app: The Shortcuts app, formerly called Workflow, is a unique app that iOS users can download for free from the app store. The TikTok watermark remover shortcut helps in downloading TikTok videos without a watermark. You can share your video on Shortcuts and download it from there without a watermark.
Here is how to remove watermark from TikTok videos on iPhone using the Shortcuts App:
Step 1: Download Shortcuts from the App store.
Step 2: Get the video you want to download from TikTok.
Step 3: Select the arrow icon for "Share" and choose "Shortcuts" among the "Other" options listed.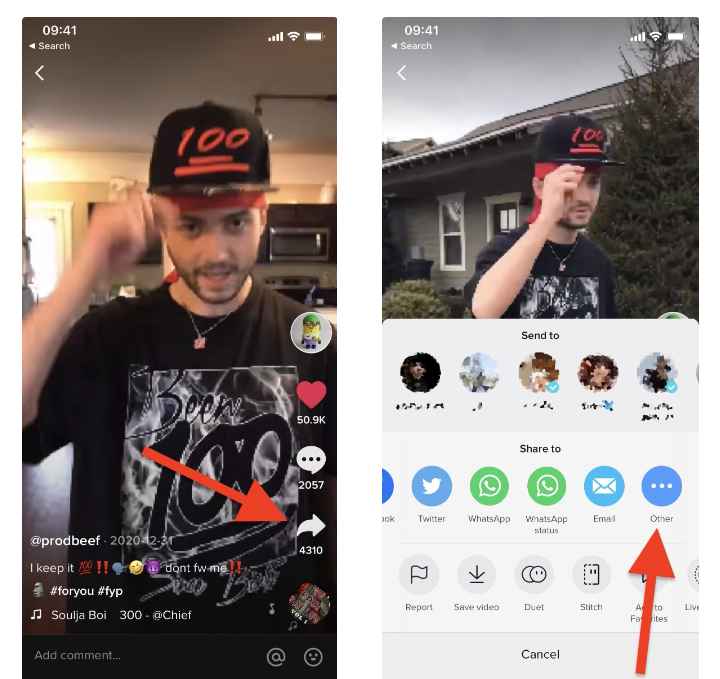 Step 4: Open Shortcuts and choose the Video Eraser shortcut, then wait for the Tiktok video to be downloaded by Shortcuts.
Note: It is essential that you add the Video Eraser app to your list of shortcuts in the Shortcut app to enable you to use it directly, as outlined above. That can be done under the "Add Untrusted Shortcut" section of your Shortcut app.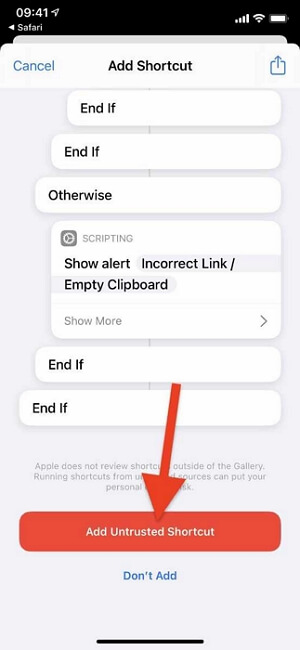 For Android Users:
Watermark Remover - Video Downloader: If you are an Android user, this is the ideal app for you to use in removing watermark from your TikTok videos. The Watermark Remover works perfectly on all Android devices that are version 4.4 and above. It is lightweight and has been proven effective in downloading videos from all social media platforms without watermark, not just the TikTok app. Note that this watermark remover only works for Share Chat apps. The latest version of the app, version 1.55, has new updates such as bug fixes and added splash screen.
Do you want a guide on how to remove the TikTok watermark on Android with the Watermark Remover-Video Downloader? Then, the following will direct you on how to go about this:
Step 1: Download the Watermark Remover app on Google Play Store. It is entirely free, so you can enjoy usage without having to pay for it. However, you will find in-app purchases available for the premium package to access more exciting features.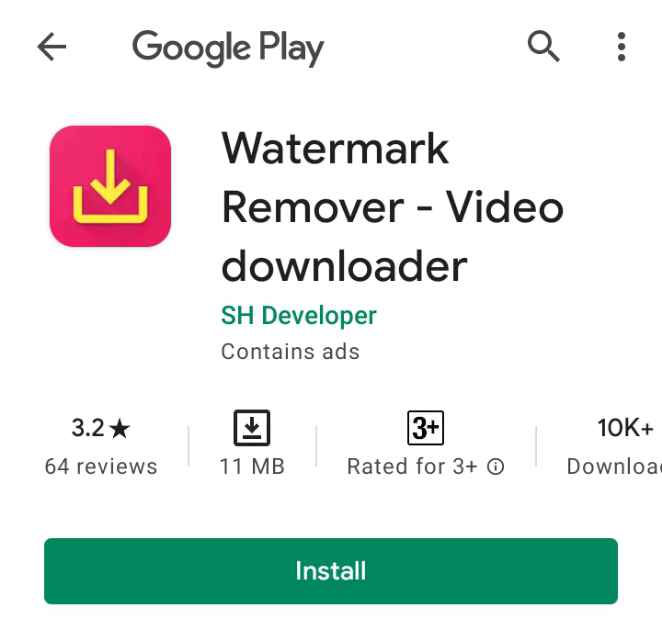 Step 2: Go to TikTok and copy the link to the video you want to download. Follow the guide in the sections above on how to copy and paste a TikTok video link. Then, paste the link in the field beside the download button on the Watermark Remover app.
Step 3: Next, click on "Download" and choose to download "Without Watermark."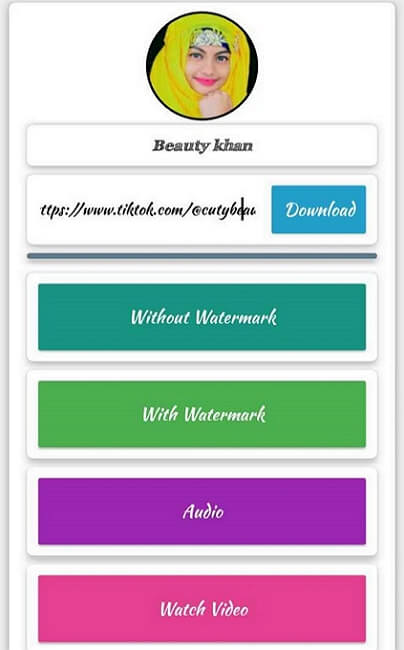 Step 4: The video will be saved to your phone storage for future use.
Part 4: How to remove TikTok watermark from video via the best software
To remove the watermark from TikTok with complete certainty, you need software that has been proven capable of carrying out this task. The Wondershare UniConverter video editor is a tool that can well remove the TikTok watermark from your videos.
With Wondershare UniConverter, you can enjoy the following:
Wondershare UniConverter
Batch download and conversion of different TikTok videos without compromise to the video quality.
You can edit videos offline and burn them, all offline.
Wondershare UniConverter supports 1000+ video and audio file formats.
It shows excellent support by being compatible with both Mac and Windows Operating Systems.
Allows for a free trial to fully grasp the app before opting for the premium paid version.
It is fast in downloading videos without watermark; even HD videos get downloaded super fast.
There are two basic ways to remove the TikTok watermark with Wondershare UniConverter, and they include cropping the video's watermark area and using a watermark editor. Both options are available on the desktop app, so you should download the app to enjoy these benefits.
Crop Video's Watermark Area:
To remove watermark from TikTok videos using this method, do the following:
Step 1: Select "Video Editor" from the menu on the home page left panel.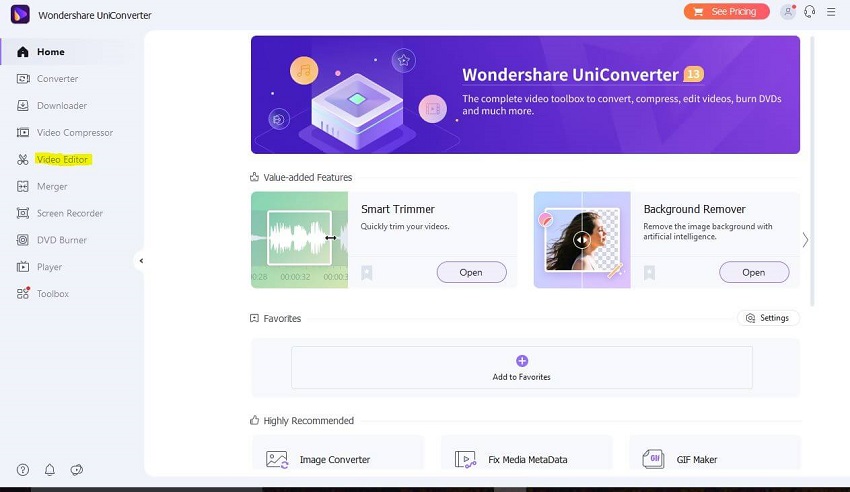 Step 2: Click on "Crop" in the Editor window.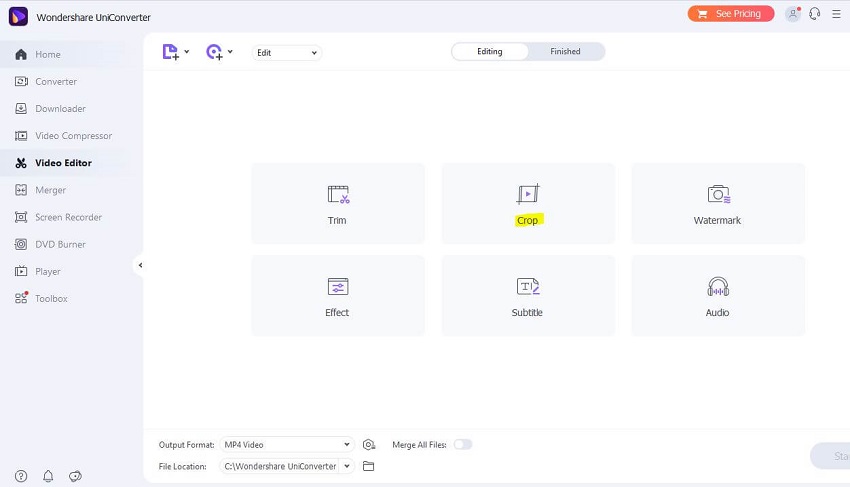 Step 3: Import the TikTok video you wish to edit.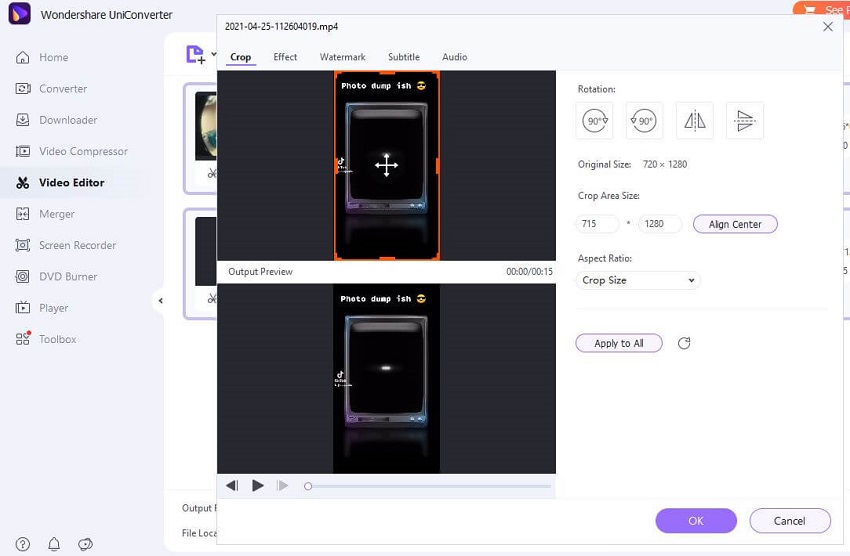 Step 4: Cut out the TikTok watermark from the original video and watch the result on the "Output Preview" section to ensure you're getting the result you want. Once you have removed the watermark, click "OK".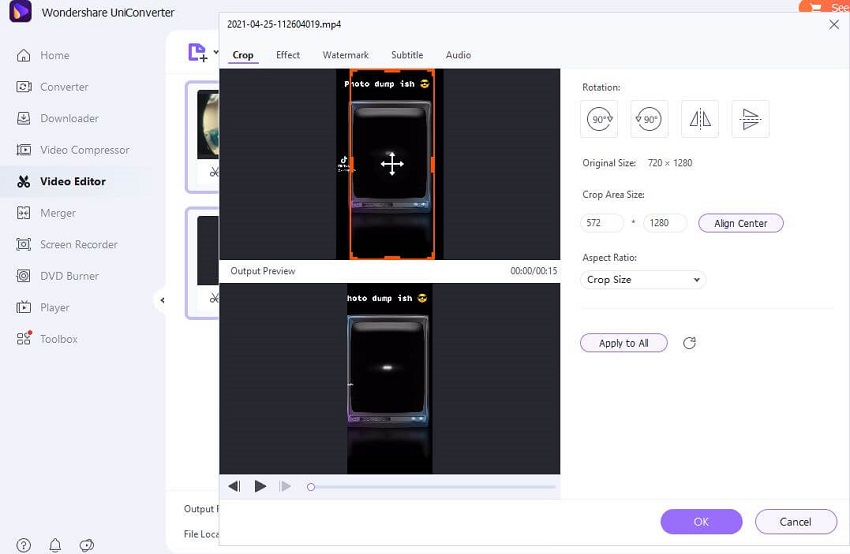 Step 5: Now, you can choose to "Save" your edited video to your system storage.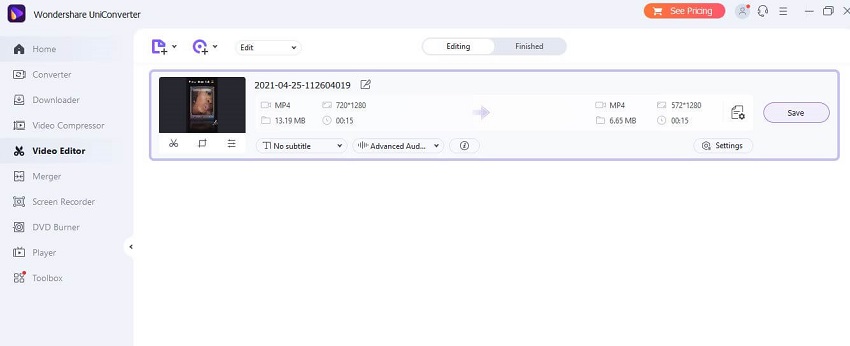 Watermark Editor:
The second option is using the watermark editor tool in the Toolbox menu of Wondershare UniConverter. Follow the guide below to remove the TikTok watermark using this fantastic new feature:
Step 1: Click the Toolbox button from the menu on the left panel of the home page.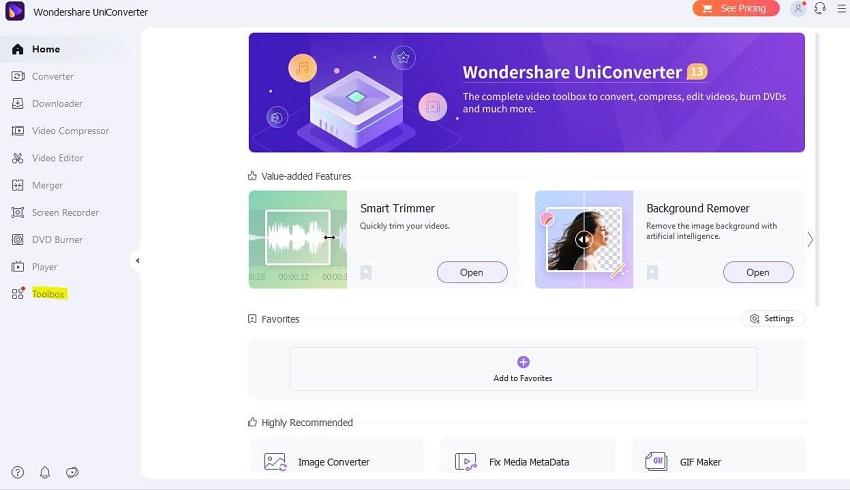 Step 2: Select "Watermark Editor" from the Toolbox window.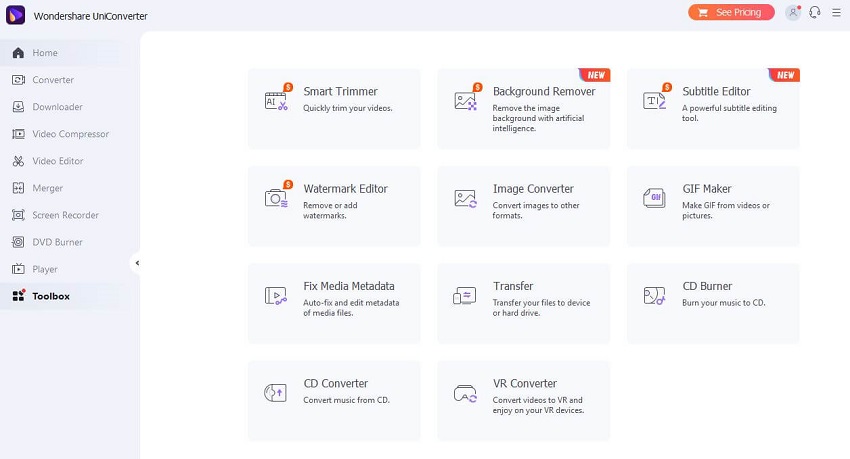 Step 3: At the middle of the page is the instruction to add the video or drag it from your local storage to the page. Do this.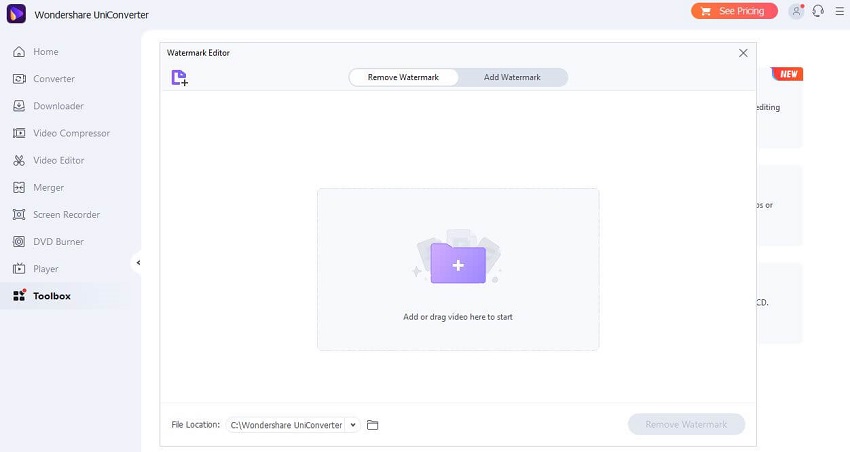 Step 4: After the video gets uploaded, choose the area where the TikTok watermark is by clicking "Select Area". Once the site is marked, click on "Remove Watermark" and let Wondershare UniConverter do the rest.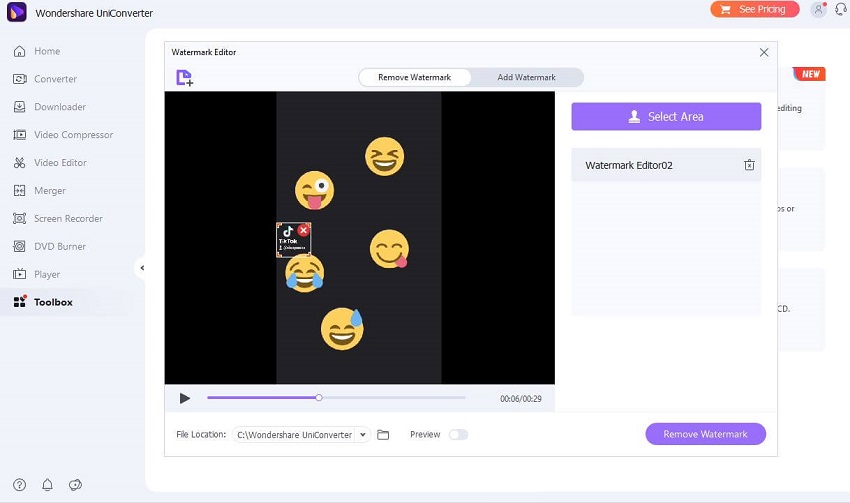 Step 5: Your video will be automatically saved to a folder labeled "RemoveWatermark" under Wondershare UniConverter in your system's local storage.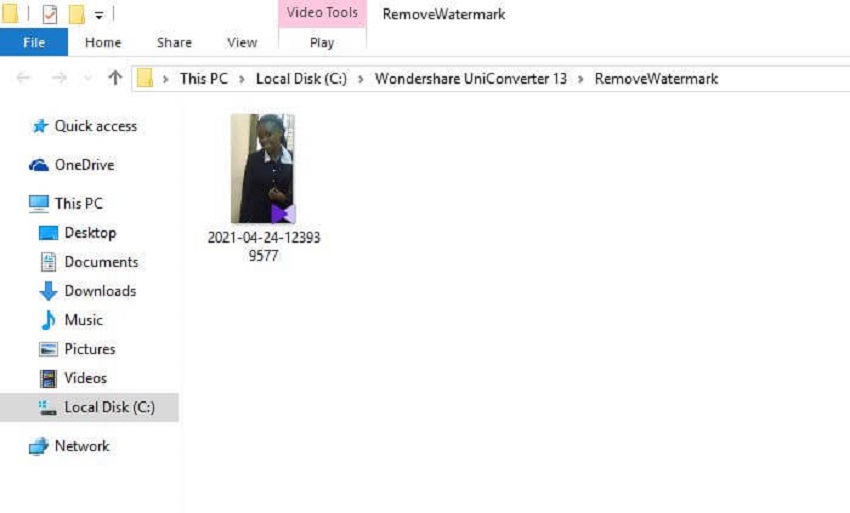 Part 5: Bonus tips concerning TikTok Watermark
1. How do I remove TikTok watermark for Instagram?
Before forging ahead, you must know why you should remove the watermark on TikTok videos before reposting them on Instagram. Instagram has its short video platform called Reels, and while it may seem time-saving to post TikTok videos on Instagram reels, Instagram has said it would not make such videos discoverable on the Reels tab. True, your followers will find it on your feed, but the videos will not be pushed out to the explore page for more people to find and interact with the videos. Instagram has said it is because such recycled videos are of the resolution; therefore, they come out blurry.
Actually, Instagram Reel is just like TikTok, and Instagram does not want such competition while trying to push out its platform.
What does this imply? It means that to use the same TikTok videos on Instagram, you need to remove watermark from the TikTok videos. You can also make the video and save it on your device before posting on both platforms instead of repurposing it.
To remove the TikTok watermark from your video, copy the link and paste it on any good watermark remover mentioned in this article and let the job be done for you.
The preferable option will be the second one mentioned above:
Shoot the video.
Save it on your device.
Post it to TikTok and Instagram separately.
2. How do I remove TikTok watermark on Mac?
The best way to remove the TikTok watermark on iOS devices like Mac is to use third-party software designed to be compatible with Mac. The most popular third-party software for this purpose includes Wondershare UniConverter, Apowersoft Watermark Remover, Video Eraser- Remove Logo, etc. These tools have great features, with which you can remove watermark from TikTok videos on Mac either by cropping the videos or erasing the marked watermark.
Conclusion
You do not have to struggle with the issue of your videos not getting the exposure they deserve because of the troubling Tiktok watermark. This fast tutorial is enough to cover you on all fronts when it comes to removing watermark from your TikTok videos online, on Android, on iOS, and your computer system.