A watermark is a text, logo, stamp, image, or signature usually superimposed on a video, another image, or a PDF document with much transparency. When you use certain products like video editors for free, the final output usually comes with a watermark representing the editor you used. You may want to remove the watermark from such media files for your purpose.
If you are not using a video, PDF document, or image for commercial purposes, you will need to know how to remove the watermarks on these files. Now, the big question is, "Is there the best watermark remover software?" The answer is yes; the best watermark remover software for all devices is available.
This blog's purpose is to bring you the best watermark remover software for videos, images, and PDFs on Windows. We will also show you how to erase watermark on your files using the recommended software.
Part 1. Top 5 Watermark Remover Software for Image [PC/Windows]
The Top 5 watermark remover software for images on Windows include:
Photoshop
PhotoUZ
Inpaint
GIMP
Photo Stamp Remover
Photoshop is powerful watermark remover software for all mobile devices and systems. It offers you a free trial period to master the use of the software before you subscribe to it. There are different ways to remove watermark from images on Windows with Photoshop. These ways include the Lasso tool, Healing Brush, Spot Healing, Magic Erase, or the blur and crop toolbox. Initially, it is a photo editor that offers many features, including watermark removal. It effectively removes the watermark from any image you upload, leaving no trace whatsoever of the previously there watermark.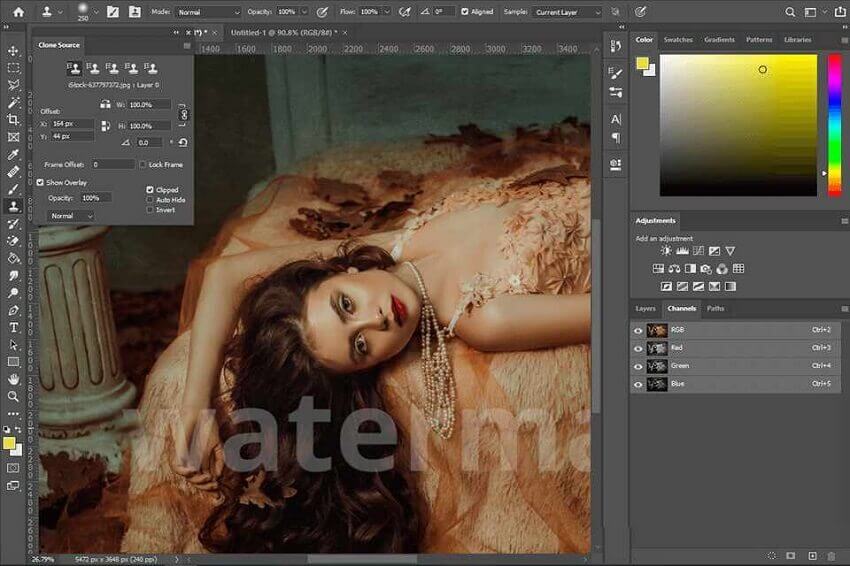 Here is a simple guide on how to delete watermark from an image with Photoshop:
Load the image to Photoshop.
Using any methods mentioned above, remove the watermark following the prompts/on-screen instructions.
Save the image without a watermark.
PhotoUZ is one of the best watermark removers for free, deleting watermarks from photos or images on Windows. It allows you to customize images when removing watermarks efficiently and without tampering with the final image. In addition, after you have erased the watermark from a picture, you can enhance the area to make it blend seamlessly with other parts of the image. Note that as you edit, the changes to the image are saved automatically, which makes for great speed.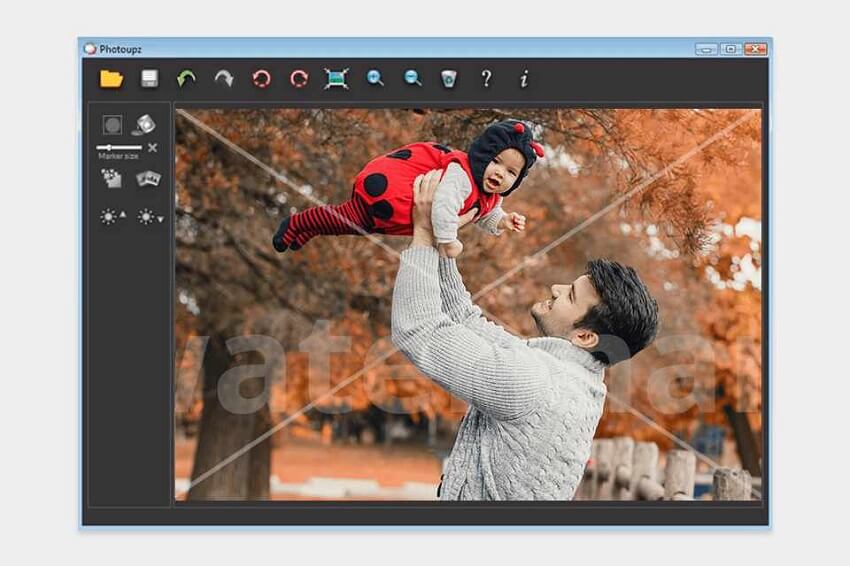 To use this free watermark remover software on your Windows, do these:
Upload the image containing the watermark you want to remove.
Remove the watermark with any methods: painting over the sign with a marker or the Guiding Line method.
Retouch the image and edit till you are satisfied with the final result, then save it to your PC.
Remove unwanted objects such as watermark logos, signatures, texts, stamps, etc., from any image with the professional Inpaint watermark remover for Windows. Inpaint is free watermark remover software that gives you different options to efficiently remove watermark from an image on Windows. It has recently improved algorithms that provide you with the best results for watermark removal. In addition, it has a toolbox for batch-removal of all types of unwanted objects from images!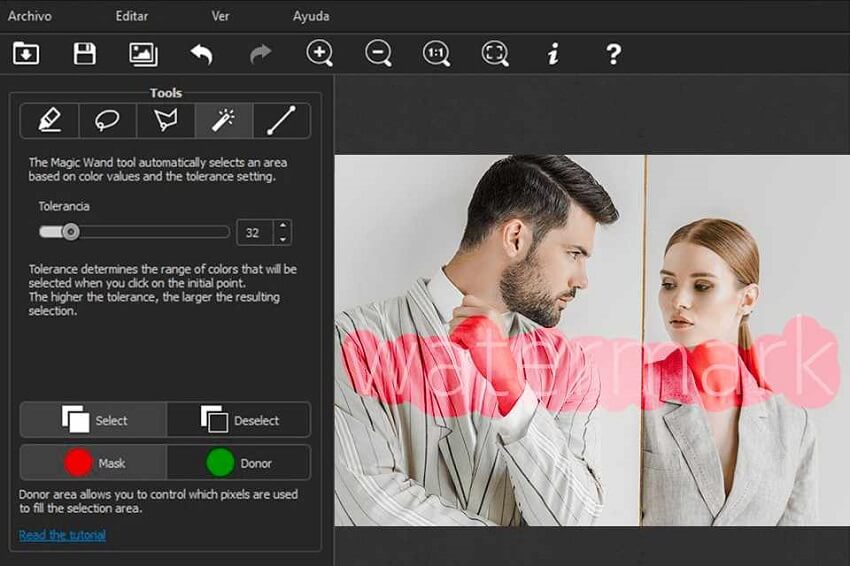 Inpaint is easy to use, as you will see in the steps below:
Upload the image to Inpaint.
Please choose the area with the watermark and highlight it.
Remove the watermark and save the image.
GIMP is a watermark remover that you can use without the need to install software to your PC, although it has software for Windows. It works across different platforms, and it is free of any charge. With this tool, you can remove dates, time stamps, logos, and other unwanted watermarks from any photo. You can rely on GIMP watermark remover to completely erase the watermark from your image without leaving a trace or annoying blur where the watermark used to be. It also supports batch processing of images, thereby saving you time that you would have used for individual watermark removal for different photos. After removing the watermark, you can also edit and retouch images to your satisfaction.

Although GIMP is not as easy to use as other watermark remover software on this list, you can still navigate around it. All you need to do is upload the image on the software, select the watermark areas, and delete it.
This tool is recommended watermark remover software for batch processing of images on Windows system. It makes the removal of many watermarks faster. It helps you delete even transparent watermarks in quick, easy steps. With Photo Stamp Remover, you can remove watermarks from photo formats like JPEG, ICO, PSD, BMP, TIF, etc. You can also remove the low-quality areas on images by removing the watermarks. In addition, you can retouch parts of the image that need retouchings, such as wrinkles, tattoos, acne, and wrinkles.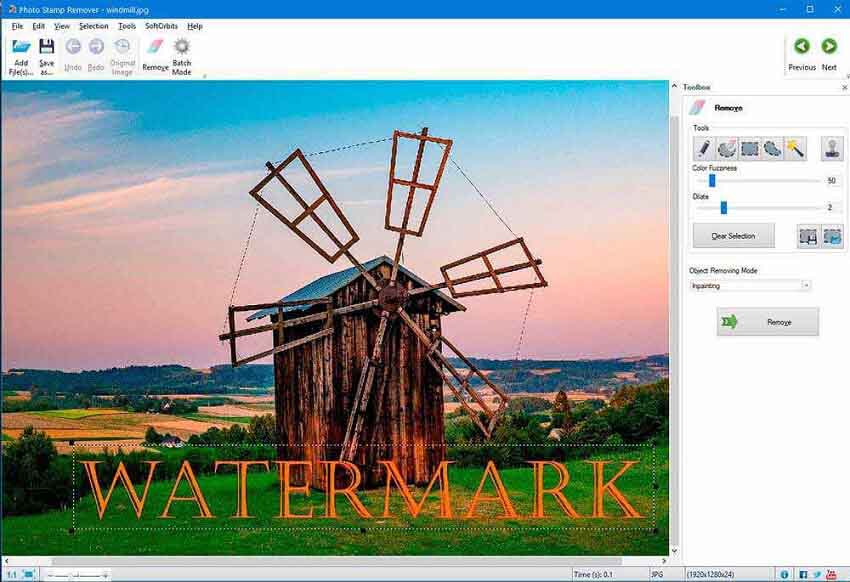 Remove watermark from images using Photo Stamp Remover with steps below:
Add the image you want to edit on the software.
Highlight the watermark you want to remove.
Erase the watermark and save the image.
Part 2. Top 3 Video Watermark Remover [Online]
The Top 3 video watermark remover online you can use online include the following:
Media.io Watermark Remover [Best!]
Apowersoft Watermark Remover
Kapwing Watermark Remover
We recommend the first online watermark remover we recommend to you is the Media.io Watermark Remover. This tool helps you quickly delete watermarks from videos for free. You can erase texts, logos, stamps, and other objects you do not want on your video. It is easy to use even for batch removal of watermarks on videos. You do not need to have the prior skill to use this watermark remover. Media.io works on any suitable web browser on different platforms, including Windows, Linux, Mac, Android, iPad, iPhone, etc. It is free of ads even though it is a free tool. Also, your privacy is protected, and you do not have to sign up to use the tool.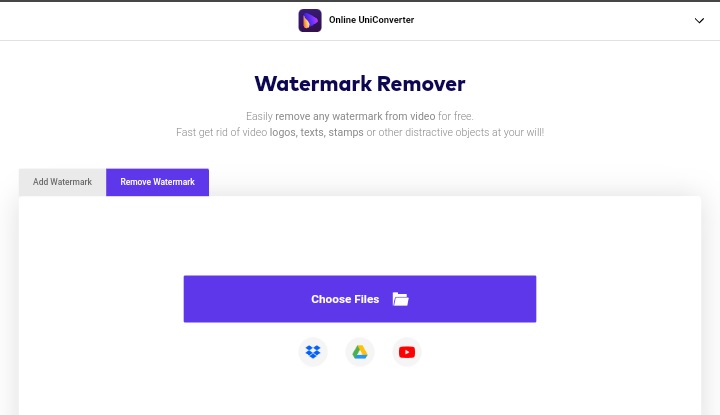 Here is how to erase watermark online with Media.io Watermark Remover:
Upload the video you want to edit on the Watermark Remover.
Highlight the watermarks and erase them.
Download the edited video for exportation.
Apowersoft Watermark Remover is video watermark remover software you can freely download for PC. It uses AI (Artificial Intelligence) based technology to erase unwanted watermarks from videos online. Its intuitive user interface makes video processing easy on the tool, even for first-time users. In addition, this tool allows for removing watermarks from specific parts of videos or images. You can also batch-process videos with Apowersoft.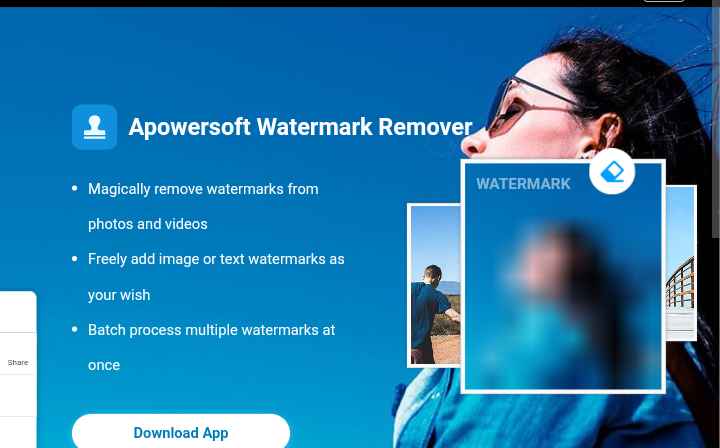 To use Apowersoft effectively, here are a few steps to guide you:
Click "Remove Watermark from the video," then upload the video from your device storage.
Using any of the three watermark selection tools Apowersoft, quickly remove unwanted watermarks from the video.
Select "Convert" to edit the video.
Kapwing video editor is initially designed for editing videos to an excellent finish. With the crop tool on Kapwing, you can cut out the unwanted watermark part of a video online. Hence, it is video watermark remover software. However, Kapwing is only ideal for videos with watermarks at the corner of the video. It also has many useful features and supports different video formats and photo formats.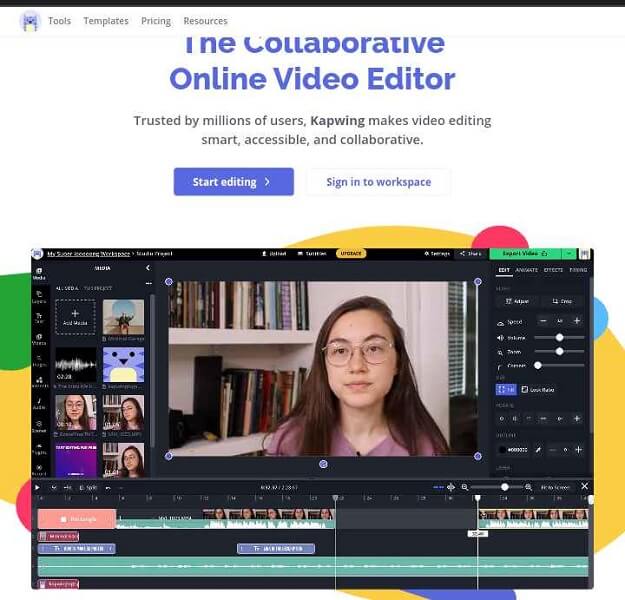 To use Kapwing, do the following:
Upload the video on the site or copy and paste the video link.
Delete watermarks from videos.
Save the edited video for export.
Part 3. Top 2 Free PDF Watermark Removers
The Top 2 free PDF watermark removers we recommend for you include the following:
PDFelement Watermark Remover
Adobe Acrobat Logo Remover
PDFelement Watermark Remover is our first-recommended tool for removing watermarks from PDF files. It retains the original quality of the PDF even after you have edited it. This tool also provides other features such as converting, editing, and other PDF file creation and processing functions. Once you save your file here, you get to create a password to log in every time you come back to the site.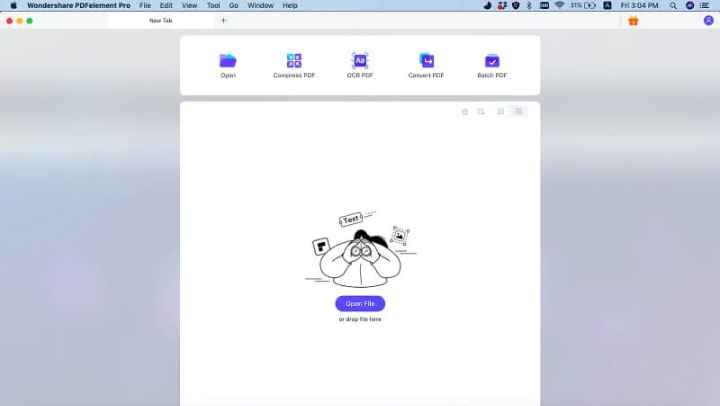 To use PDFelement Watermark Remover, do these below:
Go to the Home Page
Select the PDF file and upload it on the tool.
Edit the unwanted parts and save the final result.
The second PDF watermark remover is the Adobe Acrobat Logo Remover software. This tool lets you erase the anomalies or unwanted parts of a PDF file without converting the whole file to a format you do not want. Using the simple toolbox in this software, you can automatically remove watermarks from PDF and improve the overall condition of the file. It is fast and allows for bulk removal of watermarks from PDF files. Advanced users will enjoy navigating through the complexities of this tool.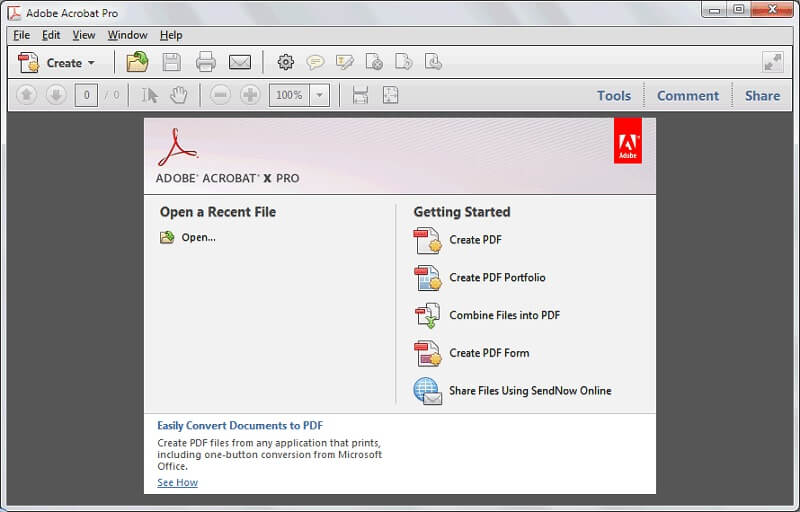 If you want to remove the watermark from PDF with this tool, then do these:
Go to the option to remove the watermark from any PDF after uploading it.
You can add multiple files by using the "Add Files" button.
Please choose from the output format options and save them to your device.
Conclusion
We have supplied you with our top 10 watermark remover software for the Windows computer system. So now you have a variety to choose from when you want to erase or delete watermark from videos on your PC. Furthermore, after creating a new video, you can repurpose it to different tools and sites or for further sharing on social media platforms without worrying about an unwanted object on the video.